Palmetto Pig Pickin' Barbeque Cook-off (SCBA)
April 3, 2020
–
April 4, 2020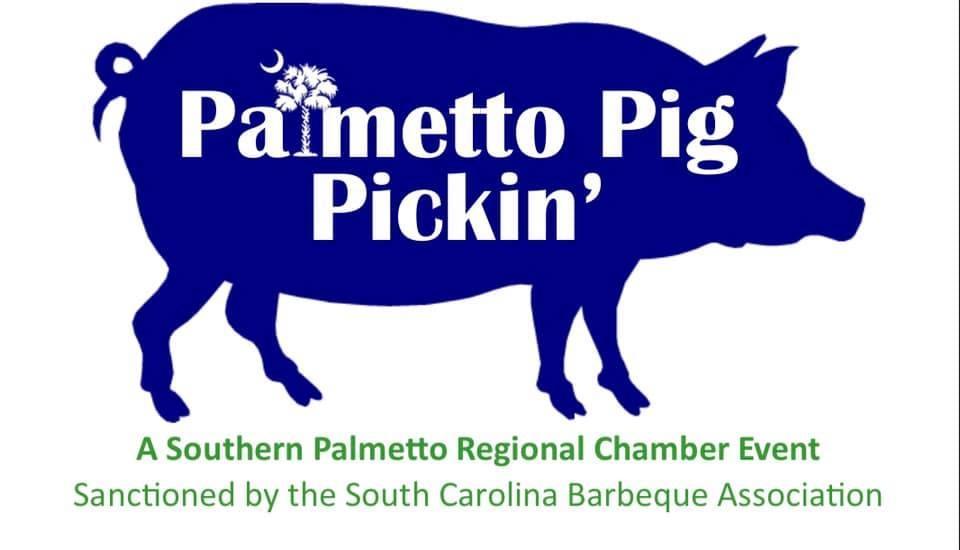 The Cook-Off
The Southern Palmetto Regional Chamber hosts the annual Palmetto Pig Pickin' Barbeque Cook-off Logo in Barnwell. The inaugural event launched in 2019. "Let's get the grill rolling for Southern Palmetto Regional Chamber which serves Allendale and Barnwell counties," said Eleanor Burbage, who serves as a Chamber Ambassador. The Palmetto Pig Pickin' Barbeque Cook-off features cookers from Barnwell County, all parts of South Carolina, and beyond. Events include "Anything but Butts," a competition on Friday night. In this event, participating cookers may enter any food they'd like — other than barbecue — to be judged. In fact, the first year Tammy Seigner of Up In Yo' Grill took home 1st place with her Apple Pound Cake. The real competition for the Palmetto Pig Pickin' takes place on Saturday. That's when the cookers turn in their Boston butts and ribs entries. In 2019, for instance, the
South Carolina Barbeque Association
(SCBA) judges sampled 15 entries in pork and 12 entries in ribs. After all the scores were tallied that year, Pitmaster Quentin Tedder of S'Lowcountry Q won in the butts competition. Next, pitmaster George Ray of
Monkey Bottom Boys
took home the first place prize in ribs. But the Palmetto Pig Pickin' competition starts anew each year. And while it the competition is fun, that's not all there is. There's lots for the general public to enjoy.
What's at the Palmetto Pig Picking' for You?
On Friday night 6-9 pm and Saturday 11:30 – 2:00 pm, visitors will be able to purchase food from the cookers.
Tickets are just a $1 for patrons. The Palmetto Pig Pickin' Barbeque Cook-off takes place at the Gail Reyes Center at 11403 Ellenton Street in Barnwell. In addition at the barbecue cook-off, there will also be a car show, a silent auction, craft vendors, and live bands. Proceeds from the silent auction go to local charities. Craft vendors and other retailers are welcome to set up with a donation $30 or more to charity for door prizes. Come out to the Palmetto Pig Pickin' Barbeque Cook-off and enjoy great food and more.