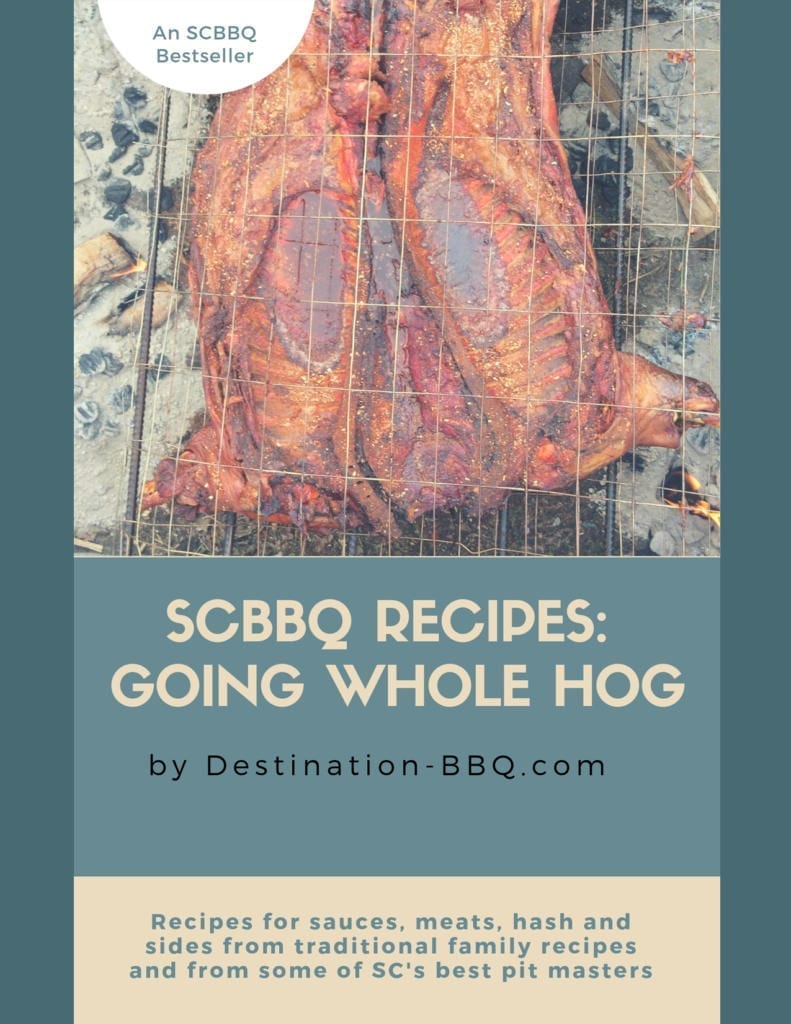 Collection of authentic SC BBQ sauces, meats, hash, and sides
Old Family Recipes: Great reader-submitted recipes that have been in their family's for generations. Read their stories and try their recipes.
Helpful Pitmasters' Secrets: Recipes and techniques from some of SC's most respected pitmasters, including John Lewis, Rodney Scott, and more.
Great SC BBQ Restaurants: Recipes from the good folks at Bessinger's, Bullies, Cherrywood, Lewis, Price's, Rodney Scott's, Swig and Swine, and more.
Whole Hog BBQ, Pit Building, and More: SCBBQ history, whole hog bbq principles, cinder block pit building plans, and much more included.
Sample of the Recipes You'll Find in Each Section
Sauces and Rubs
Dukes-style mustard sauce, Eastern SC vinegar-pepper sauce, Honey Hickory tomato-based sauce, Alabama white sauce, even brisket Mojo sauce. Just a few of the over 20 delicious sauce recipes. Plus, we include 7 rub recipes from the likes of John Lewis and Home Team BBQ.
SC BBQ Hash
Yellow hash popular in the Midlands and Lowcountry, Red hash found in places like Sumter, and even the Beef hash that is common in the Upstate, we have recipes for hash like you will find at great SCBBQ restaurants like Dukes, Ward's, and Midway.
Meats
From whole hog to individual cuts like butts, shoulders and ribs, we have recipes for it all. Heck, we've even thrown in a few chicken recipes.
Sides and Desserts
Collards, fried corn, pork rinds, coleslaw, beans with brisket, mac and cheese and much more. Sides help make the meal and we have recipes from Rodney Scott, Swig and Swine, John Lewis, and Price's, among others.
Quick Look
What Folks are Saying
---
A Must Have!
The SCBBQ cookbook is the best thing I have found and will give you the recipes for many things, hash being one of them. It is all anyone needs to BBQ like a pro. It features many different styles of South Carolina BBQ and sauces. If you are serious about BBQ, this is a must have!
---
---
So Much Information
Seeing the various recipes from different regions of SC is what I liked most about the cookbook. Looking forward to trying them out. It's a small investment to pay to learn about various BBQ within our state, or a great way to try SC BBQ without having to actually go there. So much information on places within our state. Your book takes us on a journey without leaving the house. Continue to take us on the various BBQ destination within our state. Need more Upstate BBQ, I miss that great flavor especially the hash.
---
---
By Locals for Locals
What I liked most about the cookbook is the research and backstories. Even though I grew up on Lexington NC BBQ, you've got to get this cookbook as there is much more variety to BBQ in SC, If you can't decide, this is a labor of love, with a lot of volunteer time and input. It's by locals for locals and you should support it for that alone.
---
---
This is a Must Have!
As a former SC resident, the thing I liked most was the hash recipes.
As unique as hash is to SC, I've been amazed that hardly any SC recipe books have a hash recipe. Then it's the regional BBQ and hash along with the stories about different families/cooks, etc
If you're really a fan, this is a must have. Most people judge BBQ by whatever kind of BBQ they grew up on. If you want to broaden your BBQ horizon, this is a good place to start, along with knowing the history behind the different kinds of BBQ in SC.
It's definitely worth the price if you like to cook BBQ or read about it.
---
---
Great SC Cookbook!
The SC recipes were what I liked most about the cookbook. True SC Bar-b-que.
It is a great SC cookbook, and it will continue to grow. I'd like to see a bar-b-que chicken recipe that is made with basting with some kind of vinegar. I've had this kind of chicken but don't know how they make it.
---
---
What SC Barbecue is All About
That was an ebook! Also, of course, that it is what SC barbecue is all about, sharing good food and recipes.
This book is what SC barbecue is all about, sharing good food and recipes. Just buy it, you won't regret it.
---
Digital Edition eCookbook
$14.95
PDF File that Works Online or Offline
Easily Searchable
Works on all Devices
Large Images and Visible Type
Prefer iBooks version? Contact us
Permanent Edition eCookbook
$24.95
PDF File that Works Online or Offline
Entitles You to Every Future Edition We Release
Delivered to You Automatically
Never Miss Out on New Recipes
Applies Only to Digital Editions, not Print