This post may contain affiliate links to Amazon or other vendors I trust. Please read my disclosure policy. As an Amazon affiliate, I earn from qualifying purchases.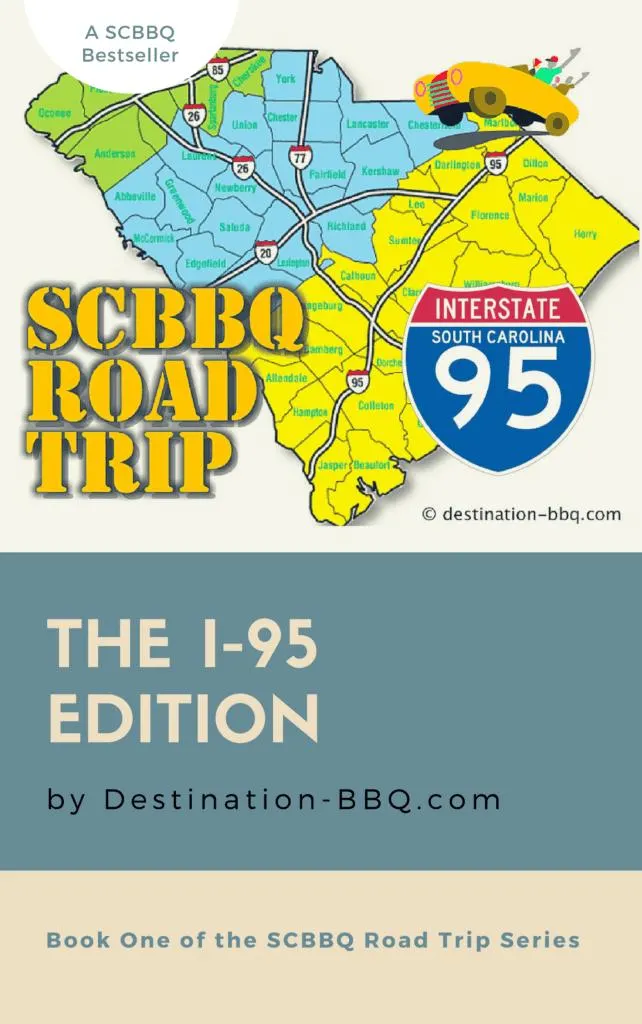 SC BBQ Road Trip:
Interstate 95 Edition
A fully updated field guide to make trips on SC I-95 taste better.
Only SCBBQ Joints: We feature only SCBBQ restaurants within 10 miles of an interstate exit. No national chains here, only the real thing.
All The Info You Need: Every listing is organized by Exit number and includes a link to their webpage on our site, days/hours of operation, phone number, Yelp review blurb, links to our review, directions from the exit, a clickable link to show directions from your current location, photos of building and food, sauce types served and whether they take cash only or cash and cards.
Find Hidden Jewels: Since we include every SCBBQ restaurant within 10 miles of an exit off of I-95, you can now find and visit places you may have never known existed.
In the I-95 Edition, You Will Discover:
Directions
We actually took the time to write out step-by-step directions from the exit to the restaurant, so if you're offline you'll still have a competent set of directions. However, if you're online, just click the link and we'll show give directions right to the restaurant from your current location.
Map
This edition is organized by Exit number. For each exit, we've included a close up look at the street map for that exit so you can see the exit itself and its surroundings.
Images
Seeing is believing. As much as anything else with food more often than not, what you see is what you get. In this edition, we have included images of the restaurant itself. This is generally a "street view" image so you get a true feel for the location. And, of course, we've provided images of the restaurant's food itself.
Opinions
Every listing includes a real quote from someone on Yelp or TripAdvisor who visited the restaurant. In addition, we've provided a link to review sites that have featured the restaurant.

I-95 Road Trip Guide
$4.95
PDF File that Works Online or Offline
Easily Searchable
Works on all Devices
Large Images and Visible Type
Note: As you will see on the form and receipt, we are officially H & J Enterprises of Charleston, LLC, DBA Destination BBQ