October 1, 2021
–
October 2, 2021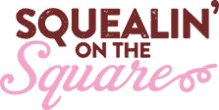 Squealin' on the Square celebrates yet another year of bringing family fun and delicious BBQ to the historic downtown.
The first weekend of October each year sees the downtown square come alive with live music, arts & crafts, food, and especially BBQ. The two-day event kicks off on Friday and runs through 8 PM on Saturday.
As a KCBS sanctioned event, Squealin' on the Square is excited to participate in the new Palmetto BBQ Series SC BBQ Championship.
This new competition series will award the best BBQ Competitor in SC who has the highest cumulative points for participating in at least 4 of the 6 KCBS sanctioned events in SC.
Squealin' on the Square is the next to last KCBS event of the year for SC, so we are expecting a large turn-out of BBQ competition teams.
Squealin' on the Square is presented by the non-profit, Main Street Laurens, as a way of raising funds to assist in their efforts to revitalize the Historic Downtown District.
All proceeds from the event go back into the organization to help with projects such as facade grants for businesses, marketing of the downtown, decorative lighting in the downtown, and implementation of the new Downtown Master Plan.
So, we encourage you to mark your calendars and join us for a good time, good food, and good friends all while helping revitalize downtown Laurens!
Brad Abercrombie
864-871-3492