This post may contain affiliate links to Amazon or other vendors I trust. Please read my disclosure policy. As an Amazon affiliate, I earn from qualifying purchases.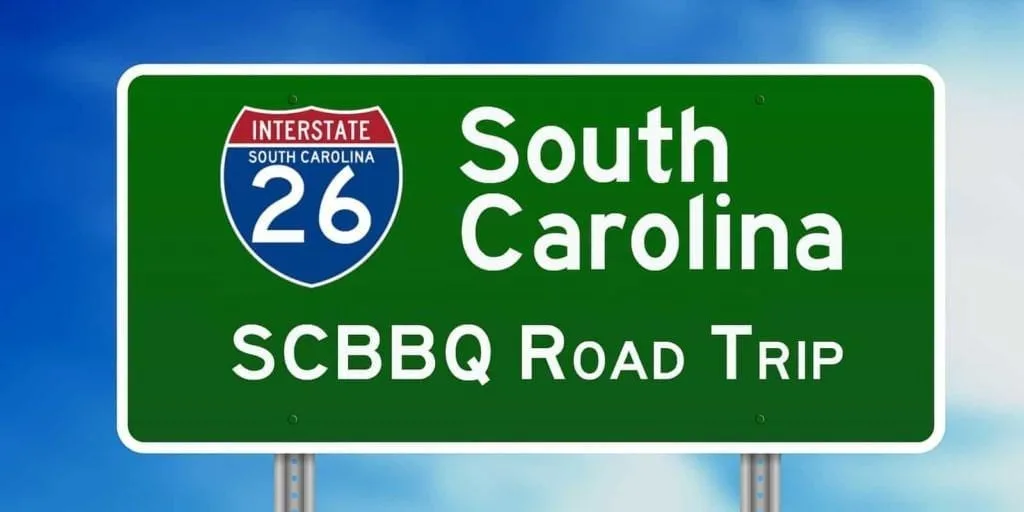 Part 1: The First 100 Exits (Landrum – Chapin)
In South Carolina, barbeque has a long and special history. Because of this tradition, our BBQ is both unique and widespread. So much so, in fact, that anyone enjoying a road trip within our borders could really use a guide to help them find just the right location to sample from the SC BBQ Trail.
To help our hungry, road-weary residents and guests, we have created SC BBQ Road Trip: A Restaurant Field Guide for each of the interstates that traverse our state.
If you love SC BBQ as we do, you will appreciate this guide. Part One of the Interstate 26 edition covers the first 100 exits between Landrum and Chapin.
I-26 in South Carolina stretches from the mountains to the coast, intersecting the state and passing near or through each of the four primary barbecue regions in the state.
Travelers who find themselves traversing the state via I-26 have a great opportunity to sample all of the different styles of barbecue South Carolina offers.
What's better: they don't need to travel far off the beaten path to do so.
As a side note, learn how to eat SC's best BBQ for FREE!
Interstate 26 runs 220 miles along its journey through the state. Entering the state near Landrum, skirting around the capital of Columbia, and terminating in Charleston, I-26 passes through urban and rural areas alike.
Along the way, I-26 spends most of its length in the region of SC most known for the sauce born in South Carolina: the mustard BBQ sauce.
(Note: if you'd like to learn to make authentic SCBBQ recipes, including the world's best mustard sauce, check out the recipes we've published on this site or our SCBBQ Recipes: Going Whole Hog cookbook, with over 150 pages of recipes from ages-old family traditions and today's top SCBBQ pitmasters.)
Here is a look at a rough breakdown of South Carolina's BBQ sauce regions:
You see, of course, that I-26 passes through the heart of the mustard region; however, it also briefly runs through our heavy tomato region and begins in the light tomato region of the state.
Despite the map's insistence, barbecue in our state is not necessarily as defined as the map suggests. This map generalizes and whitewashes regions based on historical precedence.
Today, you are likely to find any of the sauces in any corner of the state, particularly among the newer restaurants that are paying homage to the state's grand history, but if you are looking for a particular sauce, now you know where to look.
Anyway, today you find yourself traveling I-26. You know traveling this stretch of road you certainly ought to be able to find some of this SCBBQ you've been hearing (and reading) about.
But where is it hidden?
We strongly suggest checking out our SC BBQ Trail Locator Map, but if you prefer, you might also consider downloading a copy of the SC Dept. of Tourism's official SC BBQ Trail Map.
The map will find your location (with your permission) and show you the closest 25 SCBBQ restaurants within 100 miles of you.
(We also suggest saving the map as an "app" on your phone by simply by visiting the page and tapping Share (iOS) or Menu (Android) and then tap "Add to Homescreen.")
While our locator map is fantastic (if we do say so ourselves), we know you probably don't want to drive 40 miles off the interstate just to get a taste of SCBBQ.
So, here we present to you all your options for enjoying real SCBBQ within 10 miles of a given exit along I-26.
In addition, we'll recommend our "Must Visit" SCBBQ restaurants along I-26.
Just a quick reminder about our criteria for selecting restaurants:
no national BBQ chain restaurants are included; all are SC-based restaurants and most are individual, family-owned shops
all are "on" the interstate; that is, within 10 miles of an interstate exit
inclusion in the list is not an endorsement and restaurants may be labeled "Must Visit" for reasons beyond the quality of their BBQ
we will generally only include one restaurant on a given route for any major SCBBQ chain; note, however, while there are many Dukes restaurants in SC, they are not franchises or members of a chain, so all will be included
mileage provided is not exact but was calculated using Google maps so it should be very close
See SCBBQ Road Trip: Start Your Engine for a fuller explanation of our selection criteria.
Before we begin, some interstate highway fun facts you might not have known:
no matter which direction you are heading, the interstate exit numbers are the same for a given junction
one or two-digit, even-numbered interstates run west-east, with lower-numbered interstates starting in the South; I-26 is clearly a west-east running, Southern interstate, being such a low even number
mile markers for west-east running interstates begin at the western border of each state
Thus, we will follow the exits along I-26 from where it enters on the western side of the state until its terminus in Charleston.
Buckle your seatbelt and away we go…
Like What We're Doing?
Want to see more coverage and features? Just want to show your support?
---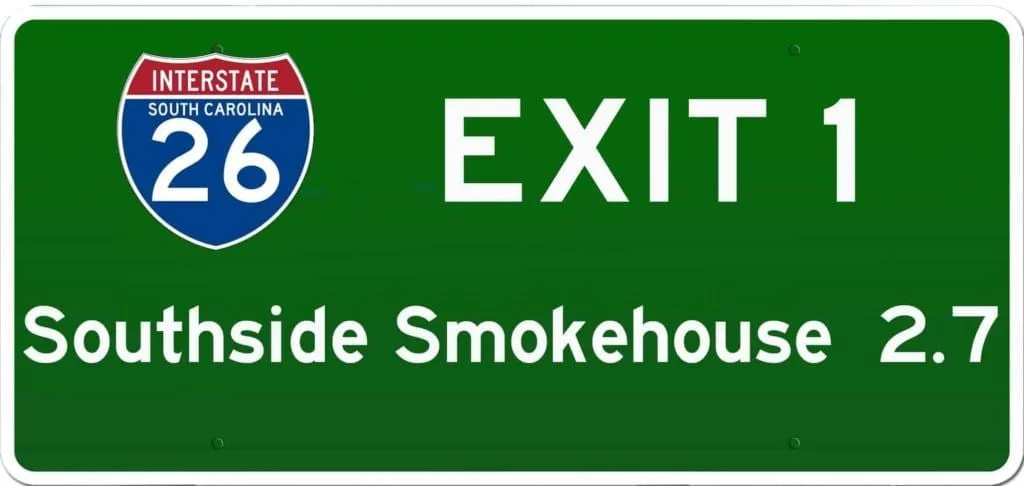 Exit 1 (SC-14/Landrum)
(NOTE: Click store name for more info, including address, links to social media and review sites, and other details.)
Blurb: "Not fancy – yet almost southern country gourmet! For me – just heaven. Southern bar-b-que, southern veggies, and some fantastic Cajun to-boot! Great jambalaya, and pulled pork! Oh, get the puppies! Don't miss this place if you are in the area!!" ~ rwarren2015, Yelp
Directions: From Exit 1, head southwest on SC-14 for about 2 miles. Turn left on 176. Southside will be just under a mile on your right.
Google Maps Directions to Southside Smokehouse and Grille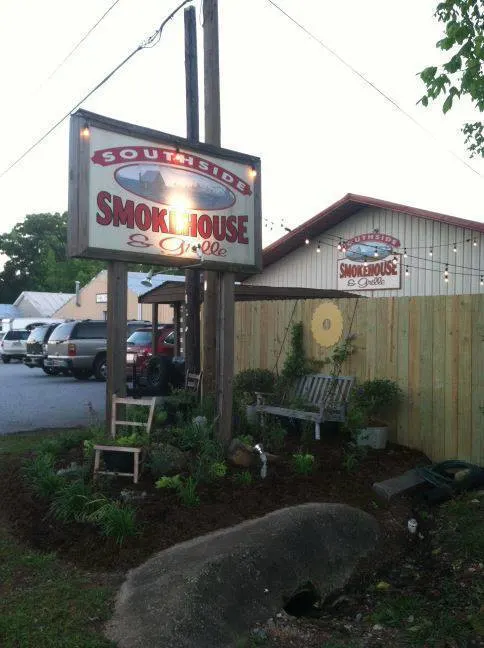 Monday – Thursday: 11 am – 9 pm
Friday – Saturday: 11 am – 10 pm
Phone: 864.457.4581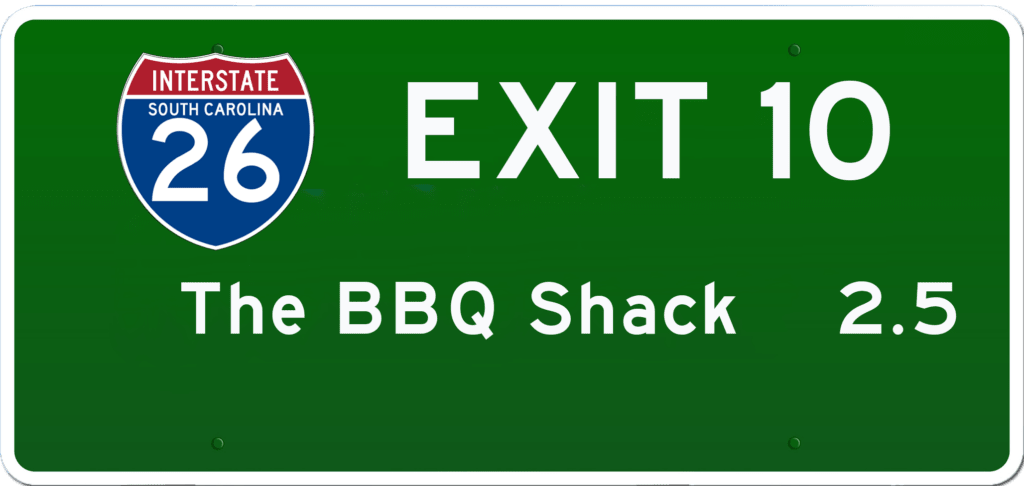 Exit 10 (SC 292 – Inman)
Blurb: "Wonderful place for barbeque! I would highly recommend the brisket! Multiple sauce options and all were good. I will definitely be back to try the rest of the menu!" Doug W, Yelp
Directions: Take exit 10 for SC-292 toward Inman. Drive for about 2.5 miles and The BBQ Shack will be on your left.
Google Maps Directions to The BBQ Shack in Inman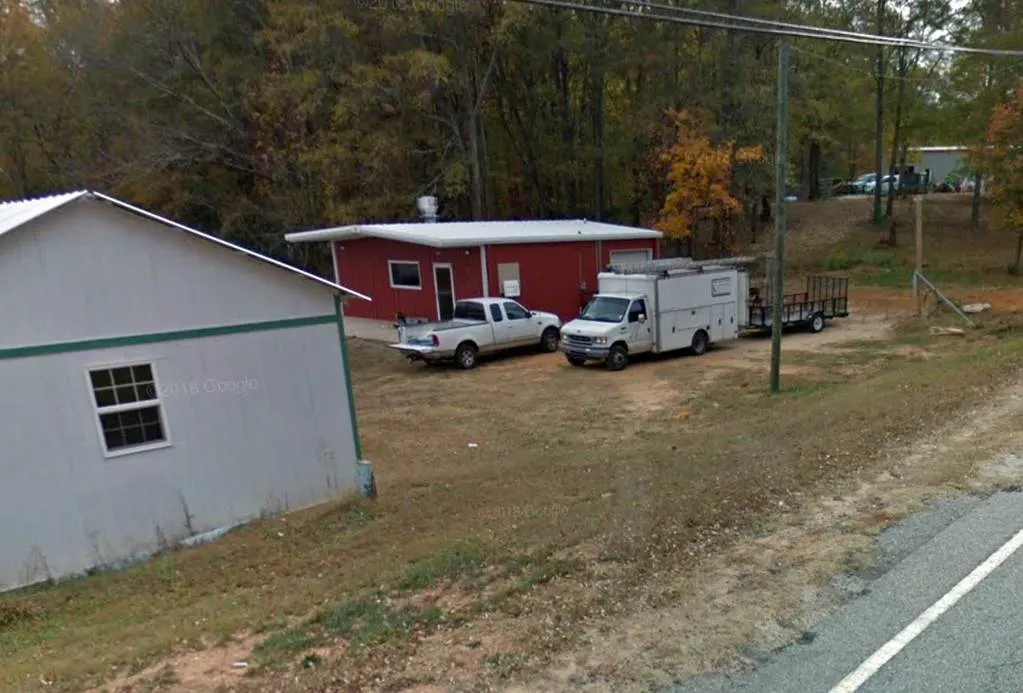 Wednesday – Friday: 11:00 AM – 2:00 PM
Saturday: 11:00 AM – 3:00 PM
Phone: (864) 708-3222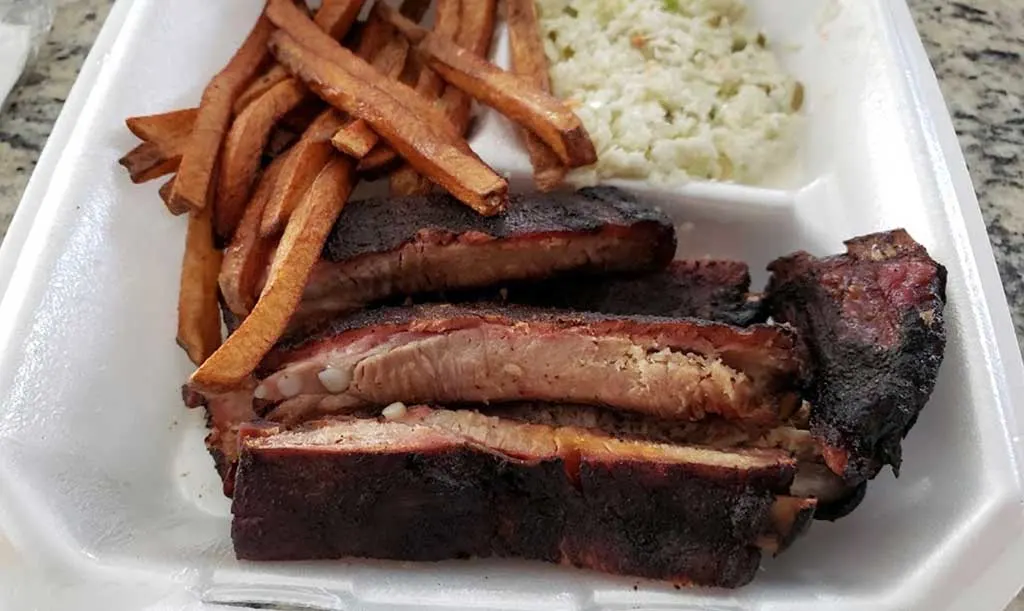 ---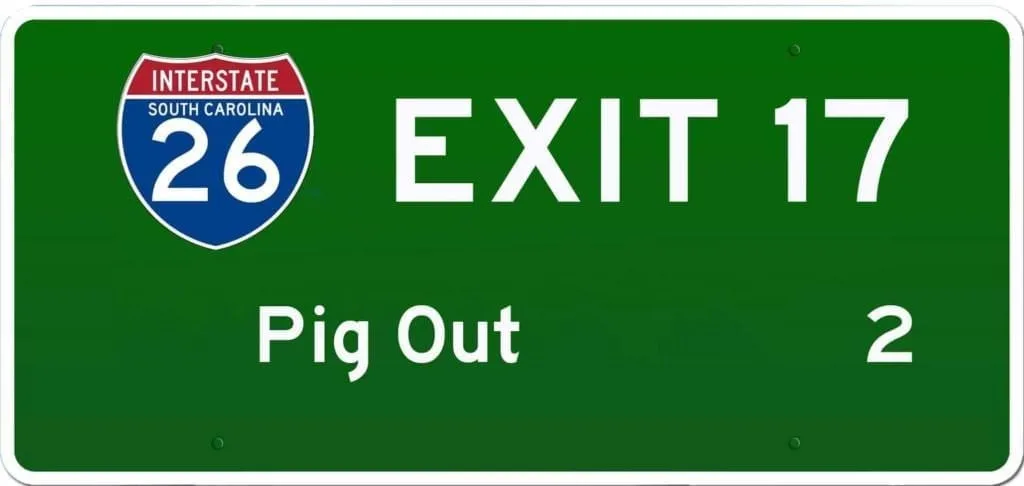 Exit 17 (New Cut Rd.)
Blurb: "Sister to Pig Out in Inman, run, do not walk to get the ribs. There are only so many hogs in the world. If they are sold out, do not be disheartened, everything else is super tasty.
No gristle, no fat, just flavorful meat that melts in your mouth. Sweet crunchy hush puppies, great sides, spicy baked beans. Three sauces and the hot one really is hot!!
I appreciated their honesty. Very friendly staff. Fast service, consistently high quality." ~DnA M, TripAdvisor
Directions: From Exit 17, head west on New Cut Rd. Pig Out will be on your left after about 2 miles. Note: There is a second Pig Out located at 1945 Drayton Rd about 7 miles from Exit 19. It is open on Tuesdays, also.
Google Maps Directions to Pig Out BBQ in Inman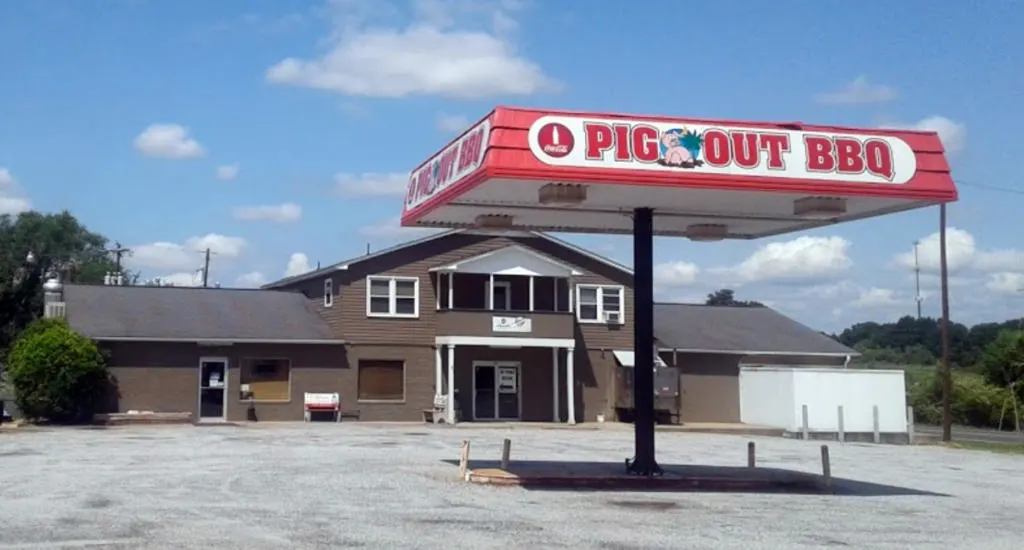 NOTE: Cash Only; Cards not accepted.
Wednesday and Saturday: 11 am – 3 pm
Thursday and Friday: 11 am – 8 pm
Phone: (864) 327-8230
---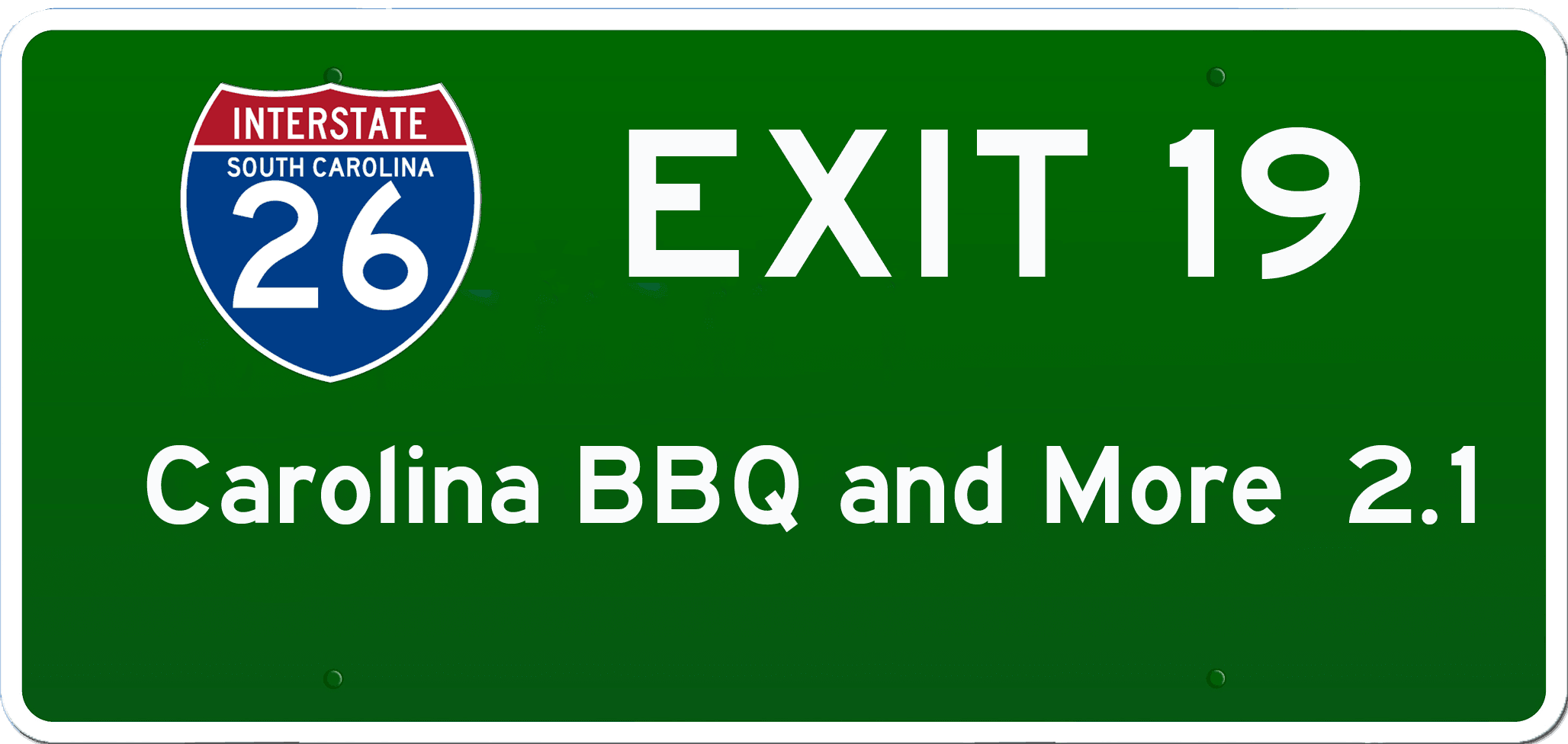 Exit 19 (I-85 Bus./Greenville/Spartanburg)
Blurb: "I visited twice this month from Atlanta. A true BBQ place. The BBQ pork was moist, full of wood flavor, and served without sauce.
The folks there were very friendly and ready to chat. I found myself feeling very welcomed and included in conversations sitting at the counter. I look forward to my next visit." ~ Jim C, Yelp
Directions: Taking Exit 19, you drive east on I-85 Business. Take Exit 4 toward US-176/SC-56/Asheville Hwy. Take the traffic circle around to Lone Oak Rd. and Carolina BBQ will be on your left.
Google Maps Directions to Carolina BBQ and More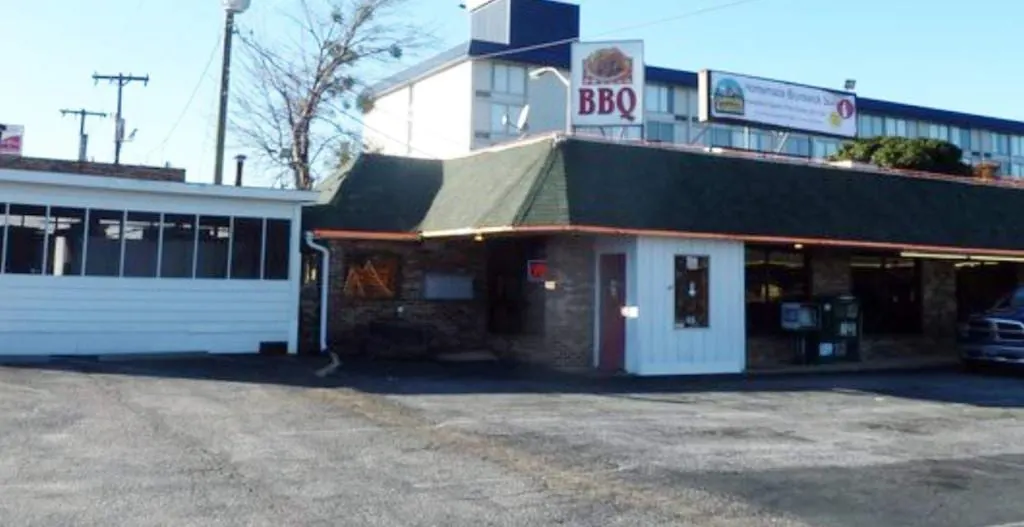 Monday – Thursday: 10:30 am – 8 pm
Friday – Saturday: 10:30 am – 9 pm
Phone: 864.503.0542
---
Exit 21 (US-29/Greer/Spartanburg)
Blurb: "BBQ Perfection. It has been a month since our vacation and we are still talking about the great food we had at Smok'y Blues. My beef brisket was tender, moist, and had the perfect amount of smoked taste.
I am a BBQ lover and this place ranks tops in the USA. While sauce isn't necessary, I just couldn't help myself since the owner is a veritable mixmaster. I tried them all and loved them all.
The sides rose to the level of the BBQ, which rarely seems to happen in most places." D'Lish, TripAdvisor
Directions: Take Exit 21, then head west on US-29 S. Use the left 2 lanes to turn left onto S Blackstock Rd, then turn right onto S 499/Oak Grove Rd. Smok'y Blues will be about a half mile down on your right.
NOTE: Also equally as accessible from Exit 22.
Google Maps Directions to Smok'y Blues BBQ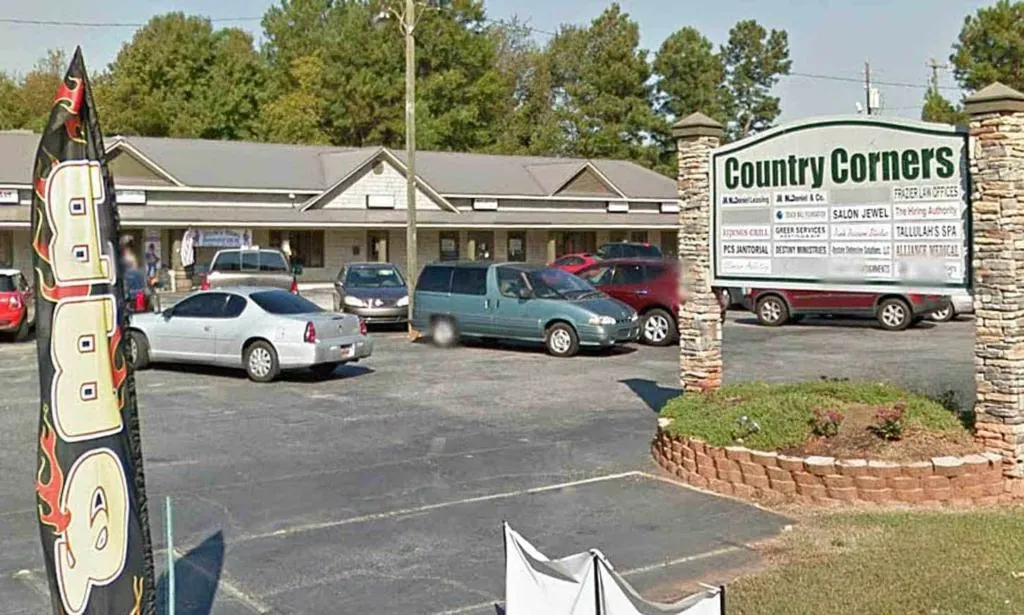 Wednesday – Saturday: 11 am – 7 pm
Phone: 864.587.1807
Blurb: "You must eat here! This is easily the best BBQ I have ever tasted! My husband and I are on our way to Hilton Head Island and needed a place to stop for lunch.
At the South Carolina welcome center, we picked up a BBQ map (I thought it was quirky lol). We picked a place close to us and I was leery about trying a new place spontaneously without reading reviews. But… Wow!

The decor is low-key and clean. Staff is very friendly." Amy B, Yelp
Directions: From Exit 21, drive east for about a third of a mile on US-29 N toward E Blackstock Rd. Use the left 2 lanes to turn left onto SC-295 N/W Blackstock Rd. Bubba's will be a little over a mile ahead on the left.
Google Maps Directions to Bubba's BBQ and Bash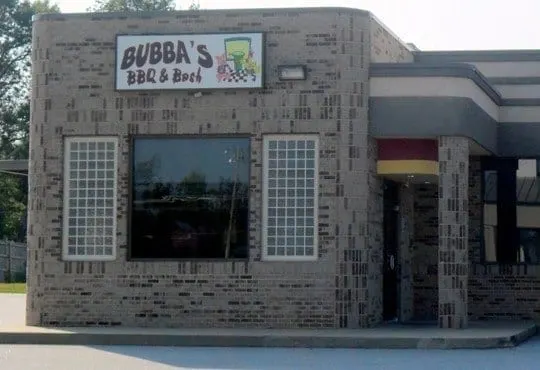 Monday – Saturday: 11 am – 8 pm
Phone: 864.582.7487
Blurb: "Holden's is best known for its chicken stew, and for good reason. The stew is the highlight of the menu. Hushpuppies are a solid side. Rest of the menu is on par with similar drive-in type options.
Never a crowd to compete with. As others have said, it's cash only, though an ATM is on-site." Daniel R, Yelp
Directions: Honestly, a closer drive from Exit 22, but if you take Exit 21, head east on US-29 N toward E Blackstock Rd. Quickly you will turn right onto E Blackstock Rd and follow that for about a mile. Use the left 2 lanes to turn left onto John B White Sr Blvd.
Go about 1 mile. Turn right onto SC-295 S/Southport Rd and Holden's will be about 1.7 miles down on your right. If you take Exit 22, pick up the directions from "Turn left on John B White Sr Blvd."
Google Maps Directions to Holden's Ranch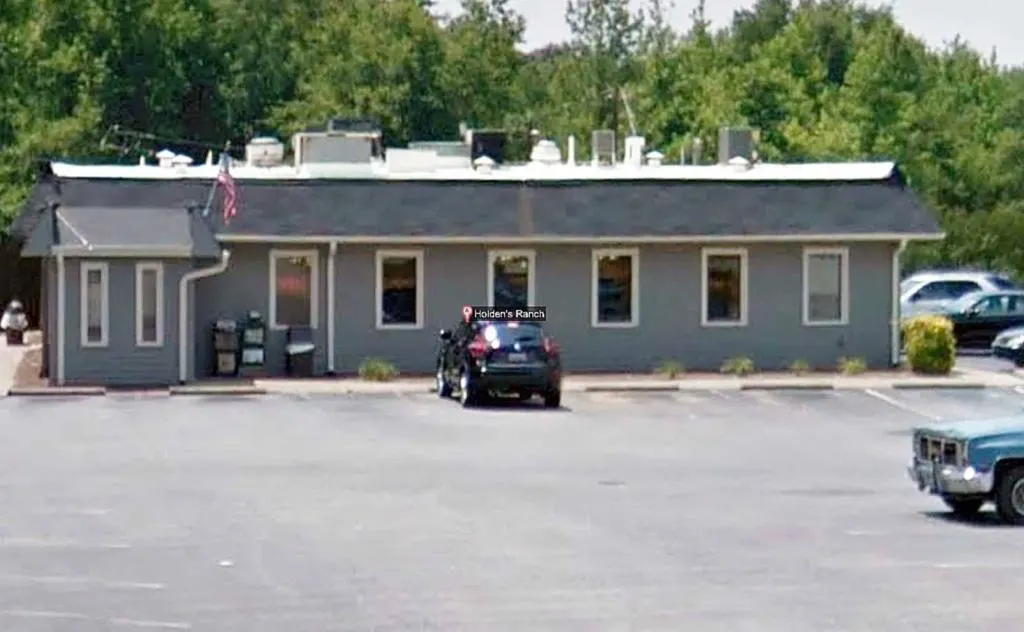 NOTE: Cash Only, no cards accepted
Monday – Saturday: 11 am – 9 pm
Phone: 864.576.7396
Blurb: "My husband and I LOVE this place. Don't be fooled — this place may be next to a gas station, but this little restaurant has BBQ that is excellent! I always get Sams Regular – their pulled pork sandwich — with 2 sides (I get green beans and sweet potato crunch!)
I load that sandwich up with their "Secret" sauce (We HAVE to buy this in a quart every time we come because it's finger-lickin' good). I'd recommend this restaurant to anyone!" ~ Jessica Watts, Google Review
Directions: Take exit 21B to merge onto US-29 N toward Spartanburg. Use the left 2 lanes to turn left onto W St John St. Turn right onto N Pine St. Pass by Brown & Brown Insurance (on the right) Little Pigs will be on the right.
Google Maps Directions to Little Pigs of Pine St.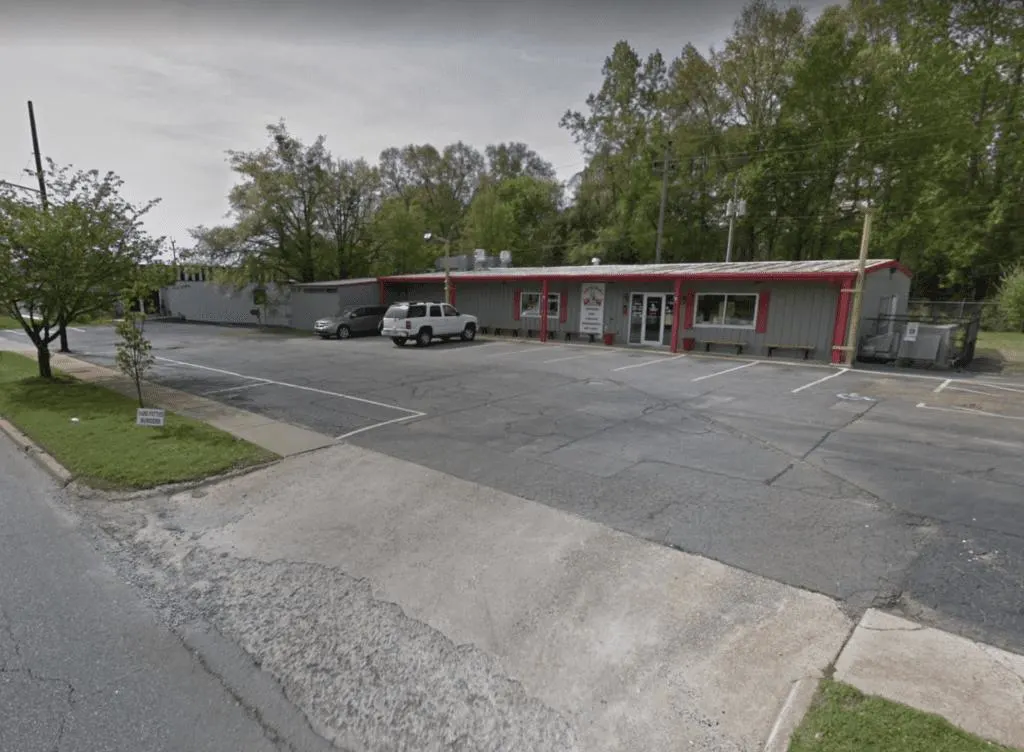 Tuesday – Saturday: 11 am – 8 pm
Phone: (864) 310-6282
---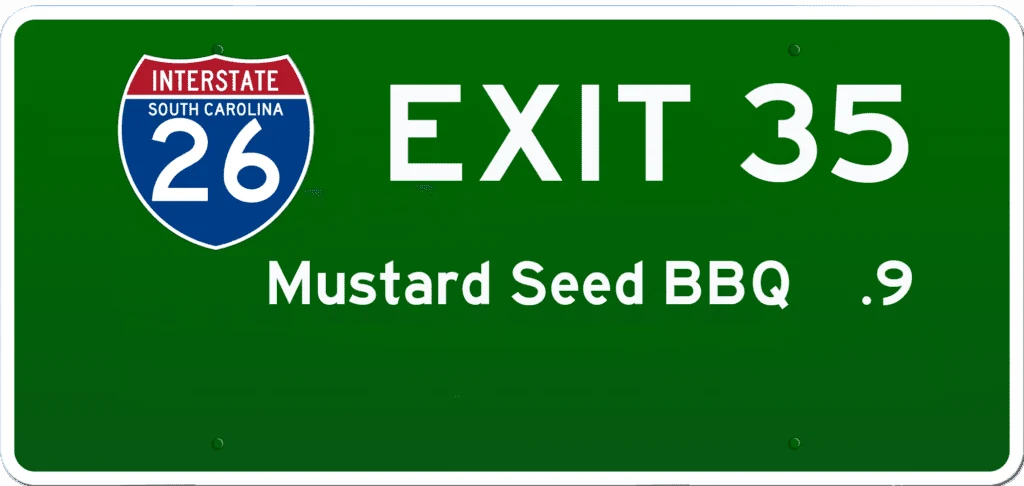 Exit 35 (Walnut Grove Rd./Woodruff)
Blurb: "We plan our trips from Florida to Tennessee and back to make sure we hit here for lunch. Great buffet and awesome fried chicken. The owners are always there and are extremely friendly.
Save room for the deserts, they are homemade! Take exit 35 off of I-26 towards Woodruff and about 3 miles down you will see it. Well worth the short drive!" ~ Fred T, TripAdvisor
Directions: Despite Fred T's directions above, the drive is about a mile, not 3. Take Exit 35, head west on the road you exit onto (S 50), and Mustard Seed will be on your left about a mile down the road.
Google Maps Directions to Mustard Seed BBQ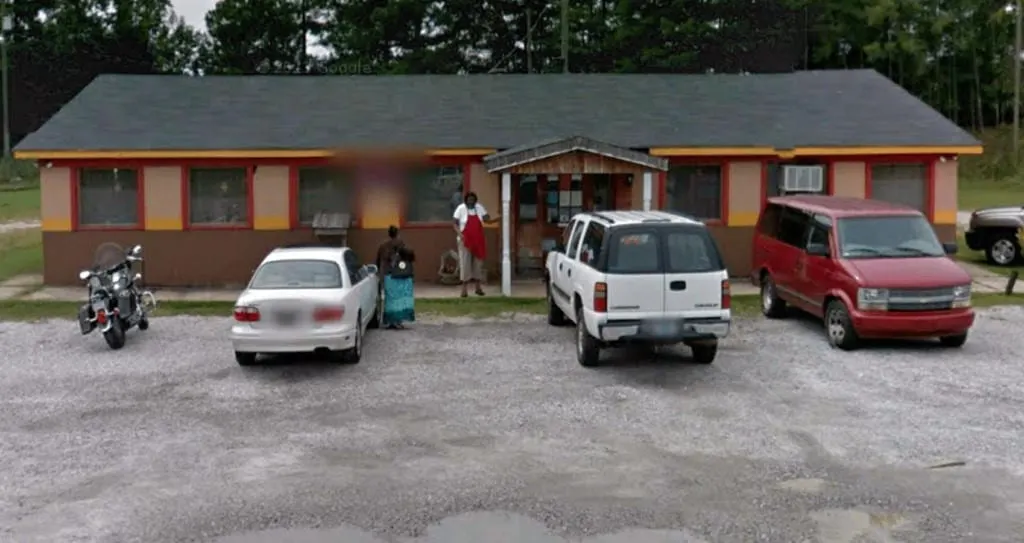 NOTE: BBQ is served only on Thursday – Saturday from 3 pm – 8 pm.
Monday – Friday: 11 am – 8 pm
Saturday: 7 am – 8 pm
Sunday: 11 am – 4 pm
Phone: 864.476.8700
---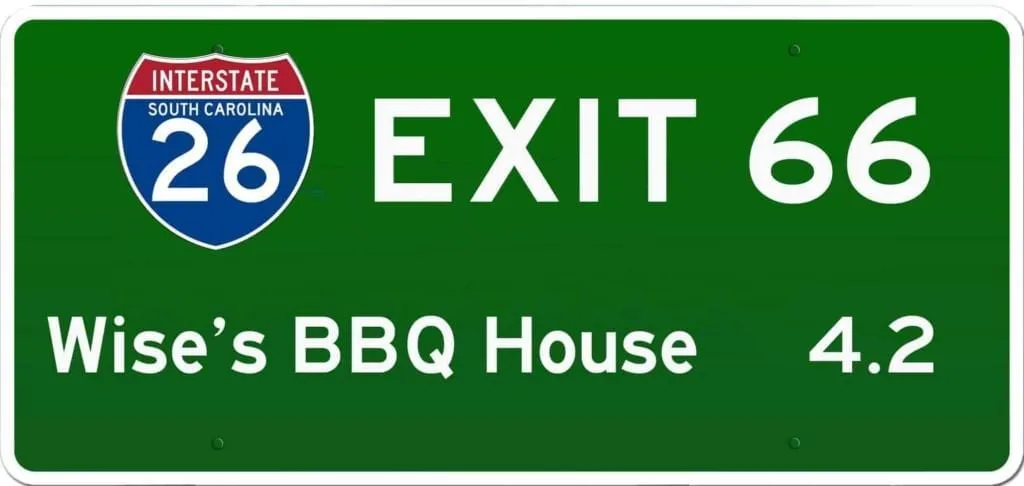 Exit 66 (Road 32/Jalapa)
Blurb: "My husband picked up ribs and a pork sandwich. Let me tell you, it was delicious!! The ribs were fall off the bone tender and the pork sandwich was excellent.
There was plenty for the two of us! If you want tasty barbeque, give Big Boys BBQ a try!" ~ Carolyn Wessel, Facebook Review
Directions: After taking Exit 66, head southwest on Jalapa Rd toward State Rd S-36-798 for a little over 2 miles. Turn right onto Pete Harris Rd. which will dead-end at US-76. Turn right onto US-76 W, drive just over 1.5 miles and Wise's will be on your left.
Google Maps Directions to Wise's BBQ House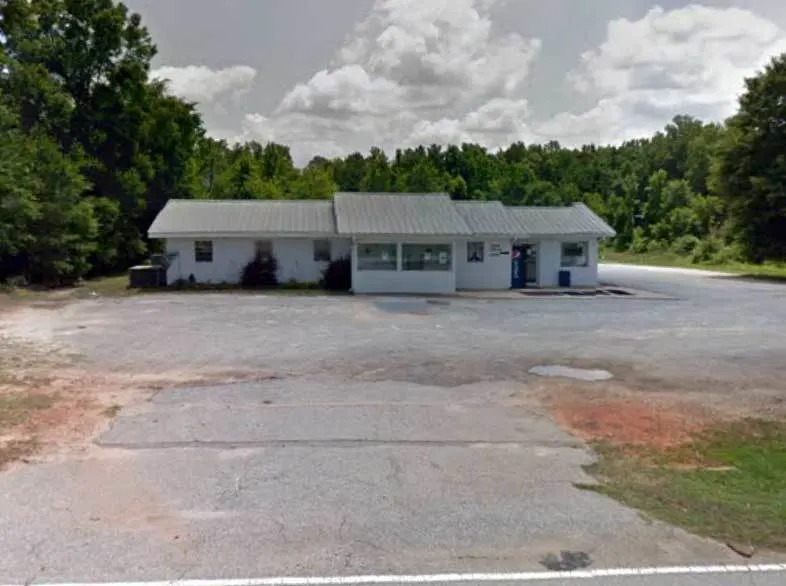 Friday – Saturday: 9 am – 9 pm
Phone: 803.276.6699
---
Blurb: "This is HANDS DOWN our favorite restaurant in Newberry. Their smoked meats are consistently out of this world (the smoked chicken is the best i have ever eaten) and their sides are always amazing.
"The Poutine (french fries with cheese curds and gravy) were a new one for us…but they are SINFUL. Their Fried Green Tomatoes with Pimento Cheese and Pulled Pork (yes, pulled pork) and a drizzle of sauce are unlike anything I've ever had.
"The prices are so reasonable, we honestly eat here 3-4 times a week. Service is outstanding and Frank and Shevy are always out meeting and talking with the patrons. Would give it 10 stars if we could…" Kristi K, Yelp
Directions: Take Exit 74 toward Winnsboro Rd. Turn onto SC-34 W/Winnsboro Rd and head toward Newberry for around 2.5 miles, until you reach Main St. Turn right onto Main St. and go for about 1 mile. You will find Steelhorse Smokehouse on your left.
Google Maps Directions to Steelhorse Smokehouse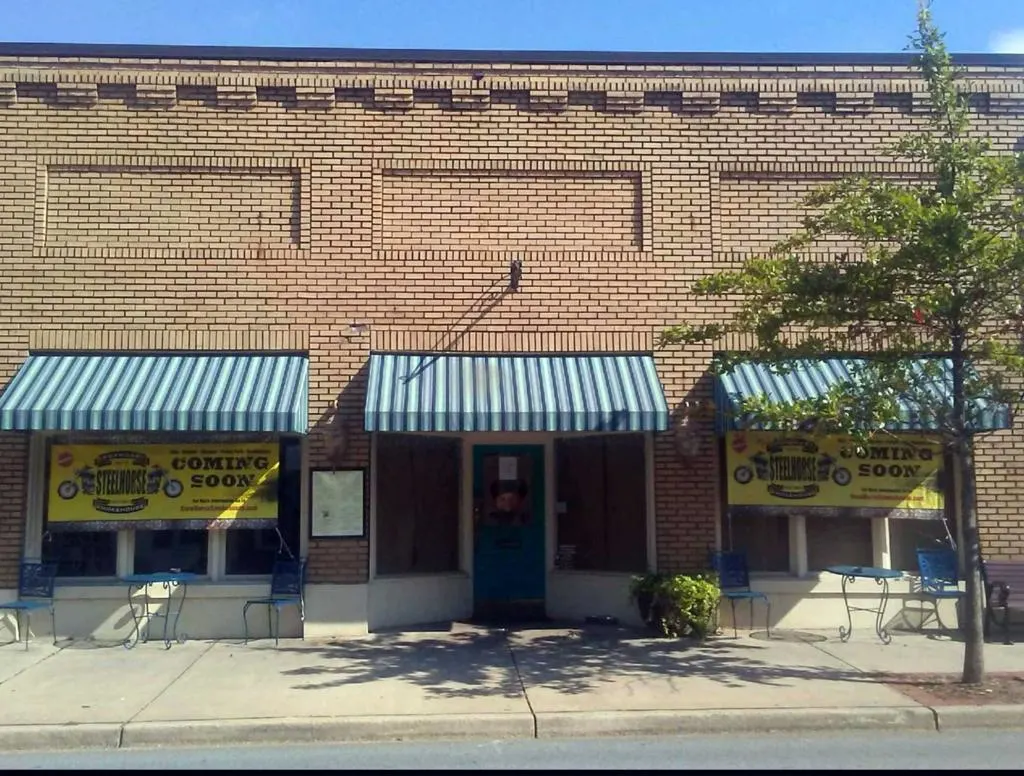 Thursday – Friday: 11 am – 9 pm
Phone: (803) 597-5262
---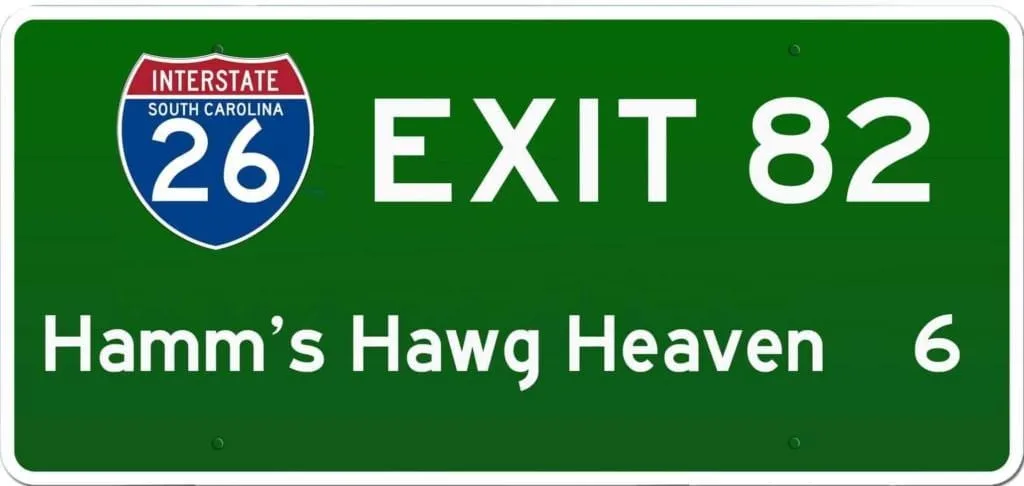 Exit 82 (SC 773/Prosperity/Pomaria)
Blurb: "This is not fine dining, but a great Southern Bar B Que buffet. It is one of those places where there is lots of food and it all tasted great.
They even have little ice cream cones and blackberry cobbler for dessert. The fried chicken livers were a favorite of my wife and myself. Southern cooking at it's best." Uncle1time, TripAdvisor
Directions: After taking Exit 82, you will drive southwest on SC-773 S toward State Rd S-36-164 for about 2 miles. That road will dead end into US-76. Turn right onto US-76 W and drive for 4 miles. Hawg Heaven will be on your right.
Google Maps Directions to Hamm's Hawg Heaven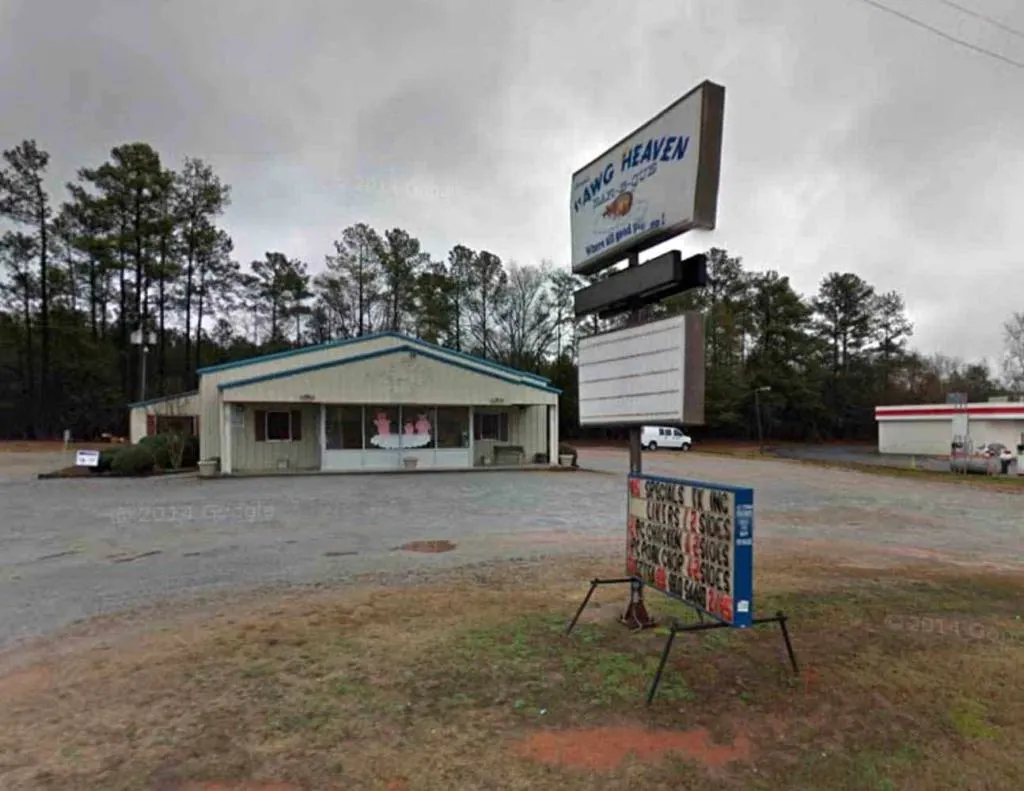 Thursday – Saturday: 11 am – 9 pm
Sunday: 11 am – 8 pm
Phone: 803.364.4295
---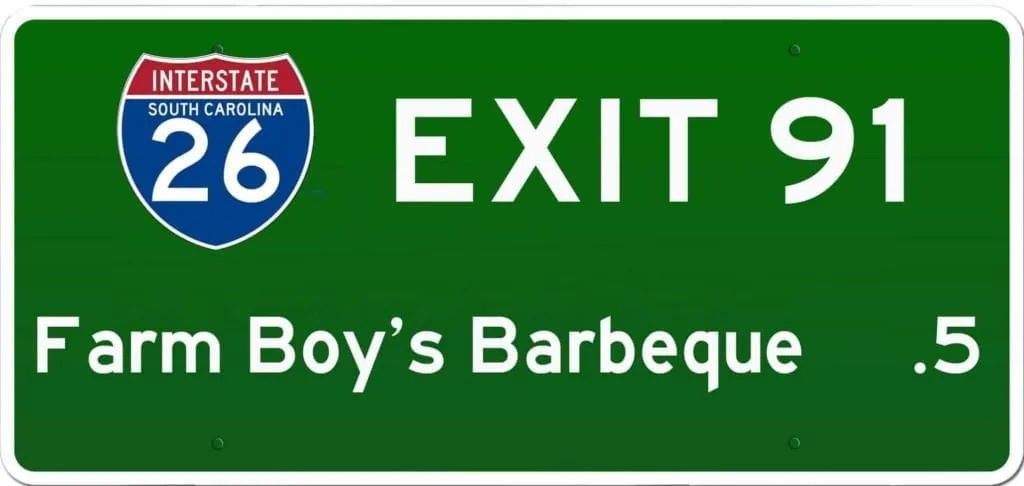 Exit 91 (Columbia Avenue/Chapin)
Blurb: "Farm Boy's is a fantastic restaurant. It's a BBQ buffet…which means unlimited bbq, fried chicken, sides, and desserts. They have both mustard-based and vinegar-based pulled pork.
They also have bbq hash which was fantastic over rice. The breading on the fried chicken was out of this world. I can't seem to say enough great things about this place! I highly recommend it." ~ Rebecca K, Yelp
Directions: Easy…take Exit 91, head southwest on Columbia Ave and you are there in about a half mile. Farm Boy's will be on your right.
Google Maps Directions to Farm Boy's BBQ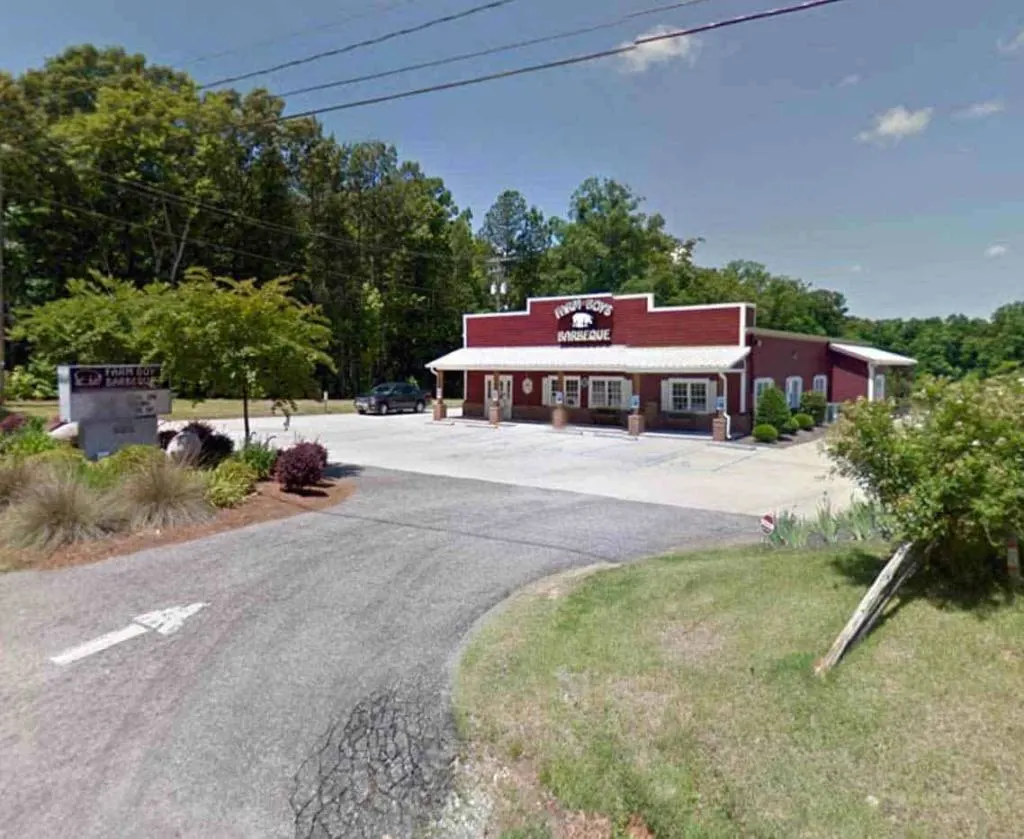 Thursday – Saturday: 11 am – 9 pm
Phone: 803.345.7600
---
See More SC BBQ Road Trip Guides: