This post may contain affiliate links to Amazon or other vendors I trust. Please read my disclosure policy. As an Amazon affiliate, I earn from qualifying purchases.
Roy's Grille: Is it a BBQ Joint?
Roy's Grille in Irmo is one of those places that confounds us here at Destination BBQ. While they serve amazing barbecue, it is not what you'd call a BBQ restaurant.
Its menu is much more extensive and covers breakfast, lunch, and dinner.
We always question what to do about places like Roy's Grille. Does a place that happens to serve BBQ as a part of its menu belong on this site?
If this were the only deciding factor, we would have to list all sorts of places from fast food restaurants like CookOut or Bojangles to any mom-and-pop spot that serves steamed ribs or crockpot hash.
Really, there needs to be a more compelling reason to list such places on this site, and Roy's Grille exceeds every standard.
NOTE: Roy's Grille has recently moved to a new location (from Lexington to Irmo) and changed its hours. We have updated the address and details, and we'll update the rest of the article ASAP.
Public Support
First, we've known about Roy's Grille for years. Initially, from looking over the menu, we decided it wasn't a "BBQ joint" but rather a place with BBQ on the menu.
Then, people started reaching out to us about Roy's. Based on what I learned in those conversations, it became clear that while Roy's Grille does indeed serve a broad menu, it is really renowned for its barbecue.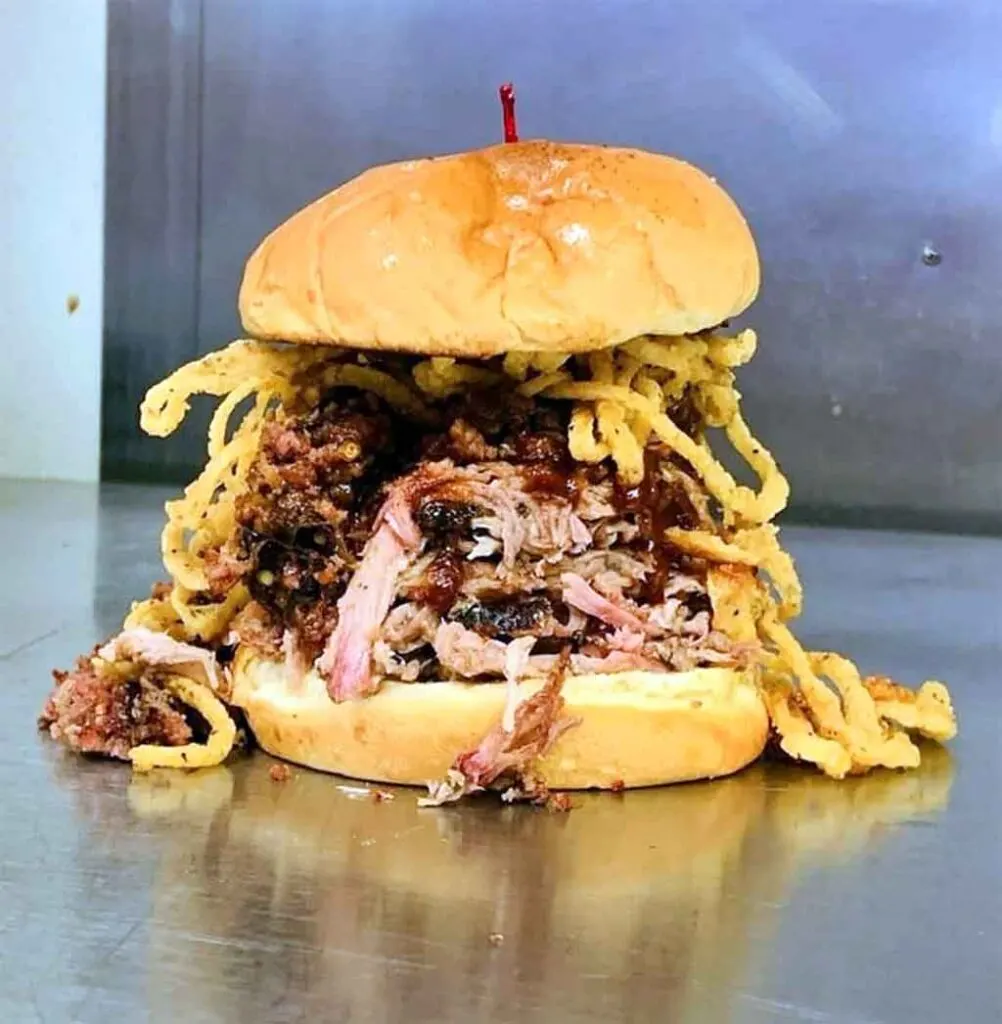 In fact, one person flat-out said that if you asked anyone in the area, they would call it a BBQ joint.
For us, that was enough to add Roy's Grille to the site, so enjoy the barbecue or other items on the menu. You'll find something for everyone at Roy's.
But It's Not Even a Restaurant, Is it?
Another thing that may throw you about Roy's is that it is not your typical restaurant. In fact, if you were just driving by, the only thing that would clue you in that there was BBQ in the area would be the sight or smell of smoke.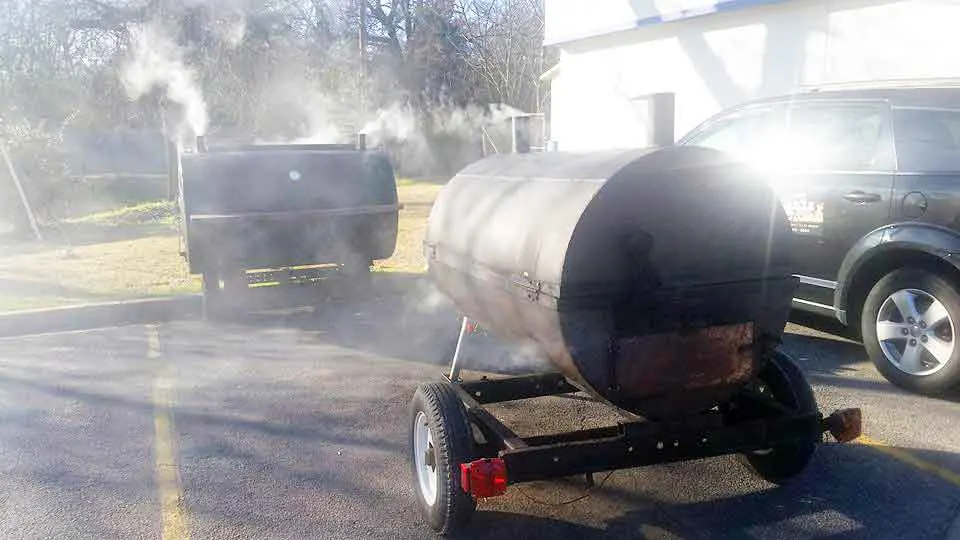 Hidden inside a small Exxon station, Roy's Grille barely takes up any space. It has a counter for ordering and a small kitchen space for the owner and chef, Chris Williams to work his magic.
"A lot of people who hear about us say, 'A gas station, get outta here. I'm not going to eat out of there.' I knew that would be people's response going into it, but I wasn't worried because I knew we had a good product," Williams said.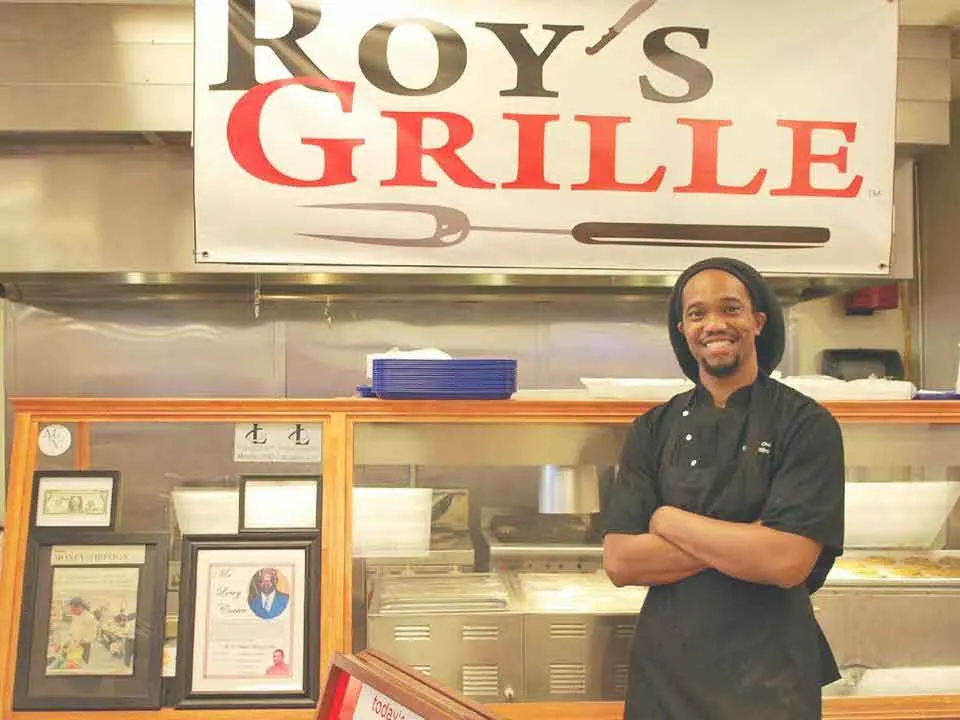 For the lunch diners, you'll want to consider the barbecue plate. Offering incredibly smoky, fall-off-the-bone ribs and pulled pork, Roy's Grille gives the most acclaimed barbecue spots in the Midlands a run for their money.
Heck, Williams even makes his own bacon.
Beginnings: Roy's Grille Owner Chris Wiliams
Williams' life has always revolved around food – growing it, cooking it or serving it.
"I have always had an infatuation with food," Williams says. "Growing up in the country, we raised our own animals and grew a lot of our own vegetables.
"So when it was time to cook, we would gather our own vegetables and slaughter our own pigs and chickens. That's when cooking was real."
"You couldn't just go buy a bag of something and put it on the stove. You had to get some salt, pepper, and spices.
"I grew up in the kitchen watching my grandmother and learning from her. I still remember that the first dish I made by myself was a pot of rice. That's where it all started – in the kitchen with my grandmother."
After working in restaurants since he was 15, Williams decided to put his food experience to work and founded William Christopher's Catering in 2013, though he was still working full time.
Eventually, the catering business grew and he left his regular job to move into the catering business full-time.
"After a month, I got a call from someone who was familiar with my food," Williams recalled.
"They said 'Chris, you have to check out the Exxon across from the Post Office in Lexington. They have a kitchen available.'
'I came, and the rest is history. Within 30 days, I was in here cooking."
Like the history of barbecue itself, Williams' past influences what he does in the pits today.
Roy's Grille Opens
On September 16, 2014, Willams opened Roy's Grille in Lexington, naming it in honor of his grandfather, Leroy Carter. From opening day, Williams was serving breakfast, lunch, and dinner.
However, the menu wasn't always the same. In the beginning, he tried selling upscale items like ribeye steaks, Williams quickly realized folks coming to a gas station weren't in the market for ribeyes.
As a result, Williams reimagined his menu and began to feature southern favorites, all freshly made and cooked to order.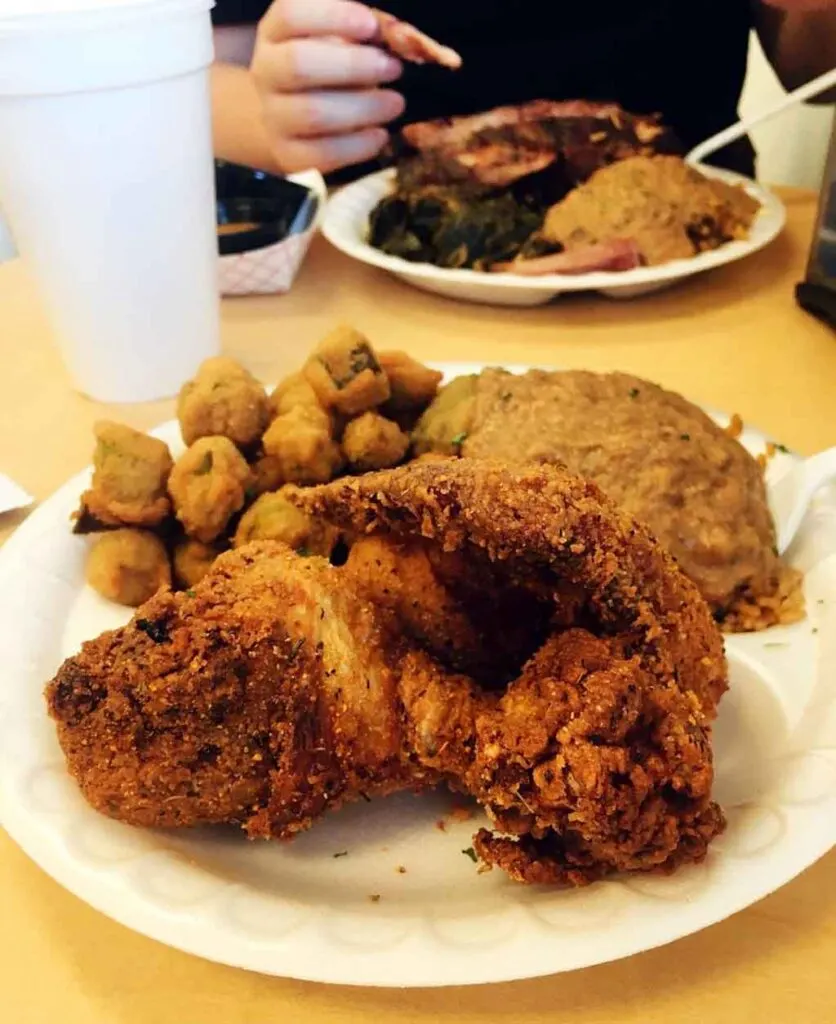 "I wanted something that was unique to the area, but not so far-fetched that people would be afraid to come try it," Williams said. "But everything we sell, I put my unique spin on it."
That Homemade Taste
Virtually everything Williams serves at Roy's Grille is homemade.
"We cut, cure, and smoke our own bacon," said Williams. "We hand-make our hamburger patties. And we make our own BBQ sauces."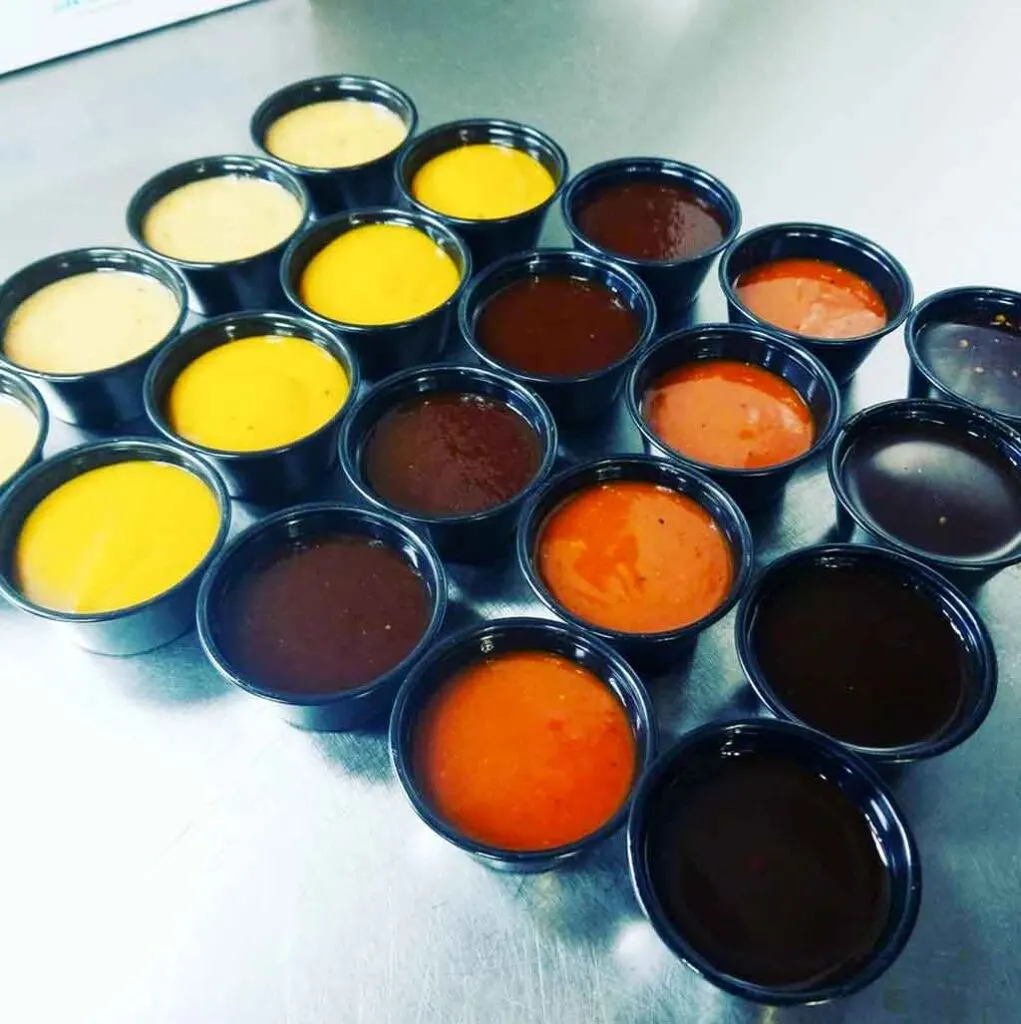 "I take the homemade bacon and put it into potato salad," Williams continued. "We have Caribbean cole slaw with fresh ingredients. Our pasta salad is spicy.
"I also make a smokehouse rice – I take smoked pork stock and make rice out of it with peppers and different things in it. I even dice up rib meat and put it into the rice.
"We also have a seven-cheese mac & cheese that's very popular. We also make our own hash.
"All of our signature side dishes are unique to Roy's Grille."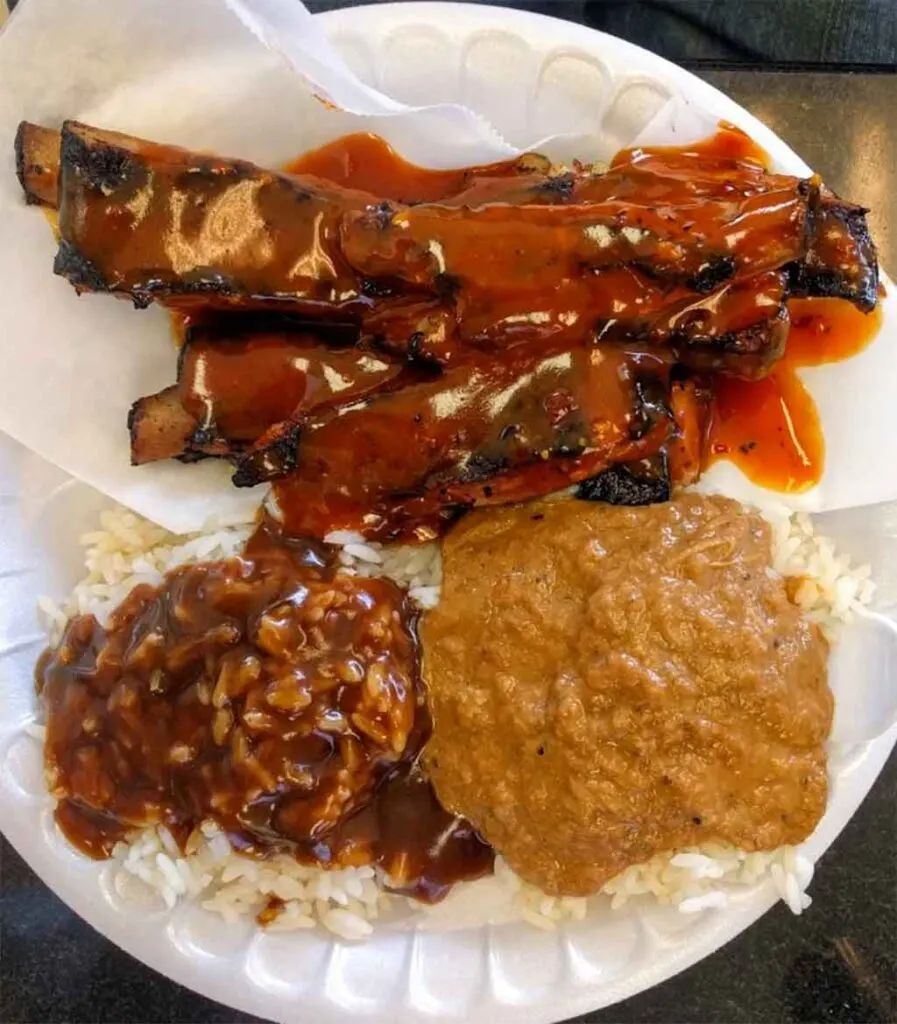 On the dessert menu, you will find banana pudding, sweet potato pies, triple chocolate brownies, cheesecakes, and fresh cobblers.
On the breakfast menu, popular items include shrimp & grits, pancake and grits platters, and a wide variety of breakfast sandwiches and omelets. Breakfast items are available until 10:30 a.m.
What Folks are Saying about Roy's Grille
Google Review
Among the many Google Reviews, Local Guide Matt N has tried all of SC's best BBQ places and thinks Roy's Grille is better than them all:
I would tell people in the past few months that Roys is the best BBQ in the midlands…after a few more trips, here I have a new declaration: Roys Grille is the best BBQ in South Carolina!
That's right…Lewis BBQ, Rodney Scott, Home Team, Swig & Swine, etc. are all good but they ain't Roys!
Don't waste your time with the big-named over-hyped, and priced, places when the best BBQ resides in Lexington (now Irmo)!
Yelp Review
Over on Yelp, Mandy N stopped by Roy's Grille to avoid a traffic backup and found a reason to return:
To be in an Exxon, and only have one smoker, the BBQ was pretty damn good!
My husband and I were trying to kill some time while we waited out a car accident on the interstate. Yelped some BBQ places and this seemed to be a local favorite.
We ordered the BBQ rib plate and a pulled pork sandwich. We got the ribs with a tomato-based sauce and the sandwich with the 'bold and beautiful.'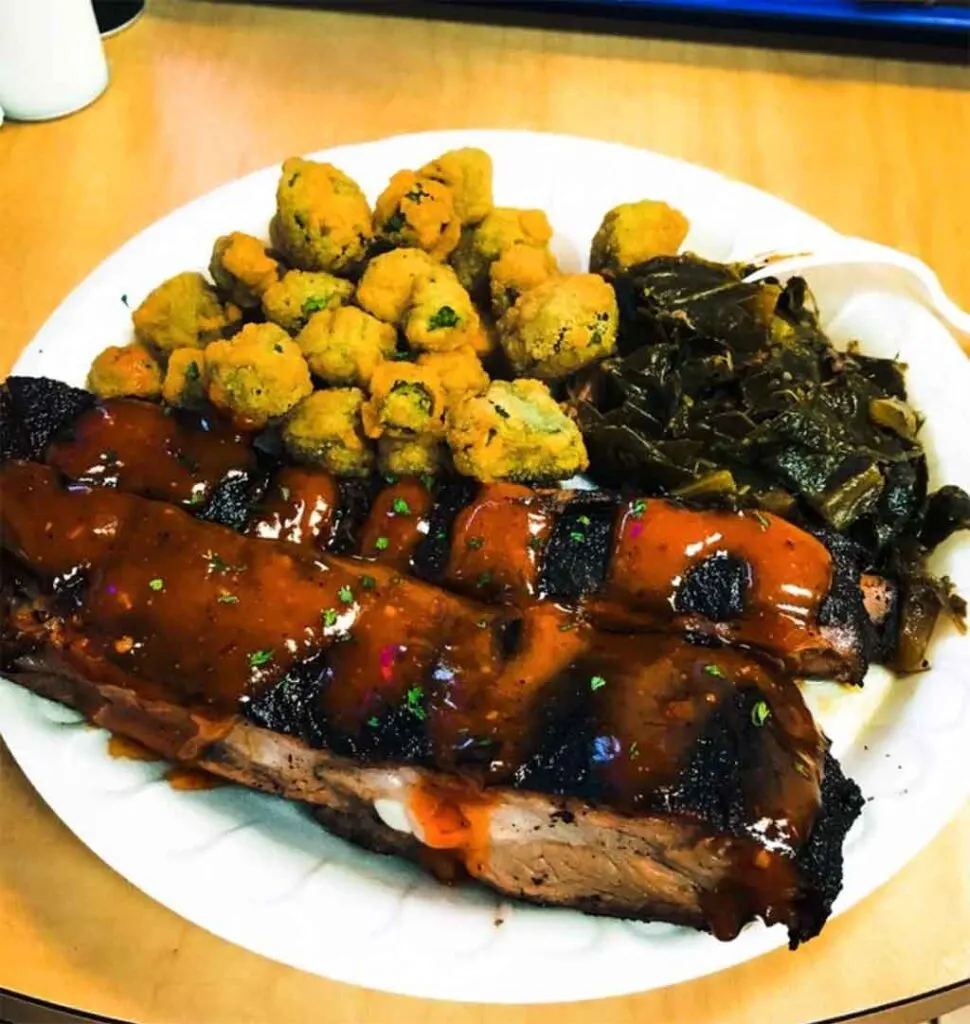 Both sauces were excellent, and I wish we would have asked for a little extra on the sandwich. Ribs fell off the bones though.
We also got green beans and mac n cheese as sides — pretty yummy as well! I have zero complaints about our meal.
All in all, I'd eat here again!
Menu for Roy's Grille
Note: Menu prices and options are subject to change over time. Contact the restaurant for the most up-to-date information.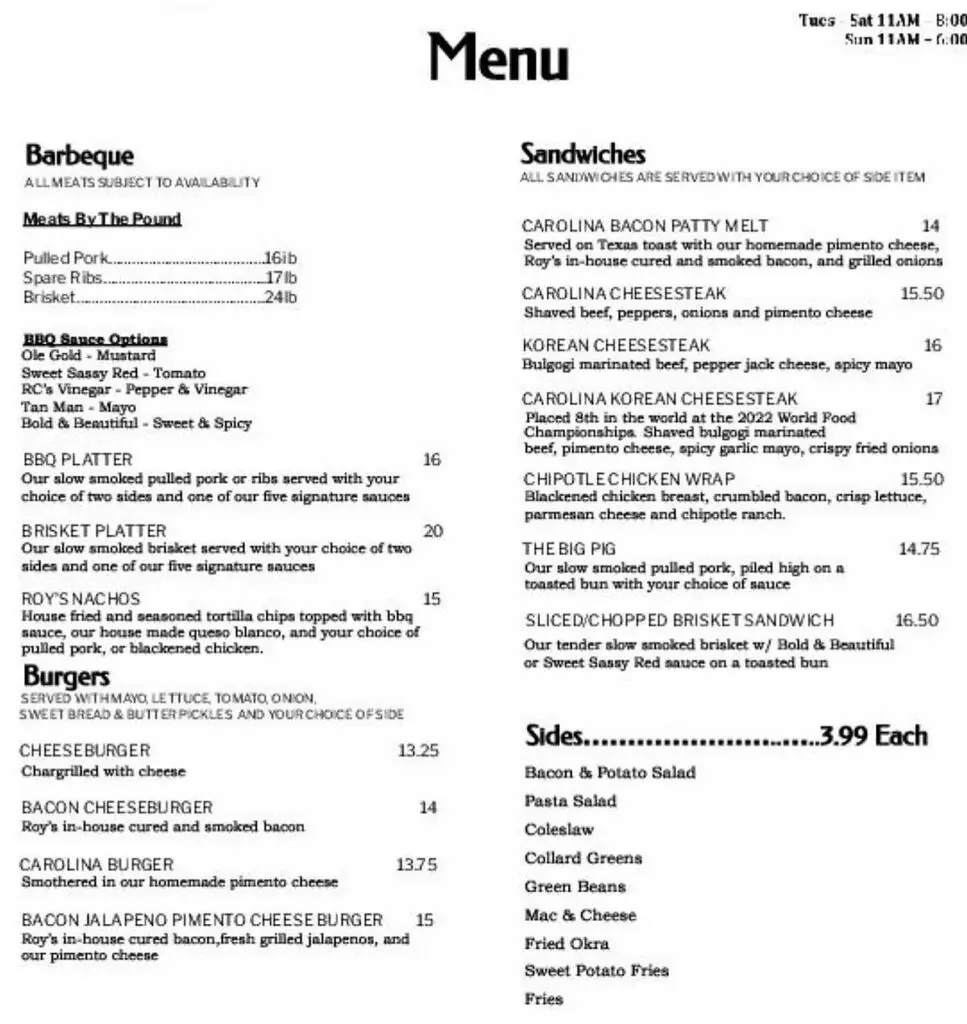 Location, Hours, Contact Info, and More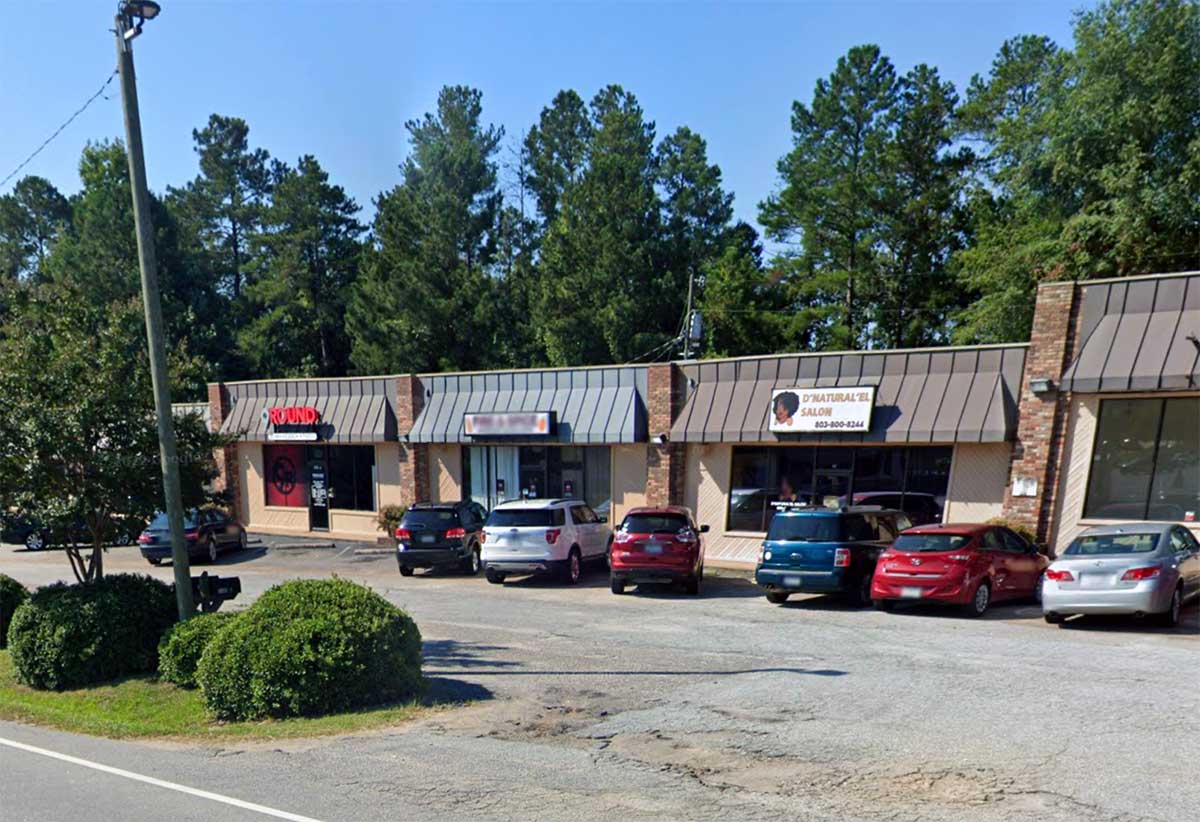 Map
Directions
Contact Roy's Grille
7971 N Woodrow St
Suite D
Irmo,
SC
29063
Hours of Operation
| | |
| --- | --- |
| Monday | Closed |
| Tuesday | |
| Wednesday | |
| Thursday | |
| Friday | |
| Saturday | |
| Sunday | |
Review Sites
Features
Cards and Cash, Hash, Heavy Tomato Sauce, Light Tomato Sauce, Mustard Sauce, Vinegar Pepper Sauce, White Sauce