South Carolina is a BBQ hotspot.
This post may contain links from which I earn a commission. Please read my disclosure policy. As an Amazon affiliate, I earn from qualifying purchases.
Just look at the billboards promoting the SC BBQ Trail as you travel SC's major roadways. You can't help but notice — and be tempted to stop in somewhere and grab a bite.
Get your own personal copy of the SC BBQ Trail Map. Better yet, just use our more complete, up-to-date, interactive, online SC BBQ Trail Restaurant Finder.
So just why did SC decide to promote BBQ of all things?
A Little History
Well, the reasons are many:
First, South Carolina is arguably the birthplace of BBQ. Like with most things, SC stands proud upon its traditions.
Our state boasts several distinct regions wherein BBQ enthusiasts can sample a barbecue that is at once historically unique to that section of the state and, yet, significantly different from what may be served in even a neighboring county. Much of that has to do with the "base" its sauce is built upon.
SC is the only state in the union in which four different sauces evolved and stood the test of time. Here we enjoy vinegar-pepper, light tomato, heavy tomato, and the sauce that is most unique to SC, a mustard-base.
See this map to get a better understanding of where you are likely to find a certain sauce type: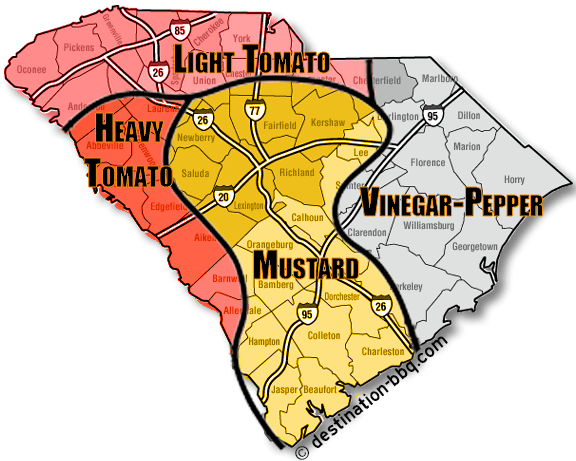 With such a history, it's no wonder those traveling within South Carolina would be eager to sample all of the various flavors of SCBBQ.
That is what inspired us to begin this series of articles. They are here to make it easier for travelers who find themselves hankering to sample some of the best BBQ SC has to offer.
(As a side note, learn how to eat SC's best BBQ for FREE!)
In this series, Destination BBQ takes a look at the BBQ options along each of the major roadways in the state.
Five interstates crisscross the state, and each passageway provides ample opportunity to get a taste of true SCBBQ.
Whether you find yourself passing through the state or simply traveling within it, we will catalog each of the stops along your journey.
Guidelines
Our parameters are simple:
Each of these restaurants must lie within 10 miles of an interstate exit. Because this is meant for travelers, time and distance are important factors. If there is an exceptional option just beyond that range, we may include it, with notes of the extra distance. Nothing will be farther than 20 miles from an exit; most are within 5.
Several interstates have ending/beginning points in SC. SCBBQ restaurants that aren't "on" a given interstate have not been included. For instance, I-26 ends in Charleston. There are many BBQ restaurants within 10 miles of the end of I-26. None of them are included since they aren't really on I-26, but, rather, beyond the end of it.
No national chain restaurants are included. All restaurants must be unique to SC (or at least born here). The vast majority are single, "mom and pop," family-owned restaurants. Note the following:

In a case like Maurice's, which has more than a dozen locations, there are likely to be many different shops along a given route; we will only identify one, being a representative sample. Know that there may be others nearby, particularly as you pass through Columbia.
A case like Dukes, however, is different because each Dukes is different and unique. Despite what you may assume — they are not all part of one chain, so each will be included.

Inclusion on this list should not necessarily be taken as an endorsement; we haven't personally tried them all. We will provide links to our page about each where you can learn more and make your own decision.
The mileage provided for each restaurant is based on its distance from the interstate exit; however, it is not precise. That said, mileage was calculated using Google maps so it should be very close. Give us a margin of error of about a half-mile.
Locations may be listed as "Must Visit" because of a significance beyond the actual quality of their BBQ. For instance, they might have played an important role in the history of SC BBQ or be particularly representative of some aspect of BBQ in SC.
So, with that framework, we begin our Road Trip series, helping you find your way to both the famous locations and the hidden gems near our major roadways.
Know Before You Go
A few caveats and suggestions as we begin:
We highly recommend our SCBBQ Trail Locator Map. We built our map for travelers and SC BBQ enthusiasts. With your permission, it will find your location and reveal the 25 closest SCBBQ restaurants within 100 miles of you. And, if you like, you can filter the results so that it only shows you certain matches, like those that take cash only or those who serve a mustard sauce.
Remember, CALL AHEAD. As we said, most of these are small family-owned restaurants. Most are not open every day of the week. In fact, it would not be unusual — particularly around a holiday — for them to close up shop because they have sold out, are traveling, have an event to cater, or simply have more pressing business that needs to be tended to.
There are, of course, many SC BBQ restaurants that are not "on" or even near an interstate. As noted above, we have chosen to exclude these restaurants from our list, but do not fret. Following this series, we will begin another series on the "Must Visit" SC BBQ restaurants within each of our primary geographic regions. However, we felt we could best serve those traveling around our state by focusing first on our major roadways. So this is where we begin.
We hope this series helps you find just the right place to stop as you make your way around the state. Longtime residents may discover new places and visitors can get a true taste of SCBBQ.
Enjoy the drive…
SC BBQ Interstate Road Guides
Below you'll find each of our guides. One (or more) for each of the 5 interstates in SC. Explore the one you're traveling today or survey those on roads you might one day roam.
---
(Note: if you'd like to learn to make authentic SCBBQ recipes, including the world's best mustard sauce, check out the recipes we've published on this site or our SCBBQ Recipes: Going Whole Hog cookbook, with over 150 pages of recipes from ages-old family traditions and today's top SCBBQ pitmasters Learn more here.)