This post may contain affiliate links to Amazon or other vendors I trust. Please read my disclosure policy. As an Amazon affiliate, I earn from qualifying purchases.
Can you get bacon from a wild boar? You sure can, and this wild boar bacon recipe from Chef Anthony Gray formerly of Bacon Bros. Public House in Greenville, SC, is the one you'll want to try at home. But to be clear, this homemade bacon recipe works equally well with wild hog or domesticated pig.
The real question is will just any wild boar be a good choice for making bacon? The short answer is no.
"Despite what some might think, bacon can be made from wild hogs just as easily as with domestic pigs," writes Georgia Pellegrini on americanhunter.org. "It is just a bit more challenging to find a wild hog with a belly large enough and thick enough to be worthy of bacon.
"Many wild animals are athletes, after all, they don't lounge around all day and get fat. This means you need at least a 300-pound hog, give or take."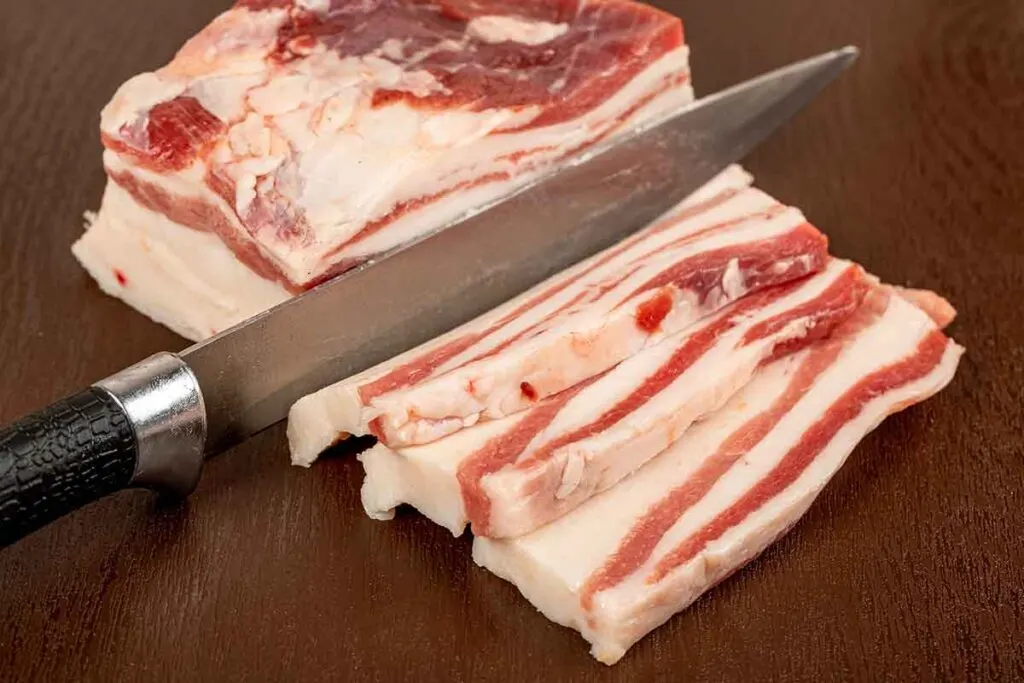 So if you bagged the right wild hog or purchased wild boar belly online, you have the makings for some fine bacon on your hands. If not, the good news remains that this wild boar bacon recipe works great using a domestic pork belly.
Wild Boar Bacon vs Domestic Pig Bacon
While the two animals are clearly similar, there are obvious differences between a wild hog and a domestic pig. Those "lifestyle" differences result in a similar but modified flavor profile.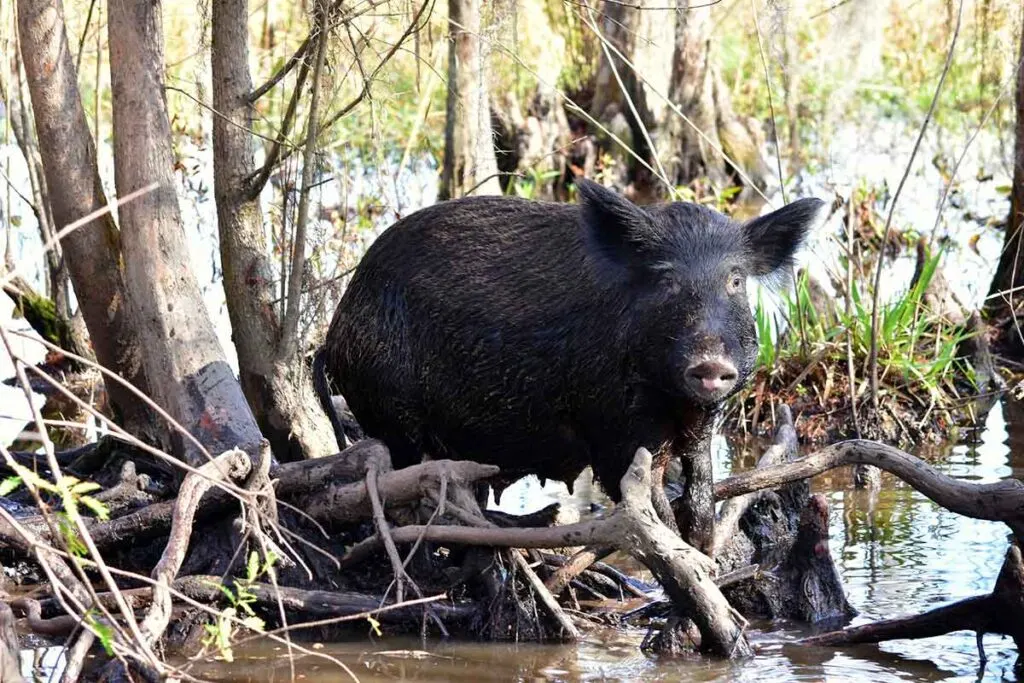 "Wild hog belly is similar to that of a domestic pig, but with a few differences," noted Meateater contributor Danielle Prewett in an article on Food 52.
"They are considerably smaller, typically have less fat, and have tougher connective tissue."
As a result, you might think the flavor would suffer, but Prewett insists that's not the case. So, what does wild boar bacon taste like?
"The flavor is phenomenal," writes Prewett. Just as the leg meat of a turkey is darker and richer than the white breast meat, a wild hog is more robust than domestic pork.
But being more robust is just the beginning. Because of their diet, the taste you enjoy with wild boar bacon is more complex than what you may be used to with commercial bacon.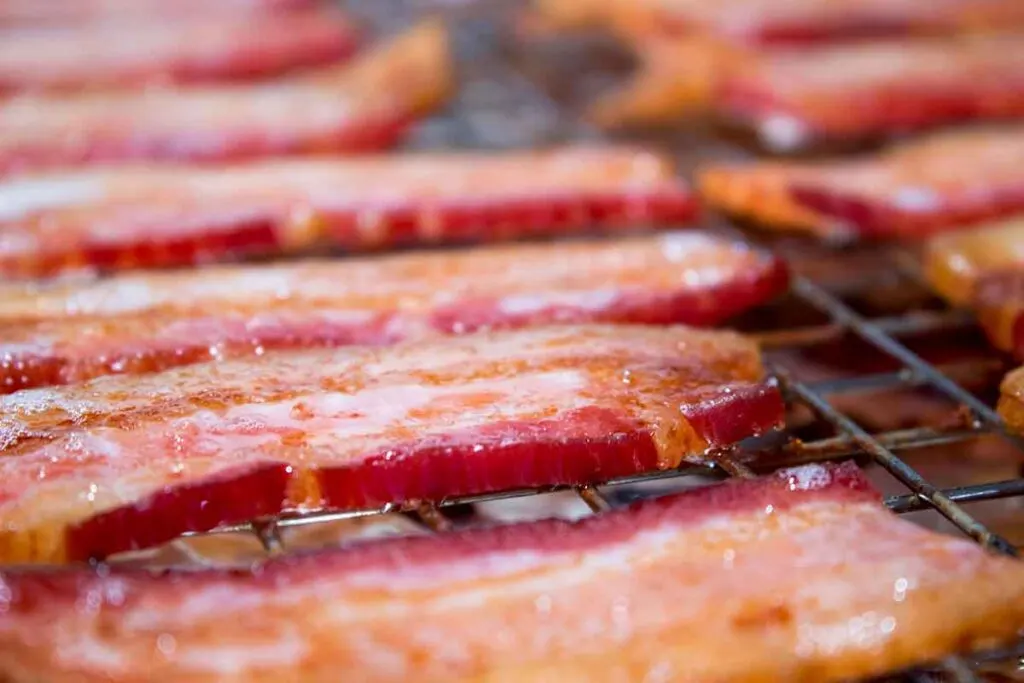 The flavor of wild boar bacon is "bold, yet sweet, earthy and nutty from the tubers, grasses, nuts, and roots that the animals eat when they forage," according to Steaks and Game. "Wild boar bacon is also much leaner than regular pork, with no sacrifice on flavor."
Where Can I Buy Wild Boar Bacon Online?
Steaks and Game is one of a number of retailers from which you can purchase wild boar bacon and other "wild" meats. A lot of folks aren't aware it is possible because laws surrounding the sale of wild game are a bit confusing.
Per the USDA, "Game species raised on farms under appropriate regulations can be sold. Wild game species that can be legally hunted under federal or state regulatory authority, cannot be sold, but can be harvested for personal consumption."
However, there are workarounds and different classifications that apply based on species. The bottom line is that you can indeed legally purchase exotic meats that you might have not realized were an option.
As a result, if you're not a hunter but would like to try authentic wild boar bacon, you can simply have it shipped to your home.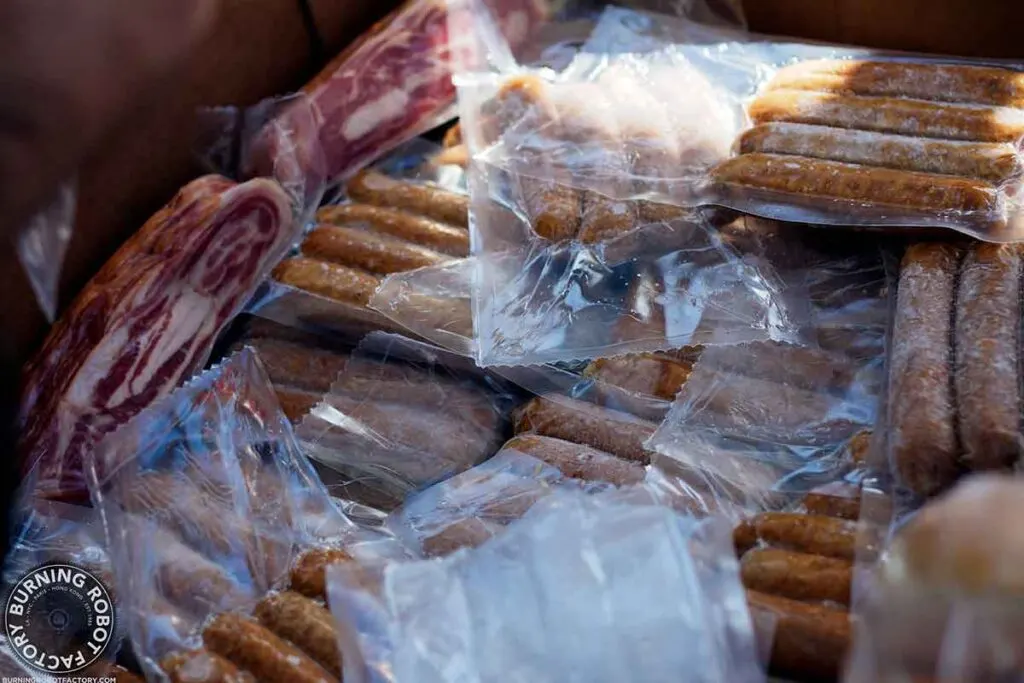 Here are a handful of reputable retailers where you can find slabs of wild boar bacon for sale:
Heck, you can even order wild boar bacon on Amazon.
But why buy it premade, when you can make homemade wild hog bacon yourself, even if you don't hunt. In addition to bacon, you can purchase unprocessed wild boar meat online.
You'll be able to find wild hog bellies for sale from one of these retailers:
How do I Make Wild Boar Bacon?
At this point, you should have either a standard pork belly or a wild boar belly that you purchased or hunted yourself. Our recipe tester Jon Snipes used a domestic Red Wattle pork belly.
Here are the basic steps in order:
Rinse
Dry
Rub
Smoke
Cool
Slice
David Draper, a longtime contributing editor for Field and Stream, first published this recipe from Chef Gray. Gray grew up in Georgia, and like many in the South, he spent a lot of his youth hunting and fishing.
According to writer Libby Wierseman, "All the hunting and cooking of wild game he did as a boy certainly helped lay the groundwork for Chef Anthony Gray's career path. As partner and [former]executive chef of Greenville's Bacon Bros. Public House, the daily grind pivots around the careful curing and smoking of a variety of meats."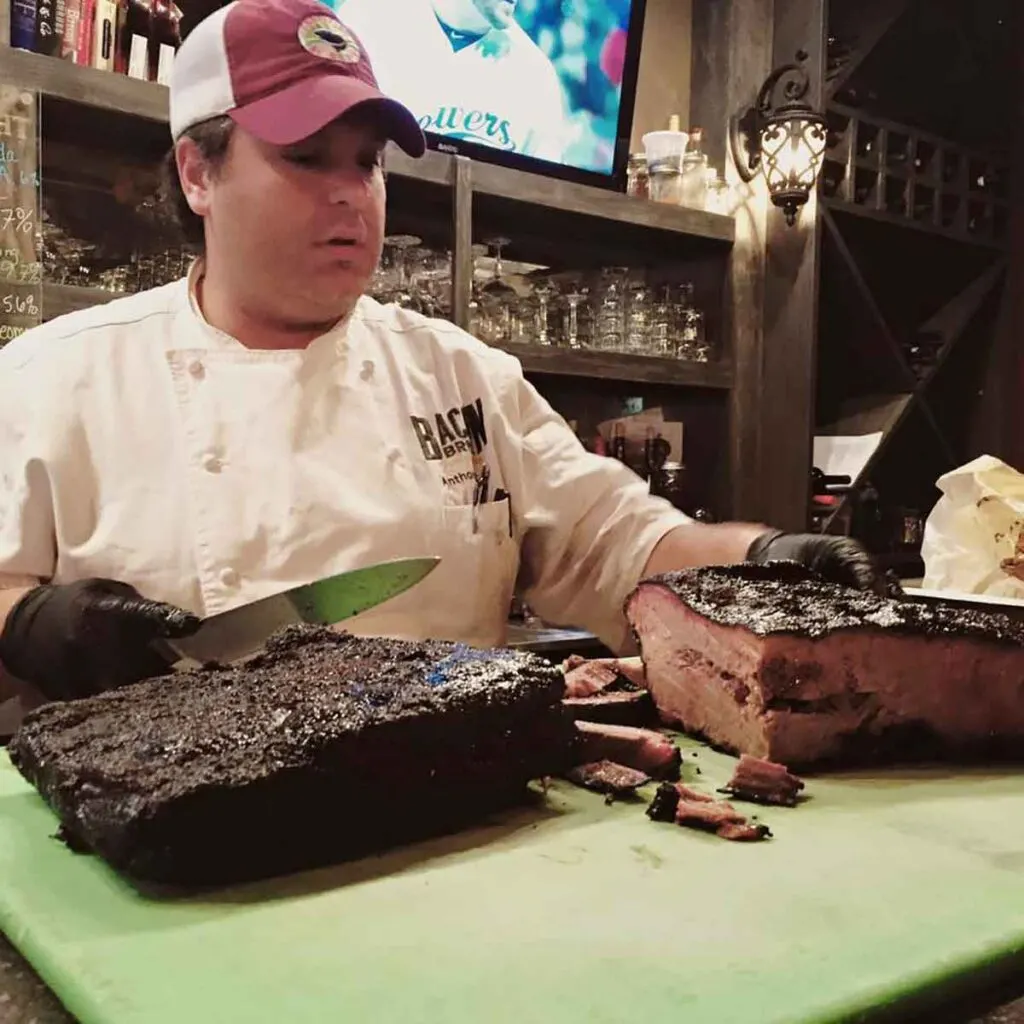 It is this extensive background coupled with Gray's formal training as a chef that he leaned on to create this easy wild boar bacon recipe.
"It's a pretty straightforward approach," Draper wrote, "subbing in a wet brine in place of the usual salt and sugar cure. With more upfront spices than regular bacon has, it helps to curb the strong flavors sometimes associated with wild boar."
Here's how you make it:
Step One – Brining
This recipe uses a wet brine to cure the belly. This wild boar brine recipe is designed to complement the bold flavor of wild boar belly, but does work well with traditional pork belly.
(Note: at this stage, you can remove the skin from the belly or keep it on for removal later. More about that in the recipe tester's notes below.)
You'll begin by grinding all the dry ingredients for the brine into a fine powder and then mixing them into the water. Grinding the spices ensures the mixture dissolves and disperses into the water, providing better flavor penetration.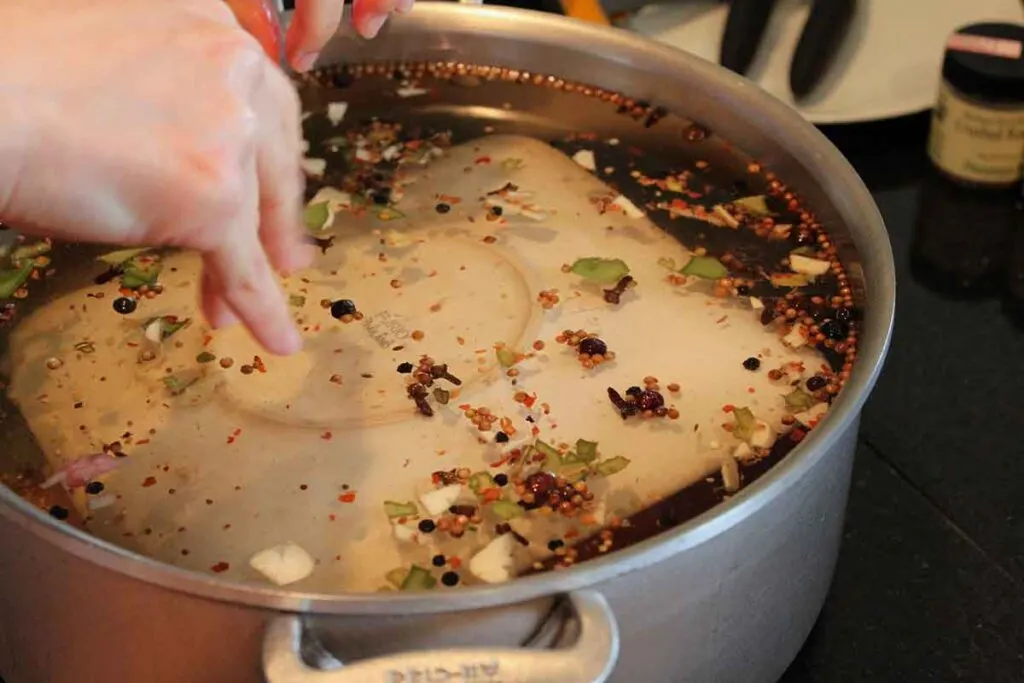 You'll keep the belly submerged and chilled for at least 2 days in the wild boar brine. You can go longer, but be warned the longer you go the saltier it may become.
It's best to do this in the refrigerator as the temperature is more consistent, but wherever you brine, keep the temperatures below 40°F.
Step Two – Rinsing/Drying
When you've finished brining the belly, rinse it under cool water and pat dry. Place the dried belly onto a rack with something below to catch any drippings.
Allow the hog belly to dry, uncovered, in the fridge for about a full day.
Step Three – Rub
While not a "rub" in the traditional BBQ sense, in this step, you're going to apply some maple syrup onto the dried belly. This is both for flavor and adhesion.
Next, evenly disperse the remaining "rub" ingredients on all sides. The syrup will help the cracked pepper and coriander stick to the belly for the next step.
Step Four – Smoke
Before you begin prepping the belly in step three, it would be good idea to prep your smoker. (This one comes highly recommended at an affordable price point.)
After applying the syrup and spices, you pop it into a 200°F smoker.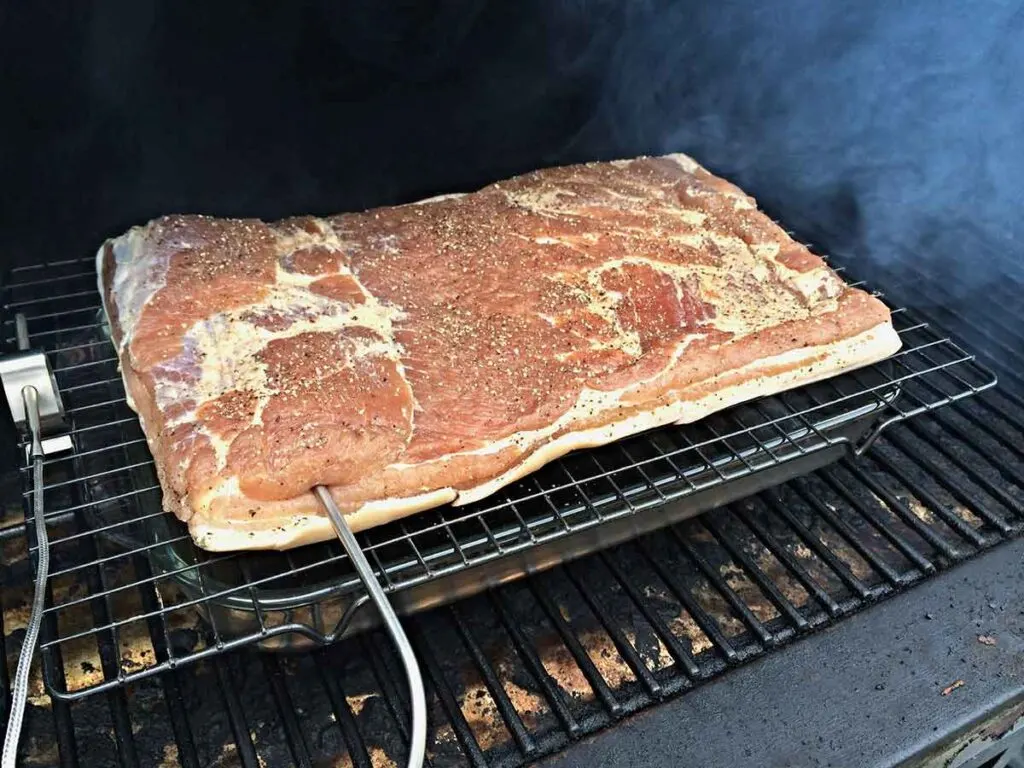 While there is some debate about it, Gray's recipe calls for you to slowly bring the wild boar belly up to an internal temperature of 185°F.
Snipes suggested that he typically takes the belly to a much lower internal temperature, as you will see below. This is not uncommon as many recipes for homemade bacon only take the belly to about 150°F, but the difference likely lies in their choice of meat.
In Snipe's case and in many of those recipes, they were using a domesticated pork belly.
Prewett, who has experience making wild boar bacon, explains why you might want to take a different approach.
"I smoked the belly at low temperatures for several hours," she wrote. "However, it requires a longer smoke time than a domestic pork belly to break down the collagen, and I ended up wrapping it in paper halfway through so the meat wouldn't be overwhelmed with smoke flavor."
If you're actually using a wild pig belly, you'd be wise to follow her advice.
What kind of wood can I use to smoke bacon?
Generally speaking, almost any hardwood will work. Hickory and oak are among the most commonly available and are therefore the most popular. Other woods are an option.
Mesquite, maple, and even fruitwoods can be used to add a subtle sweetness to your bacon. In fact, you could add in some "wood" from herbs like basil, thyme, or rosemary to deepen the flavor profile, but be cautious not to overdo it.
Step Five – Cooling/Slicing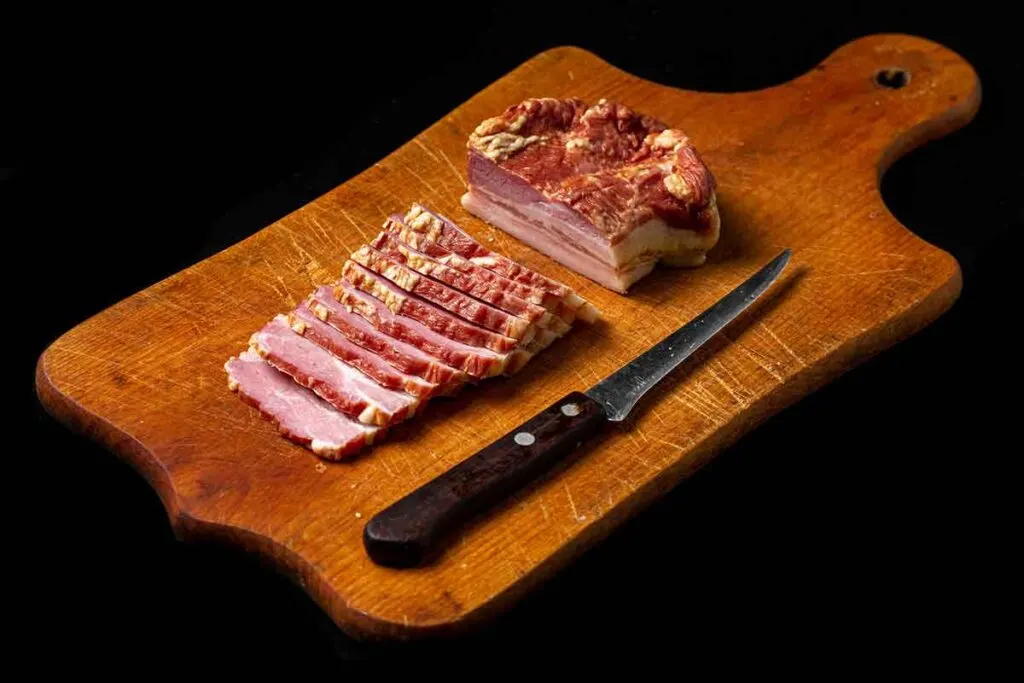 Once you reach the correct internal temperature for your choice of meat, you'll want to remove the slab from the smoker and cool it. While it is still warm, remove the skin (if you left it on), then chill.
"After smoking, I sliced away the skin and chilled it in the freezer for a couple of hours to harden," Prewett wrote.
"I cut thick slices and immediately fried a few pieces for a BLT sandwich with homegrown tomatoes. The meat was succulent and rich beyond words."
How do I Cook Wild Boar Bacon?
Cooking wild boar bacon is very similar to cooking traditional bacon and it can be used in many of the same applications; however, you'll need to be conscious of the fact that wild hog bacon tends to be a lot leaner.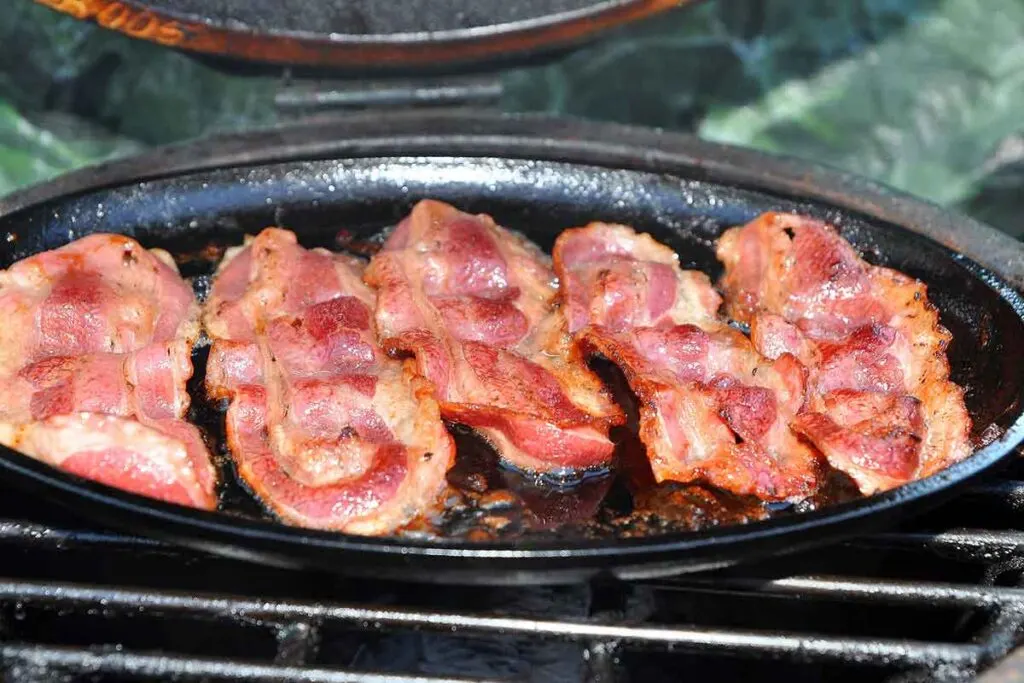 As a result, you may want to modify your technique. Because it is lean and the consistency of the fat differs, you'll want to take it a bit more slowly.
"When cooking bacon from a wild pig, I noticed that the fat took longer to render than traditional bacon," Prewett noted. "This is likely due to its high saturated fat profile. If cooked at too high of a heat, the meat would burn before all the fat had rendered, giving you bitter meat and chewy pieces.
"I quickly learned that the best way to enjoy it was to cut it into lardons (matchstick-size strips) and cook over low heat. This renders it to crispy perfection."
While slabs of wild boar bacon can be used in all the same traditional uses for standard bacon, a couple of dishes in which it seems to shine is, of course, the BLT, but in addition, wild boar bacon bean stew and "pig candy" are quite popular uses.
The wild boar pig candy recipe is simple:
Just mix equal portions (say 1/3 cup) of maple syrup and brown sugar with as much black pepper as you like. Toss in a pinch of cayenne for additional heat if you want. Slather over slices of wild boar bacon and cook on a rack in the oven at 375°F until crispy.
Recipe Tester Notes on this Wild Boar Bacon Recipe
Jon Snipes did us the favor of testing out this recipe. Like with all recipes our testers attempt, the goal is to assess and report on both the recipe itself and the food it creates.
Here is Jon's impression and advice:
I finally got around to slicing the bacon up from the homemade bacon recipe you sent. It's really good! The recipe is easy to follow, I think, and a good way for people to try their first batch.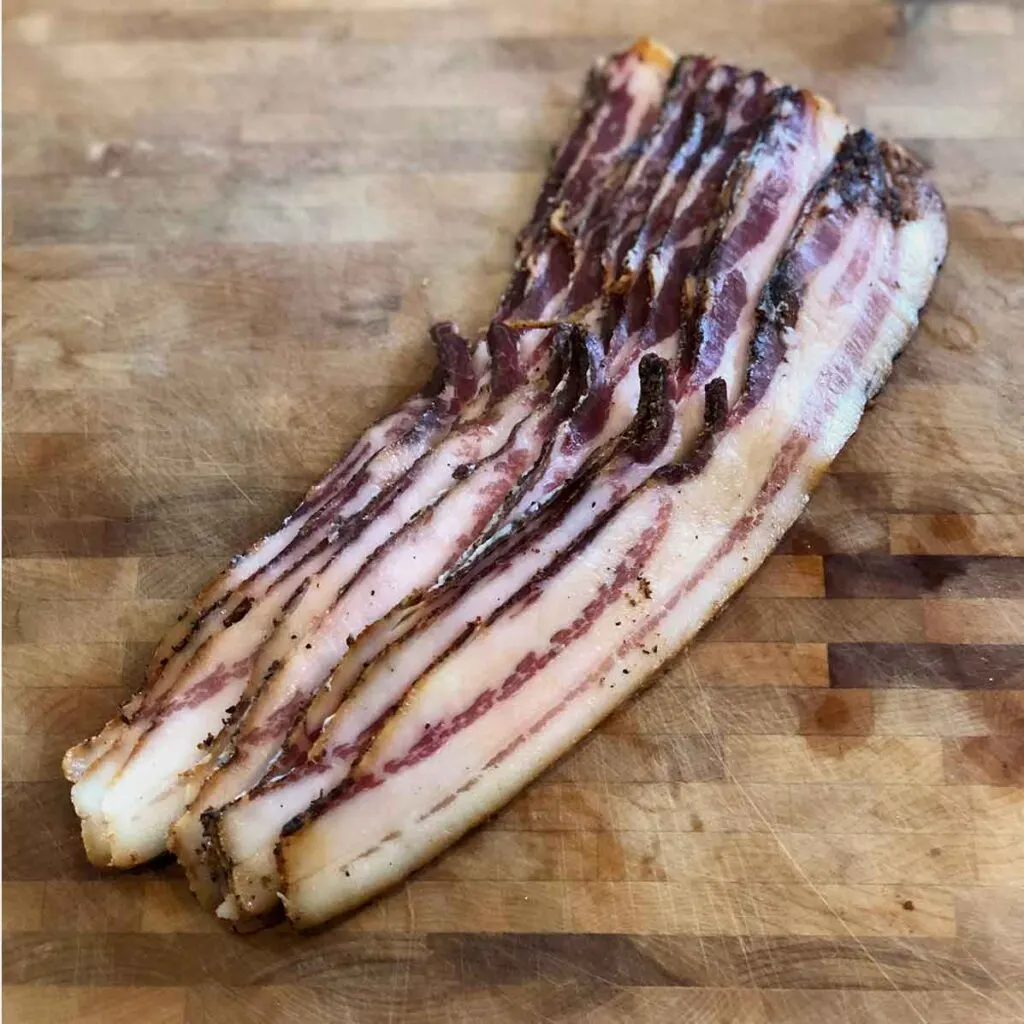 I found my printed-off copy at home and I had made a few notes.
Quantities
The first thing I would clarify is that you don't have to do a 7-pound belly. Any size belly can work because you're brining it anyway.
That brine recipe makes a lot of brine. Again, I might mention that it can be scaled down since most people may start with a smaller piece of belly.
I think I did a 3-pound piece of belly, but I did the 5 quarts of brine, and I had more than I needed. (I brined a chicken in too, which turned out really good). Since I had a smaller belly I used about half as much of the coating after brining.
On the instructions, I'd just mention that the longer it sits in brine the saltier it will get. "At least 2 days" needs to have a max length, too, I think.
If somebody left it for a week it would be safe but super salty. I did about 2.5 days, and it was good.
Preferences
Need to mention that you want the skin off the belly. Can be done before or after smoking, I guess, but before is much better for flavor, I think. The butcher can do this for people.
185°F is very very high in my mind. I don't know if that's an FDA requirement thing or not, but I have never smoked bacon that high.
I prefer to cold smoke it and never get over 90°F, then dry age it for a week or so, but most people are going to hot smoke it. When I do smoke bacon, I take it to about 150°F as slow as possible, which is what I did with this one.
But I do like the bacon a lot. The maple/coriander combo is kind of new to me and it's very unique/interesting.
So whether you go with a belly you hunted or purchased, wild or domestic, give this wild boar bacon recipe a try and let us know what you think in the comments below.
Like to Volunteer as One of our Recipe Testers?
We have a bookful of recipes to test and publish. Join the team and choose from our collection of unpublished recipes.
All we ask is that you photograph the process and share your thoughts on each recipe and the finished product. And we'll feature you when we publish that recipe.
Interested? Just send me an email.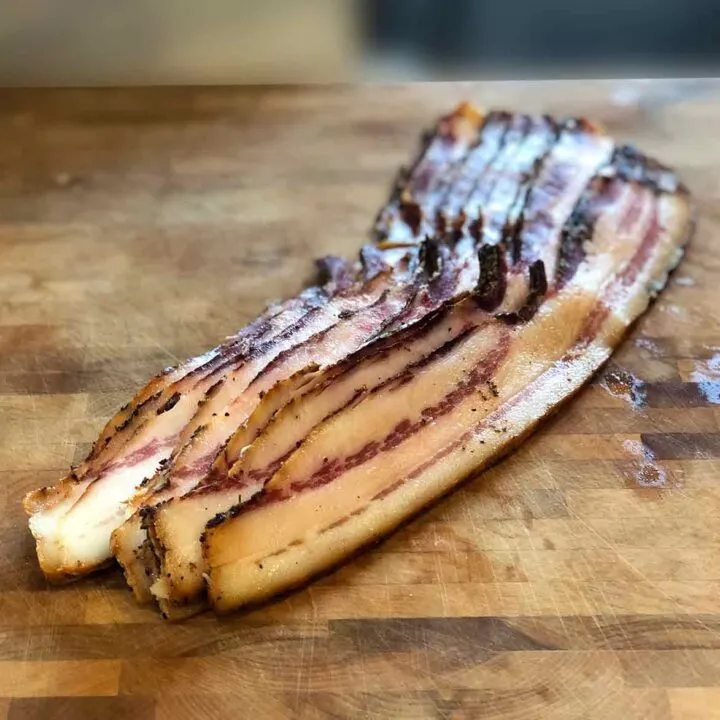 Wild Boar Bacon Recipe
"It's really good! The recipe is easy to follow I think and a good way for people to try their first batch."
Ingredients
7 Pounds Wild-Boar Belly, skin off
For the Brine
2 Tablespoons White Pepper
1 Tablespoon Garlic Powder
1 Tablespoon Mace
1 Tablespoon Ground Coriander
1 Tablespoon Rosemary, dried
1 Teaspoon Nutmeg
1 ⅔ Teaspoons Curing Salt
1 Cup Kosher Salt
1 Cup Granulated Sugar
5 Quarts Water
To Coat after Brining
1 Cup Black Pepper, cracked
1 Cup Coriander Seed, cracked
1 Cup Maple Syrup
Instructions
In a spice grinder or blender, grind the spices, salts, and sugars to a fine powder.
Add the mixture to the water and incorporate it fully to create a brine.
Place the pork bellies in a food-grade container and add the brine, making sure to cover completely.
Store the container in a refrigerated space, at 40° minimum, for at least two days, flipping the bellies at least once in that time to ensure even curing.
Remove the belly from the brine and rinse under cold water.
Allow the belly to dry on a resting rack, with a pan underneath, for 24 hours in the refrigerator.
Prepare the black pepper and coriander by cracking them in a spice grinder.
Rub the bottom side of the bellies with enough maple syrup to coat slightly, then apply the black pepper and coriander to that side.
Prepare a smoker set at 200°, and put on the bellies. They should cook low and slow until the internal temperature reaches 185°.
After cooking, cool completely, slice, and use like traditional bacon.
Notes
While you can brine the pork belly longer, it will get saltier. We'd recommend 2-3 days of brining with your first attempt at this recipe.
Substitute standard pork belly for wild boar. Red Wattle pork belly was used to test this recipe.
Recommended Products
As an Amazon Associate and member of other affiliate programs, I earn from qualifying purchases.
Nutrition Information:
Yield:

20
Serving Size:

2 oz
Amount Per Serving:
Calories:

113
Total Fat:

1g
Saturated Fat:

0g
Trans Fat:

0g
Unsaturated Fat:

1g
Cholesterol:

0mg
Sodium:

3214mg
Carbohydrates:

28g
Fiber:

3g
Sugar:

20g
Protein:

1g