This post may contain affiliate links to Amazon or other vendors I trust. Please read my disclosure policy. As an Amazon affiliate, I earn from qualifying purchases.
Follow the SC BBQ Trail. Download the Official South Carolina BBQ Trail Map here.
The SC BBQ Trail map is a great resource put together by the South Carolina Department of Tourism. It divides the state into territories and identifies many, though not all, of the barbecue restaurants in the state within each territory.
The map is beautifully designed and offers a lot of information at a quick glance.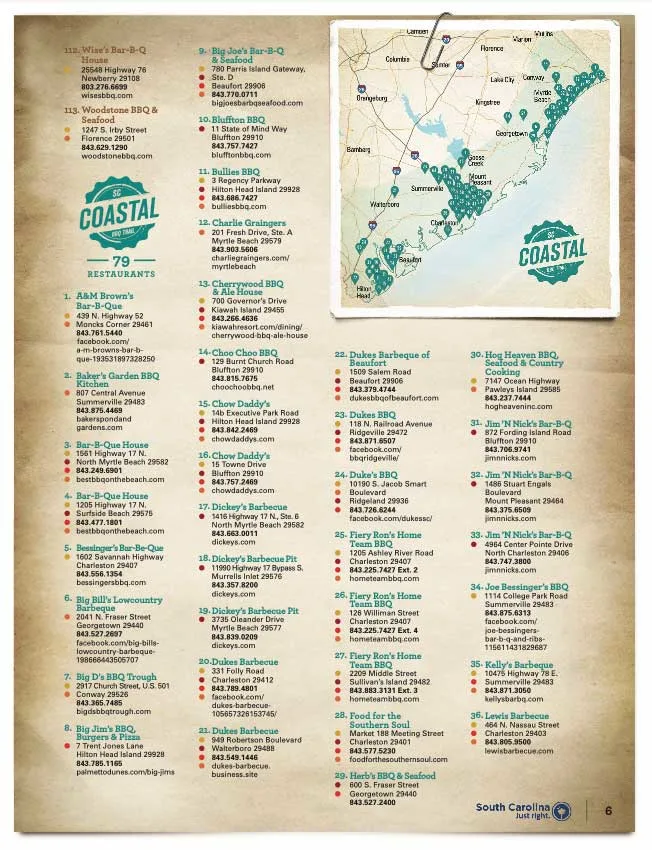 The official South Carolina BBQ Trail map not only provides the name and address of each barbecue restaurant in the state, but it also provides the phone numbers, websites, and hours of operation.
And, if you're paying close attention, you will notice each entry has one or more colored dots beside it.
These dots indicate the type of BBQ sauce the restaurant provides.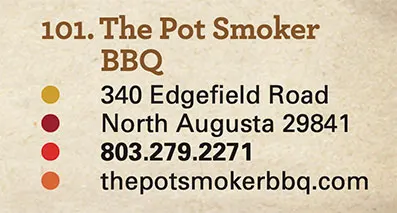 For instance, this entry for The Pot Smoker BBQ in North Augusta shows dots for all four sauce types found in our state.
If you don't already know, South Carolina is awash in a variety of sauces, mostly dictated by geography.
We have four distinct sauces: vinegar-pepper, light tomato, heavy tomato, and a mustard-based sauce that is unique to SC BBQ. These are designed on the map by correspondingly colored dots.
All of this can be found on the Official South Carolina BBQ Trail Map. Get your copy by clicking the link below.
Better yet, check this out:
Our interactive South Carolina Barbecue Trail Map stands out as simply a more complete map.
In fact, our map includes over 40 restaurants omitted from the official SC BBQ Trail map. Also, you'll find the official map includes a number of restaurants that are now closed.
Plus, you can save our map as an "app" on your phone. See details at the link above.
Still need your own copy of the map?
We certainly don't blame you. We keep one handy ourselves!
Just complete the fields below and we'll send your copy right away.
(Don't forget to check your "Spam Folder" or "Promotions" tab if it doesn't come straight to your inbox.)
Download Official South Carolina Barbecue Trail Map
---
Like What We're Doing?
Want to see more coverage and features? Just want to show your support?
---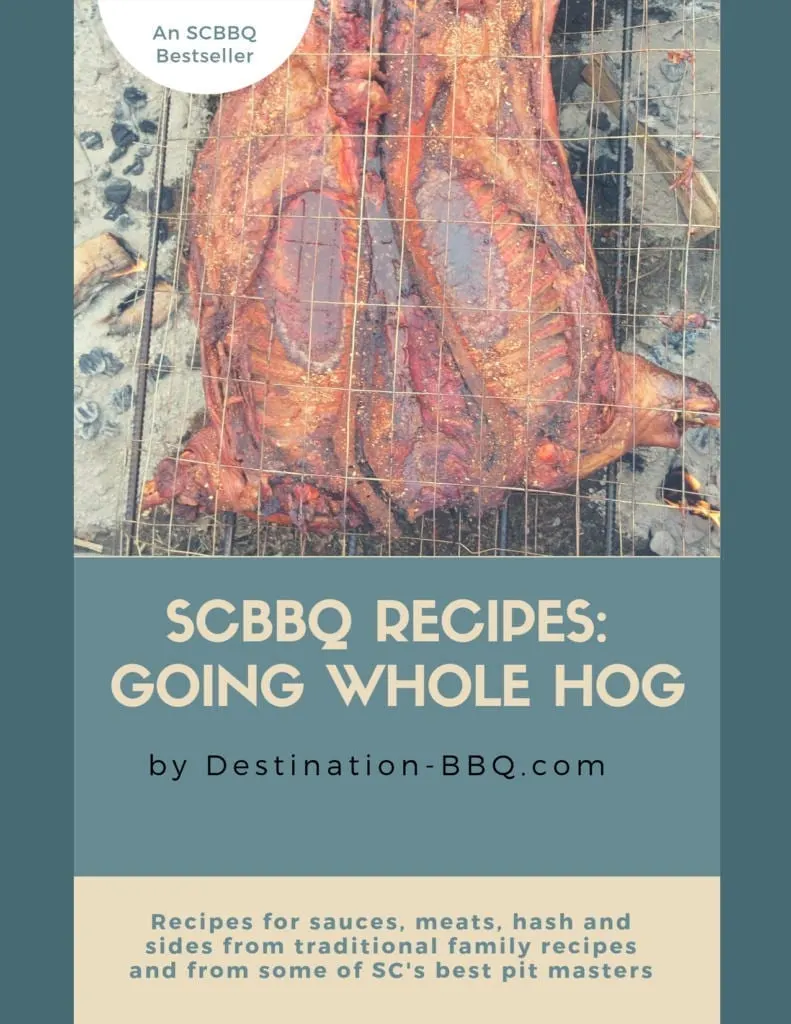 SCBBQ Recipes: Going Whole Hog
If you love SCBBQ as we do, you might also enjoy this 150-page cookbook which includes generations-old family recipes and those from some of today's top SCBBQ pitmasters, including John Lewis, Rodney Scott, Aaron Seigel (Home Team BBQ), and many more.