This post may contain affiliate links to Amazon or other vendors I trust. Please read my disclosure policy. As an Amazon affiliate, I earn from qualifying purchases.
A simple Southern Tomato pie is one of the true treats of summer, but if there is one consistent complaint, it's about the mayo. Let's face it, when mayonnaise is one of the primary components of your recipe, it's just kind of gross.
When I first learned that most Southern tomato pies are made with gobs of mayo, it turned me off. Now, I don't hate mayonnaise and I certainly have enjoyed my share of classic tomato pies, but something about eating cooked mayo doesn't sit right with me.
I mean, look at this: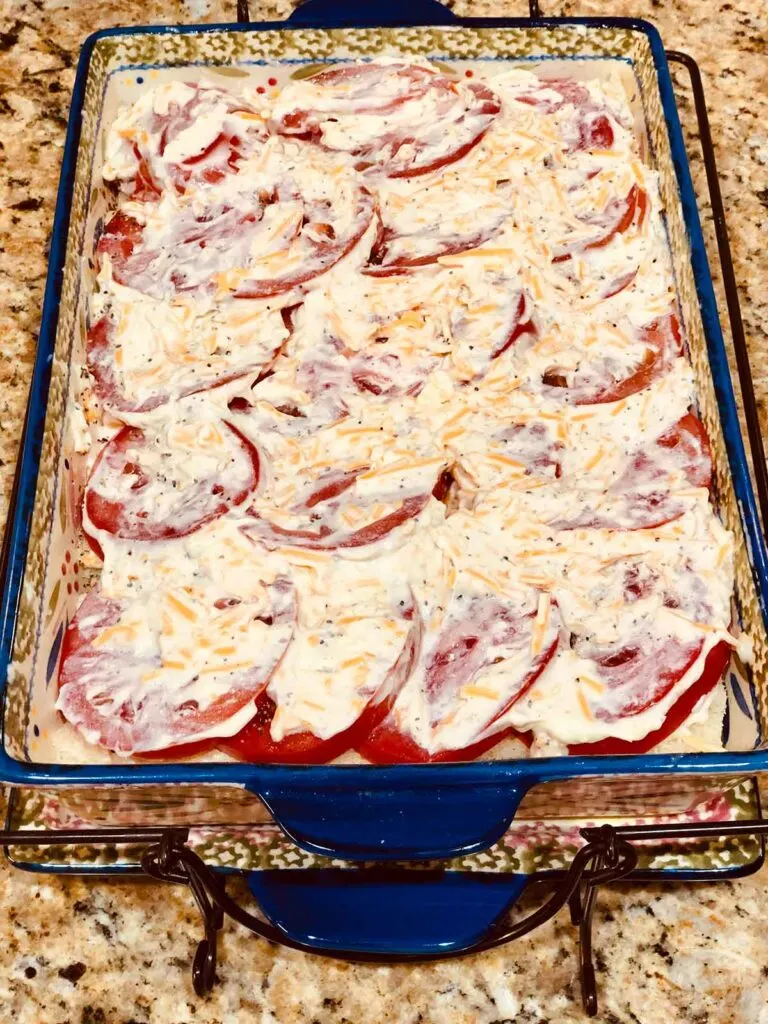 If you know this is how most Southern tomato pie recipes start, would you want to dive in?
Fortunately, our friends at Piggybacks BBQ & Catfish in Lake City agreed to share this easy Southern tomato pie recipe with us. It is a nice twist on the classic recipe that is delicious, and it uses no mayonnaise!
And on the plus side, this recipe includes tomato-friendly ingredients like basil, olive oil, and a sure crowd-pleaser, bacon.
History of Southern Tomato Pie
The first newspaper report from any Southern state focusing on something called "tomato pie" appeared in the Tarboro' Press (Tarboro, NC) on November 10, 1838. The report is entitled "Tomato Pies equal to fine English Gooseberry Pies."
Interestingly, it predicts something that's proven true in the years since: "The tomato is likely to become one of the most useful plants."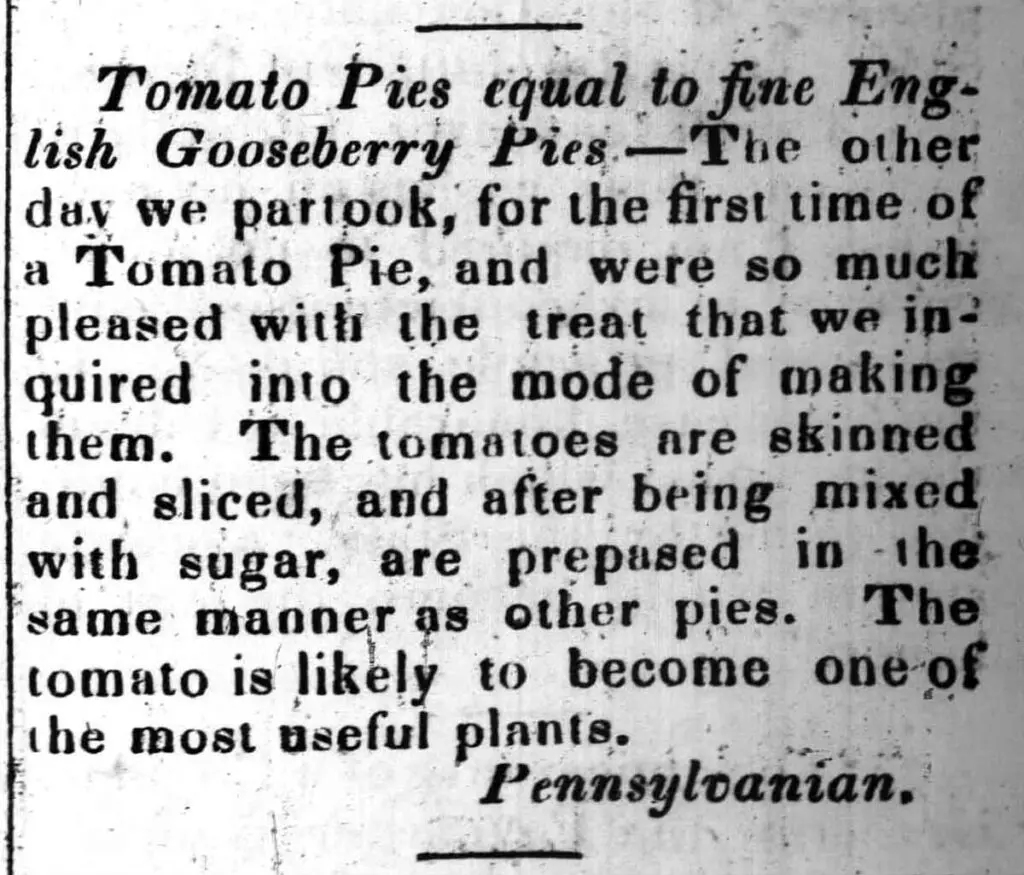 The article, originally from the Pennsylvanian, describes a dish unlike anything most Southerners would think of as a tomato pie recipe. It calls for skinned tomatoes to be "sliced, and after being mixed with sugar" and "prepased" (prepared) as other pies would normally be.
Sweet Tomato Pies
The tomato pie in this report is obviously a sweet pie. Though it doesn't specify, given the history that would unfold over the next century, it seems clear that the tomato pie recipe in question is one for Green Tomato Pie.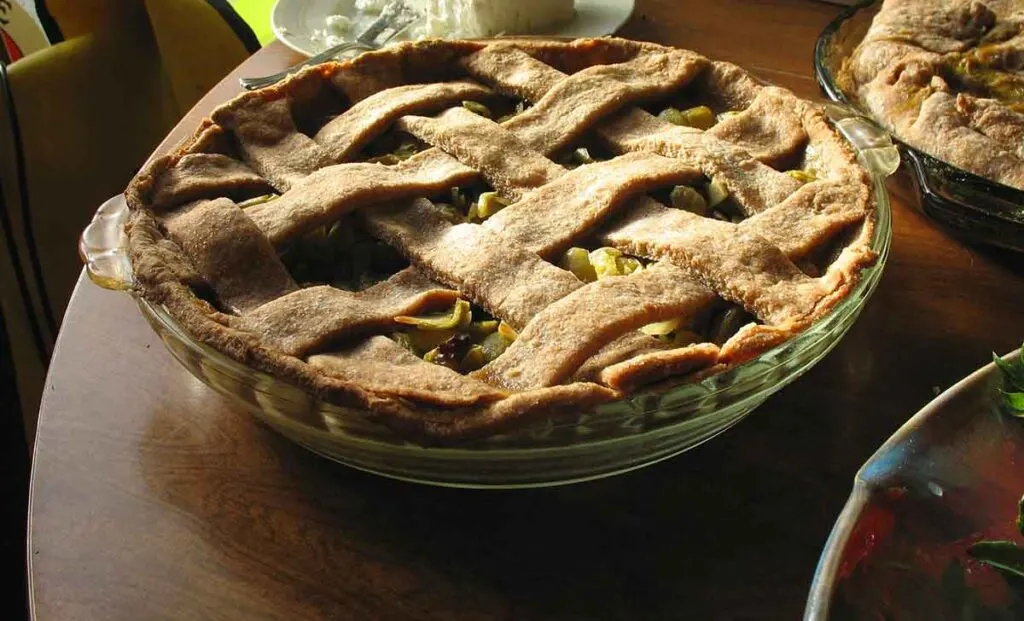 The sweet green tomato pie is the only type of tomato pie recipe that appears in Southern newspaper reports until a recipe using ripe tomatoes appears in the Fayetteville Observer (TN) in late June 1855.
In this case, however, the recipe is also for a sweet pie.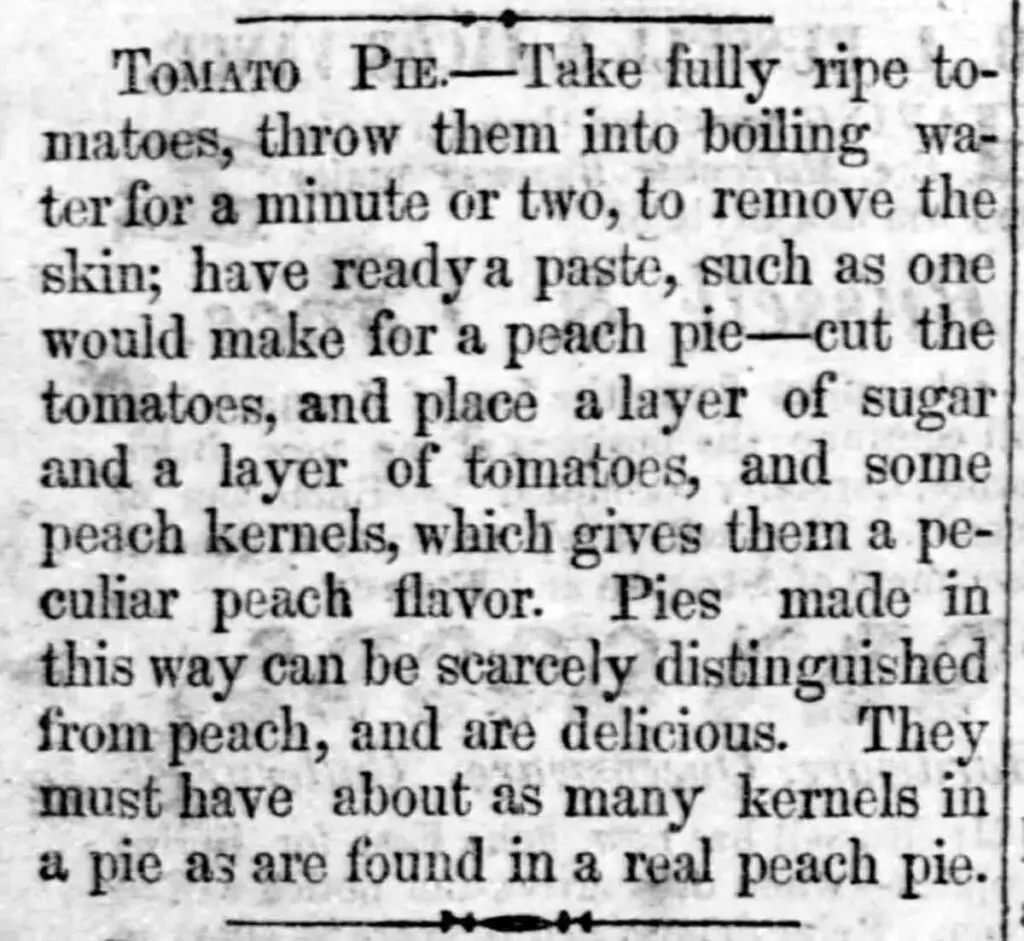 Now, I'm not entirely sure what "peach kernels" meant in 1855, but I'd suspect they are referring not to the entire pit, but rather the seed inside the pit.
Either way, while this is the first tomato pie recipe I could find using ripe tomatoes, this is clearly not the tomato pie recipe of modern times.
Savory Tomato Pies
From 1855 until well into the 1900s, green tomato pie recipes are virtually all that appear in newspapers throughout the South. It wasn't until 1914 that I'd find another reference to a tomato pie using ripened tomatoes.
In this case, an article entitled "Tomato Pie for Luncheon" appeared in The Times-Dispatch in Richmond, VA.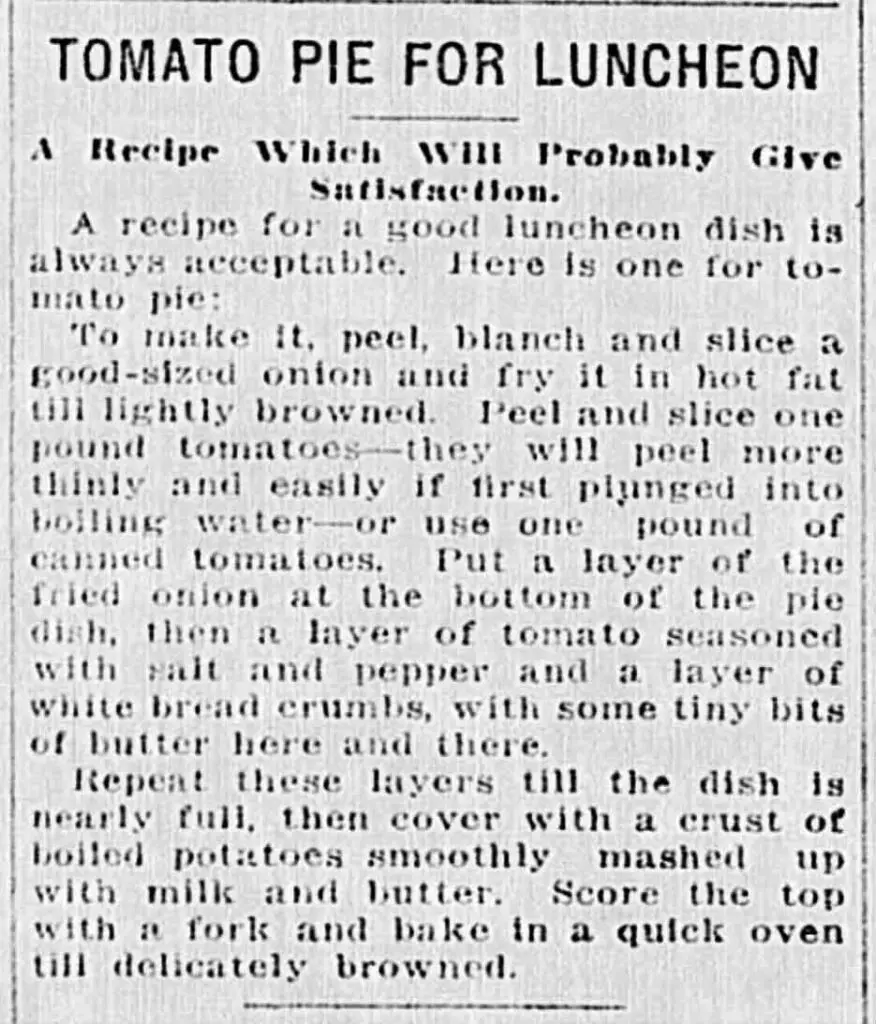 This recipe definitely takes a step in the direction of the pies we enjoy today. It is a savory tomato pie, at least.
However, layers of seasoned ripe tomatoes and sautéed onions with bread crumbs and butter topped with mashed potatoes remain a far cry from what we're looking for.
Cheese Added
The evolution of the tomato pie continued, and in 1929, The Chattanooga News published the first recipe for a "Ripe Tomato Pie" that includes cheese.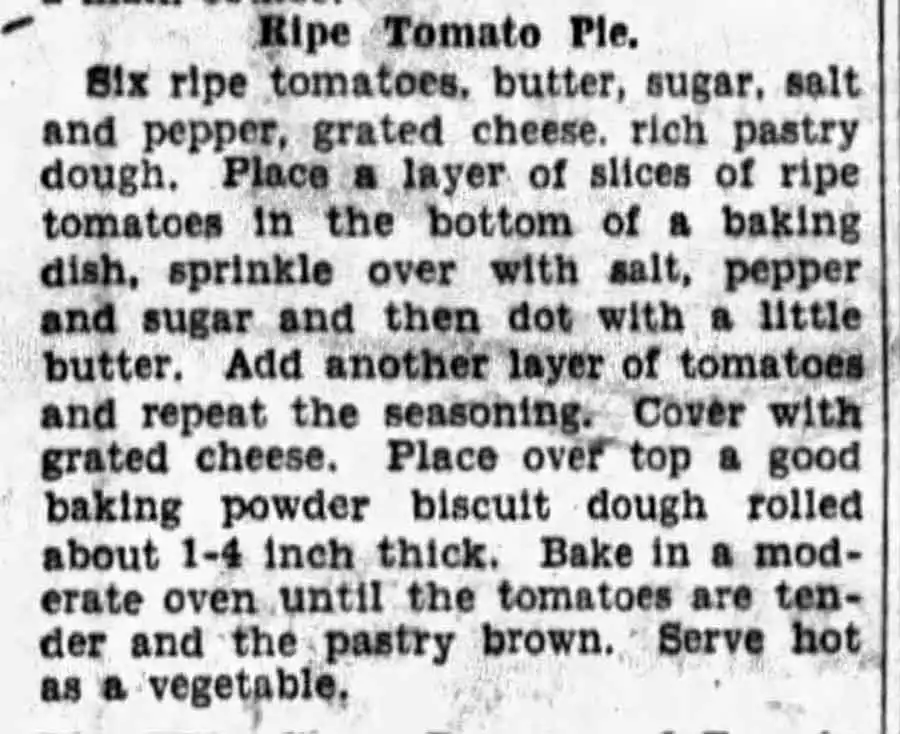 The seasoned ripe tomatoes and grated cheese (though the type isn't specified) is on track. The sugar is a bit odd by modern standards, but this recipe doesn't read like it is a sweet pie. So, yes, a savory pie. Check.
What's a bit confusing is the reference to a "rich pastry dough" AND a "baking powder biscuit dough." To my mind, this implies there is a pie crust on the bottom with a biscuit topping, but I cannot be certain.
Regardless, by 1929, we see our first recipe for a tomato pie with cheese, but clearly not the first iteration of a modern tomato pie.
Texas Invents Tomato Pie?
A quick sidebar: remember the green tomato pie recipe we began with back in the 1800s?
Fortunately, a Texas farmer would officially invent the green tomato pie a century or so later, according to this 1943 report in the Amarillo Daily News: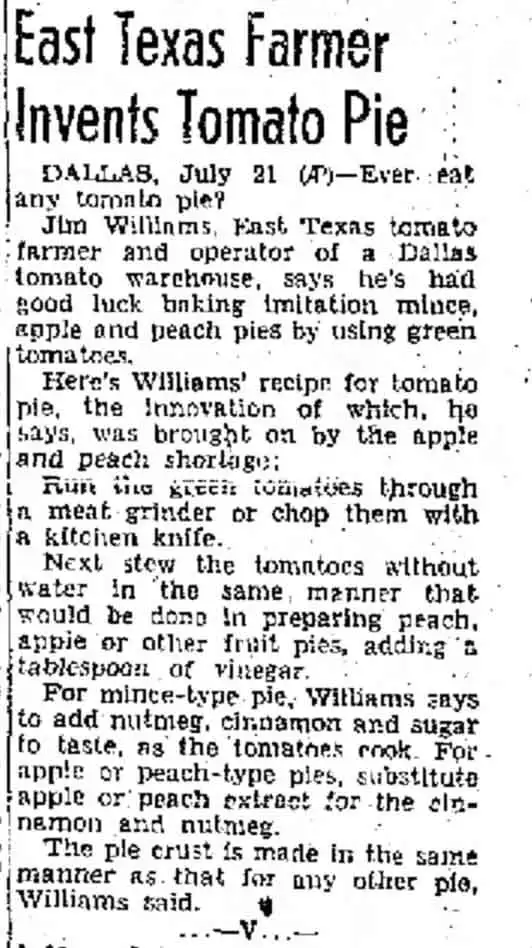 I'm not sure Farmer Jim or the reporter were aware of the long history of green tomato pies, but you have to credit the tomato man for capitalizing off of a fruit shortage to get his…um…slice of the pie. (Yea…I know. 😉)
Tomatoes in Pies
While not mentioned above, there are a number of recipes I came across in this era for dishes like Kidney and Tomato Pie, Fish and Tomato Pie, Beef and Tomato Pie, etc. Basically, they are all very similar with cooks layering meat with tomato and baking it into a "pie" of sorts.
This provides no real relevance to our Southern tomato pie. It offers a bit of evidence of recipes using the tomato more widely.
I thought I was onto something when I spotted The Church Point News had published a recipe in June 1949 for "Tomato Onion Pie."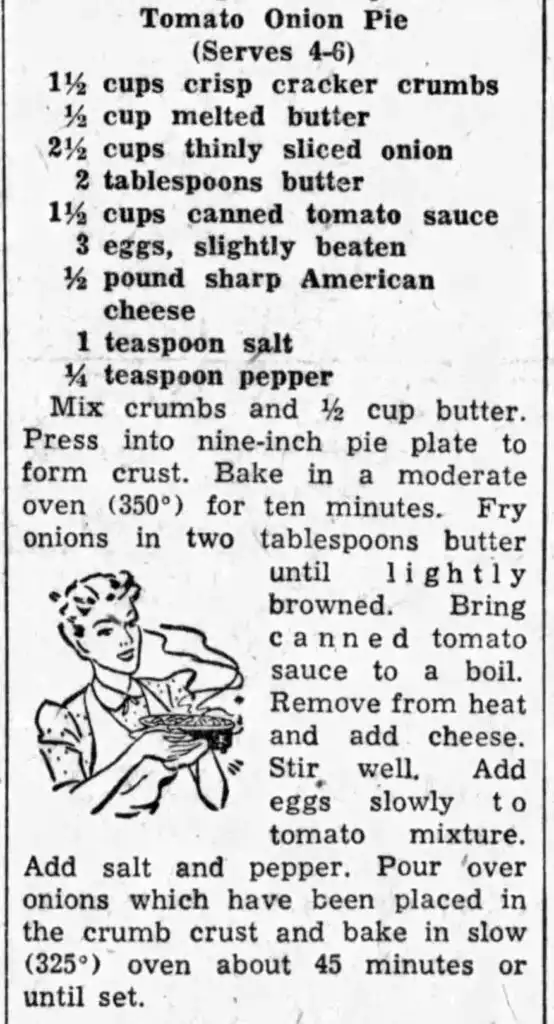 A strong dose of sharp American cheese caught my eye and I thought I had found the first published Southern tomato pie recipe. But, alas, further reading left me disturbed by the thought of a tomato pie made with canned tomato sauce. Yikes!
I wouldn't have to search much longer, though.
First Published Recipe for Southern Tomato Pie
I found what may well be the first published recipe for a true Southern tomato pie recipe. It appears in the August 12, 1949, edition of The Alexander City Outlook, a paper from Alabama.
Ironically, this syndicated column from Illinois may be the first published recipe for the Southern tomato pie we love today.
Of course, most of us settle for a store-bought pie crust instead of making ours from scratch. Aside from the pastry dough section, the recipe is in keeping with the recipes of today, including that mayonnaise.
Southern Tomato Pie FAQs
What is tomato pie?
The answer to that question depends on where you live. People from Trenton, NJ, and those from South Philadelphia each have their own different versions of "tomato pie" that are more pizza-like. On the other hand, folks down South make a savory pie filled with sliced ripe tomatoes and cheese. Learn more about each of those pies and the origins of Southern tomato pie in our article Easiest Southern Tomato Pie.
What city is famous for tomato pie?
Trenton, New Jersey is well known for its version of tomato pie. It's basically a cheese pizza with the sauce on top of the cheese. South Philly has its own version which is a thick, focaccia-like crust covered in tomato sauce. As for the Southern tomato pie, no one city seems to lay claim to it. Like boiled peanuts and BBQ, tomato pie is enjoyed across the South.
Where did the Southern tomato pie originate?
There are a few ideas about the origins of Southern tomato pie. One theory suggests its origins lie with old Shaker pie recipes using bacon, cream, and tomatoes. Another theory argues that it was actually the product of mayonnaise marketing campaigns. A third theory posits that "it's a creation of Junior League cookbook people and Southern Living magazine readers and 'women's pages' newspaper food editors."
Can you make Southern tomato pie without a crust?
While most tomato pies you will find in gatherings around the South are made with a standard pastry crust, it is possible to make Southern tomato pie without a crust. In fact, Lone Star Barbecue in Santee, SC, is famous for its crust-free rendition which uses day-old sandwich bread as its unusual base.
How do you keep a tomato pie from being runny?
Because of the use of fresh ripe tomatoes, Southern tomato pies can be runny. There are a few tricks people use to prevent it. Some will salt the sliced tomatoes and let them drain. Others will take that a step further and drain them (with or without salt) on paper towels. Some will even roast a portion or even all of the sliced tomatoes in the oven to reduce their moisture and intensify their flavor.
Can you freeze tomato pie?
While you certainly can freeze a tomato pie, it's probably not the best idea. A frozen tomato pie would be edible upon thawing and reheating, but the textures are likely to be less pleasant. Better to just eat it all right away!
Can you leave it out overnight after baking?
It's rarely a good idea to leave food unrefrigerated, and that holds true with tomato pie. If for some reason the entire pie is not eaten after serving, be sure to wrap and refrigerate what remains for your own safety.
This recipe calls for pesto, store-bought or homemade?
While homemade pesto will always outshine one in a jar, it's hard to expect most folks to make their own. Our research suggests you consider two options. The best tasting but more expensive choice is Rustichella D' Abruzzo Pesto Alla Genovese Sauce. A more affordable yet still flavorful choice is Barilla Rustic Basil Pesto Sauce. Both are available on Amazon, and the Barilla pesto can be found in most Wal-Marts.
Making a Southern Tomato Pie Without Mayo
Making this mayo-less tomato pie is quick and easy. Here are the basic steps:
Preheat the oven to 325°F
Slice ripe tomatoes into ¼ to ½-inch thick slices, resting on paper towels for about ½ hour to wick away moisture
Blind bake a pie shell, homemade or store-bought, with a 1-inch slit in the bottom for about 5 minutes
Layer tomatoes on the bottom and season to taste with salt and pepper
Spoon pesto over tomatoes
Top with a portion of the cheeses and bacon
Continue layering until pie shell is filled above the rim (it will cook down)
Drizzle with olive oil
Bake, rest, slice, and enjoy
Recipe Tester's Commentary
It is always helpful to have a third party cook a recipe. They can point out any difficulties they had with the way the recipe is written and share their thoughts on the process and final product. Dawn Verbarg did us the honor of testing this recipe for us.
Here's what she shared with us:
"I followed the recipe exactly as written," Dawn wrote. "I had enough ingredients to make three layers, ending with cheese and bacon.
"Awesome Tomato Pie! I will make this again and add fresh basil, onion, and red bell pepper."
And here you have it. An awesome Southern tomato pie without using mayo: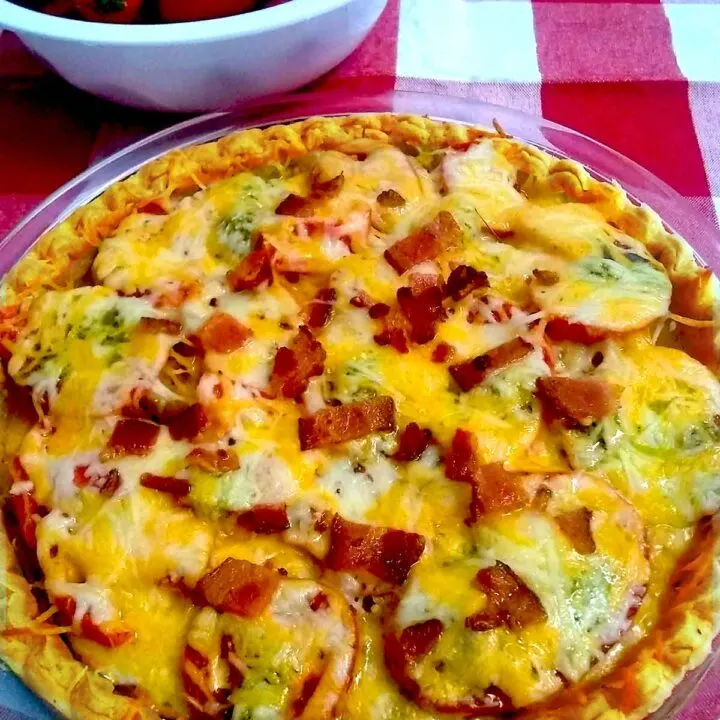 "Awesome" Southern Tomato Pie (No Mayo)
Made with bacon, basil pesto, and a blend of cheeses, this recipe will stand out from the crowd.
Ingredients
1 Pie Shell, homemade or store-bought
5 Large Tomatoes, fresh
1 Cup Cheddar Cheese, shredded
1 Cup Italian Cheese, shredded
3 Tablespoons Basil Pesto, homemade or store-bought
12 Slices Bacon, cooked and crumbled into bits
2 Tablespoons Olive Oil
To Taste Salt and Pepper
Instructions
Preheat oven to 325°.
Slice a 1-inch slit in bottom of pie shell; bake shell for 5-6 minutes and remove from oven.
Slice tomatoes. Sliced tomatoes can be placed on paper towels for about 30 minutes to absorb excess moisture.
Begin layering ingredients, starting with tomatoes.
Sprinkle lightly with salt and pepper.
Spread 2 Tablespoons of pesto evenly over tomatoes.
Top with ⅓ cup of cheddar cheese, ⅓ cup of Italian cheese, and ¼ cup of bacon.
Continue with a second layer of tomatoes, salt, pepper, remaining 1 tablespoon of pesto, cheese, and bacon. The pie will look full, but pile it high, it will melt down.
Finish with the remaining tomatoes, salt, pepper, cheese, and bacon.
Drizzle 2 tablespoons olive oil over the top.
Bake 325° for 10-13 minutes or until lightly browned.
Allow pie to cool for 15-20 minutes before slicing.
Notes
Peeling the tomatoes is not required, but often makes for a better eating experience. You can simply immerse them in boiling water for a minute and then in an ice bath and the skins will slip right off. Or you can peel them with a tomato peeler like the one recommended below.
Since cheese and pesto are a bit salty, please be mindful of salt on the pie.
In addition, you can add any other types of cheeses or meats to your pie. Pesto can be used as you wish, some like a little, some like more.
Recommended Products
As an Amazon Associate and member of other affiliate programs, I earn from qualifying purchases.
Nutrition Information:
Yield:

8
Serving Size:

1 slice
Amount Per Serving:
Calories:

334
Total Fat:

24g
Saturated Fat:

9g
Trans Fat:

0g
Unsaturated Fat:

13g
Cholesterol:

46mg
Sodium:

579mg
Carbohydrates:

15g
Fiber:

2g
Sugar:

6g
Protein:

15g