This post may contain affiliate links to Amazon or other vendors I trust. Please read my disclosure policy. As an Amazon affiliate, I earn from qualifying purchases.
The onion rings at Bessinger's BBQ in Charleston are to die for. Fluffy, soft, crispy, delicious! At nearby sister-restaurant Melvin's, they're virtually the same. Now, with this copycat of Bessinger's onion rings recipe, making crispy homemade onion rings is easy.
Lovingly compared to a savory donut, Bessinger's onion ring batter uses plain flour to make a tender yet crispy outer crust — without using breadcrumbs or eggs — while the insides remain pillowy, soft, and subtly sweet.
These are simply the best onion rings to make at home.
What Folks Say about these Onion Rings
You know there must be something special about a side item that gets so much attention in reviews of places like Bessinger's, Melvin's, and yet another Bessinger family restaurant, Robert's. All three share the same recipe according to Melvin's owner David Bessinger.
If you check the reviews for any of these classic South Carolina BBQ joints, you're going to find folks mentioning the onion rings. It's the one of the reasons why Bessinger's BBQ earned a spot on our feature entitled "BBQ in Charleston, SC: The Definitive Guide."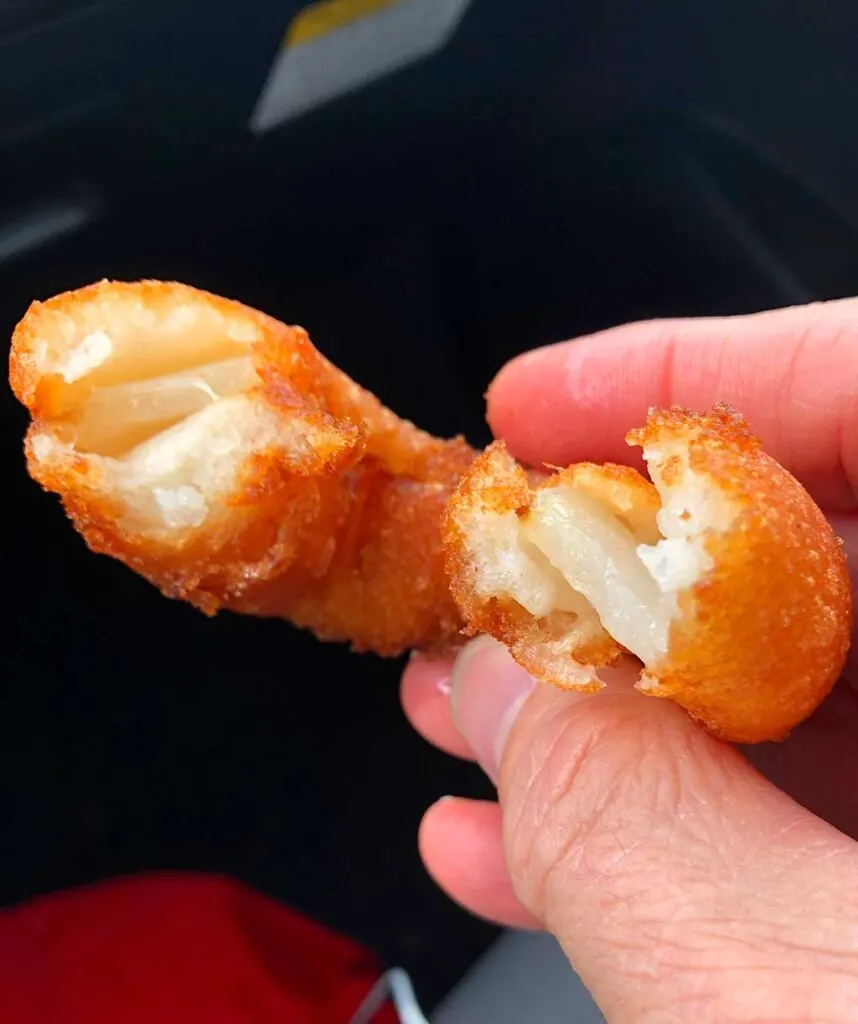 Of the nearly 1,800 Google reviews of Bessinger's, over 180 of them focus on the onion rings.
The same holds true for reviews of Melvin's and Robert's. Here's what folks had to say about the onion rings at each location:
"Also the thick and doughy onion ring that defies logic. How can a single onion ring be so toothsome and delightful to eat?" – John Jones, Bessinger's
"Did I mention the colossal onion rings omg amazing probably one of the best rings I have ever eaten." – Eric Bowland, Melvin's
"Been going here for 30+ years. I am addicted to their onion rings. They are the biggest sweetest crunchiest onion rings ever!" – Mechelle Jackson, Robert's
But praise is not limited to dining reviews. Even some of BBQ's top writers have felt compelled to comment on them.
Food historian and Southern Living BBQ Editor, Robert F. Moss, wrote about those onion rings in his book Barbecue Lovers: The Carolinas. "The Big Joe basket is excellent – a large chopped pork sandwich with fries, slaw, and a single massive onion ring. That onion ring has so much sweet, doughy batter that it almost eats like a doughnut."
Lake E. High, author of A History of South Carolina Barbeque, wrote the following of Bessinger's onion rings recipe:
"One of the specials there, by the way, is their onion rings. These onion rings are large, and I do mean LARGE. Actually, it is an onion ring inside a large, soft donut.
"Be warned, they are sweet, but they are so popular that people gobble them down and you will probably want to try one, too."
Now, if you don't live in Charleston and can't get the real thing whenever you want it, you can make the world's best deep-fried onion rings at home with this easy onion ring batter mix recipe.
History of the Onion Ring
Like most recipes, it's difficult to pinpoint who invented the first onion ring. All we can do is look at the written records.
The earliest known published recipe for onion rings appeared in 1802. John Molland's cookbook The Art of Cookery Made Easy and Refined (on Amazon) included a recipe for "Fried Onions with Parmezan Cheese."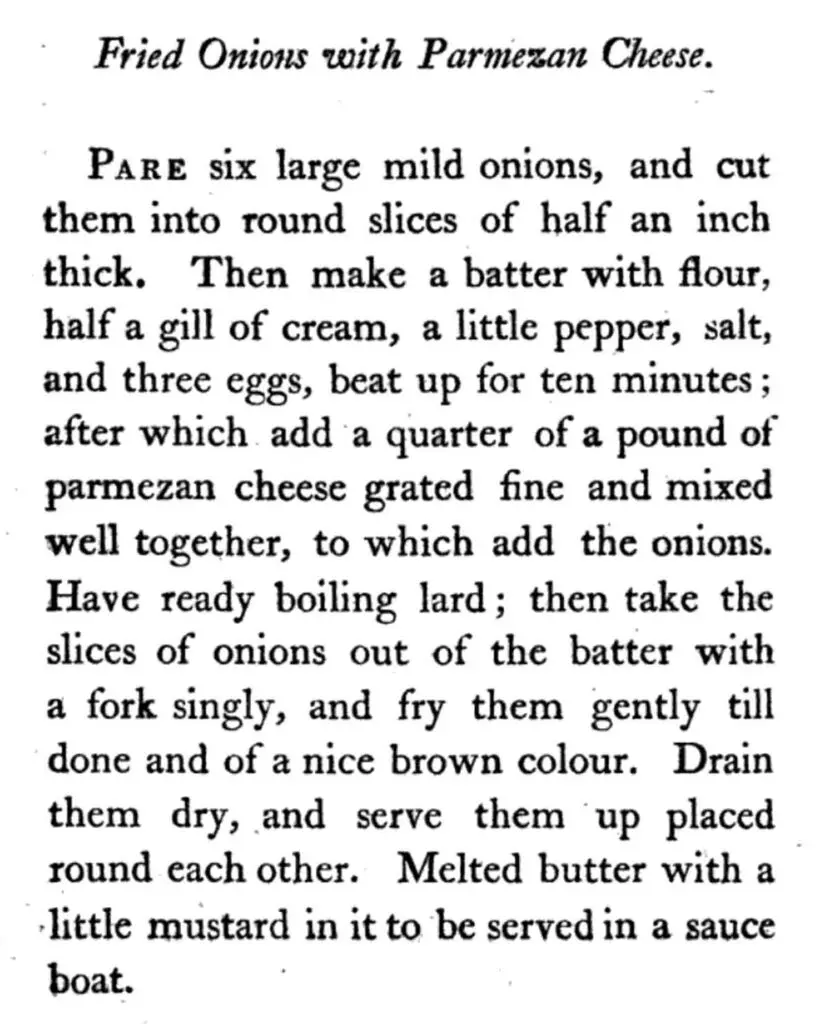 Clearly, Molland's recipe, minus the cheese, is very much in keeping with the battered onion ring recipes of today, including Bessinger's. However, it wouldn't be until near the end of the 19th century before "French Fried Onions" began to show up in newspaper reports.
The first I could find was published in The Norwood News in December 1892. It is actually part of a larger recipe for "Filet of Beef, Vienna Style." (See boxed in areas below.)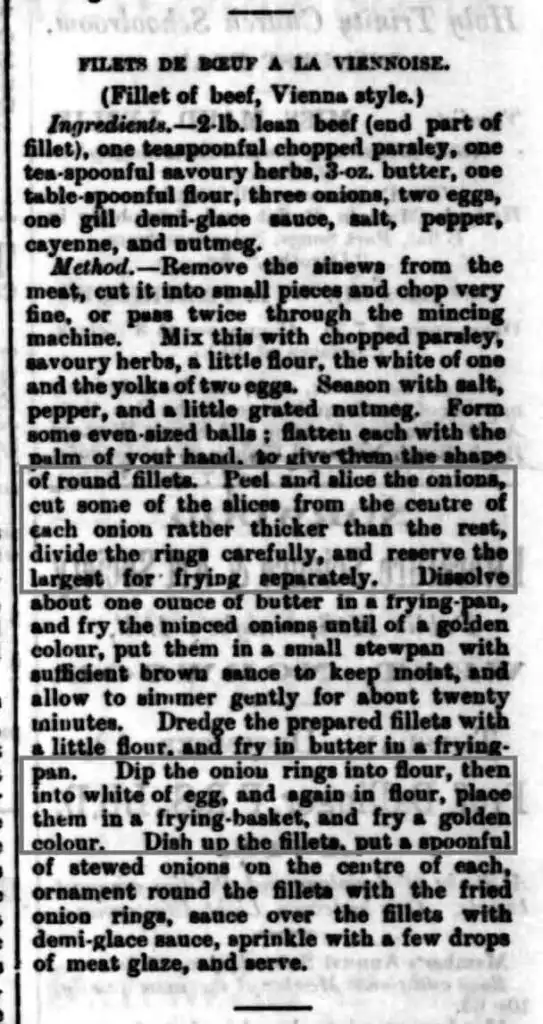 As you see above, the recipe calls for peeled, sliced onions to be cut into slices thicker toward the center and divided into rings, reserving the larger ones for frying. Later, the cook is to "dip the onion rings into flour, then into white of egg, and again into flour, place in a frying-basket, and fry a golden color."
Sounds like onion rings, no matter what the century.
By the turn of the twentieth century, onion rings began to be commonly referred to as "French fried onions."
For example, the Boston Evening Transcript published an article on March 13, 1902, in which they report on a cooking demonstration by the famed Fannie Farmer, herself, at the Boston Cooking School. In "Epicurian Dishes," the paper reports on "a menu out of the ordinary."
In this lesson, Farmer cooked a menu that included "braised ox joints, calf's liver stuffed and larded, French fried onions, calf's head a la terrapin, calf's brains fritters, sauce finistra, mazarine brioche, and apricot marmalade."
Fannie Farmer's recipe for onion rings can be seen in a clipping from the article below:

Recipes for "French fried onions" would persist in newspaper publications for some time, but when was the very first recipe for "Onion Rings" printed?
The first recipe for a dish entitled "Onion Rings" actually appeared in the year prior to Farmer's demonstration. The recipe can be found in the June 4, 1901, edition of The Buffalo Enquirer.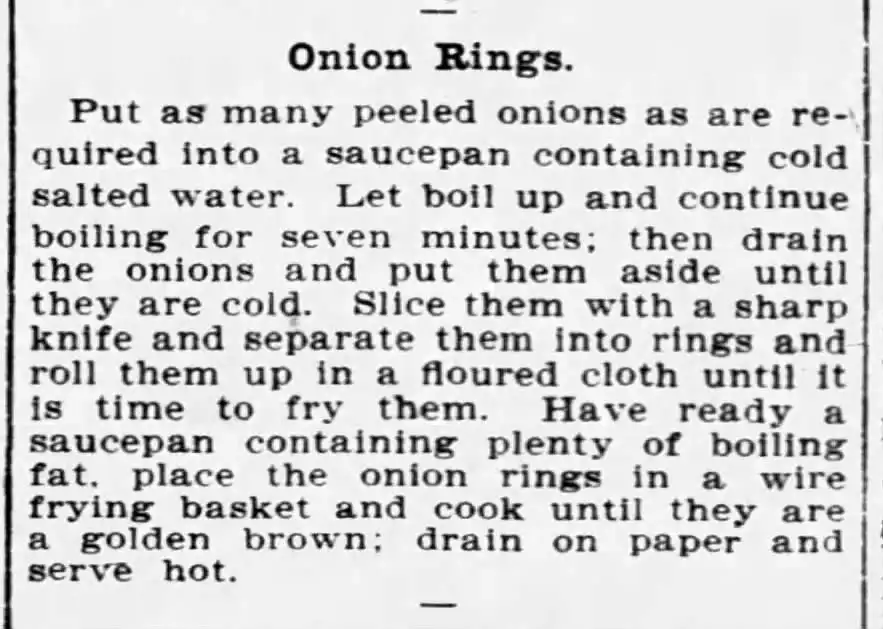 While this is the first published recipe for something called Onion Rings, the recipe is certainly much different from virtually any other onion ring recipe.
It calls for the cook to boil, drain, and cool peeled onions, slice them into rings and "roll them up in a floured cloth," and then drop them into "boiling fat" in a frying basket, cooking until golden brown.
Clearly, these are onion rings as we know them, but it certainly uses an unusual technique.
Now, a restaurant chain in Texas called The Pig Stand is often credited with being the first to create fried onion rings. Jesse Kirby opened the restaurant in 1921.
Obviously, the assertion that The Pig Stand invented the onion ring is not true, as we have a litany of evidence that precedes it by decades, if not a century or more.
What is clear is the growing popularity of deep-fried onions by the early 20th century.
In fact, onion rings had reached such a level of appreciation in popular culture that they appeared in at least one Crisco ad in the 1930s.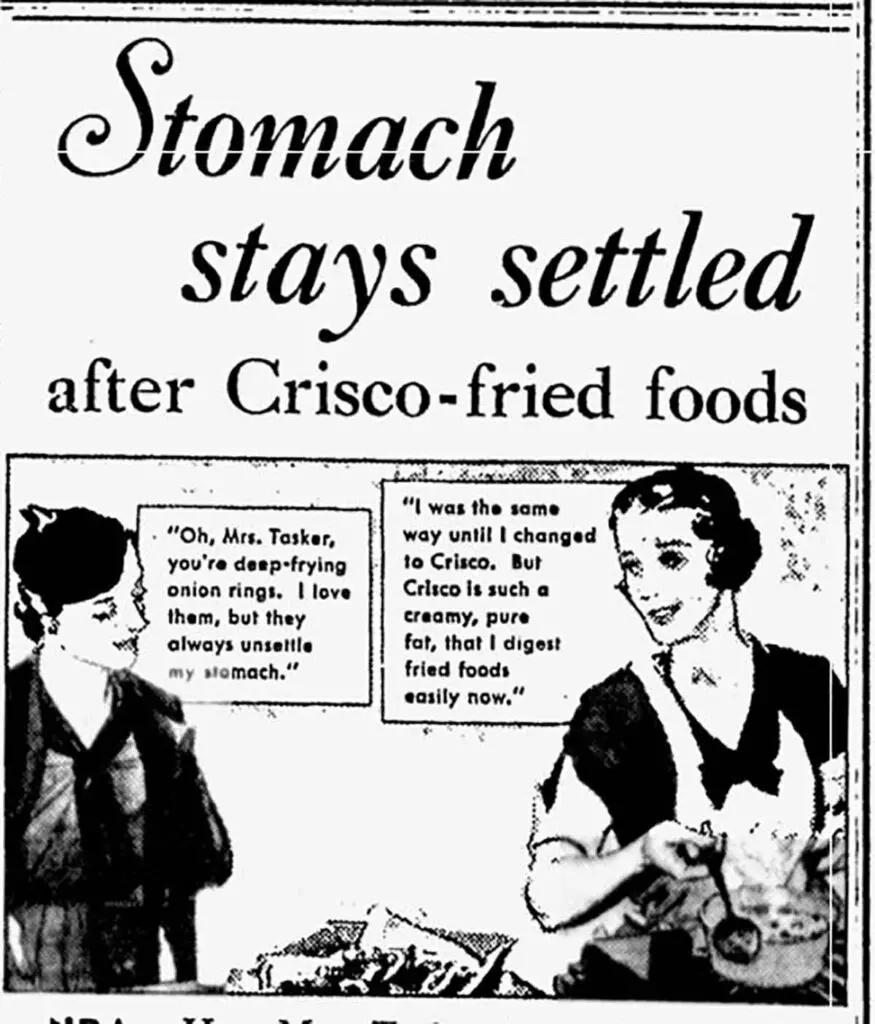 Onion ring recipes would, of course, persist and evolve in the ensuing decades and have become a staple on the menus of fast food stops and barbecue joints alike. Today, you can enjoy them pre-packaged, air-fried, and even delivered, but there is nothing like making them at home.
Making Battered Onion Rings FAQ
What are the basic steps for making battered onion rings?
The big picture is easy to follow. Here are the basic steps to making onion rings using a batter:
Peel, slice, and separate onions into rings
Mix the batter ingredients, dry ingredients first, then the wet ingredients
Heat enough vegetable oil to submerge the rings to a temperature of 400°F
Dip the onion slices into batter individually, covering with batter
Carefully drop the battered onion rings individually into the preheated oil
Fry until the bottom becomes golden brown
Flip and continue frying until golden brown
Pull from oil to cool and drain on rack or paper towels, adding additional seasonings if desired
Continue with additional rings until done, being sure to maintain oil temperature
But there are nuances that are helpful to understand along the way. Let's address some of those frequently asked questions about making homemade onion rings.
How does Bessinger's get their onion rings so big?
The onion rings at Bessinger's, Robert's, and Melvin's are massive for two reasons. First, they use a large onion with thick layers. Then, they slice that big onion into wide rings. So, from the beginning, you have the makings of a jumbo onion ring. In addition, the batter they use expands considerably when cooked. Huge rings of onion with a fast-rising batter yield the enormous onion rings famous at Bessinger's.
What's the best type of onion to use for onion rings?
Frankly, any onion could be used, but the best type of onion for onion rings is a large, sweet onion with a "single center." This means the onion has only one central growing core. The Texas 1015 is just such an onion, and it was actually developed for the purpose of making onion rings. However, a Vidalia or other similar type of onion will work just fine.
What's the best way to cut onions for onion rings?
You'll want to remove the root end and top of the onion and peel away the skin and any unusable outer layers. Once done, turn the onion on its side and slice straight down through the layers to make rings of whatever width you prefer. For the onion rings in this recipe, we prefer about a 1-inch width. Start at one end, move in an inch and slice through the onion. Repeat until the onion is divided. There's no need to be overly precise.
Should I soak the onions in milk or ice water?
Some folks take the time to soak their onion rings in milk, buttermilk, or simple ice water. There is no need to do that, especially if you're using a sweet onion to begin with. The purpose of soaking is ostensibly to reduce the harsher onion flavors; however, cooked onions naturally turn sweet so even if you're not using a sweet onion, this seems an unnecessary step for this recipe.
Should I remove the membrane from the back of each onion ring?
No, you do not need to remove the membrane, especially if you're using a batter as we do in this recipe. In some recipes, the membrane is removed so that the coating adheres better and remains in place while the onion ring cooks. Being paper-thin, the membrane can quickly shrink away from the back of the ring during cooking, pulling away with the coating. However, this should not be a problem when using a thick batter.
How do I make onion ring batter stick so it doesn't fall off?
Another reason to not soak the onions first is that batter sticks better to a dry onion. Some cooks will even slice them and leave them in the refrigerator overnight to dry, but we haven't found this necessary when frying battered onion rings. What you really want is a thick batter. At Melvin's, their batter is so thick that the onion slices will sit on top of the batter without sinking in, as seen in the screenshot below.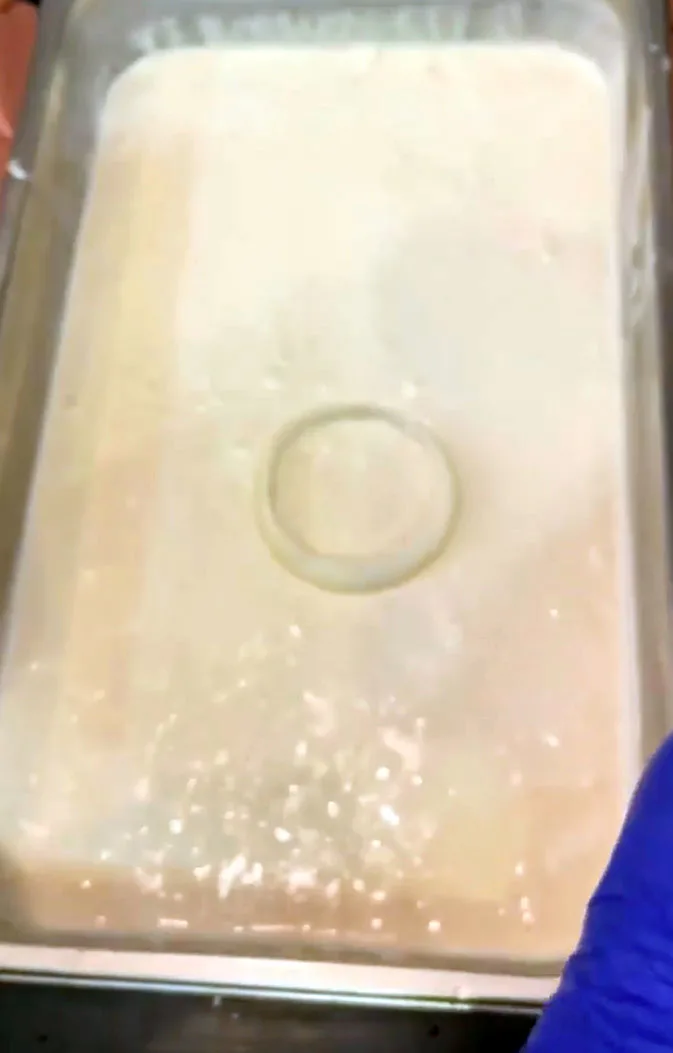 The image above is taken from a video posted by Melvin's. See how the sliced onion sits on top of the batter. It will not sink. The cook must push the onion below the batter. Because of the thickness, the batter will not slip off.
What onion ring frying tips can you share?
For battered onion rings, it is best for the frying oil to have depth. It's hard to fry a battered onion ring in shallow oil. What you really want is for the ring to plunge into the oil initially. This will quickly seal the exterior, helping the onion ring absorb less oil and allowing the interior batter to steam the onion as it cooks. For that, you'll need several inches of oil, at least. In addition, it is best to batter and fry the rings individually. You'll want each ring to enter the oil separately so they don't cling to one another.
What type of oil is best for onion rings?
Any oil can work, but the best oil for onion rings is a neutral-flavored oil with a high smoking point. Canola or vegetable oil is a great choice as they don't have any real flavor of their own and will remain safe at higher temperatures. Peanut oil is another good option.
What oil temperature is best for frying battered onion rings?
The best advice for oil temperature is to begin with a temperature of about 400°F and test one of your rings, adjusting the temperature as your conditions demand. If your temperature is too high, the exterior of your batter will burn before the interior has had time to cook. If it is too low, the batter will absorb too much grease. Starting at 400°F is a safe starting point. In the end, you'll likely find your sweet spot somewhere between 380° and 425°. Note: keep a close eye on the oil temperature to be sure it doesn't get so hot that it becomes dangerous.
What is the best way to drop a battered onion ring into hot oil?
Without question, you want to drop a battered onion ring into the hot oil so that it falls away from you toward the other side of the fryer. Do not "drop" the ring from a distance.

What I do is submerge the ring in the batter. Once fully coated, using a fork, I pick up the onion ring through the hole in the center, lift it quickly out of the batter, and gently place the bottom of the ring into the hot oil.

In the same continuous motion, the top of the ring slides off the fork so the onion falls safely into the oil away from me. The ring should then submerge fully but briefly while the batter quickly expands, and then it will float back to the surface.

Finally, be aware that you're dropping a moist batter into hot oil. Naturally, the batter will immediately begin to release steam under the oil which can cause a boiling effect. Depending on your pot size, the depth of your oil, and how much room there is from the top of the oil to the top of your pot, it is possible that the oil could boil over onto the stove, which is never good. Be sure to leave ample space for the oil to "boil up" without spilling over.
How long should I fry battered onion rings?
Battered onion rings tell you how long they need to cook. They are a lot like a doughnut. What you're looking for is color. This style of onion ring should float on top of the oil after you plunge it into the oil. You'll wait until the bottom becomes golden brown, which you can judge by looking at the sides. Once the bottom is the right color, flip over the onion ring and continue frying until the other side is of a similar color. As long as your temperature is right, the onion ring will be fully cooked when both sides are golden brown.
Can I fry battered onion rings in an air fryer?
No, an air fryer is not the right choice for battered onion rings. Air "fryers" are really just mini-ovens that bake food quickly using convection. Air fryers will not work for this style of homemade onion rings. However, they work great for reheating leftover onion rings later!
How do I keep the cooked onion rings crispy as I fry others?
Preheat your oven to 200°F before you begin frying. When each ring is done, initially move it onto a paper-towel-lined plate or pan to drain. When opportunity allows as you cook the next ring, move the onion ring from the paper towel to a sheet pan or cookie sheet in the oven. If you have a sheet pan with a wire rack, put the onion ring on that to keep warm and continue draining away any extra oil.
Making Bessinger's Battered Onion Rings
Preparations
To make a copycat of Bessinger's battered onion ring recipe, I began by prepping my station.
Alton Brown's Drainage Rig
First, I knew I'd need a place for freshly cooked onion rings to rest and drain. Like most folks, I generally just drain fried foods on paper towels. That method is fine, but I thought I'd try a technique I learned from watching Good Eats star Alton Brown.
Get a sheet pan and a wire rack. Put down some parchment to cover the bottom of the pan (my addition to Brown's process) and cover the parchment with paper towels.
Next, invert the wire rack on top of the paper towels, and voila, you have a drainage system that will keep your onion rings above the paper but still allow the oil to be wicked away.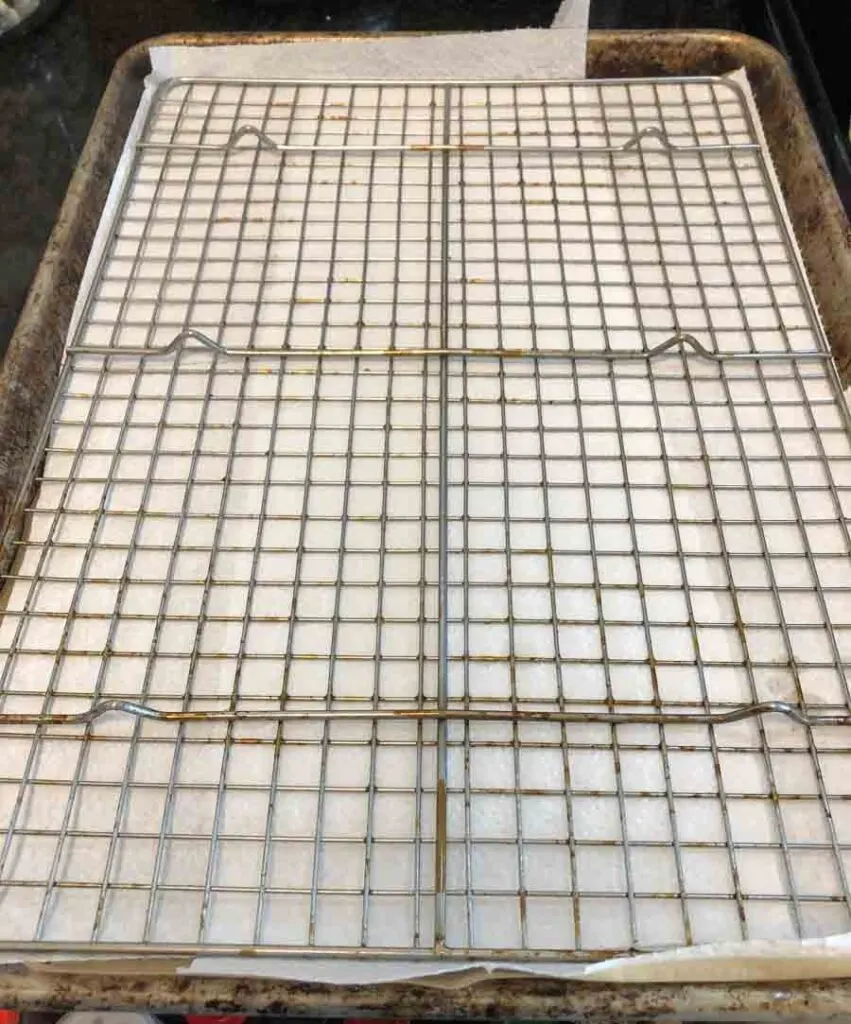 Preheat the Oil…Carefully
Next, I began preheating several inches of oil. You want enough oil for the battered onion ring to sink into without touching the bottom.
I learned in my several testing days that the oil can take a while to come up to temperature. It is better to begin preheating the oil before you start prepping your onion and batter mix. However, you will want to keep a close eye on the oil temperature during your prep time.
Do NOT turn the oil on high and walk away.
To preheat the oil, I started on medium heat to let the temperature rise slowly while I sliced the onion and made the batter. I also used our Taylor thermometer to watch the temperature.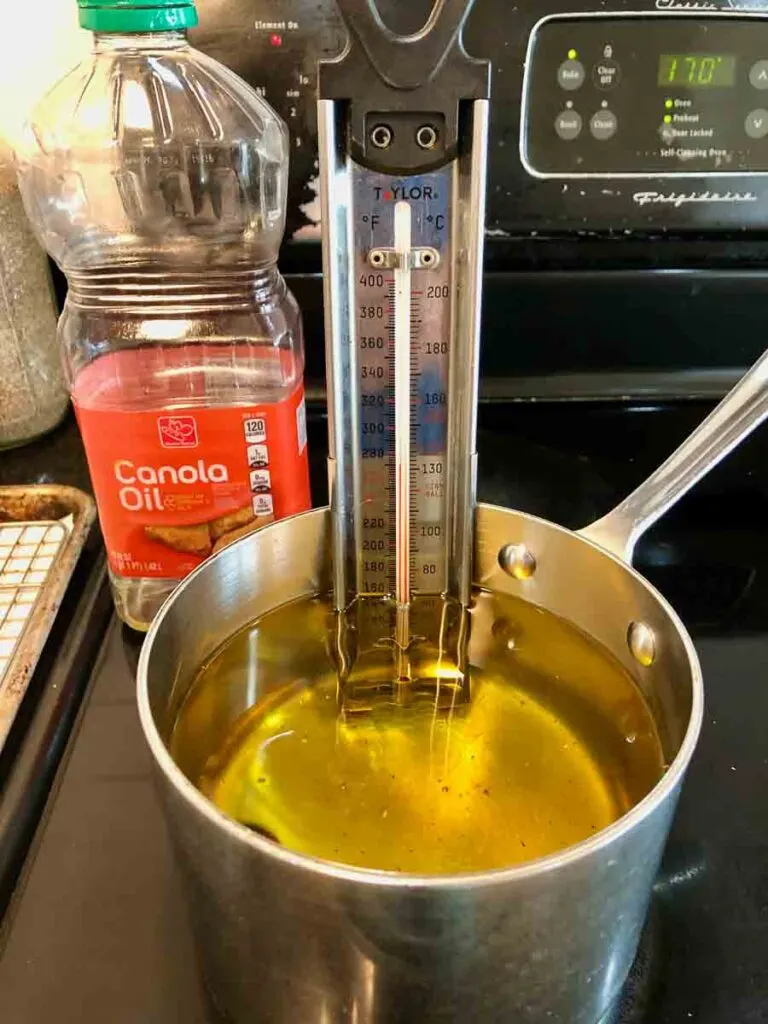 In addition, I used a small saucepan with high sides to use less oil and get more depth. Amazon carries the one we use. It's about 4 inches deep and 6 inches wide. The oil here is about 2.5 inches deep.
Preheat the Oven
My final preparation was to preheat the oven. In my earlier tests, I started at 170°F, and that was fine, but I'd recommend 200°F.
In the instructions, I recommend using a plate with paper towels and a sheet pan and rack for the oven, but honestly, I just put Alton Brown's drainage contraption right in the oven. The oven is not so hot that you have to be concerned about the paper towels. Two birds, one stone.
Make Batter
This part's simple. Mix together the dry ingredients. Add the wet ingredient. Stir into a batter, but don't overwork it. Just mix enough to combine, as you would a pancake batter.
The image below is of the ingredients I used on my final test day. I started with two variations of the onion ring batter recipe provided below.
In the bowl on the left, I substituted cornstarch for part of the flour. I had read it might with browning, and since I was never happy with the color of the onion rings from the previous two testing days, I thought I would give it a go.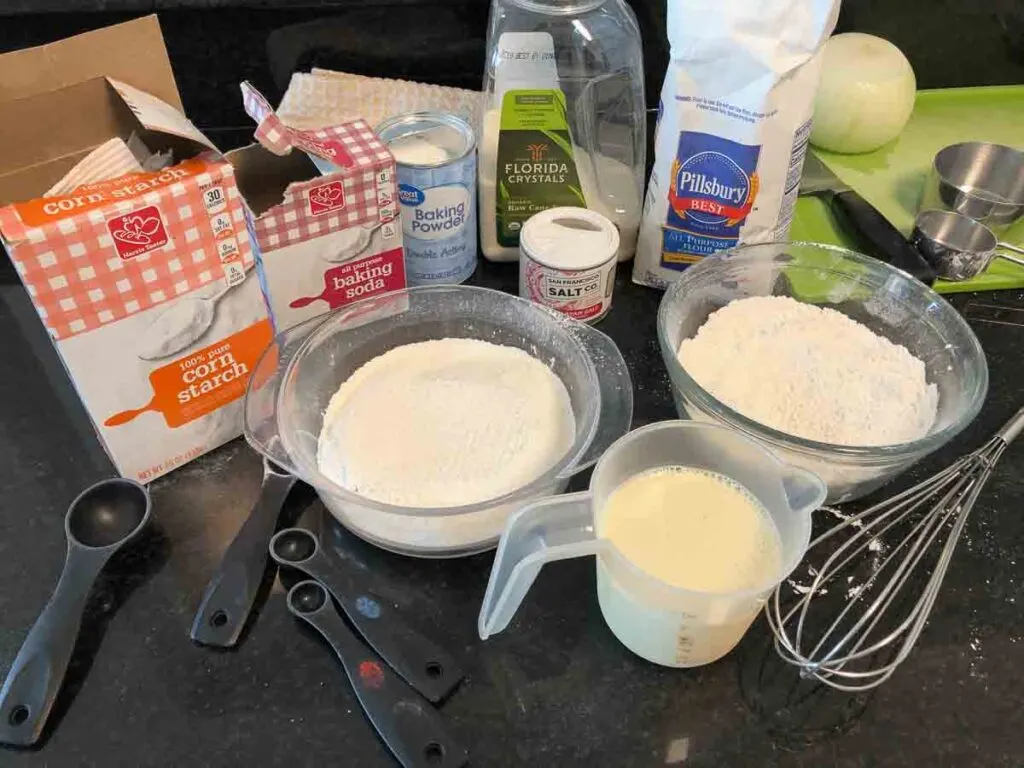 While the batter with the cornstarch worked fine, I didn't see enough value to keep it in the final recipe.
In addition, there are no eggs in this onion ring batter recipe. I used eggs in the first tests, and the eggs gave the onion rings a yellow interior color. As you can see in the photo of a Bessinger's onion ring at the top of this article and Melvin's onion ring below, the interior color of their onion rings is quite white.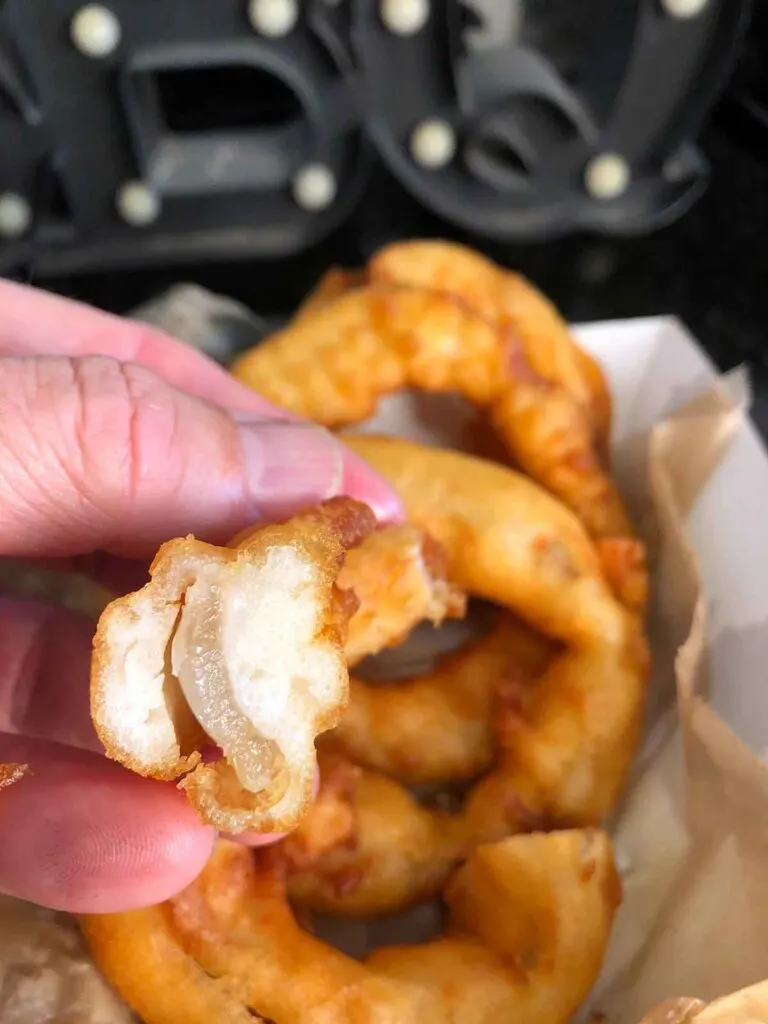 Compare that photo to the image below of a (very bad) test ring I made with the egg batter I used on the first day of testing and you'll see why our copycat onion ring batter mix doesn't use eggs.
Also, since we don't drink cow's milk, all my tests used Silk sweetened soy milk, so this onion ring batter is incidentally vegan.
The protein and sugar content of the two types of milk are virtually identical. Cow's milk offers 8 grams of protein and 12 grams of sugar while the Silk product provides 8 grams of protein and 9 grams of sugar, per the label.
That said, sugar is an important browning factor in all foods which is why this recipe includes more than double the sugar added in my previous tests.
Over the three days, I tested with granulated sugar, cane sugar, and an equivalent amount of confectioner's sugar. All worked, but the additional volume of sugar used on the final day seemed to pay off in both browning quality and taste.
Bessinger's and Melvin's serve that "savory donut," and you can really taste the sweetness in their breading.
Slice Onions
The trick to making Bessinger-style onion rings is to cut jumbo sweet onions into wide rings. As mentioned above, you can use any onion, but they won't be like those you can find at Melvin's if you settle for anything less.
This is what you want: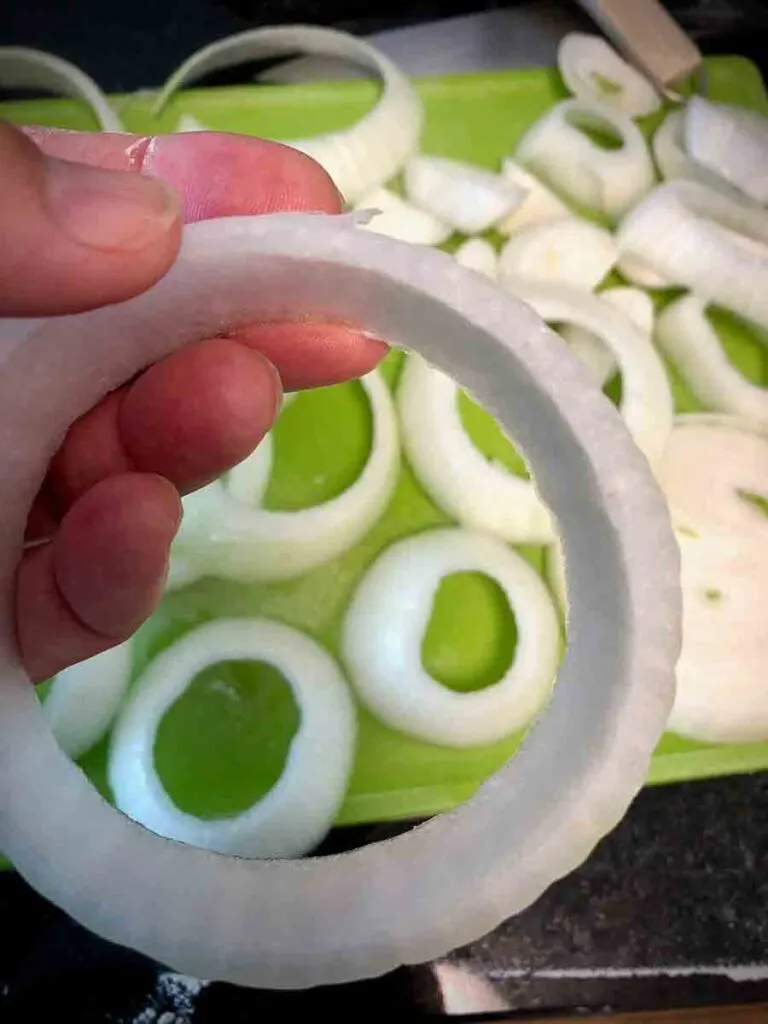 And if you look closely, you'll see that this onion was not a "single center" onion. Despite offering great outer layers, the inner layers of this onion were basically unusable because it had multiple growing cores.
No big deal, really. I just saved those for another use.
Batter the Ring
When your oil nears 400°F, it will be time to batter the first onion ring.
Do these one at a time unless you are using a much larger frying pot. It will help maintain oil temperature and will prevent the onion rings from clumping together in the oil.
When you place the ring onto the batter, it should just sit on top.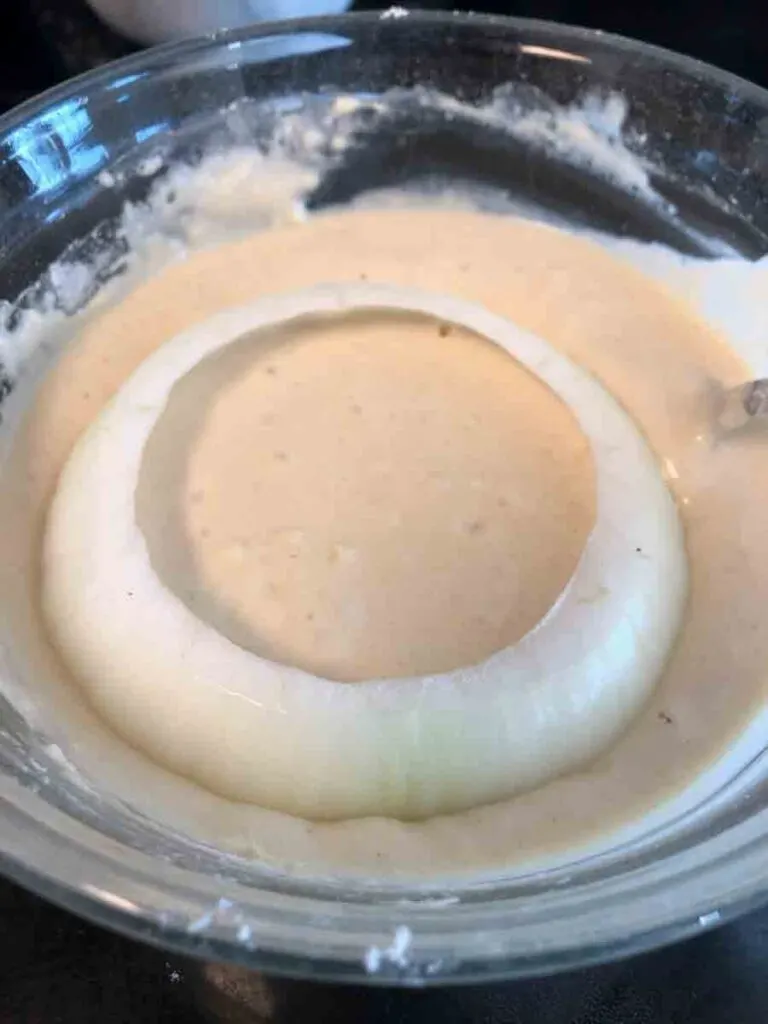 If the onion doesn't sit on top, the batter is too loose. Add a bit more flour and try again.
To batter the ring, all you need to do is submerge the ring. The batter will surround and stick to all sides of the onion ring.
Fry
When the oil hits 400°F, scoop the submerged ring from the batter using a fork through the hole in the center to lift it out of the batter. In one continuous motion, place the battered onion ring gently into the oil and slide it off the fork into the hot oil so that the ring falls away from you toward the back of the pot.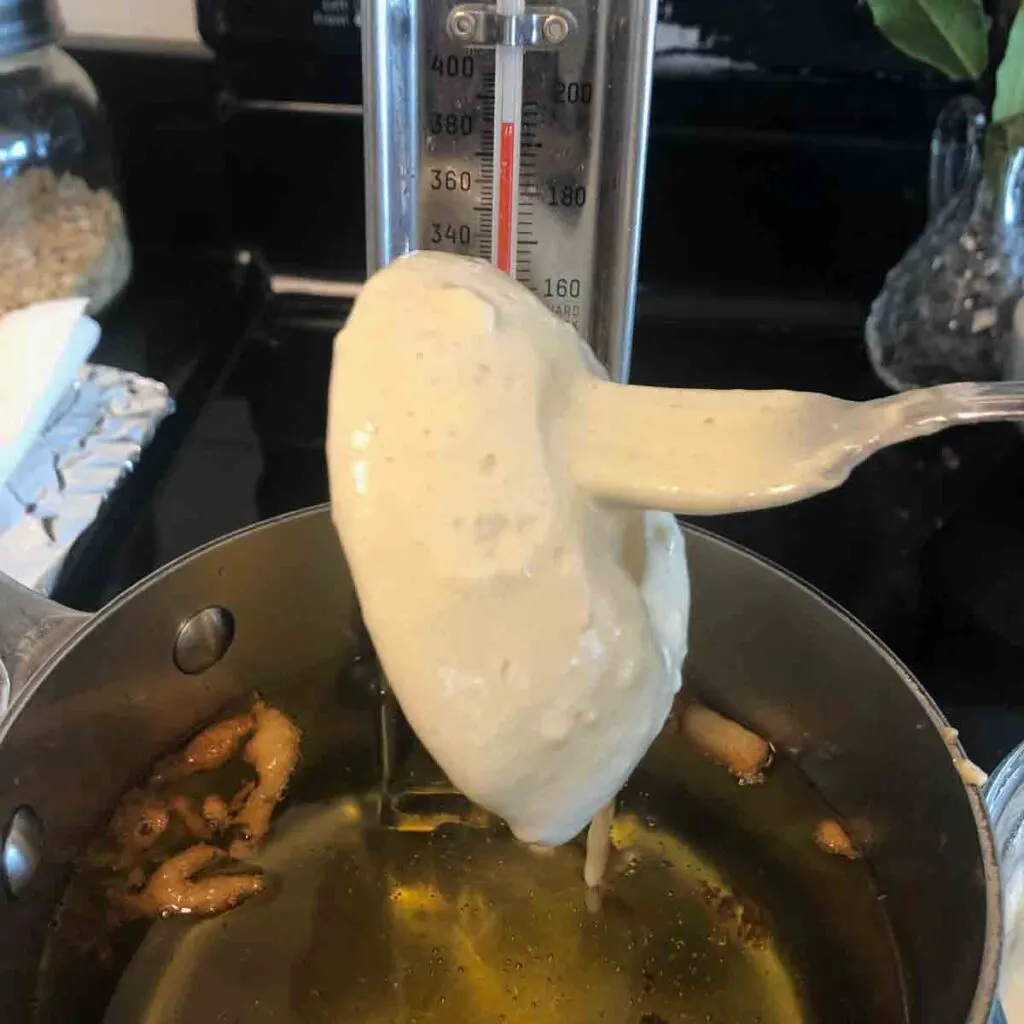 Note, the shot above is from one of my test batches. Here, the oil temperature is only 380°F.
I tested several batters and several temperature ranges and found 400°F was my preferred temperature.
That said, my thermometer did not have readings above 400°F, so I didn't test at higher temperatures. I suspect, the onion rings may do well at higher readings. This inexpensive deep-fry thermometer on Amazon allows for higher readings.
When in the oil, the rings will first submerge and then float back to the surface, like a donut. At this point, you simply fry them like they were.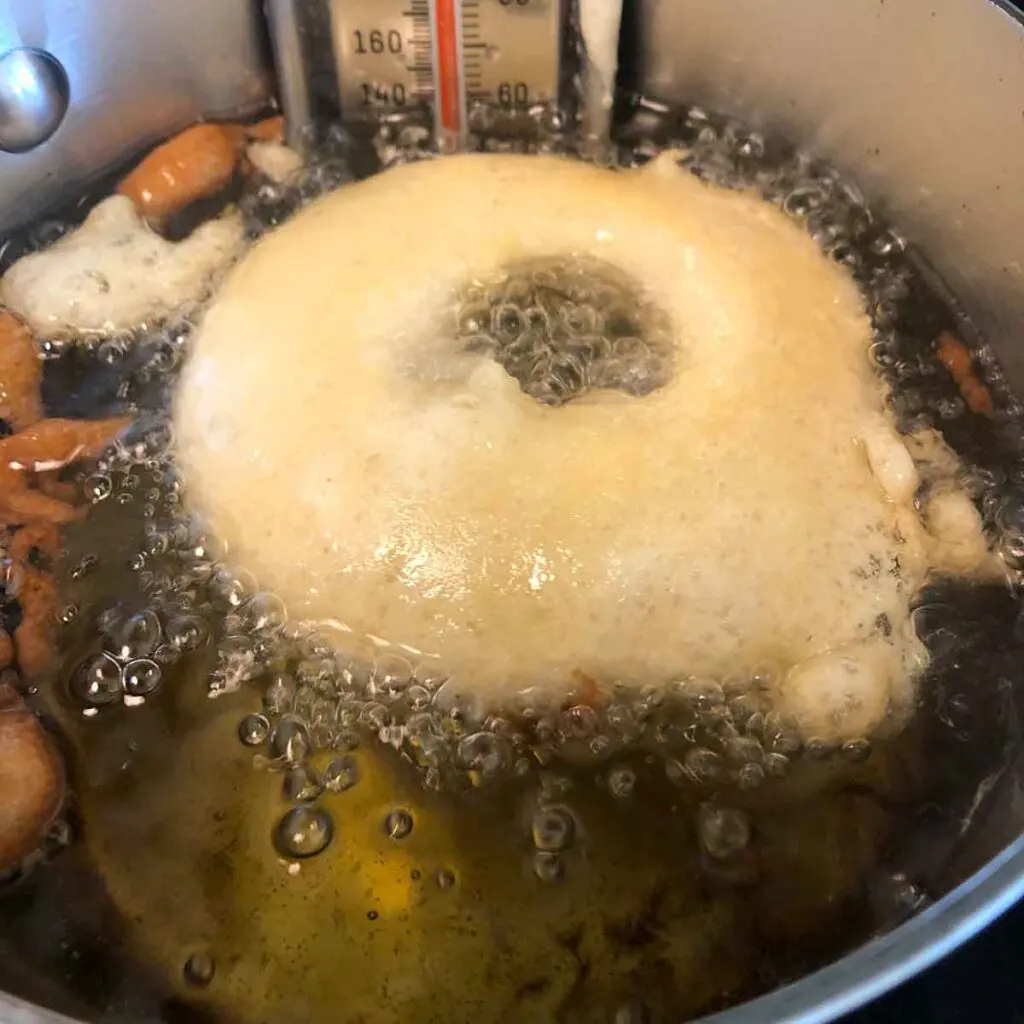 Watch for the batter to start turning golden brown on the bottom and lower sides. When you see the color you like, flip over the onion ring and cook the other side to a similar color.
Drain and Keep Warm
After removing the onion rings from the oil, you'll place them on your draining station, however you choose to do that.
The shot below is from my first testing day. Here, I don't have the wire rack upside-down. In the end, I did prefer the inverted wire rack for draining, though simply using paper towels on a plate would be fine.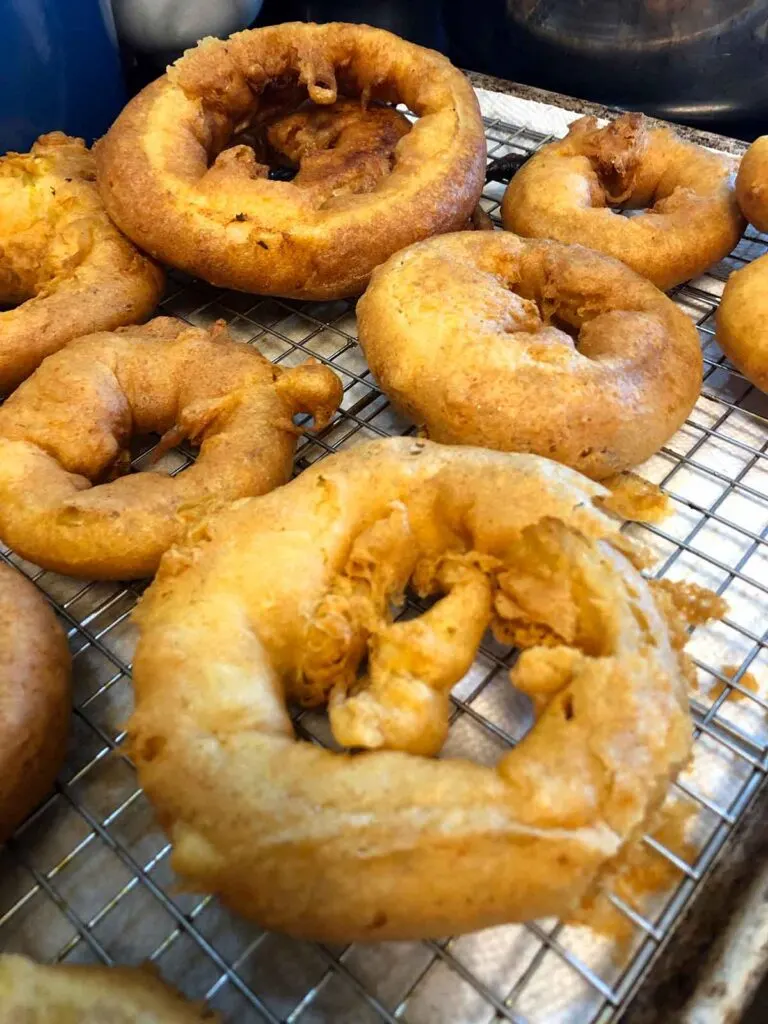 Finally, keep your cooked onion rings warm in a pan in your preheated oven while you cook the remaining rings.
Best Eaten Hot
While Bessinger-style onion rings — from this copycat recipe or from the Bessinger family restaurants — are best eaten hot and fresh, not unlike a donut. While they do hold nicely in the oven, they won't keep for hours.
You can, however, reheat them nicely as leftovers in an air-fryer.
And they are most delicious dipped in another Bessinger-family specialty. Try them with Maurice's Southern Gold BBQ sauce.
Sweet Savory Onion Ring Batter Recipe
Onion rings to die for. Fluffy and soft and crunchy and delicious!
Ingredients
2 Jumbo Onions, Vidalia/sweet onion, optional
1 ¼ Cups All-Purpose Flour
¼ Cup Granulated Sugar
¼ Teaspoon Salt
½ Teaspoon Baking Soda
1 Teaspoon Baking Powder
1 Cup Milk
Oil for frying, vegetable, canola, or peanut preferred
Equipment Needed
Deep-fry Thermometer
Deep Saucepan or Dutch Oven
Plate and paper towels (for drainage)
Sheet pan (for keeping onion rings warm in oven)
Instructions
Prep a place to drain cooked onion rings near cooking station.
Clip deep fry thermometer inside a pot and add several inches of oil, enough for onion ring to submerge fully without hitting bottom when gently "dropped" in.
Begin to slowly preheat oil while you prep rings and batter. (Keep close watch on your oil temperature.)
Preheat oven to 200°F.
Peel and slice the onions about 1-inch thick.
Separate the slices into rings.
Mix the dry ingredients for the batter.
Stir in milk, mixing to combine, but do not overwork the batter. Batter should be thick enough for onion ring to sit upon without sinking into.
When the oil nears 400°F, coat one onion ring in the batter.
Carefully "drop" onion ring into 400°F oil.
Fry the battered rings individually, flipping as needed so that each side reaches a golden brown.
It should take about 1-2 minutes total, but let color and experience be your guide.
Notes
Substitute Silk sweetened soy milk to make this recipe vegan.
Recommended Products
As an Amazon Associate and member of other affiliate programs, I earn from qualifying purchases.
Nutrition Information:
Yield:

8
Serving Size:

1
Amount Per Serving:
Calories:

187
Total Fat:

5g
Saturated Fat:

1g
Trans Fat:

0g
Unsaturated Fat:

3g
Cholesterol:

9mg
Sodium:

224mg
Carbohydrates:

33g
Fiber:

3g
Sugar:

19g
Protein:

4g
Like to Volunteer as One of our Recipe Testers?
We have a bookful of recipes to test and publish. Join the team and choose from our collection of unpublished recipes.
All we ask is that you photograph the process and share your thoughts on each recipe and the finished product. And we'll feature you when we publish that recipe.
Interested? Just send me an email.