Melvin's Legendary Bar-B-Que on James Island
First Family of Mustard-Based Barbecue
This post may contain links from which I earn a commission. Please read my disclosure policy. As an Amazon affiliate, I earn from qualifying purchases.
A South Carolina tradition since 1939, Melvin's Bar-B-Que restaurants are beloved and famous across the South for the best St. Louis style pork ribs, chicken, and "All Ham" Bar-B-Que. Come on down and experience the flavor at their Mt. Pleasant location or the James Island location.
Melvin's Bar-B-Que serves pulled pork BBQ, cooked 24 hours on hickory wood coals!
Voted Best in Charleston for 10+ years!
Cheeseburgers (best in America according to Emeril Lagasse + People Magazine)!
Melvin's Bar-B-Que serves incredible Ribs and

Brisket

too!
Onion Rings are like big golden donuts – so good. Onion Rings are like Big Golden donuts – they come in "Baskets" with meals…. people crave them! (Make these onion rings at home)
10+ Southern Sides to choose from, and Hand Spun milkshakes as well!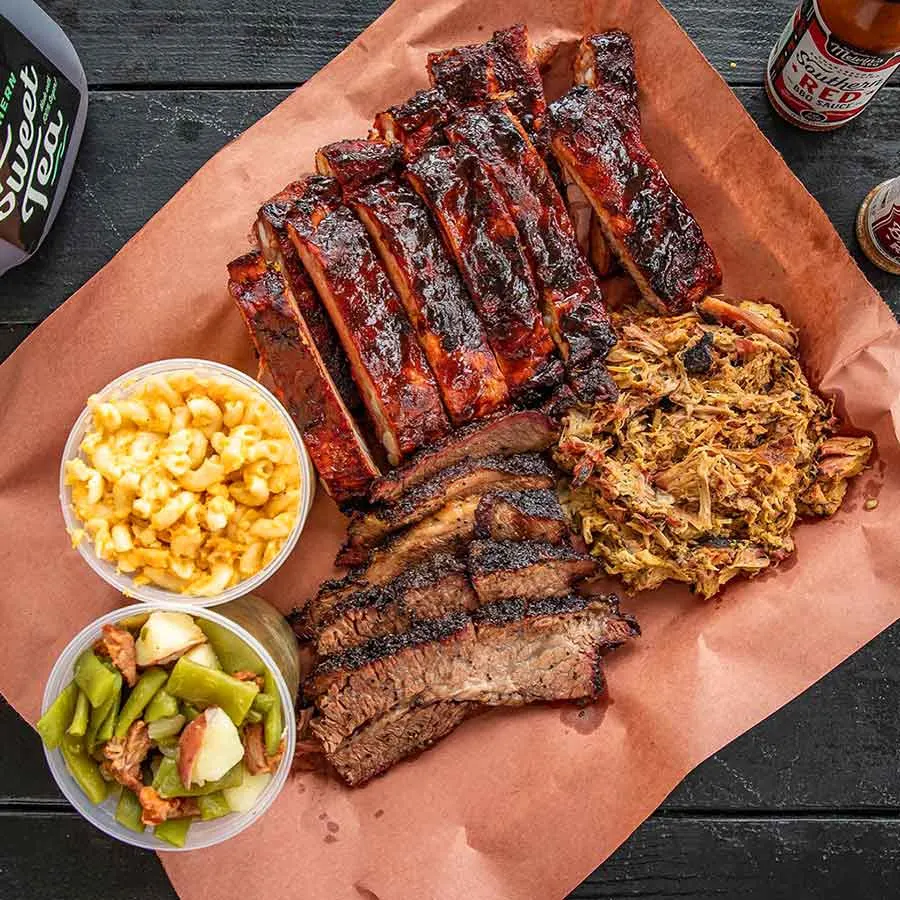 Kids Night on Wednesdays where one kid eats free with each paying adult!
It's reasons like those listed above that Melvin's BBQ earned a spot on our feature entitled "BBQ in Charleston, SC: The Definitive Guide."
Melvin's Bar-B-Que: A Bit of History
The story begins in the 1930s in rural Orangeburg County, SC, when Big Joe Bessinger taught 10-year-old Melvin to make the Golden Secret Barbecue sauce he invented.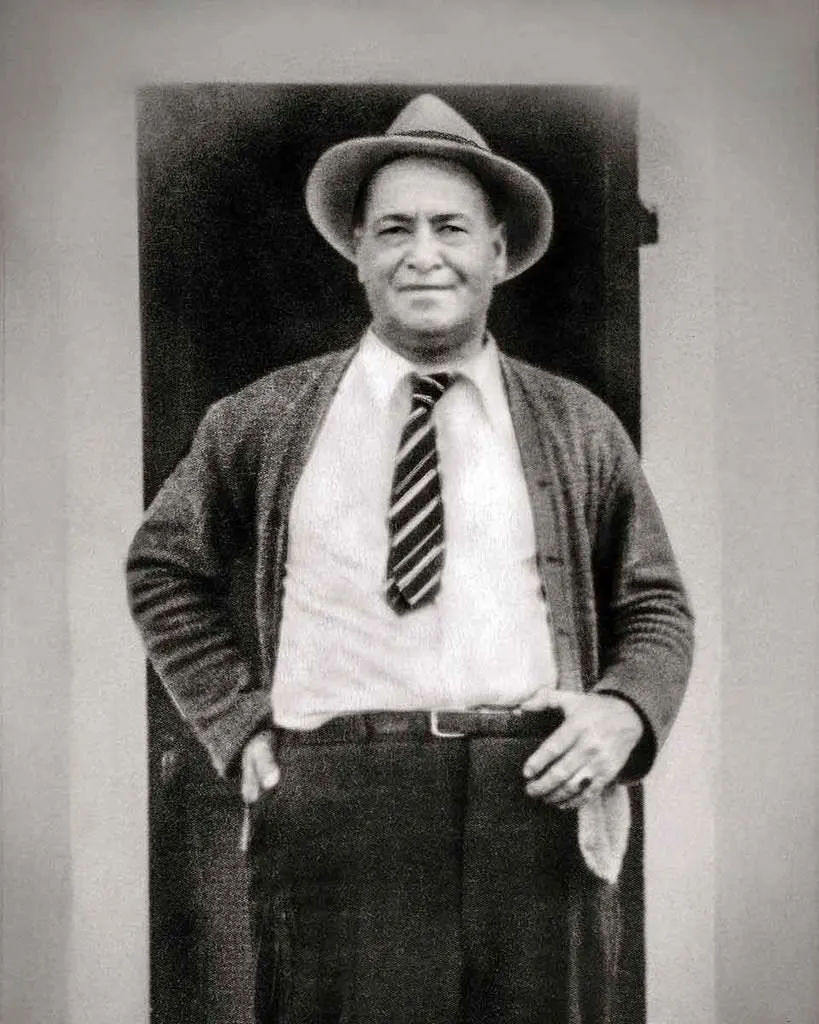 A farmer by trade, Big Joe had a talent for barbecue. Word quickly spread about his barbecued pork, cooked inside a pit dug deep into the ground and then drenched in his special mustard sauce.
At his wife's urging, Big Joe bartered away the family cow and mule in exchange for a small café in Holly Hill. Holly Hill Café opened its doors in 1939 serving mustard-based barbecue.
But the ongoing Great Depression forced it to close before long.
Triumphant Return
Later, Melvin Bessinger returned from WWII a decorated veteran. Using his Army paychecks, Melvin helped his father launch a new restaurant, Eat at Joe's.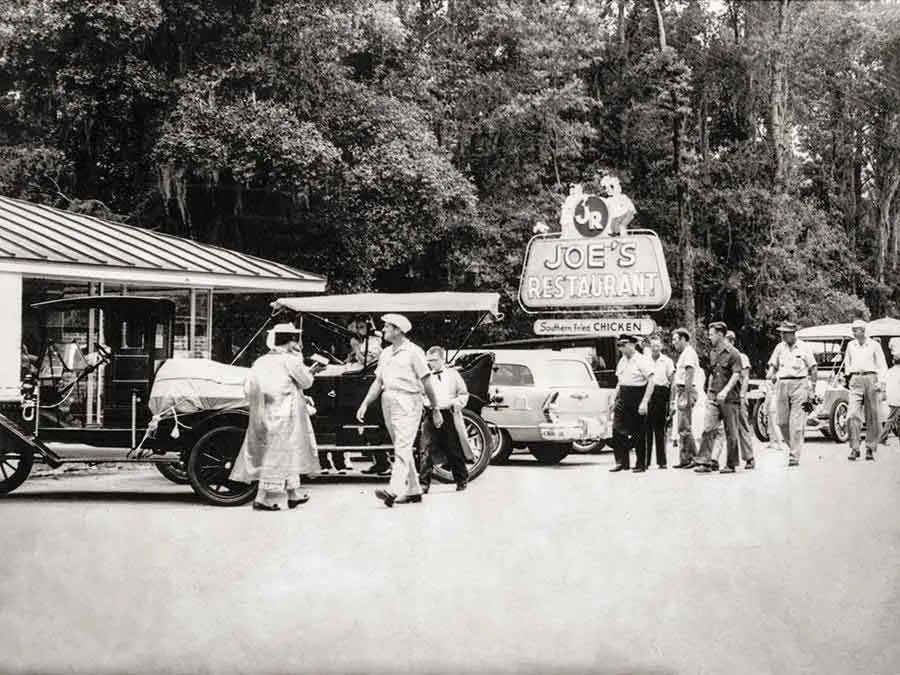 In 1955, Melvin closed the Holly Hill eatery, striking out for nearby Charleston.
After working for their brother JD at his Piggie Park Restaurant on Dorchester Rd, Melvin and younger brother Thomas eventually opened Piggy Park Drive-In on Savannah Highway. They eventually renamed it Bessinger's-The Barbecue Family.
Moving On
After nearly twenty years together, Melvin decided to part with his brother to go out his own.
He opened Melvin's Bar-B-Que in Mount Pleasant, SC. Melvin's Barbecue expanded to a second location on James Island in 1984.
When Melvin's son, David Bessinger, became more involved in the business, he added items to the menu like Texas-style brisket and burnt ends. Going back to his roots, David stopped using gas-assisted pits and brought back smoking meats over all wood.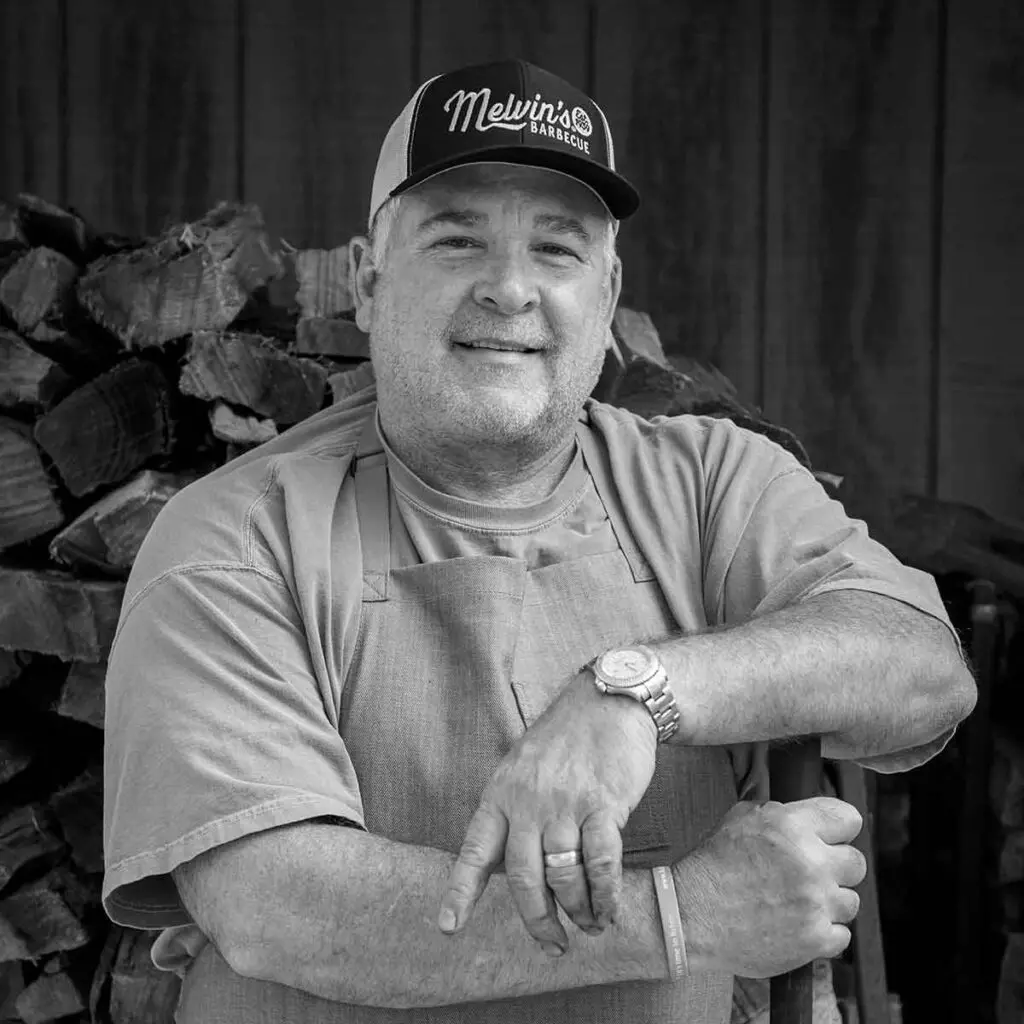 In addition, he developed new recipes for dry rubs, brisket rubs, and sauces, and ventured into the retail world by selling Melvin's Golden Secret® BBQ Sauce in grocery stores and specialty shops throughout the United States.
"I can't make the sauce in the old farm shed any longer; however, I do stick to the fundamental BBQ sauce traditions that were passed down to me from my granddaddy and father."
Enjoy this interview with Melvin's Bar-B-Que owner, David Bessinger.
What Folks are Saying about Melvin's Bar-B-Que
Google Review
Among the many Google Reviews of the James Island location, Local Guide Shannon Carver explains how she got more than she expected at Melvin's Bar-B-Que:
I went in Melvin's thinking it would be mediocre, run-of-the-mill, fast food BBQ…I was wrong.
The meats' smoky goodness enveloped my taste buds, and the sides are true down-home cooking.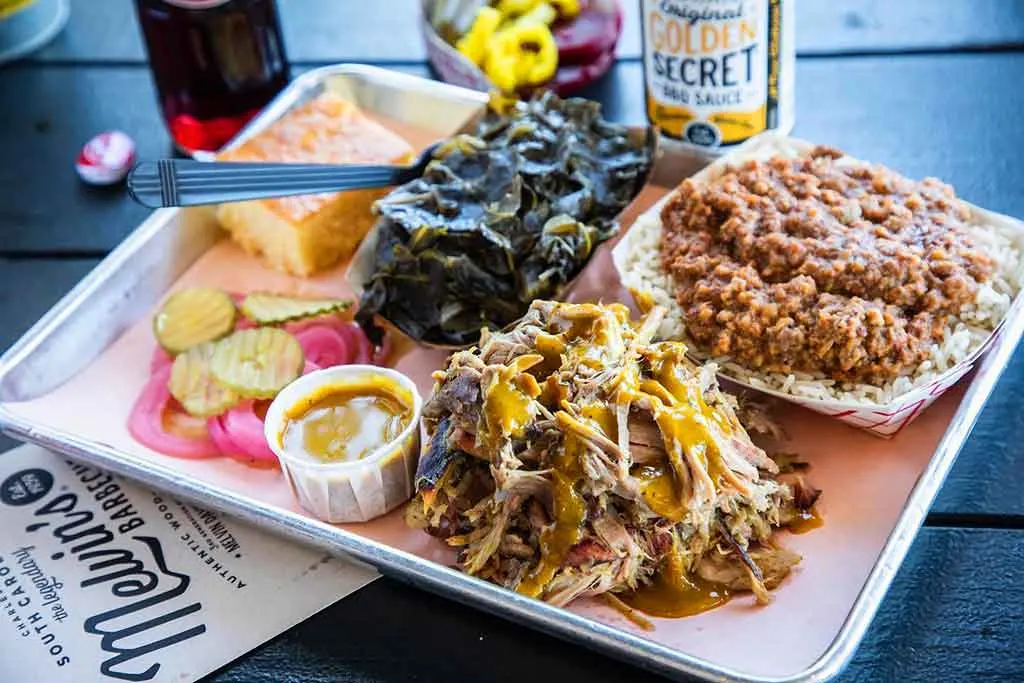 Few so-called Southern food joints get collard greens right, but Melvin's actually pulled it off. I felt like it was Sunday dinner at my grandma's house.
(Make Melvin's collard greens recipe at home.)
Their Golden Secret BBQ sauce was unbelievable. I ended up buying my own bottle to take home. I plan on dousing it on everything from now on.
Needless to say, I highly recommend grabbing some grub at Melvin's. If you don't like it, I'll eat my hat (after dipping it in the Golden Secret sauce, of course).
Yelp Review
Over on Yelp, Morgan K has tried virtually all of the BBQ joints in the Charleston area but has found none better than Melvin's Bar-B-Que on James Island:
Where can i even start with Melvin's Bar-B-Que?
Well, first… I am spoiled rotten by having the privilege of eating such wonderful bbq. I have been to just about every place in and around Charleston (Jim and Nick's, Sticky Fingers, Sweatman's, bobby Q's…) and Melvin's reigns supreme.
Why?
The quality is great. Their pulled pork practically melts in your mouth and bursts with flavor. Their ribs are to die for as well and fall right off the bone.
The sauces. The sauce of choice is the Golden Secret Recipe which is a mustard-based mix of all their sauces and is tangy and absolutely delicious. I am not a big fan of mustard-based anything, yet I cannot pass this up.
The trimmings. Their lima beans. the best. Mac and Cheese. To die for. Hash and rice. Unbelievable. Anything you get is out of control. and their cornbread? Probably the best I've ever had.
The service. A few times they have screwed up my order. I've gone up to tell them and they have literally refunded my money and given me the order on the house. Wow! Who does that? I'm a loyal Melvin's customer for life.
If that's not enough, Emeril Legasse says their burgers are the best in the country. I don't even sway that far the BBQ is so good, but I know they are delicious too.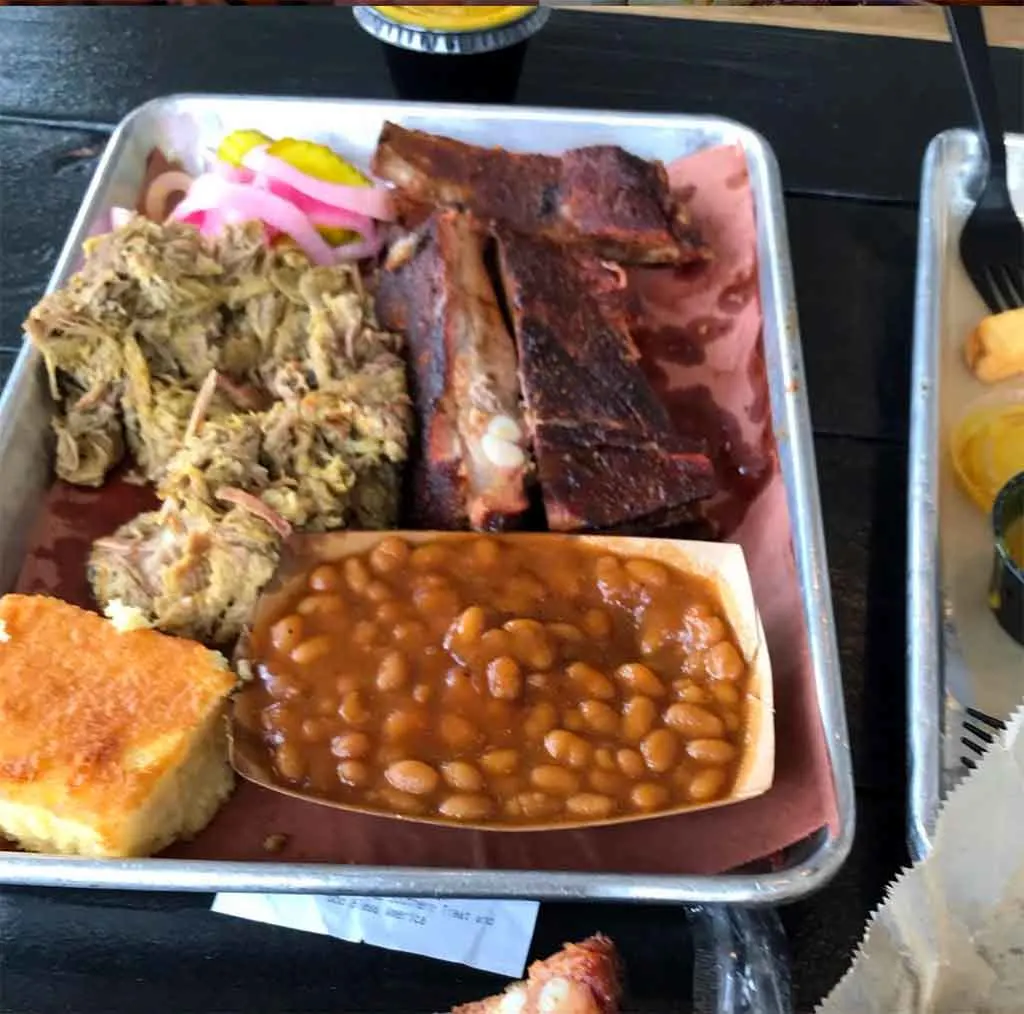 The perfect meal? :
Blue plate special (bbq pulled pork and ribs combo)
2 sides: Mac and Cheese, Baked beans.
Cornbread
All for 8.50.
My mouth is watering just from thinking about it
SCBA Review
Yeah, ok…sure. You can pull positive reviews from a website, but what do they know about BBQ? What about the folks who train the judges for BBQ competition in South Carolina? What do they think?
The SC BBQ Association deems Melvin's Bar-B-Que to be 100-mile BBQ. That's their highest honor, BBQ so good it's worth driving 100 miles for.
Here's an excerpt from their review:
Melvin has a dry-rub rib (unlike his brother, Thomas, who serves a wet-rub rib at Bessinger's) that is a little different from what you get everywhere else. It's tender but you can see your teeth marks when you take a bite.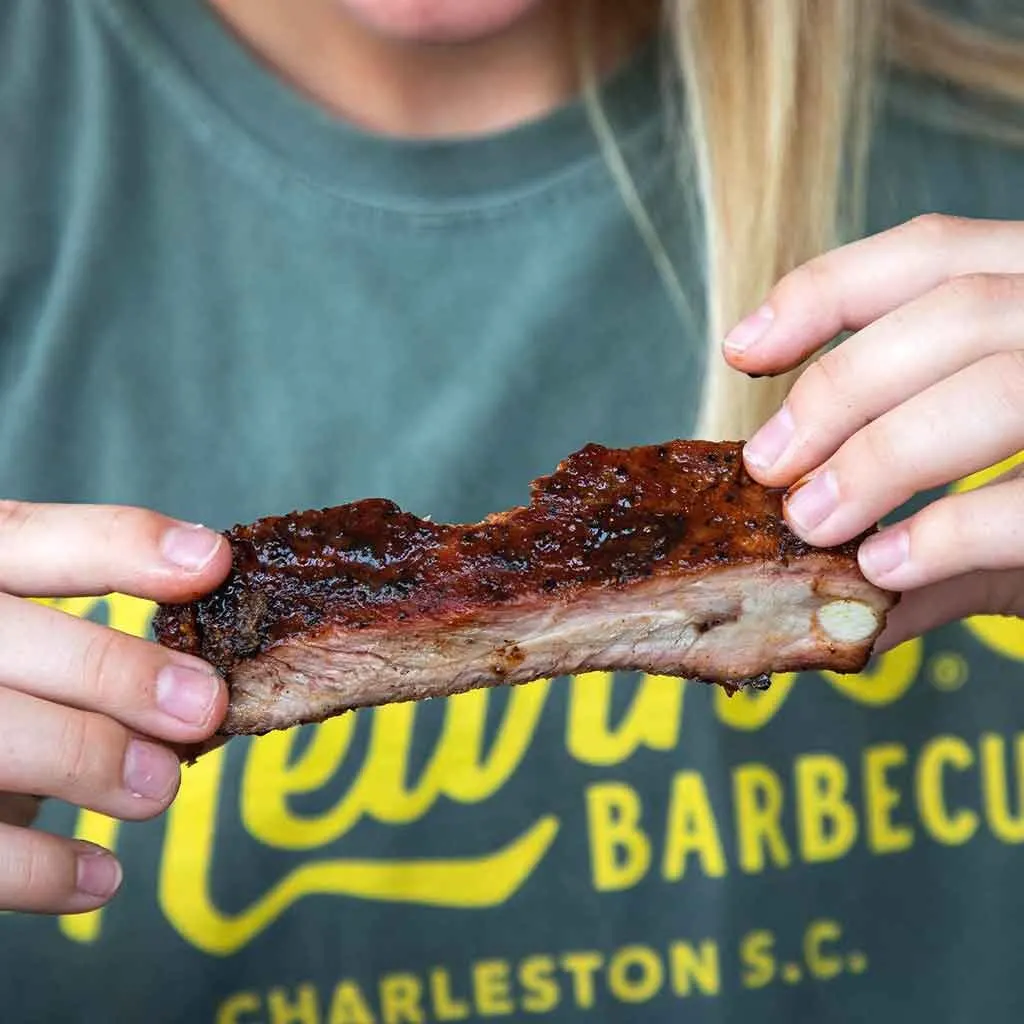 This is the hallmark of a great dry-rub rib. He cooks them with real wood, low and slow, just as he does his barbeque.
And speaking of that barbeque, it just "looks" right; that is, when you get it on your plate it has some of that wonderful outside "bark" that real barbeque aficionados crave and it has that tell-tale pink smoke ring on some of the pieces.
---
Menu for Melvin's Bar-B-Que
Note: Menu prices and options are subject to change over time. Contact the restaurant for the most up-to-date information.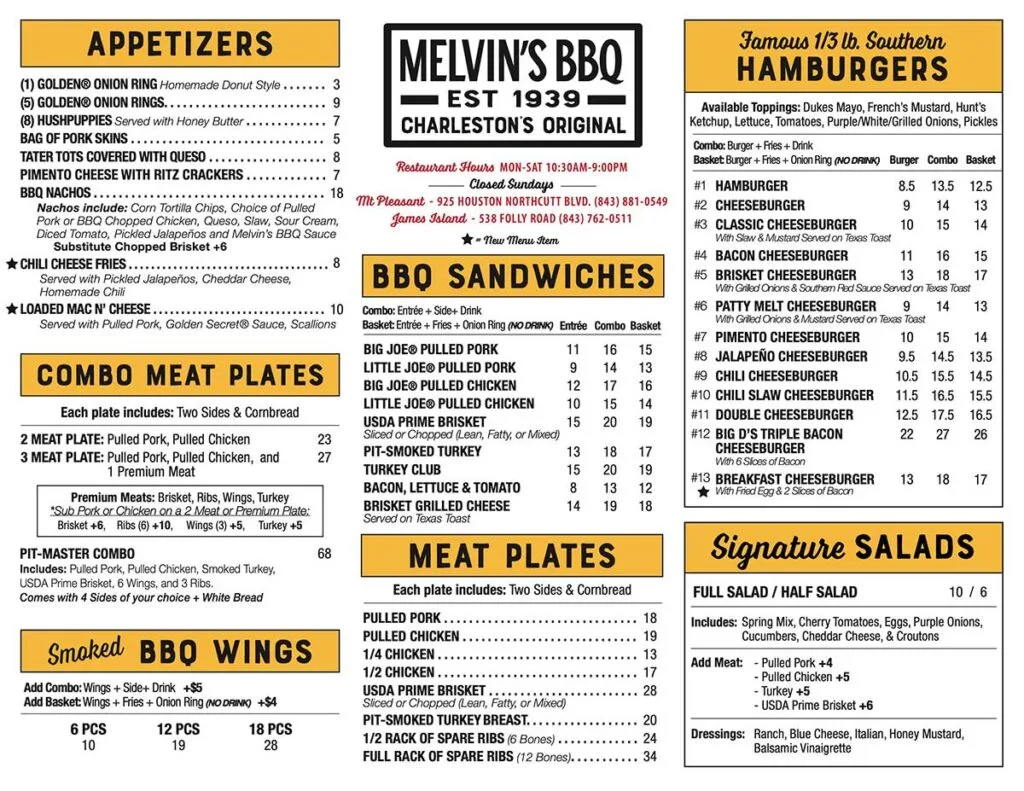 Shop for Melvin's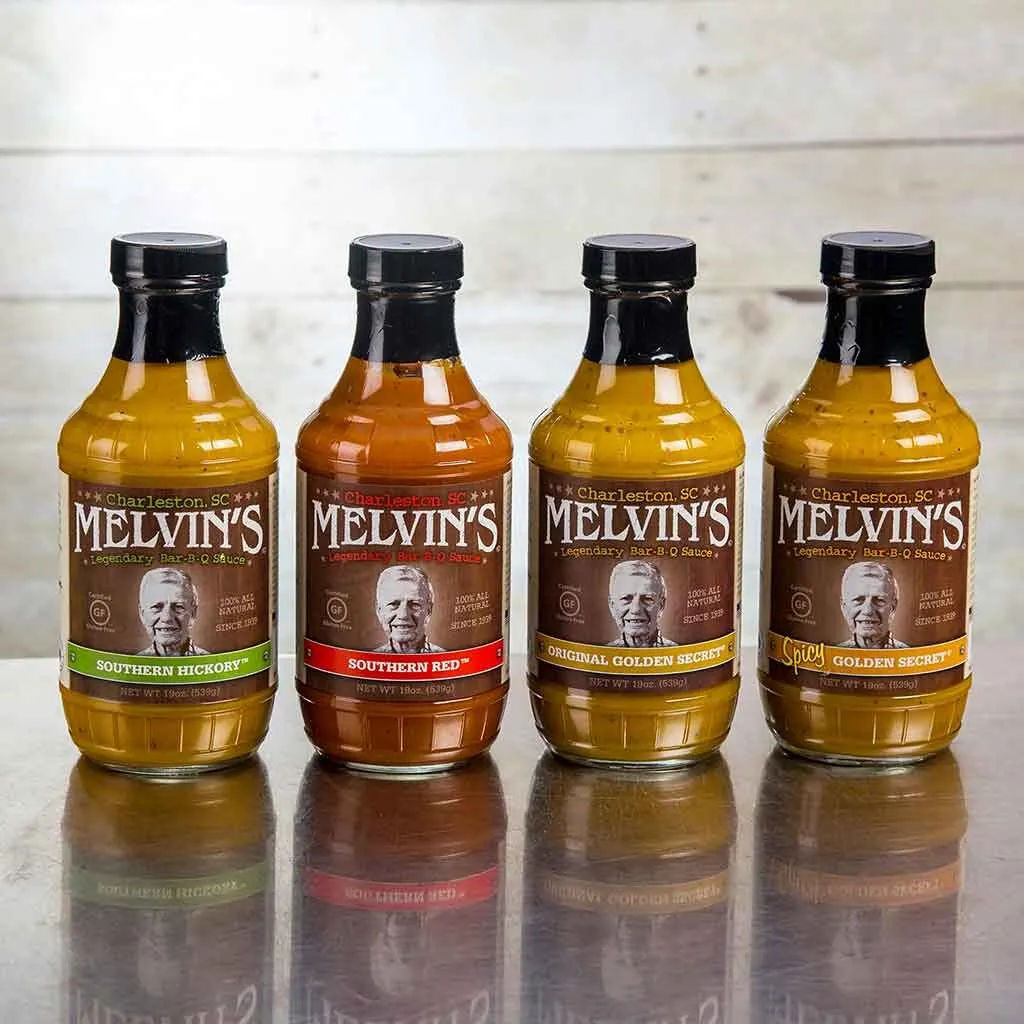 Location, Hours, Contact Info, and More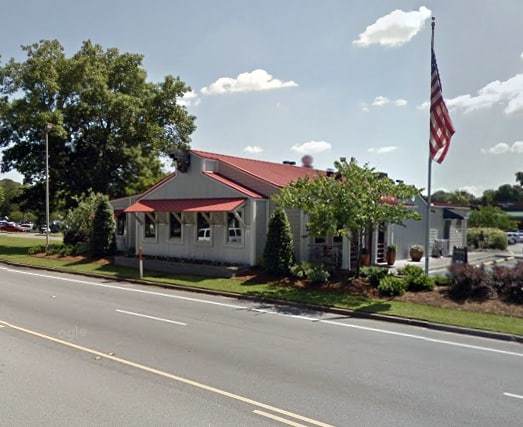 Map
Directions
Contact Melvin's Legendary Bar-B-Que on James Island
538 Folly Road
James Island,
SC
29412
Hours of Operation
| | |
| --- | --- |
| Monday | |
| Tuesday | |
| Wednesday | |
| Thursday | |
| Friday | |
| Saturday | |
| Sunday | Closed |
Review Sites
Features
100 Mile BBQ, Cards and Cash, Hash, Light Tomato Sauce, Mustard Sauce, True 'Cue Certified