This post may contain affiliate links to Amazon or other vendors I trust. Please read my disclosure policy. As an Amazon affiliate, I earn from qualifying purchases.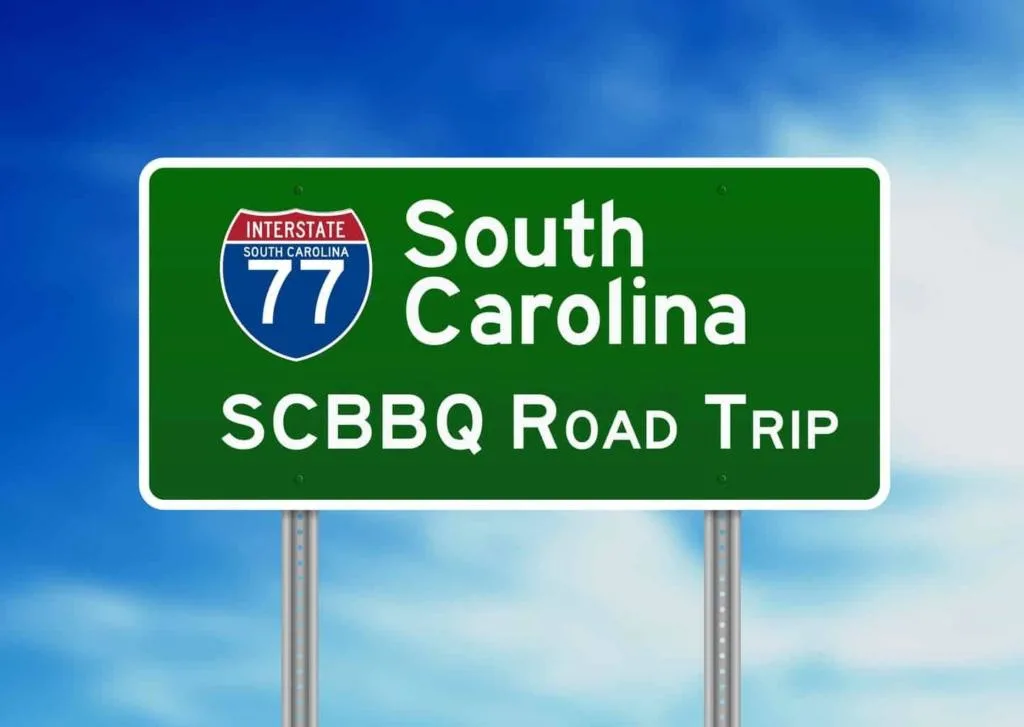 In South Carolina, arguably the birthplace of BBQ, barbecue is both varied and abundant.
This small state has so many, different styles of BBQ that anyone on a road trip in our state would need a guide to help them find the ideal spot from which to sample from the SC BBQ Trail.
To help those travelers, we have created SC BBQ Road Trip: A Restaurant Field Guide for each interstate that traverses our state. This edition covers Interstate 77.
Traveling I-77 in South Carolina, visitors and residents alike have ample opportunity to sample some of South Carolina's best BBQ. (As a side note, learn how to eat SC's best BBQ for FREE!)
Interstate 77 in South Carolina extends from Columbia through the north-central section of the state before exiting in York County and becoming mired in the mess that is Charlotte, NC.
This journey has Interstate 77 passing through only two of the four primary barbecue regions in the state.
Regardless, those who find themselves on I-77 have ample opportunity to sample the different styles of barbecue offered in South Carolina, and they don't need to detour far from their travels to do so.
Interstate 77 runs only 90 miles along its journey through the state. On this relatively short passage, I-77 spends about half its length in the region of SC most known for the sauce born in South Carolina: a mustard sauce.
(Note: if you'd like to learn to make authentic SCBBQ recipes, including the world's best mustard sauce, check out the recipes we've published on this site or our SCBBQ Recipes: Going Whole Hog cookbook, with over 150 pages of recipes from ages-old family traditions and today's top SCBBQ pitmasters.)
Here is a look at a rough breakdown of South Carolina's BBQ sauce regions: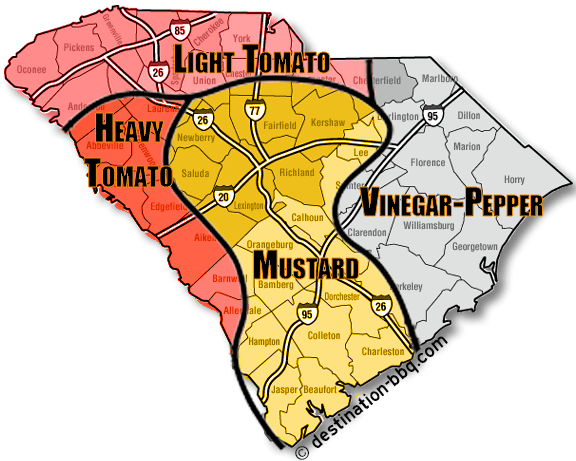 I-77 begins in the heart of the mustard region; however, it also briefly runs through our light tomato region.
Despite the map's insistence, barbecue in our state is not necessarily as defined as the map dictates. This map generalizes and whitewashes regions based on historical precedence.
Today, you are likely to find any of the sauces in any corner of the state, particularly among the newer restaurants that are paying homage to the state's grand history, but if you are looking for a particular sauce, now you know where to look.
Anyway, today you find yourself traveling Interstate 77. You know traveling this stretch of road you certainly ought to be able to find some of this SCBBQ you've been hearing (and reading) about.
But where should you look and how far do you have to go to get real SC BBQ?
We strongly suggest checking out and using our SC BBQ Trail Locator Map, but if you prefer, you might also consider downloading a copy of the SC Dept. of Tourism's official SC BBQ Trail Map.
The map will find your location (with your permission) and show you the closest 25 SCBBQ restaurants within 100 miles of you.
(We also suggest saving the map as an "app" on your phone by simply by visiting the page and tapping Share (iOS) or Menu (Android) and then tap "Add to Homescreen.")
While our locator map is fantastic (if we do say so ourselves), we know you probably don't want to drive 40 miles off the interstate just to get a taste of SCBBQ.
So, here we present to you all your options for enjoying real SCBBQ within 10 miles of a given exit along I-77.
If you love SC BBQ as we do, we know you will appreciate this guide.
In addition, we'll recommend the "Must Visit" SCBBQ restaurants you will pass as you travel I-77.
Just a quick reminder about our criteria for selecting restaurants:
no national BBQ chain restaurants are included; all are SC-based restaurants and most are individual, family-owned shops
all are "on" the interstate; that is, within 10 miles of an interstate exit
inclusion in the list is not an endorsement and restaurants may be labeled "Must Visit" for reasons beyond the quality of their BBQ
we will only include one restaurant on a given route for any major SCBBQ chain; note, however, while there are many Dukes' restaurants in SC they are not franchises or members of a chain, so all will be included
mileage provided is not exact but was calculated using Google maps so it should be very close
See SCBBQ Road Trip: Start Your Engine for a fuller explanation of our selection criteria.
Before we begin, some interstate highway fun facts you might not have known:
no matter which direction you are heading, the interstate exit numbers are the same for a given junction
one or two-digit, odd-numbered interstates run south-north, with lower-numbered interstates starting in the west; I-77 is clearly a south-north running, East coast interstate, being such a high, odd number.
mile markers for south-north running interstates begin at the southern end of each interstate
Thus, we will follow the exits along I-20 from where it begins in Columbia until it exits near Charlotte.
Buckle your seatbelt and away we go…
Like What We're Doing?
Want to see more coverage and features? Just want to show your support?
---
Note: Distances are approximate: Use our map for more precise directions.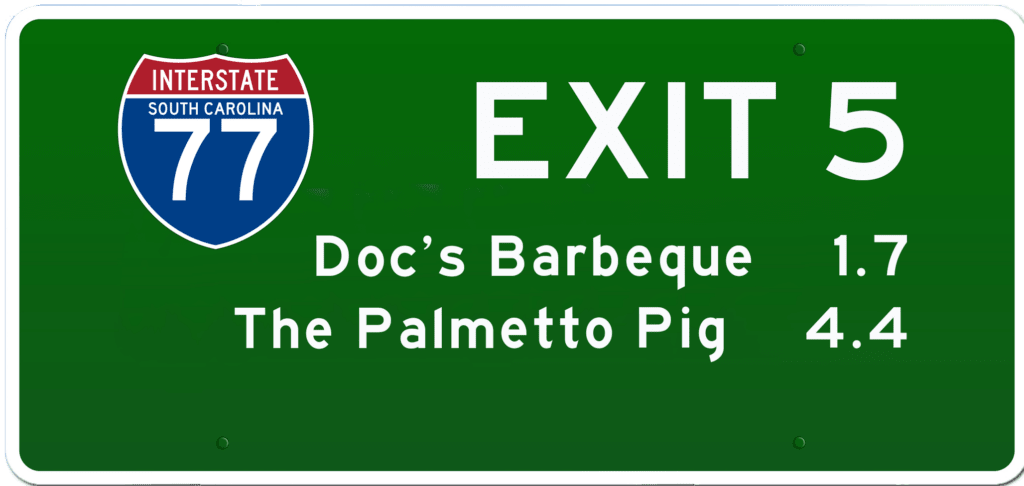 Exit 5 (SC 48 (Bluff Road) – Gadsden)
(NOTE: Click store name for more info, including address, links to social media and review sites, and other details.)
Blurb: "I love pulled pork bbq and in Columbia, SC this is where I go! The buffet is great! Hash and rice, chicken – fried or smoked, catfish nuggets – amazing, collard greens, pulled pork bbq with two different sauce choices, slaw, potato salad, and more!
I usually walk out of here hating myself because I gorge myself on all of the delicious southern food! Definitely, a great spot to check out if you have a big appetite or if you love southern food!" John K, Yelp
Directions: Take Exit 5 and head northwest on SC-48 W toward SC-768 W. In about a mile, turn right onto Bates St. At the end of the street, turn left onto Shop Rd and Doc's will be less than a half-mile down on the left.
Google Maps Directions to Doc's Barbeque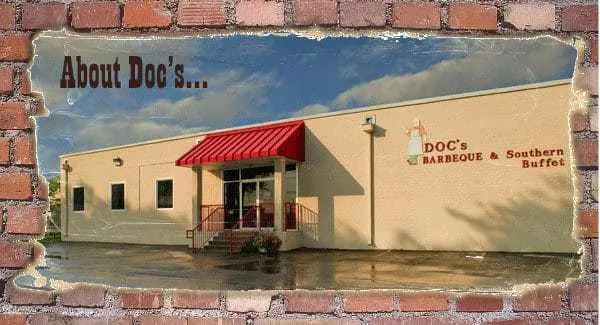 Monday – Saturday: 11 am – 2:30 pm
Phone: 803.799.1532
Blurb: "Talk about some good food!? The BBQ is fantastic but that's only part of the story. The chicken is REALLY where it's at! Now that I think about it there wasn't anything on the buffet that I didn't just LOVE.
If you're not from around here and you're looking to try a good southern-style buffet then look no further… this is your spot." Jason R, Yelp
Directions: Take Exit 5 and head northwest on SC-48 W/Bluff Rd toward Maundy Dr. Continue straight for about 2.8 miles, past Williams Brice Stadium and the fairgrounds. When you reach the intersection of Olympia and Bluff, you will be at a stop sign. Follow Olympia Ave. to the left and continue on Olympia for about .7 miles. (Olympia will become Wayne St., as you cross over Hayward St.)
Turn left onto Whaley St and go about .2 miles. As Whaley bends around a right-angle curve, it becomes Huger St. Follow Huger St for about a half-mile and then turn right on Devine St. Palmetto Pig will be just ahead on the right.
Google Maps Directions to The Palmetto Pig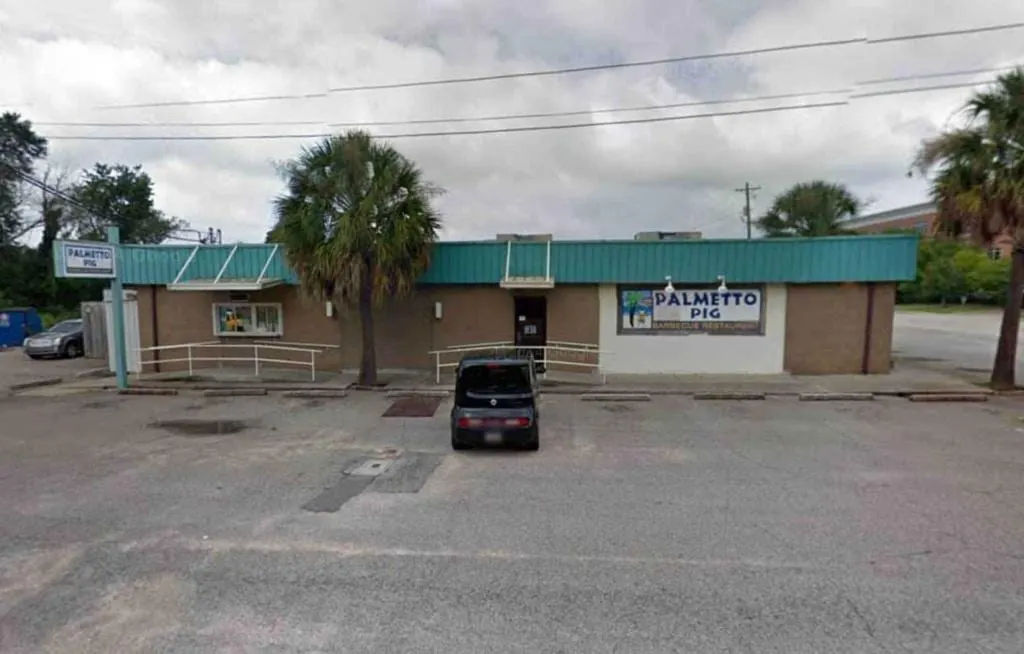 Tuesday – Wednesday: 11 am – 2:30 pm
Thursday – Saturday: 11 am – 9 pm
Phone: 803.733.2556
---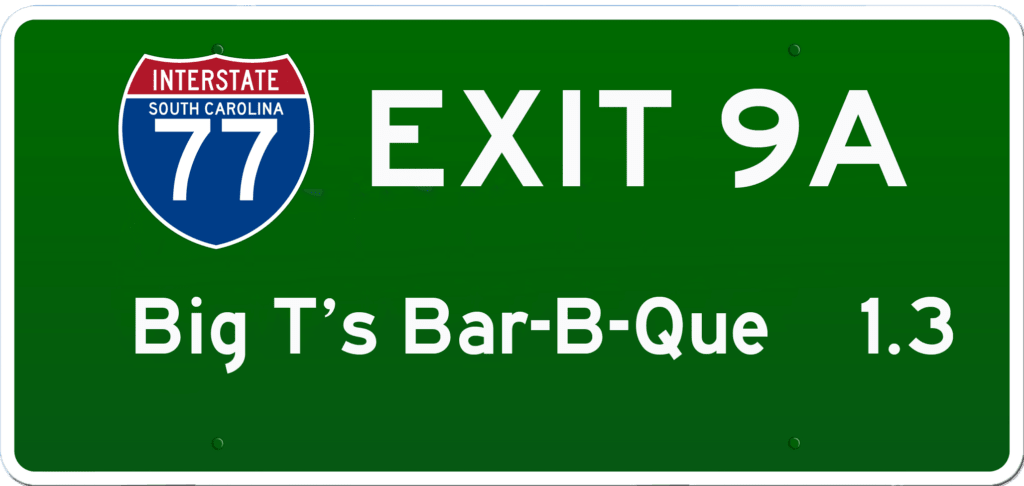 Exit 9-A (US 76 / US 378 (Garners Ferry Road) – Sumter)
Blurb: "This is the good stuff. Stopped in Columbia for the night and asked the hotel clerk where the good BBQ was located. She pointed me to Big T's. This might just be the best BBQ I've ever had.
Real home cooked food, great flavor, and huge portions. Had the BBQ hash, a wonderful new experience, and the pulled pork. This is what southern BBQ is supposed to taste like. Can't wait to get to Columbia again." Matthew S, TripAdvisor
Directions: Take Exit 9A for US-76/US-378/Garners Ferry Rd. Head southeast on Garners Ferry Rd for about 1 mile. When you reach East Point Plaza on your right, turn in and Big T's will be the unit just left of the center of the main building.
Google Maps Directions to Big T's Bar-B-Que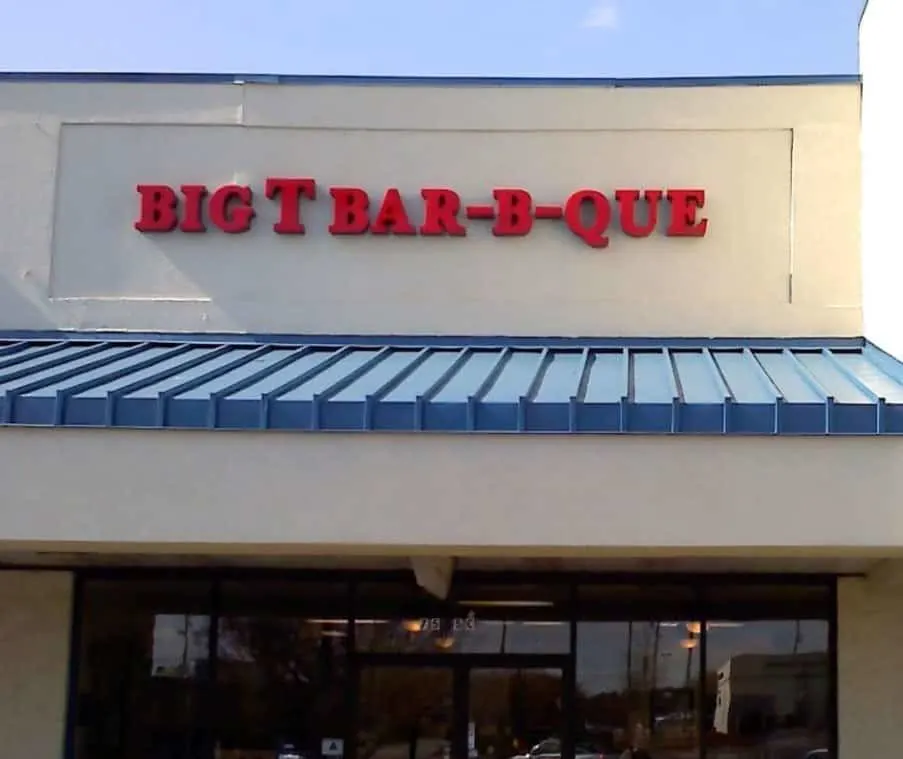 Monday – Wednesday: 11 am – 9 pm
Thursday – Saturday: 11 am – 10 pm
Phone: 803.776.7132
---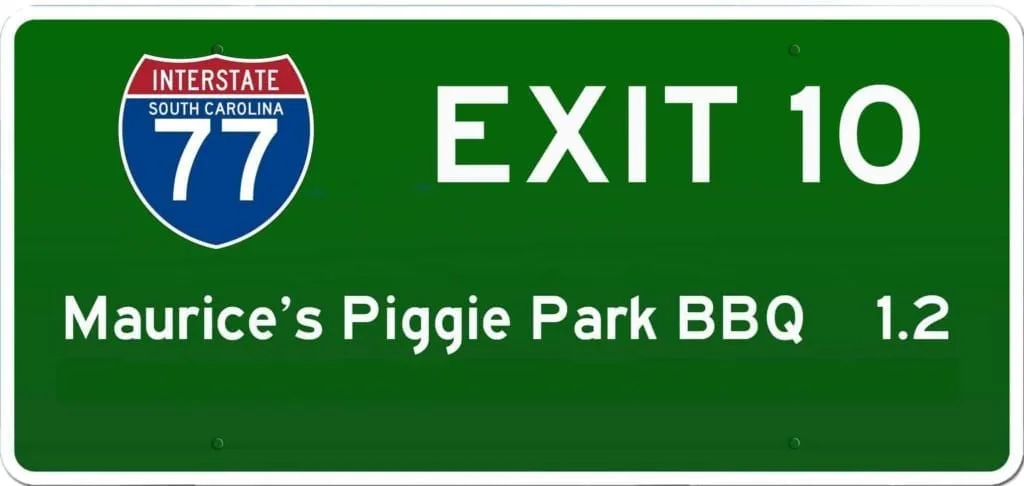 Exit 10 (SC 760 (Jackson Boulevard))
Blurb: "I am amazed by this place! It is a small family-owned restaurant and as soon as I walked in the customer service was excellent. The kitchen is in plain view and you can see the kitchen staff cooking.
The food is EXCELLENT!! I have never had barbecue that has tasted this good! It is a must whenever you are in Columbia, SC!" Roger H, Yelp
Directions: Take Exit 10 and head west on Fort Jackson Blvd. Stay in the right lane and at the intersection follow Devine to the right (which is really the only direction you can go). Maurice's will be about .2 miles down on your right.
Google Maps Directions to Maurice's on Devine St.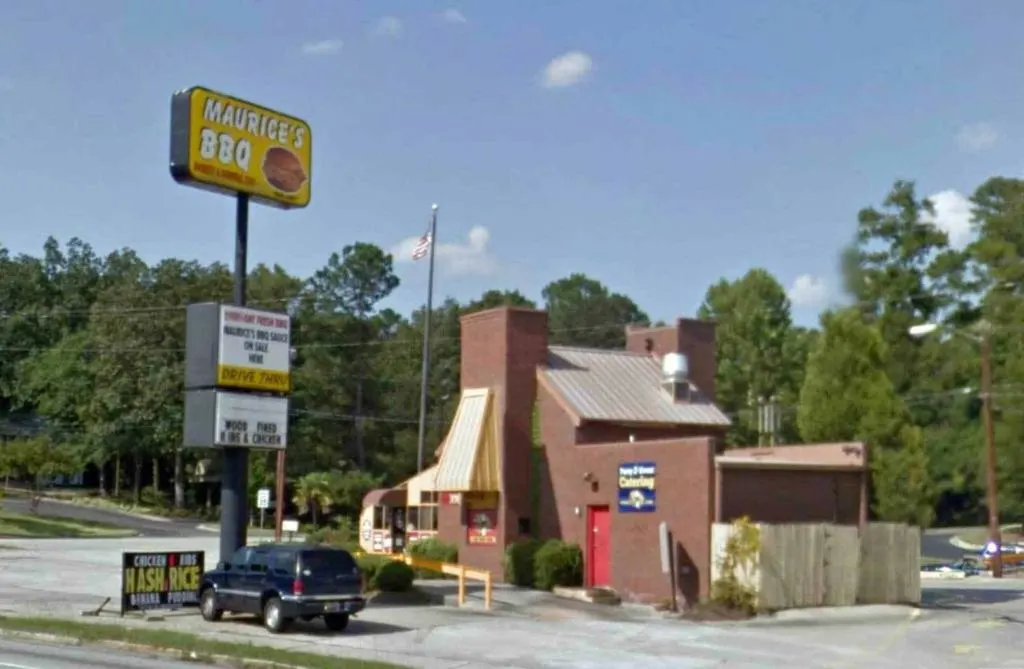 Sunday – Thursday: 10 am – 9 pm
Friday – Saturday: 10 am – 9:30 pm
Phone: 803.782.9547
---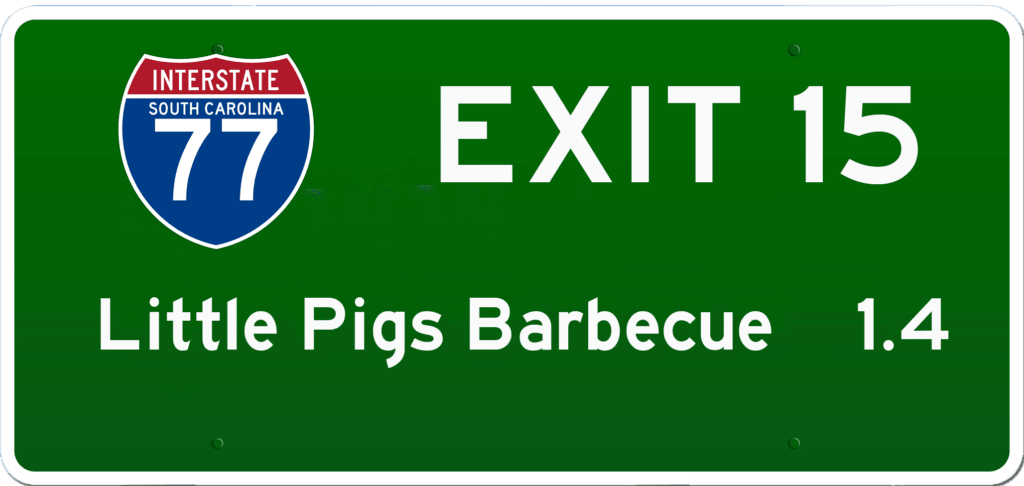 Exit 15 (SC 12 (Percival Road))
Blurb: "Heard about this place from lots of friends and had to try it for ourselves. Love the BBQ and all the food. I had so much to eat I was full for dinner after eating lunch here. So much to choose from off the Buffet line and everything was delicious.
Prices were awesome and not expensive so you don't have to worry about breaking the bank either. Easy to find and get to, the only problem is that if you get there during heavy meal hours then the parking is going to be a problem. it is a small parking area, I'm guessing they never expected to be this popular." brian0910, TripAdvisor
Directions: Take Exit 15 and head northeast on Percival Rd. for about 1.3 miles. When you reach the stoplight with Alpine Baptist Church on the corner, turn left onto Alpine Rd and Little Pigs will be just up the hill to your left.
Google Maps Directions to Little Pigs BBQ on Alpine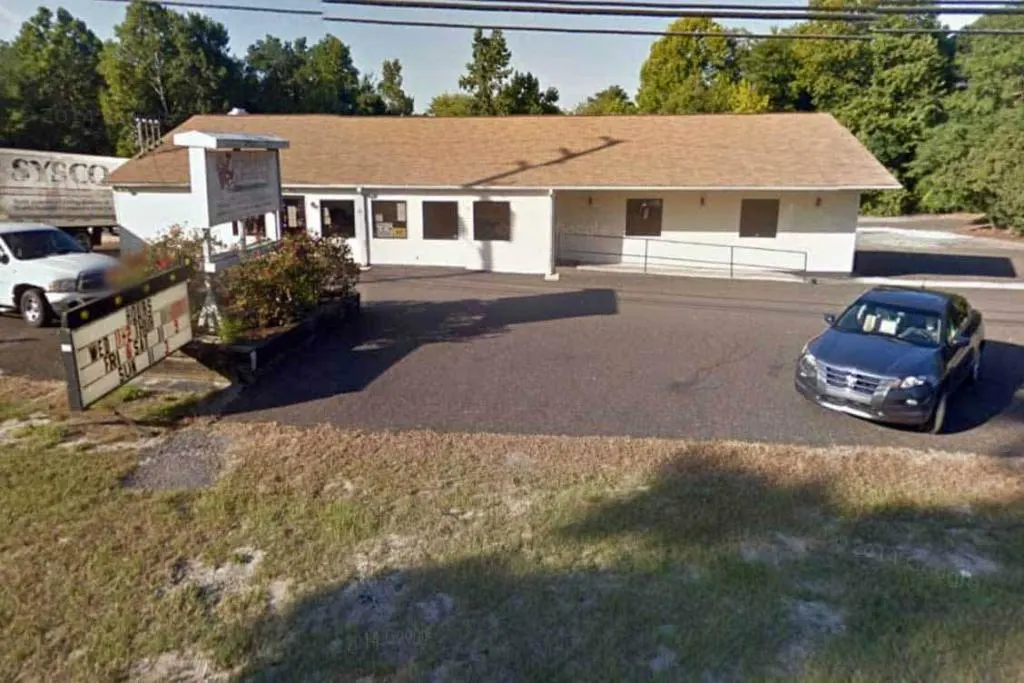 Wednesday: 11 am – 2 pm
Thursday: 11 am – 8:30 pm
Friday – Saturday: 11 am – 9 pm
Sunday: 11 am – 3 pm
Phone: 803.788.8238
---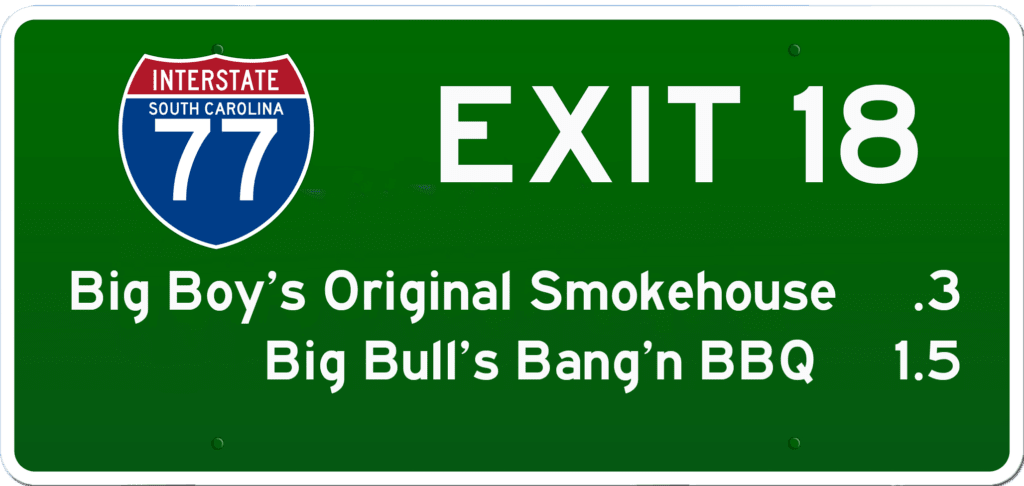 Exit 18 (SC 277 South to I-20 West – Columbia, Augusta)
Blurb: "Alrighty then. Me and the boss yelped this lunch spot on the way to Myrtle Beach for lunch. I just happened to be in the mood for some off-the-road BBQ and this place popped up.
Really huge portions of food. I split a brisket and rib platter with my son and we couldn't finish it. The BBQ was EXCELLENT. I mean spot on. Unlike a lot of good BBQ place where the meat is good and the sides are store-bought or frozen, this place has GREAT sides. The mac n cheese was a hit with my crew but yelpers listen up real close……
Get the gumbo and rice as a premium side. You will not be disappointed. Please do yourself a favor and stop in here for some really, really good BBQ. The staff is very friendly as well." Michael R, Yelp
Directions: Take Exit 18 and Big Boy's is right off the exit about .3 miles. Just head southwest on Farrow Rd and you will see it on your left, but because it is a divided highway you will have to pass it and circle back around to it.
Just go to the light and turn left (or make a U-turn) by the Waffle House. There is a small road just behind the Waffle House you can take to reach Big Boy's.
Google Maps Directions to Big Boy's Original Smokehouse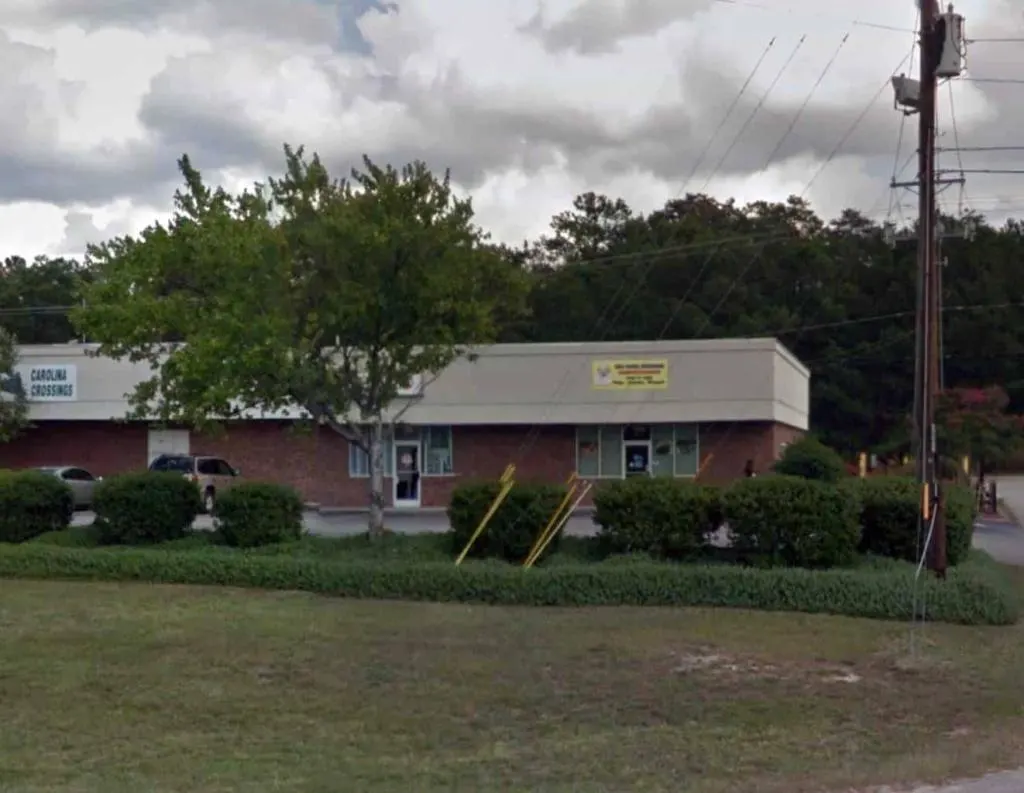 Wednesday – Saturday: 11 am – 6 pm
Sunday: 1 pm – 6 pm
Phone: 803.788.6822
Blurb: "Oh my goodness! What a treasure and the food is some of the best we have ever had! Loved the ribs-loved the chicken! You have to try the baked beans, the potato salad and their ice tea are wonderful!!!! Small, impeccably clean and southern hospitality at its finest!!!!" jonesloop, TripAdvisor
Directions: Take Exit 18 and head northeast on SC-555 N/Farrow Rd. In about 1 mile, you will turn right onto Hard Scrabble Rd/State Rd S-40-83. Big Bull's will be about .4 miles down on your right.
Google Maps Directions to Big Bull's Bang'n BBQ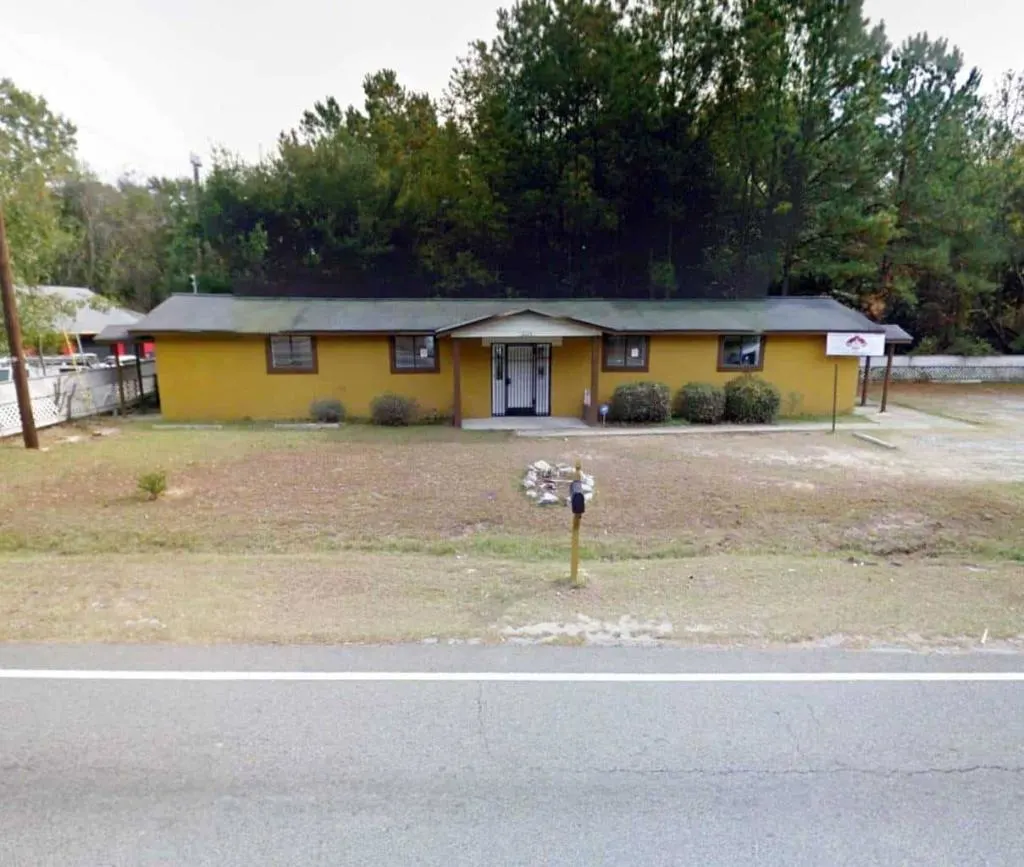 Wednesday – Friday: 11:30 am – 7 pm
Saturday: 12 pm – 7 pm
Sunday: 12 pm – 6 pm
Phone: 803-479-4475
---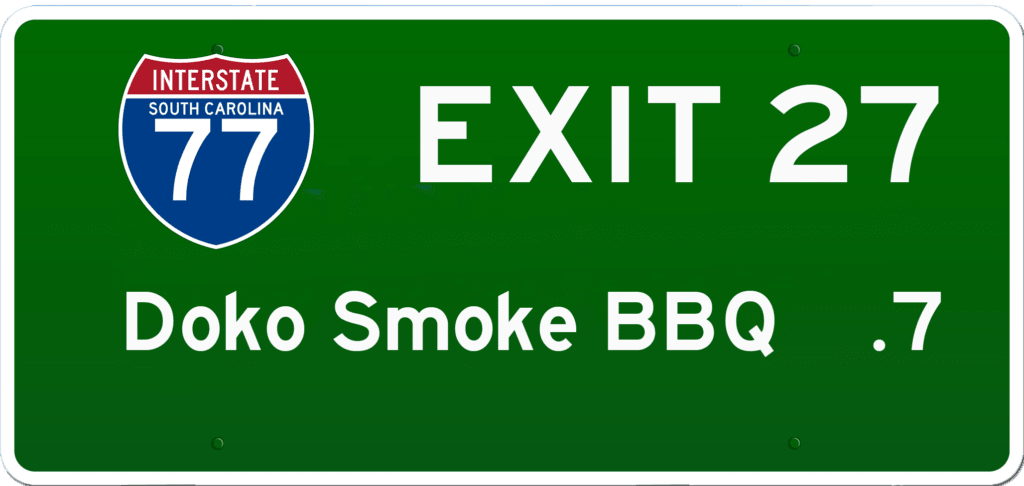 Exit 27 (Blythewood Road – Blythewood)
Blurb: "Oh man, if you are in the area you have to stop in here! This is the best BBQ I have had outside of Texas! And I've tried A LOT! I think it rivals any place in Texas as well. It's that good.
The mac and cheese is also very good. Not a bad bite in my 2 visits. My only complaint is they aren't open more days of the week. Folks, get off I-77 and try it." Dave M, Yelp
Directions: Take Exit 27 and head east on Blythewood Rd/State Rd S-40-59. When the road ends in about a half-mile, turn left onto Main St/Wilson Blvd. Doko Smoke will be about .2 miles down on your right.
Google Maps Directions to Doko Smoke BBQ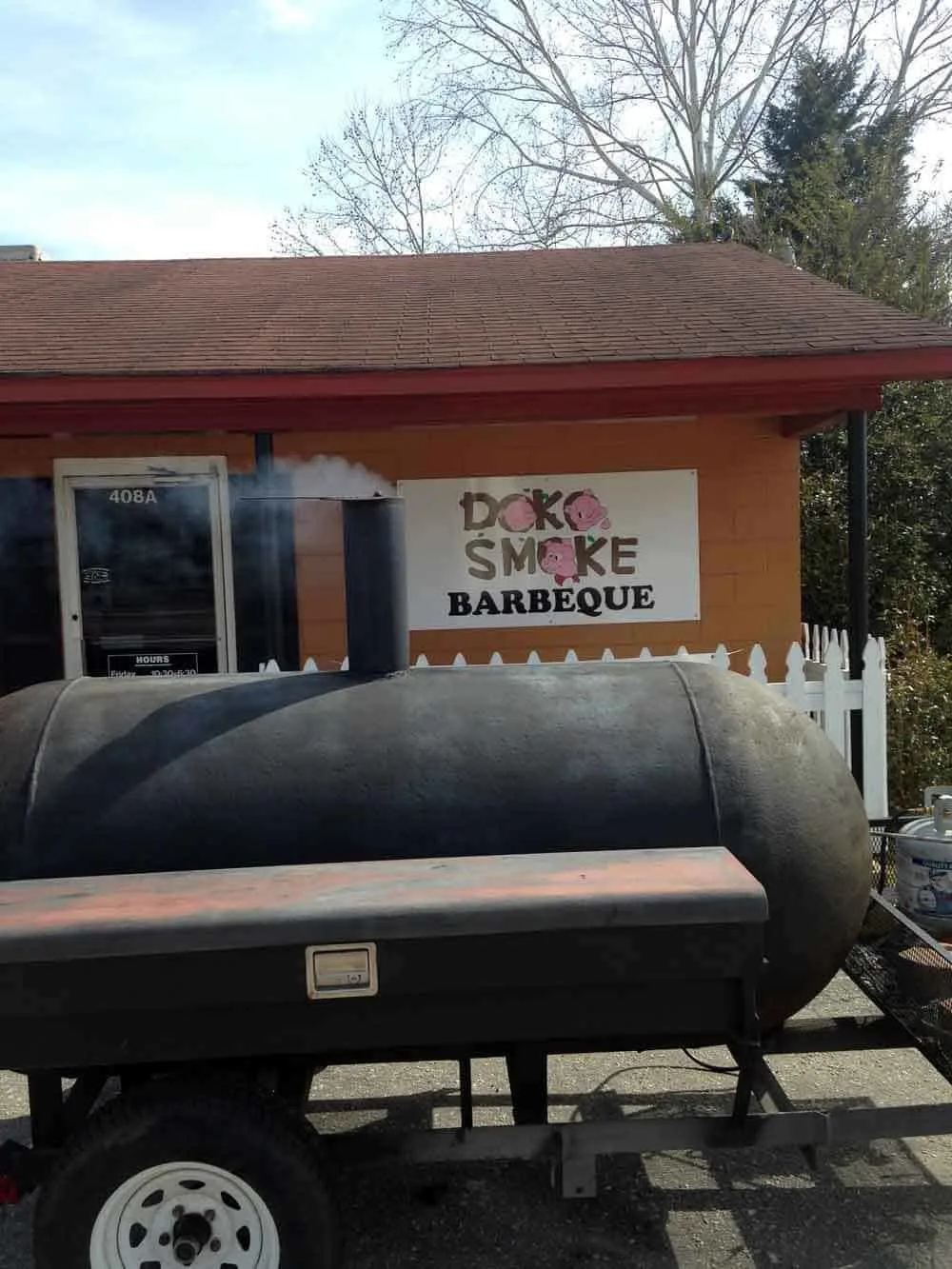 Thursday – Friday: 11 am – 7 pm
Saturday: 10:30 am – 2 pm
Phone: (803) 730-6016
---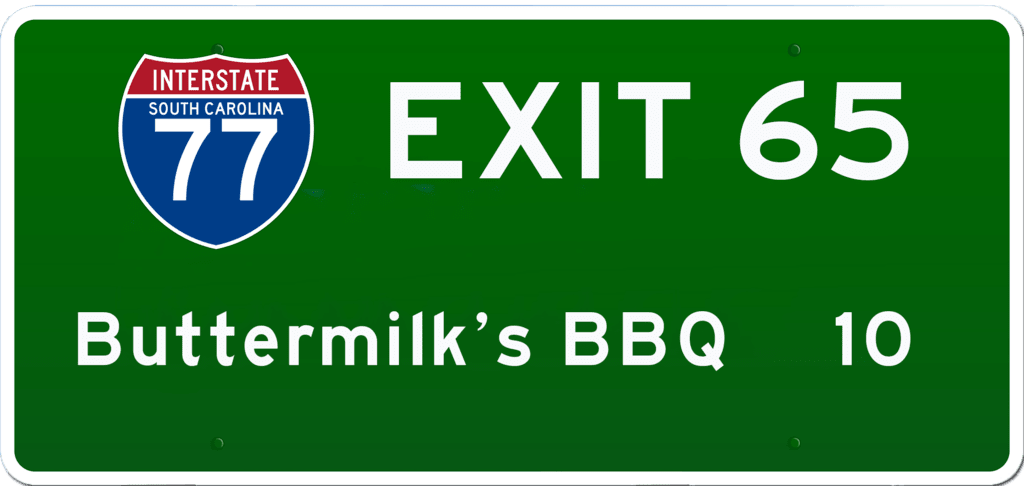 SC 9

– Chester, Lancaster, Fort Lawn

BUTTERMILK'S BBQ ** TAKE OUT ONLY ** OPEN ONLY UNTIL SOLD OUT ** CALL AHEAD **

Blurb: "Absolutely delicious! I came and snagged the last of the ribs this evening and they were fall off the bone tender and so yummy! The corn, mac n cheese, and green beans were delicious!

Definitely will recommend it over and over again. Super friendly and awesome customer service and the best ribs I've ever had!" Anna-Lisa Marie, Facebook review

Directions: Take Exit 65 and head west on SC-9 toward Chester. Drive on SC-9 for about 9.5 miles until you reach JA Cochran Bypass. Turn left onto the Bypass and Buttermilk's will be about .2 miles down on your left.

Google Maps Directions to Buttermilk's BBQ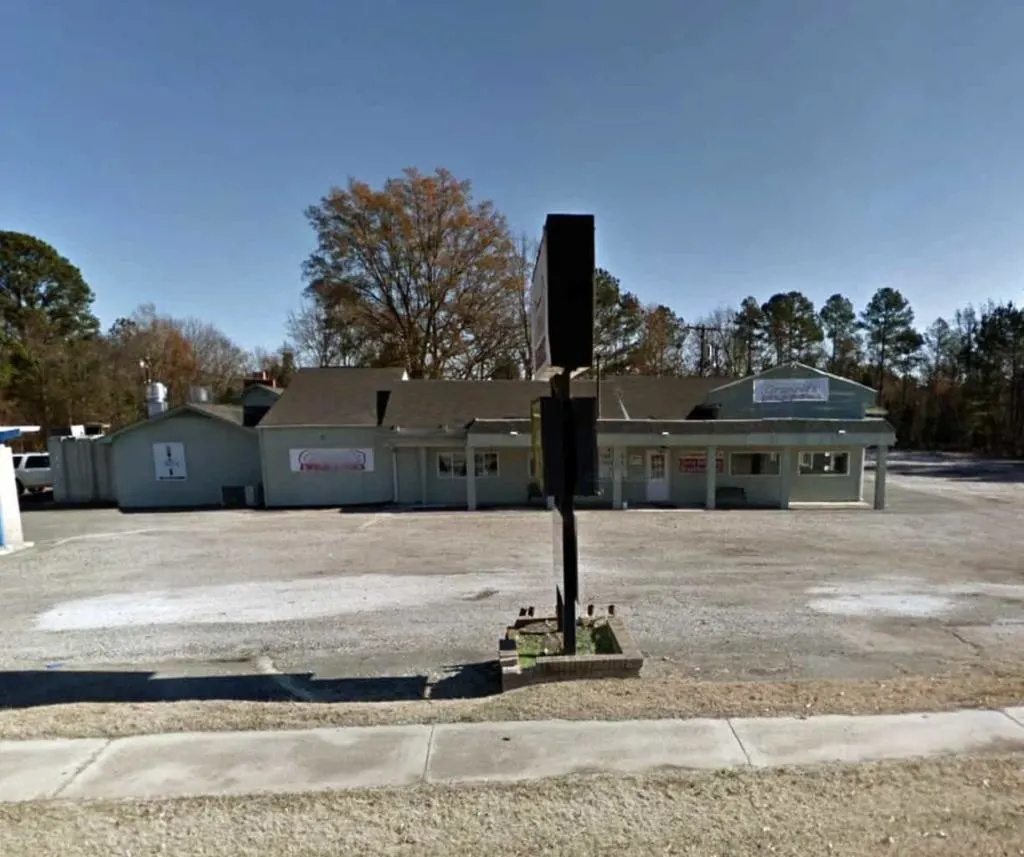 Thursday – Friday: 11 am– 7 pm
Saturday: 11 am– 5 pm
Phone: 803-444-4080
---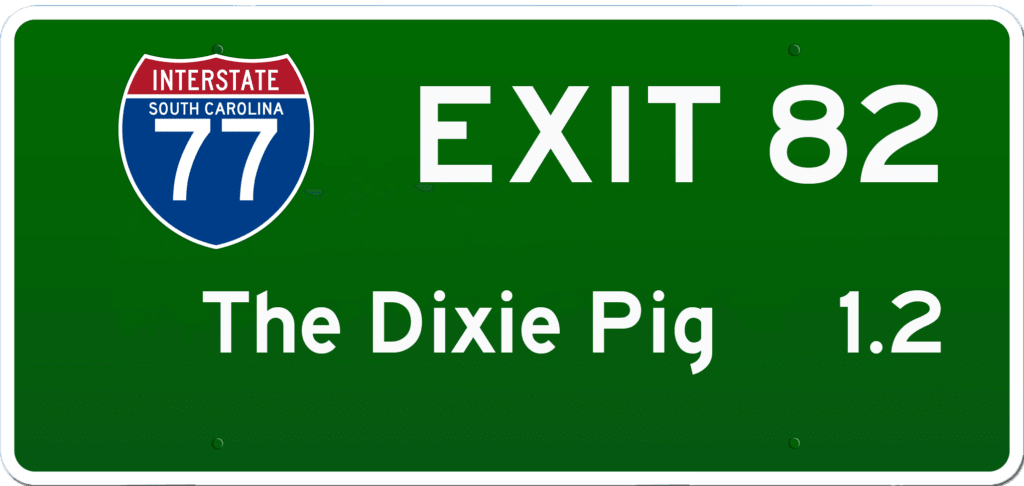 Exit 82 (US 21 / SC 161 – Fort Mill, Rock Hill, York)
Blurb: "Stopped by the coin laundry next door and thought I'd give this place a try. Holy crap!!!! First off let me say Chelsea was just as sweet as could be and made all the right recommendations. Pulled pork with a mustard-based sauce on the side.
"The sides are all homemade except the fries. I suggest the slaw (mayo-based) and the bbq hash. I can't say enough about their food. I will say as a truck driver, I travel the United States and try a lot of food.
"This food is top 3 in my book! Second time in as many days. This time it was ribs, full slab. OMG is all that should be said. Stand them up and pull the bones out clean. More than just tender.
"Sides today were, of course, the bbq hash, collards and black beans, and hush puppies. I cannot say enough about this place." Dan R, Yelp
Directions: Take Exit 82 and head west on SC-161/Celanese Rd toward Riverchase Blvd. The Dixie Pig will be about 1 mile down on your left.
Google Maps Directions to The Dixie Pig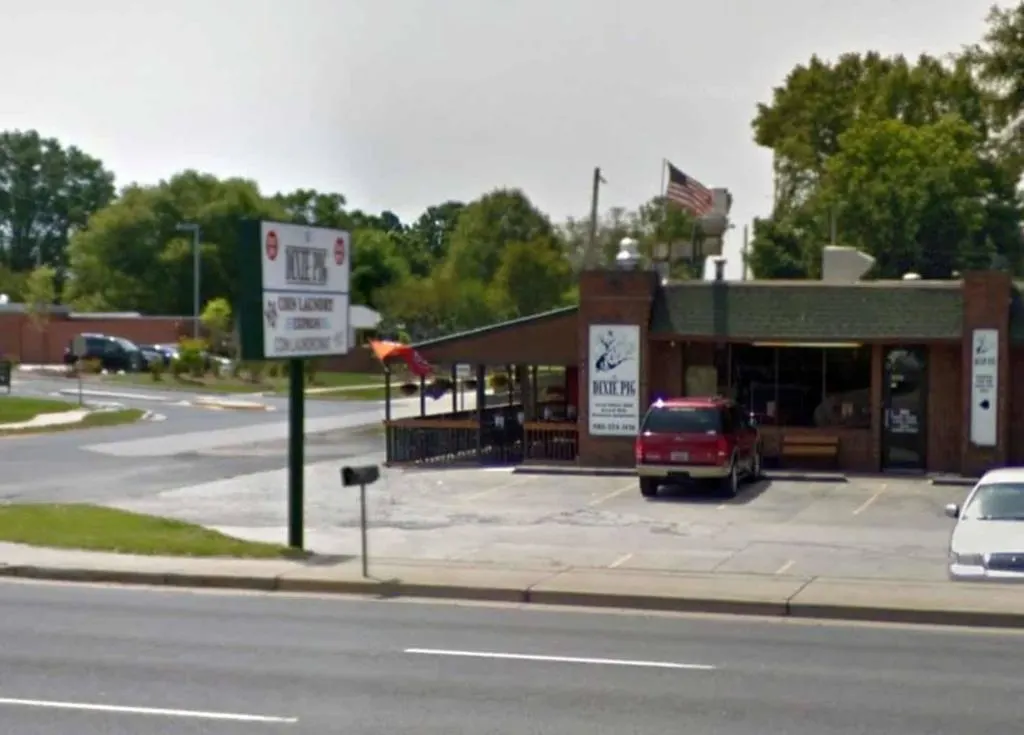 Monday – Saturday: 11 am– 10 pm
Sunday: 12 pm – 10 pm
Phone: (803) 324-3116
---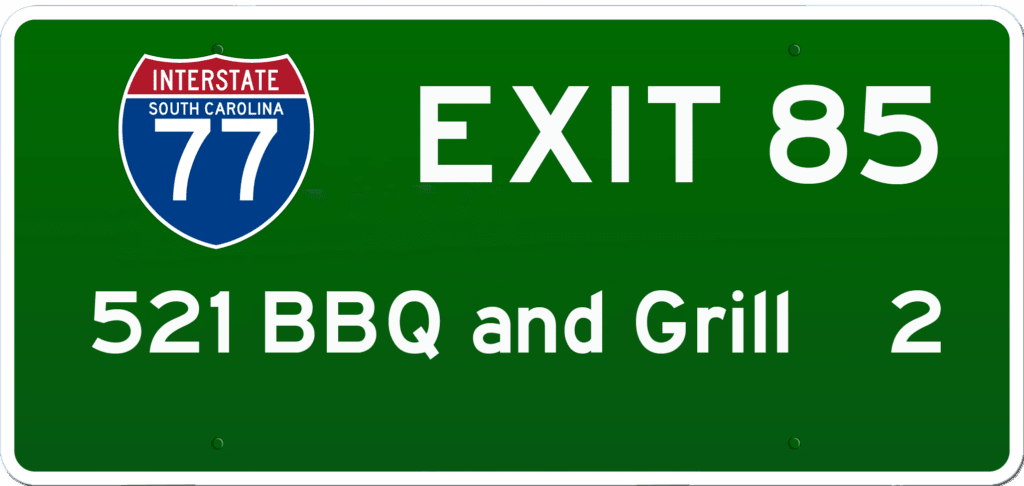 Exit 85 (SC 160 – Tega Cay, Fort Mill)
Blurb: "Huge fan of the restaurant. We just moved to the area from Kansas City and we're worried we would not find a bbq joint we would enjoy. Big fan of their ribs and bbq.
Hushpuppies and sweet bbq sauce are great. Portions a huge but always enjoy the leftovers. Highly recommend." James W, Yelp
Directions: Take Exit 85 and head northwest on SC-160 W. In a little over 2 miles, you will come to a stoplight where you will turn left onto Stonecrest Blvd. Take your first left into the parking lot and 521 will be on your right in the corner unit of the first building.
Google Maps Directions to 521 BBQ in Tega Cay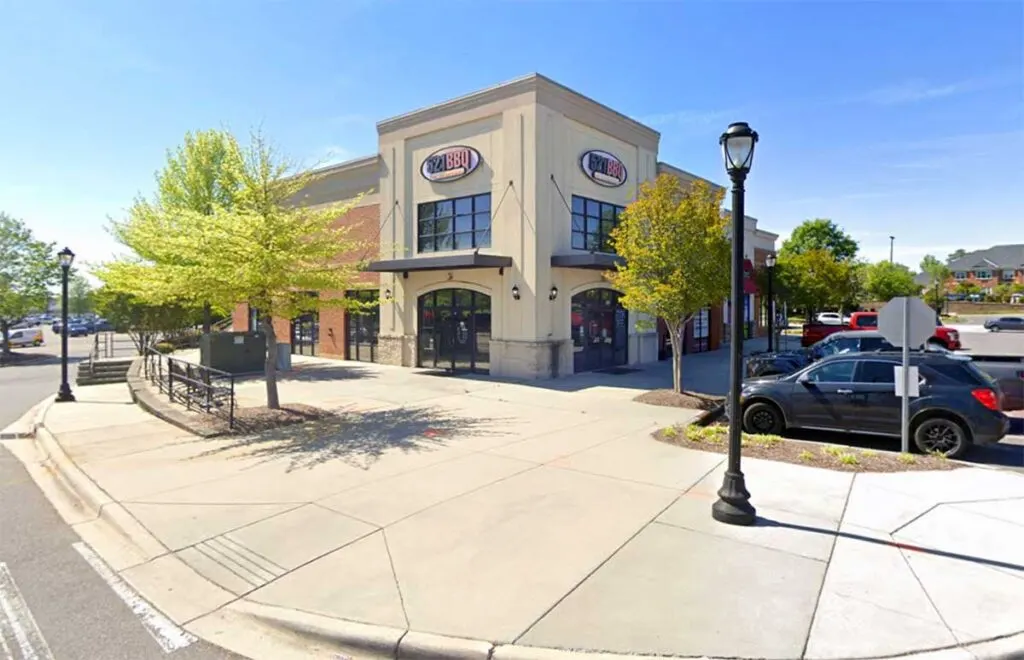 Monday – Thursday: 11 am – 9 pm
Friday – Saturday: 11 am – 9:30 pm
Phone: 803.548.0123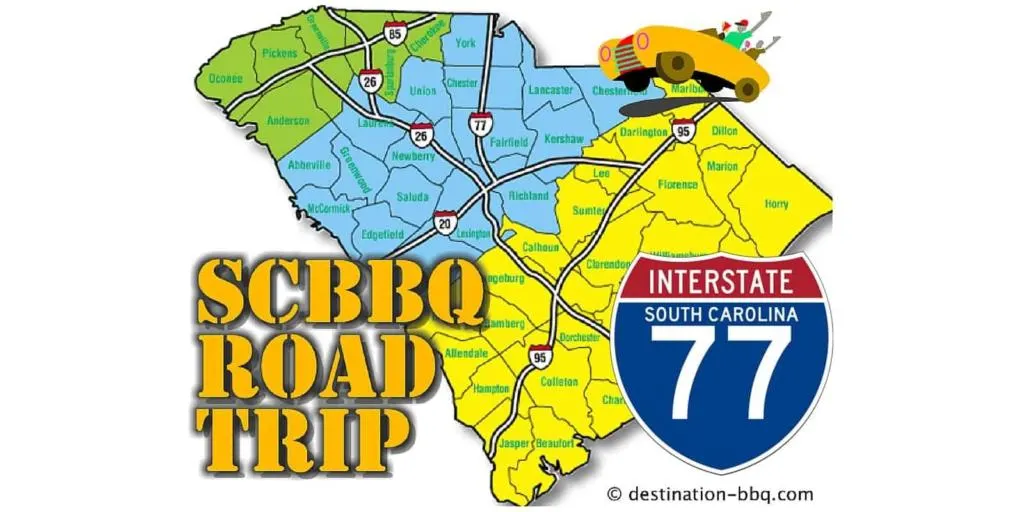 ---
Our Other SC BBQ Road Trip Guides: