This post may contain links from which I earn a commission. Please read my disclosure policy. As an Amazon affiliate, I earn from qualifying purchases.
You haven't tasted real Carolina barbecue until you have experienced Little Pigs Barbecue on Alpine Rd. in Columbia. They offer a full-service, dine-in buffet, and take-out.
Their buffet includes barbecue, ribs, pork chops, chicken, wings, fish, rice, hash, collards, beans, tomato pie, macaroni and cheese, and many more of your favorite home-cooked sides, desserts, and your drink!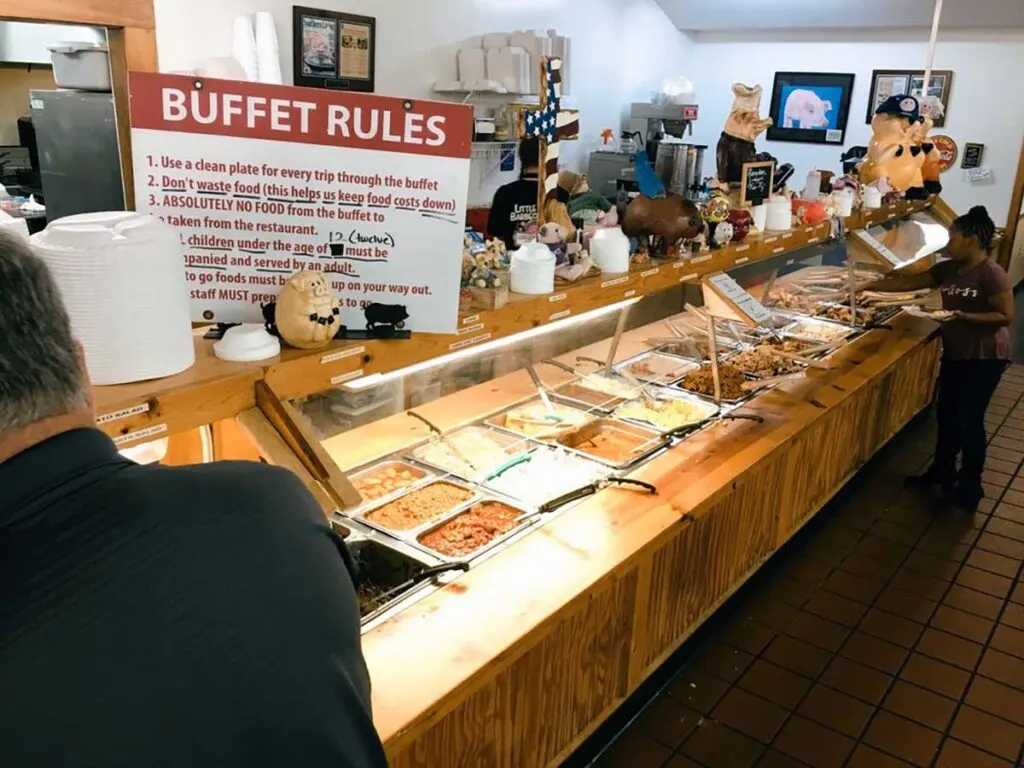 "It's got to be pork, cooked to perfection with that hickory-smoked flavor. But South Carolina has three different sauces, and we don't argue about which is best. We like 'em all !"

–Champ McGee, owner
Little Pigs features the three popular styles of barbecue: tomato-based, mustard-based, and vinegar-pepper.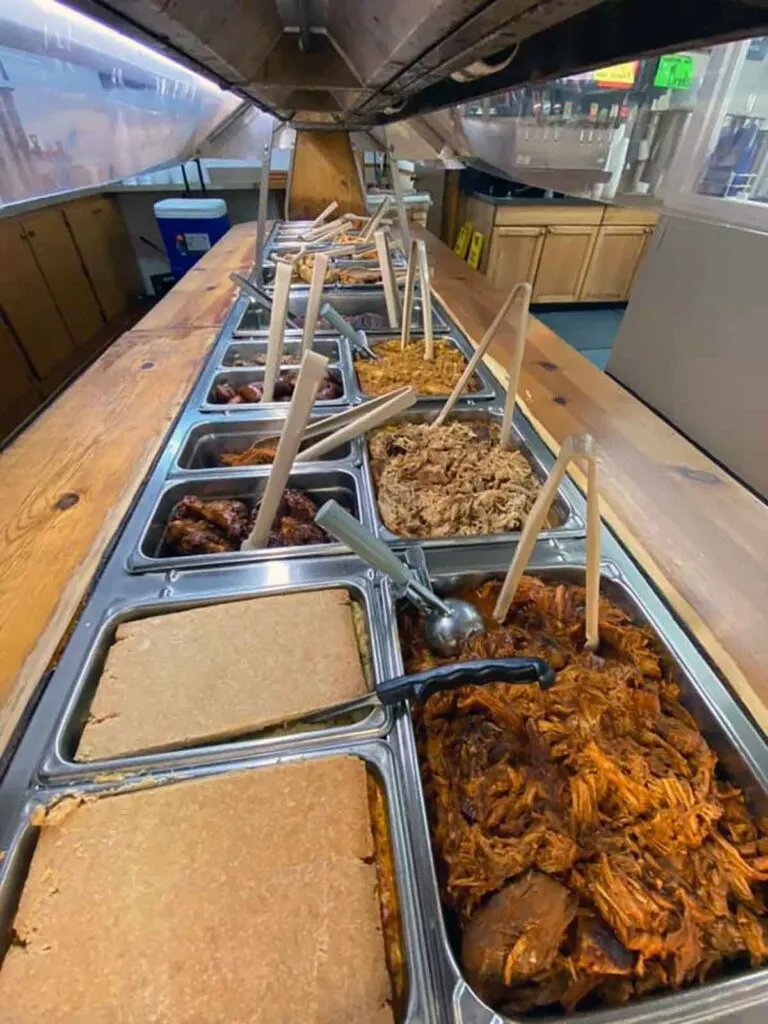 If you don't have time to sit a spell and enjoy the buffet, stop by and select from their take-out or bulk menu.
If you want to make your next event a huge success, consider Little Pigs' incredible catering services. Receptions, weddings, birthdays, church events, corporate meetings, and parties are just a few of the many events they can cater.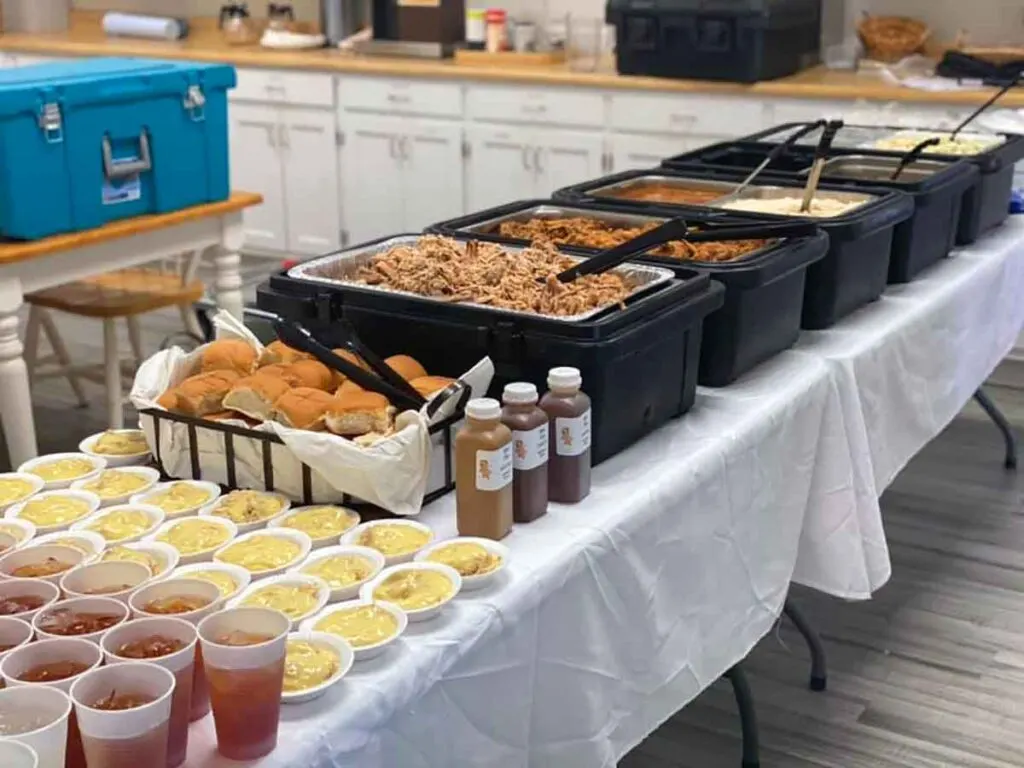 What Folks are Saying
Google Review
Among the many Google Reviews, Nathan Mendenhall dropped in with his wife after a trip to a nearby military base and found delicious food and true Southern hospitality:
This joint has been dishing up Southern soul food for 60 years. Restaurants don't last 60 years unless they're special.
We showed up for their lunch buffet after visiting Ft. Jackson, just a few miles away. For $40+tip, they fed 4 of us until we couldn't eat another bite.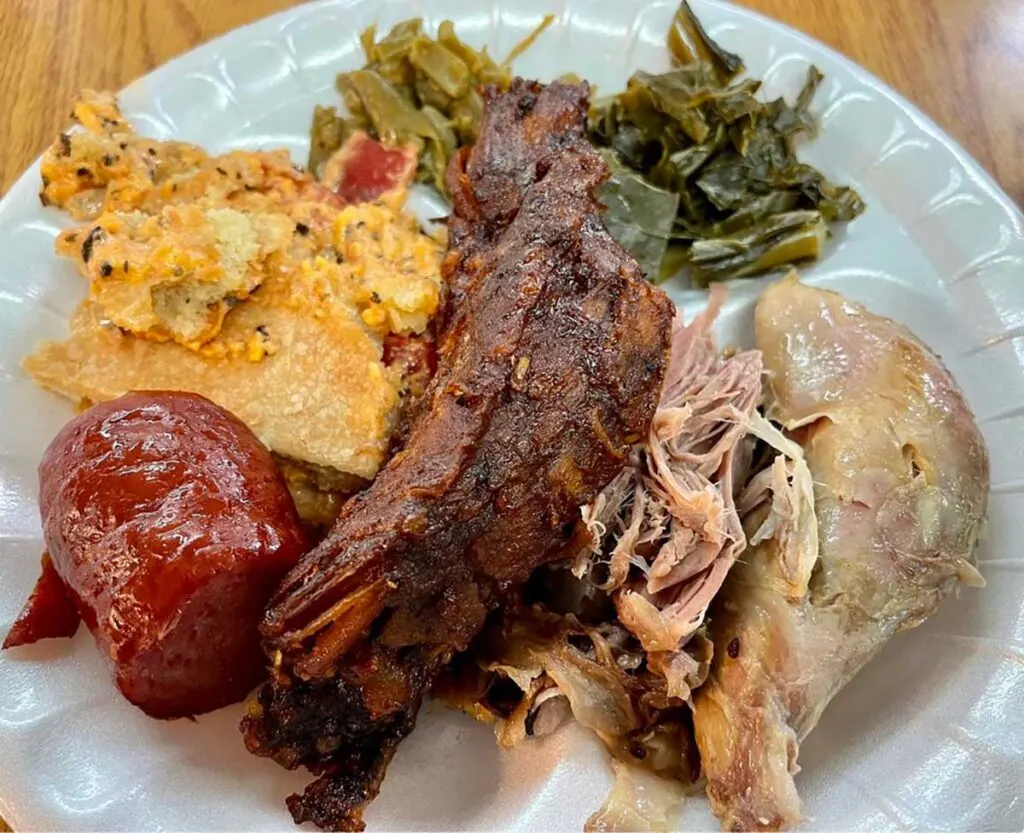 I'm still learning about Carolina BBQ, but I know good food ..and this place is excellent.
The greens were a bit sweeter than the last place BBQ joint we tried in the area, and wifey liked them better. She also loved their chicken livers and fried okra.
I loved their hash, rib rice, mustard pork, and vinegar pork. The desserts aren't on-par with the rest, but they're available and kids will appreciate that.
The staff were sweet and shared that Southern hospitality we've come to love. I wish I'd taken pictures, but the food disappeared too fast.
The joint is humble, the people are wonderful, and the food is made with love and skill.
Yelp Review
Over on Yelp, Columbia-area native Jeffrey J got to return to a place he hadn't visited since before Covid and found it just as great as he recalled:
Re-visited this place since this is one of my favorite BBQ places. It did not let me down. It was just as good as it was the last time we went here which was about 2 years ago.
They have 3 different kinds of pulled pork: mustard base, BBQ style, and vinegar base. All 3 I loved, but the mustard-based is my favorite.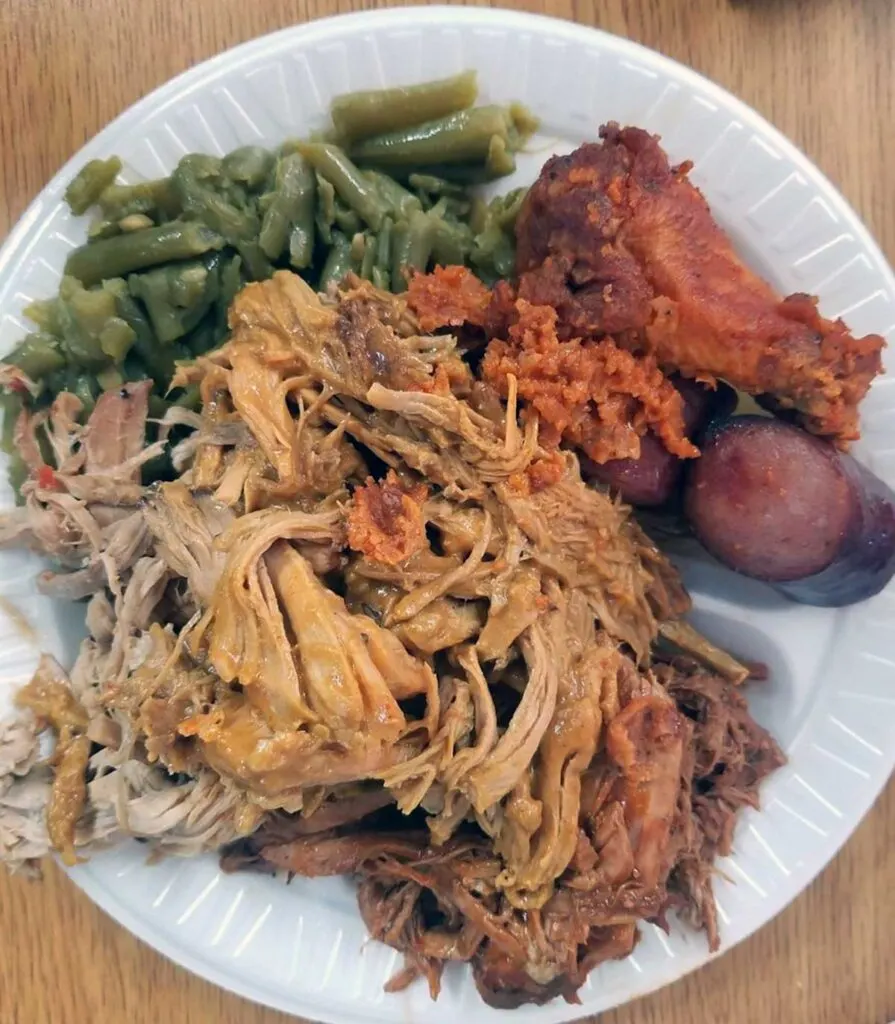 They also have fried catfish, green beans, mac and cheese, which I have to say was one of my favorites as well.
They also have mashed potatoes, collard greens, hush puppies, french fries, fried chicken, and fried wings two different styles Ones that are spicy and ones that are not. They also had some more things but I can't remember them all.
For dessert, they have peanut butter pudding and banana pudding both were delicious the drinks are included sweet tea and unsweet tea, and sodas.
SC BBQ Association
Sure, folks on review sites often have great things to say about a place, but what about the folks who really know SC BBQ better than anyone? What about the folks who actually train the judges for SC BBQ competitions?
What do they think of this place?
The SC BBQ Association has named Little Pigs one of the Top 100 BBQ houses in the state. Here's an excerpt from their review:
Little Pigs is probably the most asked about barbeque house in the Columbia area.
When people find out I'm a barbeque judge and they want to continue the conversation along barbeque lines (who doesn't?), 5 times out of 10 the question is "What do you think about Little Pigs?"
So many people have eaten there that it is often times the barbeque house in the area that first comes to mind.
Little Pigs may not be the oldest barbeque house in the state, but it's one of the oldest and largest so that should tell you something.
---
Menu for Little Pigs in Columbia
Note: Menu prices and options are subject to change over time. Contact the restaurant for the most up-to-date information.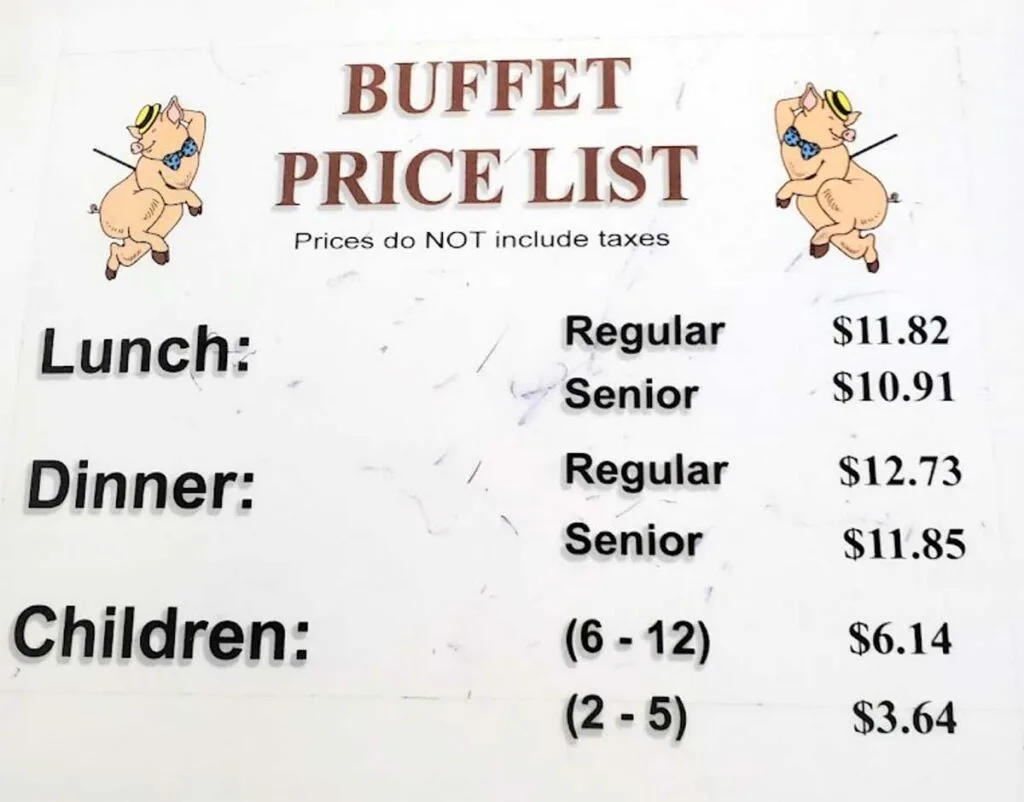 Location, Hours, Contact Info, and More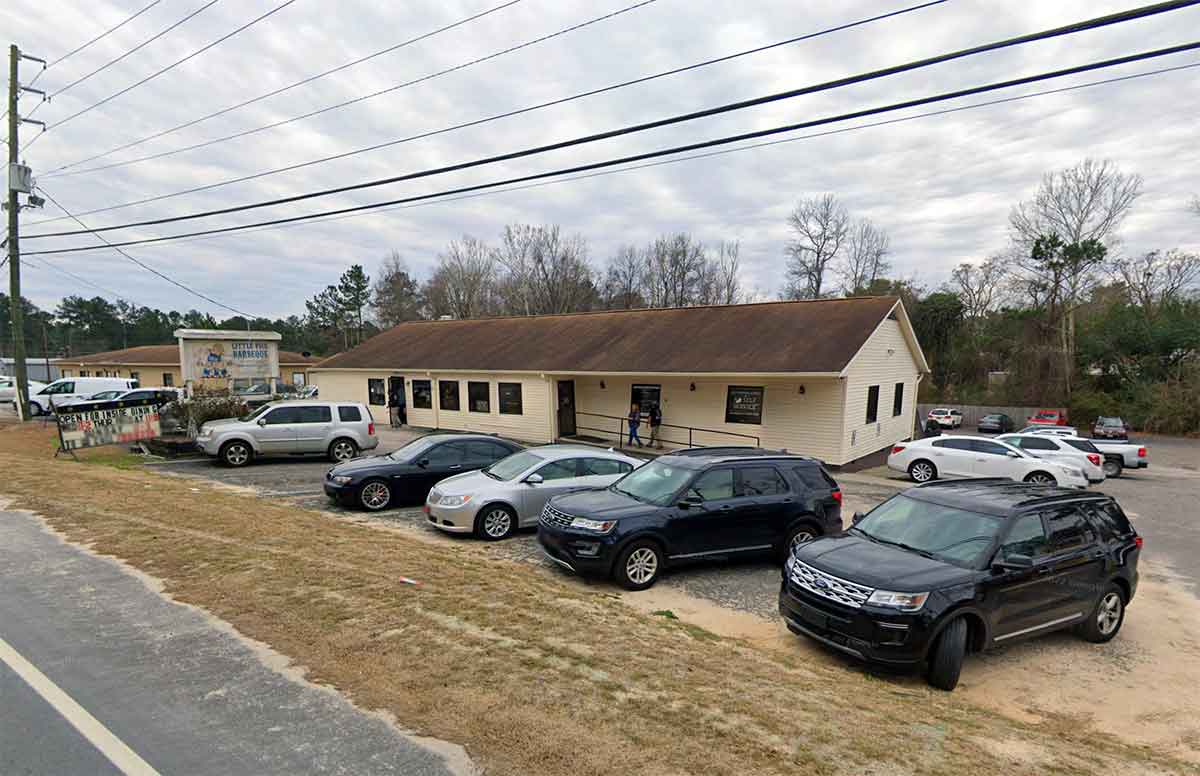 Map
Directions
Contact Little Pigs Barbecue
4927 Alpine Road
Columbia,
SC
29223
Hours of Operation
| | |
| --- | --- |
| Monday | Closed |
| Tuesday | Closed |
| Wednesday | |
| Thursday | |
| Friday | |
| Saturday | |
| Sunday | |
Social Media
Review Sites
Features
Buffet, Cards and Cash, Hash, Heavy Tomato Sauce, Light Tomato Sauce, Mustard Sauce, Vinegar Pepper Sauce