This post may contain affiliate links to Amazon or other vendors I trust. Please read my disclosure policy. As an Amazon affiliate, I earn from qualifying purchases.
This is our family's go-to mustard-based BBQ sauce recipe. We give it — and our rub — as gifts to friends and family around the holidays.
And it is a staple at our annual pig pickin' every Christmas Eve. Even people who profess to hate mustard BBQ sauces seem to love this one.
We think you will, too. It is simply the best.
The Origin of Mustard-Based BBQ Sauce
Where does mustard-based BBQ sauce come from? What is the history of Carolina Gold sauce?
Like the history of barbecue itself, it is widely accepted that mustard barbecue sauce originated in South Carolina, but specifically where? That is the question.
Historically, the mustard region of South Carolina spreads from the Midlands to the Lowcountry.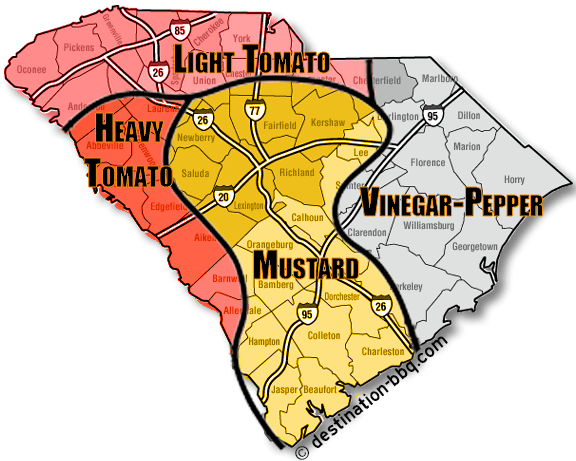 The short answer, however, is that there is no definitive record of where it was first concocted. What evidence we do have strongly suggests it was first prepared in rural Orangeburg County not far from Charleston.
In short, the first mustard barbecue sauce recipe was likely made by someone near Holly Hill, South Carolina, in the early 1930s.
The German Connection
There is a lot of chatter that our Carolina mustard sauce emerged from the descendants of German immigrants. It is a reasonable suggestion.
Germans do enjoy their mustard (and homemade sausages).
South Carolina does boast a strong German heritage. And even today, there are lots of SC BBQ joints with German-heritage names.
But this theory is conjecture at best.
As food historian and contributing Southern Living BBQ editor Robert F. Moss once said, "There's speculation that it grew out of the German immigrants who occupied that area.
"Germans love smoked pork and mustard, but I don't buy that story. It doesn't apply to Texas barbecue, where there is also a lot of German ancestry."
Even if the first person to make a mustard barbecue sauce did happen to have a German legacy, that doesn't necessarily dictate that the inventor's heritage played a role in the creation of the sauce.

Truth be told, I have a strong German lineage, but this recipe or even this site doesn't exist because of it. But you might be surprised why it does.
First Person to Make a Mustard Sauce
So who was the first person to make a mustard-based barbecue sauce?
While we can't be certain who, the available documentation seems to give credit to a farmer with eleven kids and a dream to survive during the tough times of the Great Depression, Joe Bessinger.
His children would prove to be like disciples, spreading far and wide to preach the gospel of their father's teachings.
Big Joe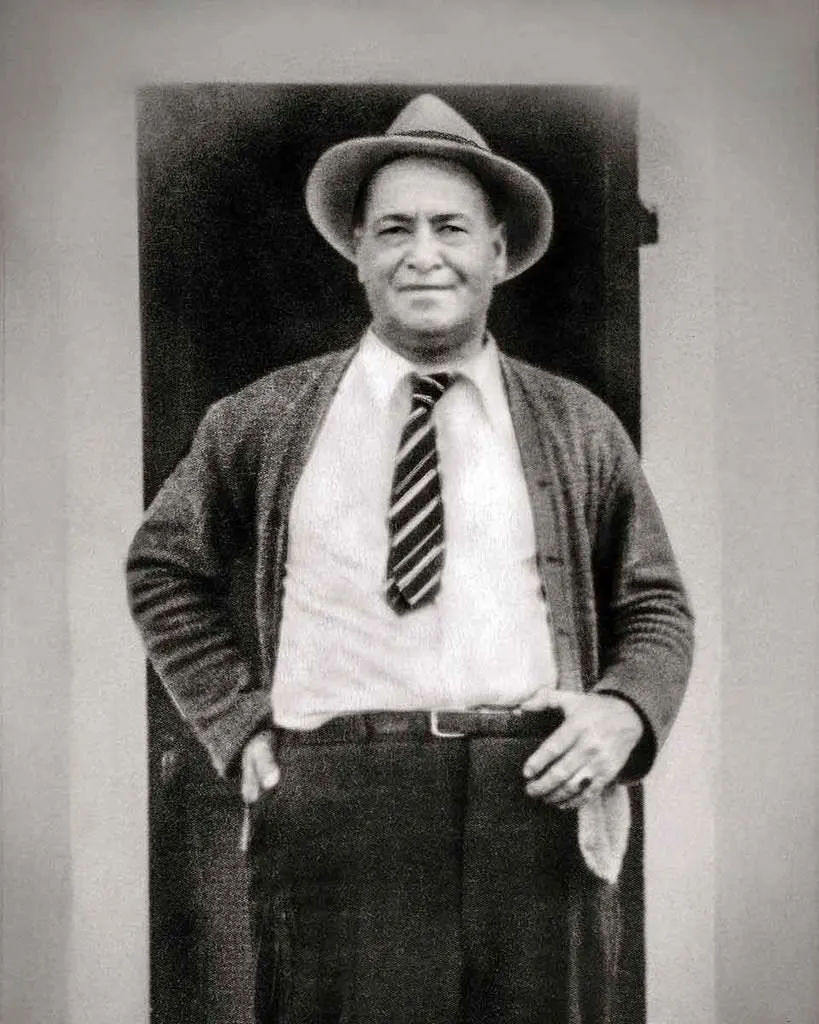 There is likely no greater authority on the subject than Moss. In his book Barbecue Lovers The Carolinas, he wrote the following:
Joseph James "Big Joe" Bessinger was born in 1891 in Orangeburg County and was a farmer throughout his life.
He cooked whole hogs in a dirt pit the old-fashioned country way, and in 1933, according to family lore, he came up with a secret recipe for a sweet golden barbecue sauce made with a base of yellow mustard.
Was Joe Bessinger the very first person to create a barbecue sauce based on mustard?
Perhaps; I have not found anyone else claiming to have done so earlier, but there is one historical fact that isn't in dispute:
In 1939, Joe Bessinger decided to try his hand at something other than farming, and he sold one of his cows and used the proceeds to open the Holly Hill Café in the town of Holly Hill South Carolina.
It was there that at least five of Joe Bessinger's sons — Joe David, Melvin, Robert, Thomas, and Maurice – learned to cook whole hogs over hickory woods and make their father signature sweet mustard-based barbecue sauce recipe.
Carolina Gold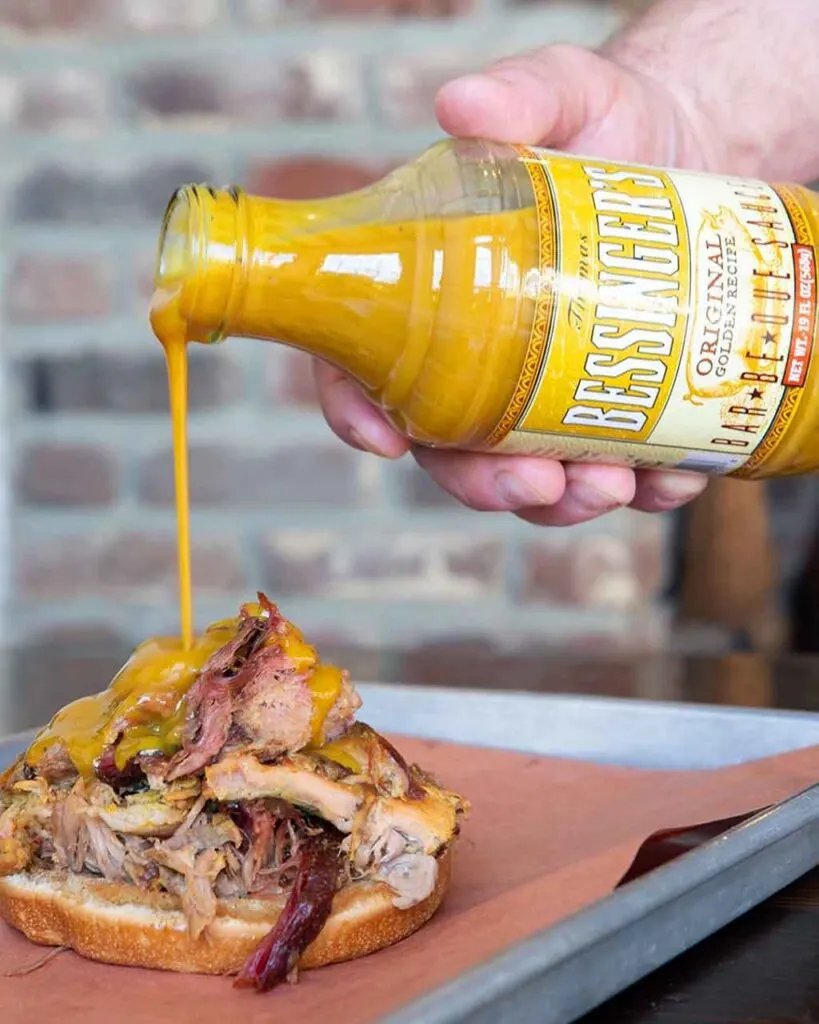 Each of those boys and four more of their siblings went on to open or work in barbecue restaurants, serving their own versions of that original "Carolina Gold" sauce recipe their dad created, pouring it onto plates from Charleston to Columbia.
However, further research seems to suggest that Big Joe Bessinger might not have been the first. And it looks like he didn't even come up with that golden secret recipe on his own.
In fact, there is comparable evidence that another famous South Carolina barbecue family might well have led the way and later helped Big Joe create his famous sauce.
The Sweatmans
Hailing from Holly Hill as well, the Sweatmans have not proliferated to the degree that the Bessingers have, but there are few well-versed in SC BBQ who haven't at least heard the name.
To this day, Sweatman's BBQ is considered among the best BBQ joints in SC.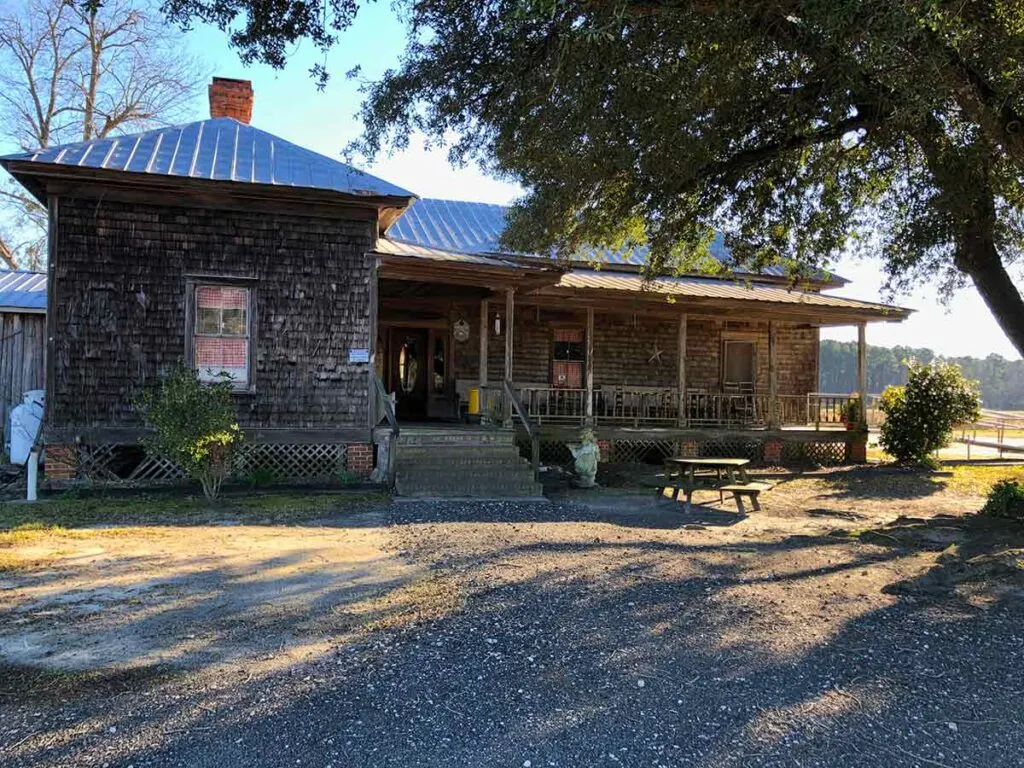 Anyway, since we're building cases on family narratives, how about this for proof?
In 1979, Harold "Bub" Sweatman was interviewed by Allie Wall and Ron Layne, the authors of the SC BBQ guidebook Hog Heaven.
Here's what they wrote:
Barbecuing is a 3-generation tradition for H.O. "Bub" Sweatman and his family. 75 years ago, the Sweatmans were digging pits in their backyard, barbecuing pigs, and asking friends over to partake in the feast.
Later when discussing Sweatman's barbecue, they wrote the following:
With a dash of the slightly sweet and spicy mustard sauce (a 75-year-old recipe), the pork flavor is accentuated, not obscured.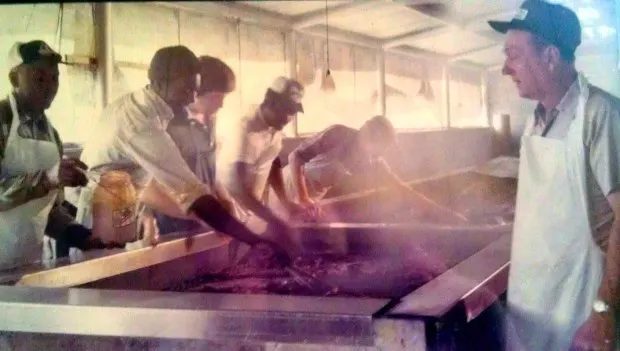 If this information is accurate, this would put the origin of mustard-based barbecue sauce right around 1900 with the Sweatman family as the originators, preceding the Bessingers' sauce by some 30 years.
In Collaboration
And what if there were actually a collaboration that brought the Bessingers' sauce into existence?
In a Southern Living article entitled "Charting the Mustard Line," Moss writes of his interview with David Bessinger, Big Joe's grandson and Melvin's son.
In the article, Moss relates David's recollection of his father's story of the origin of mustard-based barbecue sauce.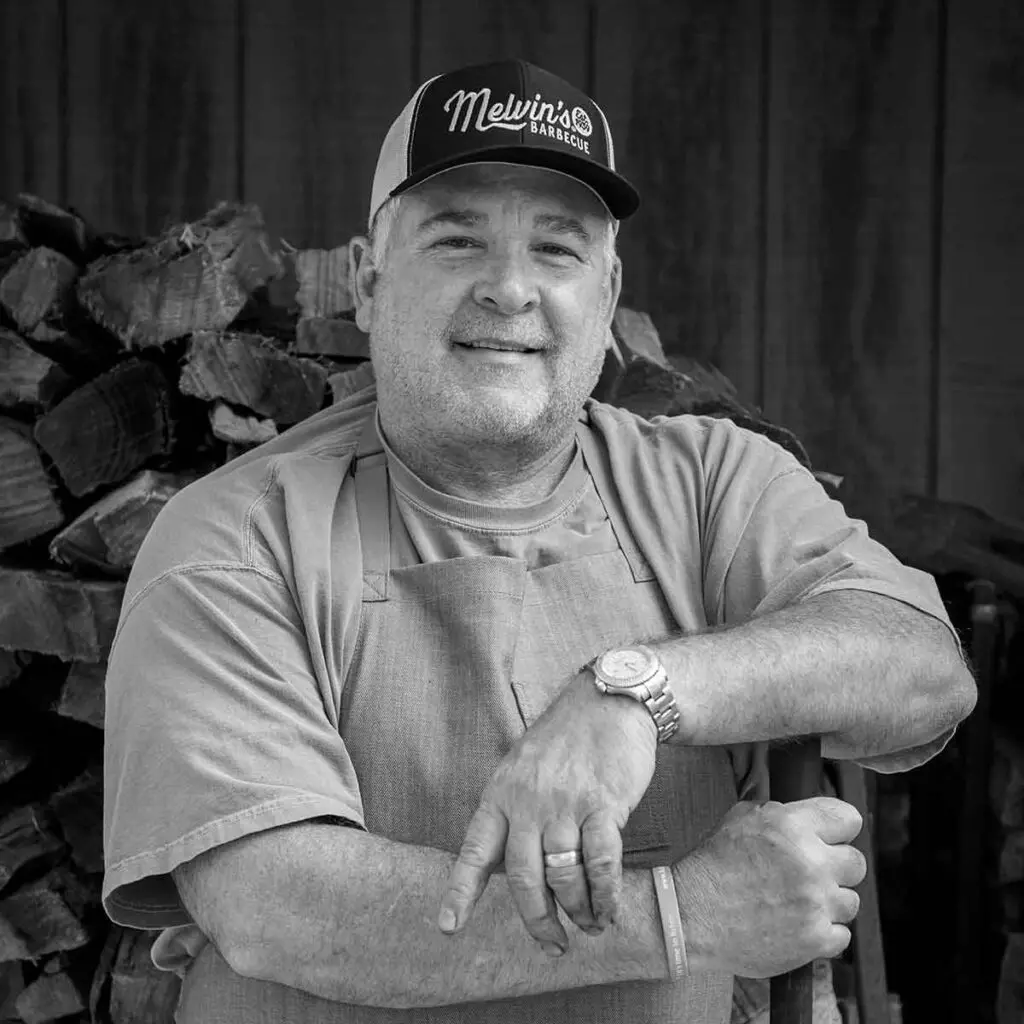 Here's what Moss wrote:
In 1933, my dad was 10 years old," David Bessinger told me.
He came upon his daddy in his shed making this sauce with another man. They were making that mustard-based sauce, and his daddy told him he knew he had something.
Is it possible that this other man was a Sweatman? After all, the Sweatmans are also from the Holly Hill area.
A Good Story
This seems to be confirmed in an audio interview Rien Fertel did with David Bessinger back in 2012 for the Southern Foodways Alliance.
In the interview Bessinger speaks candidly:
This is a good story here—is that the sauce was invented by old man Sweatman and my grandfather.
They both were friends and so they both worked on this thing together, and obviously, there is a difference in the sauce [made by each family].
But so I guess, you know, they did a little tweaking there and here and there, so my grandfather came up with his version and Sweatman came up with their version.
I don't know…his name, but I just know that my dad told me when he was around ten years old he saw them doing something and he asked him what they were doing and they were working on the barbecue sauce recipe.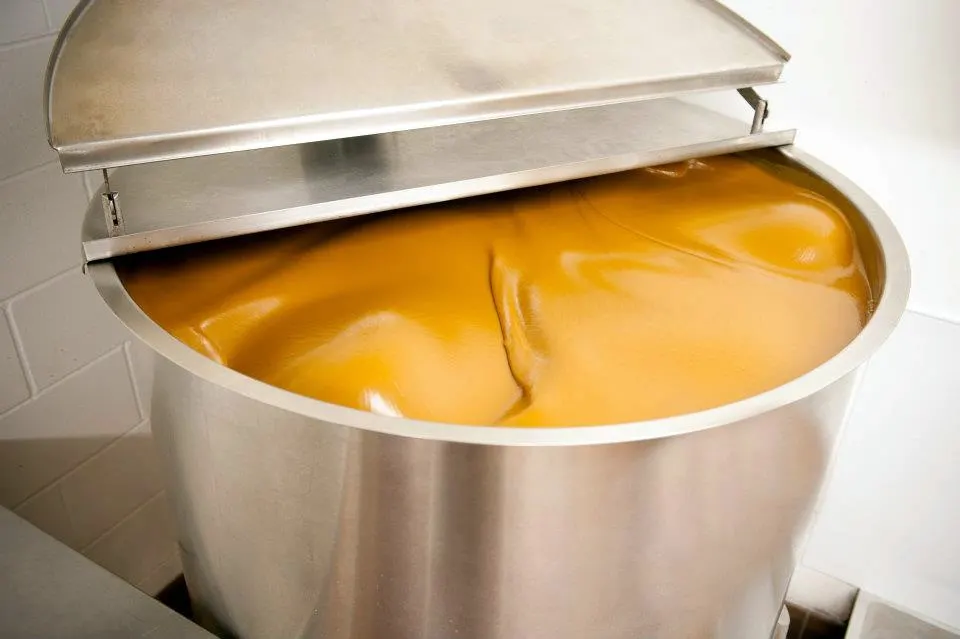 And if history is any indication, the pair struck gold. Carolina Gold mustard sauce, that is.
While Maurice's makes its "Southern Gold" mustard sauce recipe, and Bessinger's makes their "Original Golden" recipe, and Melvin's makes their "Golden Secret" recipe, and Sweatman's makes their own unnamed yellow mustard sauce recipe, one thing is clear, regardless of who actually made the very first Carolina Gold sauce, mustard-based barbecue sauce recipes have made an impact on South Carolina barbecue.
In fact, today, you will find mustard sauces throughout the state and spilling beyond our borders into Georgia or Alabama and beyond.
Like What We're Doing?
Want to see more coverage and features? Just want to show your support?
How to Make Mustard-based BBQ Sauce
While there are some authentic South Carolina mustard sauces available for purchase online and locally in restaurants and stores around the state, homemade mustard BBQ sauce is so easy to make — with simple ingredients that you likely already have on hand — there's no reason not to make it yourself.
Plus, this recipe is truly the best. Try it; you'll see.
You will need the following ingredients:
Yellow Mustard
White Sugar
Light Brown Sugar
Apple Cider Vinegar
Water
Chili Powder
Black Pepper
White Pepper
Cayenne Pepper
Soy Sauce
Butter
Liquid Smoke
Hot sauce (optional)
Note: there is no ketchup in this barbecue sauce at all! This is true for most of "Carolina Gold" sauces, with one notable exception we'll get to below.
Note also, that in South Carolina, we use YELLOW mustard for this sauce. If you want to whip up an authentic batch, don't use any other kind of mustard.
Sure you could use a dijon mustard, a whole grain mustard, or even a spicy brown mustard, but you won't get a true Carolina mustard sauce.
Personally, we use French's, but Sauer's is a popular brand that you might consider.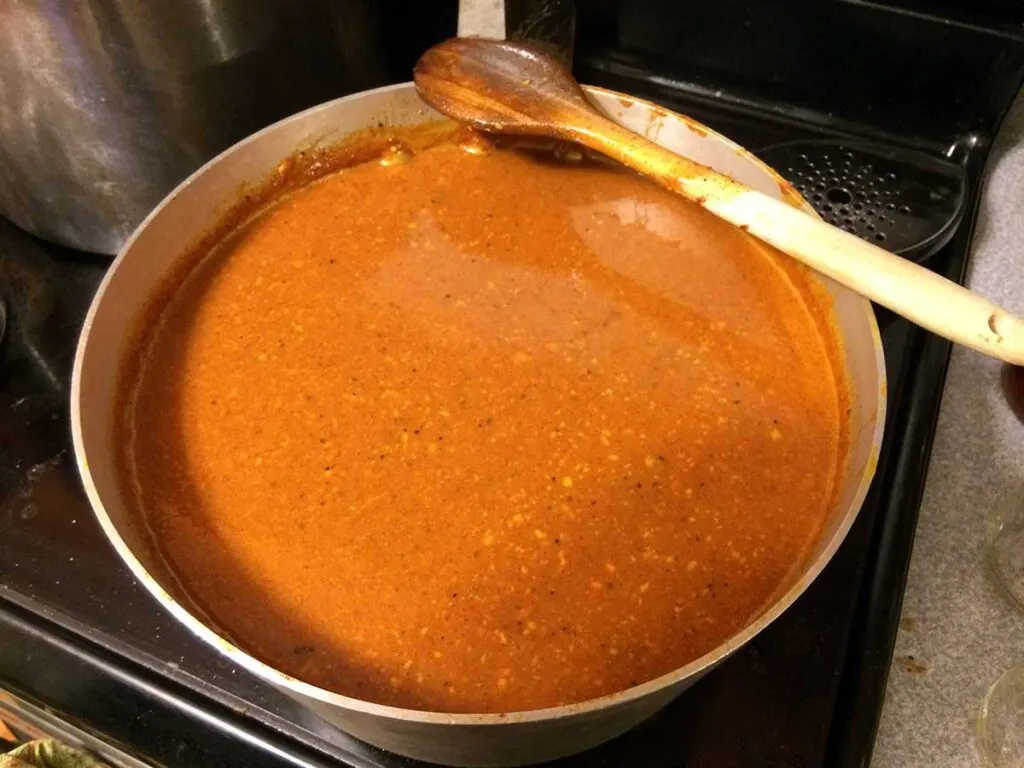 To make this quick and easy homemade, old-fashioned mustard sauce, just mix all but the last three required ingredients together in a saucepan. Bring the mix up to a simmer (don't boil) and simmer for about a half-hour.
At this point, you will add in the final ingredients and simmer for 10 more minutes.
While you can use it right away (and we often have), you'll find that if you make it a day ahead, the flavors have a chance to meld, making it even better.
What does Mustard BBQ Sauce Taste Like?
Most people naturally guess that Carolina Gold sauces must taste like honey mustard sauce. While some recipes for homemade mustard BBQ sauces do indeed contain honey, the sauce itself doesn't taste anything like honey mustard.
In fact, the main ingredient in honey mustard is not honey…and it's not mustard.
Believe it or not, the primary ingredient in honey mustard is mayonnaise. Yep…it would be more accurately named honey mayo, but that doesn't have the same ring, does it?
So what does an old-fashioned South Carolina mustard sauce taste like?
Well, there is no single answer to that question. The truth is there are at least three distinct styles of mustard sauce in South Carolina.
Bessinger Style
Let's start with the Bessingers' style, since it may well have been the first.
While mustard is a prominent ingredient, I wouldn't say it is the dominant flavor. In short, a good mustard sauce doesn't taste like the condiment itself.
In fact, in the recipe below or in a bottle of Bessinger's sauce, you aren't going to taste "mustard." It is much more complex. The sauce is sweet and tangy and, well…simply perfect.
To the point, Travel Channel Bizzare Foods host Andrew Zimmern stated the following:
I never liked mustard-based BBQ sauces. Then I tried Bessinger's. I blast through jars of this stuff in no time. My lips to God's ears: this sauce is in a category of its own.
Putting his money where his mouth is, in a People magazine feature on Zimmern, a sneak peek into his fridge reveals not one, but at least two bottles of Bessinger's sauce (find on Amazon) in the door.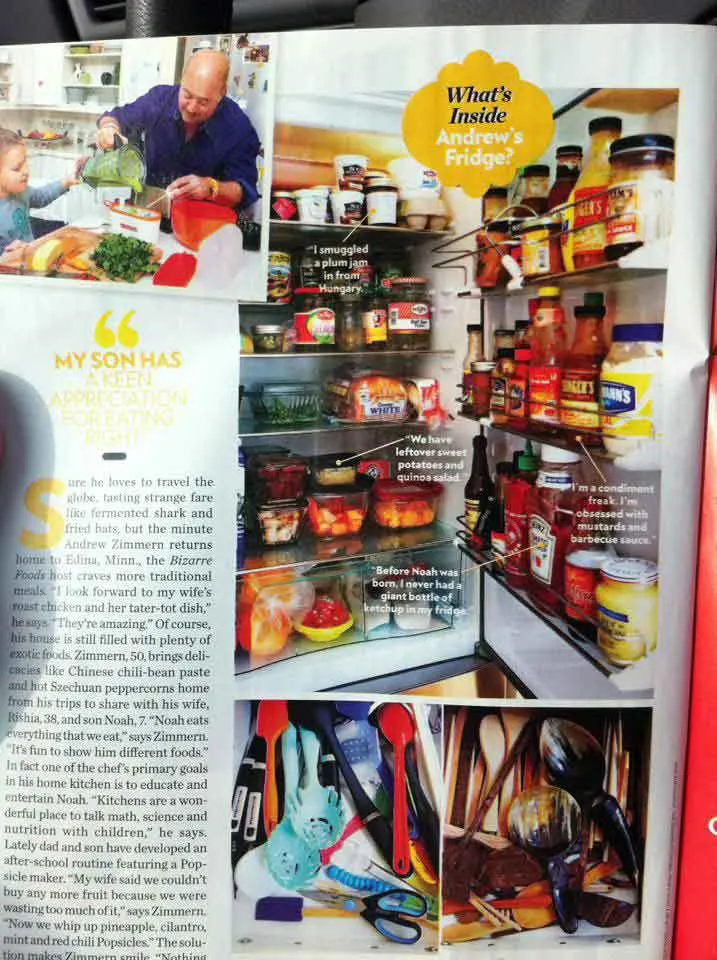 Dukes Style
As for the second style of sauce, you'll find a different sort of mustard sauce at one of the many Dukes BBQ locations. The Dukes mustard sauce recipe differs from most because it includes both ketchup and mayonnaise in the mix.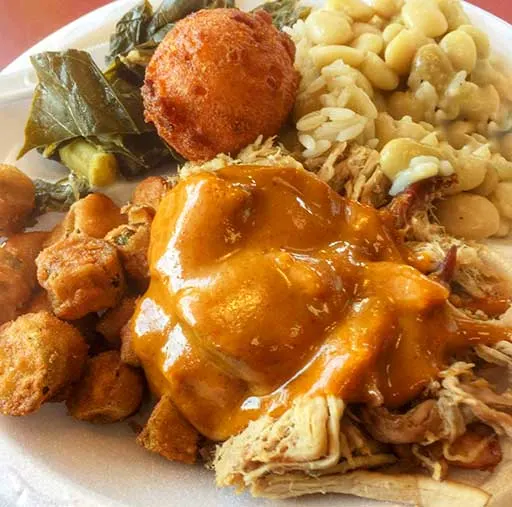 This style has been referred to at the "Orangeburg Sweet" sauce or "Rust Gravy" because of its color. Like Bessinger's sauce, the Dukes' sauce is sweet and tangy.
The Hites
However, there is another style of SC mustard sauce that is much stronger on the mustard flavor.
Generally, you would find this sauce in and around Columbia, often at a restaurant run by a member of the Hite family: Harry, Jackie, or David, in particular.
Jackie Hite's restaurant (closed after his passing) in Batesburg-Leesville is the first place I tried this style of mustard sauce, and I have to say it threw me. Here' what we wrote about the sauce in this review:
It was so mustardy… it was like straight mustard.
We would later try a very similar sauce at Canon's BBQ in Little Mountain (also now closed after they retired). Here's what we had to say about it:
Both Cannon's and Jackie Hite's in Batesburg-Leesville, have a very concentrated yellow mustard flavor, almost to the point of wondering whether or not there is anything else in the sauce.
Well, we would later be provided a recipe for Harry Hite's mustard sauce, and from that, we confirmed there is effectively no sweetener in the mix and not much else to balance the yellow mustard.
While I have to confess that style of mustard sauce is not my favorite, it does have a loyal following.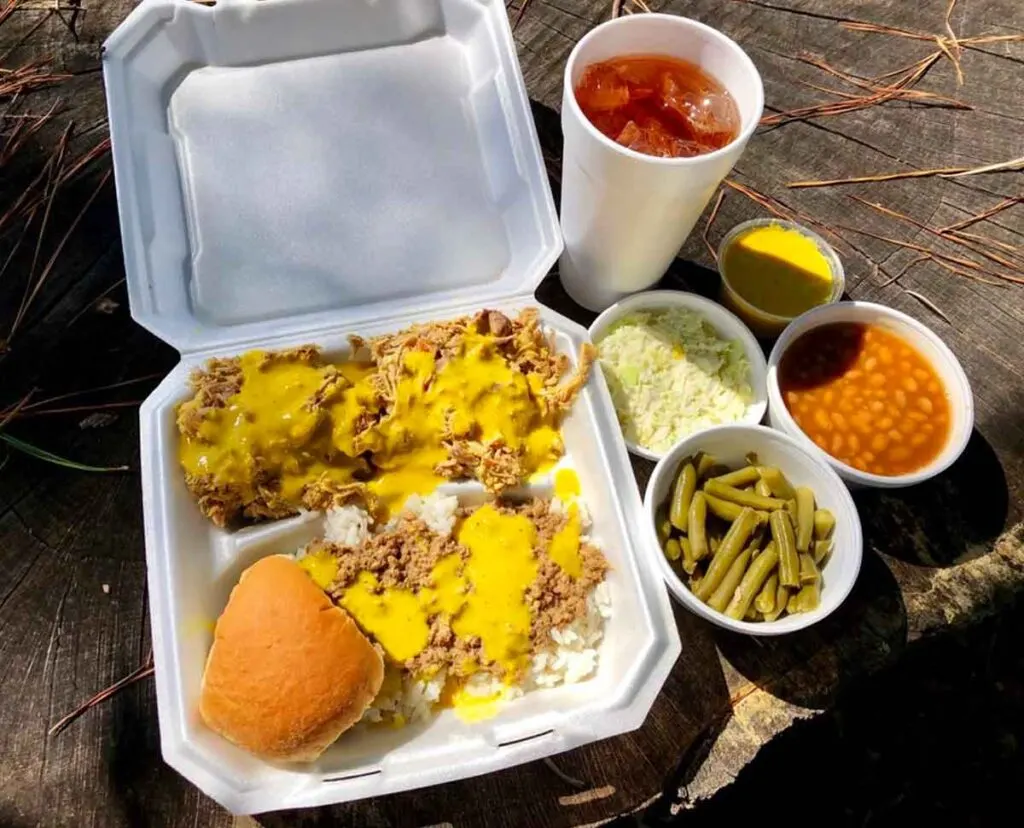 Today, if you'd like to try this style of mustard sauce, you can make Harry's recipe, but his restaurant closed decades ago. However, David Hite runs Hite's Barbecue in West Columbia and that may be the one place remaining that serves this style of sauce.
In Charleston, you'll find Swig & Swine. Their mustard sauce recipe does a great job of maintaining an appropriate mustard profile but countering it with enough sweetness and spice to make it a really nice combination of the styles mentioned above.
How to use Mustard-based BBQ Sauce
Any one of these "Carolina Gold" sauces can be used in a variety of ways.
In South Carolina, it is most often served on "barbecue." By that, I mean pork, cooked low and slow preferably over wood embers. Sometimes that pork is pulled, sometimes chopped.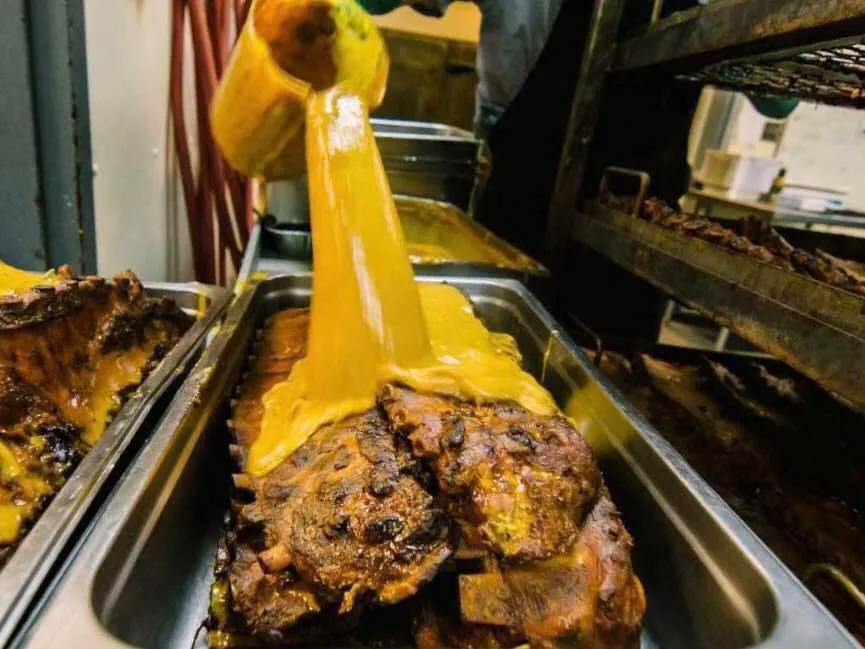 Mustard sauces can also be used on various cuts of pork ribs. It offers a mouth-watering tanginess to the ribs.
About the only other type of meat you will regularly find mustard sauce used on is chicken. It makes for a fantastic barbecued chicken.
However, the sauce is often an ingredient in South Carolina hash, a traditional side served in roughly half of the state's barbecue joints.
As for other uses, I have heard of folks using mustard sauces as sort of an "upgraded" plain mustard, using it on things like hot dogs, but I have never used it that way.
For our vegetarian and vegan friends, this homemade mustard sauce recipe also works great to make BBQ jackfruit. We have made it several times ourselves.
Whatever you choose to try it on, enjoy South Carolina's Best Mustard-Based BBQ Sauce Recipe: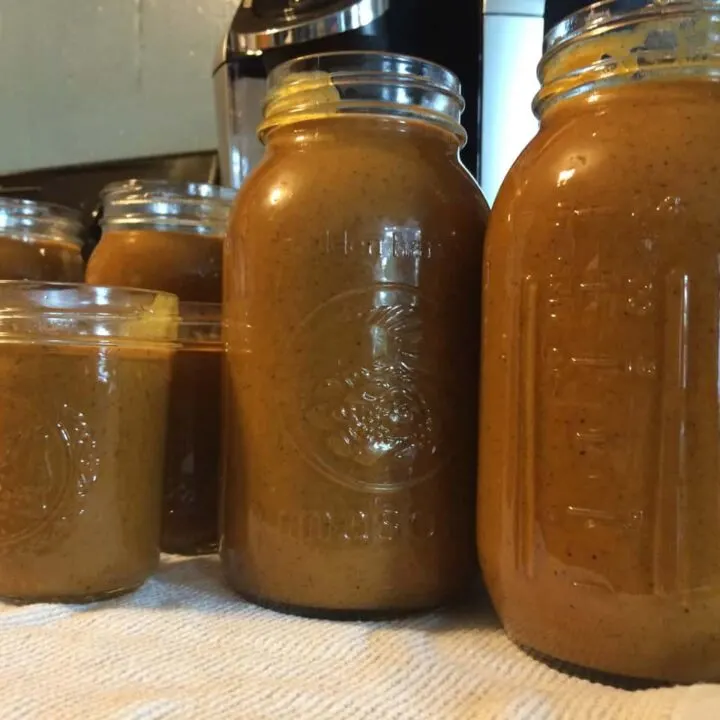 South Carolina's Best Mustard-Based BBQ Sauce Recipe
My family's personal mustard barbecue sauce recipe, loved by even those who don't think they like mustard-based BBQ.
Ingredients
1 cup prepared yellow mustard, French's
½ cup white sugar
¼ cup light brown sugar
¾ cup apple cider vinegar
¼ cup water
2 tablespoons chili powder
1 teaspoon black pepper
1 teaspoon white pepper
¼ teaspoon cayenne
½ teaspoon soy sauce
2 tablespoons butter
1 tablespoon liquid smoke, hickory flavoring
To taste hot sauce, your favorite brand (optional)
Instructions
Mix together all the ingredients except the butter, soy sauce, and liquid smoke in a large saucepan.
Simmer on low heat for about 30 minutes.
Stir in remaining ingredients and simmer for 10 more minutes. Vinegar taste may be very strong until completely cooled.
Refrigerating overnight is best and allows flavors to blend.
Add a few drops of your favorite hot sauce at the end if additional heat is desired.
Notes
Some purists balk at the idea of using liquid smoke. Feel free to omit.
Recommended Products
As an Amazon Associate and member of other affiliate programs, I earn from qualifying purchases.
Nutrition Information:
Yield:

20
Serving Size:

1 Tablespoon
Amount Per Serving:
Calories:

51
Total Fat:

2g
Saturated Fat:

1g
Trans Fat:

0g
Unsaturated Fat:

1g
Cholesterol:

3mg
Sodium:

180mg
Carbohydrates:

9g
Fiber:

1g
Sugar:

7g
Protein:

1g
---
Like to Volunteer as One of our Recipe Testers?
We have a bookful of recipes to test and publish. Join the team and choose from our collection of unpublished recipes.
All we ask is that you photograph the process and share your thoughts on each recipe and the finished product. And we'll feature you when we publish that recipe.
Interested? Just send me an email.
If you enjoyed our family recipe, check out these other authentic SCBBQ recipes we've published on destination-bbq:
Eastern SC Vinegar-Based Sauce Recipe
Home Team BBQ's Alabama White Sauce Recipe
And we've published the following sauce recipes in the SCBBQ Recipes: Going Whole Hog cookbook
You can read more about that here.
Sauces and Rubs:
Vinegar-Pepper Sauces
Eastern SC Vinegar-Pepper Sauce Recipe
Lowcountry Vinegar Sauce Recipe
Mustard Sauces
Dukes BBQ Sauce – "Actual Recipe"
Simple South Carolina Mustard Sauce Recipe
Bessinger's-Style Gold Sauce Recipe
Tomato-Based Sauces
Bullies BBQs Thin Basting Sauce Recipe
Cherrywood Signature BBQ Sauce Recipe
"Carolina Red" Light Tomato Barbecue Sauce Recipe
Basic Tomato Barbecue Sauce Recipe
Other Sauces
Roller Family Hot Sauce Recipe
Rubs
JB's Smokeshack-Style Spicy Dry Rub Recipe
Sticky Fingers' Texas Rub Recipe
BlackJack Barbecue Dry Rub Recipe
Sticky Fingers' Sweet Rib Rub Recipe
Home Team BBQ Dry Rub Recipe for Chicken Wings Recipe
John Lewis BBQ-Style

Brisket

Dry Rub Recipe