This post may contain affiliate links to Amazon or other vendors I trust. Please read my disclosure policy. As an Amazon affiliate, I earn from qualifying purchases.
Swig & Swine: Lowcountry BBQ never tasted any better!
Swig & Swine smokes all day so you don't have to! Drop in for some classic SC BBQ and grab a cold pint of a local craft beer. Sit back, relax, and get your Swig & Swine on with us.
It's a point of pride for Swig & Swine to cook the Lowcountry's best barbecue. To do that, they simply take their time and slowly smoke their meats.
This locks in both the flavor and natural juices. They use custom-built smokers and only burn wood to cook their meats, adding more logs to their burn barrel every 15 minutes for a continuous source of hardwood embers for cooking.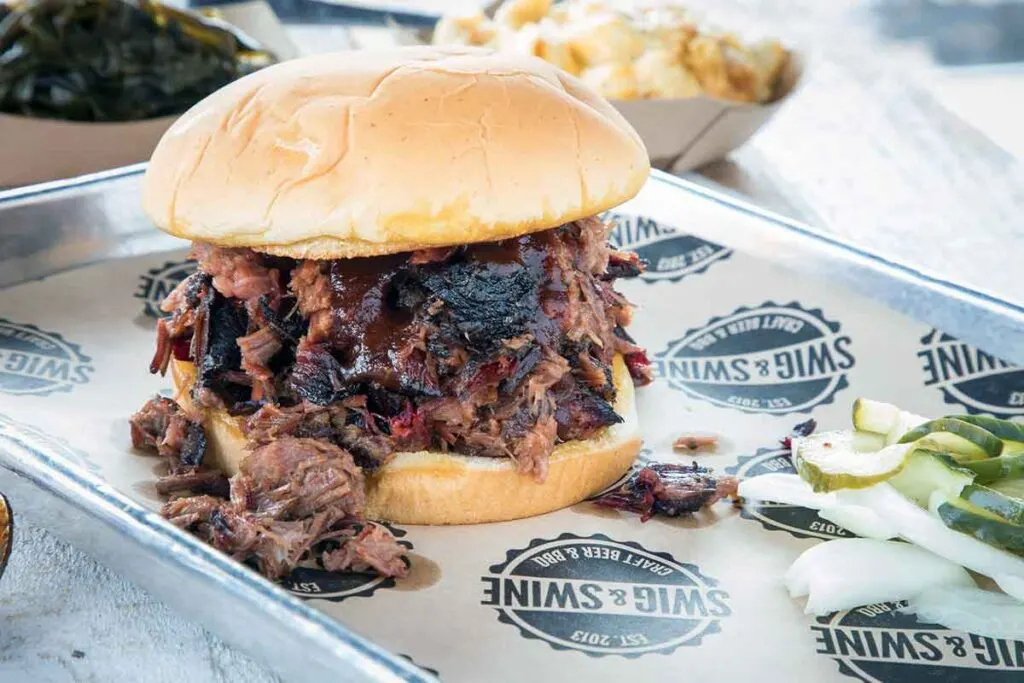 On the menu, you will find "the whole barnyard, from pork and cow to chicken and turkey." They cook each for hours.
In fact, the brisket takes almost 14 hours to reach perfection.
Overall, simple ingredients—salt, pepper, smoke, and meat—come together to form perfect, delicious barbecue every time. It's the reason why Swig & Swine earned a spot on our feature entitled "BBQ in Charleston, SC: The Definitive Guide."
Bet you can't wait to taste it!
Meet the Pitmaster
In the meantime, get to know Chef Anthony DiBernardo and Swig & Swine: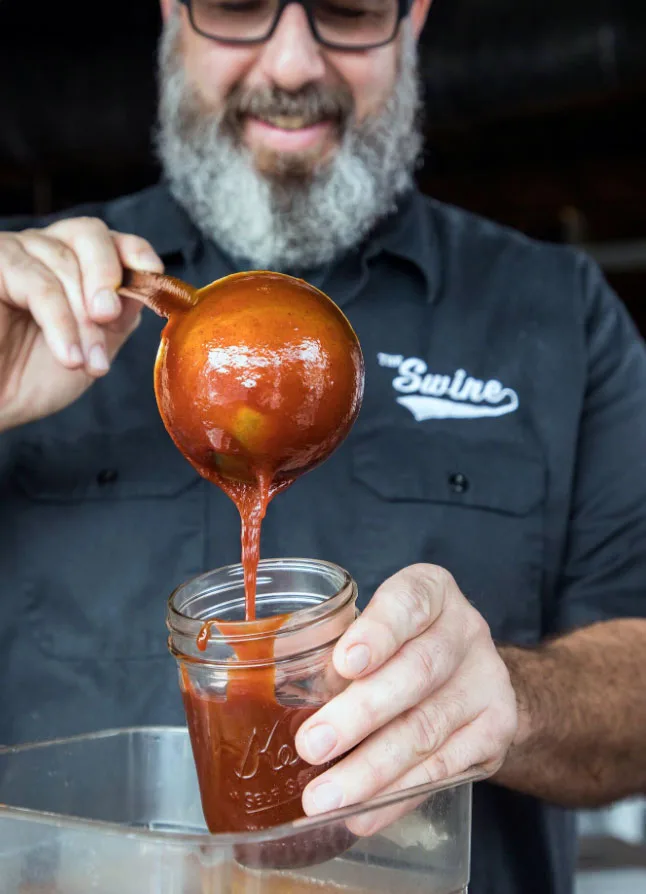 Anthony DiBernardo is the owner-operator of Swig & Swine. His culinary history is as diverse as his menu.
From cooking for the crew on a Navy sub to being a chef at Kiawah Island and several of downtown Charleston's best restaurants, DiBernardo has done it all.
Over time, he developed a passion for naturally smoked meats and competed in KCBS-sanctioned events. That lifelong experience comes through in the quality of the food Swig & Swine serves.
"This is what I do," he says. "It's the only thing I do, other than spending time with my kids.
"I guess my mission is to make things as hard as possible on myself. But I take pride in the fact that a lot of people aren't willing to put in the time—the whole instant gratification thing," DiBernardo noted in Robert Moss's article on whole hog BBQ.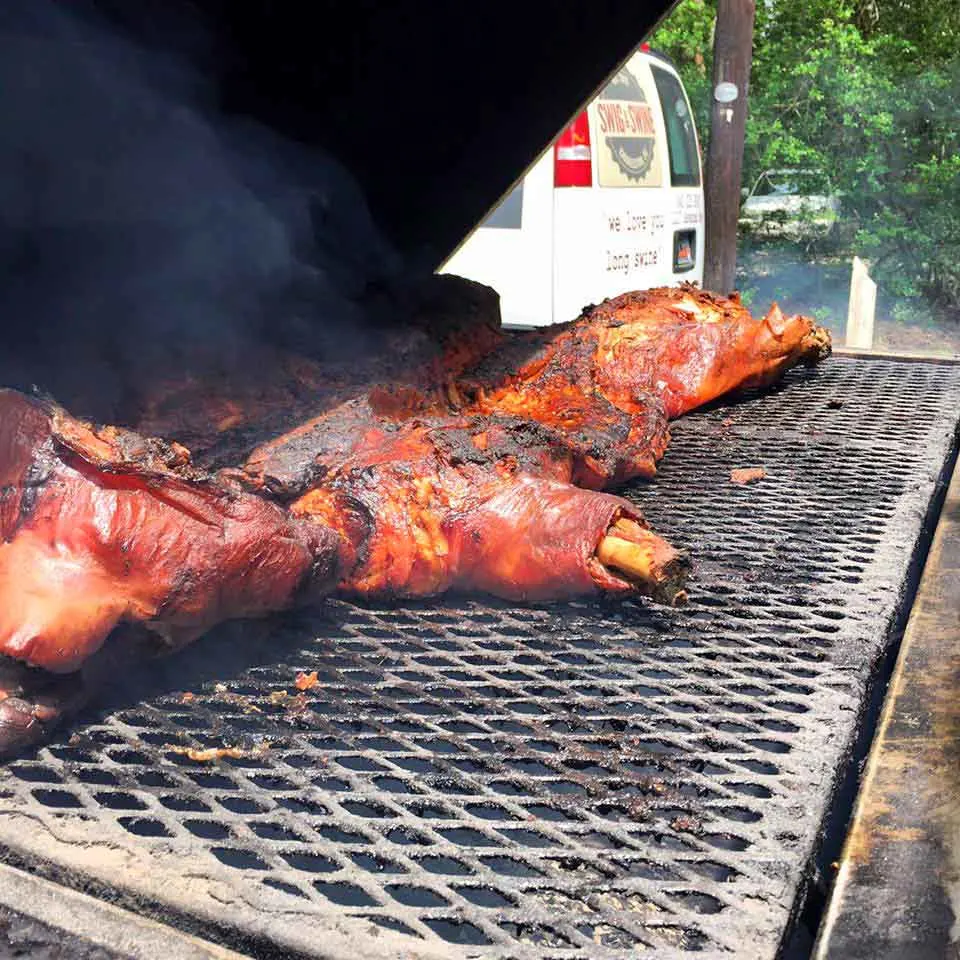 If you'd like to get to know him better, enjoy this interview with DiBenardo on The Manual Podcast.
Among a number of other things, the hosts talk with DiBernardo about his first experience working as a cook on submarines in the Navy and learn more about how he got into the barbecue business, including some details about his early childhood as the son of an Italian butcher.
Because of his background, DiBernardo — whose senior class picture quotes him as saying that he will open a restaurant after finishing in the Navy and attending culinary school — was able to accomplish his dreams. However, those beginnings were not lavish.
Humble Origins
The original Swig & Swine location, the one West of the Ashley in Charleston, was just a shell of a building in its original form. The business which first occupied that location detailed cars under the name #1 Car Wash.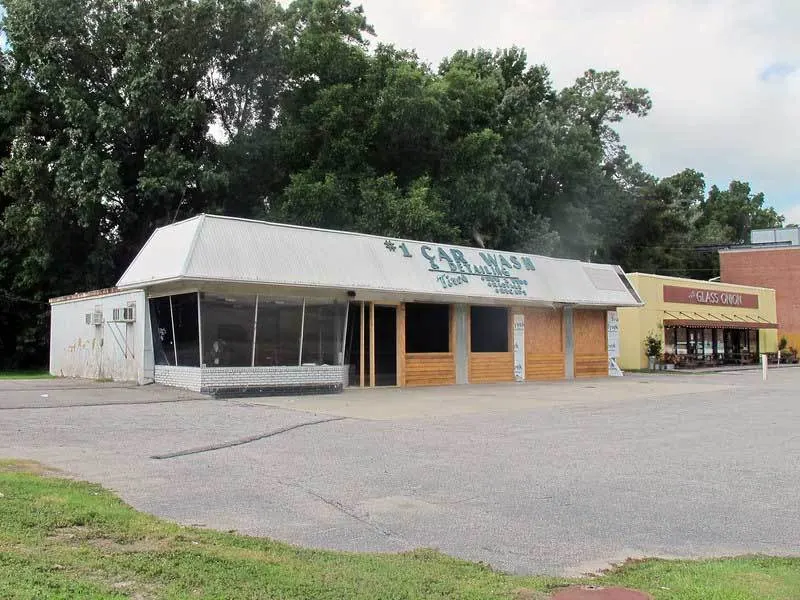 Though it may have had modest beginnings, this location is transformed into one of Charleston's finest BBQ restaurants.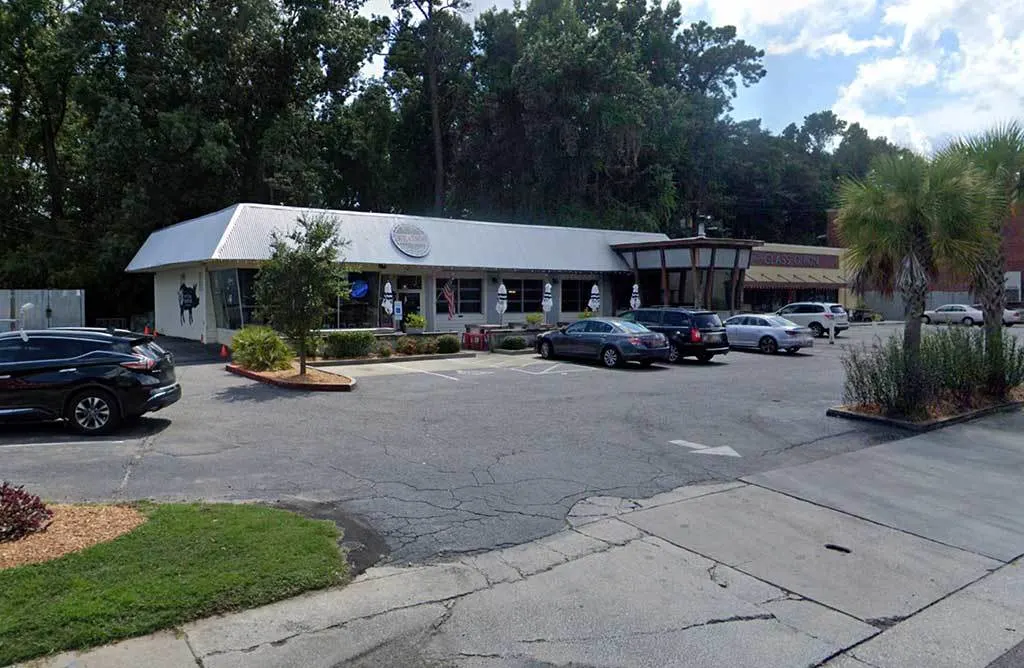 Whole Hog, Wood Cooked BBQ
While DiBernardo is not a South Carolina native, being born and raised in New Jersey, Swig & Swine has certainly embraced an SC BBQ tradition. Whole hogs cooked over wood embers is an important historical practice.
DiBernardo believed in it so strongly, he brought it into his restaurants. But that style of cooking wasn't exactly an unknown for him.
"My father was a butcher," he said in Moss's article, "and he would slaughter and butcher hogs." In his early teens, DiBernardo was already smoking Christmas hams and even roasting whole pigs with his family.
The big difference from South Carolina barbecue, he says, is that "we use sauce here, and olive oil, rosemary, and garlic there. It's all low and slow, though."
In the video below, DiBernardo discusses whole hog barbecue:
What Folks are Saying about Swig & Swine
While our review of Swig & Swine is quite comprehensive, covering everything from the pulled pork to the brisket to the sides and sauces, we could not discuss the desserts. Just too full!
All those words lead to this simple conclusion:
On so many levels, Swig & Swine is a sweet place to enjoy a meal. From the location to the building to the food inside, you can't really go wrong by choosing to eat at Swig & Swine.
In addition, here are a couple of other reviews you may enjoy:
Allston McCrady's Review in Charleston City Paper
Google Review
Google's Local Guide Angee Cantu, author of over 60 Google Reviews, was only visiting Charleston, a city known for its restaurants, but Swig & Swine may be worth skipping the others in favor of return visits:
Awesome dinner!!! It was happy hour too…a bonus!!!
I had the pulled pork sandwich (which was $5 for happy hour) & the hash & rice side ~ the pork was super tender & moist & there was sooooooo much meat, soft bun, plus a great choice of sauces on the table!!
I loved a combo of the jalapeno & red sauce, incredible! My hash & rice was also VERY good…if I wasn't so full, I would have asked for more!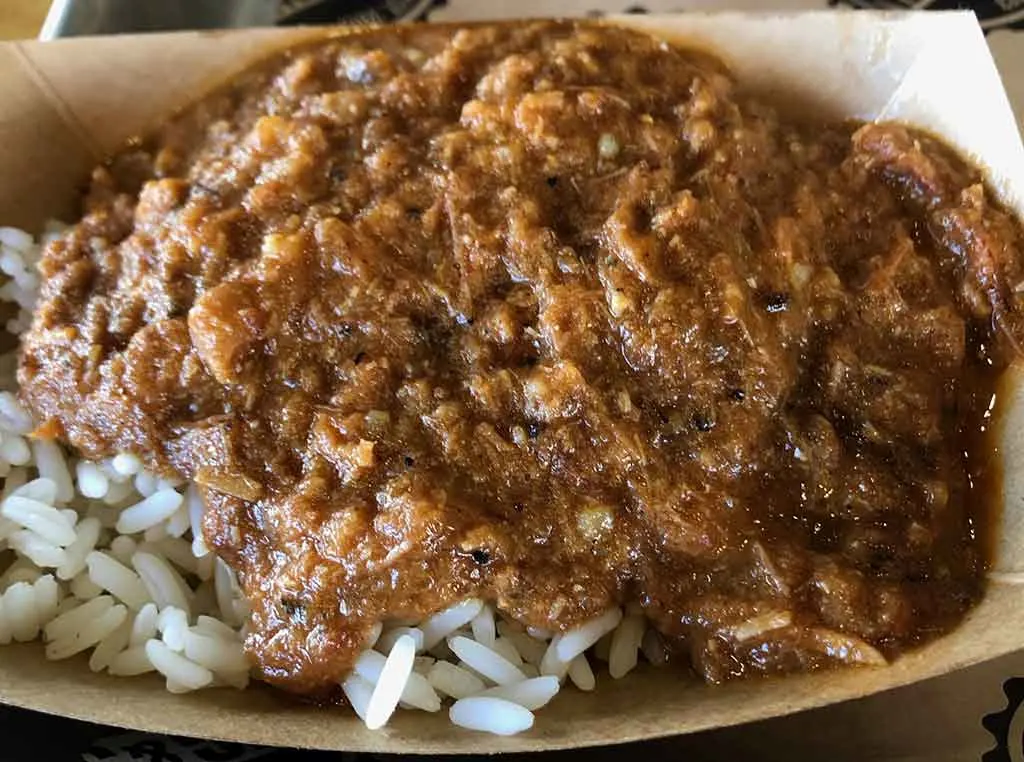 My hubby had a half chicken & 3 sides (for $12), a New Year's special. He had smoked Brussel sprouts, mac & cheese & corn pudding ~ again, EVERYTHING was delicious!!
We shared the pecan chocolate bourbon pie ~ I'm not a fan of pecan pie but my hubby loved it!
My hubby had a Kentucky Bourbon ale & I had a bloody Mary ~ both amazing!!
FABULOUS service too…Belinda ROCKS and if you don't know what you want, trust whatever Belinda tells you to get!! :)) We're only in Charleston for 3 nights, but we may have to go back!!
Yelp Review
Over on Yelp, Charleston-area resident John K is no stranger to BBQ usually relying on his own skills, but Swig & Swine is the one place in Charleston that is worthy of his business:
I usually use my Big Green Egg for my barbecue addiction and Swig & Swine is the only other place I will go for barbecue.
I have tried all the other barbecue restaurants in Charleston and I am not impressed with any of them.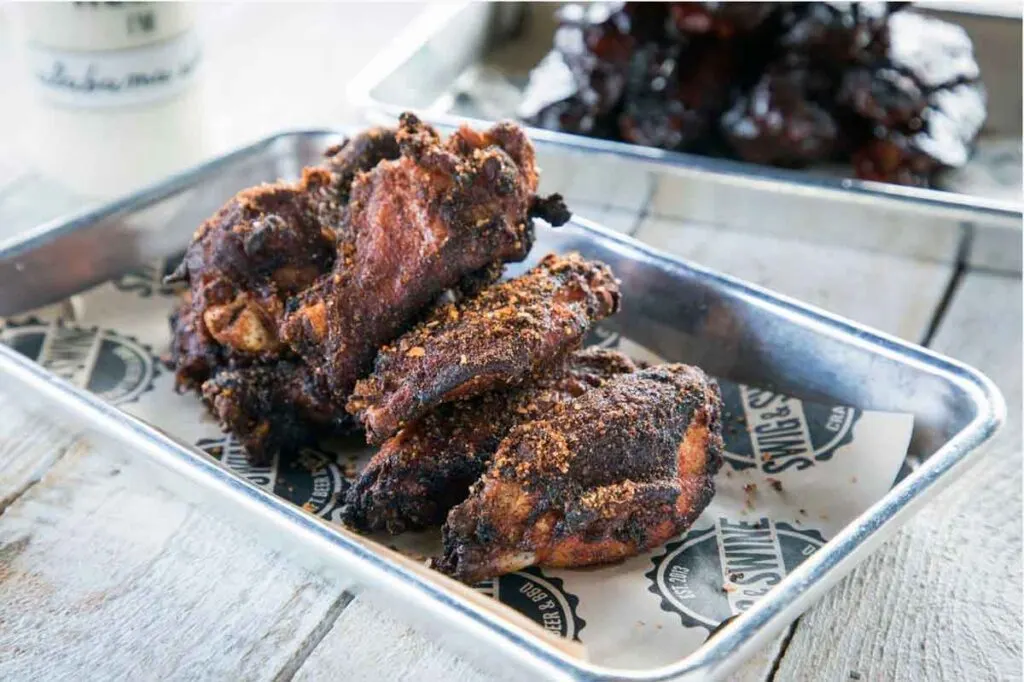 Swig's wings are dry-rubbed and delicious. The burnt ends are amazing. The corn pudding is awesome! It is a very casual and relaxed place to chill out and enjoy some really great barbecue!
The one negative is the parking. The parking lot is very small. Park next door at the shopping center! I can't wait till the North Charleston location is back up and running!!!! Enjoy!
---
What's on the Menu?
Swig & Swine's menu centers around its wood-cooked barbecued meats. You can order pulled pork, ribs, brisket, chicken, turkey, sausage, and more.
Their sides are just as good. Among the choices, you will find their amazing mac & cheese, Brunswick stew, pickled vegetables, corn pudding, and baked beans.
You'll certainly want to try specialties like their pork rinds with pimento cheese or desserts like their famous Nutter Butter pie.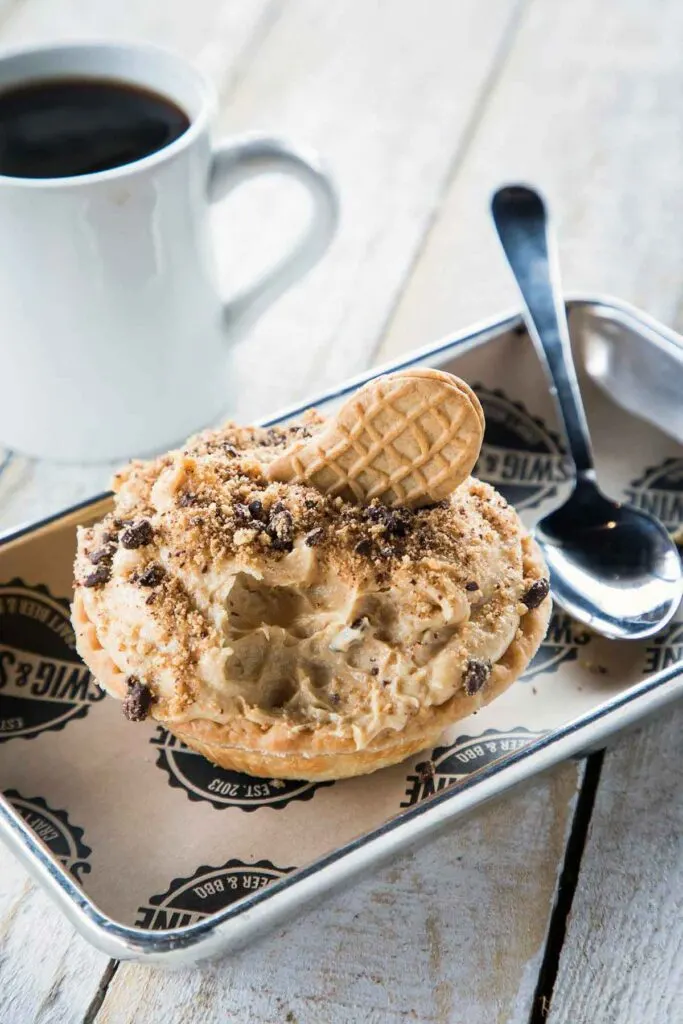 In a nod to our history, Swig & Swine also offers South Carolina barbecue hash, an original dish unique to our state.
Swig & Swine offers an array of sauces sure to please any palate. You'll find mustard, vinegar, tomato, and Alabama White sauce.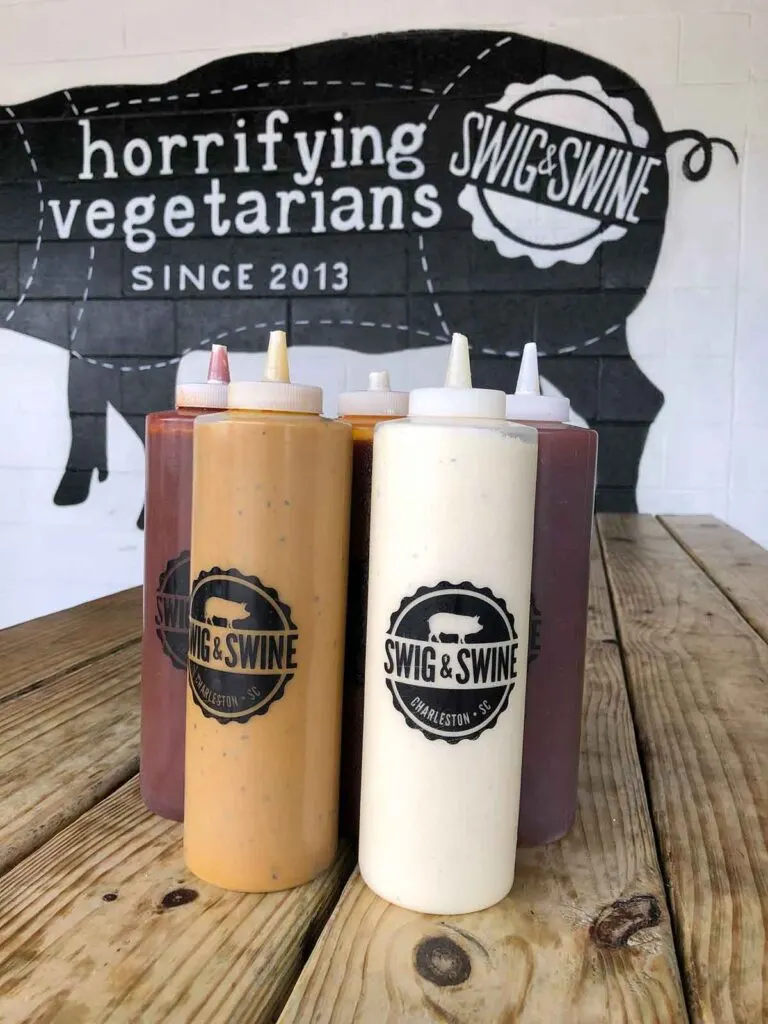 The desserts are hard to save room for but worth making a bit of extra room in your belly. That said, you won't find their desserts on the menu. For those, you have to check the chalkboard.
Food and Beverage Menus for Swig & Swine
Note: Menu prices and options are subject to change over time. Contact the restaurant for the most up-to-date information.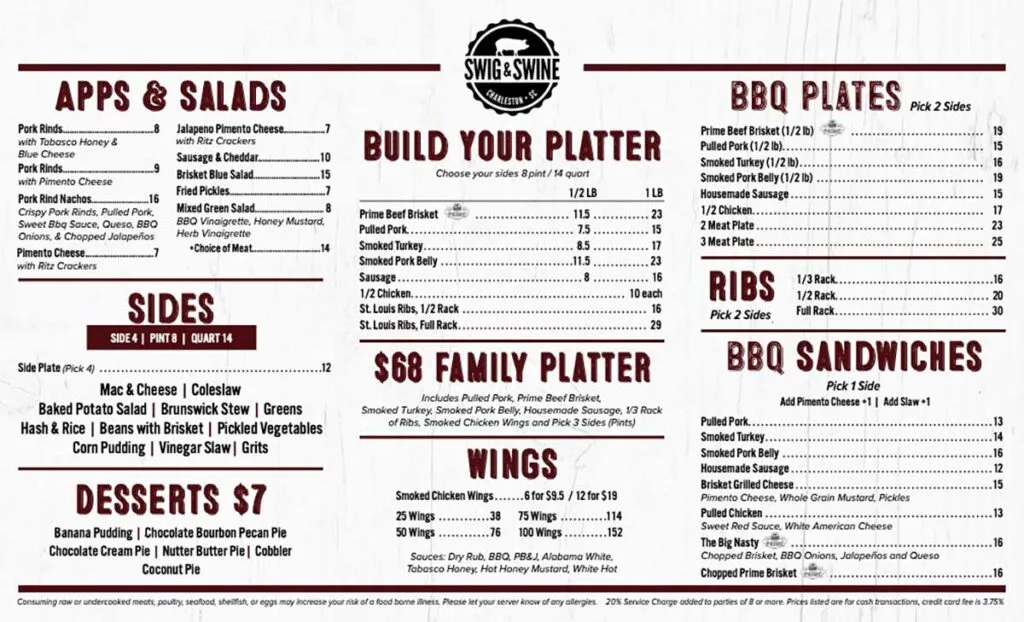 ---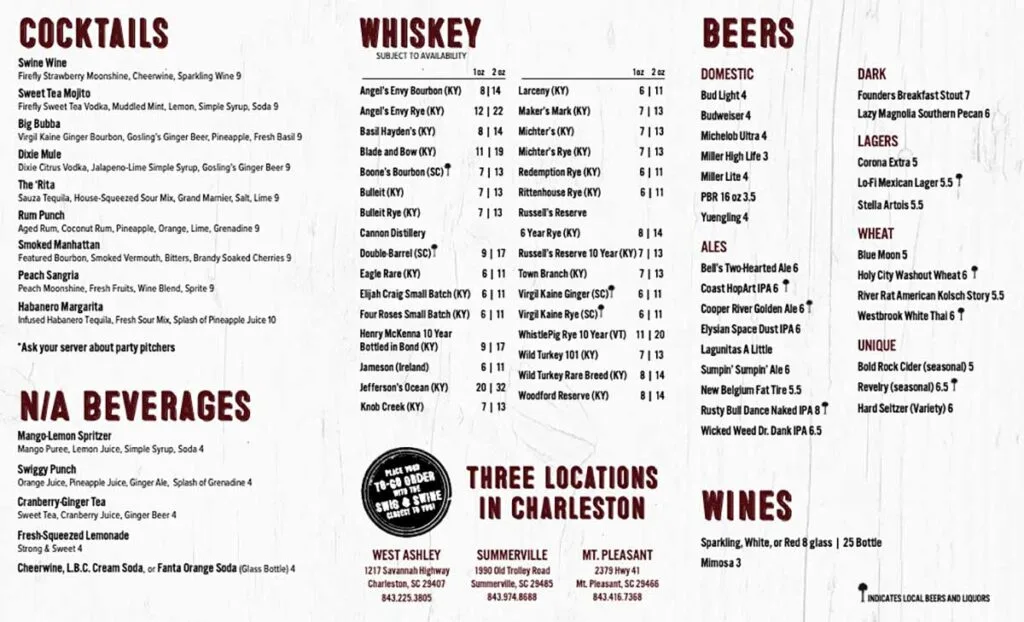 Swig & Swine FAQ
Does Swig & Swine ship fresh food nationwide? How about merchandise?
Swig & Swine does not ship fresh food items like BBQ and ribs at this time; however, they do ship the following items which you can purchase in their store: your choice of their bottled Jalapeño Red, Carolina Mustard or Sweet Red sauce, gift cards, koozies, hats, and t-shirts.
What desserts does Swig & Swine offer?
You won't find dessert on the Swig & Swine printed menu. However, you can regularly order bourbon chocolate pecan pie, banana pudding, oatmeal cream pies, ice cream, and more. You'll have to check the chalkboard menu when you visit.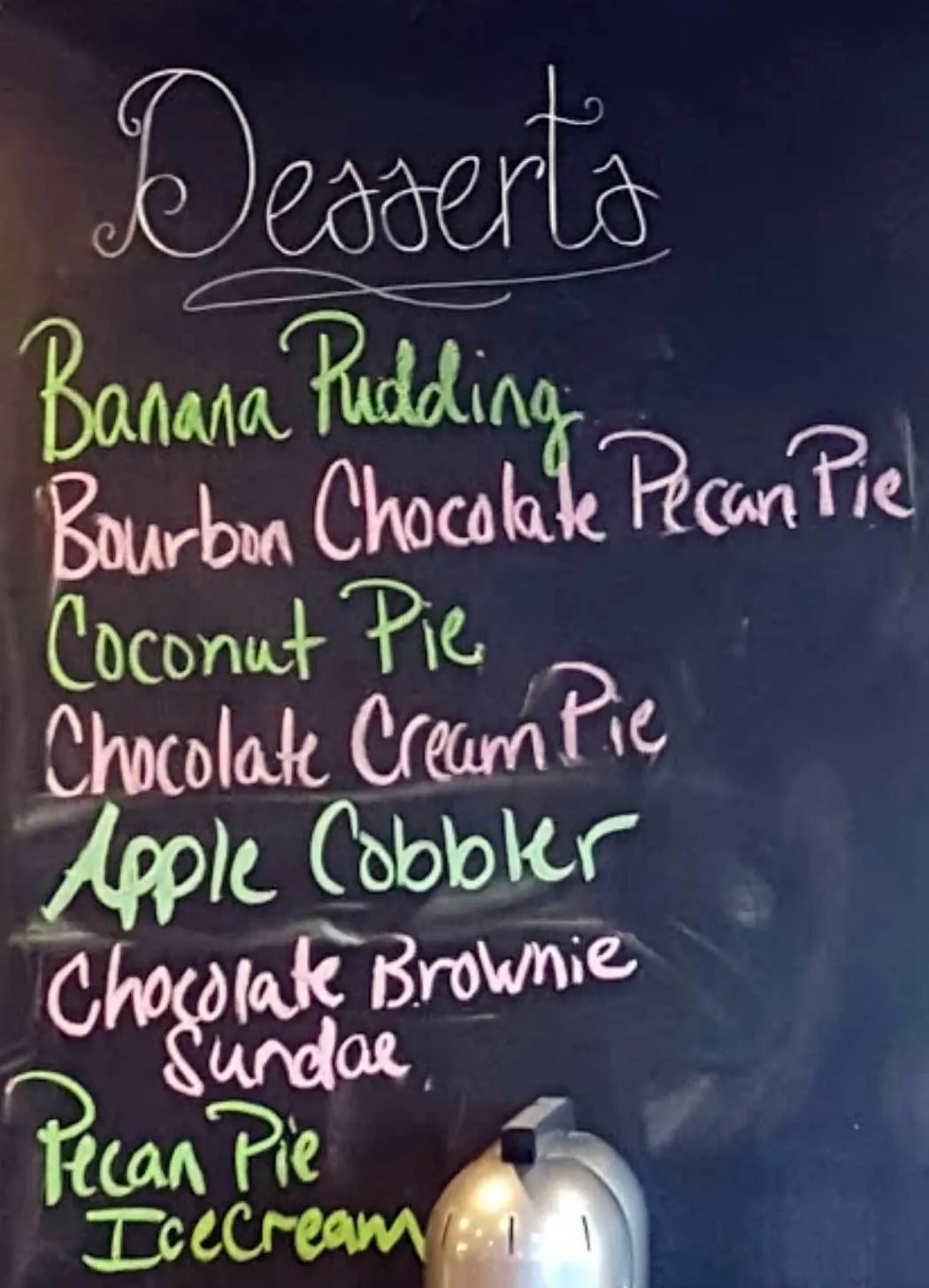 Location, Hours, Contact Info, and More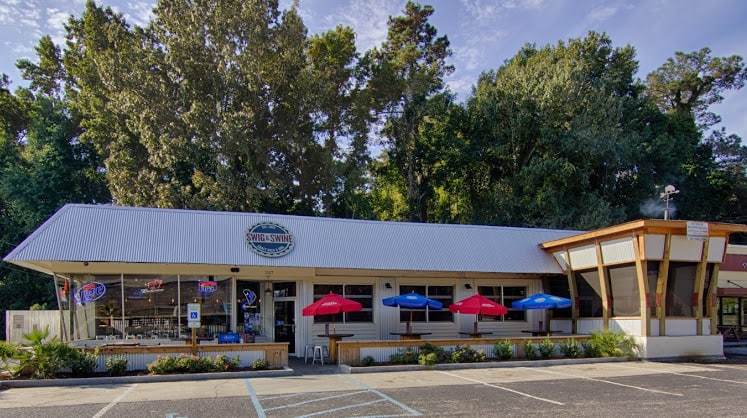 Map
Directions
Contact Swig & Swine
1217 Savannah Highway
Charleston,
SC
29407
Hours of Operation
| | |
| --- | --- |
| Monday | |
| Tuesday | |
| Wednesday | |
| Thursday | |
| Friday | |
| Saturday | |
| Sunday | |
Review Sites
Features
Cards and Cash, Hash, Heavy Tomato Sauce, Mustard Sauce, True 'Cue Certified, Vinegar Pepper Sauce, White Sauce, Whole Hog