South Carolina barbecue is as magnificent and diverse as its people.
Welcome to the SC BBQ Trail! Here, barbecue is not just a cooking method but a cultural heritage, primarily flavored by the sauces historically popular within each region. The state's barbecue tradition is deeply rooted in history, with some arguing that South Carolina is the birthplace of barbecue. Whether it's whole hog cooked for hours over hardwood coals or the unique delicacy of South Carolina Barbecue Hash, the SC BBQ Trail offers a rich buffet of flavors and experiences that are sure to satisfy every barbecue lover.
Discover the Best of South Carolina Barbecue
Now, a quick overview of South Carolina barbecue.

What is South Carolina Barbecue?
For a relatively small state, South Carolina boasts four distinct regions with unique barbecue styles. Collectively, these regions make up what we refer to as the SC BBQ Trail. That trail offers some of the most modern BBQ techniques and can even transport you back to the origins of barbecue itself.
The barbecue you'll enjoy in these areas is primarily flavored by the sauces popular within a given section of the state.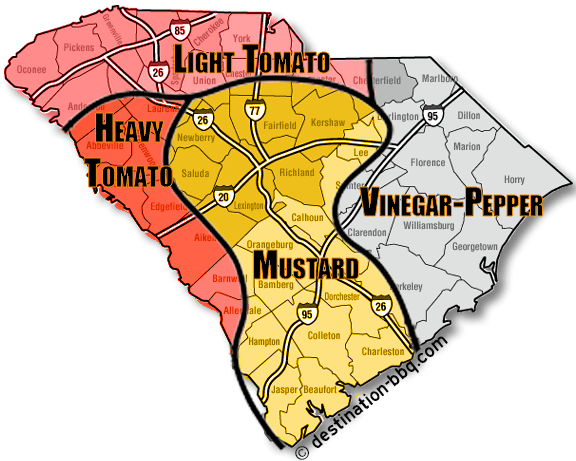 Depending on where you are in South Carolina, you might find your pork — because here in South Carolina, barbecue means pork — steeped in a vinegar-pepper sauce.
If not, the pitmaster may have accented it with a light tomato sauce, or even the more commonly known heavy tomato sauce.
Very likely, however, in South Carolina, you'll find your barbecue adorned with the sauce that was born in our state – mustard-based barbecue sauce.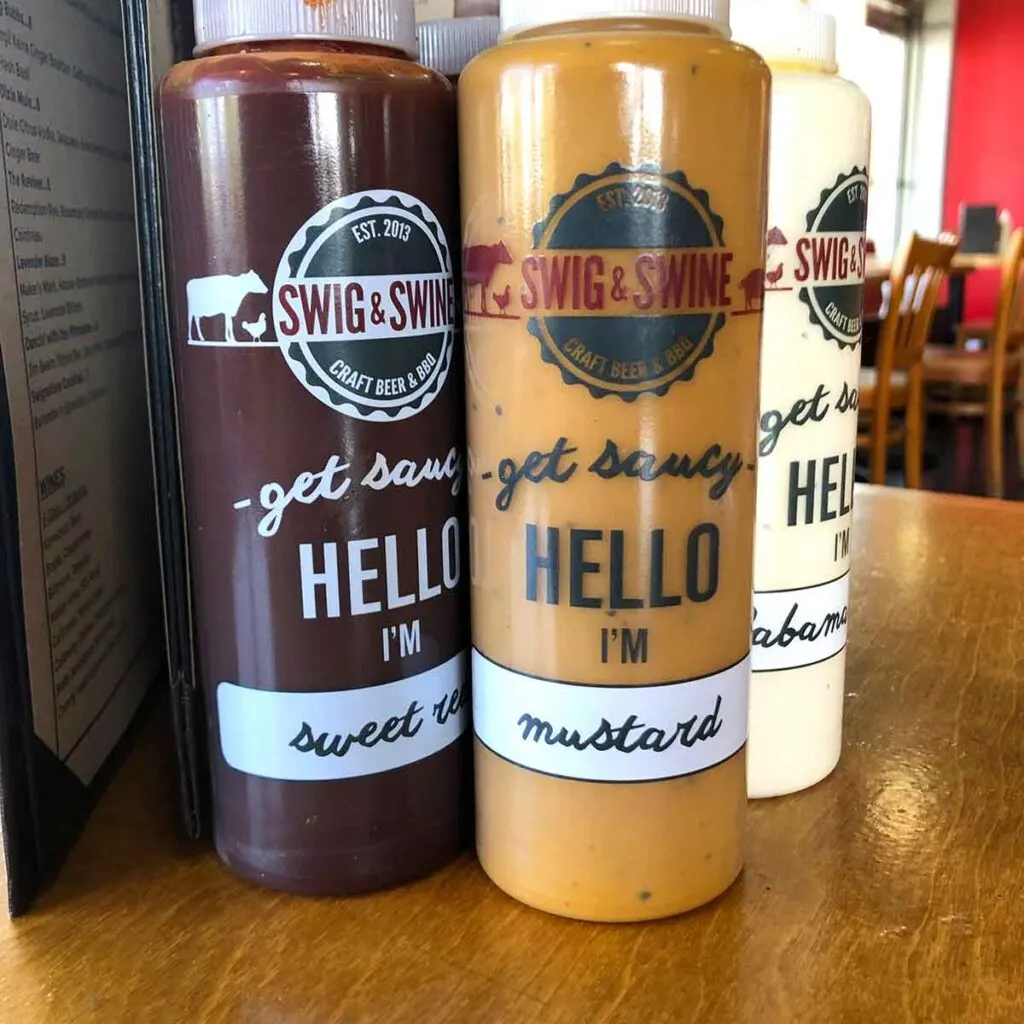 And just in case you're on the SC BBQ Trail, in South Carolina, you should know that "barbecue" is a noun, not a verb.
Here, barbecue is a thing, not an action. And no, that thing is not ever a grill.
For us, "barbecue" is pork, whether it has been pulled or chopped. It is served with a tangy sauce, generally mustard or vinegar-based.
Ideally, it came from a whole hog cooked for hours over hardwood coals.
South Carolina's Contributions to Barbecue
Where It All Began?
There are those who argue that South Carolina is the Birthplace of Barbecue. It's an interesting and plausible argument worth a read to make up your own mind.
Food Historian Robert Moss once wrote the following:
"What we can confidently boast, though, is that the Palmetto State has one of the country's oldest and most vibrant barbecue traditions.
"In fact, the form of whole-hog cooking practiced in the Pee Dee region is the closest approximation to the way barbecue was cooked back in the colonial and antebellum days."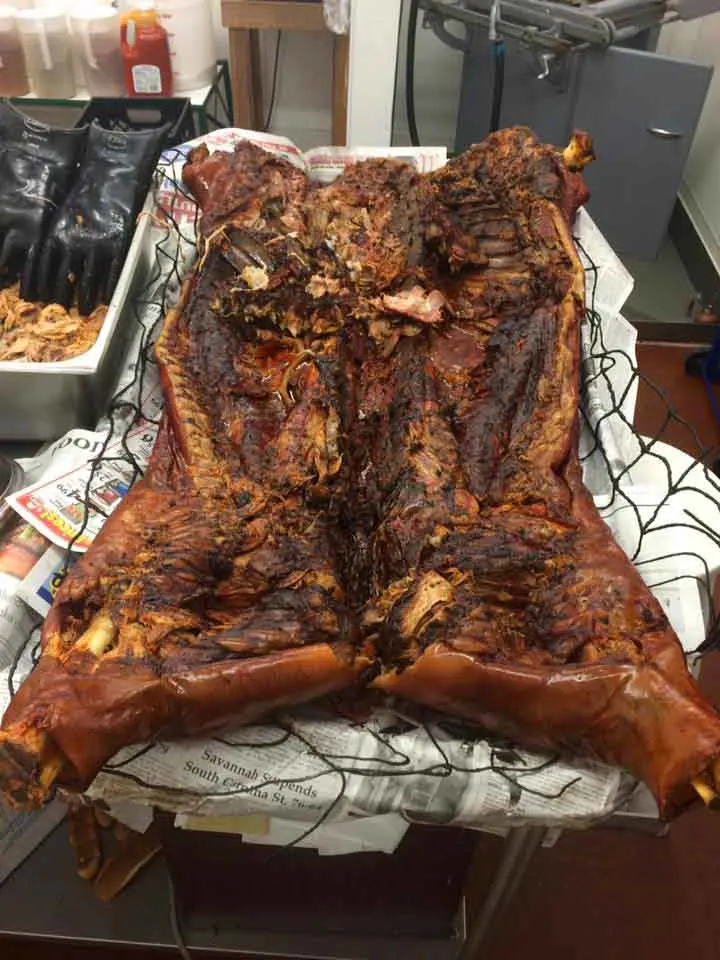 In addition to being the possible origin of BBQ, other contributions South Carolina has made to the world of barbecue include two unique items.
One has found more widespread appeal, while the other still most deliciously lingers within our borders. You'll always find both as you travel the SC BBQ Trail.
Hash
South Carolina Barbecue Hash remains a delicacy craved by almost all native Sandlappers. However, like local specialties found in other regions of the world, you won't often find this kind of hash anywhere else.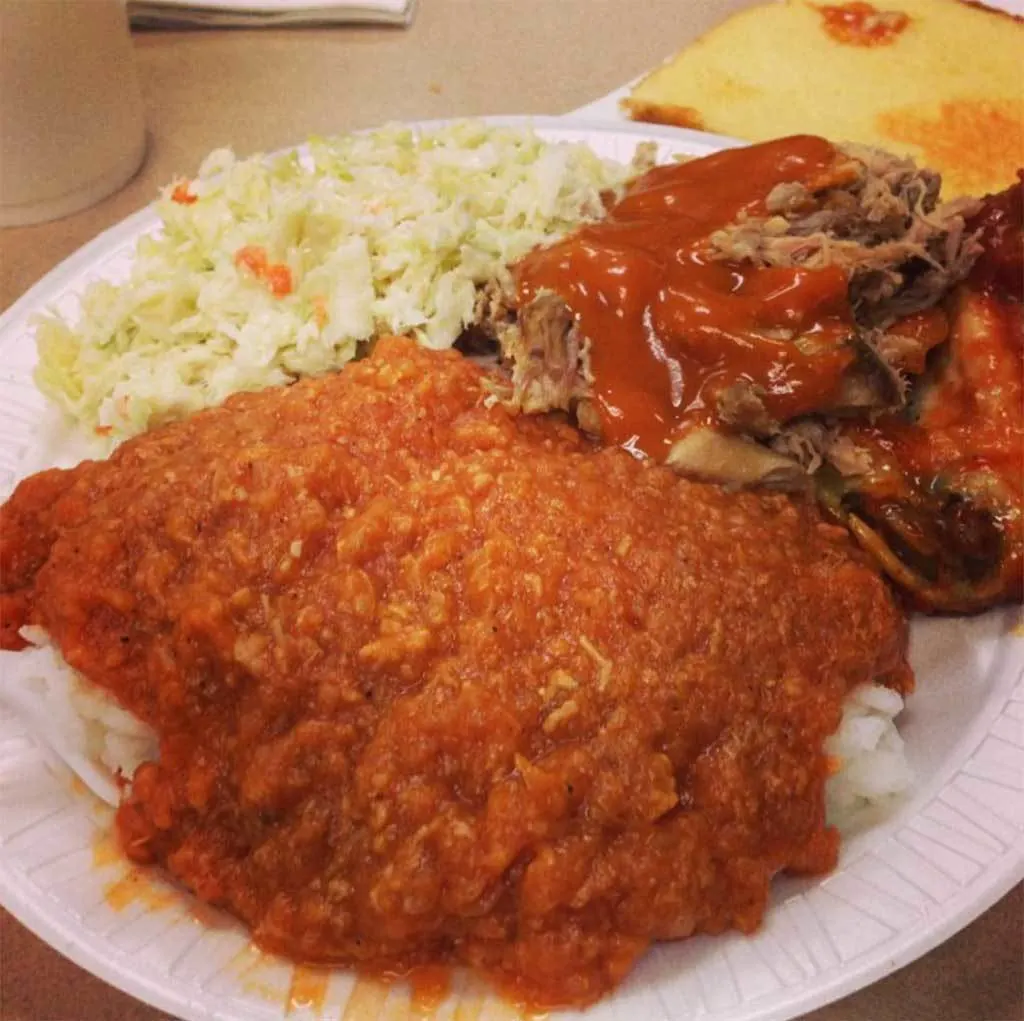 South Carolina barbecue hash is sort of a thick, meat gravy, usually made of or with pork. We most often serve it over rice.
It's a story you have to read and a dish you must try on at least one stop of your journey along the SC BBQ Trail.
Pass the Mustard
Unlike SC BBQ hash, however, you are likely to have tried — or at least heard of — mustard-based barbecue sauce.
But did you know South Carolina is where it was first concocted?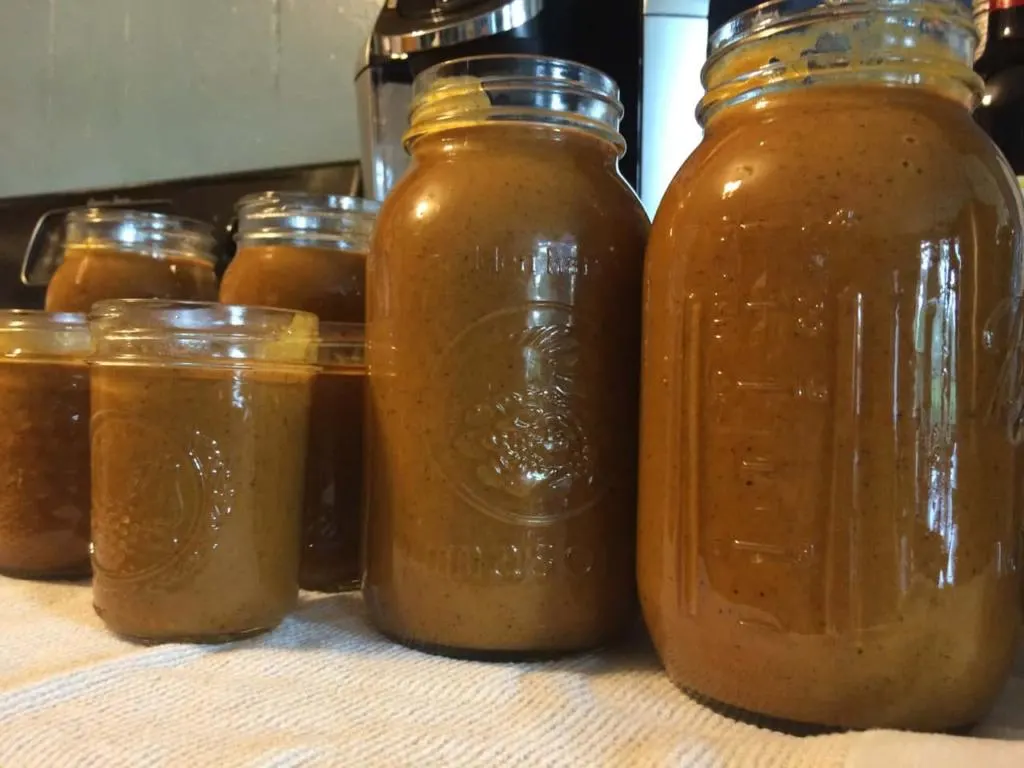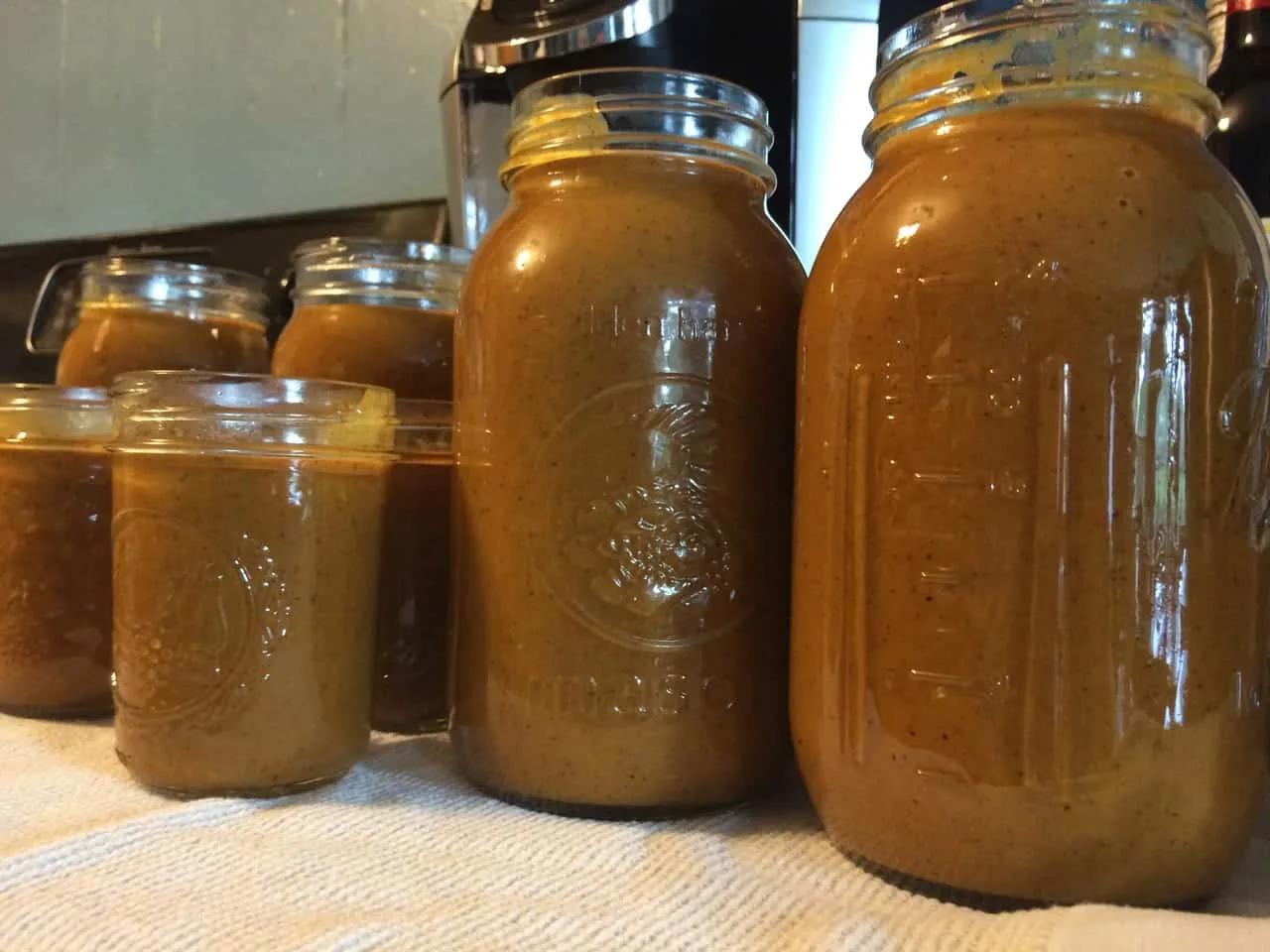 Like any good origin story, there is some controversy: Did the Bessinger family come up with the recipe or did the Sweatmans first create it?
No way to ever be sure, but all signs point to Orangeburg County, SC, as being its likely birthplace. Both the Bessingers and Sweatmans hail from the Holly Hill area of the county.
The SC BBQ Trail Map
We boast the most accurate and up-to-date map supporting South Carolina barbecue restaurants. But no map is perfect, so we always suggest calling ahead.
However, our interactive SC BBQ Trail map offers a quick and accurate way to not only find and learn more about SC BBQ near you, but you'll also get directions straight to their buffet line!
Check out this quick video on how best to use it:
Whether you're just looking for a local mom-and-pop restaurant to try or you're looking for authentic recipes or some historical background, we hope our site will help you find and enjoy the best barbecue South Carolina has to offer.
Again, welcome to the South Carolina Barbecue Trail!
---
Some of our Recent Posts
A simple Southern Tomato pie is one of the true treats of summer, but if there is one consistent complaint, it's about the mayo. Let's …
Newly Added Restaurants
Smoking Butt Heads BBQ in Spartanburg is the restaurant spin-off of a competition BBQ team that has competed across the country on the KCBS BBQ …

A Family Legacy Tucked away in the peaceful countryside of Gray Court, SC, is a hidden gem that has been delighting barbecue enthusiasts since its …
---
Learn more about the South Carolina BBQ Trail
Firstly, check out this piece by Dr. Howard Conyers, an actual NASA rocket scientist, South Carolina barbecue advocate, and host of the PBS series Nourish.
In this video, he gives a quick look at what makes SC BBQ so special.
Next, check out this 2011 interview with SCETV with Lake High, founder of the South Carolina Barbeque Association.
During the discussion, he explains the four different types of barbecue found in South Carolina:
---
Stock Photos provided by Depositphotos