This post may contain links from which I earn a commission. Please read my disclosure policy. As an Amazon affiliate, I earn from qualifying purchases.
Welcome to our interactive SC BBQ Trail Map: Easiest way to find all the SC BBQ restaurants near you.
Looking for a restaurant and need the South Carolina BBQ Trail map?
Wondering where all SC BBQ restaurants are near you, wherever you happen to be?
Do you like the official SC BBQ Trail Map, but wish it was digital so you could easily find the barbecue restaurant you're looking for?
Then, this is the map for you.
Below, you will find our interactive South Carolina BBQ Trail Map.
It plots out the location of every BBQ restaurant in the state to make it easy for you to find the best SC BBQ joints near you.
But that's not all!
If you're looking for something specific like a mustard-based barbecue sauce or a side of South Carolina barbecue hash, our filters will show you the BBQ joints serving exactly what you want.
The SC BBQ trail offers some of the most modern BBQ techniques and can even transport you back to the origins of barbecue itself.
How does the South Carolina BBQ Trail Map work?
When the map loads, it will ask your permission to find your current location.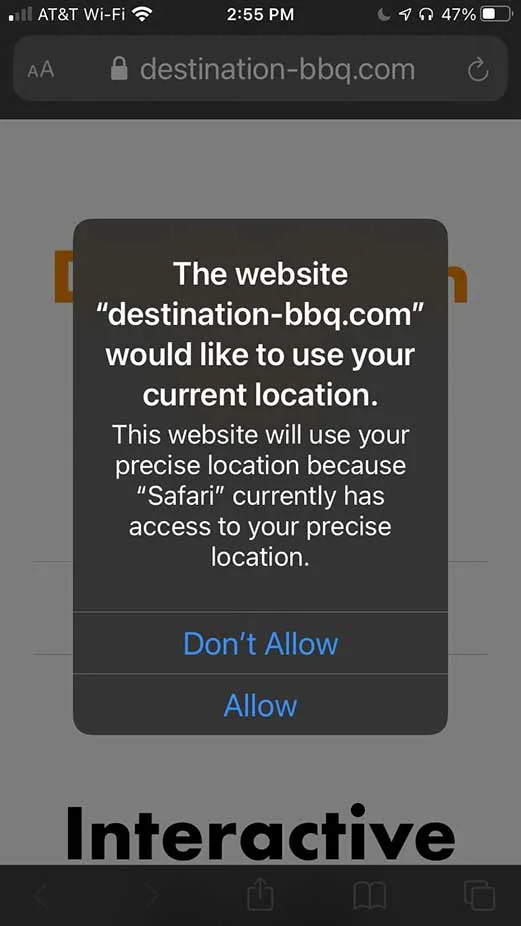 If granted, the map will show you the closest 25 SC BBQ restaurants within a 25-mile radius.
Your location will also be represented by a green marker on the map.
If you choose to not allow the map to find your location or if you're looking for SC barbecue in other areas of the state, then you can enter a zip code or city name into the search field and press the "Find SCBBQ" button.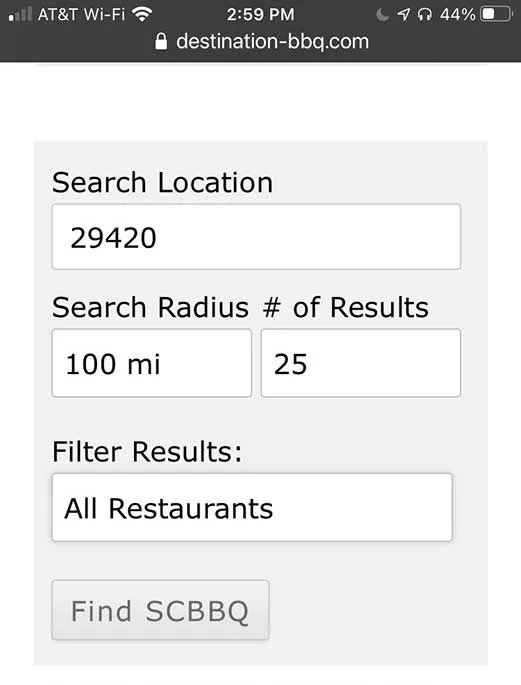 When you do, the map will then zoom in on that general location and show the restaurants in your search area.
By default, the map will show you the closest 25 restaurants in a 25-mile radius; however, you can change the search criteria to suit your needs using the dropdown selectors.
Restaurant Profiles
In addition, a profile of each restaurant will be listed near the map, sorted by distance. It will include an image of the restaurant itself.
Moreover, if you click More Info on any listing or click on any marker, you will be provided additional information about each restaurant including the following:
street address
phone number
operating hours
street view
directions from your current location
To refine your results, you can filter the restaurants using the category filter on the search form.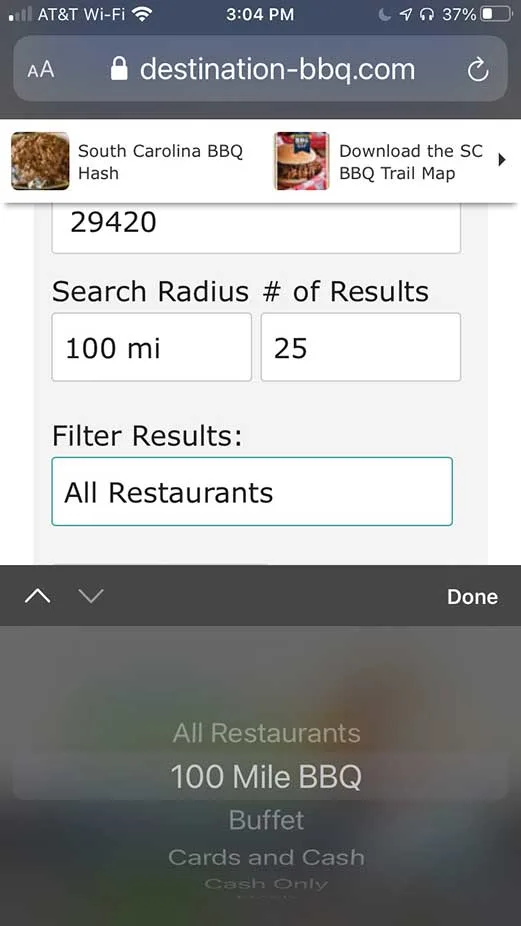 Driving through Inman and have a hankering for some mustard-based BBQ?
Now you can find all the restaurants in your area that serve a mustard sauce.
Passing through Hartsville and looking for that side of SC BBQ hash?
Now you can find all the restaurants around Hartsville serving hash!
Really want to know where the best of the best SC BBQ is?
Using the 100-Mile BBQ filter, you can find all the SC BBQ restaurants in your area that the SC BBQ Association has designated 100-Mile BBQ, barbecue so good it's worth driving 100 miles for.
Help Make the Map Better
We encourage comments on the map and its functionality in the comment section at the bottom of the page. We do all we can to make this the best map for your SC BBQ Trail searches, but we can't do it without your help.
Unfortunately, folks aren't required to tell us when they are opening or closing a restaurant. We are able to keep the map up-to-date mostly through constant research, but we also rely on tips from our readers.
If you know of a discrepancy on the map, please let us know.
---
Save the South Carolina BBQ Trail Map to your phone as an App
Wouldn't it be easier to jump right to this map when you need it?
Simply save this page as an app icon on your mobile device. Then, you're just one touch away from all the SC BBQ in your area. And it is easy to do!
Since you obviously already have this page open…
Just tap Share (iOS) or Menu (Android) and then tap "Add to Homescreen."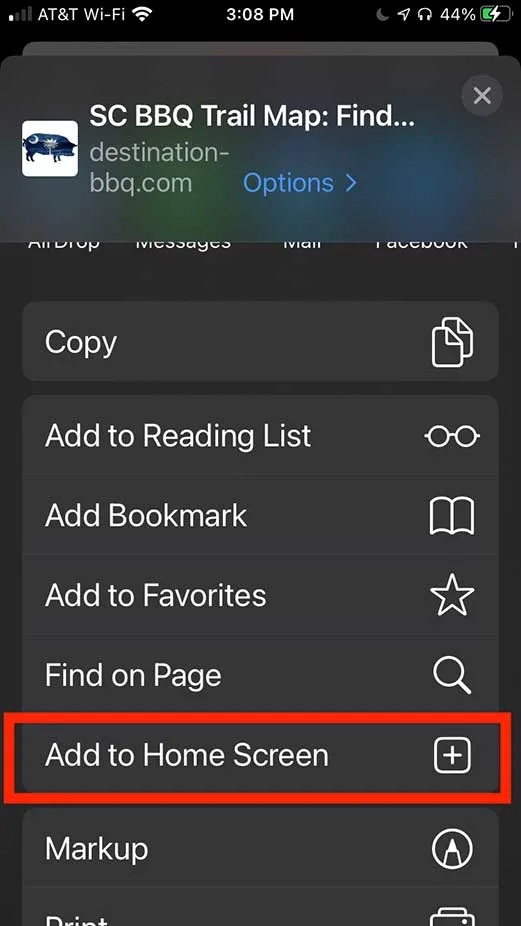 That's it!
Now you should have an icon on your device ready to use whenever you need it, without having to remember the address.
Here are more specific instructions for Apple, Android, and even Windows devices.
Like What We're Doing?
Want to see more coverage and features? Just want to show your support?
The South Carolina Barbecue Trail Map
(Note: CALL AHEAD. Most of these restaurants are not chains and many are not open daily. Occasionally, the good folks who run these restaurants close early because they've run out of food or close altogether to go on vacation or to tend to other, more pressing business. If you don't want to make a trip in vain, we strongly advise calling ahead.)
---
---
SC BBQ Road Trip: A Restaurant Field Guide
Yea, the map above is great, but sometimes, it is helpful to look at things in a different way. That's why we've undertaken our SC BBQ Road Trip series.
South Carolina barbeque has a long and special history.
Our BBQ is both varied and abundant. In fact, anyone contemplating a road trip through the state could benefit from a guide to help them find all the offerings on the SC BBQ Trail within 10 miles of one of our interstate exits.
To help our famished travelers, we published a series we call SC BBQ Road Trip. These articles serve as an SC BBQ Restaurant Field Guide that documents all the SC BBQ easily accessible from each of the interstates that intersect our state.
If you love SC BBQ as we do, you will appreciate this guide.
Curious? Ready to hit the road?
START YOUR ENGINES HERE or just click on the options below:
SC BBQ Road Trip Articles:
I-26: The First 100 Exits (Landrum – Chapin)
I-26: The Final Exits (Columbia – Charleston)
---
SC BBQ Cookbook
Love SCBBQ? Check out the first edition of our cookbook: SCBBQ Recipes: Going Whole Hog. Learn more about it in this article where we first announced it.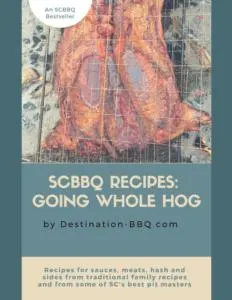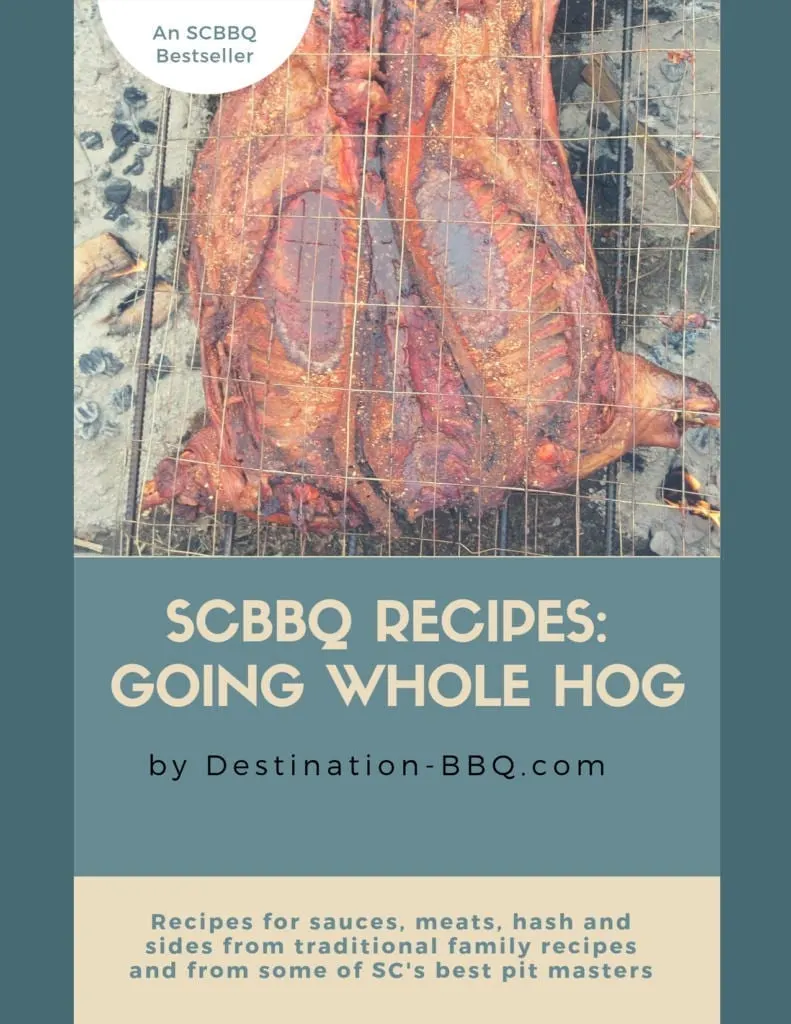 Packed with over 150 pages of recipes and stories from old family recipes to today's top SCBBQ pitmasters.