Who makes the best barbecue in South Carolina?
This post may contain links from which I earn a commission. Please read my disclosure policy. As an Amazon affiliate, I earn from qualifying purchases.
It won't be long before all your friends are saying that you do, once you start using the authentic recipes in our SC BBQ Cookbook.
In SCBBQ Recipes: Going Whole Hog, 1st edition, we have assembled all of our most delicious recipes into one convenient and comprehensive package. Instead of having to search all over our website, you'll have all our published recipes — and many more we haven't published online — organized and accessible in one easy-to-read and easy-to-search e-cookbook.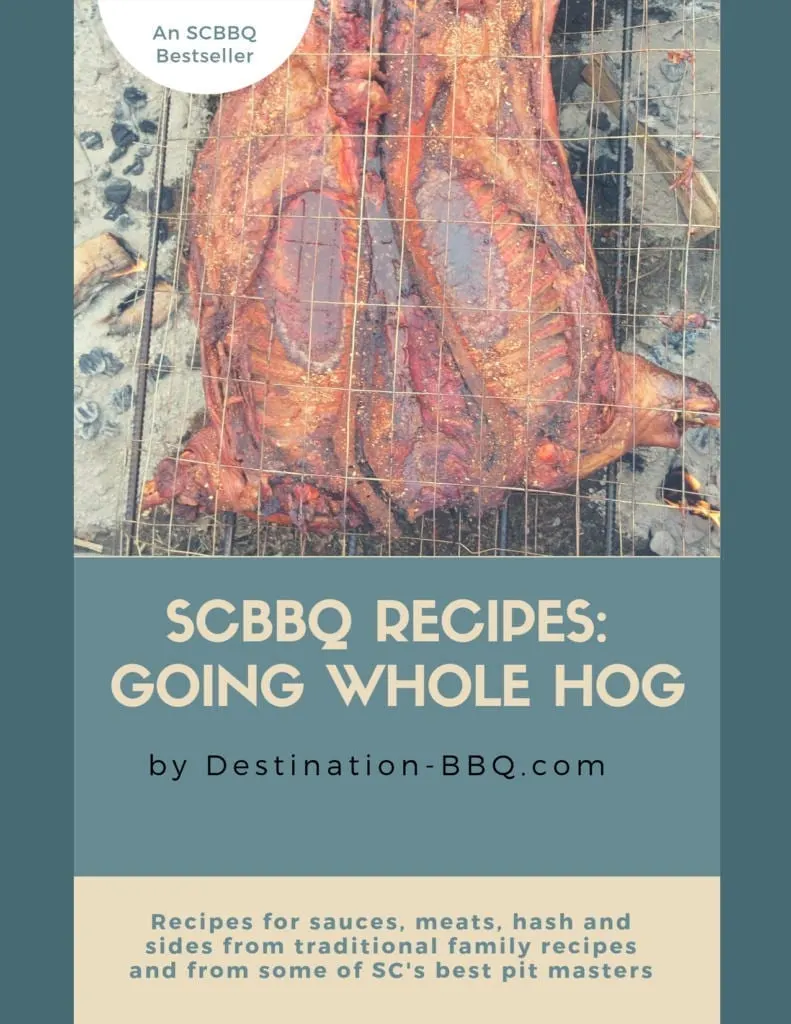 What's in the cookbook?
This e-cookbook is organized into four sections, covering almost 150 pages of recipes, history and more:
Sauces and Rubs
Hash
Meats
Sides
Each recipe comes complete with not only the ingredients and instructions needed to create the dish, but also includes the story behind the recipe or some background information about the person, family, or restaurant who created it.
Where do the recipes come from?
The collected recipes come from some of SC's most renowned pitmasters, it is true; however, many of the recipes are from generations-old family recipes that readers submitted to us. So, you'll find recipes from pitmasters John Lewis and Rodney Scott alongside family recipes from regular folks like Dustin Moore and Michael Ott.
And while we published the "actual recipe" for Dukes amazing "Rust Gravy" BBQ sauce, we also have a copycat recipe for the onion rings made so famous by the Bessinger family.
We also cover a South Carolina original, hash, in-depth.
Hash varies around the state. South Carolina — arguably the birthplace of BBQ — has yellow hashes and red hashes, and while most SCBBQ places serve pork-based hashes, we also take a look at an upstate beef hash recipe in honor of Rep.Olin R. Phillips that is so good that you can simply serve on a bun as they did at Willard's in Gaffney so many years ago.
So, the recipes come from wide-ranging sources and cover just about everything you'll find in an authentic SCBBQ restaurant.
Tell me about some of the recipes:
What an amazing digital collection of authentic SCBBQ recipes we have assembled for you. If you love SC BBQ as we do, you will appreciate this collection.
There are so many great recipes, we wouldn't know where to start. What if we just list them all?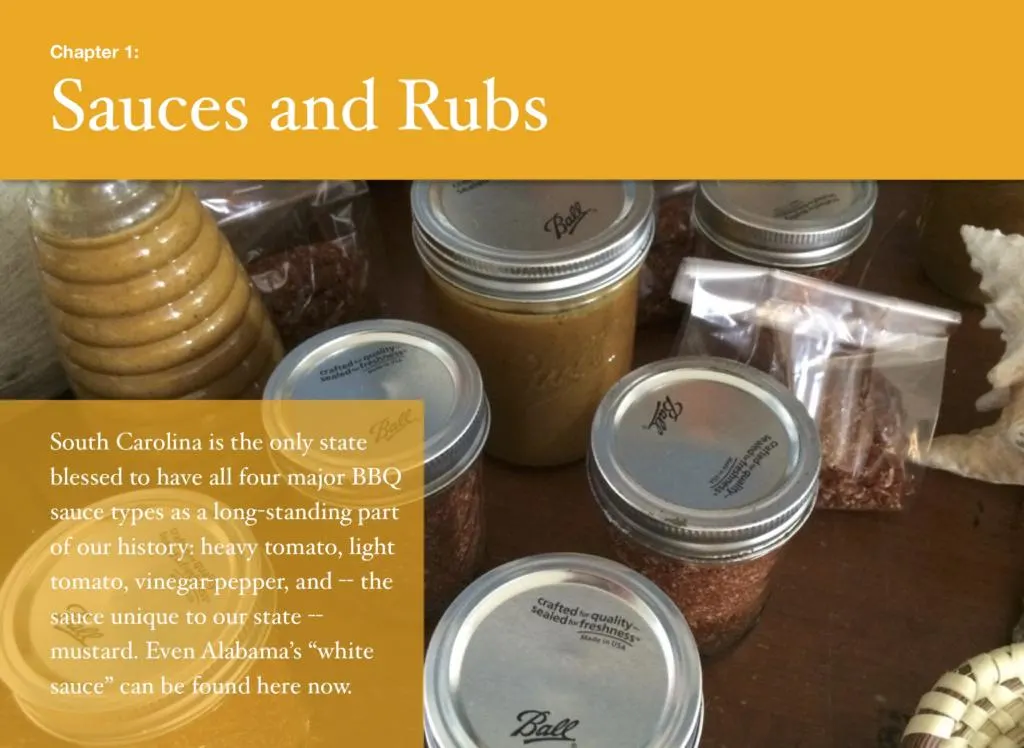 Sauces and Rubs:
Vinegar-Pepper Sauces
Jay Phillips' Whole Hog Sauce Recipe
Dad's Mop Sauce Recipe
Eastern SC Vinegar-Pepper Sauce Recipe
Moore Family's Little Fisher Hog Sauce Recipe
Lowcountry Vinegar Sauce Recipe
Mustard Sauces
Swig & Swine's Mustard BBQ Sauce Recipe
Dukes BBQ-Style Sauce Recipe
Dukes BBQ Sauce – "Actual Recipe"
Simple South Carolina Mustard Sauce Recipe
Bessinger's-Style Gold Sauce Recipe
Tomato-Based Sauces
John Padgett's Kansas City BBQ Sauce Recipe
Honey-Hickory Barbecue Sauce Recipe
Bullies BBQs Thin Basting Sauce Recipe
Cherrywood Signature BBQ Sauce Recipe
"Carolina Red" Light Tomato Barbecue Sauce Recipe
Basic Tomato Barbecue Sauce Recipe
Other Sauces
Home Team BBQ

Alabama White Sauce

Recipe
Moe's Original BBQ's Alabama White Sauce Recipe

Brisket

Mojo Sauce Recipe
Roller Family Hot Sauce Recipe
Salsa Verde with Avocado for Pulled Pork Recipe
Rubs
Sticky Fingers' Basic Dry Rub Recipe
Sticky Fingers' Sweet Rib Rub Recipe
Sticky Fingers' Texas Rub Recipe
BlackJack Barbecue Dry Rub Recipe
Home Team BBQ Dry Rub Recipe for Chicken Wings
John Lewis BBQ-Style Brisket Dry Rub Recipe
JB's Smokeshack-Style Spicy Dry Rub Recipe
---

Meats
Whole Hog
Building a Cinder Block Pit
Cooking a Whole Hog
Pork Cuts
Pawleys Island Pulled Pork Recipe
Swig & Swine's Smoked Ham Recipe
Jimmy Hagood's Sweet & Spicy Smoked Pork Recipe
Jimmy Hagood's Barbecue Pork Shoulder
Jimmy Hagood's Slow-Cooked Dry Ribs
Aaron Siegel's Firefly Sweet Tea Bourbon-Glazed Pork Ribs Recipe
Chicken
Home Team BBQ's Smoked Chicken Wing Recipe
Tiger O'Rourke's Bacon Maple Bourbon Chicken Wings Recipe
Billy Quinn's Fruity Beer Can Chicken Recipe
---

Hash
Dukes BBQ-Style Hash Recipe
Aull Family Thanksgiving Hash Recipe
Andy Jumper's SCBBQ Hash Recipe
Carolina Outdoor Cooking's Easy Hash Recipe
Jason's Red Hash Recipe
Olin R. Phillips's Upstate Beef Hash Recipe
---

Sides
Rodney Scott's Collard Greens Recipe
Rodney Scott's Banana Puddin' Family Recipe
Melvin's Legendary Collard Greens Recipe
Fried Corn, Shuler's BBQ-Style
Swig and Swine's Pork Rinds with Tabasco, Honey, & Blue Cheese Recipe
Swig & Swine's Pimento Cheese Recipe
Swig & Swine's Quick And Easy Creamy Coleslaw Recipe
Swig and Swine's Beans with Brisket Recipe
Home Team BBQ's Mac and Cheese Recipe
Home Team BBQ's Collards Recipe
Jimmy Hagood's Cast-Iron Skillet Corn Bread With Cane Syrup Recipe
Jimmy Hagood's Lowcountry Brunswick Stew Recipe
John Lewis's Hatch Green Chile Corn Pudding Recipe
Lewis Barbecue-Style Cole Slaw Recipe
John Lewis's Buttermilk Potato Salad Recipe
John Lewis's Hatch Chile-Cheese Biscuits Recipe
Price's Bar-B-Que's Macaroni and Cheese Recipe
Price's Bar-B-Que's Broccoli Cornbread Muffins Recipe
Joe Dabney's Palmetto-Style Hush Puppies
Bessinger's Copycat Onion Ring Recipe
---
How do I get a copy?
Copies are available for purchase here.
What's next?
This is only the beginning.
We have already heard from several SCBBQ pitmasters and restaurants who want to be included in the second edition, including more recipes from Home Team BBQ and Melvin's Legendary BBQ along with new contributions from pitmaster Gregg Howard of Charleston's RightOnQue. And while we don't anticipate releasing a second edition until this time next year at the earliest, it is never too late to begin collecting!
If you have a favorite family recipe, we'd love to publish it on the site and include it in the next edition as well. Recipes can be submitted here or emailed to me at [email protected].
In addition, we expect to release a first edition print version of this cookbook in conjunction with the second edition of the digital version.
So, lots coming, but lots to enjoy now!