This post may contain affiliate links to Amazon or other vendors I trust. Please read my disclosure policy. As an Amazon affiliate, I earn from qualifying purchases.
While no one who knows Maurice's BBQ sauce recipe is going to share the specific ingredients of the "Piggie Park" classic Southern Gold mustard sauce, it doesn't take much to figure it out. In fact, it's kind of obvious, but more about that in a moment.
A Brief History of South Carolina Mustard-Based BBQ Sauce
According to Maurice's Piggie Park website, he "began cooking with his dad at the young age of 9. When it came time to open his own restaurants, Maurice took everything he'd learned from Joe, including the recipe for his secret sauce, and opened Maurice's Piggie Park in West Columbia, SC."
Was this the origin of that "Carolina Gold" mustard BBQ sauce so many people talk about?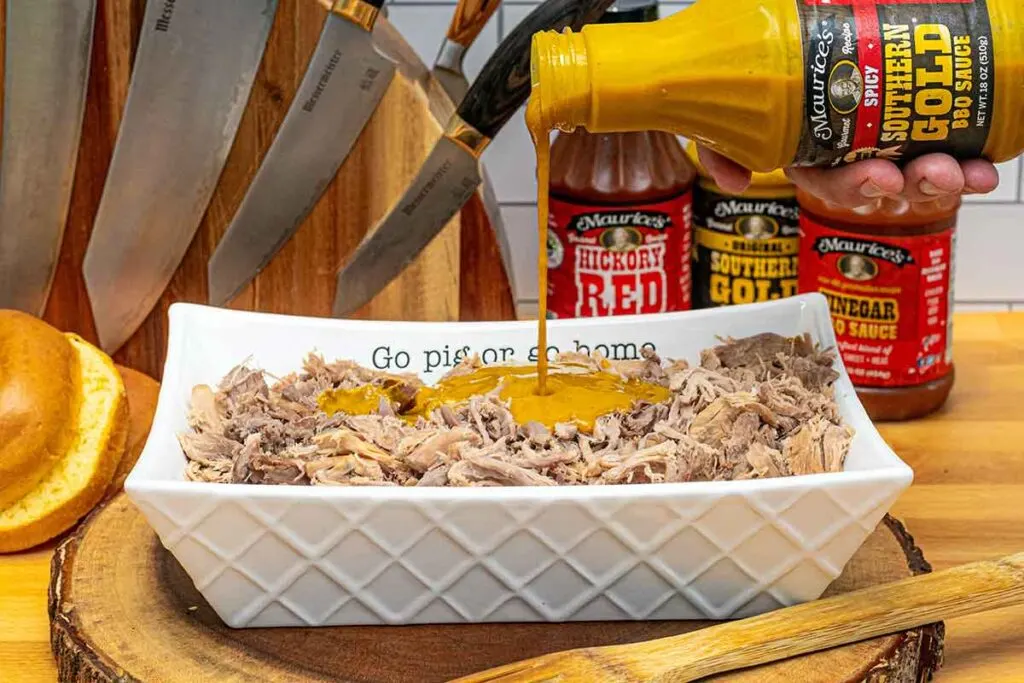 Big Joe
Maurice Bessinger's father, lovingly known as "Big Joe" Bessinger, may well have been the person who invented mustard-based barbecue sauce. This means not only that Maurice's mustard sauce recipe makes a classic old-fashioned mustard BBQ sauce, but that this recipe makes the original South Carolina mustard sauce.
There is likely no greater authority on the subject than food historian and Southern Living BBQ Editor Robert F. Moss. In his book Barbecue Lovers The Carolinas, he wrote the following:
Was Joe Bessinger the very first person to create a barbecue sauce based on mustard?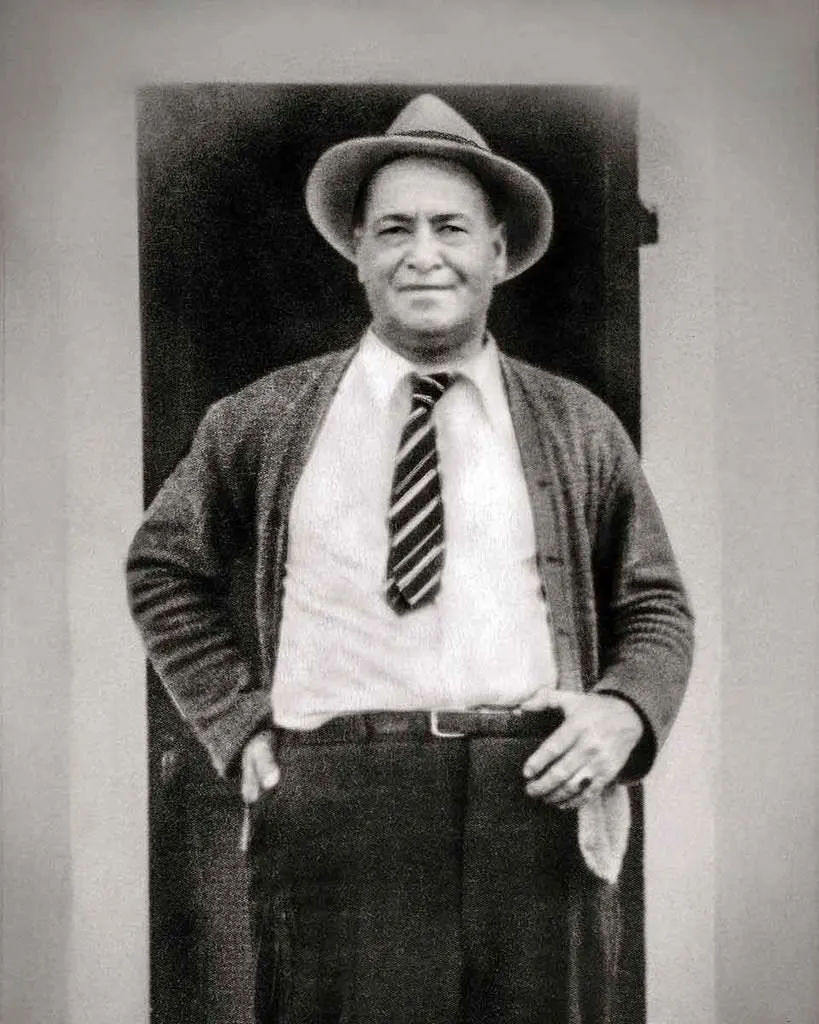 Perhaps; I have not found anyone else claiming to have done so earlier, but there is one historical fact that isn't in dispute:
In 1939, Joe Bessinger decided to try his hand at something other than farming, and he sold one of his cows and used the proceeds to open the Holly Hill Café in the town of Holly Hill, South Carolina.
It was there that at least five of Joe Bessinger's sons — Joe David, Melvin, Robert, Thomas, and Maurice – learned to cook whole hogs over hickory woods and make their father signature sweet mustard-based barbecue sauce recipe.
The Boys
Each of those boys went on to open their own barbecue joints, spreading the gospel of that "Carolina Gold" mustard sauce from the Midlands of South Carolina to its coast. None made more of an impact than Maurice Bessinger.
(On this site, we provide in-depth coverage of the origin of mustard-based barbecue sauce and extensive coverage of the history of barbecue itself.)
At its height, Maurice's Piggie Park restaurants dotted the state, covering Columbia and spreading from North Augusta to Orangeburg to Santee.
At one time, there were 14 locations. As of this writing, they have consolidated to 9 restaurants, all in the Columbia Metro area.
Maurice Bessinger's legacy was built on hickory-cooked 'cue, yellow Carolina hash, and his father's special Southern Gold BBQ sauce recipe.
Like What We're Doing?
Want to see more coverage and features? Just want to show your support?
Ingredients in Maurice's BBQ Sauce Recipe
Maurice's old-fashioned mustard sauce recipe is really quite simple to make. And fortunately, it's made with common kitchen ingredients.
As we mentioned, no one is giving away the exact recipe, but the good folks at Piggie Park have done us the favor of printing it out for all to see. All you have to do is take a look at their label.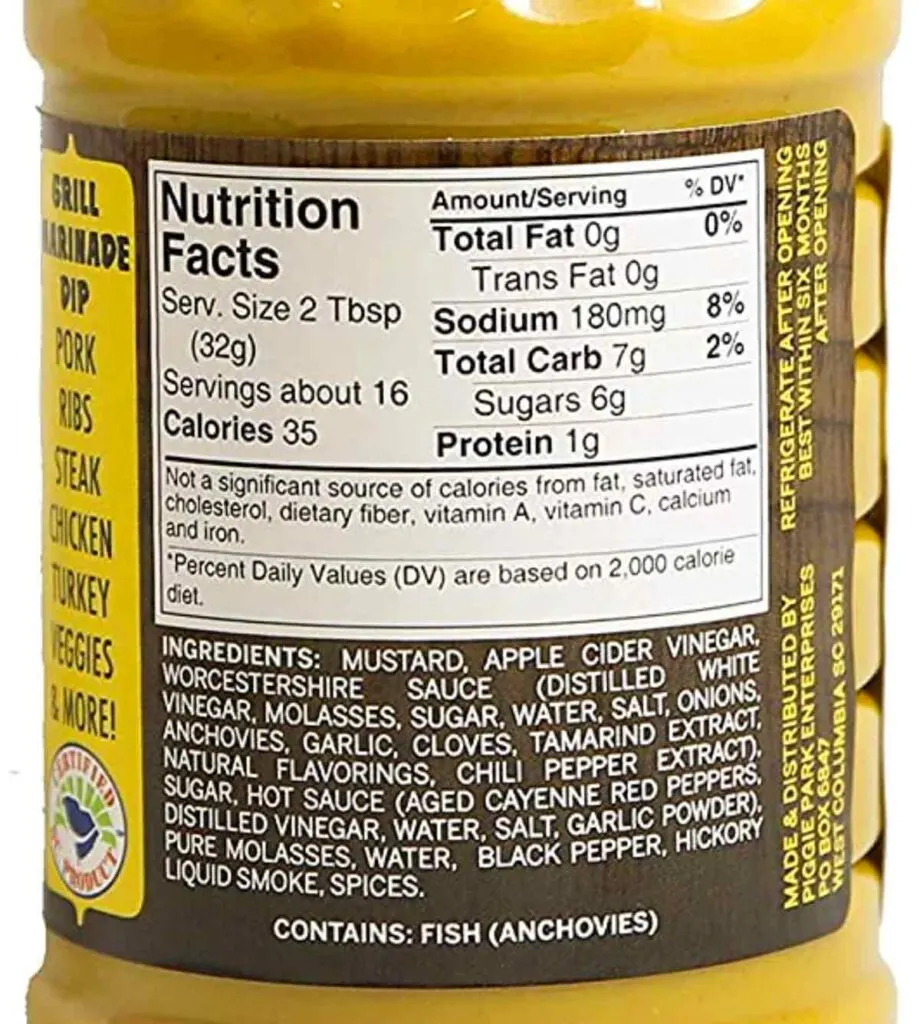 You can clearly read the primary ingredients in Maurice's Original Southern Gold BBQ sauce. Here they are in order:
Mustard (yellow mustard)
Apple Cider Vinegar
Worchestershire Sauce
Sugar
Hot Sauce
Molasses
Water
Black Pepper
Hickory Liquid Smoke
Spices
Because of the specification of the ingredients in the Worcestershire sauce and the hot sauce, we are also able to make an educated guess as to the specific brands used.
Which Brands?
For the Worcestershire sauce, it seems very likely Piggie Park uses Lea & Perrin's sauce in Maurice's BBQ sauce recipe. Here is the ingredient label for Lea & Perrins: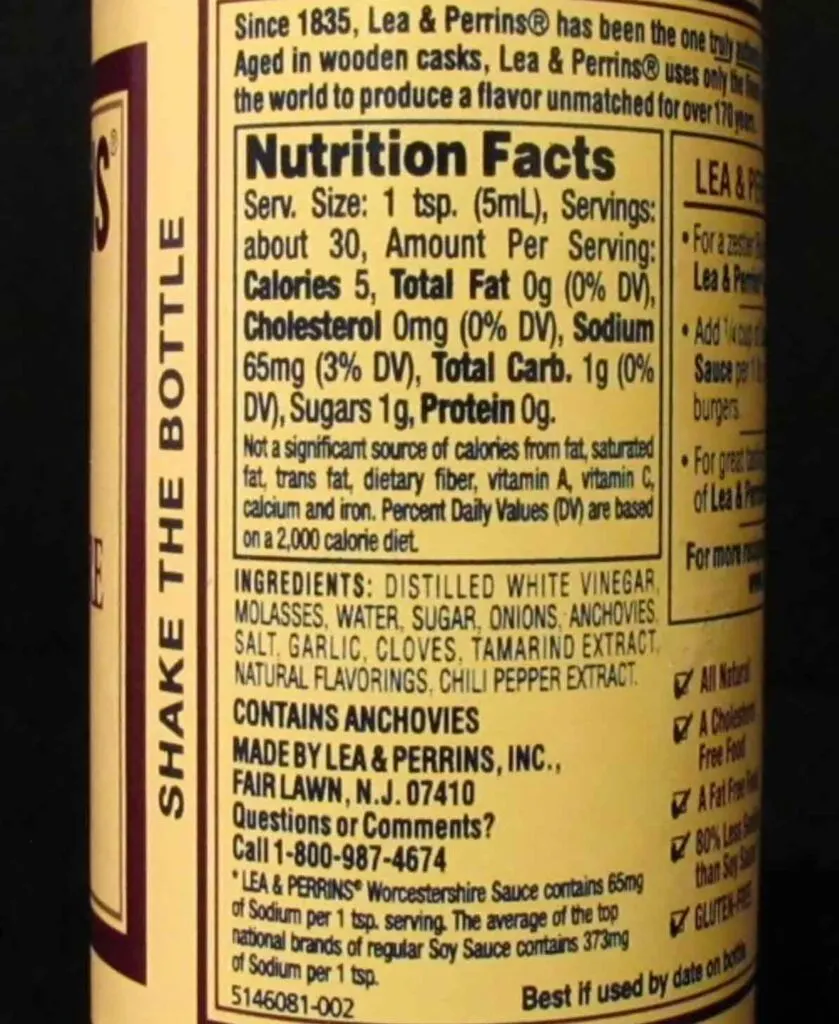 The ingredient list is identical and in almost exactly the same order, with a couple of ingredients swapping spots. That said, we're fairly confident you can substitute any good brand of Worcestershire sauce without noticing.
As for the hot sauce, that's where you're going to find the greatest diversity of heat and flavor. While you certainly can substitute any hot sauce, we're confident that Frank's Red Hot sauce is the specific hot sauce used in Mr. Bessinger's Southern Gold sauce recipe.
The hot sauce listed in the Piggie Park BBQ sauce recipe contains "aged cayenne red peppers, distilled vinegar, water, salt, and garlic powder." Again, we can just compare labels.
Here's the Frank's Red Hot ingredient label:
The likelihood seems strong that Frank's is the hot sauce of choice in Maurice's barbecue sauce recipe.
The Reality of Trying to Copycat Maurice's BBQ Sauce Recipe
Matching the flavor profile becomes a bit trickier knowing that other variables are at play.
What brand of prepared mustard do they use? What kind of molasses? And what do they mean by "spices"?
The truth is that trying to match every brand to get the perfect concoction is a fool's errand. Even if it were possible, there are bound to be subtle differences.
Maurice's BBQ sauce, brewed by the thousands of gallons, uses commercially-provided bulk quantities of each ingredient. Those products are bound to vary from the versions sitting on grocery store shelves.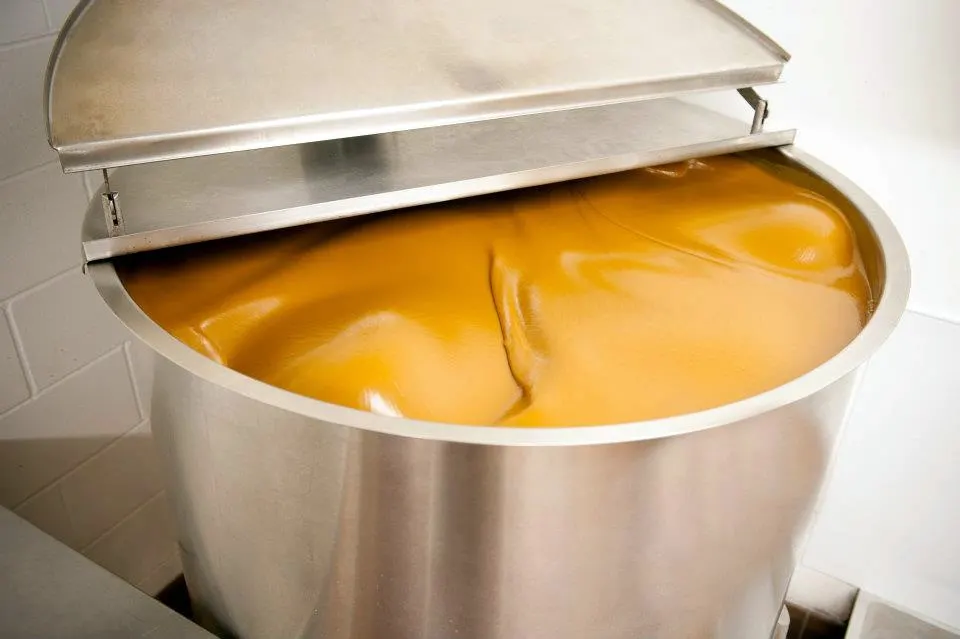 What you can achieve is a recipe that comes damned close, and that's what we've provided below thanks to a contribution by one of our recipe testers, Joe Mullaney.
Maurice's BBQ sauce is easy to make at home, but what if you'd just rather buy the original?
Fortunately, that's easy enough, too.
Where to Buy Maurice's BBQ Sauce
The Southern Gold sauce they serve at Piggie Park, along with each of their other sauces, is available in any number of retailers.
In fact, Maurice's website lists over 70 retail locations where this old-fashioned mustard BBQ sauce is sold in South Carolina alone. In addition, they list over a dozen states outside of SC where you can purchase Piggie Park's BBQ sauce on-site, from Texas to Delaware and beyond.
For most people, however, there are two simple options for ordering online.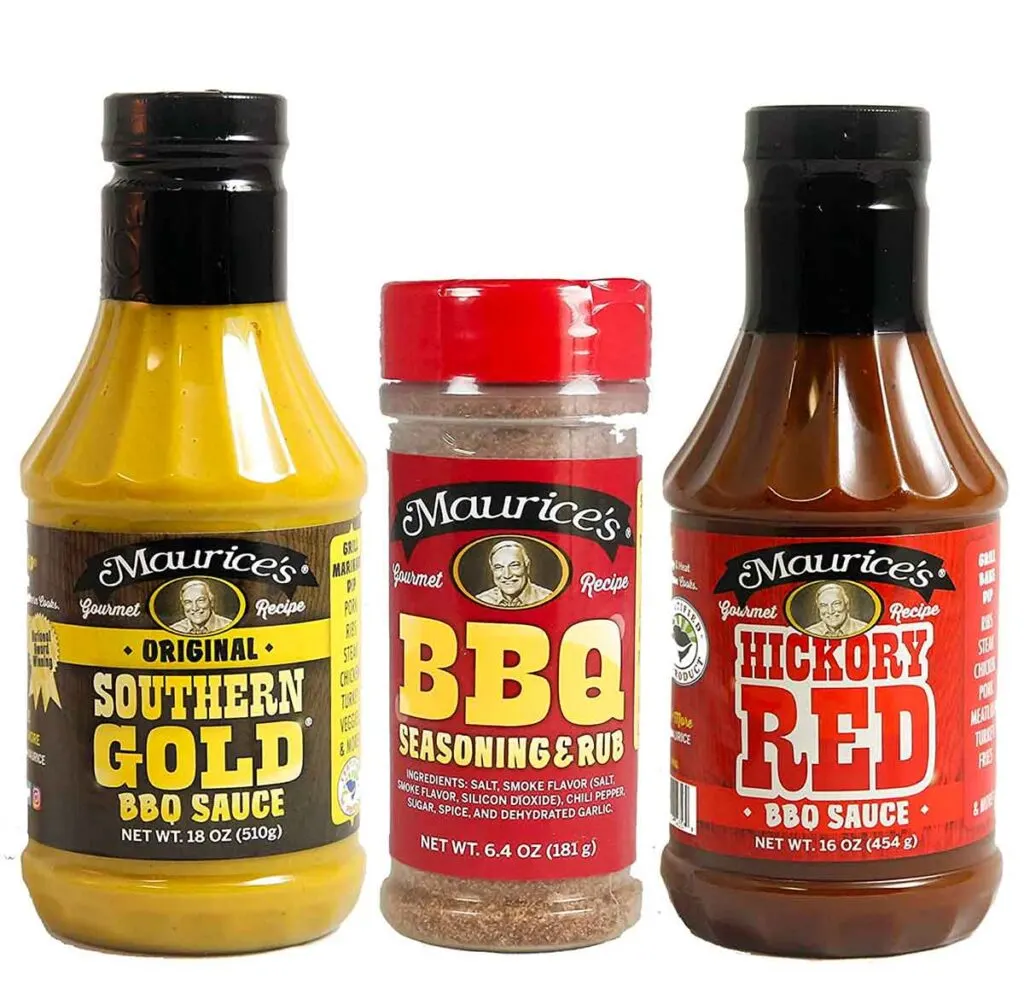 The easiest choice is to order Maurice's BBQ sauce from Amazon. Here, you'll find multipacks, variety packs, single bottles, gallons, Southern Gold, Hickory Red, Spicy, and even their dry rub.
The other option is to purchase the sauce directly from Maurice's web store.
On their website, Piggie Park offers many of the same options as Amazon. Not only that, you can order many of their menu items, including pulled pork, hash, and ribs. They are happy to ship all of this nationwide.
You can even join their BBQ of the month club. True Carolina Gold!
(Check our catalog of other authentic SC BBQ products.)
What does Mustard BBQ Sauce Taste Like?
You might be surprised to learn that mustard-based barbecue sauces in South Carolina offer a wide range of flavor profiles.
For example, one type of mustard sauce historically found in the Columbia area is very strong on the standard yellow mustard flavor. Today, you'll find an example of this style of mustard sauce at Hite's in West Columbia.
If you'd like to try such a sauce, you can make it at home using Harry Hite's recipe.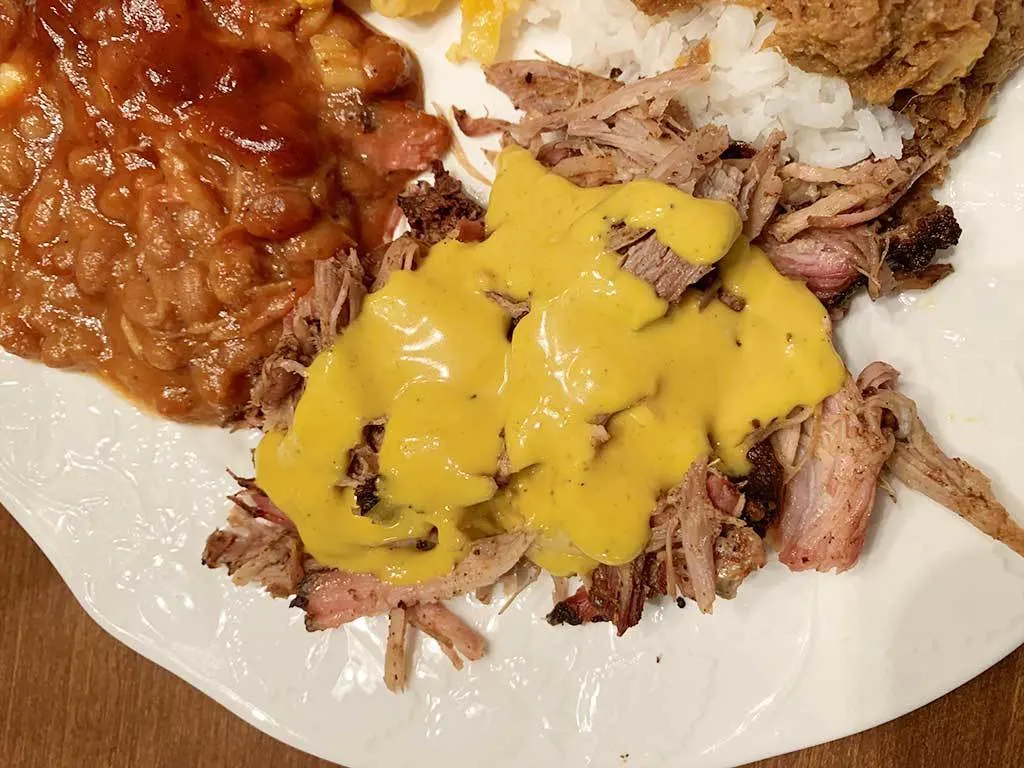 Another type of mustard sauce can be found at any of the many Dukes BBQ restaurants. While they aren't actually a chain, they are all very similar and they all serve a mustard sauce that incorporates ketchup and mayonnaise.
Dukes mustard sauce recipe is sweeter and not as sharp as you'd find at Hite's.
Then you can enjoy the Bessingers' mustard sauce recipe made famous by Big Joe which flooded across the state thanks to his sons. In addition to Piggie Park, you can sample this style of sauce at Bessinger's in Charleston and Melvin's in Mount Pleasant or at Melvin's on James Island.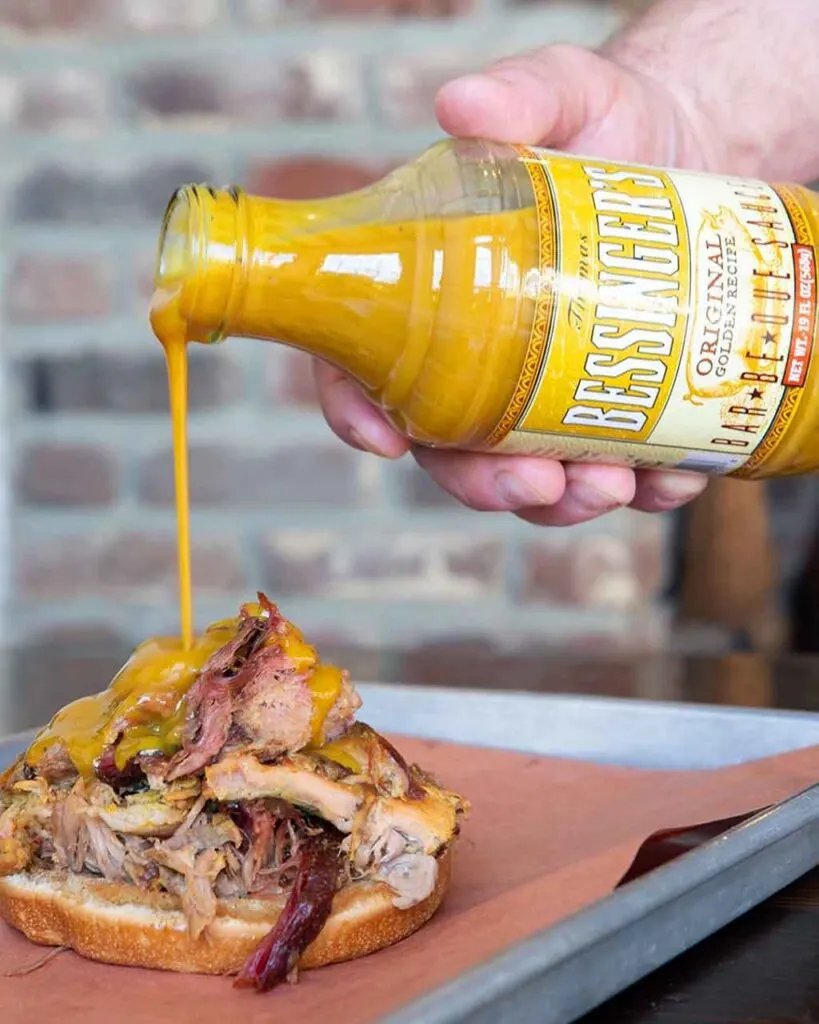 Maurice's BBQ sauce recipe is bold but balanced. The vinegar and sweeteners nicely complement the yellow mustard base. The spices round it out offering a subtle heat and additional depth that melds them all into the perfect copycat of Maurice's Southern Gold.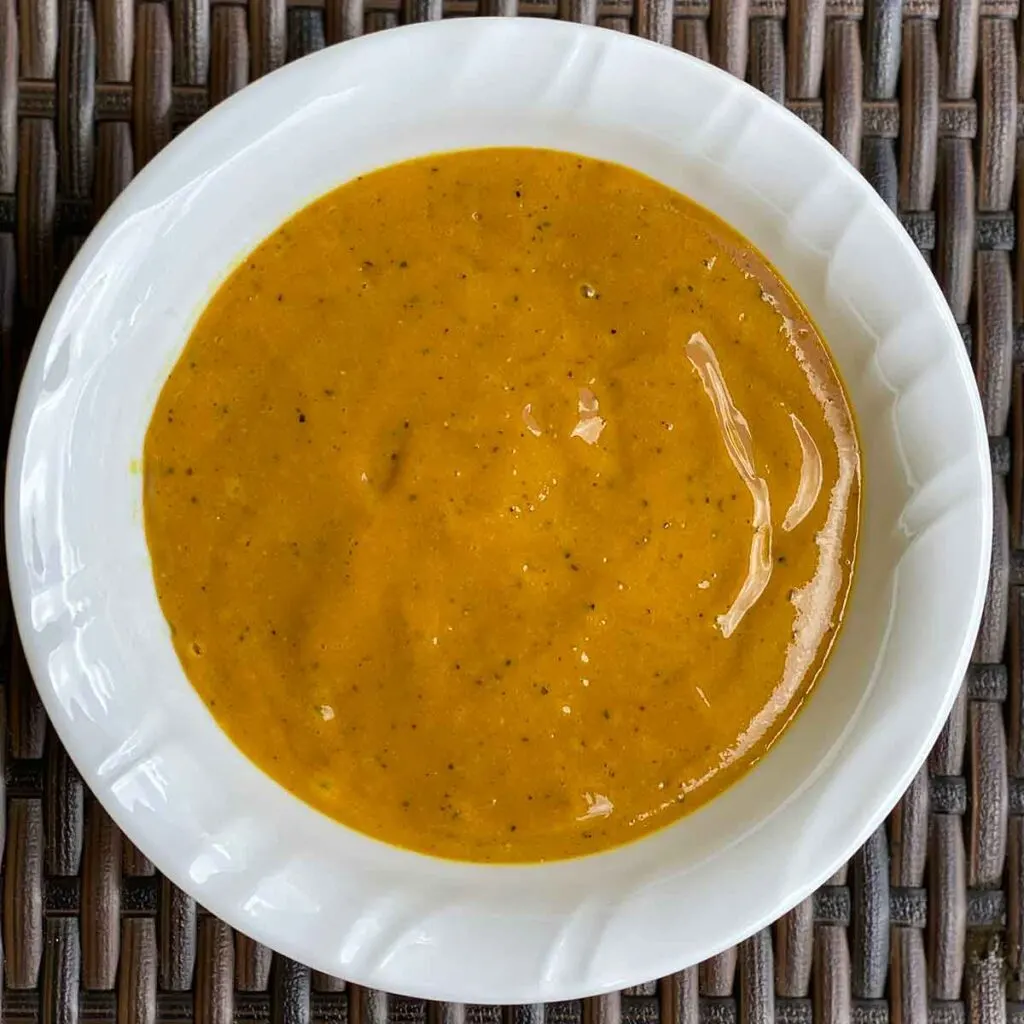 How to Make Your Own Southern Gold BBQ Sauce
It is so easy to make your own homemade Carolina Gold BBQ sauce, just like the sauce you get at Maurice's Piggie Park. And all it takes is about 20 minutes.
You will need to gather the following ingredients for this recipe:
Yellow Mustard
Brown Sugar
Apple Cider Vinegar
Black Pepper
Hot Sauce
Worcestershire Sauce
Liquid Smoke
Molasses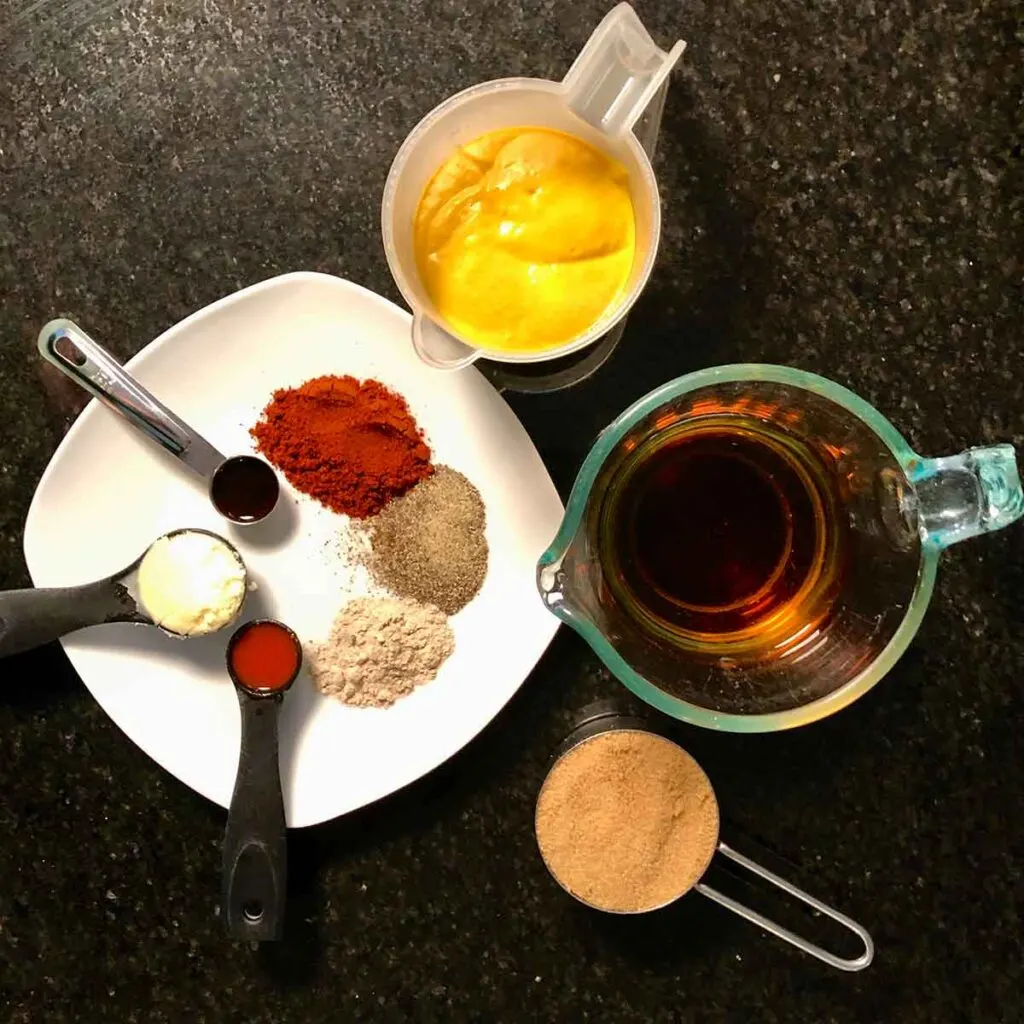 Measure out your ingredients for the mustard sauce and most of the work is done. Next, add the ingredients to a small saucepan and whisk together.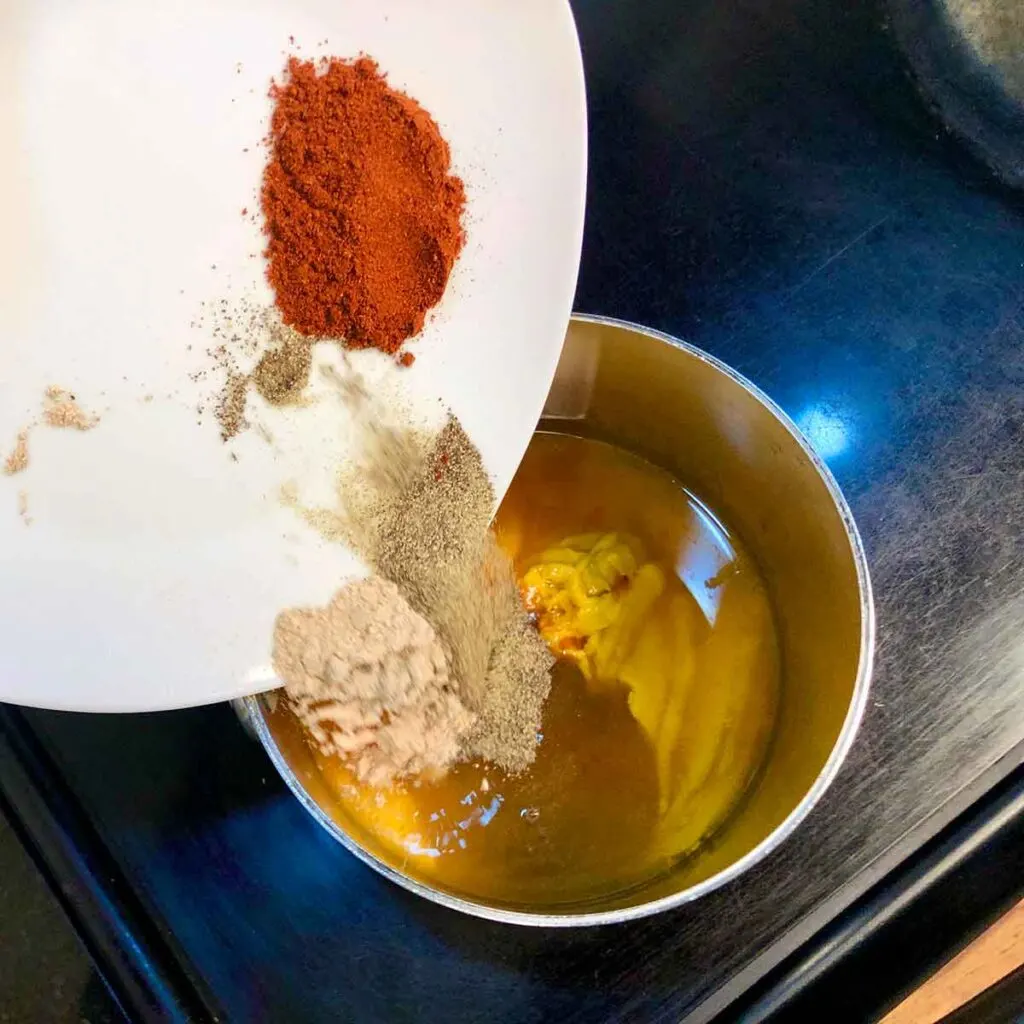 All that's left to do from there is to bring the whisked ingredients up to temperature and simmer for about 15 minutes. (Do not boil.)
This will bring all the flavors together quickly, and it's ready to use or cool and store for later. Note that the sauce thickens nicely when refrigerated.
And this makes the perfect dipping sauce for this Bessinger's onion rings copycat recipe.
Frequently Asked Questions
How long does homemade mustard BBQ sauce last? How long will it last in the fridge?
The safe answer to this question, like with most other food items, is 3-5 days. Since we have not had the recipe tested, that would be our official recommendation. However, common sense suggests a much longer shelf life when kept refrigerated.

In fact, virtually every ingredient in mustard BBQ sauce is an item that does not even require refrigeration. And many of those are used in other applications as preservatives (vinegar, salt, sugar, etc.) Simply understand the risks if you choose to use your homemade mustard BBQ sauce after the safe period we recommend. According to the nutrition label on Maurice's Southern Gold mustard sauce, if you refrigerate after opening, the sauce is "best used within six months."
Have you ever canned/processed mustard-based BBQ sauce?
This recipe has not been officially approved for canning, so we cannot recommend you do so. That said, understanding the risks, we have and do can mustard-based barbecue sauce ourselves. In fact, you can see us doing just that in the featured image for this amazing mustard BBQ sauce recipe (also not officially approved for canning).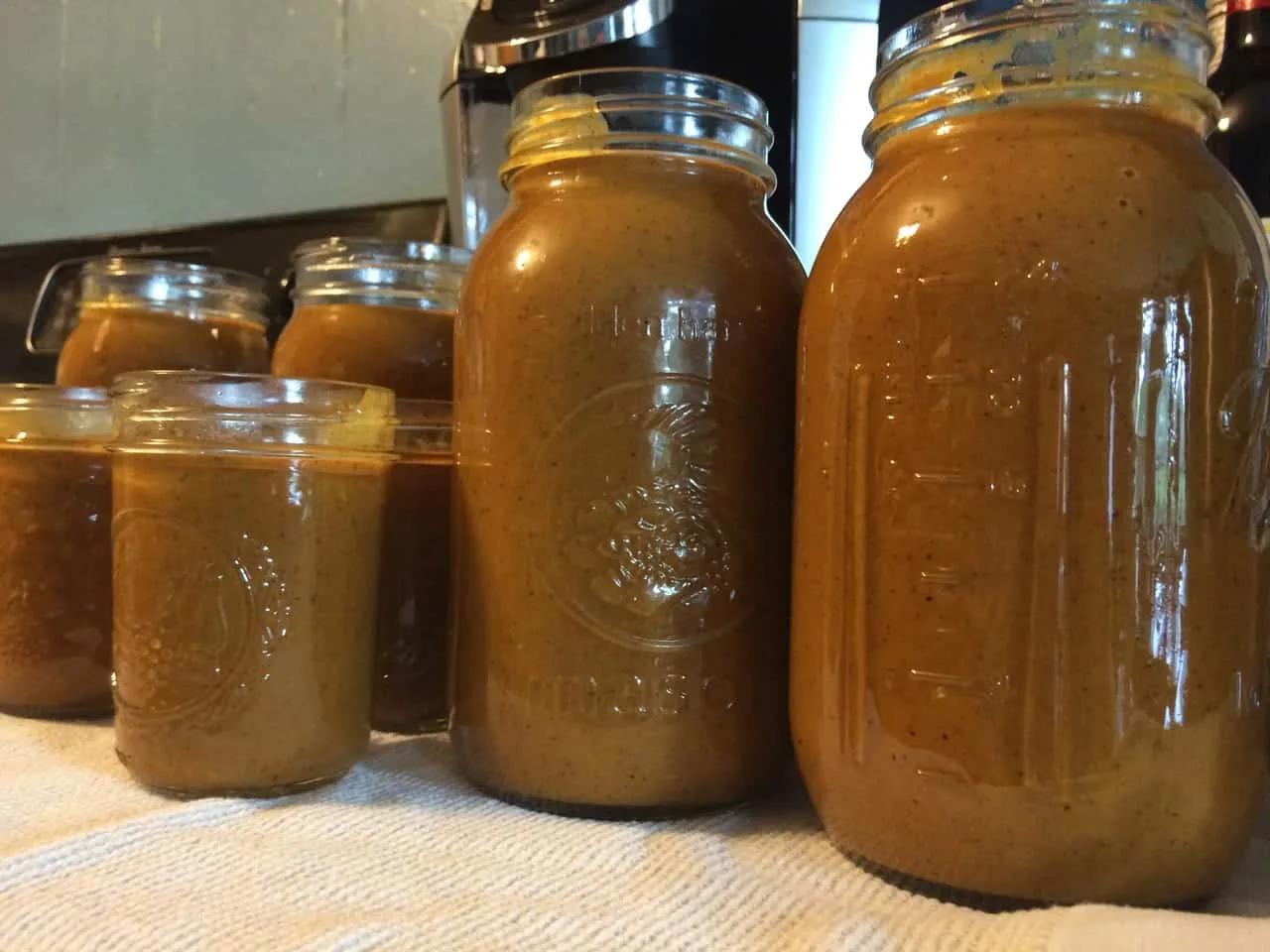 Can this recipe be used as a marinade?
Definitely, you can use this recipe as a marinade for chicken or other meats. I would caution, however, to use it as a quick marinade, as opposed to overnight. While I haven't done it, I suspect the vinegar would possibly "cook" the meat in much the same way other acids do. I suspect 1-3 hours would be fine.
Is it necessary to simmer this sauce when making it?
No, it's actually not necessary to cook the sauce, but I would. Simmering does a great job of melding the flavors more quickly, but it would be both fine and safe to eat without cooking.
Would other types of mustard, like dijon mustard, work?
No, not if you're trying to make a true old-fashioned South Carolina mustard sauce. We use yellow mustard almost exclusively. I have never tried one with a different type of mustard as the base. However, if you're feeling adventurous, there's no reason not to give it a try.
What substitutes would work for this mustard-based BBQ sauce recipe?
For those with diabetes or watching sugar intake, you could substitute Splenda and a bit of molasses for the brown sugar. Vegans could simply substitute a vegan Worcestershire sauce. Other vinegar types could be substituted for the apple cider vinegar, but like using different types of mustard, this will alter the flavor profile.
What else can I use mustard-based BBQ sauce on?
Obviously, mustard-based barbecue sauce is amazing on pulled pork, but it also goes well on most smoked meats, particularly chicken and ribs, and even other meats like pork chops or beef.

Interestingly, people have also reported using this sauce on foods like pretzels, quesadillas, white rice, french fries, and more. I know vegans and vegetarians who use it to make BBQ jackfruit.
Like to Volunteer as One of our Recipe Testers?
We have a bookful of recipes to test and publish. Join the team and choose from our collection of unpublished recipes.
All we ask is that you photograph the process and share your thoughts on each recipe and the finished product. And we'll feature you when we publish that recipe.
Interested? Just send me an email.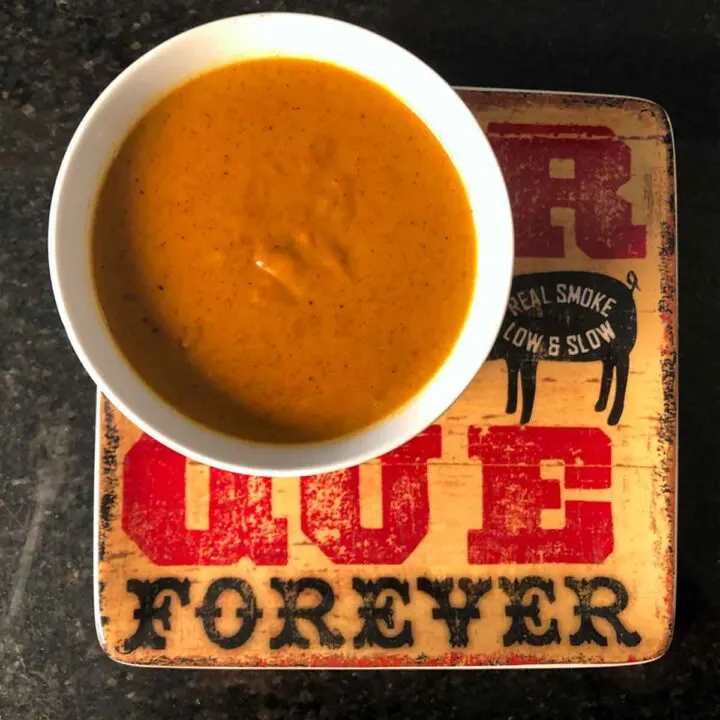 Maurice's Southern Gold Mustard BBQ Sauce Recipe (Copycat)
Maurice Bessinger's original secret recipe started a South Carolina BBQ tradition – a sweet, tangy mustard-based sauce that is preservative-free, gluten-free and has no fat or cholesterol.
Ingredients
1 Cup Yellow Mustard
½ Cup Brown Sugar
½ Cup Apple Cider Vinegar
¼ Teaspoon Black Pepper, ground
½ Teaspoon Hot Sauce, Franks preferred
¾ Teaspoon Worcestershire Sauce
¼ Teaspoon Liquid Smoke
¼ Teaspoon Molasses
Instructions
Combine all ingredients in a saucepan and simmer for 15 minutes or until desired consistency is reached.
Notes
We use brown sugar in this recipe. The ingredients on the label for Maurie's Southern Gold mustard sauce call for white sugar and molasses, which is exactly what brown sugar is.
If used while on the grill, the sauce should be on meats cooked with the indirect heat method and applied toward the end of the cooking process because the sugar in the recipe could caramelize and burn.
Optional flavoring ingredient upgrade to consider: bourbon.
Nutrition Information:
Yield:

20
Serving Size:

2 Tablespoons
Amount Per Serving:
Calories:

41
Total Fat:

1g
Saturated Fat:

0g
Trans Fat:

0g
Unsaturated Fat:

1g
Cholesterol:

2mg
Sodium:

198mg
Carbohydrates:

6g
Fiber:

1g
Sugar:

5g
Protein:

1g