Dukes Bar-B-Que on Chestnut in Orangeburg
This post may contain links from which I earn a commission. Please read my disclosure policy. As an Amazon affiliate, I earn from qualifying purchases.
"Wow, I'm so glad I took a chance!" writes Paige F. on Yelp.
"The restaurant itself is sort of a run-down, hole-in-the-wall type place, but we picked up their BBQ to-go platter and brought it back to the hotel. The Mac and cheese is unreal.
"The sauce was perfectly sweet and definitely a mustard base (which usually I don't like-but trust me it's amazing). If you're in the area and are looking for good BBQ, try this place!"
That's Dukes Bar-B-Que she talkin' about.
A Little History
When it comes to SC BBQ, Dukes is one of South Carolina's most important family names. You will find a number of Dukes restaurants scattered around the Lowcountry of South Carolina.
However, Dukes is not a franchise or a chain. Despite what many people assume, all of these locations are loosely tied by family connections, but they are all separate entities. Earl Dukes is the renowned patriarch of the collection.
Dukes opened his first BBQ restaurant in Orangeburg at the corner of Chestnut Street and Columbia Road in 1955. His legacy and reputation would reach far beyond the confines of the city limits and spawned a collection of restaurants that spread from Orangeburg across toward the Savannah River and east to Charleston.
Earl Dukes Jr., who bought the restaurant from his father in 1985, said at the time that "there are probably 20 (barbecue restaurants) in the state that use the Dukes name to ensure a good following."
The younger Dukes eventually closed "The Original Earl Dukes Bar-B-Que" on the Charleston Highway, marking the end of an era for that arm of the Dukes family. But the legacy lives on in Orangeburg and beyond.
Dukes Bar-B-Que Today
Today, the descendants of Ann and Harry Ott, Jr., own and operate the Dukes Bar-B-Que on Chestnut Street. Harry's mother Elma was Earl Dukes' sister.
"We're a part of the Dukes family," Mrs. Ott said. "Uncle Earl is the best known in the barbecue business, but actually, his brother Danny was the first Dukes in the business.
He taught Uncle Earl how to barbecue. All the Dukes Barbecues are owned by members of the family except for two."
The Otts opened their first barbecue restaurant in St. Matthews in 1965. They moved the business to Orangeburg to the Chestnut Street location 10 years later.
"We still use the same old family recipe," Mrs. Ott said. "The one that Uncle Danny taught Uncle Earl.
"We cook on Wednesdays, Thursdays, and Fridays. We probably use about 50 to 55 pigs a week."
If you're on a road trip and find yourself near Orangeburg, you'll definitely want to take a step back in time and stop by Dukes Bar-B-Que on Chestnut. True, old-school SC BBQ at its best. Just take Exit 145 off of Interstate 26 and Dukes will be a short 4 miles away.
NOTE: BRING CASH. Dukes Bar-B-Que on Chestnut does not accept cards.
This article by Robert Moss reveals a bit about this family BBQ business and its history, going back to the original Earl Dukes restaurant in Orangeburg that started it all.
What Folks say about Dukes Bar-B-Que
The general consensus is the same as the picture painted in the opening lines above. Dukes Bar-B-Que is a quintessential old-school, no-frills SC BBQ joint. And that's the kind of place those in the know go to find the best of SC BBQ.
In fact, the SC BBQ Association has named Dukes one of the Top 100 BBQ houses in the state.
In the review of Dukes Bar-B-Que, Lake High, founder of the SCBA (see links below) wrote the following: "Well, when you step into Dukes Bar-B-Que on Chestnut Street in Orangeburg, you have stepped back into yesteryear.
The restaurant is a plain white cinderblock rectangle. The only outside sign is the one painted on the building. Inside the tables are all long picnic-style that you sit at jointly with other barbeque purists.
The buffet is the smallest in the state just barbeque, hash, rice and slaw with loaves of bread at the end. Just the essentials.
And they take cash only, no cards and no checks. Just like 1950."
Read the full review here.
On Yelp
John D. was so impressed with Dukes Bar-B-Que that he wrote quite the novel about it on Yelp:
"This is the greatest BBQ JOINT in South Carolina!
There are many, but the "cement shed" is the place to go! I've been going there for over 20 years. The building is basically a large concrete block shed with wooden picnic benches.
The eat-in menu is pretty simple - an all-you-can-eat buffet with some homemade dessert offerings and pork rinds...It is nothing fancy, but SO GOOD! You get a choice of rice and hash, pulled pork with thick mustard-based sauce, coleslaw, and pickles.
Sweet tea is the drink of choice, but they will get you unsweetened if requested. They have a working soda machine as well. A loaf of white bread is on every table.
"That's about it. You just fill your plate, grab a cup of tea, and sit down and enjoy!
Pitchers of sweet tea are at the tables. Dinnerware is Styrofoam plates and plastic utensils. It doesn't get more basic than that.
You can go up to the buffet as often as you like. The record for me is 3x. I've had one friend go 5x, but he didn't last the ride home without stopping... You can fill up nicely with two plates.
"The place is heated in the winter, as well as cooled in the summer.
I hope Dukes Bar-B-Que is at 789 Chestnut forever! When I was in graduate school at USC in Columbia, I would drive every other Saturday evening to Orangeburg for the 'cue.
It was about a 40-mile one-way commute. Well worth it!
I know others, including myself, that have driven over 8-hours, one-way when the urge calls. You have to love old-time South Carolina BBQ and be able to eat in a place that is very low-scale.
The pulled pork never disappoints, nor the mystery meat hash that goes over the rice. It is so yummy and has such a unique taste. They cook the hogs right out back in a pit.
"Dukes Bar-B-Que does a brisk take-out service and now has a drive-through window.
Personally, I hate the drive-through window, I understand why they did it, but it takes away from the atmosphere of folks eating in, around the picnic tables - sharing fishing, hunting, Carolina football, and all sorts of great stories.
It now seems that 95% of their business is drive-through. I think it is a loss of a significant culture, but such is the world in the 21st century.
"For newbies: dress casual, it's an all-cash transaction, they are only open Thursday to Saturdays (11:00 AM to 9:00 PM-ish), and if arriving late, call ahead as they do run out of 'cue on busy days."
What more can you say?
Menu for Dukes Bar-B-Que on Chestnut in Orangeburg
Note: Menu prices and options are subject to change over time. Contact the restaurant for the most up-to-date information.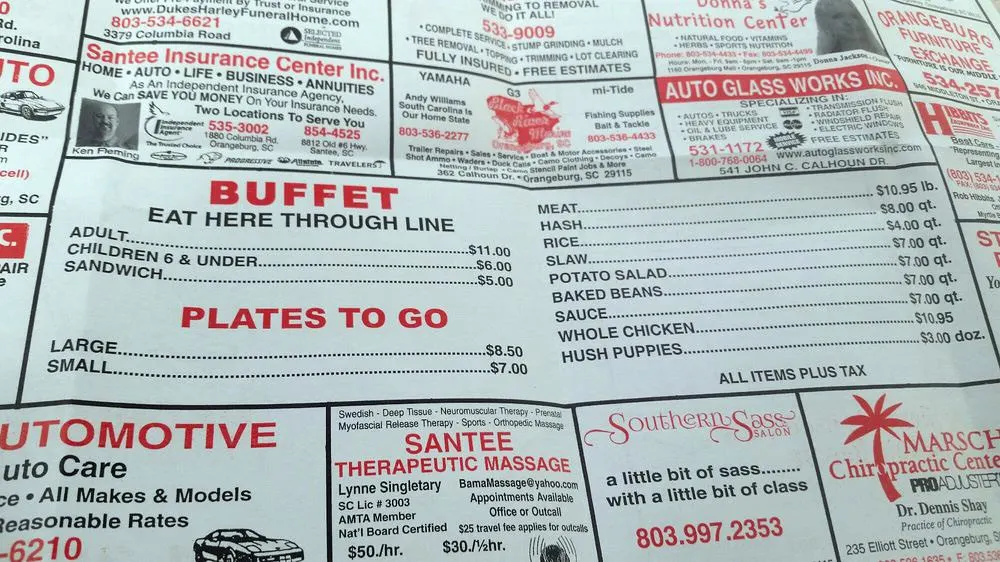 Location, Hours, Contact Info, and More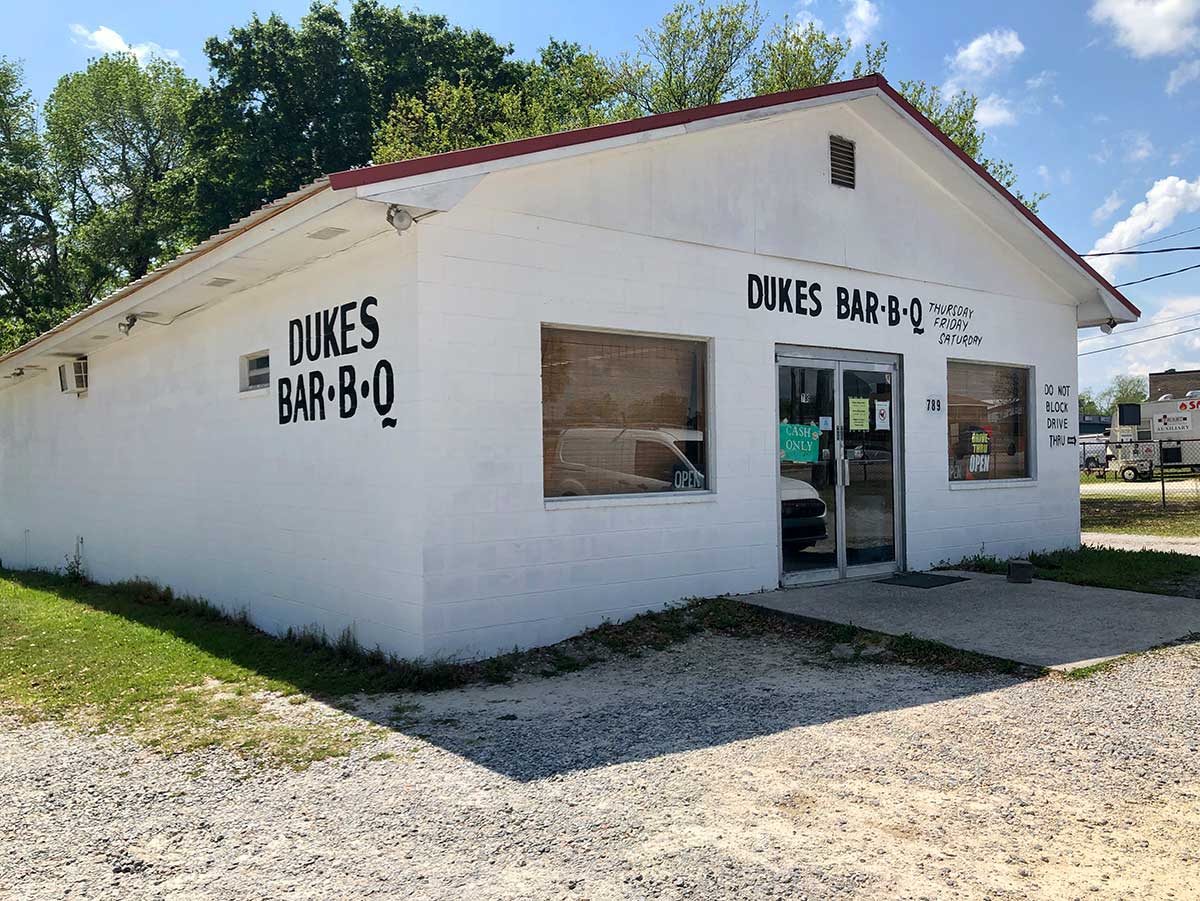 Map
Directions
Contact Dukes Bar-B-Que on Chestnut in Orangeburg
789 Chestnut Street NE
Orangeburg,
SC
29115
Hours of Operation
| | |
| --- | --- |
| Monday | Closed |
| Tuesday | Closed |
| Wednesday | Closed |
| Thursday | |
| Friday | |
| Saturday | |
| Sunday | Closed |
Review Sites
Features
Buffet, Cash Only, Hash, Heavy Tomato Sauce, Light Tomato Sauce, Mustard Sauce, Vinegar Pepper Sauce