Listen to this Destination: BBQ article.
This post may contain affiliate links to Amazon or other vendors I trust. Please read my disclosure policy. As an Amazon affiliate, I earn from qualifying purchases.
What's the Best BBQ in Charleston, SC?
The simple truth is that you can't go wrong with Rodney Scott's BBQ or with Lewis Barbecue in downtown Charleston. No one is going to argue that these two aren't elite, but that's not all there is to the story. Read on…
If you're looking for a true South Carolina barbecue experience, only one of these great restaurants will come close to providing that…and even that option is a more modern, one-sided take on what is a multifaceted history.
And if you're just looking for the single best BBQ restaurant in Charleston, the surprising news is there isn't one. There are several, each with its own specialty.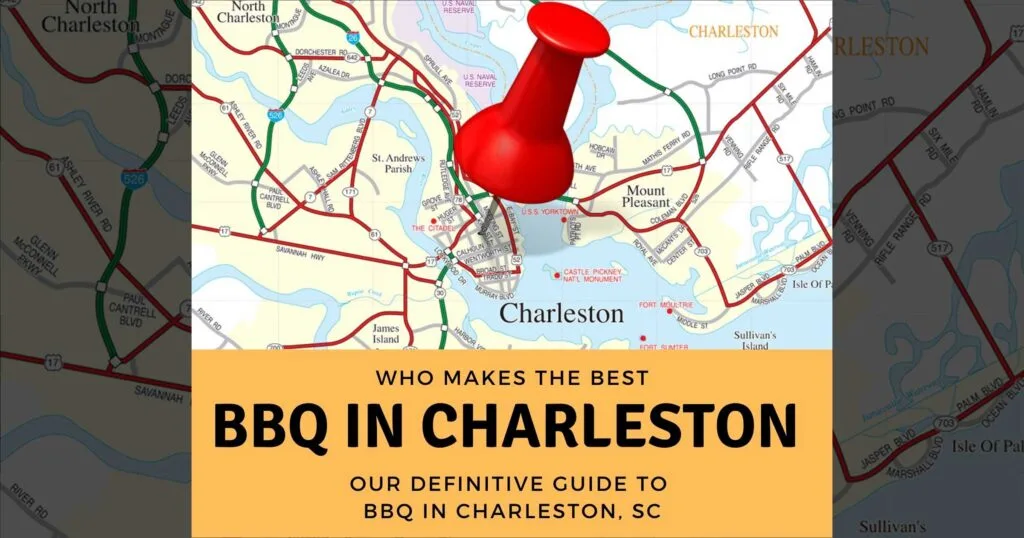 Is Charleston known for BBQ?
While the history of barbecue may well begin in this state, BBQ in Charleston, SC, wasn't really a draw most people will confess. However, the city, has seen an amazing resurgence in recent years.
When we first started covering South Carolina barbecue in 2012, Charleston maintained its classic restaurants that had stood the test of time. And like any community, it had its share of mom-and-pop joints that came and went.
However, despite having already become a dining destination at the time, BBQ in Charleston, SC, was not yet experiencing the same evolution and acclaim.
Just a few years later, that began to change.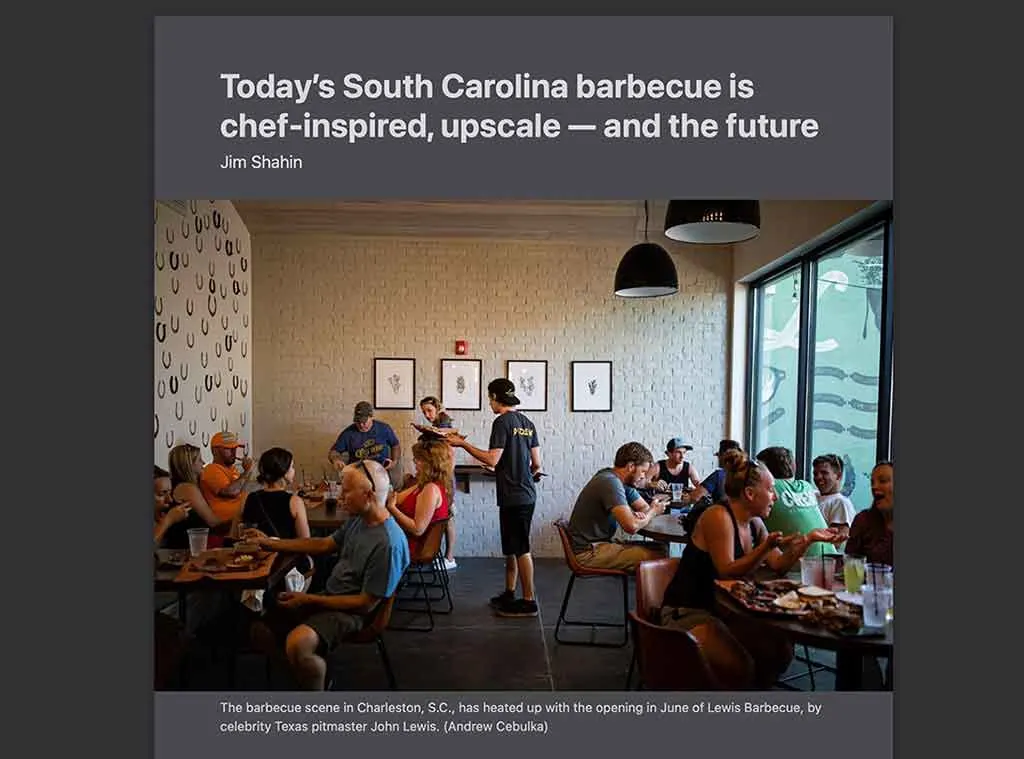 In 2016, Jim Shahin, "Smoke Signals" columnist with The Washington Post, wrote a piece entitled "Today's South Carolina barbecue is chef-inspired, upscale — and the future." He began the article with the following line:
"With apologies to Bruce Springsteen, I have seen the future of barbecue, and it is Charleston, South Carolina."
"Historically, the so-called Holy City hasn't been a barbecue town. Recently, though, its barbecue scene has been on fire."
Today, those fires are burning even brighter.
Overall, BBQ in Charleston, SC, offers a range of options from bare-bones, old-school joints to those more modern, chef-inspired takes on our regional brand of barbecue. Frankly, there are lots of choices.
But what's the right choice to make?
Let's find out: (Note: these are presented in no specific order.)
Like What We're Doing?
Want to see more coverage and features? Just want to show your support?
The Definitive Guide to BBQ in Charleston, SC
This guide to BBQ in Charleston, SC, will be broken down into sections, each with its own page.
First, we'll look at those "must visit" locations that offer something special, either because of the sheer quality of their barbecue or because of their historic or representative importance.
Next, we'll examine each of the other restaurants in the area based on geographic location. Their exclusion from the "Best BBQ in Charleston" group is not meant to suggest they are not worthy of your patronage.
One final note: despite the title of this article, there are some restaurants we have left out of this "definitive" guide. You will not find a single national or regional chain in our directory.
If you're looking for BBQ in Charleston, SC, you ought to enjoy the local flavor.
Here's how we'll break down our Guide to Charleston BBQ:
The Best BBQ in Charleston
BBQ in Downtown Charleston
BBQ in Mount Pleasant and Beyond
BBQ on James Island and Beyond
BBQ in North Charleston and Beyond
All of these will eventually fall under the greater umbrella of a guide to help people find the Best BBQ in South Carolina.
We'll link to each section as each is published. To start, we'll begin with this section:
The Best BBQ in Charleston, SC
Is there really a "Best BBQ Restaurant in Charleston" that we could single out? Could we go out on a limb and say this place is better than every other?
Maybe there is and sure we could...and we'd probably get lots of visits to this site by doing so. But that would be at best misleading and at worst self-serving.
The truth is that the answer to the question "What is the best BBQ restaurant in Charleston, SC?" demands a full response.
So, here it is:
Just like there is no conclusive best movie ever made or greatest novel of all time, there is no best barbecue restaurant in Charleston. However, almost everyone has his or her favorite movie, novel, or barbecue joint.
Tastes are variable.
So instead of explicitly proclaiming a winner, we'll present you with some of Charleston's best BBQ joints and provide some background on each that might help you find the Best BBQ in Charleston for you.
Here are the best barbecue restaurants in Charleston:
You'll want to visit because Lewis Barbecue you are looking for great barbecue that is a bit different than what you usually enjoy in South Carolina.
Pitmaster John Lewis' BBQ is elite. Few would argue, and his menu is tempting.
You'll go for the brisket, but you're not limited to that. You'll enjoy pulled pork, "hot guts" sausage, pork and beef ribs, and more.
Lewis is from Texas and cut his teeth on the competition BBQ circuit. He helped famed Pitmaster Aaron Franklin open Franklin BBQ in Austin. He also partnered with LeAnn Meuller to open La Barbecue before leaving Texas.
But he set his sights on Charleston after visiting and realizing there was nothing like his barbecue in the area. Lewis certainly offered a new barbecue approach for the area.
However, If you're looking for a true SC BBQ experience, you won't find it here. Lewis Barbecue is Central Texas-style BBQ and not representative of any of the native styles of barbecue South Carolina is known for.
You'll want to visit Rodney Scott's BBQ because of his fame or history, not to mention his exceptional barbecue; however, unlike Lewis, the barbecue you'll enjoy at Rodney Scott's BBQ provides a true taste of authentic South Carolina barbecue.
Sure, Rodney Scott is a James Beard-award-winner (Best Chef Southeast) and yes, they did an entire episode on Rodney in the Netflix series Chef's Table BBQ. The more important thing is that his barbecue is about as old-school SC BBQ as it gets.
Rodney cooks whole hogs over wood embers that he burns down from hardwood logs in a "burn barrel." Throughout the 12-plus hour cooking process, he laboriously shovels those coals under the hogs as needed.
At the end, when Rodney flips the hog, he mops it heavily with a vinegar-and-pepper barbecue sauce. Rodney Scott's vinegar-based BBQ sauce recipe represents another taste that is unique to the Carolinas.
Whole hog. Wood cooked. Vinegar-based. This is the original SC BBQ.
And you should try it. It's special, but that's not all there is on the menu.
In addition, Rodney Scott's BBQ offers ribs, turkey, chicken, catfish, and even his famous ribeye sandwiches.
However, South Carolina is most famous for being the home of mustard-based barbecue sauce, and you won't find that at Rodney's. If you want that experience (and you do), you'll have to go elsewhere.
You'll want to visit Bessinger's Bar-Be-Que because you want to taste what South Carolina is most famous for, great mustard-based, wood-cooked barbecue. The Bessinger BBQ story goes back to the 1930s and it is a story that would change barbecue as we knew it.
In fact, it is widely believed that "Big Joe" Bessinger, patriarch of the Bessinger family, was the first to concoct mustard-based BBQ sauce. His sons learned to cook barbecue and make that now-famous sauce under his tutelage, and then spread out opening restaurants of their own from Columbia to Charleston.
Bessinger's Bar-Be-Que was originally opened "West of the Ashley" by two of Big Joe's sons, Thomas and Melvin. Today, the restaurant is run by Thomas's sons, Michael and Tommy.
Bessinger's is special because of that lineage, but they also make this list because of the quality of their barbecue.
The South Carolina Barbeque Association, the group that trains the judges for most of the SC BBQ competitions, bestowed Bessinger's with its highest designation for a restaurant: 100-mile BBQ.
At Bessinger's, you will find plates, sandwiches, and baskets with pulled pork or chicken, ribs, brisket, turkey, 1/2 chickens, and wings. All with the right kick of smoke.
In addition, there are a wide range of sides, amazing burgers, and their famous onion rings. And let's not forget their hash.
Hash is an SC BBQ delicacy that you'll find at about half of all restaurants in the state. And you won't find hash at Lewis' or Rodney's.
However, there is another Bessinger-family restaurant in the Charleston area that is also worth a visit, offering an equally authentic SC BBQ experience.
You'll want to visit Melvin's Bar-B-Que because you're looking for authentic South Carolina mustard-based barbecue.
Like its not-so-distant-cousin restaurants in Columbia in Charleston, Melvin's in Mount Pleasant offers wood-cooked barbecue and is a direct descendent of the Big Joe Bessinger legacy.
Just over 50 years ago, Joe Bessinger's son Melvin struck out on his own to open Melvin's Legendary Bar-B-Que in Mount Pleasant, splitting away from his brother Thomas at Bessinger's in Charleston.
Like Bessinger's, Melvin's has also been dubbed 100-Mile BBQ by the South Carolina Barbeque Association.
At Melvin's, you will enjoy chopped pork, ribs, brisket, turkey, chicken, and some of the best burgers you've ever eaten at a barbecue joint. In addition, there's an assortment of amazing sides -- like their meaty collards recipe -- and their legendary onion rings.
And, of course, Melvin's serves hash, which if you're looking for a true SC BBQ experience, you'll need to try. Melvin's serves real, old-school SC hash.
However, you might not pick Melvin's if you're looking for more of a chef-driven barbecue experience like you can find at a few of Charleston's best BBQ restaurants.
You will want to visit Poogan's Smokehouse because you're looking for something a bit more upscale -- but still casual -- with a menu overseen by a trained chef.
Poogan's Smokehouse is one of the new generation of barbecue joints in South Carolina. Led by formally trained chefs, places like Poogan's Smokehouse are taking South Carolina barbecue to the next level.
Situated in the heart of the historic district on East Bay St., just off the city market, Poogan's is "classically and casually Southern," getting seasonal products from local sources.
As they say, Poogan's is "charming without pretension, playful yet proven; a seat at Poogan's Smokehouse is a bite into the American South."
On the menu, you'll find ribs, pulled pork, smoked chicken and sausage. Poogan's offers au updated take on the classic SC BBQ original, hash.
And, of course, they offer sides like mac & cheese, potato salad, slaw, and even pork rinds, among other things.
Poogan's Smokehouse's sister restaurant is the famous Poogan's Porch so many tourists and locals alike have enjoyed for over 40 years. It is that tradition of quality the Smokehouse builds upon.
However, Poogan's Smokehouse is not the only "chef-inspired" BBQ joint in town. There are a couple of others.
You will want to visit Home Team BBQ Downtown because Home Team is a chef's playground, and that makes it a BBQ lover's paradise.
"Experimentation is one of the best things about the culinary world and is exactly what drives the "home team" in the kitchen," they write. Their goal is to merge "fundamentals and traditional processes with the slow-cooked meats and comfort food of the South."
As a result, what you get is a BBQ restaurant with great food and a fun, family-friendly atmosphere.
On the menu, you'll find "snacks," salads, sandwiches, tacos, and platters. These, you'll enjoy with pulled pork or chicken, brisket, turkey, chicken, or ribs.
All their meats are wood-cooked, including their signature dish.
The one thing you'll want to try is Home Team's acclaimed smoked chicken wings, and wash that down with their signature cocktail, the GameChanger. And, be sure to ask for their Alabama White Sauce.
In a nod to SC BBQ tradition, Home Team serves hash and rice along with many of the classic sides.
In the end, what stands out about Home Team BBQ is that they aren't stuck on tradition and aren't afraid to try new and exciting ways to prepare and serve great barbecue.
However, Home Team might not be your choice if you're looking for a chef-driven joint serving whole hog barbecue, an SC BBQ tradition.
You'll want to visit Swig & Swine in Charleston because of its chef-driven concept, using only wood as the fuel for its meat-smoking fire. That combination of wood-cooking and chef training merges into a menu that's elite from top to bottom.
Chef Anthony DiBernardo, whose senior yearbook quote proclaims his future as a chef and restaurant owner, has fulfilled those early dreams with a trio of successful restaurants in the Charleston area.
While you would enjoy any of them, the West Ashley location of Swig & Swine is the one you're going to visit from Downtown. Like Bessinger's, it is on Savannah Highway, a few miles west of the Ashley River bordering downtown Charleston, a simple trip.
At Swig & Swine, you'll be treated to a menu that includes whole hog barbecue each Thursday in a nod to a long-running SC BBQ tradition.
Regardless of the day you visit, you'll find pulled pork, pork belly, brisket, chicken, sausage, and ribs on the menu. Sides include Brunswick stew, collards, beans, and, of course, SC BBQ hash.
They offer a variety of sauces including a tomato-based sauce and a vinegar-based sauce. Swig & Swine's mustard-based BBQ sauce recipe is a bit different than the Bessinger's style sauce, offering a nice balance of sweetness and mustard flavor.
In addition, Swig & Swine offers a nice selection of adult beverages and some amazing desserts. You'll want to taste their banana pudding recipe.
However, Swig & Swine might not be your choice if you're looking for another long-running SC BBQ tradition: the BBQ buffet.
You'll want to visit Dukes Barbecue on Folly Road for a variety of reasons.
First, like Melvin's and Bessinger's, Dukes Barbecue is an SC barbecue tradition. The two most important names in the history of SC BBQ are likely Bessinger and Dukes.
Earl Dukes opened the original Dukes in Orangeburg, SC, in 1955. From there, members of the Dukes family spread out across the lower part of the state opening restaurants from Orangeburg to Charleston and beyond.
At the time of this writing, there are 11 Dukes restaurants operating in South Carolina, but they are all independent entities. Dukes is not a chain or franchise.
Beyond the history, you'll want to try Dukes Barbecue because it also represents the only restaurant on this list that offers another SC BBQ tradition: the BBQ buffet.
Dukes is a recent Charleston City Paper Winner for Best Buffet in Charleston.
While the buffet seems to be dying and few SC BBQ restaurants open around that concept, from a customer's point of view, what's not to love? All-you-can-eat BBQ and great southern sides.
Finally, you'll want to try Dukes Barbecue because of their unique mustard sauce and their delicious hash.
Dukes' BBQ sauce recipe is loving referred to as "rust gravy" because of its color. While that doesn't sound appetizing at first, trust us, it is.
Dukes Hash recipe is equally delicious. If you've never tried hash before, you'll want to try the hash at Dukes or at one of the Bessinger-family restaurants mentioned above
However, you might not choose Dukes Barbecue on James Island if you're looking for wood-cooked BBQ. Dukes is the only restaurant to make this list that doesn't use wood as its primary fuel source.
No matter which of these places you decide to visit, we're confident you will have a great experience.
Maybe you'll choose Rodney Scott's for his whole hog, vinegar-based barbecue, or Melvin's or Bessinger's for the wood-cooked, mustard-based experience, or you'll try the new chef-driven options at places like Swig & Swine, Poogan's Smokehouse, or Home Team BBQ, or you'll step out-of-state and enjoy some Texas-style BBQ at Lewis Barbecue.
No matter which choice is right for you, these are the best BBQ restaurants in Charleston, SC.
Visiting Charleston?
Use the map below to find great places to stay. Search listings from Hotels.com, VRBO, Booking.com, and more in one convenient map.
Already have a place? Click on the filter icon to find other great local restaurants or even great experiences to enjoy during your visit.