Fiery Ron's Home Team BBQ in Downtown Charleston
This post may contain affiliate links to Amazon or other vendors I trust. Please read my disclosure policy. As an Amazon affiliate, I earn from qualifying purchases.
Home Team BBQ in Downtown Charleston accommodates every appetite with traditional authentic BBQ, chicken, ribs, and pulled pork.
Each location includes a larger menu of appetizers, salads, wraps, and tacos. Also, we make down-home, finger-lickin' sides and tasty desserts.
In addition, Home Team BBQ can help with large party takeout orders and full-service catering with delivery.
We boast award-winning food, a fun bar, rustic atmosphere, and great entertainment, including weekly live music and sports on the TVs.
Drop by anytime for a work lunch, casual family dinner, or a fun night out on the town.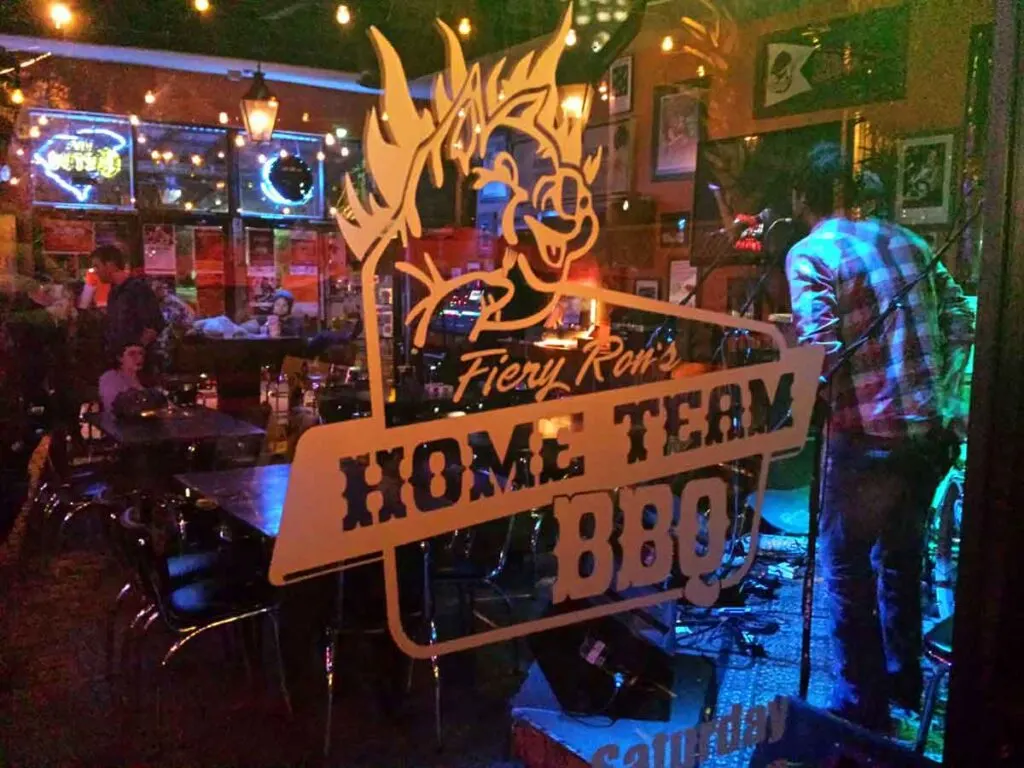 At any given time, we are likely to have over 700 lbs of pork butts, 150 racks of ribs, 300 half-chickens, and 800 chicken wings on the pit. Not to mention the corn, peppers, and mushrooms we smoke alongside them.
Our tempting southern sides could accompany any meal: creamy stone-ground grits, smoked gouda mac 'n' cheese, collard greens, baked beans, and hash and rice all are available daily.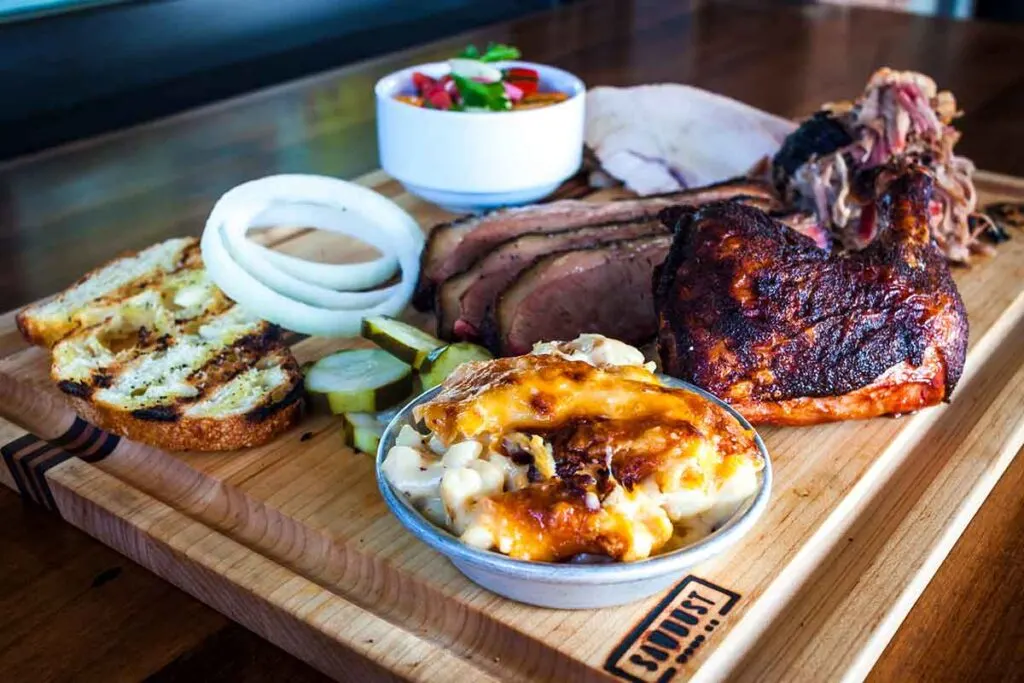 With a full schedule of national, regional, and local touring artists performing plenty of live blues, bluegrass, and Americana/rock/country, there certainly is something for everyone.
Honky-tonks and juke-joints found strewn throughout the southeastern United States served as models for each restaurant. Because of this, our locations themselves enhance the experience.
It's the reason why Home Team BBQ earned a spot on our feature entitled "BBQ in Charleston, SC: The Definitive Guide."
Classic Home Team BBQ Ad:
What Folks are Saying about Home Team BBQ in Downtown Charleston
SCBA Review
The SC BBQ Association, the very organization that trains judges for local BBQ competitions, ranks Home Team BBQ among the elite of BBQ in SC, 100-mile BBQ: BBQ so good its worth driving 100 miles for.
Here's how they began their review:
What do you get when you take 100-mile barbeque, ribs, and chicken wings then add gourmet mac and cheese, collards, Brunswick stew, slaw, and fun? You get Home Team BBQ, that's what you get.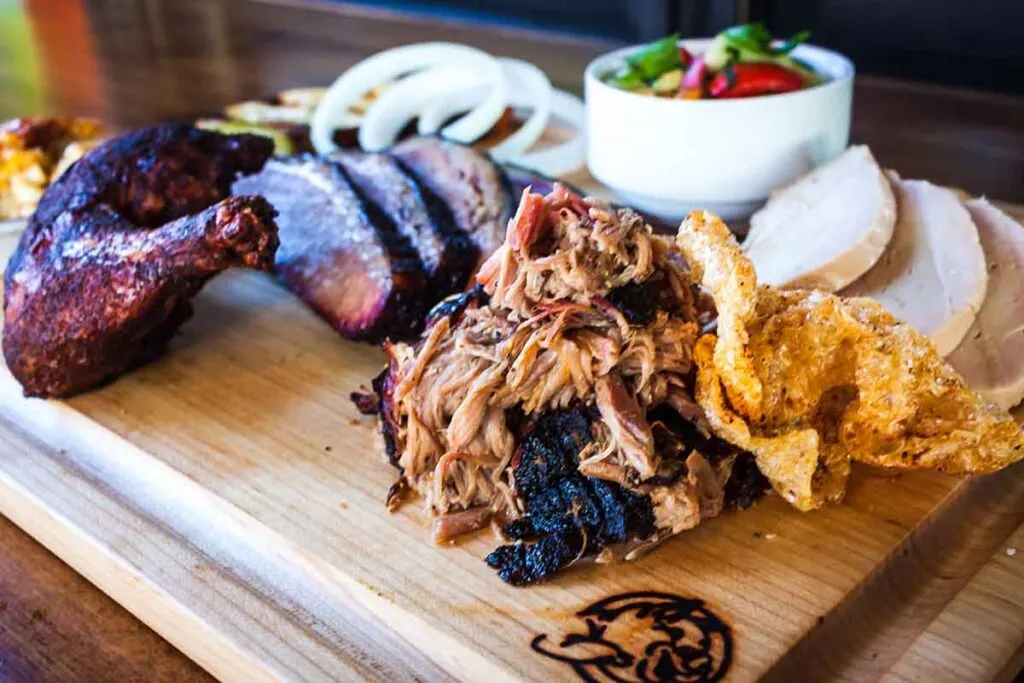 Most really good barbeque in the state is served in traditional restaurants or even what we in South Carolina would call a "joint." It is rare to find 100-mile barbeque in a bar or tavern-style setting.
But that is what you get at Home Team BBQ in Charleston. But it's better than that, it's really more like a neighborhood tavern where you go to have a good time, relax and see friends.
It's just at Home Team BBQ you also get 100 Mile Barbeque to add to that mix.
Google Review
Among the many Google Reviews, Local Guide Chester Hollingsworth, author of 206 reviews, gives a great overview of the Home Team BBQ experience:
Two thumbs up , huge dinning area inside and out.
Patio is also dog friendly. Large bar to match the room. There is also a bandstand on the patio for live music.
The food here is awesomely delicious. The dry-rubbed ribs have perfect flavor as is; the sauces will suit whichever type you like.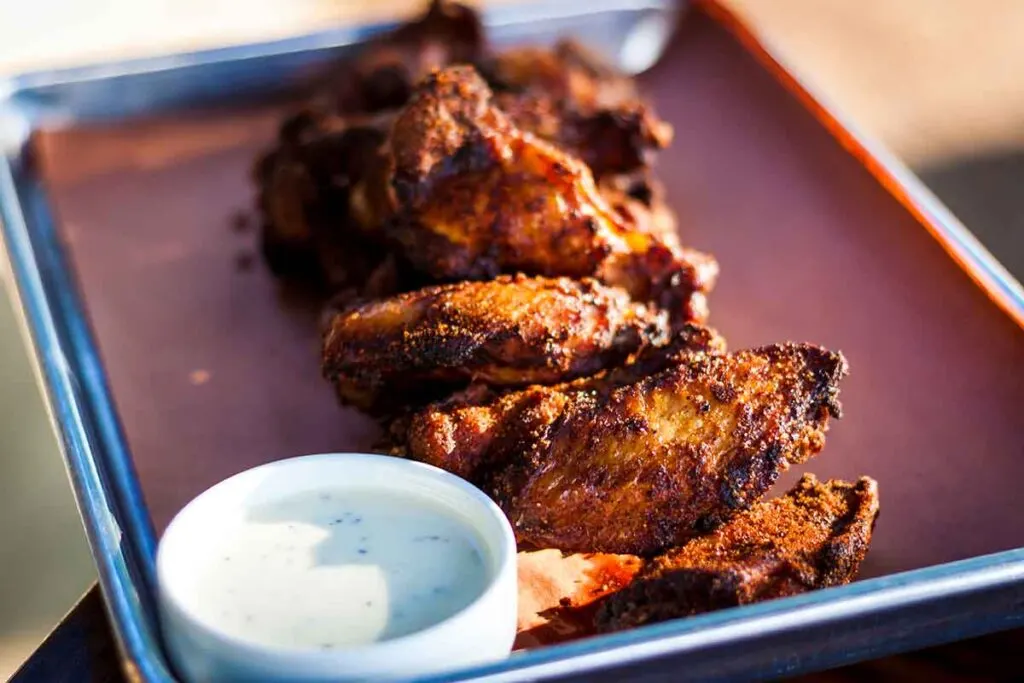 If you get a chance to visit try the chicken wings for appetizers. You will be happy you did.
Everything was perfect from the time we got there to the time we left. Love it.
Yelp Review
Over on Yelp, Morganne M., a local from Charleston, knows what restaurant to send the tourists to…the same place she goes: Home Team BBQ:
Home Team is a Charleston staple. I'd tell tourists to go here over the tourist traps like Magnolia's or The Vendue (no offense).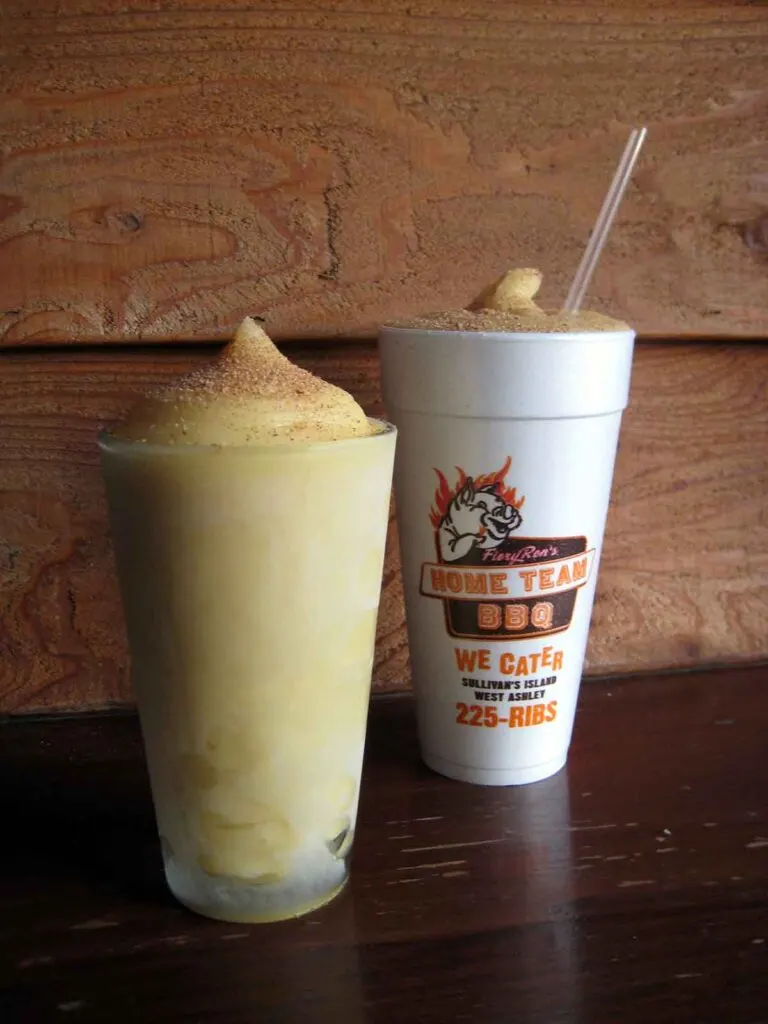 The drinks here are amazing. If you go and don't get a Game Changer, you're doing it wrong. They're basically blended pain killers.
I got the turkey meat plate and the turkey was cooked perfectly. All of the sides are like good ol' southern cooking. Collards, coleslaw, Mac & Cheese, you know, the works.
My friend got the brisket and I had a bite, the meat was so tender and juicy.
One thing this place is definitely not lacking is flavor. Everything is cooked perfectly and they have all the kinds of BBQ sauces.
The atmosphere is super chill and they have a great outdoor seating area. If you want to watch sports, this is also a super cool place to go.
The one downtown has a better seating area than the one in West Ashley, but they're both quality places. I love coming here and bringing friends from out of town here over a lot of other places.
Menu for Home Team BBQ in Downtown Charleston
Note: Menu prices and options are subject to change over time. Contact the restaurant for the most up-to-date information.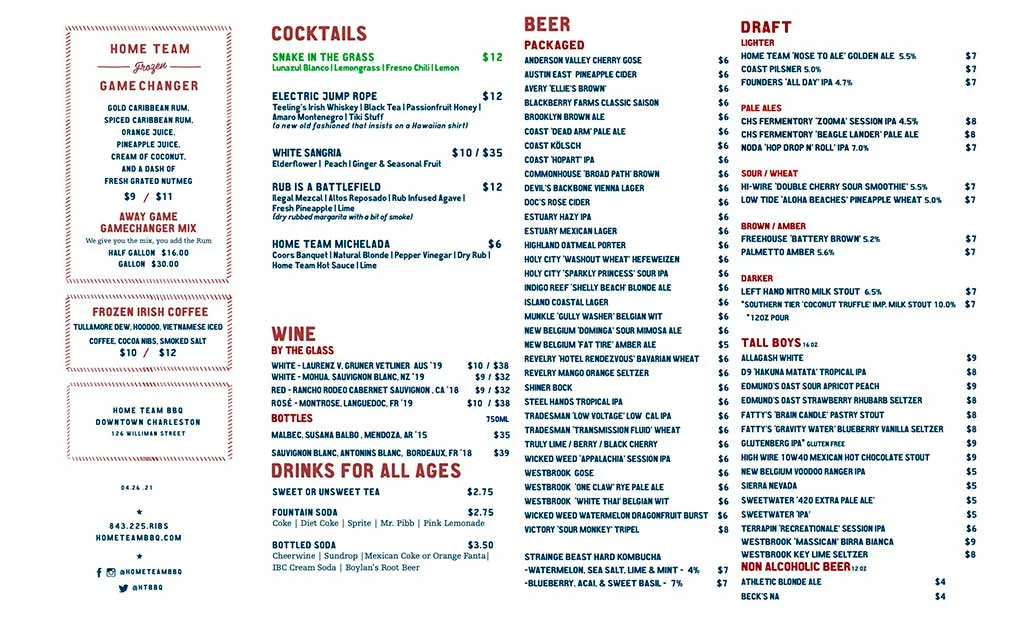 ---
Location, Hours, Contact Info, and More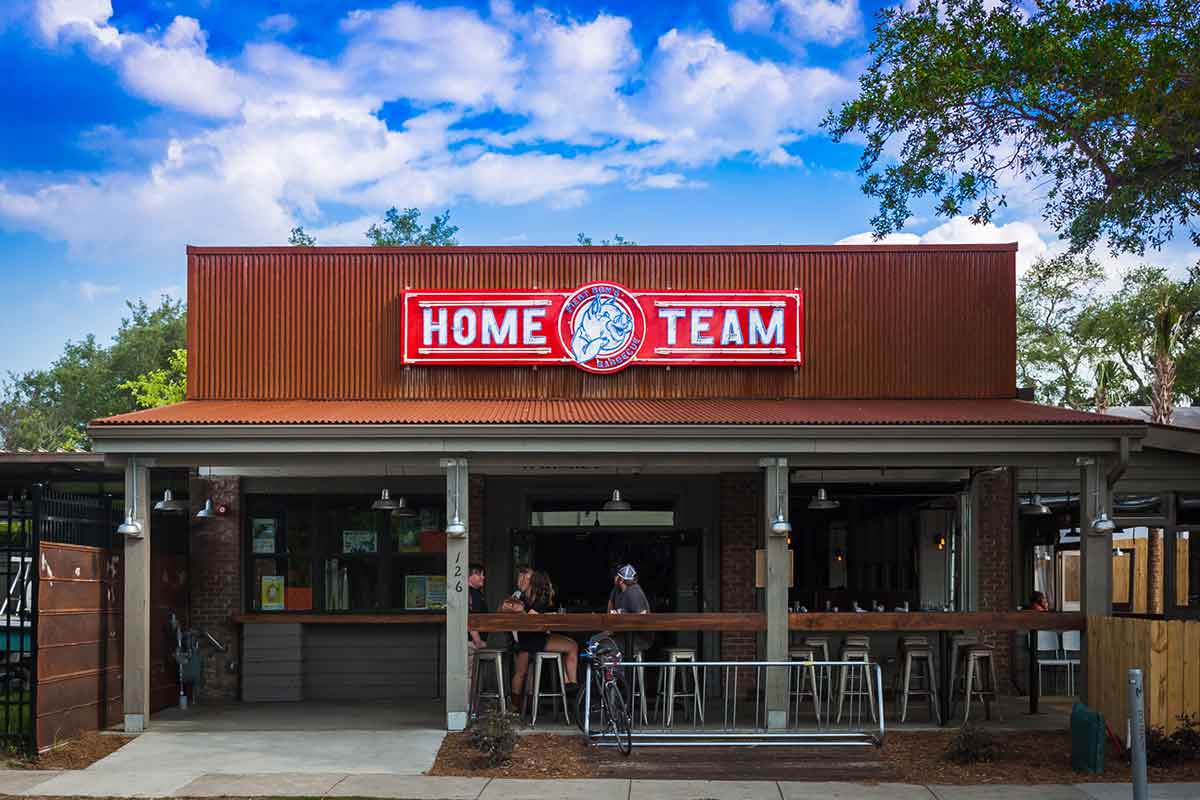 Map
Directions
Contact Fiery Ron's Home Team BBQ in Downtown Charleston
126 Williman St.
Charleston,
SC
Hours of Operation
| | |
| --- | --- |
| Monday | |
| Tuesday | |
| Wednesday | |
| Thursday | |
| Friday | |
| Saturday | |
| Sunday | |
Review Sites
Features
100 Mile BBQ, Cards and Cash, Hash, Heavy Tomato Sauce, Light Tomato Sauce, Mustard Sauce, True 'Cue Certified, Vinegar Pepper Sauce, White Sauce