This post may contain affiliate links to Amazon or other vendors I trust. Please read my disclosure policy. As an Amazon affiliate, I earn from qualifying purchases.
Looking for a homemade South Carolina onion sausage recipe? One that is simple but succulent and is equally delicious formed into patties or stuffed into casings? Chef Rhett Elliott's unique onion sausage recipe from The War Mouth in Columbia is the one you want to try.
Like most of the items on the menu, their onion sausage is made in-house. Made with pork shoulder and belly and flavored with caramelized onions, you're sure to enjoy every bite.
While this homemade onion sausage recipe calls for stuffing the meat mixture into casings, you can certainly skip that step and make an easy ground sausage instead. This fresh sausage recipe is a great place to begin.
A Bit of Background
South Carolina onion sausage is believed to have originated in the Midlands, though written history is virtually non-existent.
Food historian and South Carolinian Robert F. Moss, author of a number of books including Barbecue: History of an American Instutition, published a piece by Stephanie Burt in The Southeastern Dispatch entitled "7 Iconic Midlands Dishes."
At number six on the list was onion sausage. Burt wrote the following about this unique onion sausage recipe:
This is link sausage in which raw onions are ground into the meat before it goes into the casing, and it most likely originated in the Dutch Fork area. Currently, it's most associated with the town of Lexington, and more specifically with Rhoten's Country Store, which has been in business since 1945 and still makes the family onion sausage recipe.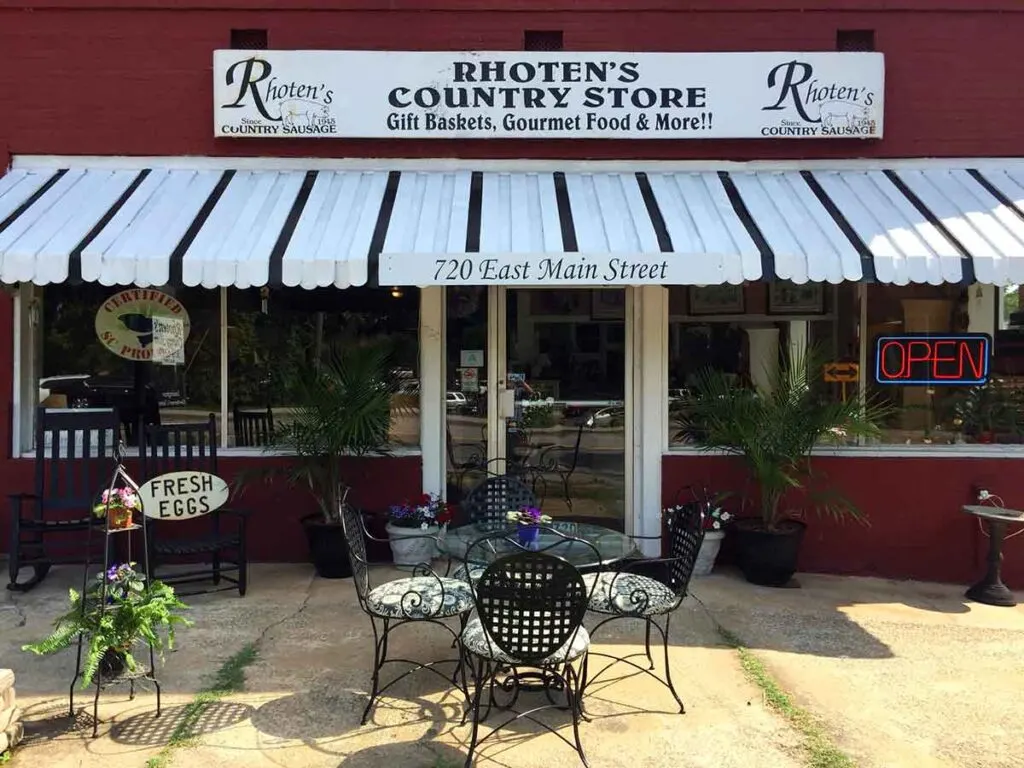 Obviously, the Southern onion sausage recipe has evolved over time, as Chef Elliott uses caramelized onions in his mixture, but why did onion sausage originate in this area of South Carolina to begin with?
"Dutch Fork" garnered its name for the "Deutsch" people who originally settled in the area. No, they were not Dutch, but German, and German sausage is a mainstay of the Deutsch diet.
So it is no surprise, German settlers would bring their homemade sausage recipes with them and that those recipes might branch out in new directions.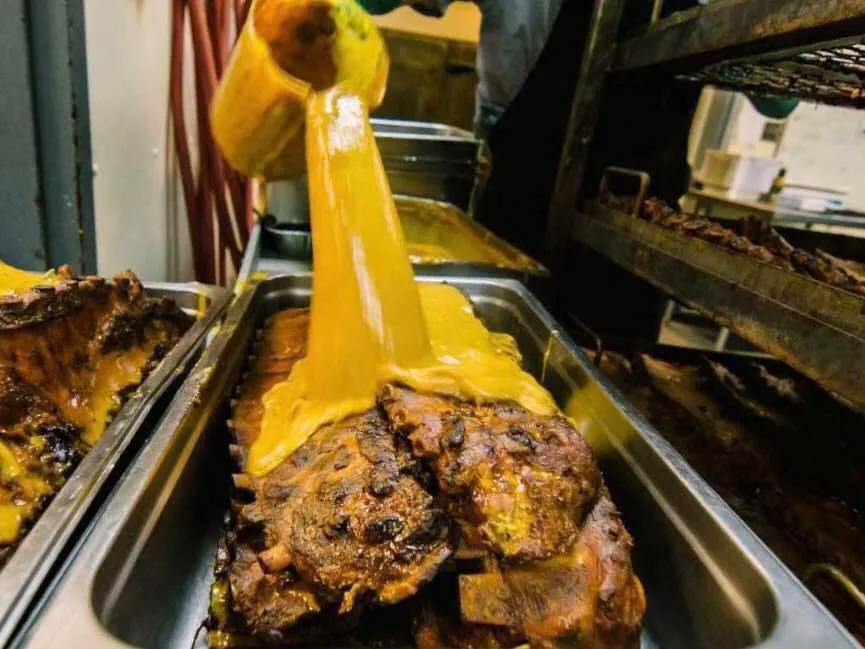 Those in the know often suggest folks of German heritage deserve credit for the origin of South Carolina's mustard-based BBQ sauce, and it seems likely their influence also led to the creation of the onion sausage recipe we enjoy at places like The War Mouth today.
What is onion sausage made of?
While the ingredients can and do vary in a homemade onion sausage recipe what you will find is that this recipe leans on the basics. Here are its ingredients: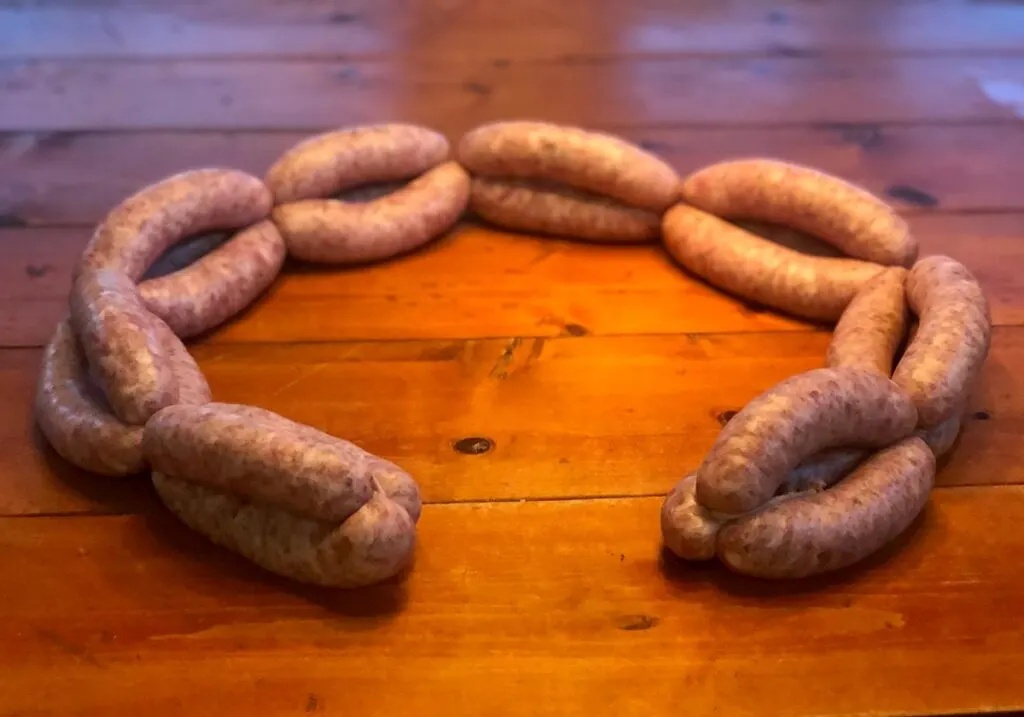 Pork Shoulder
Pork Belly
Butter
Sweet Onions
Kosher Salt
Crushed Red Pepper
Garlic Cloves
Sugar
Milk Powder
Sodium Nitrate
Crushed Ice
Sausage Casings, if stuffing
Other variations of the recipe include herbs like sage or thyme, but we'd recommend you stick with the basic recipe at first.
Green Onion Sausage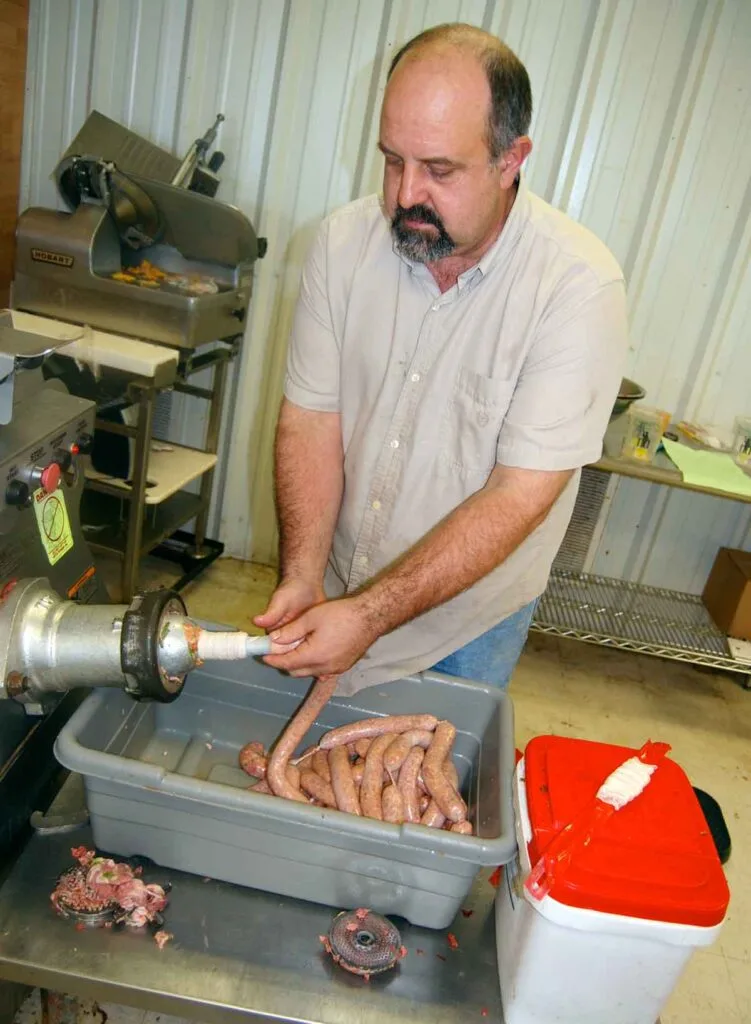 Note that there is another iteration of this dish that seems to have prospered along the Bayou. A green onion sausage recipe emerged at some point in Cajun country, and it offers an interesting twist.
Unlike the South Carolina version, the green onion sausage recipe calls for…well, you guessed it, green onions. The dark green "stems" give the sausage specks of darker color, though folks say it doesn't hold up as well.
In addition, cajun seasoning seems to be a common addition to green onion sausage.
What Equipment Do I Need to Make Sausage at Home?
Sausage making for beginners, the one thing you need to understand is that it is really not that complicated, but you may not initially have everything you need to make fresh sausage recipes. To make this recipe at home, you may want to invest in a few items that aren't necessarily standard in many home kitchens.
First, you'll need a meat grinder. We have an attachment for our Kitchen Aid mixer that we've used, but frankly, I don't love it.
For about $30 less than the attachment, you can get a dedicated meat grinder with sausage attachments that will do a nice job.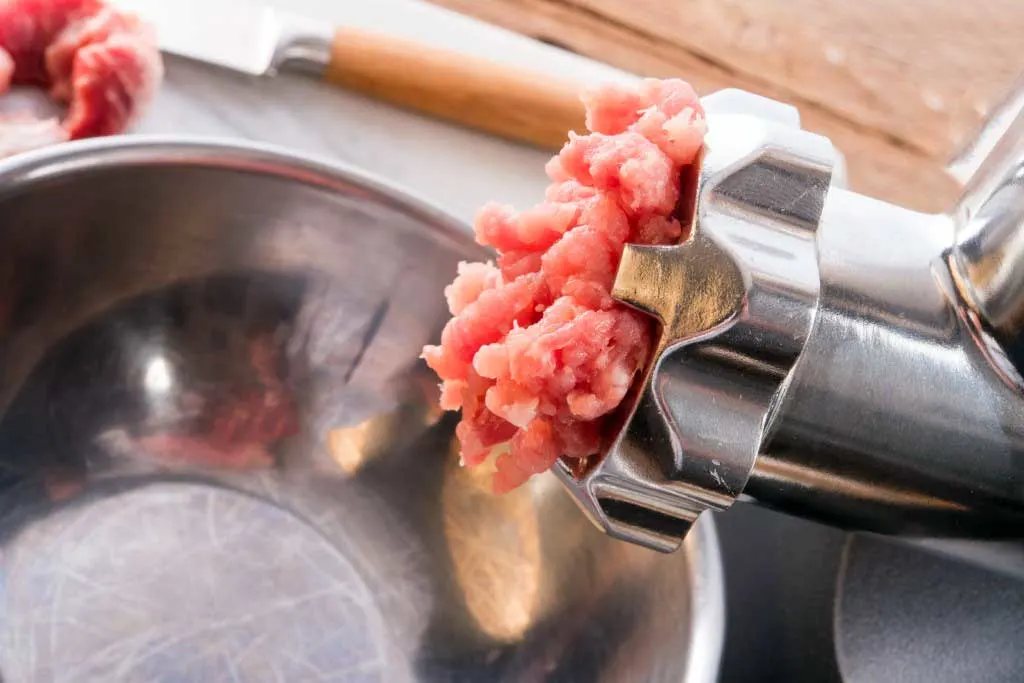 The Gormia 525 meat grinder comes highly recommended and is only $60 on Amazon. America's Test Kitchen's winner was the Waring Pro, for about $100, used.
Another useful tool that every kitchen really should have but often doesn't is a digital scale.
Now, Chef Elliott's onion sausage recipe presents most of its measurements in weight. For your convenience, we have provided approximate volume measurements in case you don't have a scale.
If you're looking for one on Amazon, the Oxo Good Grips 11-pound scale is the one to get.
Making the Sausage
If you have the equipment, you'll also need a couple of other unusual ingredients for this onion sausage recipe: milk powder, sodium nitrate, and hog/sausage casings (unless you're just making loose sausage).
The Sausage Maker's shop on Amazon is a reliable source if you'd prefer to order online.
Once you have all you need in hand, the process is relatively quick.
One thing to understand is that you want to work with cold ingredients. You'll begin by lightly freezing the pork for about 45 minutes, and later you'll grind using crushed ice.
Begin by cubing the pork into small chunks and tossing them into the freezer. While that's cooling, caramelize your onions with butter and salt.
When all are ready, combine the pork with the seasonings and ice and mix thoroughly.
Then, grind using a medium die. Afterward, add in the onions to the pork mix and combine by hand until tacky.
At this point, it might be wise to pan-fry a small part of the mix and adjust seasonings for taste. When satisfied, stuff into casings.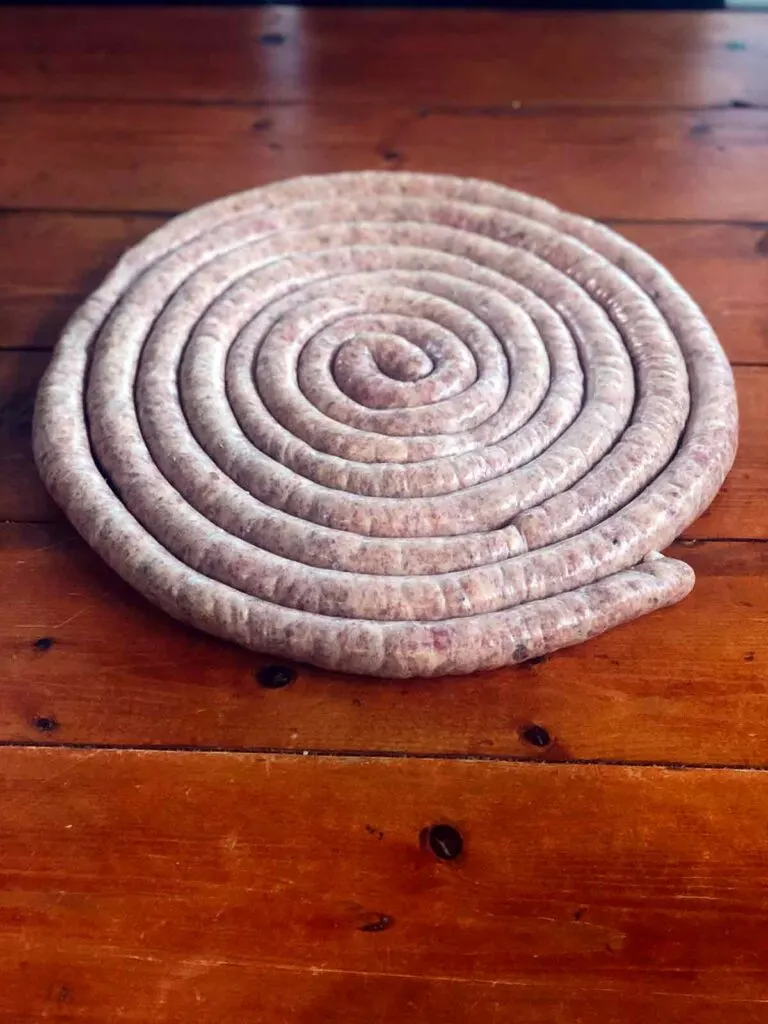 While not specifically demonstrating a South Carolina onion sausage recipe, this video provides a good overview of the general process of making a fresh sausage recipe:
How to Cook Onion Sausage
Your homemade onion sausage, if left in loose form (or, later, cut from their casings), can be cooked like any loose sausage, depending on what you're making. Cook it into crumbles in a frying pan or form it into patties.
When cooking in a pan, starting with a couple of tablespoons of water is a good technique for most any type of sausage, especially links.
However, there are other ways to cook onion sausage, as Burt points out in her article:
"Not only is this product sometimes used for Midlands [chicken] bog, it also is a great addition to the grill. In the past, it was served at convenience stores on white bread with mustard.
That tradition has mostly disappeared, and now it is much more likely to be seen on a tailgate table or breakfast plate than anywhere else.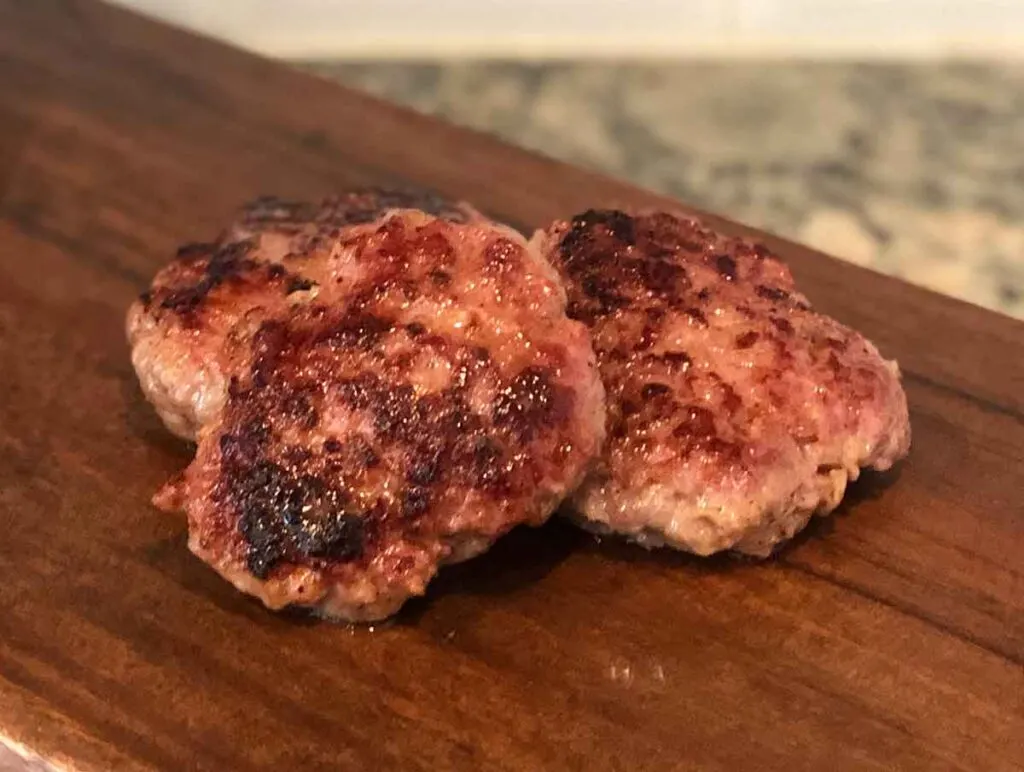 The "Dixiecrat"
The sandwich Burt is referring to above is known in the area as a Dixiecrat sandwich, or simply a "Dixiecrat."
I have to give credit to Doug Bearden who wrote in to enlighten me about this. I had never heard of it, so I did a bit of digging.
According to JJ Smith's post on a message board that I stumbled across, the name makes a bit more sense once you know its history.
"Story is that in the presidential election of 1948, Strom Thurmond broke away from the Democrat party and formed the Dixiecrat party," Smith wrote. "They were the 1948 equivalent to today's Tea Party, believing in states' rights and preserving the southern way of life.
"Supposedly, when Thurmond would campaign, his staff would pass around simple sandwiches made of a link breakfast sausage with mustard on white bread."
Now, I can't confirm the truth of that, but it jibes with all logical evidence.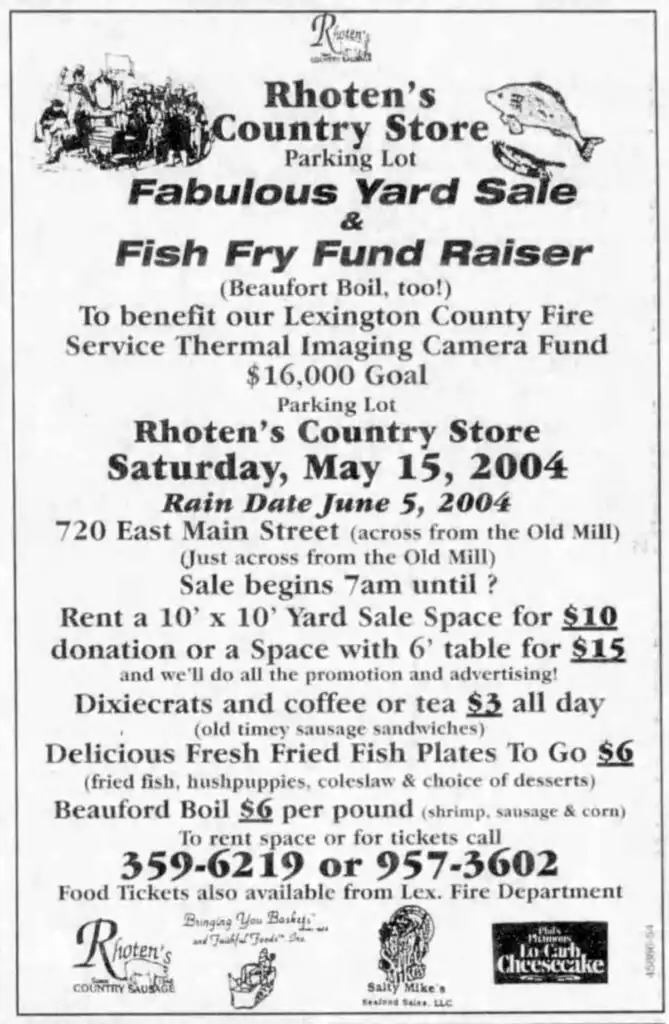 Regardless, the Dixiecrat sandwich became a fixture in the Columbia area where it eventually became a menu item at The War Mouth. Prior to that it was served at Cogburn's for decades before it closed and you can find articles which references and even ads which mention the sandwich in newspaper clippings.
When Cogburn's closed, Dave Moniz wrote in The State on January 31, 1999, that "Inside Cogburn's…the famous 'Dixiecrat' sausage flew across blond, hardwood counters and into burgundy covered booths."
And that Trey Perry was heard boasting that "'I got the last Dixiecrat!' Perry said, describing the sausage, white bread and mustard dish that has been a Cogburn's hallmark for 50 years."
So, grab some white bread and mustard, and enjoy a Dixiecrat sandwich.
Recipe Tester's Notes
Jon Snipes, one of our volunteer testers, really enjoyed both the recipe itself and the unique sausage it created.
"The sausage recipe is a keeper for sure," he said. "It's excellent.
"The recipe is pretty much 'book ready,' and maybe the only thing I'd suggest is to explain why you're freezing the pork for 45 minutes because novice sausage makers aren't going to understand why.
"Just mentioning that it helps the grind or prevents smearing or whatever is probably enough for those making a fresh sausage recipe at home."
And there you have it. That's why you want to keep your ingredients cold.
Like to Volunteer as One of our Recipe Testers?
We have a bookful of recipes to test and publish. Join the team and choose from our collection of unpublished recipes.
All we ask is that you photograph the process and share your thoughts on each recipe and the finished product. And we'll feature you when we publish that recipe.
Interested? Just send me an email.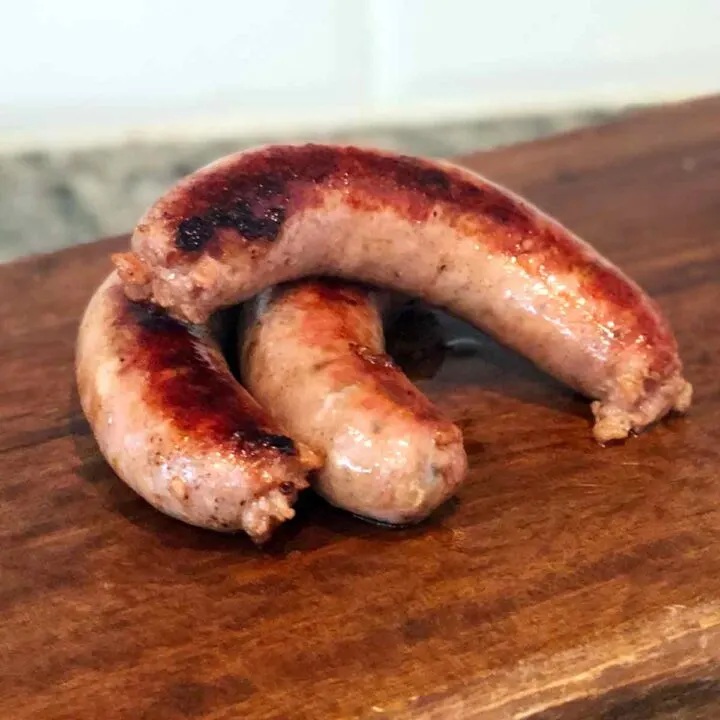 South Carolina's Best Onion Sausage Recipe
Additional Time:
45 minutes
Total Time:
1 hour
45 minutes
This onion sausage recipe from The War Mouth in Columbia, SC, is "a keeper for sure. It's excellent."
Ingredients
7 Pounds Pork Shoulder, large diced
2 ½ Pounds Pork Belly, large diced
2 Tablespoons Butter, unsalted
3 Sweet Onions, thinly sliced
80 Grams Kosher Salt (~⅔ cup)
2 Grams Red Pepper Flake (~½ teaspoon)
14 Grams Garlic Cloves (~2 ¾ teaspoons)
14 Grams Sugar (~2 ¾ teaspoons)
60 Grams Milk Powder (~4 tablespoons)
6 Grams Sodium Nitrite, optional (~1 teaspoon)
138 Grams Crushed Ice (~½ cup)
8-10 feet Sausage Casing (hog casing), if stuffing
Instructions
Place pork shoulder and belly into the freezer for 45 minutes.
In the meantime, slowly caramelize onions in butter with a pinch of salt. Let cool.
Remove shoulder and belly, then add salt, red pepper, garlic, sugar, milk powder, nitrite (if using), and crushed ice to chilled meat.
Grind mix with a medium die on a sausage grinder.
Combine seasoned ground meat with caramelized onions.
Mix by hand until the mix is tacky. Fry a small amount to taste for seasoning. Adjust with salt if needed.
Use as loose sausage or stuff into the casing (hog casings).
Notes
The reason for putting the meat into the freezer is to make it easier and cleaner to grind.
Recommended Products
As an Amazon Associate and member of other affiliate programs, I earn from qualifying purchases.
Nutrition Information:
Yield:

24
Serving Size:

1 sausage link
Amount Per Serving:
Calories:

640
Total Fat:

48g
Saturated Fat:

17g
Trans Fat:

0g
Unsaturated Fat:

26g
Cholesterol:

179mg
Sodium:

1671mg
Carbohydrates:

5g
Fiber:

0g
Sugar:

3g
Protein:

46g