This post may contain affiliate links to Amazon or other vendors I trust. Please read my disclosure policy. As an Amazon affiliate, I earn from qualifying purchases.
The War Mouth: Here in Cottontown celebrating the simpler pleasures of eating and drinking in the 803. Draughts, spirits, victuals.
Ask what's unique about South Carolina cuisine and you'll get a lot of different answers.
There's Lowcountry style seen in dishes like shrimp and grits and Frogmore stew. Then there's just your typical "Southern" high-end restaurant food — cliches like fried green tomatoes or some fancy mac and cheese. In addition, there's a true original like mustard-based barbecue and all that comes with it.
On the other hand, you have the War Mouth, which may deserve a category all its own. It's the food of the South Carolina outdoors, but with a fine-dining edge — but there are no white tablecloths to be seen.
With a motto of "celebrating the pleasures of living where we do," the one constant at The War Mouth is the desire to creatively redefine traditional South Carolina dishes.
"It's a love letter to the 803," said Porter Barron, one of the partners behind The War Mouth.
On the Menu
On the menu, you'll find an SC special, chicken bog, served with their homemade onion sausage recipe. There's also quail cooked with curry in a light gravy.
In addition, you'll find mustard-fried venison, a South Carolina sportsman's standby. The War Mouth also serves a catfish stew with corn sticks, local mushrooms, deviled eggs, and much more.
It's "camp food," said Barron.
"All of us grew up in the Midlands, so we wanted to have a menu with the stuff we ate at our grandparents' houses when we were younger—pit barbecue, chicken bog, catfish stew," explained Rhett Elliott, co-owner and head chef of The War Mouth.
"Every side of my family is from this area, so I really wanted to cook the kind of stuff we do at home."
On the Pit
The large barbecue pit is one of the more unique features of The War Mouth. Twice a week, Barron cooks a whole pig overnight. Cooking an entire pig has become a rare treat as many restaurants tend to only cook the shoulders.
Because of that, they are especially proud of their barbecue and their homemade barbecue and hot sauces. The pulled pork barbecue served in a homemade glaze, still holds a smoky campfire taste that delights customers.
In addition, Barron and Elliott also slow-cook some of the pork to prepare a thick stew with it to create a traditional Midlands barbecue hash served over rice.
"Our menu at The War Mouth stays vegetable-driven. We get our vegetables from a variety of farmers and sources, and we always keep fresh fish on the menu," said Elliott. "We just keep going and let the menu roll with whatever ingredients we have. Hopefully, they keep getting better."
The restaurant itself is unique. They thoroughly renovated a former auto repair shop to create The War Mouth. However, it still has the feel of a true South Carolina barbecue joint, with unsealed concrete floors and wooden folding chairs. The long, shiny bar is made of cypress.
Drop into The War Mouth for a new taste of some SC classics.
Get to Know The War Mouth
---
What Folks are Saying
Google Review
Among the many Google Reviews, Local Guide William Mancke found The War Mouth really lived up to its reputation:
I didn't believe the hype. I thought this place could not be as good as people said. Then I went.
With a concise menu, an open floorplan, and a well informed staff, the War Mouth is an excellent choice for a satisfying dinner featuring plenty of Southern favorites.
Finally – whoever is back in the kitchen is doing an amazing job. The food is served quickly but manages also to be of excellent quality, flavorful, well seasoned and of generous quantity.
Yelp Review
Over on Yelp, Samantha A and her significant other give The War Mouth their highest rating:
So, I had never eaten here until last week. My SO comes in for a lunch fairly frequently. We were headed to a movie at Dutch Square and thought we would grab a quick bite on the way, and The War Mouth was on the way.
We arrived around 6:30 on a Wednesday and had no problem getting a table for two, but they were completely full before we left an hour later. The atmosphere is lively and fun, but unpretentious; the decor is modern with vintage and whimsical farmhouse twists.
We started with the crawfish fritters. They were amazing. Perfectly fried little hushpuppy-esque balls of crawfish with the most amazing peppercorn gravy. Dynamite.
For dinner, I had the Chicken Bog and my SO had the BBQ Plate. I'm from the low country and Chicken Bog was a standard growing up in my house. This Bog was every bit as good as what my Daddy makes, and elevated so it felt a little fancier.
I scraped my plate, which isn't something that I do in restaurants. I thought the portioning on the plate was also wonderful, as it was just enough. I don't like overloaded plates of food and they do a wonderful job here of feeding you well but not overwhelming you.
My SO annihilated his BBQ plate. He adores their hash because it has a little peppery kick to it. He was kind enough to share some of the delicious homemade pickles with me.
This is a wonderful place and I wish they were in my neighborhood.
They have a great outdoor space and lively bar scene. The wine list is more than adequate and the cocktail list is fresh and creative. The service was top notch.
Five stars all the way; I'm already scheming on my next trip out to North Main to eat supper at the War Mouth. If you haven't been, GO!
Menu for The War Mouth
Note: Menu prices and options are subject to change over time. Contact the restaurant for the most up-to-date information.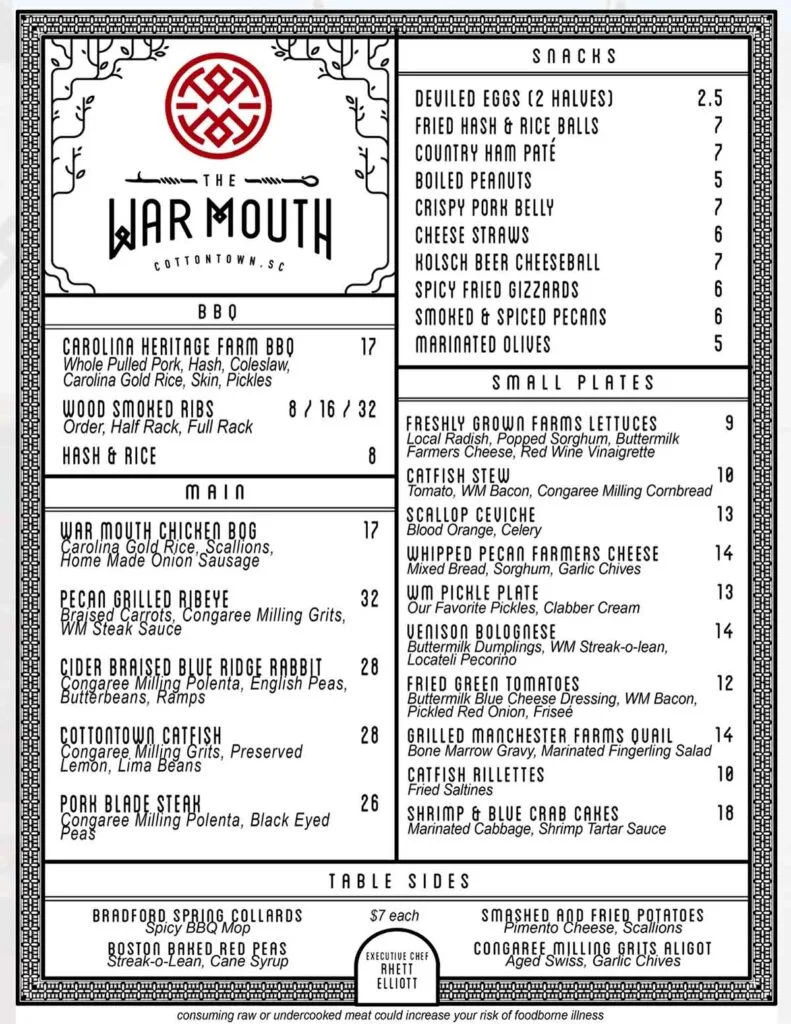 Location, Hours, Contact Info, and More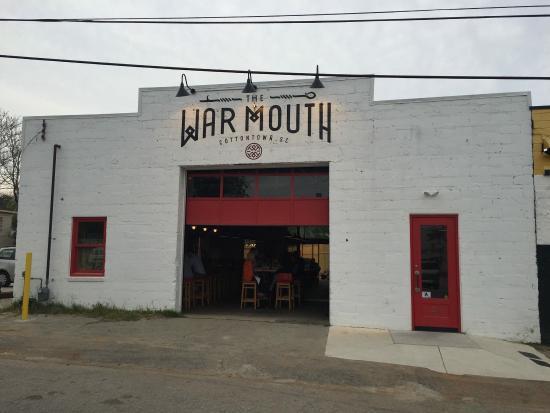 Map
Directions
Contact The War Mouth
1209 Franklin St
Columbia,
SC
29201
Hours of Operation
| | |
| --- | --- |
| Monday | Closed |
| Tuesday | |
| Wednesday | |
| Thursday | |
| Friday | |
| Saturday | |
| Sunday | |
Review Sites
Features
Cards and Cash, Hash, Mustard Sauce, Whole Hog