Fiery Ron's Home Team BBQ in Greenville
Home Team BBQ at Holland Park on Laurens Rd in Greenville accommodates every appetite with traditional authentic BBQ, chicken, ribs, and pulled pork.
You will enjoy the lively atmosphere, rockin' tunes, and their welcoming staff.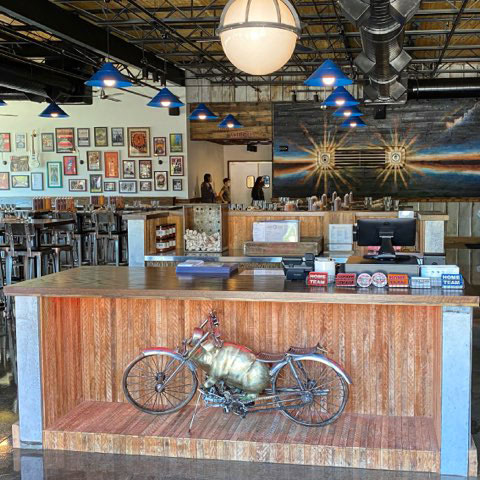 Home Team BBQ in Greenville is outfitted with reclaimed wood from barns in Athens, GA, large comfortable booths, and tons of natural light make for a fun family-friendly atmosphere. Southern rock legends line the walls. Two murals by Sean Williams and a gallery wall featuring band posters from past Home Team BBQ shows complete the decor.
The spacious screened-in porch is the perfect place to enjoy amazing barbecue and great drinks, including Home Team's signature frozen cocktails (the Gamechanger or Irish Coffee) on a warm day.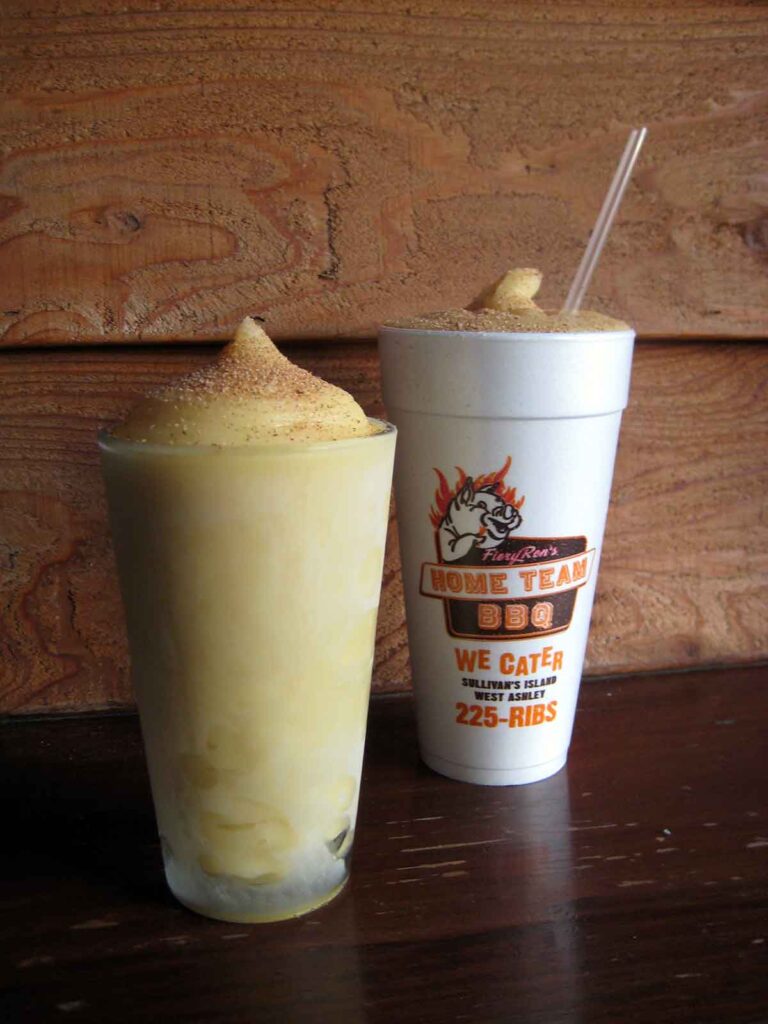 On the drink menu, there is something for everyone among the extensive collection of whiskey, local beer list, and innovative craft cocktails.
While atmosphere and attitude are critical, in the end, it is really about the food.
At any given time, Home Team BBQ in Greenville is likely to have over 700 pounds of pork butts, 150 racks of ribs, 300 half-chickens, and 800 chicken wings on the pit. Not to mention the corn, peppers, and mushrooms they smoke alongside them.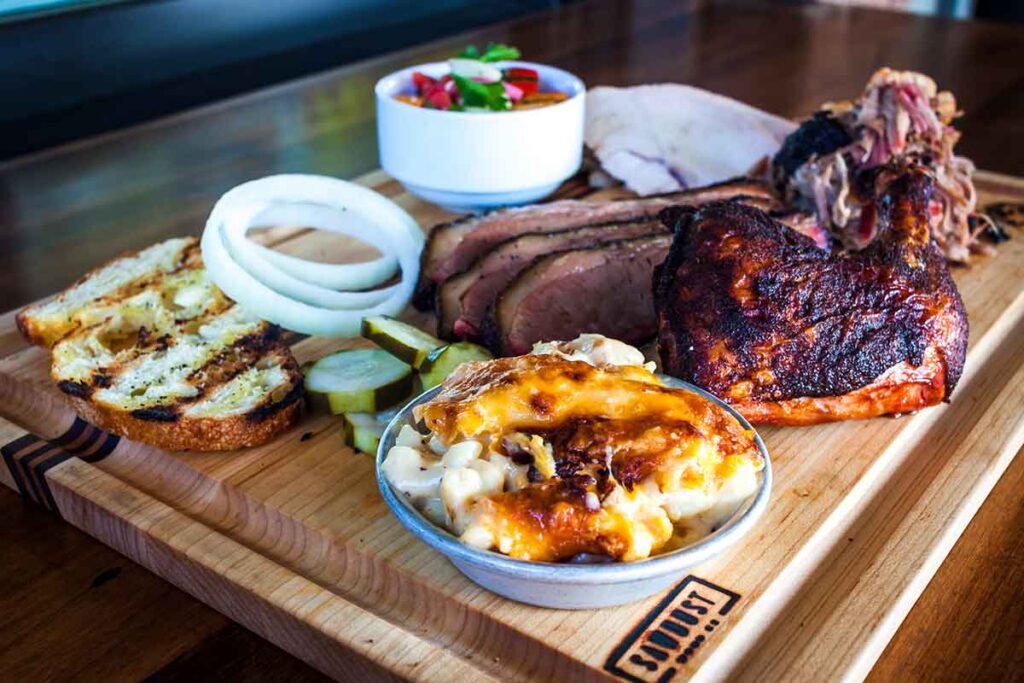 Their tempting Southern sides could accompany any meal: creamy stone-ground grits, smoked gouda mac 'n' cheese, collard greens, baked beans, and hash and rice all are available daily.
With a full schedule of national, regional, and local touring artists performing plenty of live blues, bluegrass, and Americana/rock/country, there certainly is something for everyone.
Honky-tonks and juke-joints found strewn throughout the southeastern United States served as models for each restaurant. Because of this, our locations themselves enhance the experience.
Classic Home Team BBQ Ad:
What Folks are Saying about Home Team BBQ in Greenville
SCBA Review
The SC BBQ Association, the very organization that trains judges for local BBQ competitions, ranks Home Team BBQ among the elite of BBQ in SC, 100-mile BBQ: BBQ so good its worth driving 100 miles for.
Here's how they began their review:
What do you get when you take 100-mile barbeque, ribs, and chicken wings then add gourmet mac and cheese, collards, Brunswick stew, slaw, and fun? You get Home Team BBQ, that's what you get.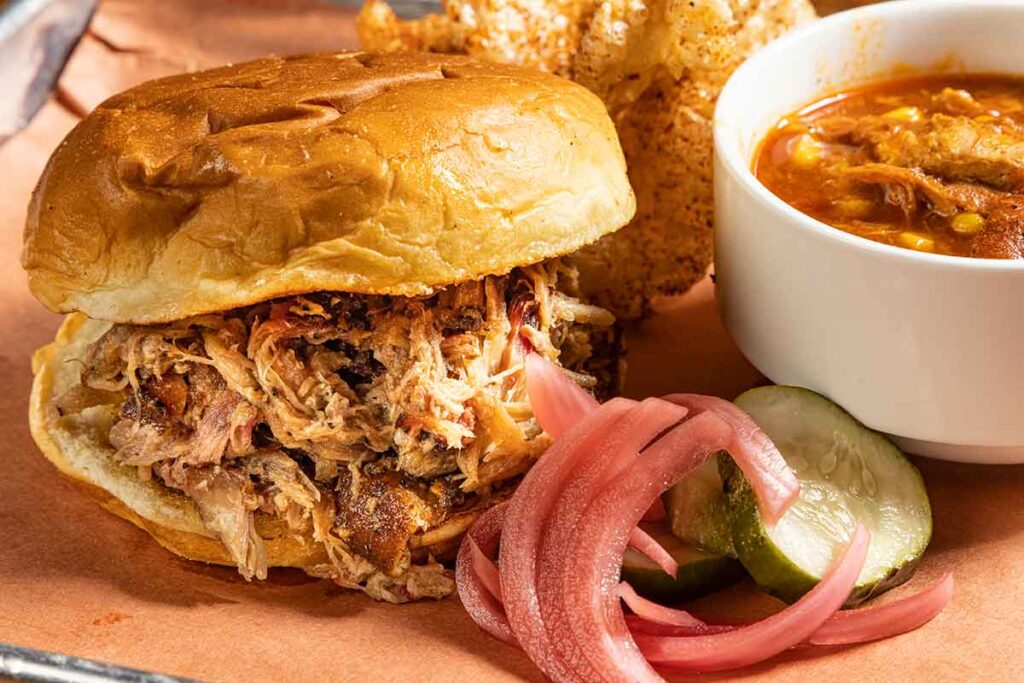 Most really good barbeque in the state is served in traditional restaurants or even what we in South Carolina would call a "joint." It is rare to find 100-mile barbeque in a bar or tavern-style setting.
But that is what you get at Home Team BBQ in Charleston. But it's better than that, it's really more like a neighborhood tavern where you go to have a good time, relax and see friends.
It's just at Home Team BBQ you also get 100 Mile Barbeque to add to that mix.
Google Review
Among the many Google Reviews, Local Guide Jose Duarte, author of 113 reviews, gives a great overview of the new Home Team BBQ Greenville experience:
The food is fantastic.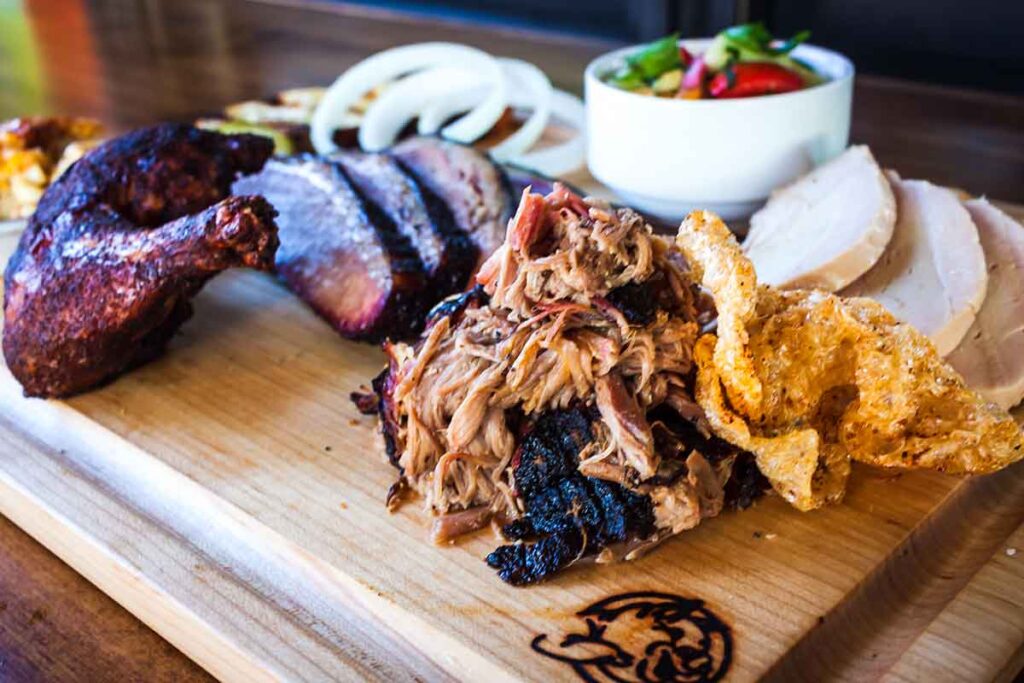 We got a big variety called "The board" since I have family in town. Everything was tasty, even the turkey which I didn't even want originally.
Mac and cheese is a bit different than what I'm used to. It was a refreshing change.
Ribs and wings are so good they don't need any sauce, which was a struggle since the sauces were good, particularly the mustard.
Yelp Review
Over on Yelp, Samantha C offers the very first review for Home Team BBQ in Greenville:
We have been waiting for this place to open so we drove by and it was. They were packed and per Amanda had not even announced their opening and the grand opening was next week.
First time visiting a Home Team BBQ and I was pleasantly surprised. Great vibe and a FULL bar with an impressive tequila, bourbon, whiskey, rye selection.
I was told to get the burger and thought…hmmmm, should I get a burger at a bbq joint? Per Adam, "we are not a BBQ joint, we are a restaurant that smokes meat."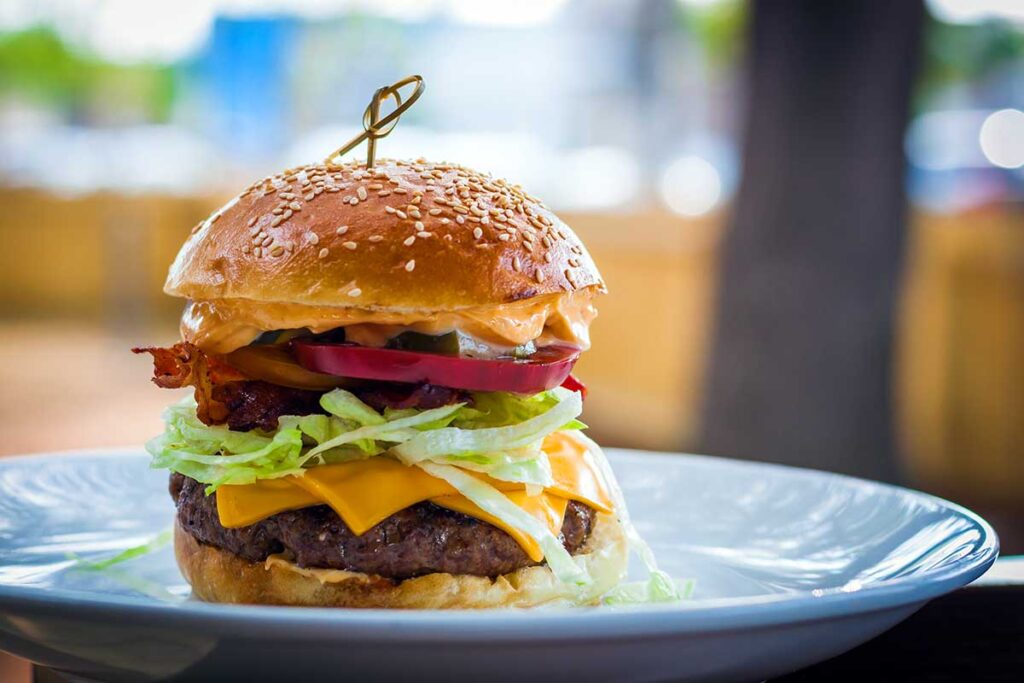 Well, I did and WOW, it was amazing.
I never expected this place to have great cocktails either, but I was mistaken. Amanda was a great host and bartender.
Thanks for coming to Greenville Home Team BBQ !!
Menu for Home Team BBQ in Greenville
Note: Menu prices and options are subject to change over time. Contact the restaurant for the most up-to-date information.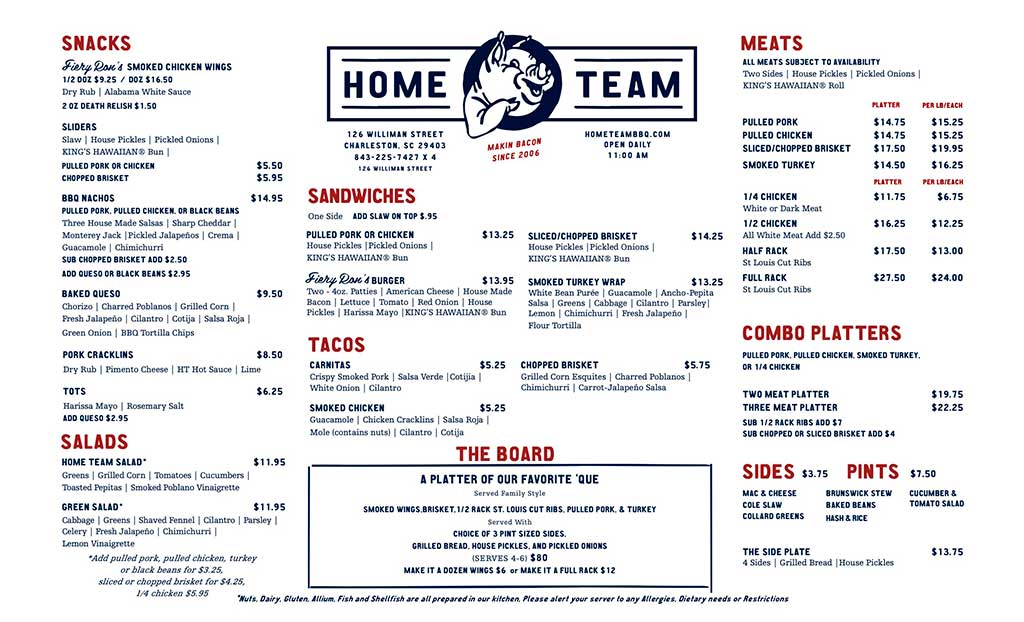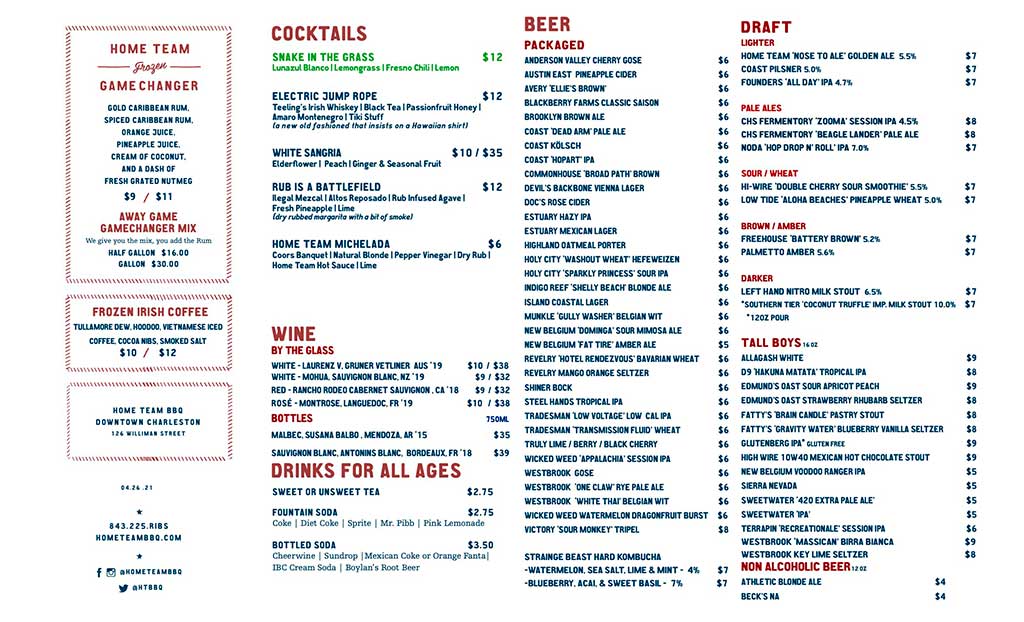 ---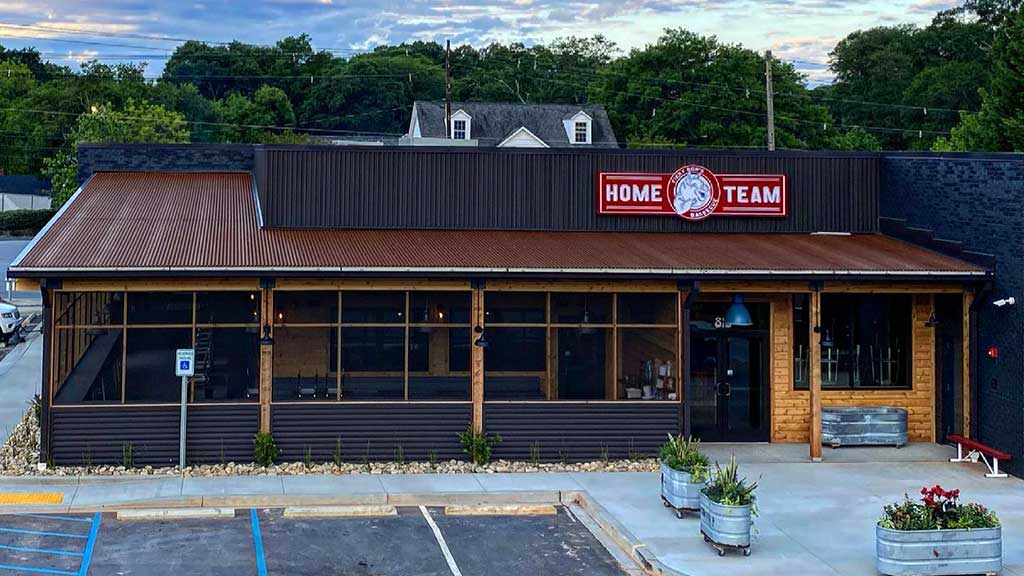 Fiery Ron's Home Team BBQ in Greenville
813 Laurens Road
Greenville,
SC
29607
| | |
| --- | --- |
| Monday | Closed |
| Tuesday | Closed |
| Wednesday | |
| Thursday | |
| Friday | |
| Saturday | |
| Sunday | |
Review Sites
Features
100 Mile BBQ, True 'Cue Certified, Cards and Cash, Hash, Mustard Sauce, Vinegar Pepper Sauce, Light Tomato Sauce, Heavy Tomato Sauce, White Sauce