Fiery Ron's Home Team BBQ – West Ashley
At Home Team BBQ we have taken a unique approach. We bring the fundamentals of the "white tablecloth" world to the low and slow ideals of BBQ.
In our barbecue restaurants, we believe in keeping it fresh and local. We send guests happily on their way after a good time has been had by all.
With a menu of award-winning food, ever-evolving bar offerings, a fun, and family-friendly atmosphere, it's easy to root for Home Team BBQ!
Home Team BBQ's menu accommodates every appetite with traditional authentic barbecue, ribs, chicken, and pulled pork.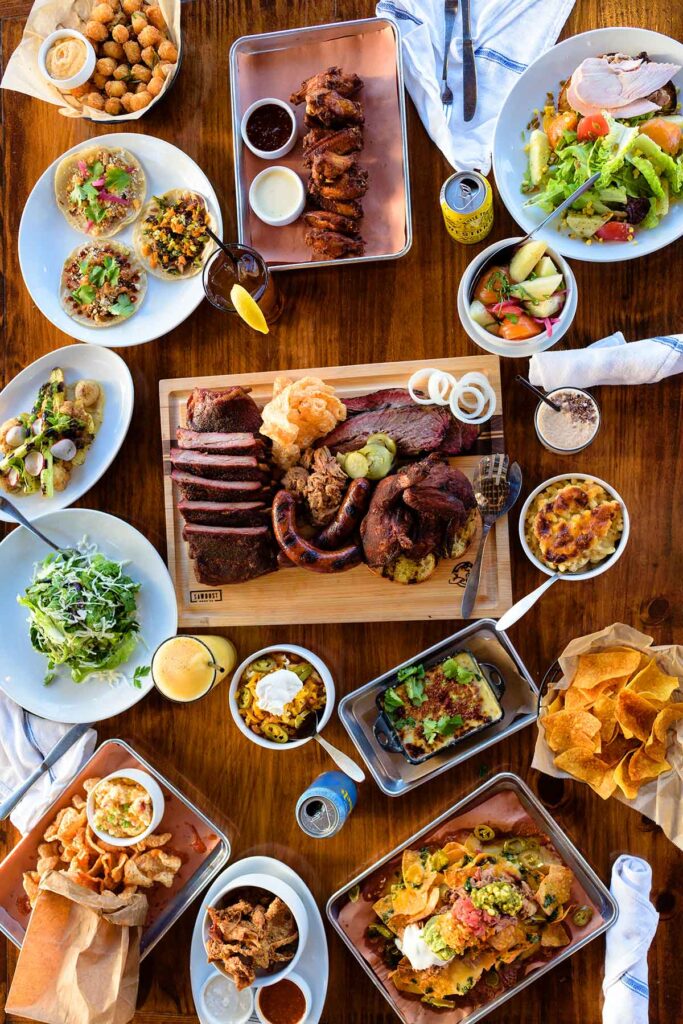 Each location also features a larger menu of tempting choices of appetizers, salads, wraps, and tacos. We also have down-home, finger-lickin' sides, and tasty desserts.
Additionally, we offer large party takeout orders and full-service catering with delivery.
There's something for everyone here. We boast award-winning food, a fun bar, rustic atmosphere, and great entertainment, including weekly live music and sports on the TVs.
At Home Team BBQ's West Ashley location, the atmosphere is rustic and laid back. You'll find tin paneling, gas lanterns, and nostalgic memorabilia that evoke the spirit of the old honky-tonks and juke-joints.
Two outside porches create a "back-yard" feeling, perfect for hosting special events and catered parties.
Come for the local talent showcase, "Holy City Confessionals," every Monday. Stay for the creative daily features and drink specials.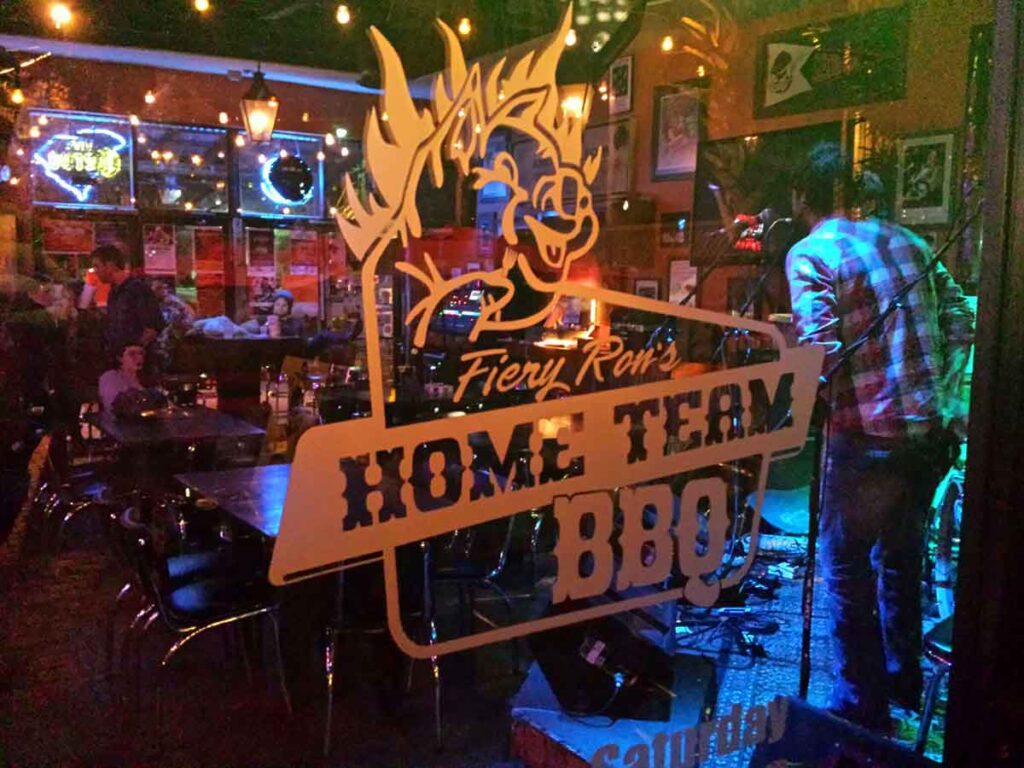 Although the West Ashley restaurant is home to University of Georgia Alumni, you can find a variety of sports. Games will be playing on the big-screen TVs located throughout the restaurant and on each of the patios.
Come anytime for a work lunch, casual family dinner, or a fun night out on the town with friends.
What Folks are Saying about Home Team
Google Review
Among the many Google Reviews, Local Guide Kurt Copple found Home Team BBQ worth waiting on, even though he went with takeout:
I showed up and saw several groups of people waiting in the parking lot and it was a 45 minute wait for either a table or to get carryout. On a Wednesday evening.
So I ordered carryout, since all these people must know something. Oh Yeah they did!
Best beef brisket sandwich I've ever had. It takes real talent to get a juicy, flavorful brisket cooked to the perfect doneness.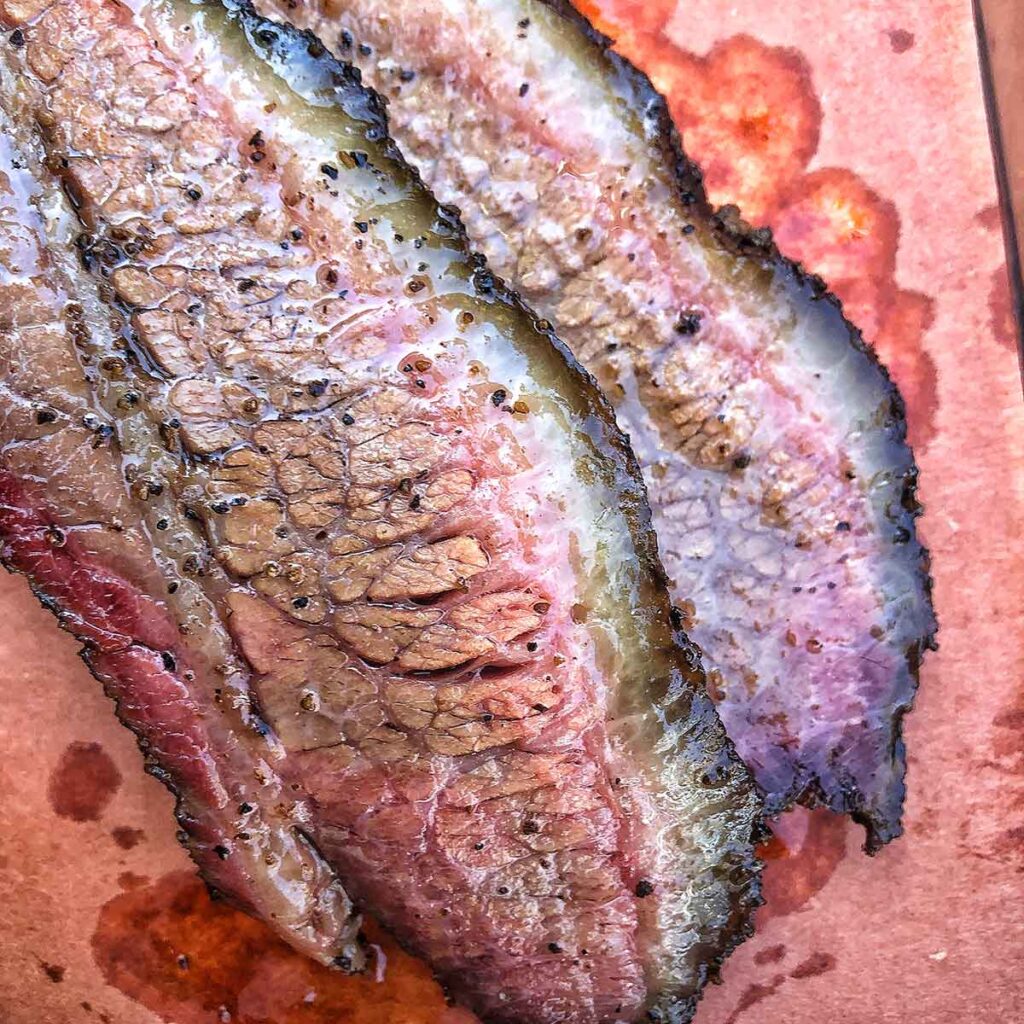 Coleslaw was perfect. And the collard greens — well I asked before ordering if they have bacon in them. Since collard greens without bacon sucks.
They actually put a bunch of pulled pork in them instead, which was just amazing!
The only person I met was the hostess, but she was very nice and helpful with all my questions. I will definitely be back! 100/100.
Yelp Review
Over on Yelp, Aspen E found that everything they ordered from Home Team was top-notch:
I've never been so pleased with every component of a BBQ meal than I was today at Home Team.
I'm accustomed to getting one or two really good items and everything else is…meh. Every part of our meal was delicious; from meats to sides.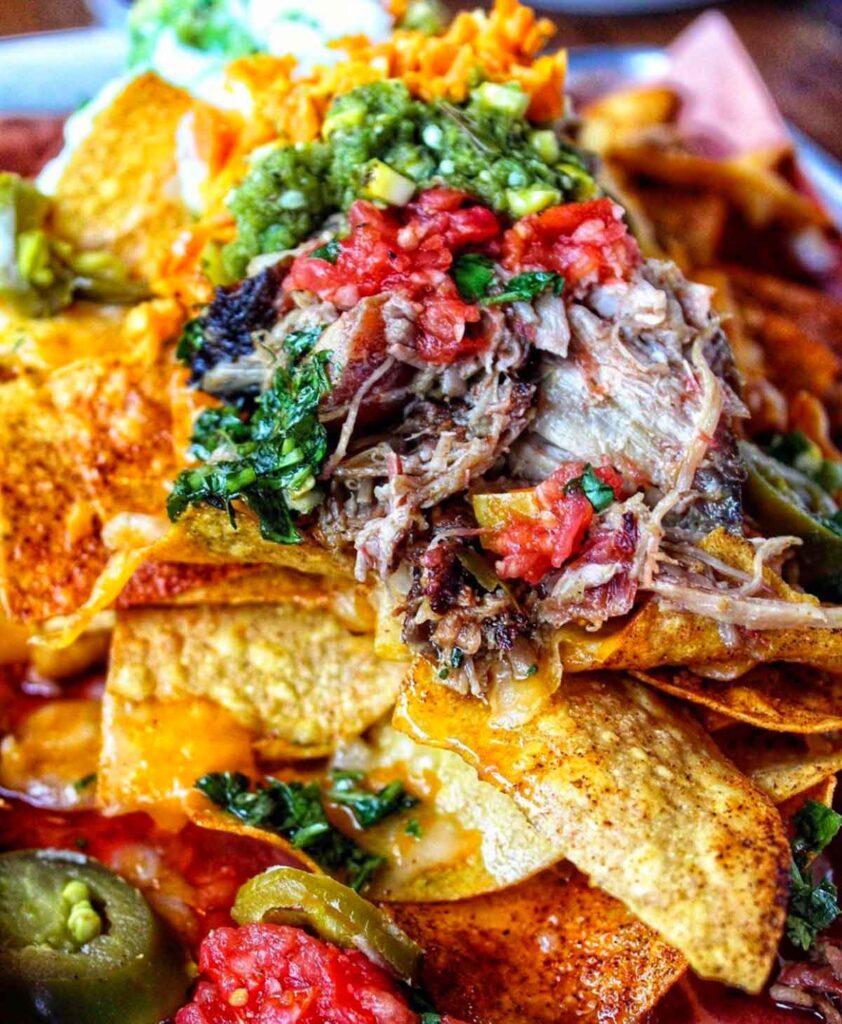 Nachos (pulled pork) were amazing. There were three unique salsas on top, plus chimichurri, guacamole, and sour cream. Impressive!
The part that really surprised me were the chips themselves. They were coated in a sweet/savory seasoning that was perfection.
I've never had better pulled pork. Brisket was the best I've ever had. Even the sides were on point.
My kids snarfed their Mac & cheese and I devoured the slaw. It was so fresh and crisp.
Sauce options are awesome (there's something for everyone).
Service is lunch counter style where you order then find a table, which made things quick.
I thought there should be more than one Hawaiian roll with a three meat combo but otherwise I am totally impressed. Will surely be back.
And those homemade pickles!!
The SC BBQ Association ranks Home Team BBQ among the elite of BBQ in SC, 100-mile BBQ: BBQ so good its worth driving 100 miles for. Here's an excerpt from their review:
First of all, the barbeque at Home Team is at the top of anybody's good eating list and that goes for the barbequed chicken wings as well as the ribs.
Unexpectedly, he has real barbequed beef brisket that is as good as you are ever going to get in South Carolina. It is truly gourmet beef brisket.
And speaking of gourmet, you can get as a side, some of the best Brunswick stew in the state, maybe the best.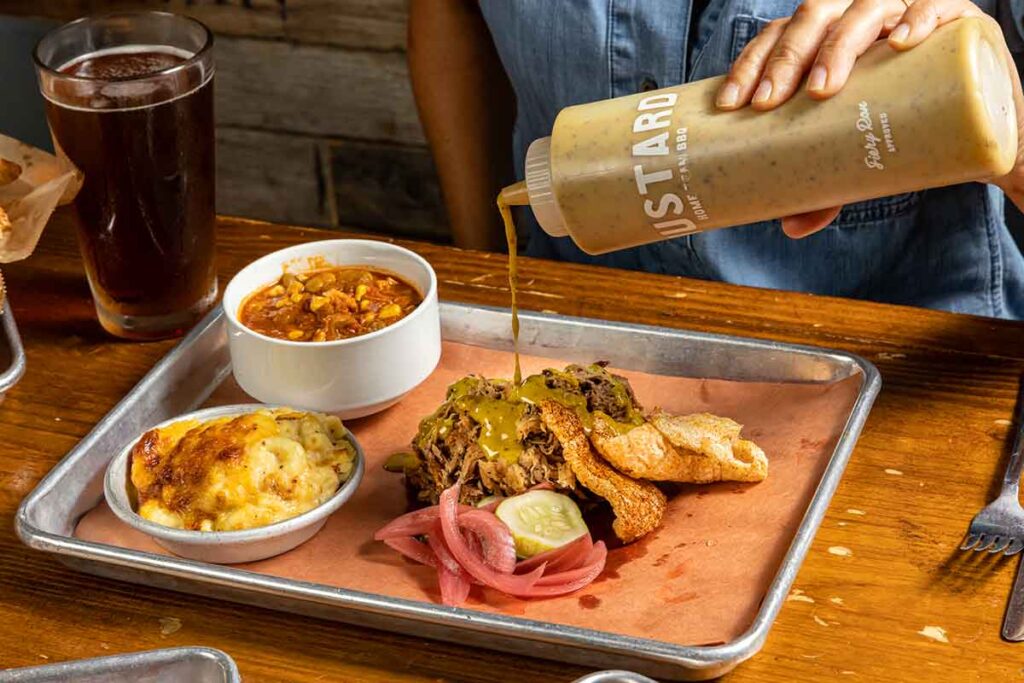 Since Aaron Siegel came to barbeque from his background of high-end cooking, his chef's talents show in his sides, too.
And not just the Brunswick stew, but also in the gourmet mac and cheese (made with Gouda, mozzarella, and jack cheeses), the fresh, crunchy slaw that he doesn't mess up with sugar, his collards that taste better than what your mother probably used to make, and everything else he serves.
Even his hash over rice is a shot at a gourmet effort rather than the more traditional taste one finds in the state.
He has some spices in his hash that will leave you wondering just what it is. What it is, is slightly different and if you like it his way, then it's better.
Check out this classic Home Team BBQ ad:
---
Menu for Home Team BBQ West Ashley
Note: Menu prices and options are subject to change over time. Contact the restaurant for the most up-to-date information.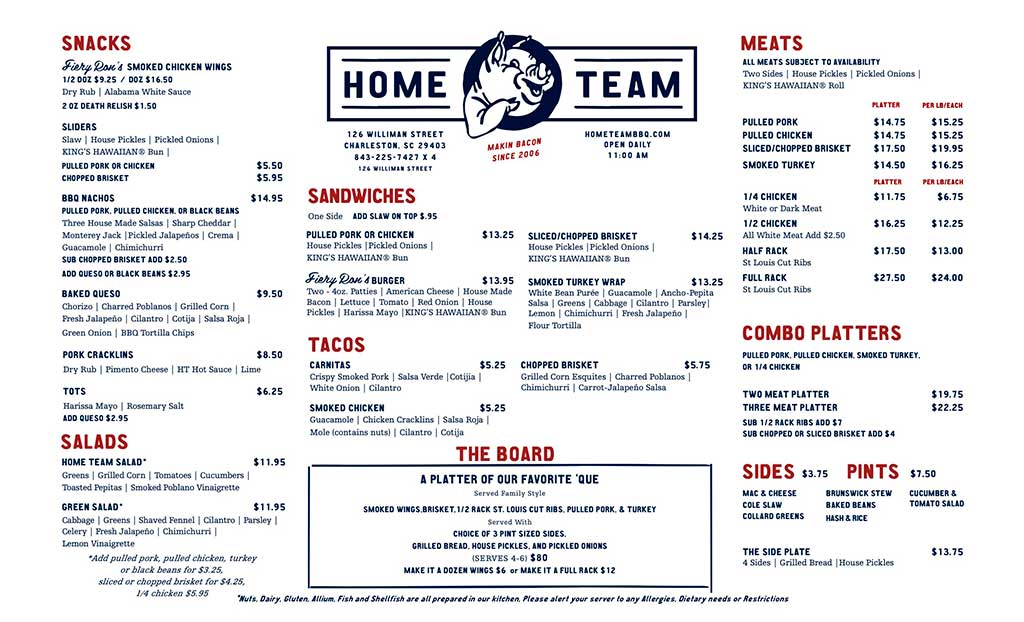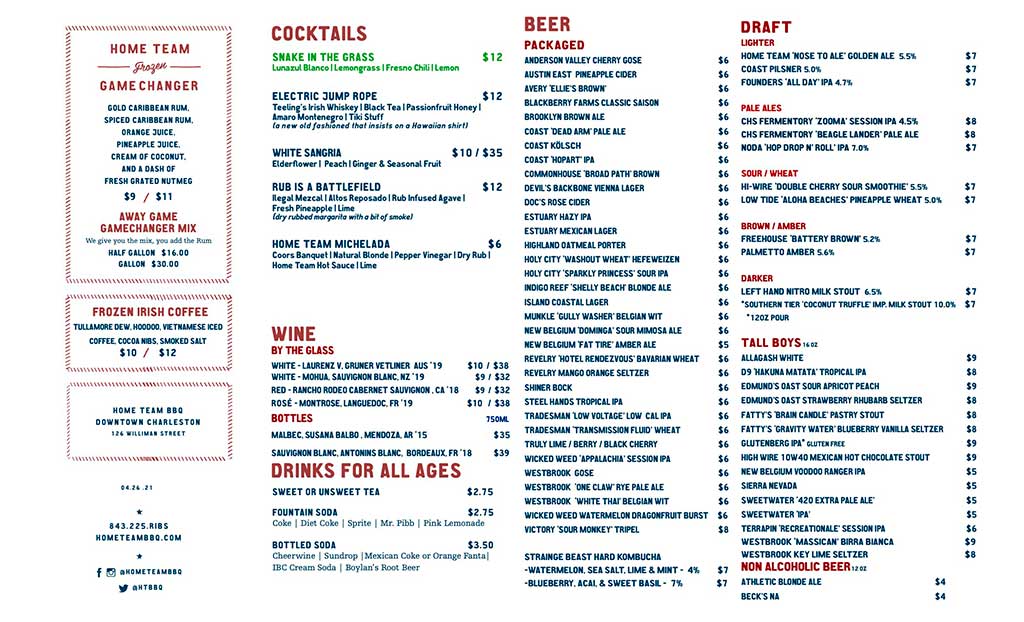 Fiery Ron's Home Team BBQ – West Ashley
1205 Ashley River Road
Charleston,
SC
29407
| | |
| --- | --- |
| Monday | |
| Tuesday | |
| Wednesday | |
| Thursday | |
| Friday | |
| Saturday | |
| Sunday | |
Review Sites
Features
100 Mile BBQ, True 'Cue Certified, Cards and Cash, Hash, Mustard Sauce, Vinegar Pepper Sauce, Light Tomato Sauce, Heavy Tomato Sauce