Fiery Ron's Home Team BBQ Columbia
Fiery Ron's Home Team BBQ Columbia has a menu that accommodates every appetite with traditional authentic BBQ, ribs, chicken, and pulled pork. All of the locations also feature a broader menu of tempting choices of appetizers, salads, wraps, and even tacos.
They also have down-home, finger-lickin' sides, and tasty desserts.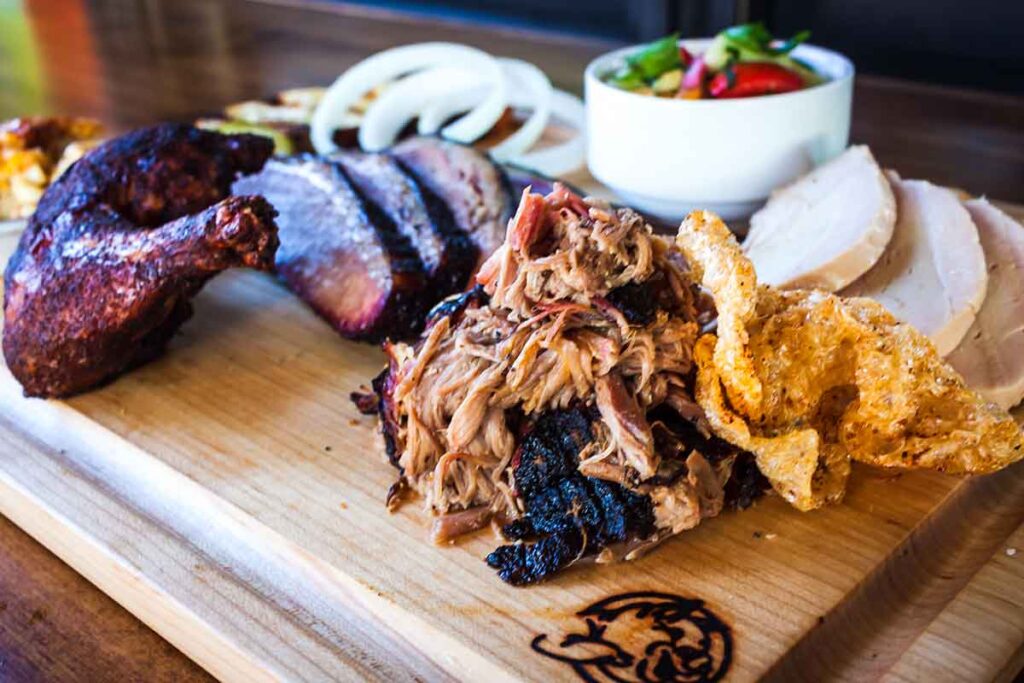 Additionally, they offer large party takeout orders and full-service catering with delivery.
There's something for everyone there. They serve award-winning food, have a fun bar, create a rustic atmosphere and bring in great entertainment, including weekly live music and sports on the TVs.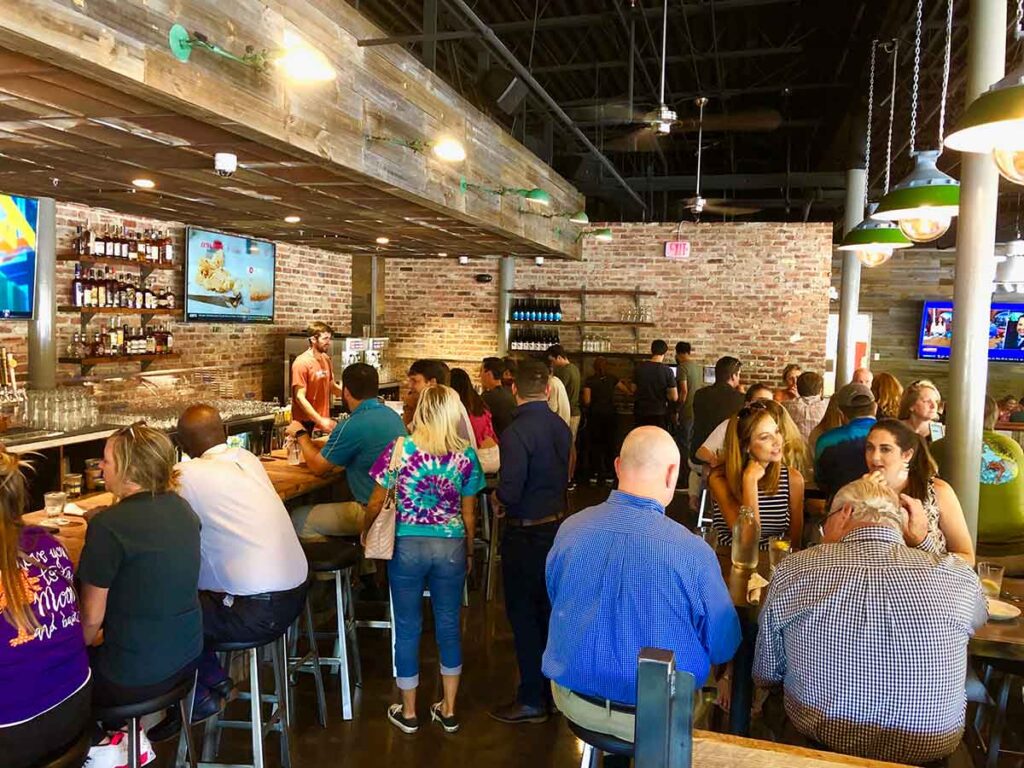 Drop in anytime for a work lunch, casual family dinner or a fun night out on the town with friends.
What are Folks Saying about Home Team BBQ Columbia?
Google Review
Google Local Guide Marcio G wrote about the fried ribs, brisket, and more in his Google review:
New BBQ place in the heart of the 5-points area, where the old Harpers used to be. Completely redone in the inside and out.
There is outside seating but limited. The bar is nice and they offer several local beers and mixed drinks.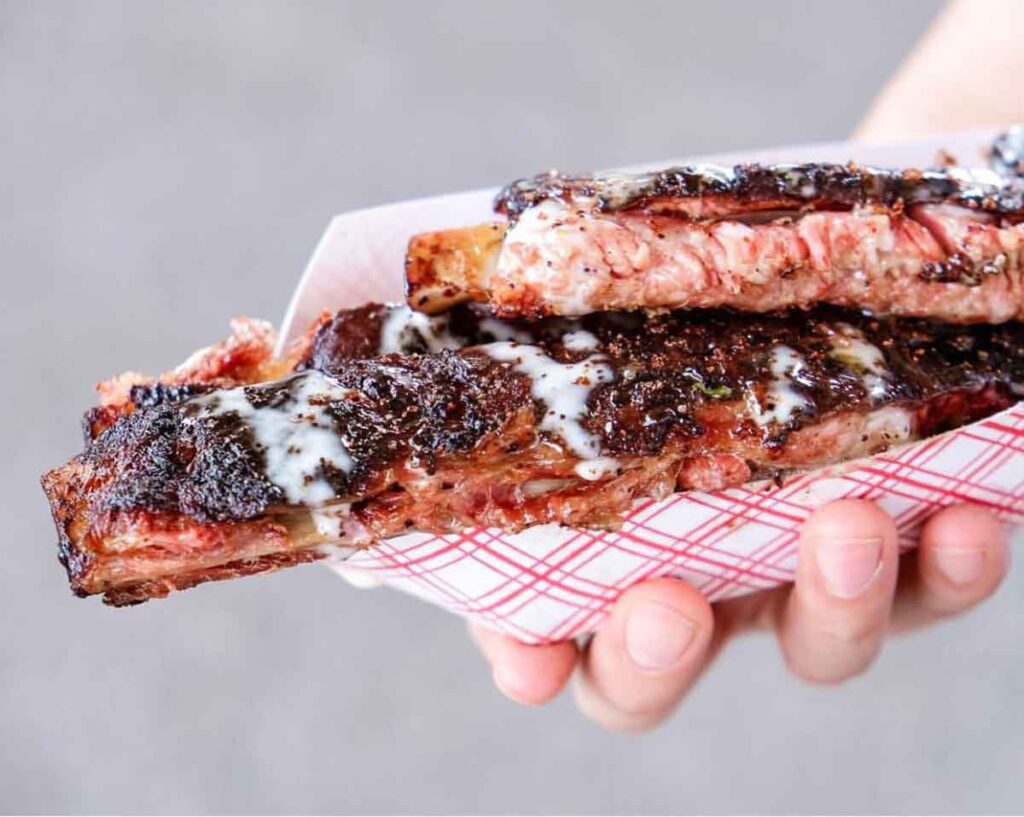 We ordered the 3-meat platter and shared – it was more than enough meat sweats. The fried ribs were new for us and didn't disappoint – we ordered because they were sold out of the regular ribs.
The briskets are also good. The Mac and Cheese is one of the best!!
Last, the sauces are good and we tried all.
Yelp Review
In a Yelp review, Rhett B. wrote a lengthy review, but really provides a good look inside Home Team BBQ Columbia
As I was in town to watch my Tide take on the Gamecocks, I had to sample some SC Que! Hometeam was highly regarded and somewhat close to Williams-Brice.
I had heard of Hometeam before by seeing it on a list of best BBQ in America for the Charleston location. The decor is one of my favorite styles…a sports bar.
I went with the 3 meat platter – ribs, pulled pork, and chopped brisket with mac and cheese and slaw. All of the meats were good but the ribs were phenomenal!
They were fall off the bone with a salty, smoky rub. The pulled pork and brisket was both solid. Though, I think I have discovered I enjoy my brisket sliced more than chopped.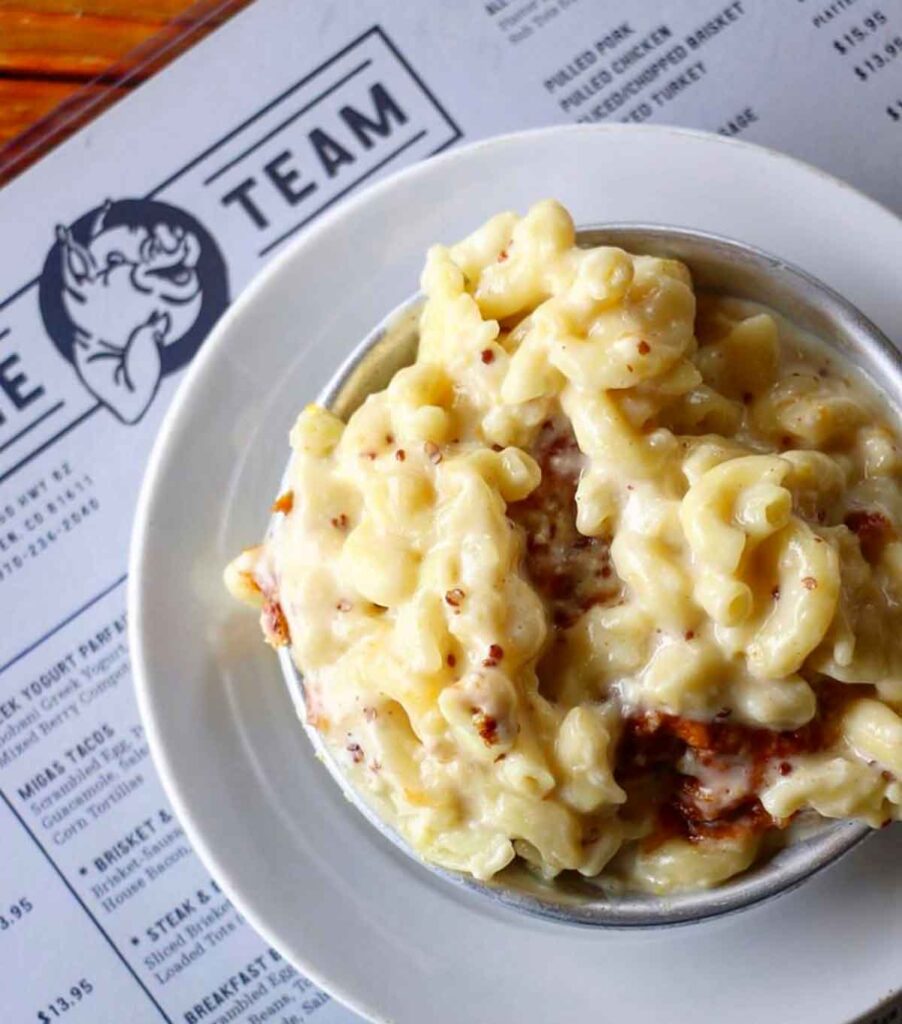 The mac and cheese was superb! I wish I could describe it more accurately, but it has been a week since I ate there. I just remember how much I loved it.
The slaw is somewhat unique. It is made with Alabama white sauce but it was not very creamy.
There are 7 sauces, 6 on the table, and the white sauce that you have to request. I didn't hate any sauce but the Sweet Red, Mustard, and White were the 3 best in my opinion.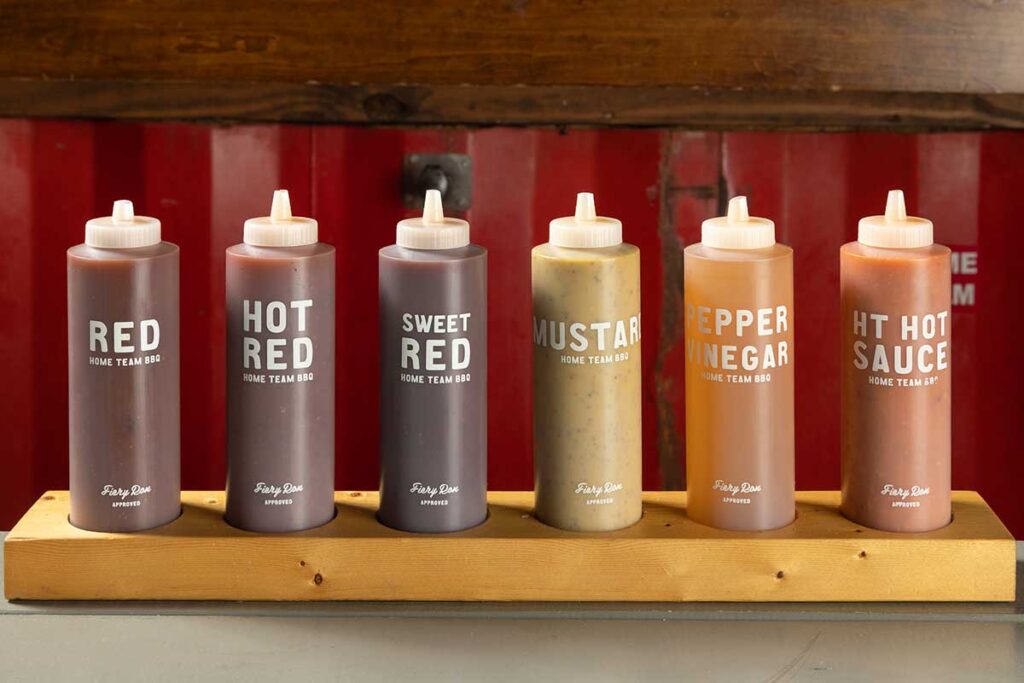 The Sweet Red was a solid tomato vinegar mix. The Mustard is made from the brown, deli mustard so it had a different flavor than your average mustard BBQ sauce. The white was a little sweet and peppery.
The other 4 sauces were Red – very mild and bland, Red Hot – like the red with some heat. Pepper Vinegar – use on pork to give it a zing, and the HT. The HT is a thick hot sauce with a heat about a 6 with 1 being mild and 10 being hot.
Sweet tea was refreshingly sweet!
If you are looking for some que in Columbia, Hometeam is a must. Definitely get the ribs and mac and cheese and thank me later.
The SC BBQ Association ranks Home Team BBQ Columbia among the elite of BBQ in SC, 100-mile BBQ: BBQ so good its worth driving 100 miles for.
---
Check out this classic Home Team BBQ ad:
Menus for Home Team BBQ in Columbia
Note: Menu prices and options are subject to change over time. Contact the restaurant for the most up-to-date information.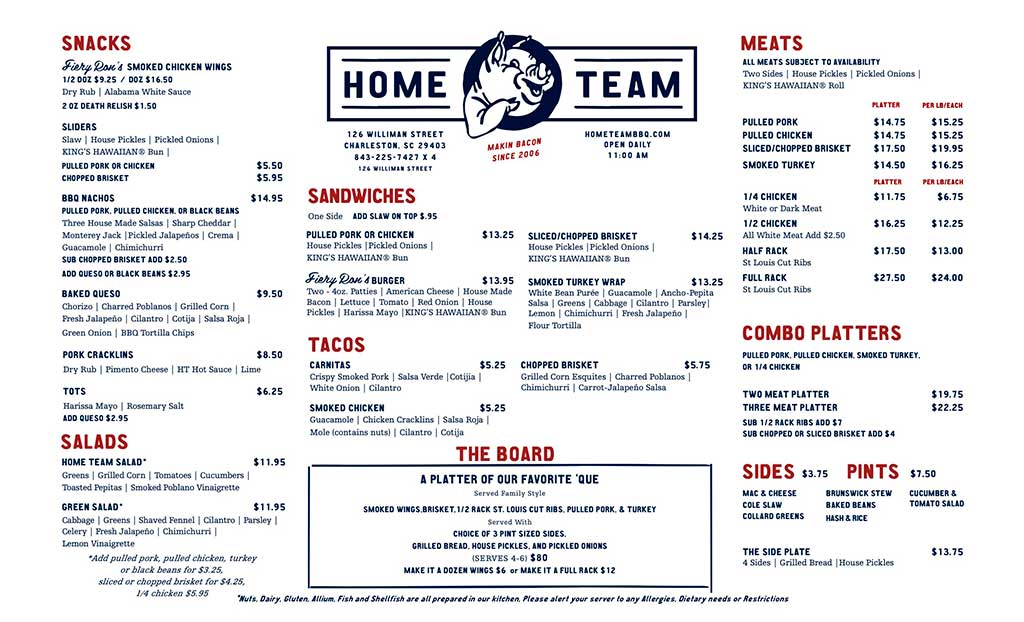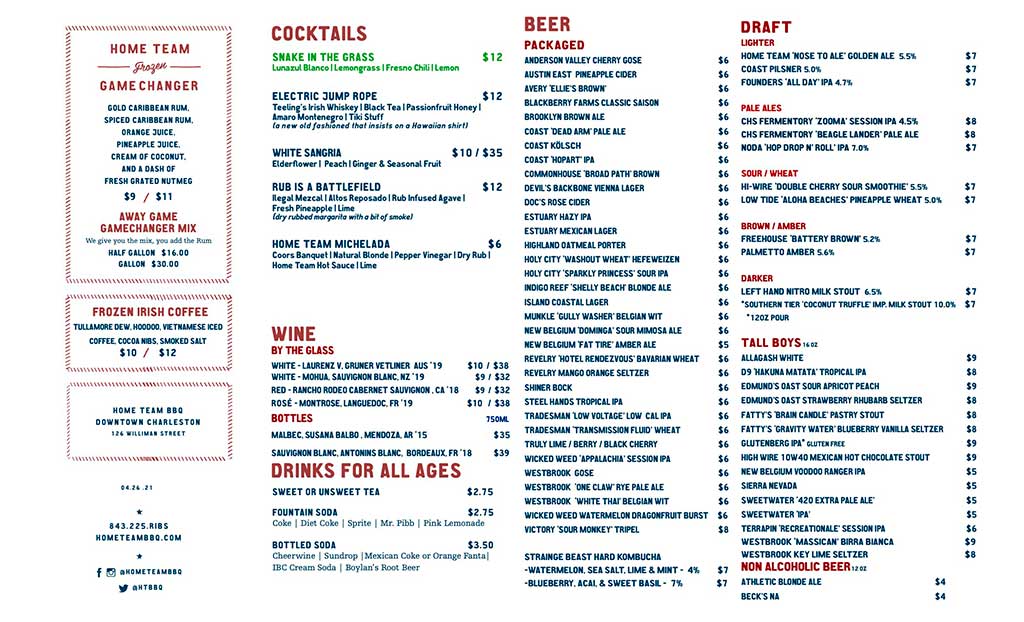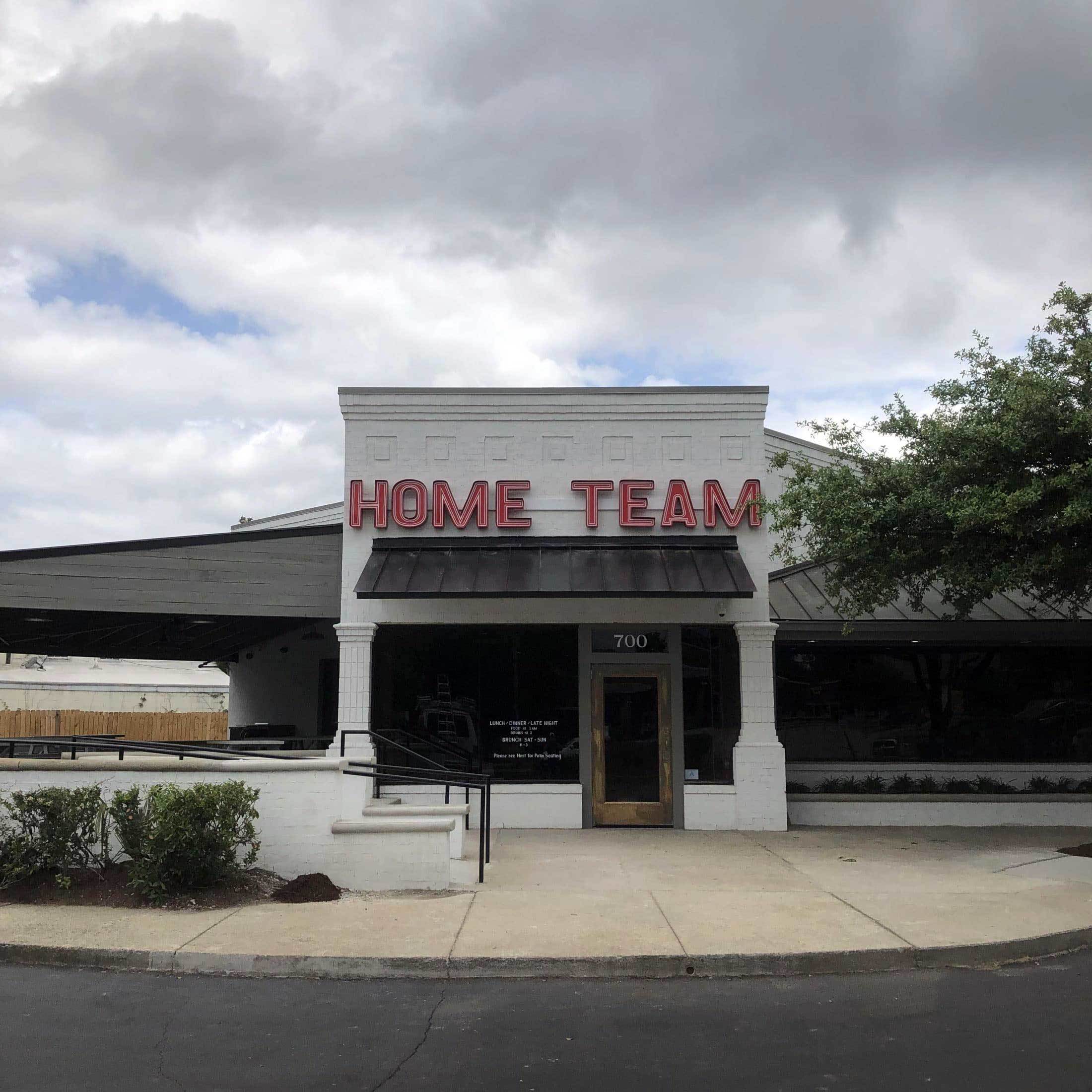 Fiery Ron's Home Team BBQ Columbia
700 Harden St.
Columbia,
SC
29205
| | |
| --- | --- |
| Monday | |
| Tuesday | |
| Wednesday | |
| Thursday | |
| Friday | |
| Saturday | |
| Sunday | |
Features
100 Mile BBQ, True 'Cue Certified, Cards and Cash, Hash, Mustard Sauce, Vinegar Pepper Sauce, Light Tomato Sauce, Heavy Tomato Sauce