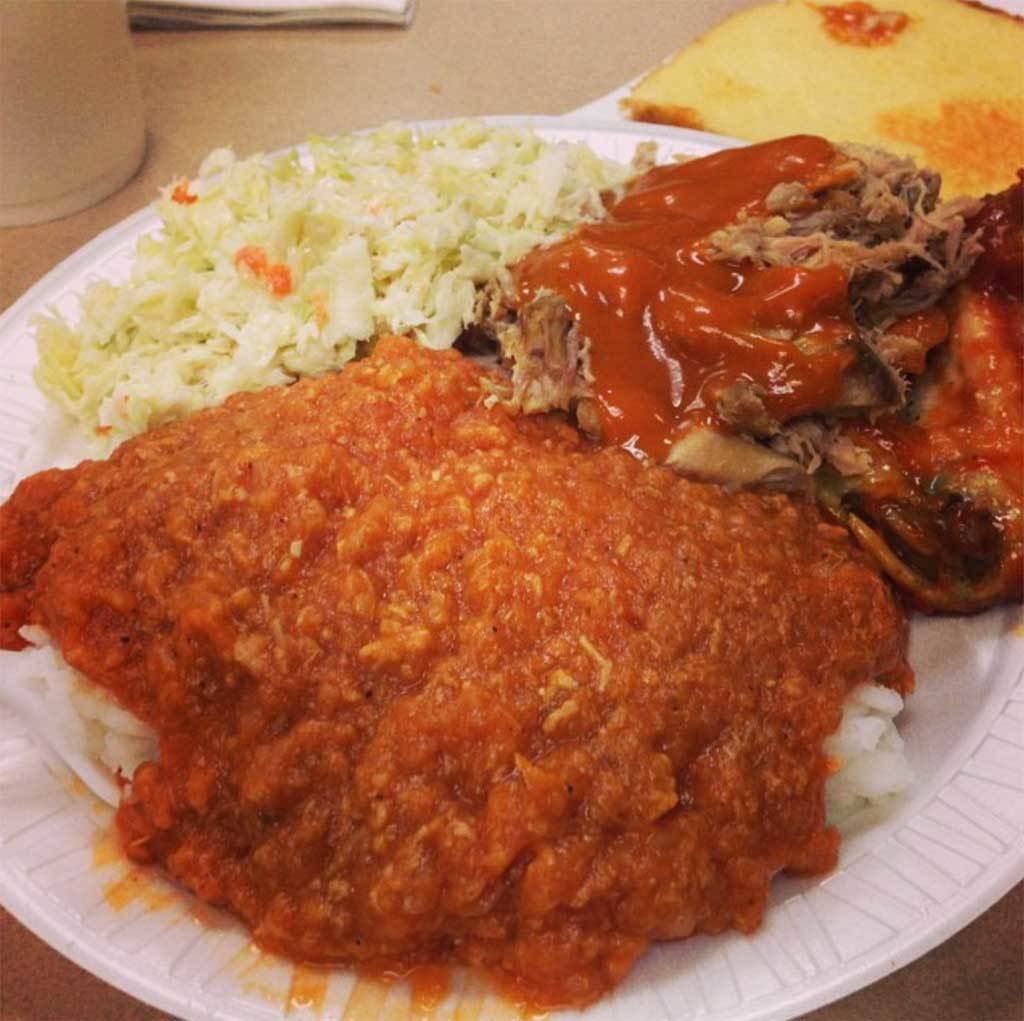 If you know South Carolina BBQ, you know the name Dukes. And if you know Dukes, you have certainly heard about Dukes BBQ hash. If you add one SC barbecue hash and rice recipe to your arsenal, this Dukes BBQ style hash recipe is one to add to the family cookbook.
There are a dozen Dukes restaurants in SC at the time of this writing, but while they share similar qualities, they are not all the same. Walk into Dukes of Walterboro and you will not get the exact same menu or experience as you would at the Dukes in Ridgeville.
They are not a chain or franchise, per se, but rather a loosely connected assortment of family restaurants.
One thing they all have in common is a delicacy unique to South Carolina: hash and rice. This is not to be confused with Brunswick Stew, common in BBQ restaurants in NC and GA.
Here's a good look at Dukes' hash
South Carolina barbecue hash recipes all yield a thick stew of sorts whose exact ingredients vary from family to family and restaurant to restaurant. However, common among all the variations of SC BBQ hash recipes, you'll always find its base built upon a meat product — typically pork, sometimes beef, and often a combination.
This rich, meaty foundation is layered with some combination of onions, potatoes, and BBQ sauce. Then it is all boiled down (and sometimes ground) into a thick, soupy stew.
Often lovingly called "liquid sausage," SC BBQ hash is generally served atop a bed of white rice.
While that may not sound delicious to the uninitiated, most native South Carolinians expect a side of hash and rice when they go out to eat barbecue. Dukes' BBQ hash recipe is one that has kept them coming back for over five decades.
Head, Tongues, and Liver
Here's an old clip from SCETV discussing the Dukes BBQ hash recipe at the Dukes on Whitman in Orangeburg. Do they use these unusual parts from the pig to make their hash?
Below you will find our Dukes BBQ hash recipe we received from Michael Ott, who originally grew up in Orangeburg County, the heart of Dukes BBQ country, and has family ties to Dukes BBQ. It is not Dukes's actual recipe. "It's good, but not a match for Dukes," he said humbly.
Hash and rice is a staple at BBQ joints around the state and if you're looking for a homemade recipe, Michael's recipe is friendly for the home cook.
Curious about SC BBQ Hash?
We've published an in-depth look at SC BBQ hash.
In addition, we have published a Google Web Story on South Carolina Barbecue Hash.
In each piece, we examine the origins and history of yet another SC BBQ original. In addition, you will find a current listing of every SCBBQ restaurant that serves hash.
For your convenience, we've included an interactive SC BBQ Hash Map which is similar to our SC BBQ Trail Map. This map filters the result to show only those places serving some version of an SC barbecue hash recipe, regardless of meat base, flavoring, or style.
How do you find the best hash and rice spot near you?
With your permission, the map will find your location and show you the closest 25 places serving hash within 100 miles of you.
And, of course, you'll find several SC BBQ hash recipes to make at home. Among them, you will discover a beef hash recipe that certainly a different style than Dukes' and more commonly found in the Upstate.
But be sure to come back to make and enjoy this Dukes BBQ hash recipe from Michael.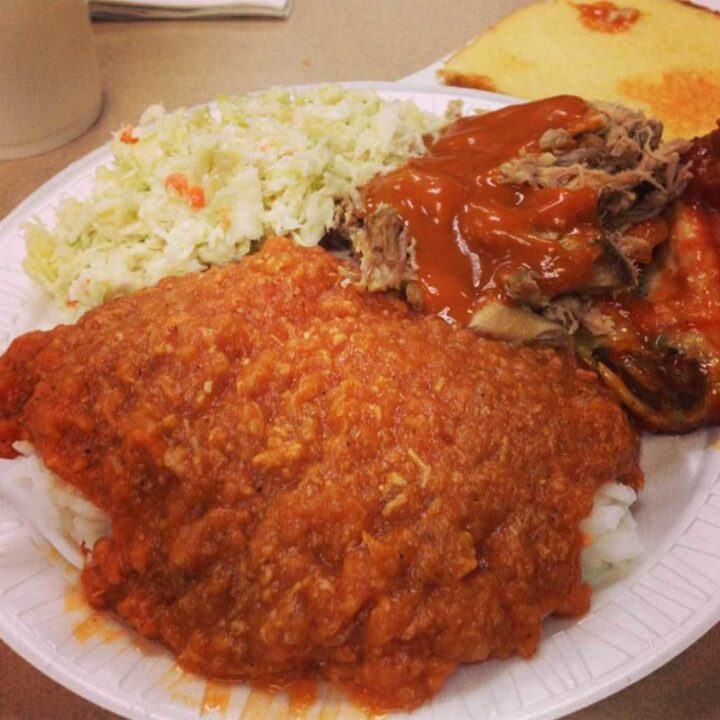 Dukes BBQ Style Hash
Total Time:
1 hour
15 minutes
An authentic SC BBQ hash recipe at its best, Dukes Barbecue style. Potatoes, onions, and pork are about all you need!
Ingredients
5 lbs Boston butt, roasted or cooked in a crockpot until tender and falling off the bone
2 lbs potatoes, chopped
2 lbs onions, chopped
1 cup mustard-based BBQ sauce
1 cup ketchup
1/2 cup apple cider vinegar
2 tablespoons black pepper, ground
1 tsp hot sauce, Texas Pete or to taste
8 tbsp butter, (one stick)
Instructions
Sauté onions with potatoes in a little oil until onions are tender.
Stir in black pepper.
Pull pork and add to potatoes and onions.
Fill with water until covered.
Cook until potatoes are done.
Blend mixture slightly in a blender and return to pot.
Add BBQ sauce, ketchup, hot sauce to taste and vinegar.
Simmer until it's the consistency of thick soup.
Turn off heat and add butter.
Serve over white rice.
Notes
For a different yet still authentic SC-style hash, substitute half the pork with a beef roast. That version of this South Carolina BBQ hash recipe will have more in common with the hash you find in the Midlands of SC.
Can be refrigerated for up to 5 days or frozen for up to 6 months.
Nutrition Information:
Yield:

20
Serving Size:

1 cup
Amount Per Serving:
Calories:

134
Total Fat:

6g
Saturated Fat:

3g
Trans Fat:

0g
Unsaturated Fat:

2g
Cholesterol:

13mg
Sodium:

332mg
Carbohydrates:

20g
Fiber:

2g
Sugar:

6g
Protein:

3g