Dukes Bar-B-Que on Whitman in Orangeburg
This post may contain affiliate links to Amazon or other vendors I trust. Please read my disclosure policy. As an Amazon affiliate, I earn from qualifying purchases.
When it comes to SC BBQ, Dukes is one of the great family names. And Dukes Bar-B-Que on Whitman in Orangeburg is the center of the Dukes BBQ empire. Despite what many people may assume given the number of locations scattered around the state, Dukes is not a franchise .
All the restaurants are loosely connected by family ties, but each is separate and unique. This article by Robert Moss, published in the Charleston City Paper, sheds some light on this family BBQ business and their history, going back to their progenitor Earl Dukes.
Mr. Dukes sold the restaurant to a couple of partners in 1972. One of them was Harold Kittrell, whose family still operates this location today.
Kittrell was interviewed by Rien Fertel for Southern Foodways Alliance. They discuss Earl Dukes, how his family took over the Dukes Bar-B-Que on Whitman, and about their hash, among other things.
Give it a listen: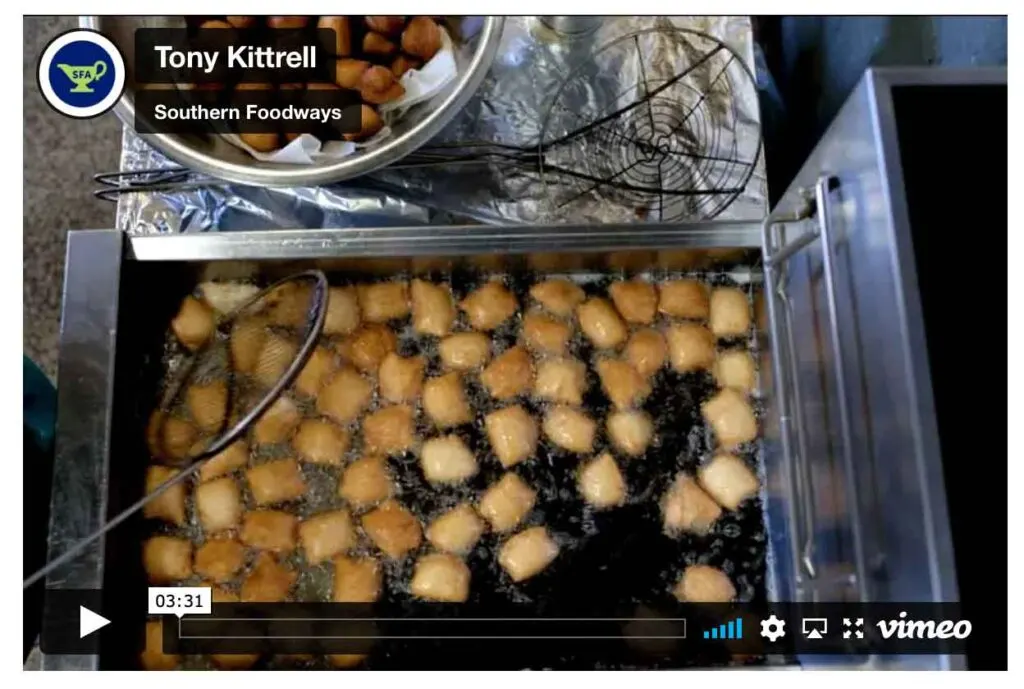 Orangeburg Sweet or Rust Gravy
In his book Barbecue Lover's the Carolinas: Restaurants, Markets, Recipes & Traditions, BBQ boss Robert Moss, food historian and BBQ editor for Southern Living, discusses the Dukes Bar-B-Que on Whitman in Orangeburg at length.
For outsiders, the fried chicken, which is tender and juicy beneath its crisp batter, is as much a draw is the pork. But for locals who grew up eating the stuff, the finely chopped pork dressed with Dukes's signature sauce is the essence of real barbecue.
That sauce is either a variant of the Midland's style mustard-based barbecue sauce or a unique sauce category in and of itself, for it has both ketchup and mustard in it, which gives it an unusual orangeish – red hue. Kittrell, who runs the Whitman Street Duke's today, calls it "rust gravy."
Indeed, Dukes is famous for spawning the "Orangeburg Sweet" mustard-based BBQ sauce that is really a mixture containing mayo, mustard, and ketchup, according to a source we spoke with at Antley's in Orangeburg.
Dukes Bar-B-Que on Whitman has been around for a while, as you can tell from this old clip from SCETV:
What Folks are Saying
Google Review
Among the many Google Reviews, Local Guide Tripp Waters is a veteran of Dukes Bar-B-Que on Whitman and visits whenever he can:
My favorite barbecue restaurant and has been for years, I try to go every chance I get. My preference: Hash and Rice (a beloved staple), hush-puppies (sweet and crispy with fluffy cores), pulled pork with dukes bbq sauce (heavenly), slaw (I love it), and their sweet tea (hmmmm)… back up singers: bread and butter pickles and beans. And I do go back for seconds.
Yelp Review
Over on Yelp, Heath P says that no matter where you're going in SC, a trip to Dukes Bar-B-Que on Whitman in Orangeburg is completely worth it:
The Best BBQ in the World !! $8 all you can eat. Duke's will make you blissfully miserable and send you spiraling into the most satisfying food coma of your life.
They use the best semi-sweet mustard base sauce I have ever had. Their pulled pork is the most tender I've had at a restaurant. It has the perfect smoky flavor and their pork hash is awesome. To say the least (just don't use too much rice – you can eat that at home). Add fried chicken, BBQ chicken, and the best skins you've ever had . . . Mmmmm.
Sometimes I get a few green beans and pickles just to add a different color to my plate. There is nothing fancy about Duke's. Cafeteria-style, a pitcher of sweet tea on every table, and a little bit of taxidermy on the walls.
There's probably not a lot of reasons for most to find themselves in Orangeburg, SC. But if you are going to catch a game at SC State, or decide that you want the best BBQ in the world on your way to Columbia or Myrtle Beach, Duke's is totally worth the diversion.
SC BBQ Association
Sure, folks on review sites often have great things to say about a place, but what about the folks who really know SC BBQ better than anyone? What about the folks who actually train the judges for SC BBQ competitions? What do they think of this place?
Well, the SC BBQ Association has named this place one of the Top 100 BBQ houses in the state.
Duke's barbeque houses in their many forms around the state have probably served more barbeque than anyone else in the state with the possible exception of Maurice's. Starting in the little town of Cope (where there is no Duke's any longer), the Dukes family then opened their next restaurant in Orangeburg. They thrived there and set the standard for barbeque for miles around.
---
Menu for Dukes
Note: Menu prices and options are subject to change over time. Contact the restaurant for the most up-to-date information.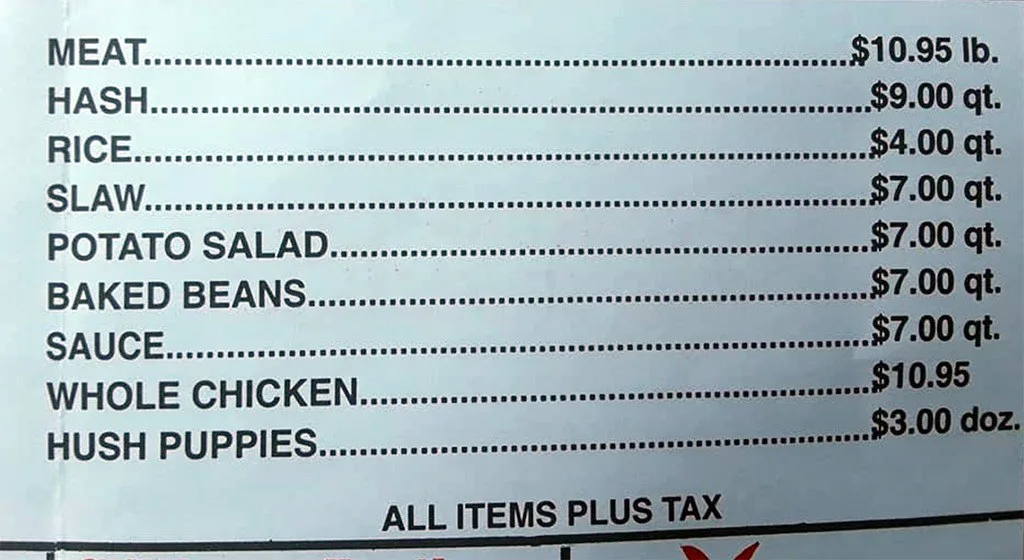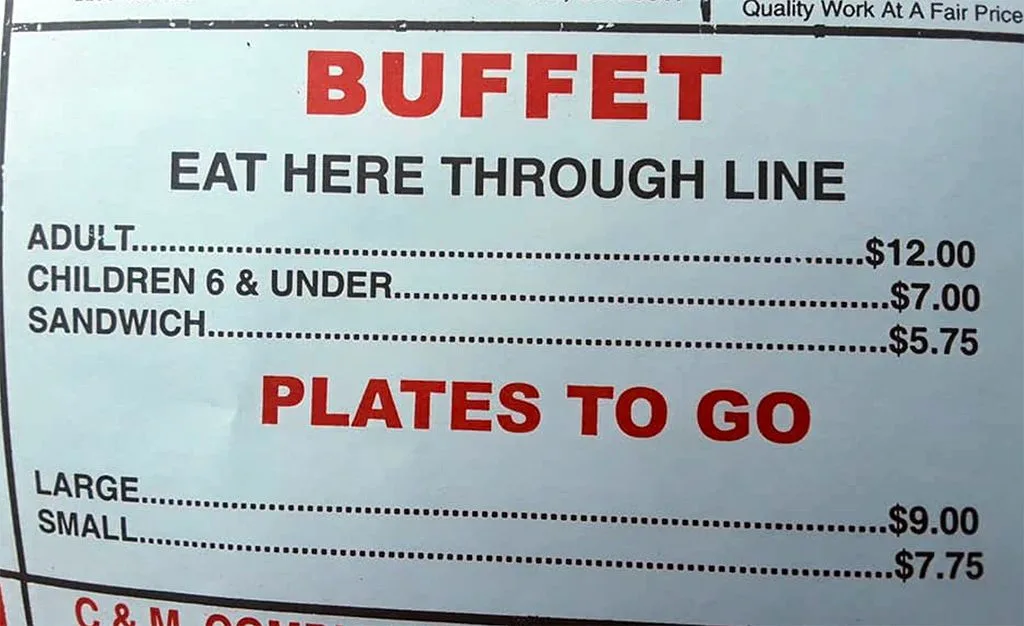 Location, Hours, Contact Info, and More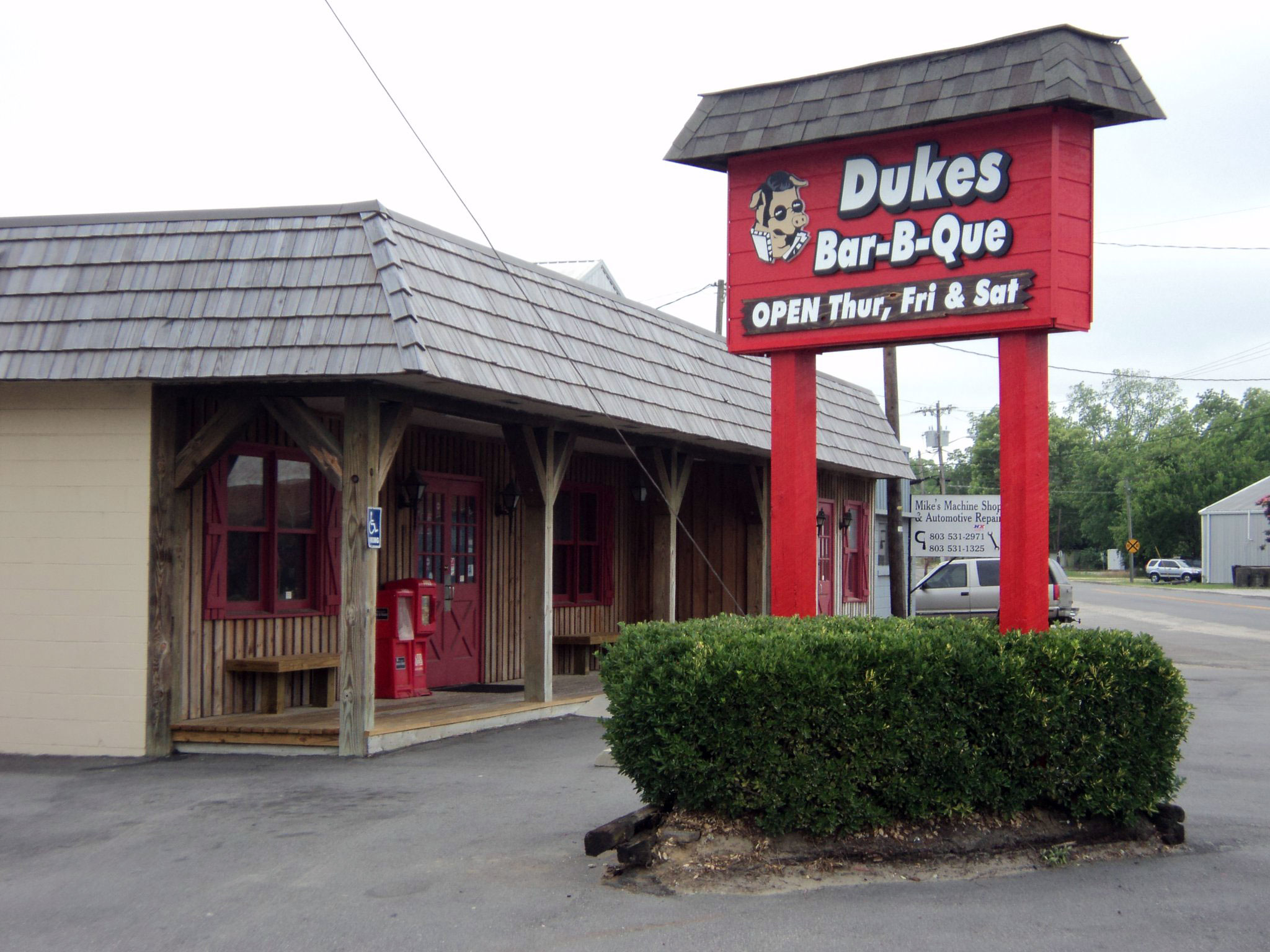 Map
Directions
Contact Dukes Bar-B-Que on Whitman in Orangeburg
1298 Whitman Street
Orangeburg,
SC
29115
Hours of Operation
| | |
| --- | --- |
| Monday | Closed |
| Tuesday | Closed |
| Wednesday | Closed |
| Thursday | |
| Friday | |
| Saturday | |
| Sunday | Closed |
Review Sites
Features
Buffet, Cards and Cash, Hash, Heavy Tomato Sauce, Light Tomato Sauce, Mustard Sauce, Vinegar Pepper Sauce