Listen to this Destination: BBQ article.
This post may contain affiliate links to Amazon or other vendors I trust. Please read my disclosure policy. As an Amazon affiliate, I earn from qualifying purchases.
Buzzard Gizzards are the Secret
It's long been rumored that buzzard gizzards are the secret ingredient in the baked beans at Bucky's BBQ in Greenville. In fact, owner Wayne Preston tells folks that is the unique spice that provides the special flavor he gets in his baked bean recipe.
We have looked long and hard for a source of buzzard gizzards, but I guess you have to buy them from some underground market. Knowing he couldn't share his source, we were grateful that Preston would at least share the other ingredients in his baked beans recipe.
See Preston discuss the use of buzzard gizzards in this recipe:
Gizzards aside, this baked beans recipe from Bucky's BBQ is, fortunately, a simple dish for the home cook to make. Preston starts with pre-cooked beans from a large can (55 oz) of Pork and Beans.
Yep, it's that easy.
Sure you can make your own from scratch, but frankly starting from dried beans is hardly worth the effort. What you add to those beans is where the magic happens.
Here's what Preston had to say about the recipe:
"There are a hundred ways to make baked beans. Everybody's grandmother has a different recipe.
"You can make them cheap or expensive, depending on how complex you want to get. This is a fairly simple yet very tasty recipe that I enjoy making for catering and groups that want a meaty bean that satisfies most anyone."
What Folks are Saying about Bucky's Baked Beans Recipe
It certainly seems to satisfy his customers. In fact, check out what some folks had to say about Bucky's baked beans recipe on the review sites:
First, Michele D on Yelp wrote the following: "The baked beans were delicious; don't know if they make them themselves or if they are out of a can, but they were great." Funny, I know…
Also on Yelp, both Priya M and her husband tried this baked beans recipe and it was a hit: "My husband loved the mac and cheese and we both loved the sweet baked beans. This definitely hit the spot."
Over on TripAdvisor, 1969TomT came pretty close to guessing one of the ingredients. "The other plate was ordered with sides of baked beans and slaw which were also very tasty, especially the beans cooked with a touch of cinnamon." Cinnamon….allspice. Not bad, Tom.
Depending on how long you cook them, or if you choose to first drain off a bit of the liquid from the canned beans, Bucky's baked beans recipe can provide you with a looser or thicker finish, as you can see in the Instagram post below.
Another twist you might consider is adding bacon or other smoked meats in place of or in addition to the sausage. We've got a simple homemade wild boar bacon recipe you might try, if you're feeling adventurous.
However you decide to make your version of this baked beans recipe, we're certain that you'll enjoy it.
Let us know how yours came out by rating the recipe and/or commenting below.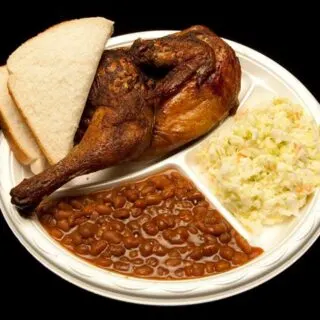 Baked Beans Recipe from Bucky's BBQ
Total Time:
1 hour
15 minutes
Both sweet and spicy, Bucky's BBQ's Baked Beans are the perfect side dish.
Ingredients
55 ounces Pork & Beans, one large can
4 ounces Sausage, cut small (Bacon will also work well or even just chopped pork)
1/2 cup Brown Sugar
1 tablespoon Worcestershire Sauce
1/2 cup Ketchup
1 tablespoon Yellow Mustard
4 ounces Cherry Tomatoes, "Handful of them" cut in half
1/2 cup Bell Pepper, chopped
1/2 cup Onion, chopped
1/4 teaspoon Allspice
1/4 teaspoon Hot Sauce
3-4 slices Bacon, small pieces
Instructions
Add all ingredients, mix well with a spoon until blended.
Transfer to an oven-safe dish
Cook at 350 degrees uncovered for 1 hour or until sausage is done and peppers & onions are soft.
Notes
If you prefer to cook in a smoker, you will have to cook longer to be sure everything is well done and that the smoke flavor is infused completely.
If you prefer to cook peppers, onions, bacon, and sausage before making the beans, you can cut the cooking time in half.
Recommended Products
As an Amazon Associate and member of other affiliate programs, I earn from qualifying purchases.
Nutrition Information:
Yield:

16
Serving Size:

4 oz
Amount Per Serving:
Calories:

167
Total Fat:

4g
Saturated Fat:

1g
Unsaturated Fat:

0g
Cholesterol:

12mg
Sodium:

543mg
Carbohydrates:

30g
Fiber:

6g
Sugar:

9g
Protein:

6g
---
Like to Volunteer as One of our Recipe Testers?
We have a bookful of recipes to test and publish. Join the team and choose from our collection of unpublished recipes.
All we ask is that you photograph the process and share your thoughts on each recipe and the finished product. And we'll feature you when we publish that recipe.
Interested? Just send me an email.
---
Check out these other authentic SCBBQ recipes we've published on the site:
Eastern SC Vinegar-Based Sauce Recipe
Home Team BBQ's Alabama White Sauce Recipe
Lone Star BBQ's Tomato Pie Recipe
In addition, we've published all of the following recipes in the SCBBQ Recipes: Going Whole Hog cookbook (read more about that here):
Sauces and Rubs:
Vinegar-Pepper Sauces
Mustard Sauces
Tomato-Based Sauces
Other Sauces
Rubs