This post may contain links from which I earn a commission. Please read my disclosure policy. As an Amazon affiliate, I earn from qualifying purchases.
While brisket is often served in SCBBQ restaurants today, no one would suggest that brisket is historically common in SC BBQ restaurants.
For South Carolinians, barbecue is pork, preferably pulled and served with one of four basic sauce types: vinegar-pepper, light tomato, heavy tomato, or a sauce that originated in SC, a mustard sauce.
Brisket certainly breaks with tradition, but that certainly doesn't mean we don't love it. (By the way, if you're looking for a great brisket in SC, you can do no better than Lewis Barbecue in Charleston.)
Michael Ott, who originally grew up in Orangeburg County, the heart of Dukes BBQ country known for their "Orangeburg Sweet" mustard sauce, provided us this recipe for his brisket mojo sauce.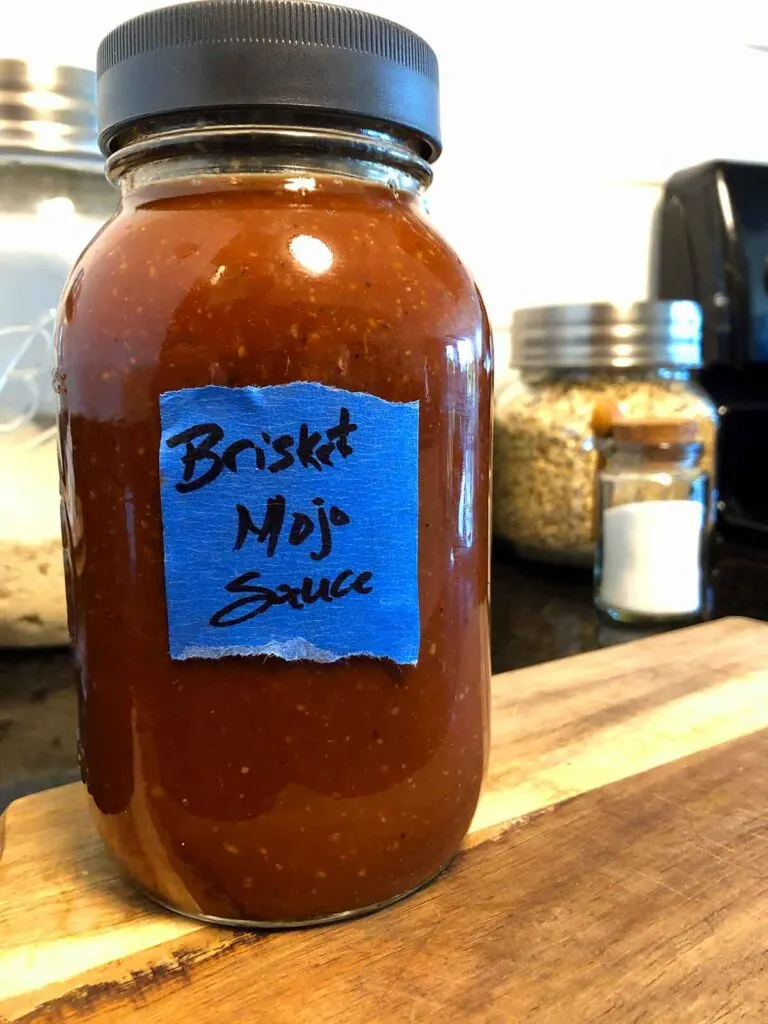 "I have a recipe for a really good brisket sauce. It's so ridiculously simple that it's embarrassing," Michael said. "I was trying to copy Rudy's in San Antonio, and this is what I came up with."
"People love it and put it on everything, not just brisket."
"Had a guy text me this weekend that he mixes it with mustard sauce and cooks it on BBQ chicken.
"There is a lady who tells me she can drink it. I've told her the recipe, but she still says it is better when I make it. Guess it's a mental thing.
"Anyway, there is nothing original in this sauce, and I have no idea why people like it, but I don't mind sharing. There are only 5 ingredients and 2 are optional.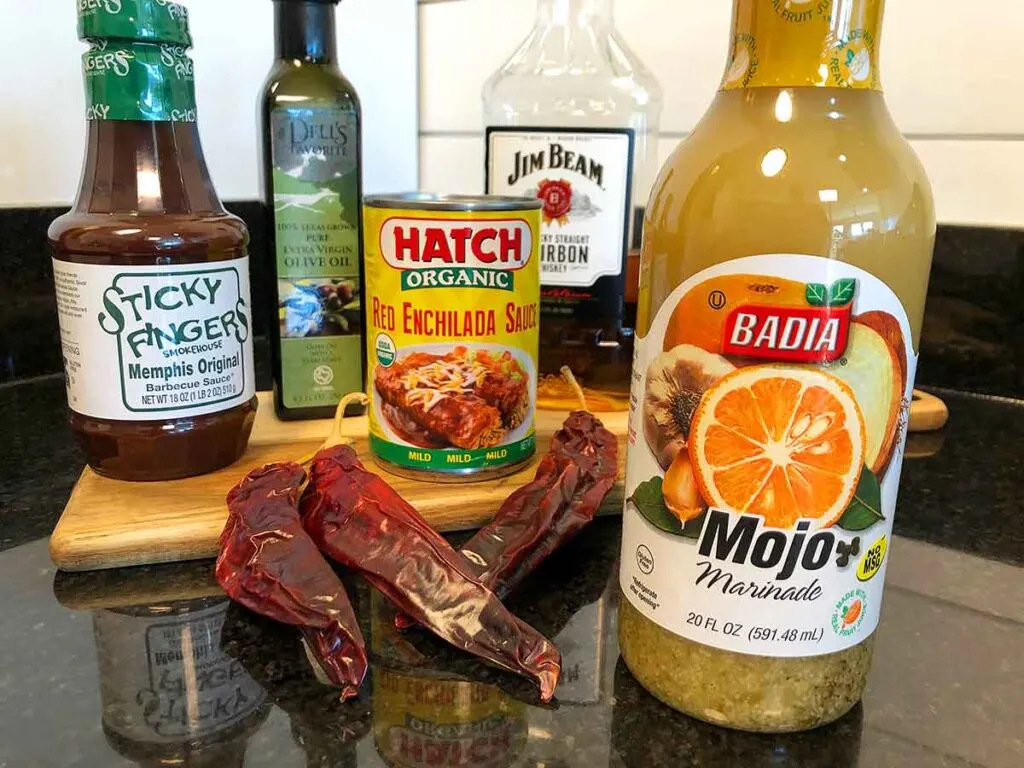 "Brisket done right is certainly good without, but some people like an extra little zing. If you serve it traditionally on a grilled tortilla with fresh green onion, sliced lengthwise, and a side of charros, I think it's better with a little sauce."
Making Michael's Brisket Mojo Sauce
Like he said, the sauce is simple. While you can make your own version of the primary ingredients, there's really no reason to.
You'll need Mojo marinade. I found two at my local supermarket on the "International" aisle. One was by Goya and the mojo I purchased was made by Badia. I got the Badia because it was 20 ounces instead of 24, closer to the suggested 12 ounces used in the recipe. If I were making a double batch, the Goya would have been the way to go.
If you haven't tasted a mojo sauce before, it is a citrus-garlic-onion mix with oil and herbs. It's said to have originated in the Canary Islands, where red and green mojo are featured. The Cuban Mojo Criollo used in this dish may be based on those concepts but feature different ingredients.
Regardless of how it's originally made, you'll just open a bottle and pour it into a bowl that will comfortably hold a quart to make this recipe.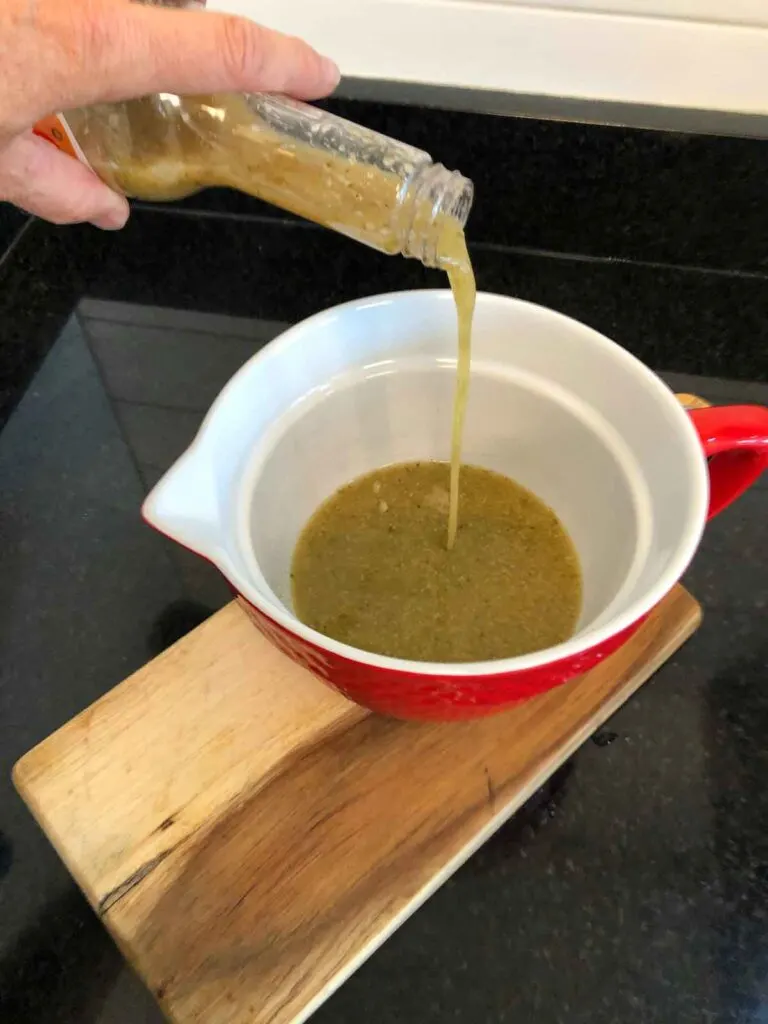 Next, I poured in the Sticky Finger's Memphis Original sauce. It's a classic tomato-based sauce in the "Memphis-style" sauce as suggested by Michael in his recipe notes. While Sticky Fingers was born in Mount Pleasant, SC, its founders were from Memphis. You could go with your own favorite BBQ sauce, but the Sticky Finger's sauce is a good choice. You can find it on Amazon.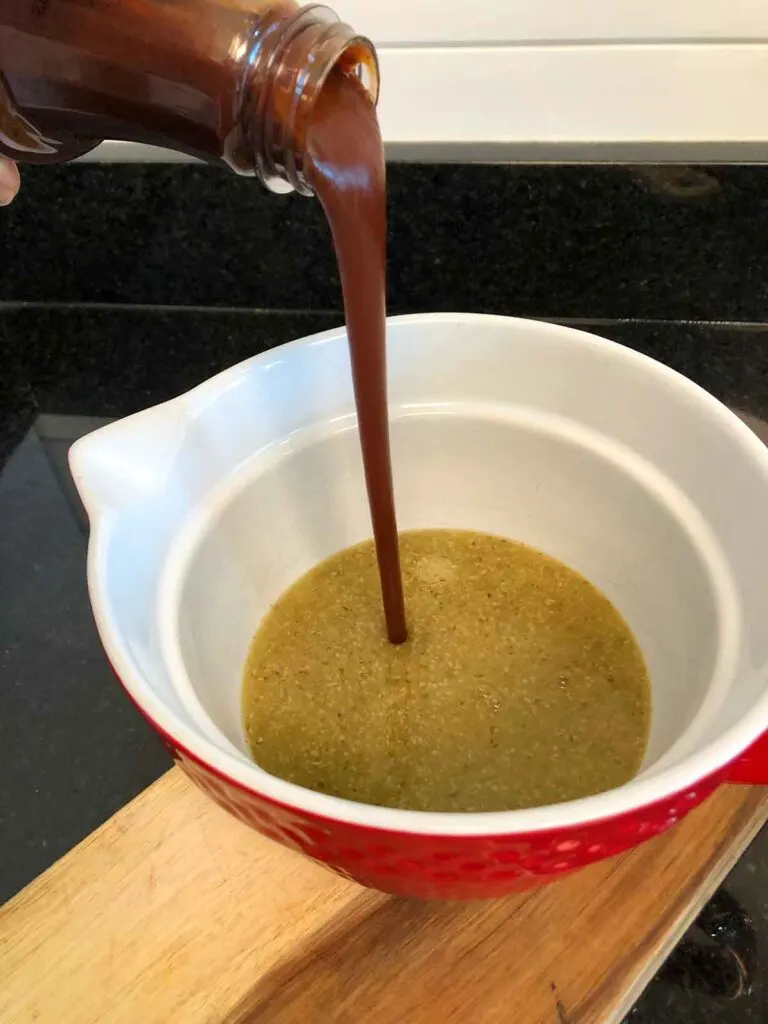 After mixing in the barbecue sauce, I poured in the enchilada sauce. Again, any brand will do. I honestly went with the first one I found, which was by Hatch. Another brand I frequently buy is Old El Paso.
I do like to make my own, and honestly, it is better than any store-bought brand I've tried, but it's a lot of work and would not be worth the added effort in this case. (Maybe I'll share the recipe here one day. Let me know if you'd like me to in the comments below.)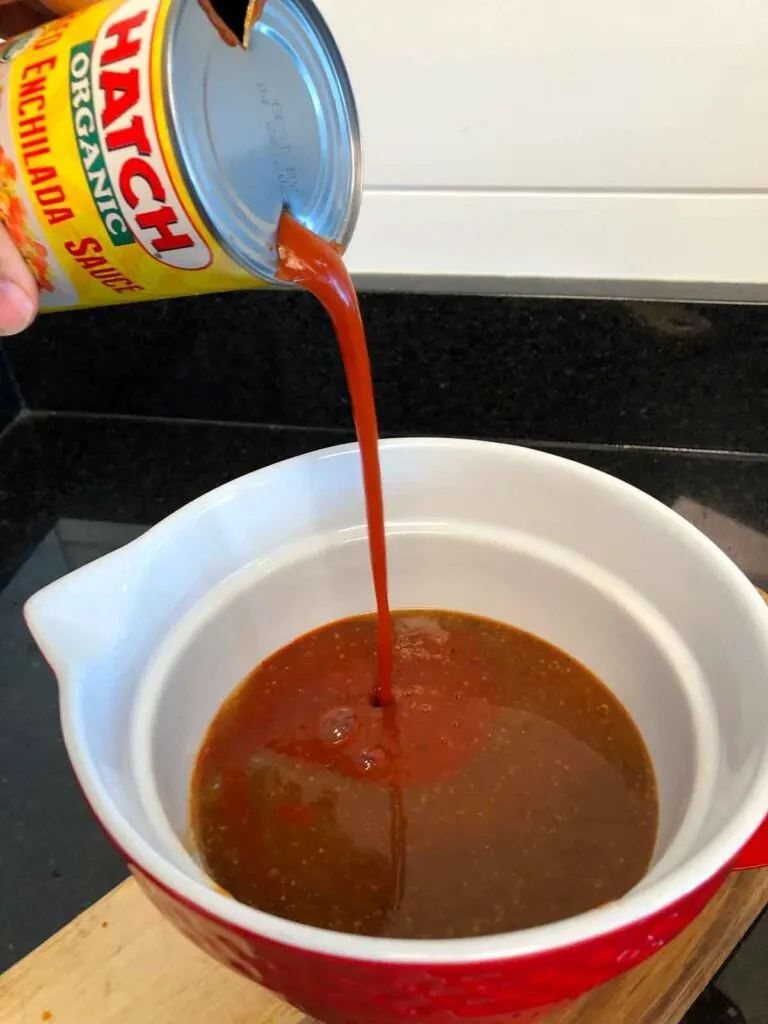 From there, I added the optional olive oil and bourbon.
The olive oil, Dell's Favorite, was a gift from my daughter who stumbled across it while staying at a Harvest Host site in Elgin, Texas, near Austin. Olive oil from Texas. Good stuff!
That said, I don't know that any oil is needed in this mix. I'd probably leave it out next time because I didn't sense any advantage to adding it.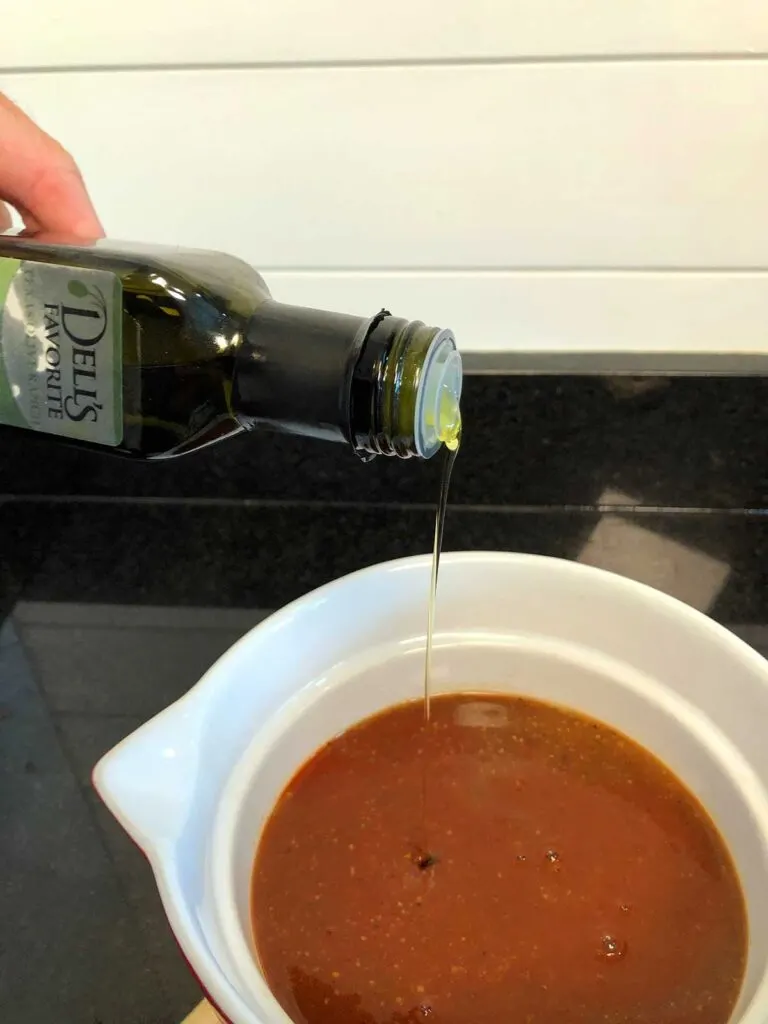 And finally, I poured on probably a tablespoon of what remained of the Jim Beam I had in the pantry. It adds a nice punch to the sauce, but it does not make it "boozy" tasting.
Frankly, I had food when it tastes like alcohol, but I don't mind food that is enhanced by it. That's why I shied away from the second tablespoon. Not unhappy with that decision, but I may well have supported two tablespoons without tasting of alcohol.
Feel free to leave out or pour in based on your personal tastes.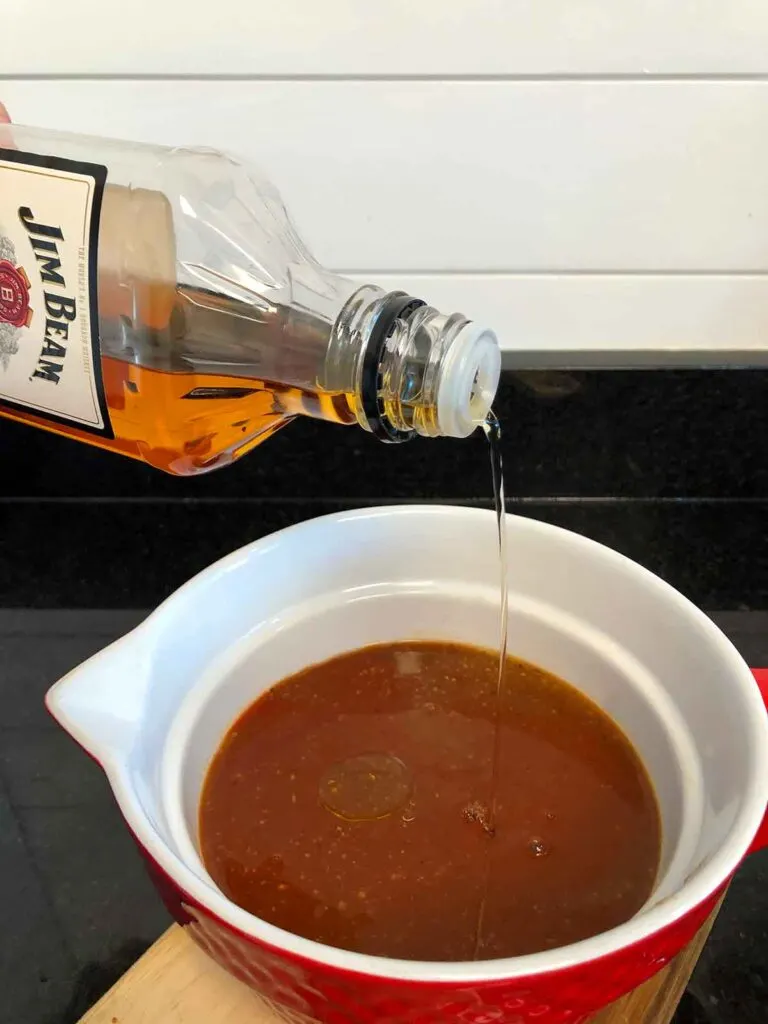 Think of Michael's Mojo brisket sauce as an all-purpose sauce for whatever you put on the grill. My choice of barbecue sauce gave it a nice smoky taste. The mojo criollo offers a nice twang from the citrus. The enchilada sauce ramps up the chile taste, but there's no added heat from it.
In the end, you end up with a sauce that really is not limited to brisket. It would work just as well on chicken or pork.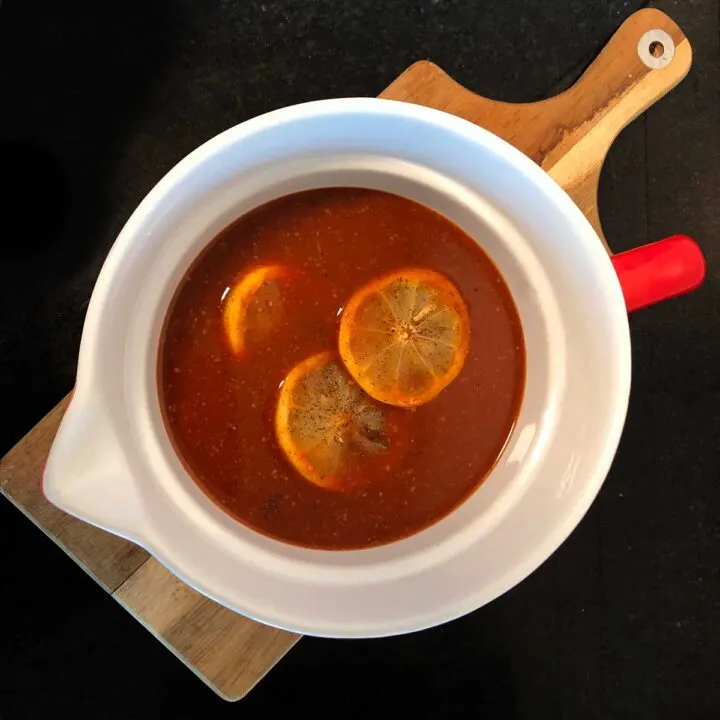 Brisket Mojo Sauce
Brisket is great on its own, of course, but here's great suace to make at home to add a little zing to your next brisket dish.
Ingredients
12 oz Mojo Criollo marinade, about 1/2 bottle
12 oz BBQ sauce
15 oz Red Enchilada sauce
2 Tablespoons olive oil, optional
2 Tablespoons bourbon, optional
Instructions
Mix and serve. That's it.
Notes
You can find Mojo Criollo sauce in the Latino area of most grocery stores. It is also, of course, available on Amazon. (see below).
As for the BBQ sauce, Michael writes "Anything but the cheap stuff, no Bull's Eye or KC Masterpiece. I like a Memphis-based sauce, but anything you like works."
As for the Enchilada sauce, Michael notes that sauce "from the can is fine."
Recommended Products
As an Amazon Associate and member of other affiliate programs, I earn from qualifying purchases.
Nutrition Information:
Yield:

24
Serving Size:

1 grams
Amount Per Serving:
Calories:

50
Total Fat:

1g
Saturated Fat:

1g
Unsaturated Fat:

1g
Cholesterol:

1mg
Sodium:

569mg
Carbohydrates:

8g
Fiber:

1g
Sugar:

6g
Protein:

1g
---
Like to Volunteer as One of our Recipe Testers?
We have a bookful of recipes to test and publish. Join the team and choose from our collection of unpublished recipes.
All we ask is that you photograph the process and share your thoughts on each recipe and the finished product. And we'll feature you when we publish that recipe.
Interested? Just send me an email.
---
Check out these Dukes BBQ recipes we've published on destination-bbq:
And we've published the following sauce recipes in the SCBBQ Recipes: Going Whole Hog cookbook (read more about that here):
Sauces and Rubs:
Vinegar-Pepper Sauces
Eastern SC Vinegar-Pepper Sauce Recipe
Lowcountry Vinegar Sauce Recipe
Mustard Sauces
Dukes BBQ Sauce – "Actual Recipe"
Simple South Carolina Mustard Sauce Recipe
Bessinger's-Style Gold Sauce Recipe
Tomato-Based Sauces
Bullies BBQs Thin Basting Sauce Recipe
Cherrywood Signature BBQ Sauce Recipe
"Carolina Red" Light Tomato Barbecue Sauce Recipe
Basic Tomato Barbecue Sauce Recipe
Other Sauces
Roller Family Hot Sauce Recipe
Rubs
Sticky Fingers' Basic Dry Rub Recipe
JB's Smokeshack-Style Spicy Dry Rub Recipe
Sticky Fingers' Texas Rub Recipe
BlackJack Barbecue Dry Rub Recipe
Sticky Fingers' Sweet Rib Rub Recipe
Home Team BBQ Dry Rub Recipe for Chicken Wings Recipe
John Lewis BBQ-Style Brisket Dry Rub Recipe