This post may contain links from which I earn a commission. Please read my disclosure policy. As an Amazon affiliate, I earn from qualifying purchases.
If you learn to make one BBQ sauce, learn to make this one. Jay Phillips' "Hog Sauce" is what we lovingly refer to as a "Master Sauce."
What is a master sauce?
In most of the world, a master sauce is associated with Chinese cooking. The soy-sauce based braising liquid is widely referred to as a master sauce. Jay's sauce is no Chinese master sauce, but it is masterful.
Jay's Hog Sauce is a classic Eastern South Carolina vinegar-pepper barbecue sauce that stands on its own.
But the sauce is versatile enough to modify into a tomato-based BBQ sauce or even a mustard-based BBQ sauce with minor additions.
(See the notes Jay provides in the recipe.)
This versatility lends itself to the idea of Jay's sauce as being a master sauce. Because it forms the basis of other, seemingly different sauces.
Heck, Jay even uses it to make red gravy, common in homes across the Pee Dee region of South Carolina.
Enjoy Jay Phillips' Whole Hog Sauce recipe: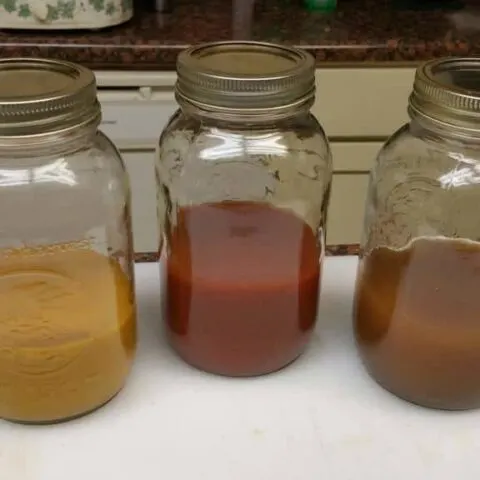 Jay Phillips' Whole Hog Vinegar-Pepper Sauce
A master sauce that can serve as the base for several others, Jay Phillips' whole hog sauce is a vinegar-based BBQ sauce and more.
Ingredients
1 gal. apple cider vinegar
1/4 cup granulated garlic
1/4 cup black pepper, coarse ground
1/4 cup cayenne pepper, finely ground
1/4 cup Lowry's seasoning salt
Instructions
Mix well.
The longer it sits, the better it gets. It is good after a day but better after a month.
Notes
This sauce has been a work in progress for many years. There have been more ingredients and fewer. I have settled on what it is now, and it seems to work for me. This is my whole hog sauce and the base for a few more that I make. For a catsup-based sauce, just add catsup. For mustard, add mustard and brown sugar. It also makes a good red gravy if you add catsup and butter.
Recommended Products
As an Amazon Associate and member of other affiliate programs, I earn from qualifying purchases.
Nutrition Information:
Yield:

192
Serving Size:

1 grams
Amount Per Serving:
Calories:

5
Total Fat:

1g
Saturated Fat:

1g
Unsaturated Fat:

0g
Sodium:

149mg
Carbohydrates:

1g
Fiber:

1g
Sugar:

1g
Protein:

1g
---
Like to Volunteer as One of our Recipe Testers?
We have a bookful of recipes to test and publish. Join the team and choose from our collection of unpublished recipes.
All we ask is that you photograph the process and share your thoughts on each recipe and the finished product. And we'll feature you when we publish that recipe.
Interested? Just send me an email.
---