South Carolina — arguably the birthplace of barbecue — is home to four native barbecue sauces: a heavy tomato, a light tomato, a vinegar-pepper, and a mustard-based sauce.
Recently, however, an interloper has crossed the border, and we find ourselves with a fifth sauce: the Alabama White Sauce.
Alabama White is, obviously, a mayonnaise-based sauce that reminds many of a simple coleslaw dressing; however, there is no question that Home Team's Alabama White is popular on things other than cabbage, especially with their Smoked Chicken Wings.
Home Team chef and co-founder Aaron Siegel, who we featured in this interview, provided his recipe for his Smoked Chicken Wings and Alabama White BBQ Sauce to starchefs.com.
If you're making the wings, you have to make the sauce, and it won't take long.
We have both the wing and sauce recipe along with over 150 pages more of authentic SCBBQ recipes in our cookbook: SCBBQ Recipes: Going Whole Hog.
Home Team BBQ currently has three locations in Charleston — Sullivan's Island, Downtown, and West Ashley — with other locations opening in Greenville and Columbia. There is also a Home Team in Aspen, CO.
Here is the recipe for Home Team's Alabama White BBQ Sauce: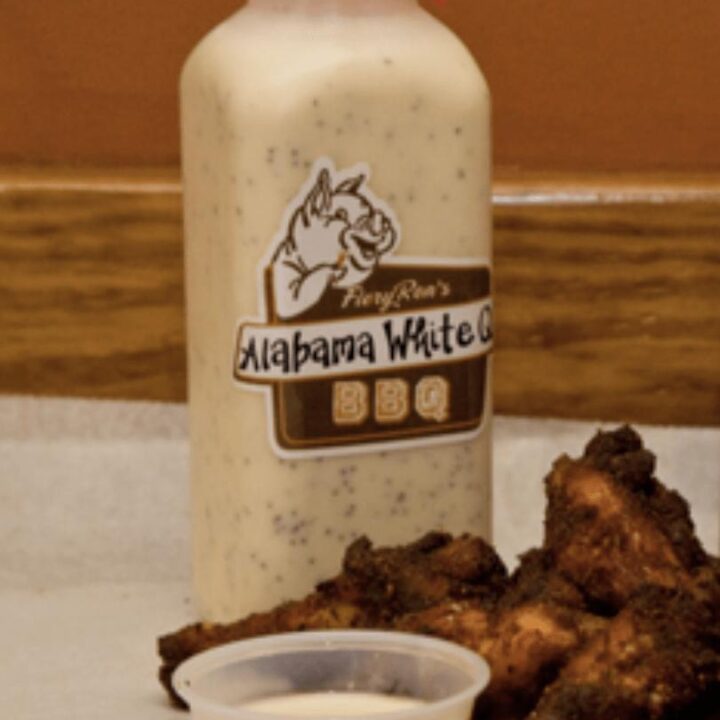 Home Team BBQ's Alabama White Sauce Recipe
White barbecue sauce is new to South Carolina, not having the historic precedence of vinegar, tomato, or our very own mustard-based sauces. Chef Aaron Siegel's recipe is the perfect companion to his smoked chicken wings and it is easy to make at home.
Ingredients
2 cups Duke's mayonnaise
2/3 cup apple cider vinegar
3 tablespoons sugar
1 tablespoon Kosher salt
1 teaspoon black pepper, coarsely ground
1 teaspoon cayenne pepper
Instructions
In a large bowl, whisk together mayonnaise, vinegar, sugar, salt, pepper, and cayenne.
Chill until ready to use.
Nutrition Information:
Yield:

48
Serving Size:

1.5 Tablespoons
Amount Per Serving:
Calories:

66
Total Fat:

7g
Saturated Fat:

1g
Trans Fat:

0g
Unsaturated Fat:

6g
Cholesterol:

4mg
Sodium:

191mg
Carbohydrates:

1g
Fiber:

0g
Sugar:

1g
Protein:

0g
---
Check out some of these other authentic SCBBQ sauce recipes we've published on destination-bbq:
Swig & Swine Mustard Sauce recipe
Moe's Original Alabama White Sauce recipe
South Carolina's Best Mustard-Based BBQ Sauce Recipe
And we've published the following sauce recipes in the SCBBQ Recipes: Going Whole Hog cookbook (read more about that here):
Sauces and Rubs:
Vinegar-Pepper Sauces
Jay Phillips' Whole Hog Sauce Recipe
Dad's Mop Sauce Recipe
Eastern SC Vinegar-Pepper Sauce Recipe
Moore Family's Little Fisher Hog Sauce Recipe
Lowcountry Vinegar Sauce Recipe
Mustard Sauces
Swig & Swine's Mustard BBQ Sauce Recipe
Dukes BBQ-Style Sauce Recipe
Dukes BBQ Sauce – "Actual Recipe"
Simple South Carolina Mustard Sauce Recipe
Bessinger's-Style Gold Sauce Recipe
Tomato-Based Sauces
John Padgett's Kansas City BBQ Sauce Recipe
Honey-Hickory Barbecue Sauce Recipe
Bullies BBQs Thin Basting Sauce Recipe
Cherrywood Signature BBQ Sauce Recipe
"Carolina Red" Light Tomato Barbecue Sauce Recipe
Basic Tomato Barbecue Sauce Recipe
Other Sauces
Home Team BBQ Alabama White Sauce Recipe
Moe's Original BBQ's Alabama White Sauce Recipe
Brisket Mojo Sauce Recipe
Roller Family Hot Sauce Recipe
Salsa Verde with Avocado for Pulled Pork Recipe