This post may contain affiliate links to Amazon or other vendors I trust. Please read my disclosure policy. As an Amazon affiliate, I earn from qualifying purchases.
Being an Atlanta native, a UGA grad, and a culinary-school-trained chef is not typical of the ingredients making up most SCBBQ pitmasters, but Aaron Siegel is anything but ordinary.
Aaron started his culinary journey at the Culinary Institute of America in Hyde Park, NY, and worked in high-end restaurants in Atlanta and Aspen, CO, before finding his way to Charleston to cook in places like Blossom Café and Cypress.
During this time, he became intrigued with barbecue and Southern foods. When the time was right, he and partners Taylor Garrigan, Tony McKie, and Madison Ruckel opened Fiery Ron's Home Team BBQ in West Ashley.
Three restaurants and many accolades later, Aaron has established himself among the premier pitmasters in the business.
In the following Q&A, Aaron shares insights about his journey, his restaurants, and his approach to barbecue:
Questions
1) Tell me how you first got involved with BBQ.
I started messing around with it in my spare time when I was in culinary school at the CIA in Hyde Park, NY. I smoked a lot of chicken, ribs, and vegetables at first, due to having a shorter cook time. I caught the BBQ bug pretty quickly.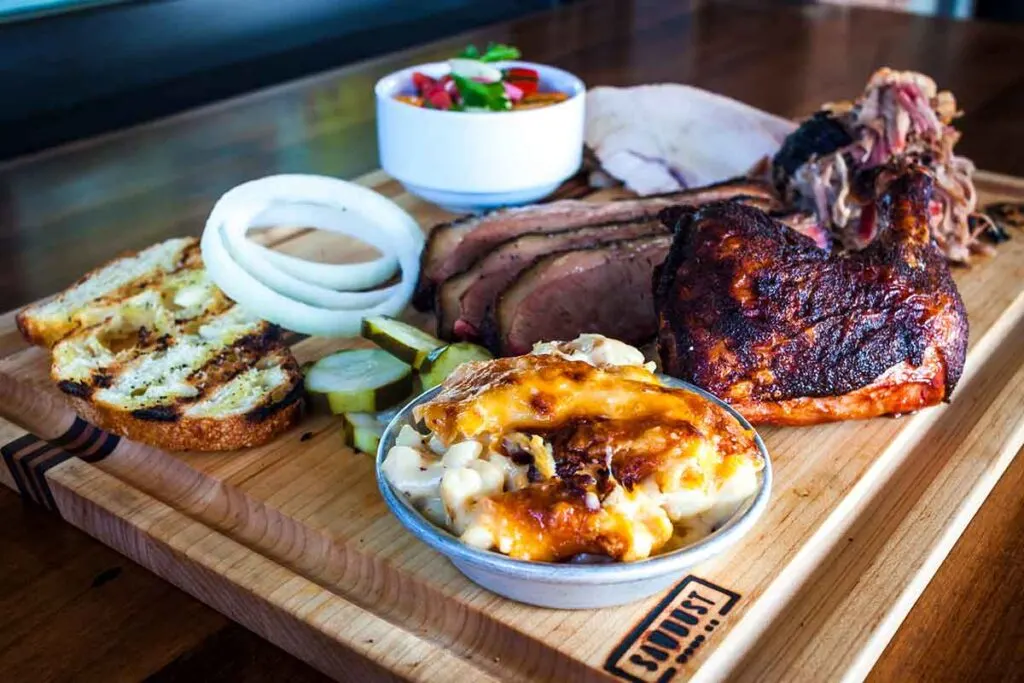 2) What's your earliest important memory of BBQ?
I remember eating Brunswick stew with my family at Sweat's BBQ in Soperton, Ga. My grandparents lived in Hilton Head and we would travel there a few times a year from Atlanta. Sweat's was a regular stop.
3) What do you wish people knew about your restaurant?
I think it's really important for people to know how much care we put into our food. We are really critical of ourselves every day. We are constantly reviewing our processes. It is not a dictatorship; in fact, we communicate constantly on different methods. Almost nothing is the same as it was 10 years ago. We are a little culinary community which is fun to be a part of in that regard.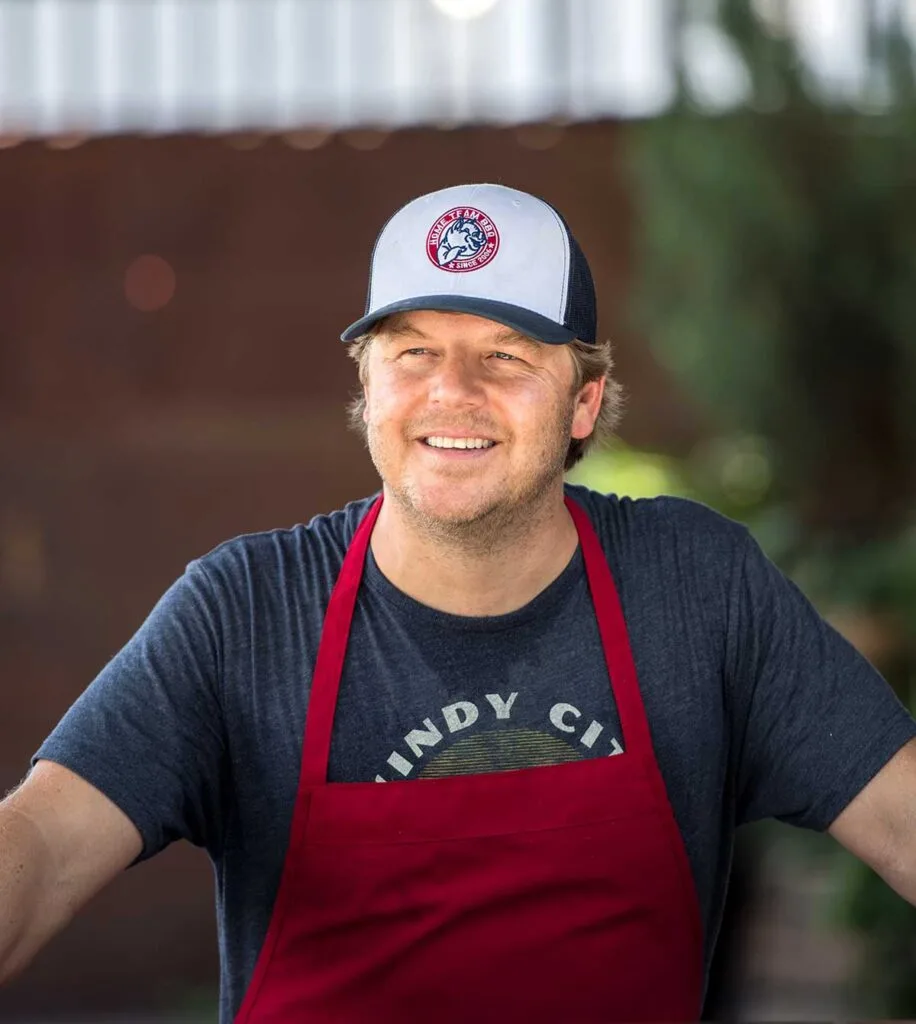 4) What might your customers be surprised to know about you?
I worked mainly in high-end cuisine until I opened Home Team in 2006.
5) What is special about your BBQ/restaurant?
I think our restaurant is a unique place. We are a gathering place for all people. We are family-oriented but also have a significant bar component, serve as a live music venue, and execute a significant number of special events, which combine all aspects of our business. We offer creative food items surrounding our BBQ. Specials are a priority; however, the traditional BBQ portion of our menu has always been our focus.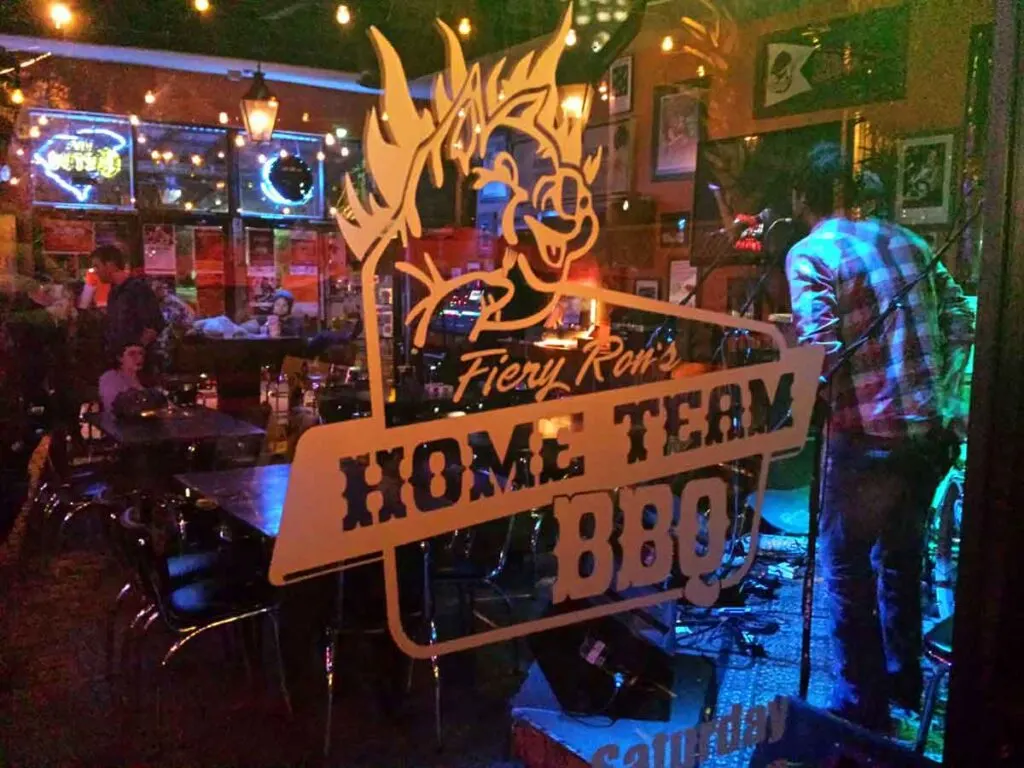 6) Tell me about your sauce(s).
Red Sauce: A tomato and vinegar-based sauce with a thinner consistency, which could classify as being of Middle North Carolina to Western North Carolina in origin.
Sweet Red: This is a sweeter and slightly thicker version of our Red Sauce, moving a little more west with this one in regards to its origin.
Hot Red: Simply put, a hotter version of the Red Sauce.
Alabama White Sauce: A mayonnaise and cider vinegar-based sauce, balanced with a little bit of granulated sugar.
Mustard Sauce: Made in the same basic way as the Red Sauce, however, the tomato is replaced with three types of mustard: whole grain, yellow, and Dijon.
Pepper Vinegar: An Eastern NC style, made with cider vinegar, peppers, and light brown sugar.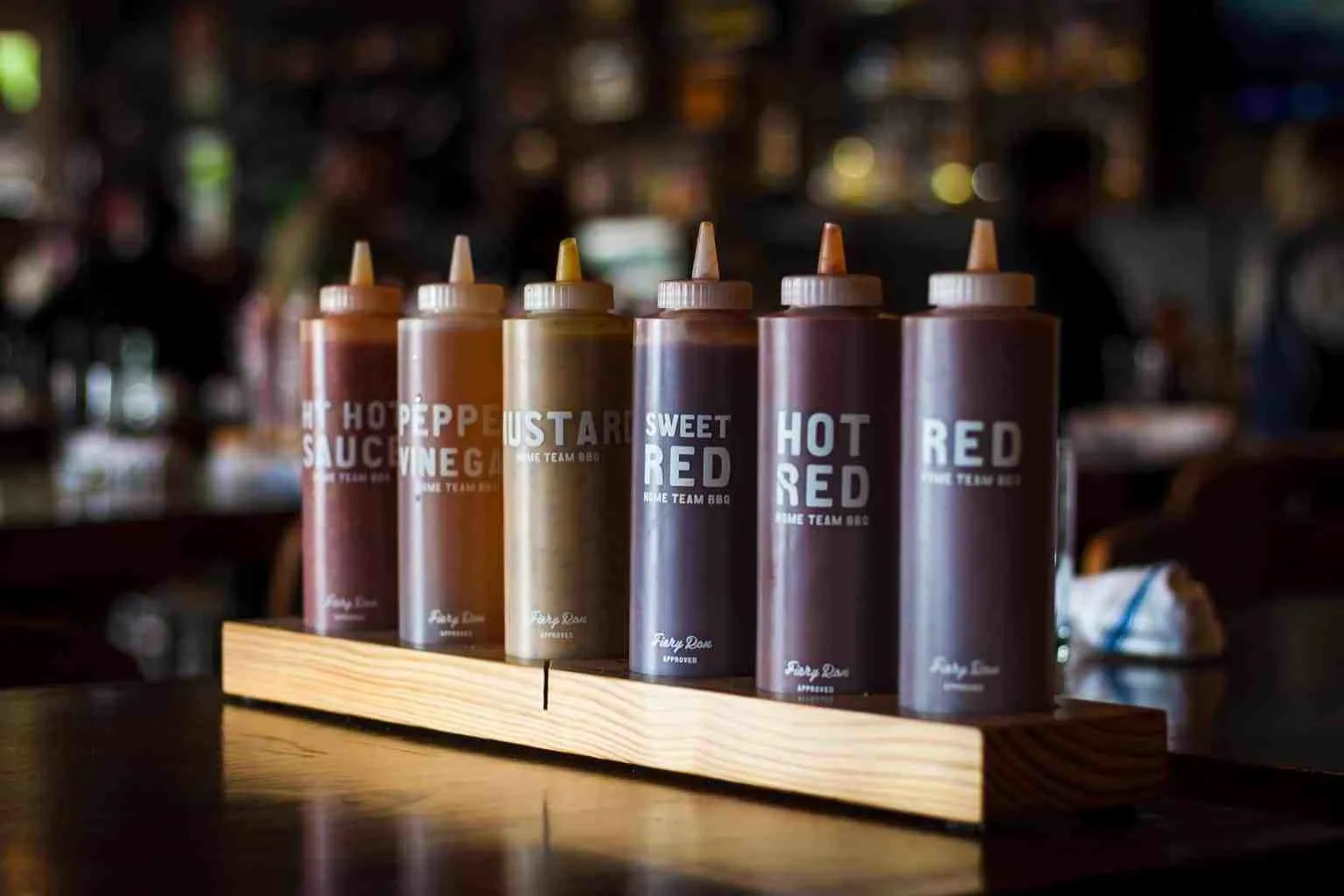 7) Talk about your BBQ.
We only sauce the pulled chicken. The rest of our meats are not sauced as we give you the freedom to choose your favorite among our variety of sauces on each table.
8) What's on your plate when you eat BBQ at your own restaurant?
Tacos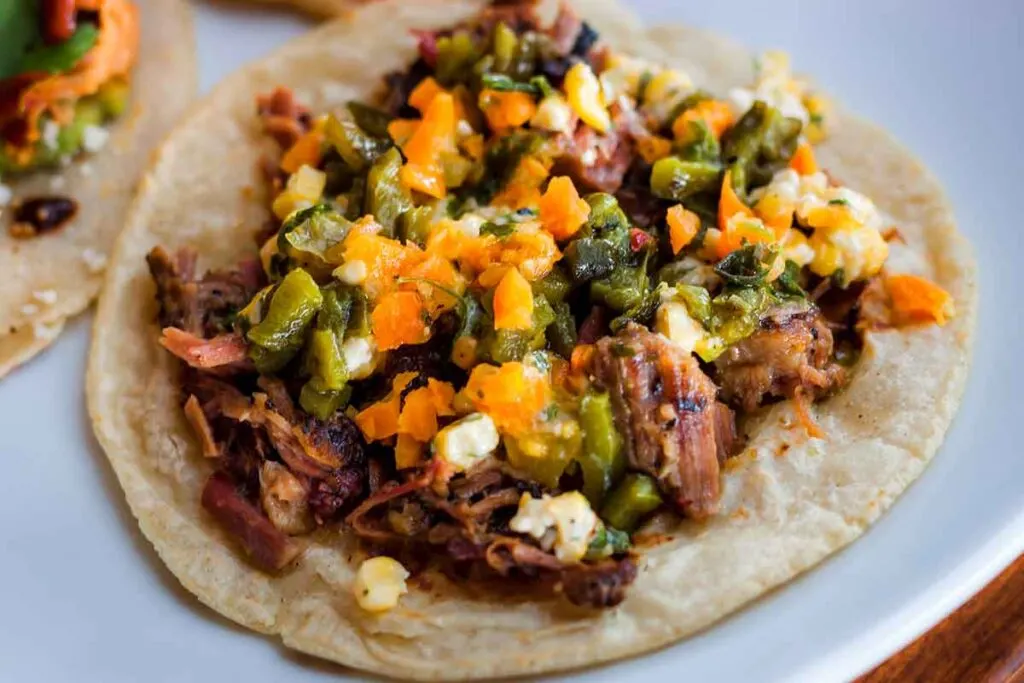 9) What advice/tips do you have for the amateur?
Cook. Document your experiences. Repeat. It's the only way to learn.
10) What is the best thing about your work?
I get to build fires.
11) Who played the biggest role in your start in BBQ/restaurant business?
My father
Peg Leg Porker or Sam Jones because they are good old boys, fine gentlemen (sometimes), they can sing like birds, they know a ton about bbq, and they make me laugh.
13) Talk about your typical day.
Back in the day, it was a little simpler; however, these days, no day is typical. We are in charge of three restaurants and 150 people, not to mention the responsibility to crank out amazing food, entertainment and good times to the masses. It's a little wild sometimes.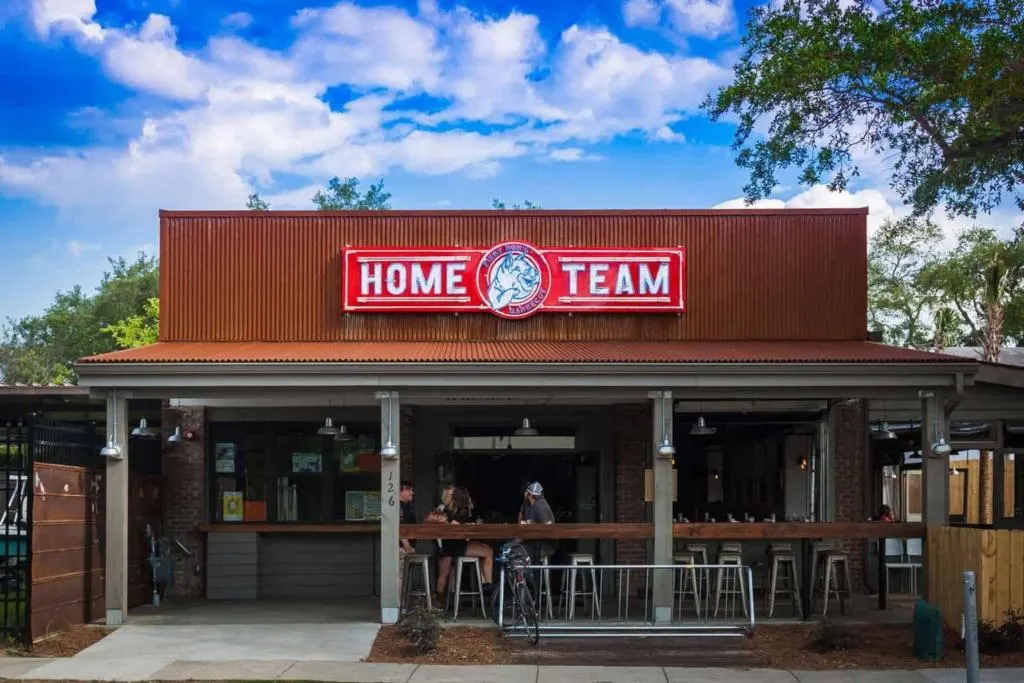 14) Do you eat other people's BBQ? Any places you recommend?
I really like to eat other folks' bbq. I usually eat other people's bbq when we are cooking together. Fox Bros, Swig and Swine, Southern Soul, Martin's BBQ, Peg Leg Porker, Scott's BBQ, Lewis BBQ, Sam Jones BBQ, Franklin BBQ, Style's Switch, and Freidman's are those I enjoy, to name a few.
15) What is the most rewarding part of cooking BBQ?
The process and people's reaction when they eat and enjoy it.
---
Details
Your Name:
Aaron Siegel
Business Name:
Home Team BBQ
Restaurant Address:
Downtown: 126 Williman Street, Charleston, SC 29403
West Ashley: 1205 Ashley River Road, Charleston, SC 29407
Sullivan's Island: 2209 Middle Street Sullivan's Island, SC 29483
Phone #:
(843) 343-2147
Days Open:
Monday-Sunday
Hours Open:
Downtown: 11am-2am, Late night menu 10pm-1am
West Ashley: 11am-12am, Late night menu 9:30pm-12am
Sullivan's Island: 11am-2am, Kitchen open until 10pm, Brunch Sunday 11am-2pm
Payment (cash, credit/debit):
We accept cash as well as credit and debit cards.
Website address:
Social Media sites:
Instagram: hometeambbq, fieryron, madisonhometeambbq
Twitter: htbbq
Facebook Page: Home Team BBQ of Charleston
How your BBQ is cooked:
We cook on Lang and Oyler smokers at the West Ashley and Downtown locations, and on a Southern Pride on Sullivan's. We cook primarily with red oak wood, accented with cherry and hickory.
Is there any gas used in the cooking process:
The Southern pride is gas supplemented, however, we occasionally use a Lange 84 outside. As soon as we can find space on Sullivan's we will replace it with an Oyler. Originally we started with a Southern Pride at West Ashley, our first store, and a Lang 84 at my house which we use now for overflow, as we have a very large Oyler, 84 Lang, and 108 Lang. We are pretty big fans of Lang and Oyler.
How is your BBQ served (chopped, pulled, etc.):
Pork: pulled
Brisket: chopped and sliced
Turkey: white meat is sliced with dark meat pulled
Chicken: dry rubbed
What cuts of meat do you cook (whole hog, etc.):
We cook primarily butts, bellies, St. Louis cut ribs, brisket, half chickens, whole turkeys, and cured hams.
---
Check out these other Conversations Around the Burn Barrel, A Q&A series with SCBBQ Pitmasters and Restaurant Owners
Daniel Doyle — Chef and Partner of Poogan's Smokehouse
Gregg Howard — Pitmaster and Owner of Charleston's RightOnQue
Chad Walldorf – Founder of Sticky Fingers
Meg Lonon – Owner Operator of Moe's Original BBQ on Pawleys Island