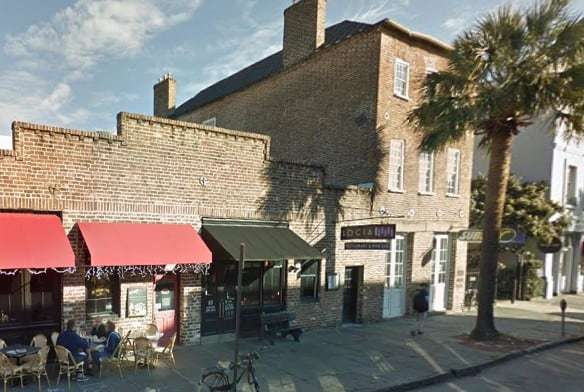 Classically and casually Southern, Poogan's Smokehouse pays homage to SC BBQ history while not fearing to approach it with a modern and chef-driven approach.
The devotion to and understanding of a true southern kitchen is clear in every dish served. From slow-smoked BBQ to locally sourced black-eyed pea salad, Poogan's dishes are founded upon its Carolina roots.
In addition, Poogan's Smokehouse sources from area farmers and suppliers to create their bold but authentic flavors.
Charming without condescension, modern yet historic; a seat at Poogan's Smokehouse offers a bite into the South.
We Love Smoking Meat
Deeply ingrained in us from our South Carolina heritage, we respect the art of smoking meat.
Like many in SC, we grew up enjoying family pig pickins.' Pulled pork and ribs were standards at our events. Over the years, we evolved to create our own approach that harkens back to those childhood traditions but adds a bit of refinement from our training as chefs.
Firstly, Poogan's Smokehouse starts off with the highest quality meats. We source Compart Doruc pork and Springer Mountain chicken. These farms produce the tastiest, juiciest meats that we have ever tried. We are proud to serve them.
Secondly, we smoke these qualituy products 'low and slow' with a unique mix of hardwoods. We being with hickory because of its heavy smoke content. This imparts deep flavor. We then switch to a milder white oak for the long burn that follows.
Finally, we burn down some cherry wood to finish it off. This rounds off the smokiness you will enjoy in our barbecue with cherry's inherent sweetness. The final product on your plate reflects years and years of tweaking various mixes, creating what we consider to be smoky perfection!
With a commitment to support southern farms and purveyors, Poogan's Smokehouse sources the freshest, highest quality ingredients to create authentic flavors that let the ingredients shine.
On the menu, Poogan's Smokehouse offers all the classics, including an orginal to our state, SC BBQ hash.
A Look Inside Poogan's Smokehouse
---
Poogan's Smokehouse
188 East Bay St.
Charleston,
SC
29401
United States
| | |
| --- | --- |
| Monday | |
| Tuesday | |
| Wednesday | |
| Thursday | |
| Friday | |
| Saturday | |
| Sunday | |