This post may contain affiliate links to Amazon or other vendors I trust. Please read my disclosure policy. As an Amazon affiliate, I earn from qualifying purchases.
Classically and casually Southern, Poogan's Smokehouse pays homage to SC BBQ history while not fearing to approach it with a modern and chef-driven approach.
The devotion to and understanding of a true southern kitchen is clear in every dish served. From slow-smoked BBQ to locally sourced black-eyed pea salad, Poogan's dishes are founded upon its Carolina roots.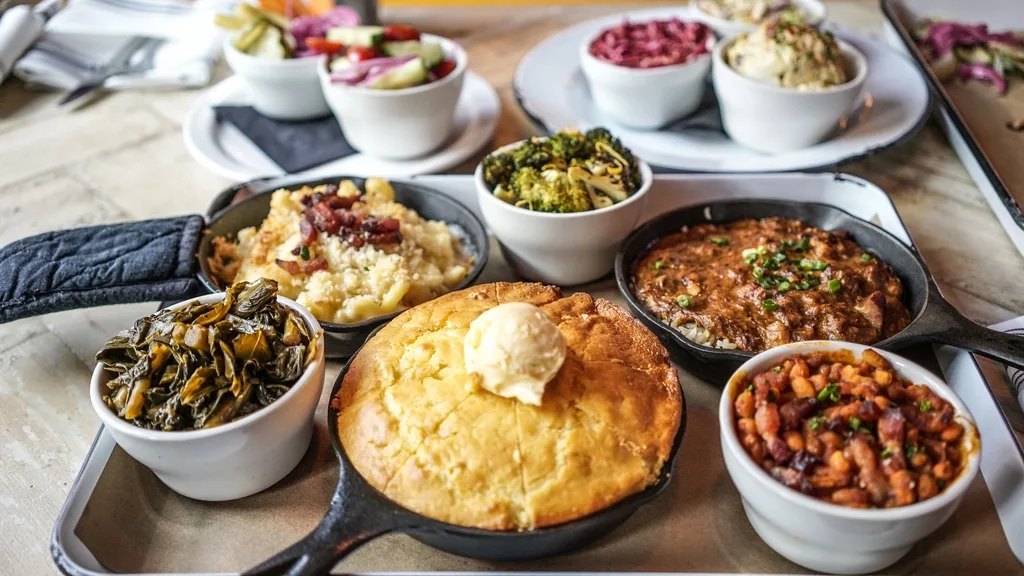 In addition, Poogan's Smokehouse sources from area farmers and suppliers to create their bold but authentic flavors.
Charming without condescension, modern yet historic; a seat at Poogan's Smokehouse offers a bite into the South.
We Love Smoking Meat
Deeply ingrained in us from our South Carolina heritage, we respect the art of smoking meat. It's the reason why Poogan's Smokehouse earned a spot on a feature entitled "BBQ in Charleston, SC: The Definitive Guide."
Like many in SC, we grew up enjoying family pig pickins.' Pulled pork and ribs were standards at our events.
Over the years, we evolved to create our own approach that harkens back to those childhood traditions but adds a bit of refinement from our training as chefs.
Firstly, Poogan's Smokehouse starts off with the highest quality meats. We source Compart Doruc pork and Springer Mountain chicken.
These farms produce the tastiest, juiciest meats that we have ever tried. We are proud to serve them.
Secondly, we smoke these quality products 'low and slow' with a unique mix of hardwoods. We being with hickory because of its heavy smoke content.
This imparts deep flavor. We then switch to a milder white oak for the long burn that follows.
Finally, we burn down some cherry wood to finish it off. This rounds off the smokiness you will enjoy in our barbecue with cherry's inherent sweetness.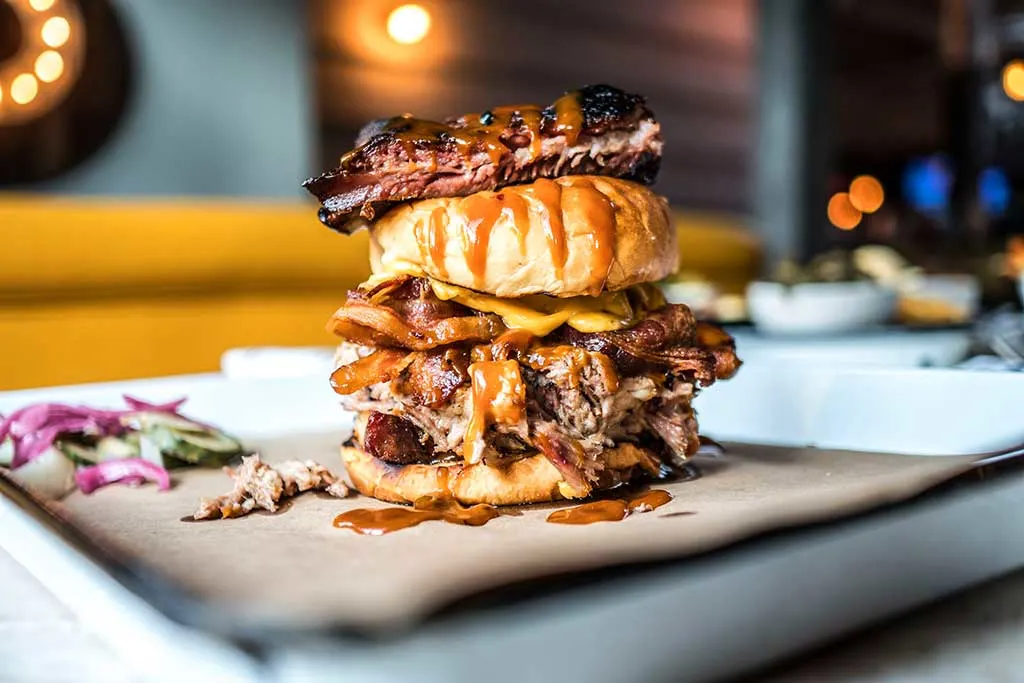 The final product on your plate reflects years and years of tweaking various mixes, creating what we consider to be smoky perfection!
With a commitment to support southern farms and purveyors, Poogan's Smokehouse sources the freshest, highest quality ingredients to create authentic flavors that let the ingredients shine.
On the menu, Poogan's Smokehouse offers all the classics, including an original to our state, SC BBQ hash.
A Look Inside Poogan's Smokehouse
What Folks are Saying about Poogan's Smokehouse
Google Review
Among the many Google Reviews, Local Guide Tara E. Hill writes that she found Charleston's best restaurant at Poogan's Smokehouse:
Definitely the best BBQ we've had in a long time!!!
This is a casual but super cute place, great service!!! We didn't know you could make reservations but were seated fairly soon after we walked in and before the dinner rush came in.
They give you tasty cold water in small canning jar glasses as soon as you sit down, and bring you a bucket of three sauces… Carolina gold, vinegar sweet and hot, and a "regular" tomato-based sauce.
Let me tell you, friends, there is nothing regular about the tomato-based sauce and I could have bathed in it, it was so delicious!!!!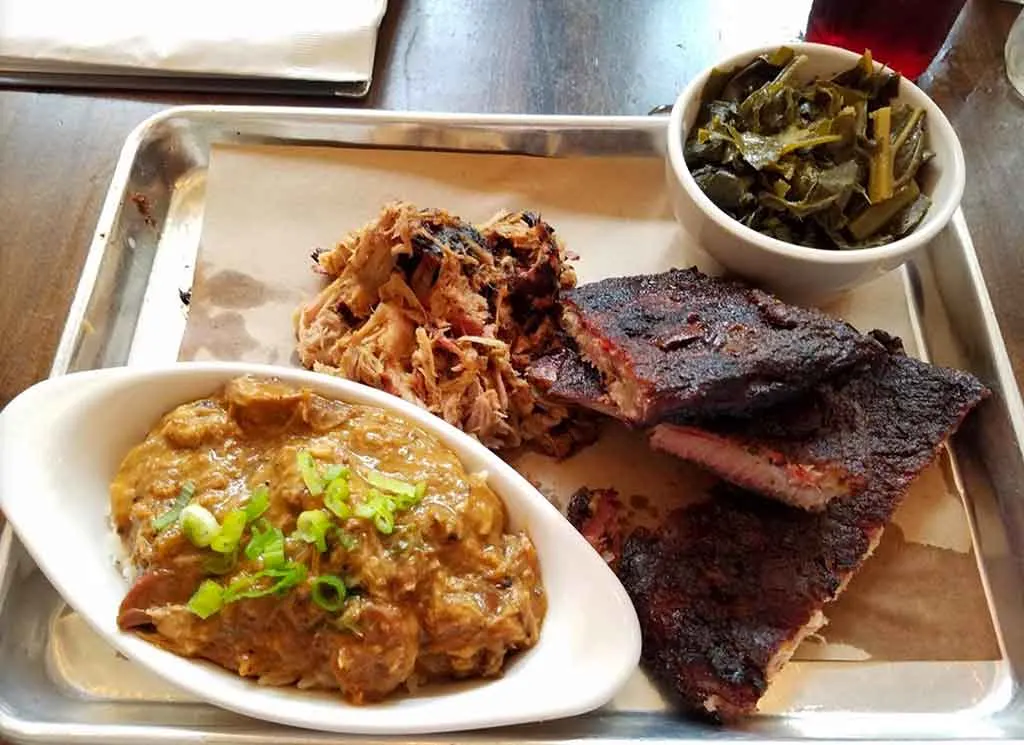 I had the pulled pork, and it was so tender and flavorful…my hubs had the ribs and he said he'd never had better and the seasoning was so good he didn't even use the sauces.
The collard greens were slightly sweet and awesome and the hash and rice could've been its own meal with as much meat was in it. They also serve with crispy homemade pickle chips and some awesome pickled red onions.
Can't say enough good stuff about this place… The best meal we've had our whole time staying in Downtown Charleston and our new fav ever.
Yelp Review
Over on Yelp, Carl M stopped by Poogan's Smokehouse on his BBQ Tour of South Carolina:
My wife and I ate here as part of my BBQ "tour" of South Carolina, and I must say this place is damn good.
We ordered the 3 meat (chicken, pulled pork and ribs) plate with a side of fried pork skins and collard greens.
The chicken was very good: fell off the bone, juicy, great smoked flavor, and the skin was semi crispy which is just how I like it.
On to the pork: very tender, delicious flavor with a good mixture of the crunchy Mr. Brown mixed in, all around very delicious.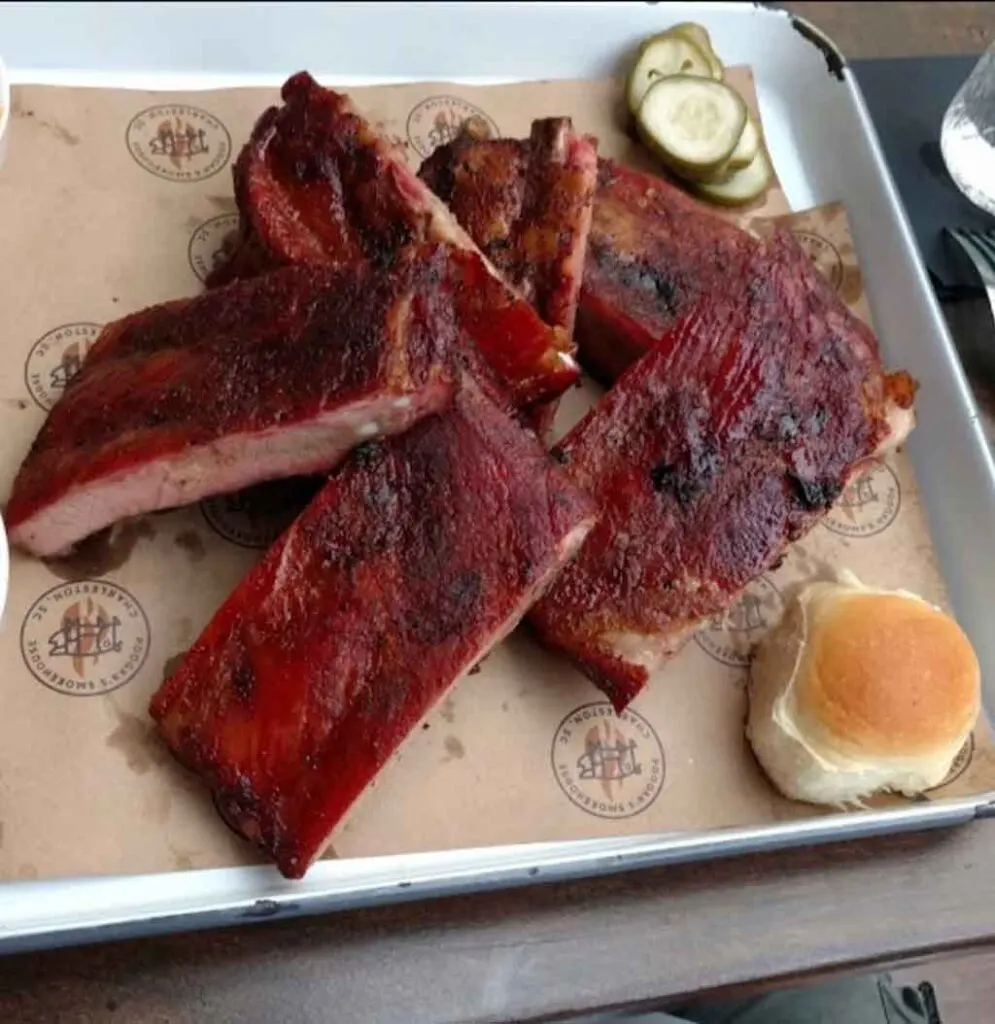 The ribs: these were the bomb! The exterior had a great "bark", the interior was juicy, tender and fell off the bone…very, very good.
The pork skins were very tasty and crunchy. Last but not least were the collard greens: one word Outstanding!
The service was also exceptional: friendly, attentive and courteous.
Word to the Manger: whoever you have as the Pit Master and Head Chef, do not lose them, they are truly masters of their craft.
Menu for Poogan's Smokehouse
Note: Menu prices and options are subject to change over time. Contact the restaurant for the most up-to-date information.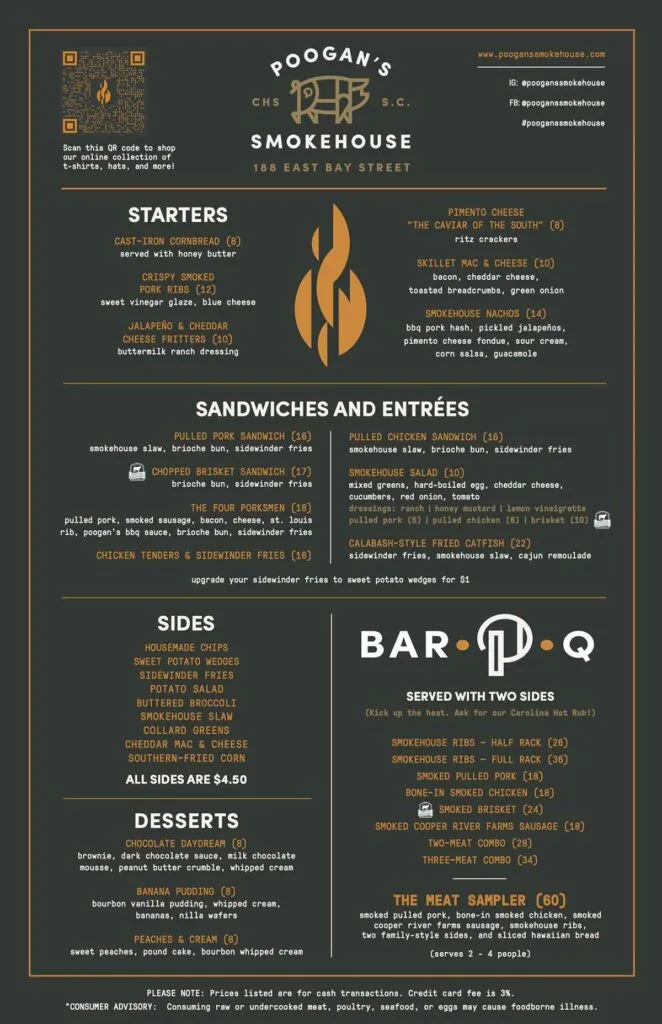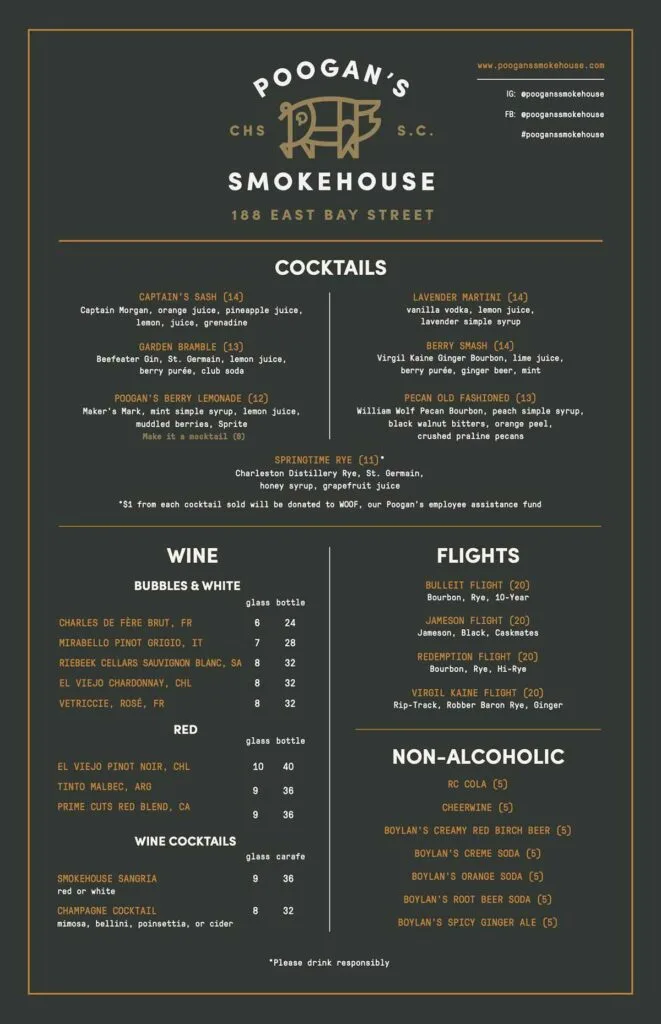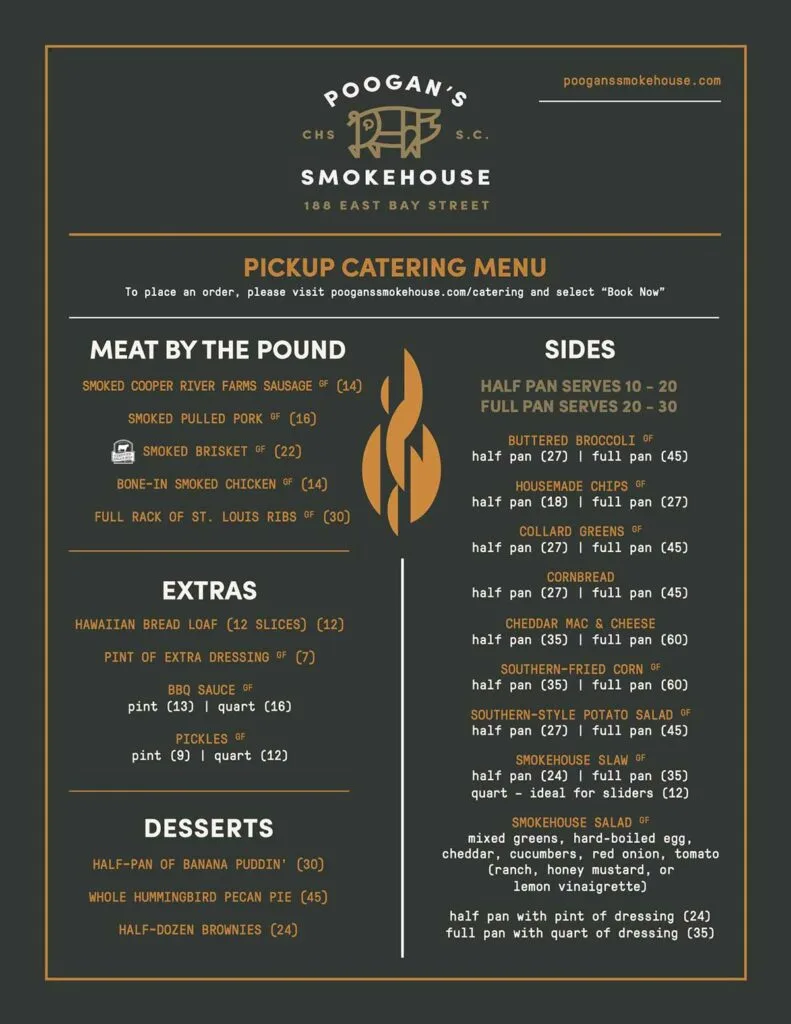 ---
Location, Hours, Contact Info, and More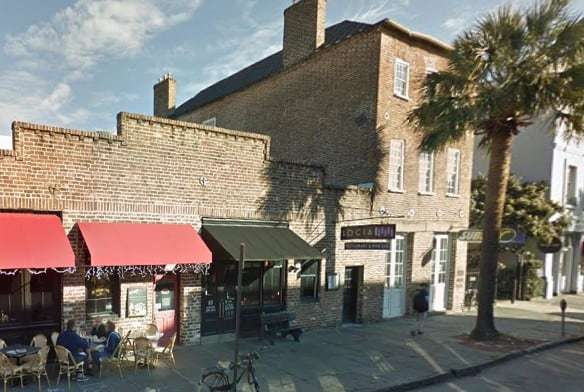 Map
Directions
Contact Poogan's Smokehouse
188 East Bay St.
Charleston,
SC
29401
Hours of Operation
| | |
| --- | --- |
| Monday | |
| Tuesday | |
| Wednesday | |
| Thursday | |
| Friday | |
| Saturday | |
| Sunday | |
Review Sites
Features
Cards and Cash, Hash, Heavy Tomato Sauce, Mustard Sauce, Vinegar Pepper Sauce, White Sauce