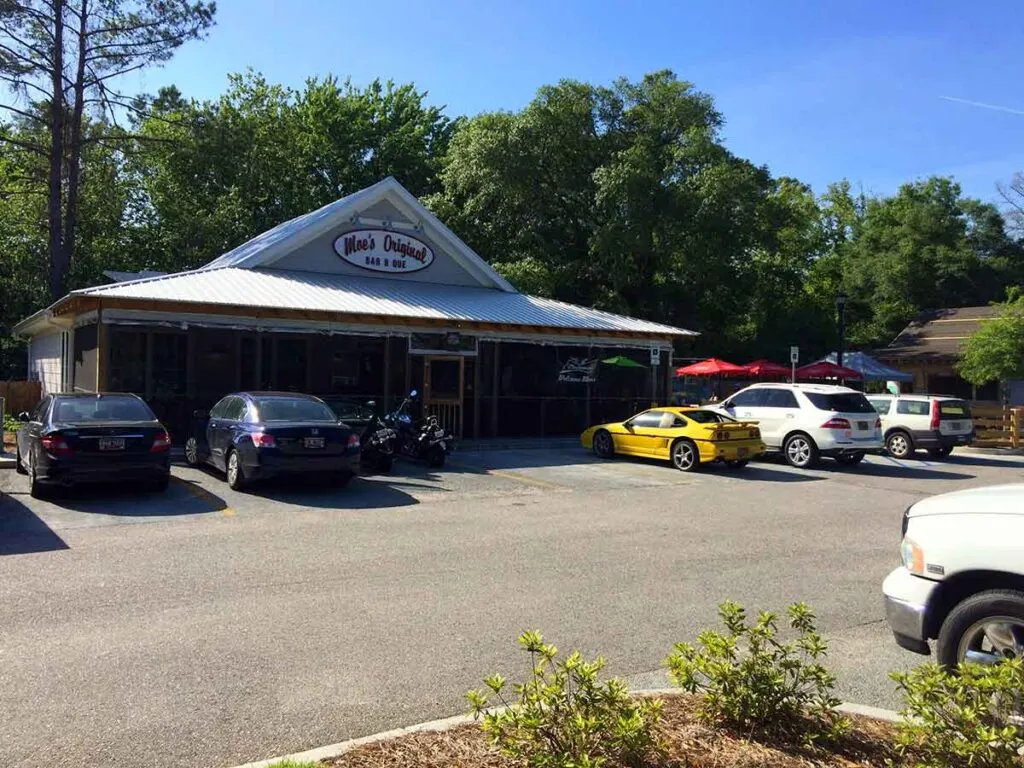 This post may contain links from which I earn a commission. Please read my disclosure policy. As an Amazon affiliate, I earn from qualifying purchases.
What do the University of Alabama, a couple of Tennessee car dealerships, and a media company have in common?
A BBQ joint of the coast of South Carolina is probably not the first thing that would jump to mind, but what they all have in common is Meg Lonon.
Meg is the owner-operator of Moe's Original Bar B Que in Pawleys Island. (Read our review of Moe's Pawleys location here.)
While Meg is the operating owner of Moe's first SC location, she didn't start out in the BBQ business.
Meg graduated from the University of Alabama with a degree in history and English and returned home to work in the family business, Roger's Cadillac in Knoxville, TN.
In 1995, Meg attended the National Auto Dealer Association Candidate Academy, where she was certified to operate an auto dealership. She served as the General Manager of the family business for 13 years.
In 2004, Meg became one of the first female auto dealers in Eastern Tennessee when she opened her own dealership, Rogers GMC. Unfortunately, a souring economy forced Meg to close the dealership.
She spent the next 9 years with Rivr Media, serving again as General Manager.
In 2014, Meg once again stepped into a role typically dominated by men by opening a BBQ restaurant, the Moe's location on Pawley's Island.
Meg is not merely an owner; she can be found working in her restaurant on a daily basis.
Let's learn more about Moe's Original BBQ's Meg Lonon:
Questions
1) Tell me how you first got involved with BBQ.
"I grew up around cooking and have always loved to try different methods—been around BBQ and involved with it since my early 20s."
2) What's your earliest memory of BBQ?
"I have no memory of not having BBQ around."
3) What do you wish people knew about your restaurant/BBQ?
"I really enjoy the cooking process itself; we really do smoke ALL of our meats fresh and in-house daily."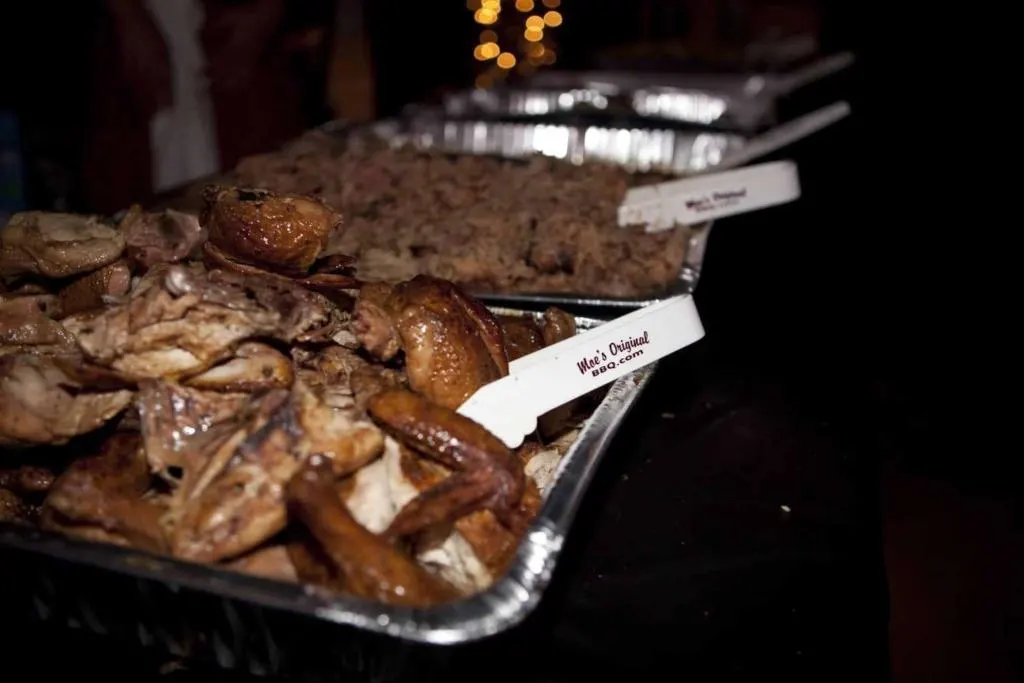 4) What might your customers be surprised to know about you?
"They'd probably be surprised to know that I work in the restaurant daily."
5) What is special about your BBQ/restaurant?
"Moe's in Pawleys is a great place to bring family and friends, although we are a fast-casual concept we really have quite a few customers that spend a great deal of time here.
We love that there are several people who eat with us several times a week!"
6) Tell me about your sauces.
"We have an Alabama red sauce which is a great mixture: slightly tomato, slightly vinegar, several spices, and a great kick!
We also have an Alabama White sauce, which is a mayonnaise and vinegar-based sauce that has become really popular here."
(Find the recipe for Moe's Alabama White Sauce here. It is also in our SCBBQ Cookbook: Going Whole Hog.)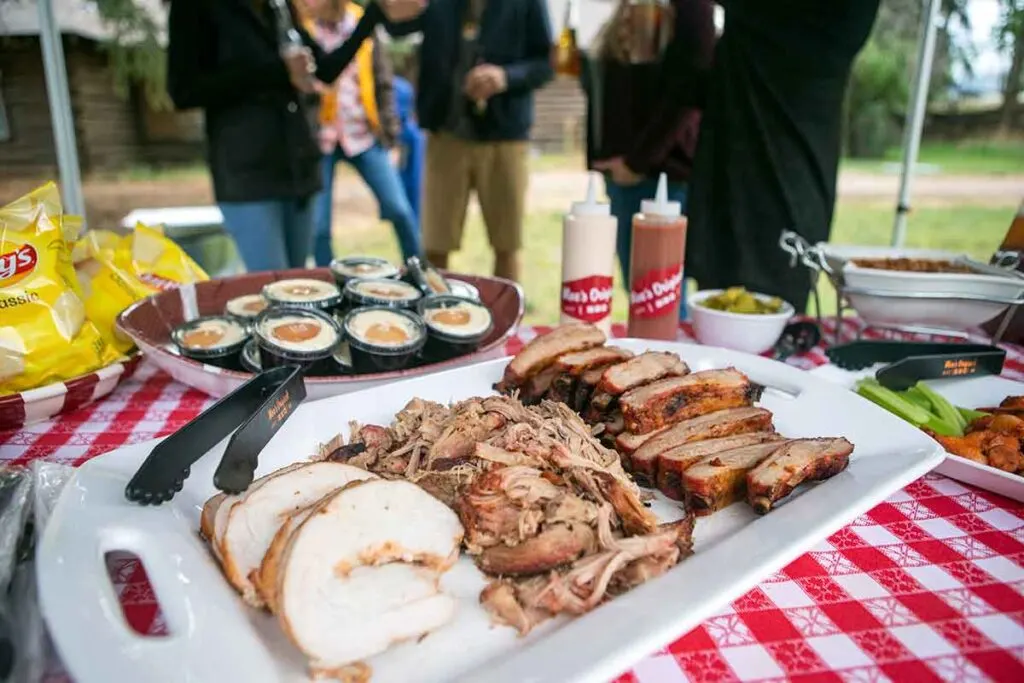 7) Talk about your BBQ.
"Melts in your mouth with just the right amount of smoke."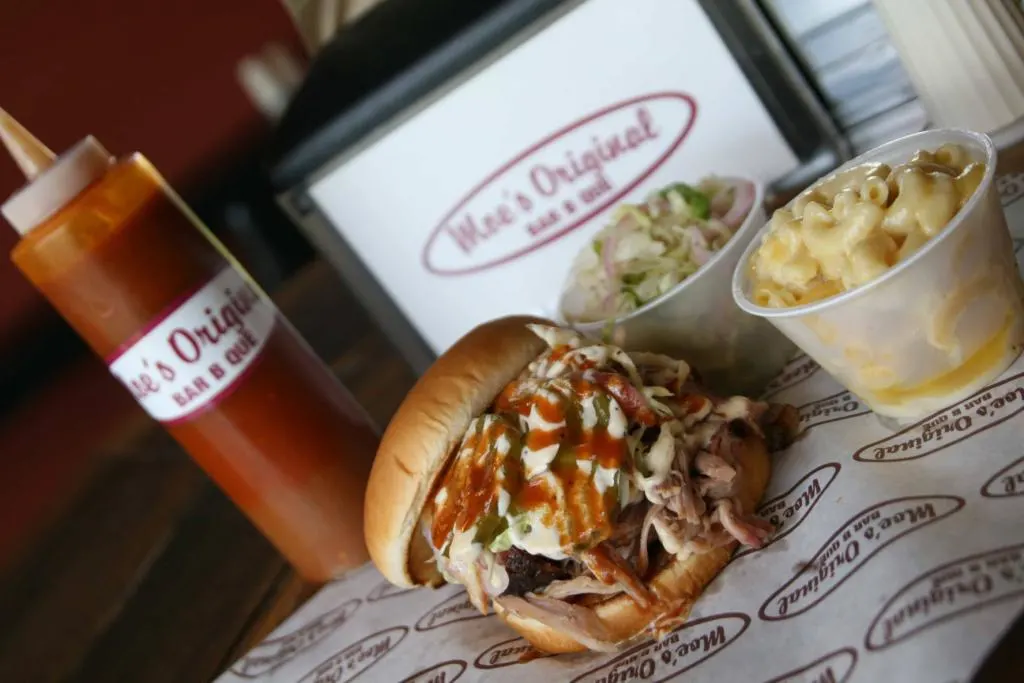 8) What is one thing most people don't understand about BBQ?
"How long it takes to cook to do it correctly, and when it is gone, it is gone…."
9) What's on your plate when you eat BBQ at your own restaurant?
"A little bit of every meat we serve with a side of our slaw and beans!"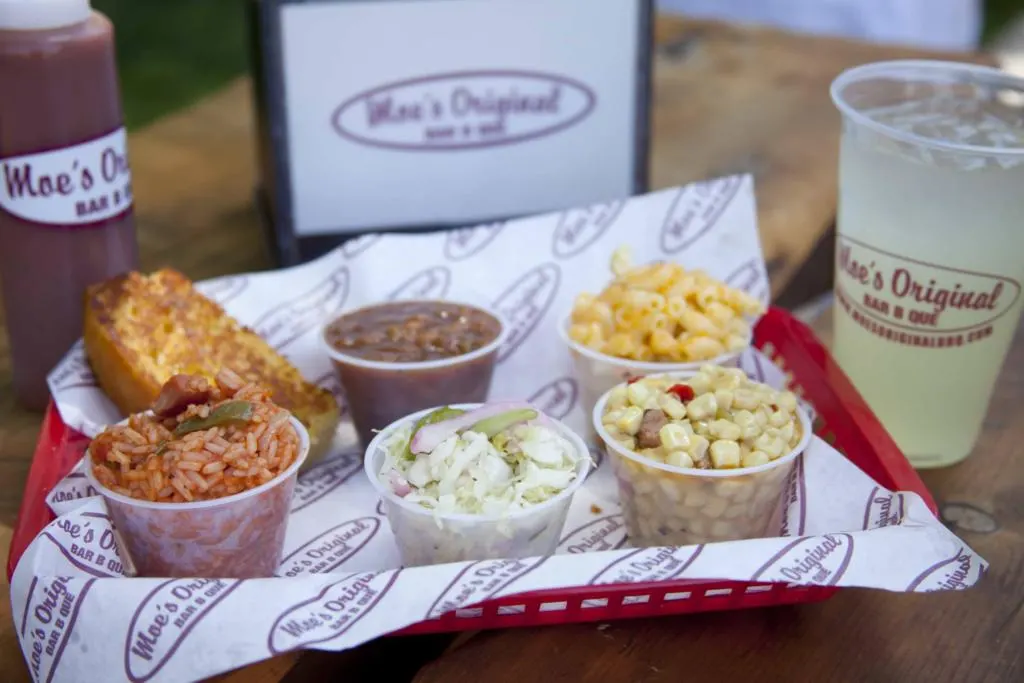 10) What advice/tips do you have for the amateur?
"Keep smokin'."
11) What would help SC BBQ as an industry?
"If everyone continues to work together promoting our industry, not just in South Carolina, but everywhere."
12) What is the best thing about your work?
"Serving delicious hand-made food to terrific customers/friends."
13) Who played the biggest role in your start in BBQ/restaurant business?
"Moe's founding partners: Mike Fernandez, Ben Gilbert, and Jeff Kennedy."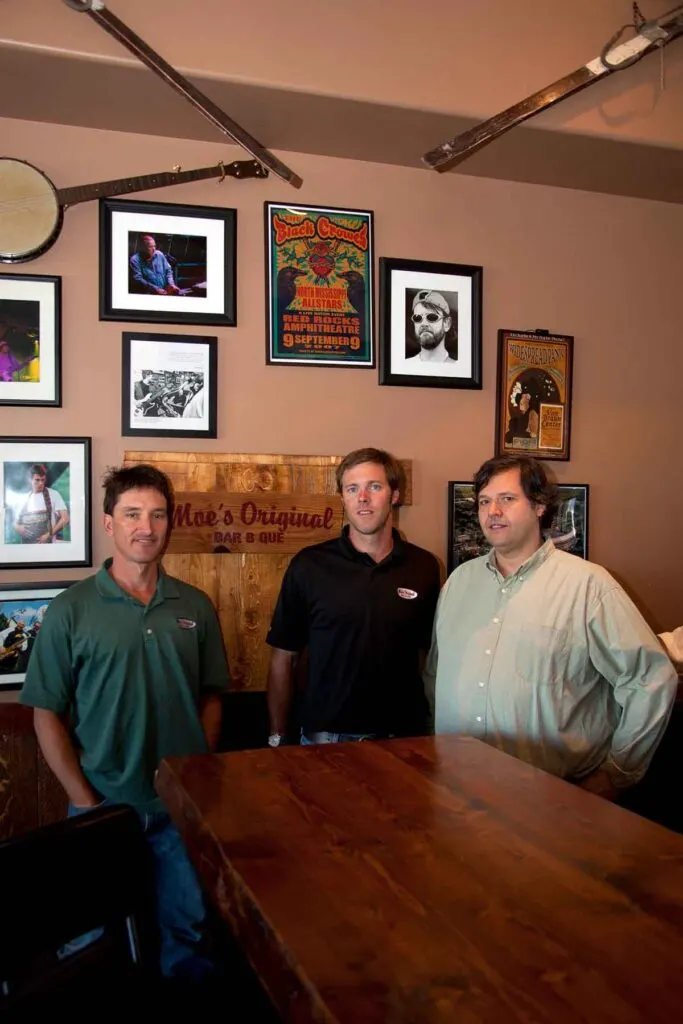 "SAM BEALL—He was a genius not only in the kitchen, around a wine cellar, or in a garden; but more than that he was a passionate person that shared so much of himself with others while keeping his family at the forefront. A true visionary."
15) Talk about your typical day.
"Kids to school, smoking meats, making southern sides, serving customers, smoking more meats, making more sides, experimenting with new sides, talking to employees, catering, picking up kids, serving some more customers, sleep!"
16) If unusual/interesting, talk about the name of your restaurant.
"In 1988, Mike hooked up with Moses Day in Tuscaloosa and began learning to fire roast meats. When Moses fired up his backyard barrel pit, everyone in T-Town knew where to go.
The boys were lucky to learn from Moses and his distinct style makes up Moe's original flavor of BBQ."
17) Do you eat other people's BBQ? Any places you recommend?
"Sure, I like to try everything that is out there—There are a lot of great joints in SC and beyond—way too many to name!"
19) What is the most rewarding part of cooking BBQ?
"The most rewarding part is the customers' reactions and the pride of my children."
"Honored and fortunate to be a part of such a great group of Moe's owners, so much talent, passion, and friendship scattered throughout the South and West—Oh, and in Maine, too!"
Details
Your Name:
Meg Lonon
Business Name:
Moe's Original Bar B Que
Business Slogan:
A Southern Soul Food Revival
Restaurant Address:
12827 Ocean Highway Pawleys Island, SC 29585
Phone #:
Pawleys: (843) 235-8008
Days Open:
Daily
Hours Open:
11 am – 9 pm
Payment (cash, credit/debit):
All methods
Website address:
Pawleys Island: https://www.moesoriginalbbq.com/lo/pawleysisland/
Social Media sites:
Pawleys
Facebook: https://www.facebook.com/MOBPawleys
Twitter: https://twitter.com/MOBPawleys
Instagram: https://instagram.com/MOBPawleys
Types/Names of sauces served:
BBQ Red and Alabama White
How your BBQ is cooked:
Slow smoked
How is your BBQ served (chopped, pulled, etc.):
Pulled to order
What cuts of meat do you cook (whole hog, etc.):
Boston Butt
St Louis cut rib
Whole Turkey breast
½ Chickens
Wings
Specialty sausage
---
Check out these other Conversations Around the Burn Barrel, A Q&A series with SCBBQ Pitmasters and Restaurant Owners
Aaron Siegel – Founder of Home Team BBQ
Daniel Doyle — Chef and Partner of Poogan's Smokehouse
Gregg Howard — Pitmaster and Owner of Charleston's RightOnQue
Chad Walldorf – Founder of Sticky Fingers