This post may contain affiliate links to Amazon or other vendors I trust. Please read my disclosure policy. As an Amazon affiliate, I earn from qualifying purchases.
Moe's Original Alabama White Sauce Recipe is simple and delicious. You can make it in under five minutes with a few simple ingredients.
Moe's Orginal BBQ on Pawleys Island is a franchise location of the Alabama-based restaurant chain. It is famous for not only making great BBQ, but also for a sauce unusual in SC, the Alabama White BBQ Sauce.
A few years ago, Meg Lonon, the former operating owner of the Pawleys location, stopped by WBTW in Myrtle Beach to make Moe's famous Alabama White Sauce.
The video appears to be no longer available, but the recipe is. We have provided it for you below.
Recently, however, Mark White, owner of a Moe's Original BBQ location in Mobile, went on WKRG to prepare Moe's Alabama White Sauce News 5's John Nodar.
Worth a watch:
Read our review of Moe's Pawleys location here.
Read our interview with Meg Lonon.
Enjoy this authentic Moe's Original Alabama White Sauce Recipe: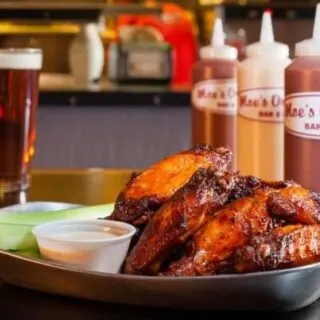 Moe's Original BBQ's Alabama White Sauce Recipe
Make Moe's Original BBQ's Alabama white barbecue sauce at home with this recipe from Meg Lonon, a Moe's franchise owner-operator.
Ingredients
2 cups mayonnaise, "heavy duty"
1/2 cup apple cider vinegar
1 tablespoon sugar
1 tablespoon dry rub, Moe's, or your personal favorite
1/4 teaspoon hot sauce, a couple of dashes, to taste
1/4 teaspoon Worcestershire sauce, a couple of dashes
1 teaspoon black pepper
1 pinch white pepper
1/8 teaspoon cayenne
1/4 lemon, juiced
Instructions
Add all ingredients to a bowl and mix until smooth.
Make sure there are no lemon seeds or lumps.
Recommended Products
As an Amazon Associate and member of other affiliate programs, I earn from qualifying purchases.
Nutrition Information:
Yield:

32
Serving Size:

2 tablespoons
Amount Per Serving:
Calories:

202
Total Fat:

22g
Saturated Fat:

3g
Unsaturated Fat:

0g
Cholesterol:

12mg
Sodium:

188mg
Carbohydrates:

1g
Fiber:

1g
Sugar:

1g
Protein:

1g
---
Like to Volunteer as One of our Recipe Testers?
We have a bookful of recipes to test and publish. Join the team and choose from our collection of unpublished recipes.
All we ask is that you photograph the process and share your thoughts on each recipe and the finished product. And we'll feature you when we publish that recipe.
Interested? Just send me an email.
Check out these other authentic SCBBQ recipes we've published on destination-bbq:
Eastern SC Vinegar-Based Sauce Recipe
Home Team BBQ's Alabama White Sauce Recipe
South Carolina's Best Mustard-Based BBQ Sauce Recipe
And we've published the following sauce recipes in the SCBBQ Recipes: Going Whole Hog cookbook (read more about that here):
Sauces and Rubs:
Vinegar-Pepper Sauces
Eastern SC Vinegar-Pepper Sauce Recipe
Lowcountry Vinegar Sauce Recipe
Mustard Sauces
Dukes BBQ Sauce – "Actual Recipe"
Simple South Carolina Mustard Sauce Recipe
Bessinger's-Style Gold Sauce Recipe
Tomato-Based Sauces
Bullies BBQs Thin Basting Sauce Recipe
Cherrywood Signature BBQ Sauce Recipe
"Carolina Red" Light Tomato Barbecue Sauce Recipe
Basic Tomato Barbecue Sauce Recipe
Other Sauces
Roller Family Hot Sauce Recipe
Rubs
Sticky Fingers' Basic Dry Rub Recipe
JB's Smokeshack-Style Spicy Dry Rub Recipe
Sticky Fingers' Texas Rub Recipe
BlackJack Barbecue Dry Rub Recipe
Sticky Fingers' Sweet Rib Rub Recipe
Home Team BBQ Dry Rub Recipe for Chicken Wings Recipe
John Lewis BBQ-Style Brisket Dry Rub Recipe