This post may contain links from which I earn a commission. Please read my disclosure policy. As an Amazon affiliate, I earn from qualifying purchases.
"This recipe for a true SC vinegar-based BBQ sauce is one that my great-grandfather Robbie Moore used dating back to the early 1900s in lower Florence County," writes Dusty Moore, a reader who submitted the Moore Family's "Little Fisher" Hog Sauce Recipe for publication.
"My uncle believes it to have originated from the sharecroppers who farmed the land shortly following the Civil War who used the land (called "Little Fisher") that is located where Lynches River meets Hwy 378.
"While it is believed to be much older, the folks who would know are either no longer with us or can't remember that far back. The land was actually a gift to his Grandfather who joined the war effort at 16 years of age in early 1861 and returned as a veteran at 19 in 1864.
The gift was from the Cameron family whose daughter my ancestor married upon his return and the land remains in our family to this day.
"The process was naturally much different back then as the heavy vinegar base was necessary as a deterrent to the meat spoiling in pre-refrigeration days. In those days, the hog was "hand-selected" on-site and slaughtered.
After the hog was put down, it was hung to bleed out, then briefly boiled to clean/remove the hair. The rest is simple enough; drain the blood and set the pit.
"Today, the sauce is not cooked for long, but back then the sauce was started at the same time the hog was placed on the pit and cooked slowly for the entire time which was roughly 12 hours depending on the size.
It was done in a fairly large cast iron pot that sat in the corner of the pit and was stirred from time to time.
"Nothing overall special about it other than we've been using the recipe for over 100 years now, and it seems to be well-liked among friends, family, and the folks at the church.
"My dad was never big on contests, as most of those are geared to mustard and tomato-based recipes, and in our little corner of the world, putting mustard or "ketchup" on a hog is still considered to be blasphemous.
"We cook about 5 or 6 of them a year now; however, before my Dad passed, he was likely up to 10-12 as he would do them for events around Christmas time to basically cover the cost of ours."
Here is Dustin's family's recipe for "Little Fisher" Hog Sauce, an authentic recipe for the vinegar-based barbecue sauce that South Carolina is known for, shared with you to make at home in memory of his father and forefathers: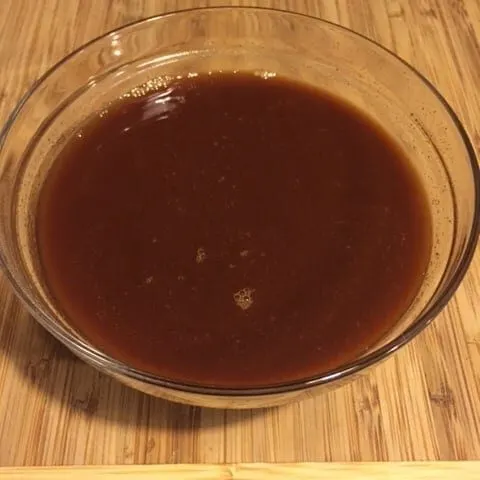 Moore Family's "Little Fisher" Hog Sauce
An authentic civil-war era SC BBQ vinegar-based barbecue sauce recipe which the Moore family has been making for generations.
Ingredients
1 3/4 cups salt
3/4 cup black pepper
1 cup cayenne pepper
1 3/4 cups crushed red pepper
1 gallon 4% vinegar
Instructions
Bring vinegar to a hard boil (should only take a few minutes).
Cut off and add all ingredients.
Stir well.
Cover with lid and let sit until ready to put on the hog.
Notes
Most vinegar is 5% acidity. If using 5% vinegar, then adding about a quarter cup of water to the vinegar will reduce the acidity to 4%.

Recommended Products
As an Amazon Associate and member of other affiliate programs, I earn from qualifying purchases.
Nutrition Information:
Yield:

128
Serving Size:

1 oz
Amount Per Serving:
Calories:

6
Total Fat:

1g
Unsaturated Fat:

0g
Sodium:

1549mg
Carbohydrates:

1g
Sugar:

1g
Protein:

1g
---
Like to Volunteer as One of our Recipe Testers?
We have a bookful of recipes to test and publish. Join the team and choose from our collection of unpublished recipes.
All we ask is that you photograph the process and share your thoughts on each recipe and the finished product. And we'll feature you when we publish that recipe.
Interested? Just send me an email.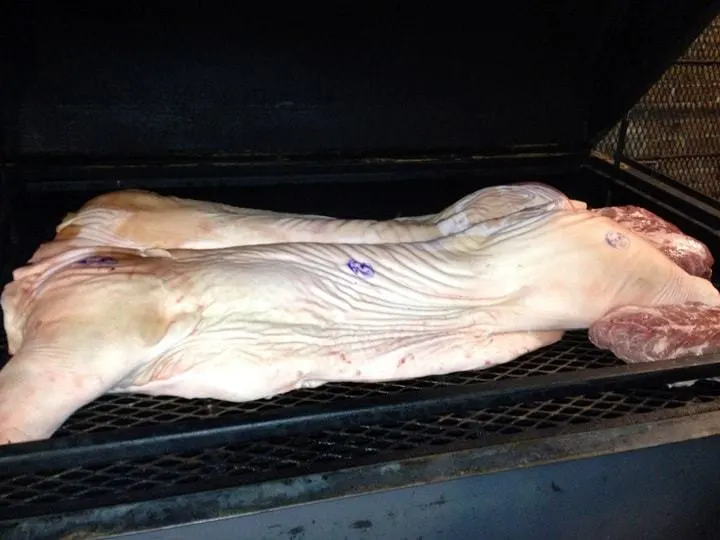 ---
Check out these other SC BBQ sauce recipes we've published on destination-bbq, and we've published even more sauce (and rub) recipes in the SCBBQ Recipes: Going Whole Hog Cookbook. Read more about that here.
Sauces and Rubs:
Vinegar-Pepper Sauces
Mustard Sauces
Tomato-Based Sauces
Other Sauces
Rubs