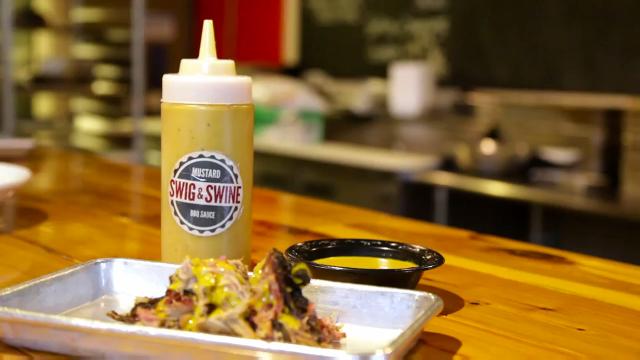 I am a big fan of Swig & Swine, and their South Carolina mustard bbq sauce recipe is one of the main reasons.
Chef Anthony DiBernardo's restaurants serve True 'Cue certified BBQ, barbecue cooked using wood as its only heat source. The meat products Swig & Swine serves are terrific, even without any sauce, but each of the sauces is amazing, too.
Like any good barbecue restaurant, Swig & Swine serves its barbecue without sauce, but they currently provide five sauces on each table for you to choose from. Seen below are the Sweet Red, Vinegar, Jalapeño, Alabama White, and a nod to an SC original, a mustard sauce.
We recently stumbled across a video of Chef DiBernardo making his mustard BBQ sauc