Listen to this Destination: BBQ article.
Hite's Mustard Sauce Recipe: The Taste of Nostalgia
This post may contain links from which I earn a commission. Please read my disclosure policy. As an Amazon affiliate, I earn from qualifying purchases.
Harry Hite's mustard sauce recipe comes from the landmark diner that served the Lexington area for 50 years, Hite's Restaurant. Though they served BBQ and hash, Hite's was not a "BBQ joint" per se; however, Hite's was famous for its barbecue, and that mustard sauce was one of the reasons why.
As Rick Thomas wrote on a Facebook group dedicated to remembering Hite's Restaurant, "Nothing anywhere can compare with his sauce on pulled pork. I've tried – and failed."
Well, fortunately, Rick doesn't have to figure it out on his own.
The State newspaper published Hite's mustard sauce recipe, which reader Hardy Childers found in their archives and shared with us via email.
While it does have a touch of sugar added, this is not a sweet mustard sauce like you might find at another longstanding Columbia legend, Maurice's. The Piggie Park Southern Gold BBQ sauce recipe tames the bold mustard flavor.
However, the sugar in Hite's recipe may serve to take the edge off of the pungent yellow mustard, but it's not there to make it sweet.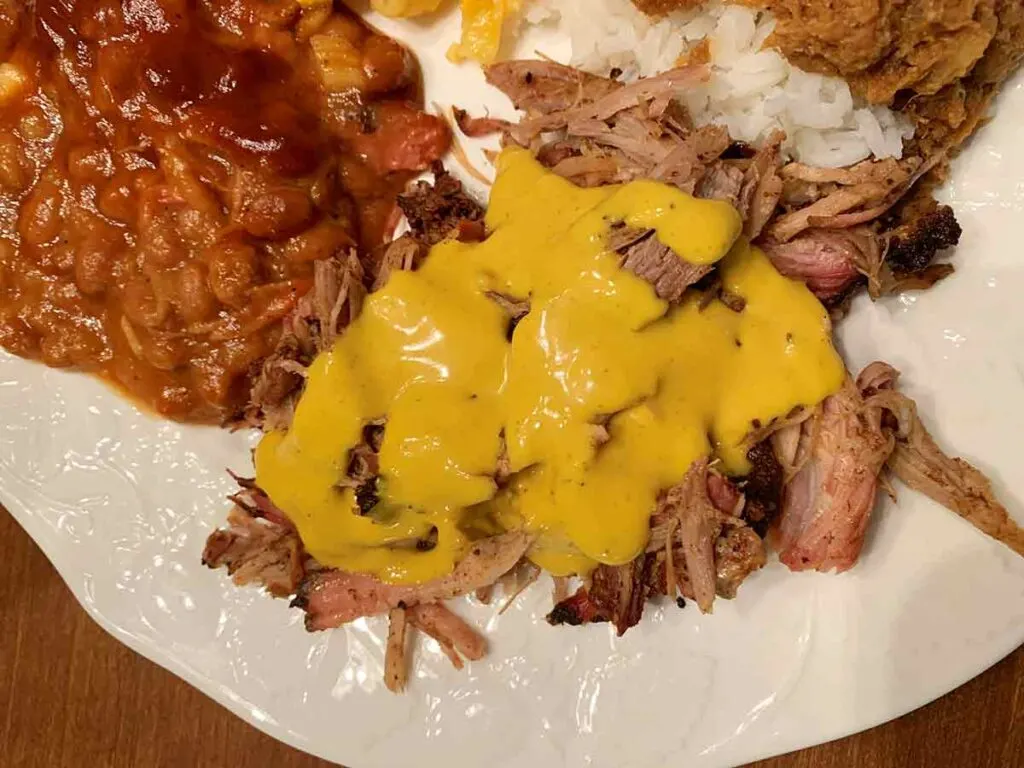 Hite's mustard sauce recipe tastes more along the lines of what one might have tasted at Jackie Hite's in Batesburg-Leesville or maybe Cannon's in Little Mountain (both are now permanently closed).
Today, Hite's Bar-B-Que in West Columbia may be the only restaurant that still serves a strong yellow mustard sauce like this: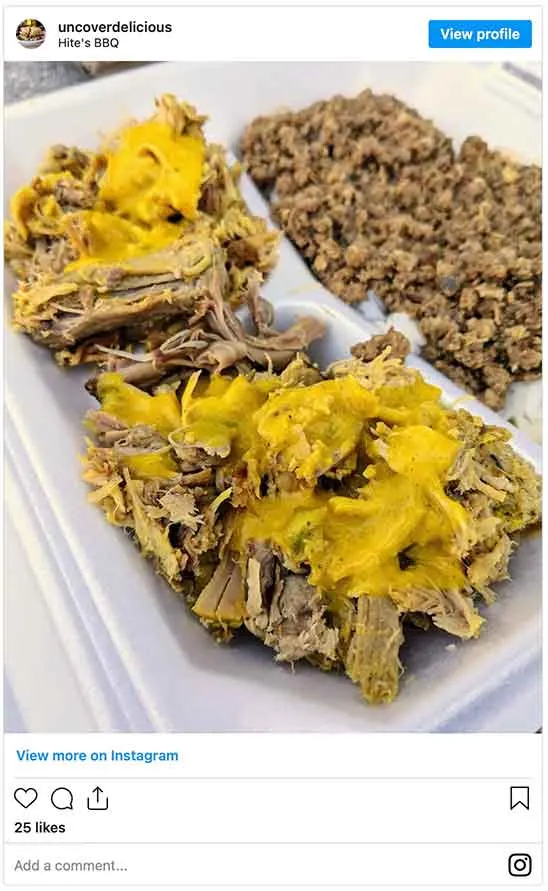 A Little History
In 1917, John Henry "Harry" Hite, Jr., was born in Ridgeway, SC, the youngest of nine children born to Sally and John Henry Hite, Sr.
Shortly after, they moved to Lexington where Harry attended school through fifth grade at White Knoll, which at the time was a simple two-room schoolhouse.
In 1947, after having served in World War II, Hite built and opened his first restaurant, the 10 to 1. Originally, the place was named after the hours the restaurant was open, from 10 a.m. to 1 a.m.
"It was definitely the nightspot," former car hop Marvin Hendrix said in The State. "It was about the only thing in town with lights on."
The small building itself wasn't much to look at. In the book Lexington, Sharon Paeth quotes Hite as saying the following:
"I had a counter with five stools and two booths. It started with a two-burner kerosene stove, and I put a piece of iron on top of one of the burners for a grill. That's how I grilled my first hamburger."
According to Paeth, the original menu was sparse, including only hotdogs, hamburgers, and a BBQ sandwich. Despite its small selection, the 10 to 1 was the place to be.
"The customers were the most fun," Hite said. "Our restaurant was the town meeting place. Clemson boys would meet there before driving back to college on Sunday."
Building on Greatness
The next year, Hite expanded, opening the Dairy Bar right beside it, and in 1953, a drive-in was added. In fact, Hite's became the fastest-growing restaurant in the Columbia area.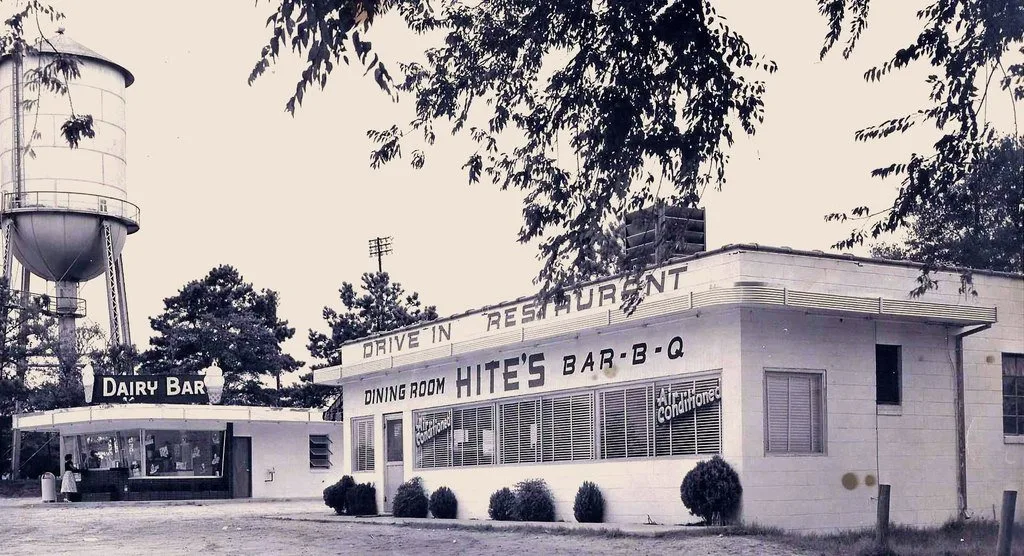 Hite started his venture with just one cook and by 1977, he had a staff of 45.
In fact, if you knew Hite's Restaurant, you probably wouldn't recognize it from the photo above. If you look close at the photo below, you can still see the original restaurant among the additions.
Here's what it grew to become in later years:
In 1980, Harry Hite sold the business to the Maghans, and they kept the restaurant open until 1996. Unfortunately, Hite passed after an extended illness in 1999 at the age of 82.
Today, thanks to Paeth, The State, and the Facebook group Hite's Restaurant, we can remember a legend and enjoy a taste of the past.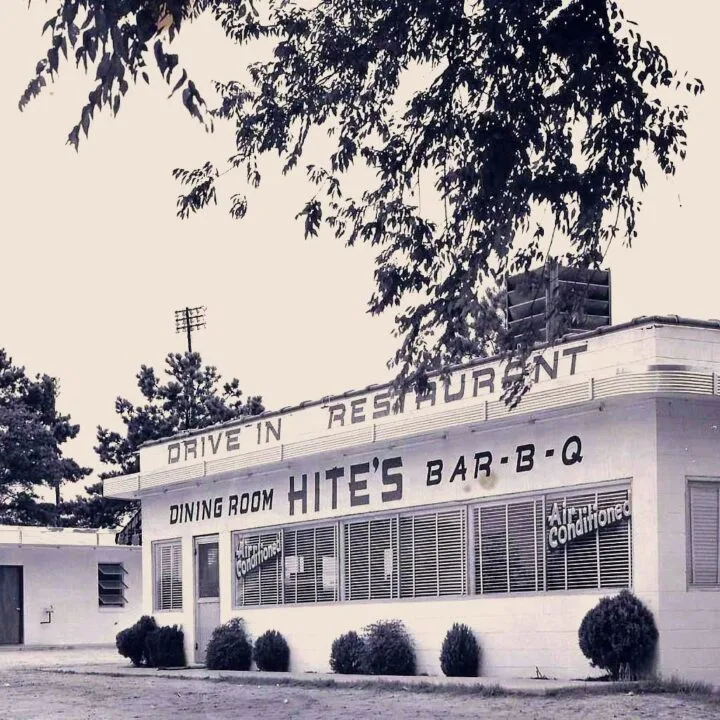 Harry Hite's Mustard-based BBQ Sauce
Classic SC mustard sauce with a bright color that is strong on that yellow mustard flavor and doesn't hide behind sweetness as many other sauces do.
Ingredients
1 quart prepared mustard
1 tbs dry mustard
1 tbs salt
1 tbs sugar
1 tbs black pepper
1/2 tsp red pepper, ground
1 cup vinegar
1 cup water
8 tbs margarine
Instructions
Melt margarine in a saucepan
Add all other ingredients
Mix well
Cook slowly for 10 minutes
Notes
Keeps well in the refrigerator.
Recommended Products
As an Amazon Associate and member of other affiliate programs, I earn from qualifying purchases.
Nutrition Information:
Yield:

48
Serving Size:

2 Tablespoons
Amount Per Serving:
Calories:

16
Total Fat:

1g
Saturated Fat:

1g
Unsaturated Fat:

0g
Sodium:

196mg
Carbohydrates:

1g
Fiber:

1g
Sugar:

1g
Protein:

1g
---
Like to Volunteer as One of our Recipe Testers?
We have a bookful of recipes to test and publish. Join the team and choose from our collection of unpublished recipes.
All we ask is that you photograph the process and share your thoughts on each recipe and the finished product. And we'll feature you when we publish that recipe.
Interested? Just send me an email.
---
Check out these other authentic SCBBQ recipes we've published on destination-bbq:
Eastern SC Vinegar-Based Sauce Recipe
Home Team BBQ's Alabama White Sauce Recipe
South Carolina's Best Mustard-Based BBQ Sauce Recipe
And we've published the following sauce recipes in the SCBBQ Recipes: Going Whole Hog cookbook (read more about that here):
Sauces and Rubs:
Vinegar-Pepper Sauces
Mustard Sauces
Tomato-Based Sauces
Other Sauces
Rubs