Listen to this Destination: BBQ article.
Pitmasters and Webmasters: What's the Connection
This post may contain links from which I earn a commission. Please read my disclosure policy. As an Amazon affiliate, I earn from qualifying purchases.
What do Webmasters and Pitmasters have in common? Usually, not too much, but in this case, Rodney Coplin is your answer.
Coplin is the owner and operator of Rodney's Smokemaster BBQ on Broad St. in Camden (now permanently closed). You'll find Smokemaster in the Dusty Bend section of Camden, a bit past the railroad tracks on the left, across from the CVS.
But Coplin was not always working the pits. Before he started Smokemaster BBQ, he used to work behind a screen. Serving as a web designer and social media consultant, Coplin built a life in the IT business. However, life behind the screen was not what he wanted.
Combining a love of making real food from scratch and a lifelong passion for Texas-style BBQ led him in a different direction. But what did this Texan think of SC BBQ and how does his style of BBQ work here in SC?
Let's find out.
Q & A with Rodney Coplin of Rodney's Smokemaster BBQ
Tell me how you first got involved with BBQ.
"As a Texan, I have been involved with and eating BBQ for over 40 years, created several rubs that have turned into the basis of all meat prep. Like all food, it has evolved and without a doubt has improved dramatically."
As a Texan, what were your first impressions of SC BBQ?
"I got my first taste of mustard-based BBQ more than 25 years ago. It was a bit of a shock to have a mouthful of mustard sauce overwhelming the meat.
"I have always believed the meat — not the sauce — should be the star of the show. Sauce should be a condiment, and I'm more of a fan of good corned beef and cabbage with my mustard.
"Seasoning or rubs, smoke, heat, time, and love drive good BBQ.
"My initial reaction to SC BBQ was that they were hiding the meat in a pile of mustard. I added a twist to my SC-style mustard sauce — it's a little smoky, sweet, and tangy. I do have to say though, most of my customers don't want sauce, which I find interesting and yet refreshing.
"Just different ways to enjoy it. I think it is important to allow a customer to determine the amount of sauce, if any at all."
Tell me about your time before starting the restaurant. Were you doing competitions? What did you learn from that?
"Before opening the restaurant, I was busy catering and doing web design and social media consulting. I was burned out with IT, so I turned my efforts to BBQ full time.
"Competition? I have never been a BBQ competition guy, although I won two rookie awards during my first competition in Kershaw County. I prefer to cook for my customers, friends, and family instead of judges, and let my customers decide what's good."
What do you wish people knew about your restaurant/BBQ?
"In a small town, all from scratch – sauces, sides, etc, offer local craft beer and wine. All meats are prepped and slow-smoked daily. We are a sellout service/location."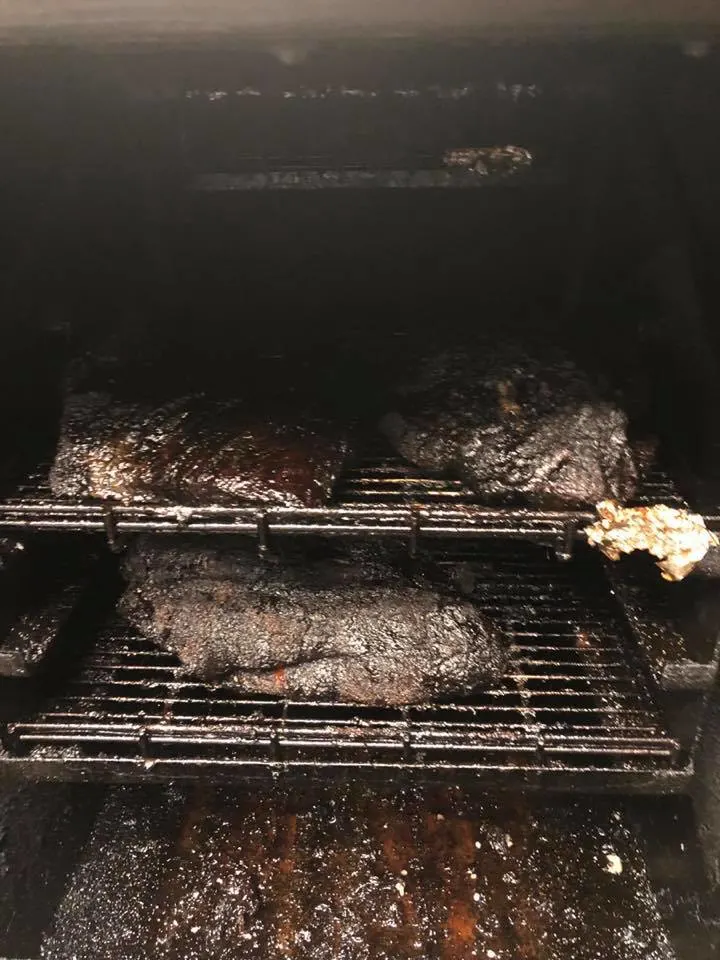 Why is it important to you to make everything from scratch?
"It's fresh, it's made from the heart, and it tastes better. Anyone can open a can of beans or a jar of BBQ sauce, but whose recipe is it?
By making all my sauces and sides from scratch, I know I'm serving my own creations rather than someone else's recipe. When someone tells me how much they enjoy my Ancho Honey BBQ sauce, I know they are complimenting me and not a food company.
Some restaurants are fine serving bagged boiled pulled pork smothered with commercial BBQ sauce as their own creation. I enjoy the process of creating my own recipes and am proud to serve food with my personal touch."
What is special about your BBQ/restaurant?
"We continue to look to offer new items to the market all based on the basics. We do NOT offer a buffet, all prepared to order. I am bringing in my Texas and culinary roots to bring items not available in this market.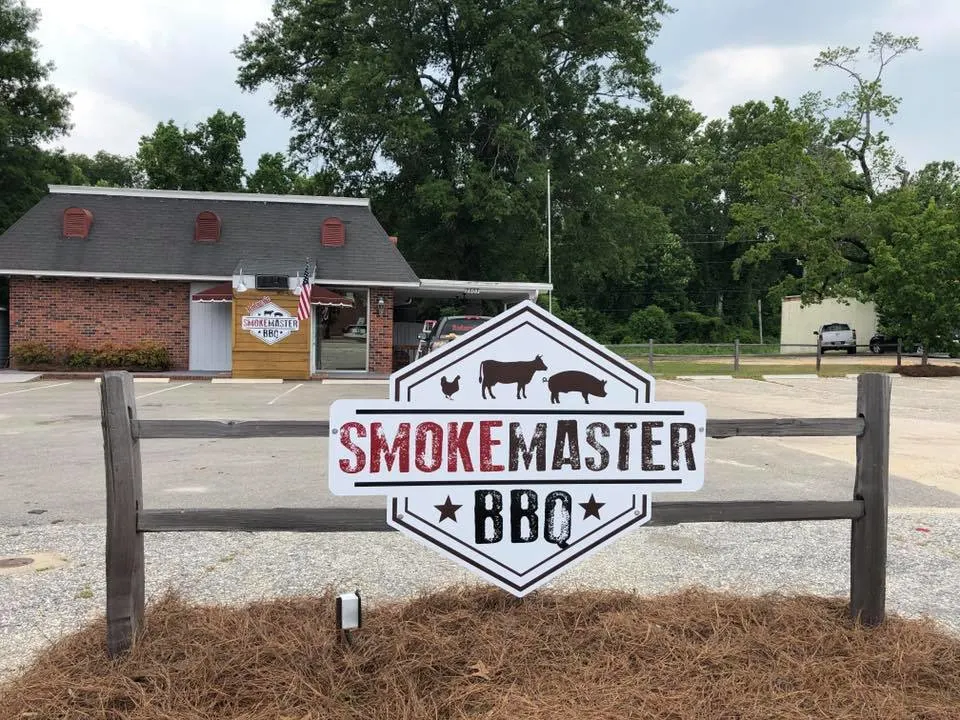 Take a tour of the inside of Rodney Coplin's restaurant in this gallery of photos from their Instagram page.
Tell me about your sauces.
"Ancho Honey Tomato-based – not too spicy or sweet but the perfect compliment for beef. A smoky Mustard based, slightly acidic with a hint of smoke. Pepper Vinegar with a hint of sweet."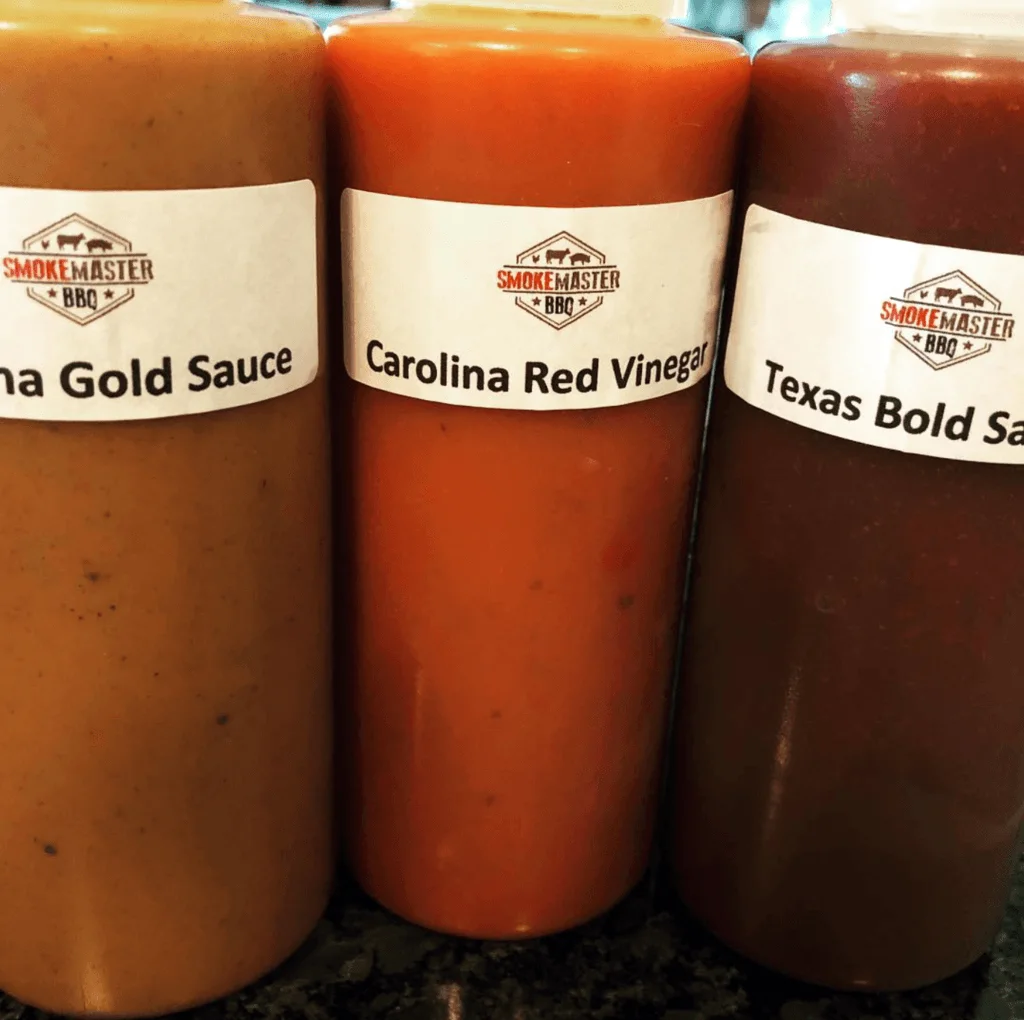 Talk about your BBQ.
"Slow-smoked meats prepped daily and ready every morning – all prepped with housemade rubs – no commercial rubs or sauces are served. We do not sauce our meats, we let the meat speak for itself and allow the customer to add as much or little sauce of their choice and taste."
Tell me more about how you developed your rubs.
"I developed them through experimentation and trial and error over the years. Some traditional Texas brisket recipes only rub the meat with pepper and salt.
I have taken it up a flavor level by adding spices that work well with beef. I have a special blend that works well with pork, too.
My friends were taste testers for my different blends. One day, I realized that's it! I had created blends that worked."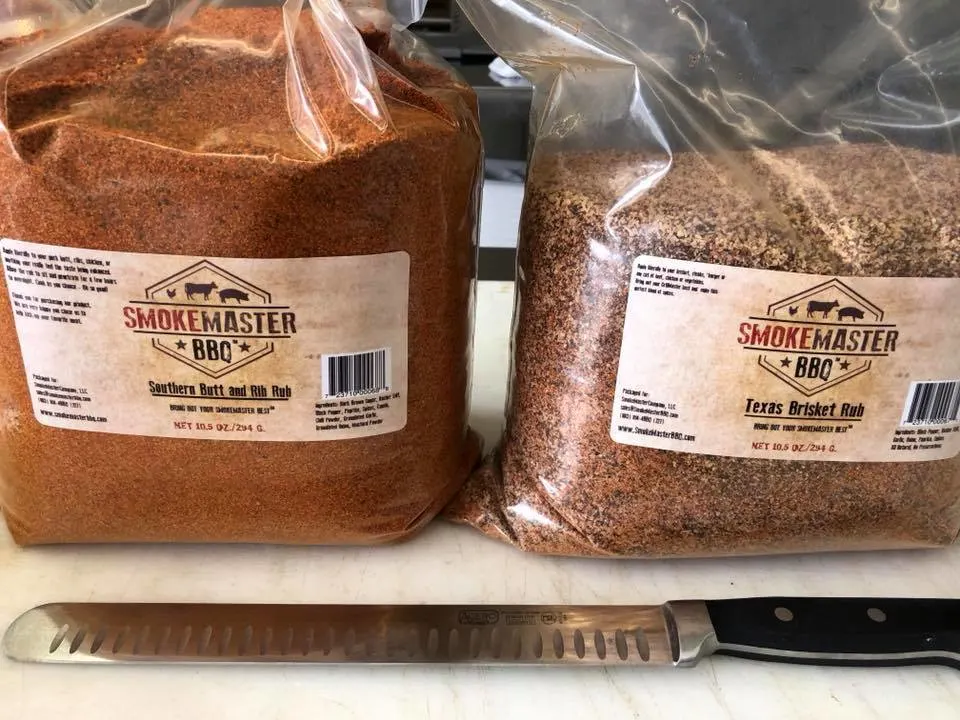 Camden is a relatively small town (I know, that's where both sides of my family are from). Tell me how folks reacted to a different style of BBQ and what it means to you to have the opportunity to expand their palates a bit.
"The reaction has been terrific. I brought something new, different, and good. People have their traditional SC BBQ favorites, but they also like the variety. I take pride in every order we serve and enjoy watching people step out of their comfort zone."
In a small town, you have to be unique, stand out, and offer something that gets talked about — many have told me that our brisket is outstanding.
I expanded the brisket offerings to various forms, like brisket tacos, burnt ends, brisket egg rolls, and several specialty sandwiches, including our melt sandwich which tastes like a smoked prime rib, covered with grilled smoky onions and melted cheese, and finished with my garlic lemon aioli.
I have found that I still need to have the standard BBQ offerings that the customers expect, but I also enjoy creating some different items such as bacon-wrapped smoked meatloaf. So far so good :)"
(Try our simple homemade wild boar bacon recipe for an interesting twist.)
What's on your plate when you eat BBQ at your own restaurant?
"Depends on my mood of the day but always brisket."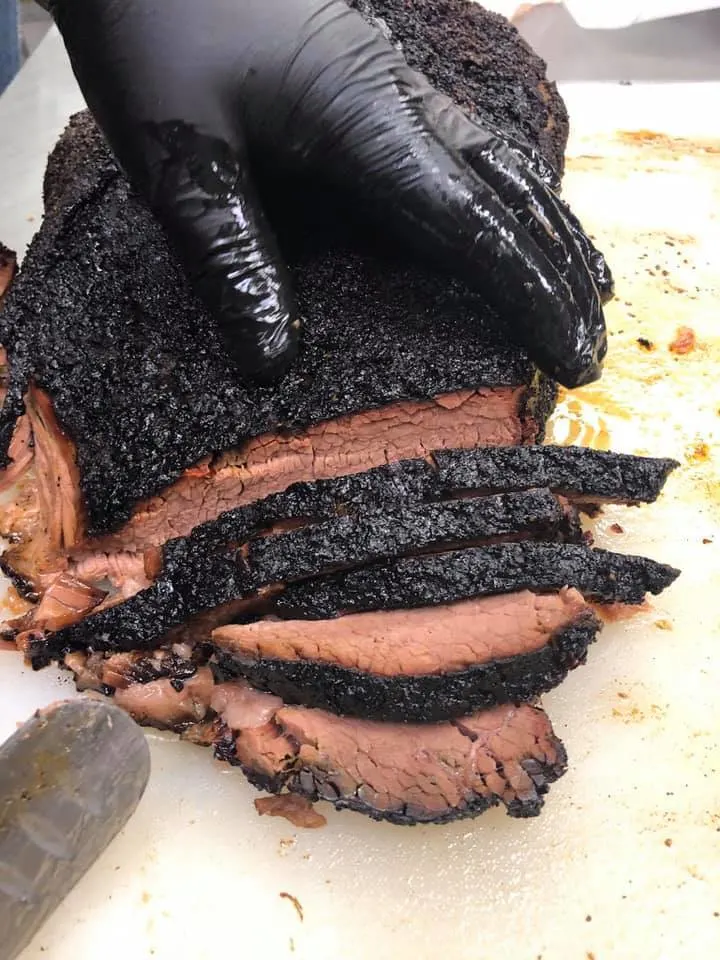 What sides might you add to that plate of brisket from your restaurant?
"That's easy — cowboy pinto beans. I soak dried pintos overnight with a variety of spices that penetrate the beans. Then I cook them slowly, allowing them to get rich and delicious, and add some chopped smoked brisket to develop the flavor even more and take it up a notch.
A side of coleslaw which is sort of a hybrid, not too creamy or vinegary with a hint of ancho – adds a nice smokiness to it."
Why/how did you get into BBQ in the first place?
I am a native Texan and grew up eating brisket. For me, beef has always been the way to go. It's fun, it travels, and it loves the grill. I enjoy the flavor profiles you can infuse with smoking — it just takes it to a different level.
What advice/tips do you have for the amateur?
"Test and try new techniques, and enjoy what you make. There is no one way, there are preferred. Take it slow, some things need time."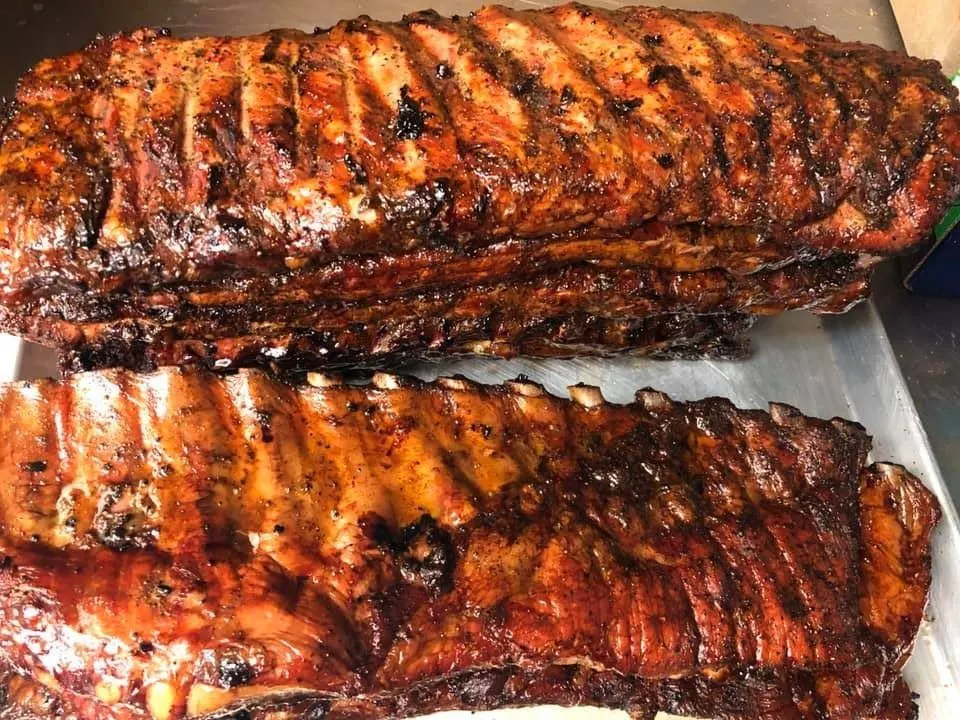 What is the best thing about your work?
"Meeting customers and hearing the satisfaction and appreciation that I am in a small town offering what we do."
If you could sit at the table with anyone, past or present, famous or not, to share a meal, who would it be and why?
Bobby Flay – his use of chiles is a major influence on what I try to do at home and in the restaurant.
What changes you have seen in SC BBQ in recent years?
"Seeing an expansion from mustard-slathered pork and the excitement that a wider selection of meat options are now more broadly available."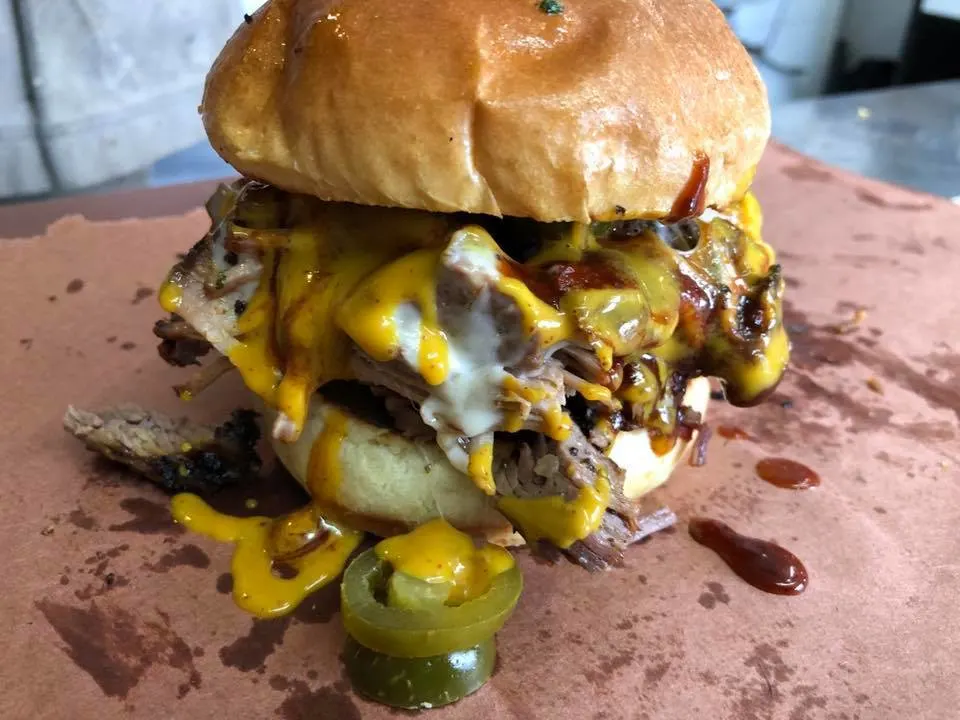 Do you eat other people's BBQ? Any places you recommend?
"Yes, of course…"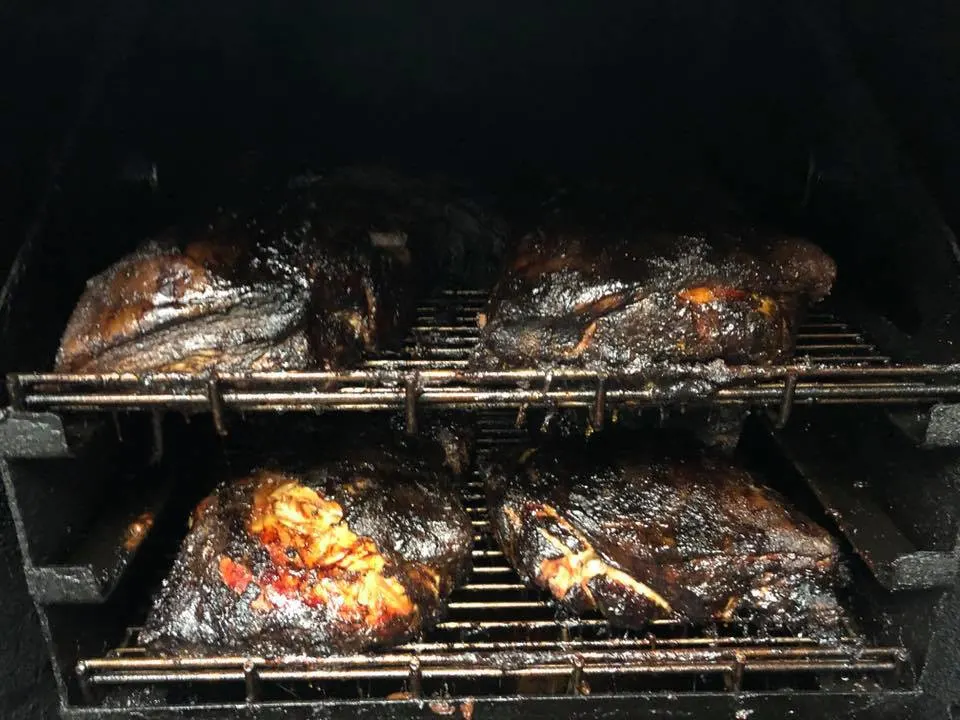 ---
Details
Your Name:
Rodney Coplin
Business Name:
Restaurant Address:
2503 Broad Street Camden SC 29020
Phone #:
Days Open:
Thursday-Saturday; Catering Available Monday-Saturday
Hours Open:
11 a.m. – 3 p.m.
Payment (cash, credit/debit):
Cash and Cards
Website address:
Social Media sites:
Facebook: https://www.facebook.com/rodneysbbqandcatering/
Instagram: https://www.instagram.com/smokemasterbbq/
Types/Names of sauces served:
Vinegar-based
Mustard-based
Heavy tomato
Peach Chipotle
How your BBQ is cooked:
How is your BBQ served (chopped, pulled, etc.):
Pulled
What cuts of meat are normally on the menu (whole hog, etc.):
Brisket, butts, ribs, turkey, sausage
---
---
Check out these other Conversations Around the Burn Barrel, A Q&A series with SCBBQ Pitmasters and Restaurant Owners
Aaron Siegel – Founder of Home Team BBQ
Gregg Howard — Pitmaster and Owner of the former Charleston's RightOnQue
Daniel Doyle — Chef and Partner of Poogan's Smokehouse
Meg Lonon – Owner Operator of Moe's Original BBQ on Pawleys Island
Chad Walldorf – Founder of Sticky Fingers