Rodney's SmokeMaster BBQ ****Permanently Closed****
****Permanently Closed****
Rodney's Smokemaster BBQ is the culmination of dreams, hopes, ideas. We are bringing you our passion for bbq and smiles to faces.
Rodney's Smokemaster BBQ is all smoke, all love, all about friends and family.
First, we do this because we love it, because we want you to love it, and because it brings people together. Food is the only common language we all speak. Enjoy our food around your family table or share with friends at parties or special events.
Having been on the pit and smoker for so many years, preparing for friends, family, and others, there is nothing I enjoy more than the smiles on people's faces after serving something I enjoy so much. Your joy is my joy. We do what we love. We hope you do as well.
At Rodney's Smokemaster BBQ, we love to meet people who want to share their love of food at events, private parties, and more.
Come by or give us a call – can't​ wait to hear from you. We're open Thursday-Saturday 11-3. We cater Monday through Saturday.
What Folks are Saying about Rodney's Smokemaster BBQ
In his Google Review, John Boling wrote the following:
"SC has good BBQ, but sometimes it's pretty generic. Enter Rodney's Smokehouse!!!! This Texas barbecue owner/cook has brought his expertise/talents of authentic Texas BBQ to little ol' Camden SC.
"We've had imitation that has fallen to the wayside, but finally this is the real deal. Ribs, BBQ, brisket, smoked sausage. To sum up, the total package.
"And the sandwiches are not just BBQ slapped on a bun. Rodney's sandwiches are a messy handful, the way it should be. How refreshing it is to have something so unique right here in Dusty Bend.
"Maurice's?!?!?!…….forget about it!!!!
"Camden's food choices are expanding, so let's make sure Rodney's is one that is supported. BBQ imitation has come and gone but let's all make sure this one is here to stay."
Over on Yelp, Scott N had this to say:
"Wow!!! The food here is unbelievable!
"I'm from Texas and used to travel to Austin all the time and this place has some of the best BBQ I've had anywhere. This time around I ordered a sandwich called "The Texan" and it was so good that I will have a really hard time now forcing myself to try other things on the menu."
Get to Know Rodney's Smokemaster BBQ
Filmed at Rodney's former location, but a good look at owner Rodney Coplin in action:
Also, check out this Q&A with Rodney Coplin for a more in-depth look at his background and philosophy.
Finally, the menu at Rodney's SmokeMaster BBQ includes Smoked Brisket, Slow Smoked Pulled Pork, St Louis Ribs, house sausage, Hash and Rice, Cowboy Pinto Beans, Potato Salad, Slaw, Mac and Cheese, Jalapeño Pimento Cheese.
(To make your own South Carolina-style sausage, check out this homemade onion sausage recipe.)
"My hash is real meat – brisket and pork," said Rodney.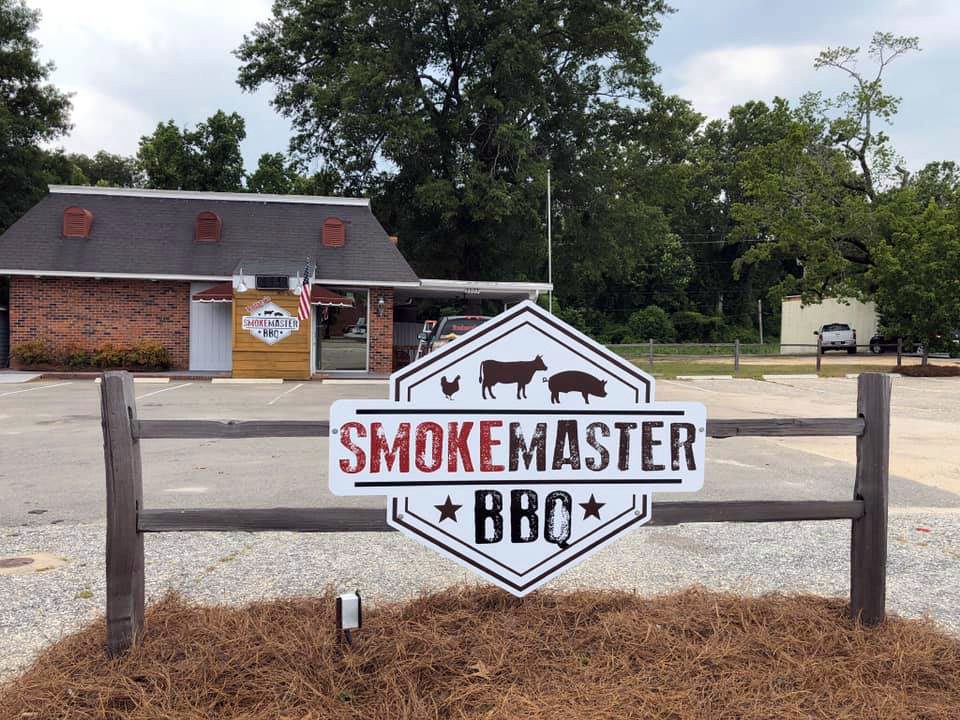 Rodney's SmokeMaster BBQ ****Permanently Closed****
2503 Broad Street
Camden,
SC
29020
| | |
| --- | --- |
| Monday | Closed |
| Tuesday | Closed |
| Wednesday | Closed |
| Thursday | |
| Friday | |
| Saturday | |
| Sunday | Closed |
Review Sites
Features
Cards and Cash, Hash, Mustard Sauce, Vinegar Pepper Sauce, Heavy Tomato Sauce