Listen to this Destination: BBQ article.
This post may contain links from which I earn a commission. Please read my disclosure policy. As an Amazon affiliate, I earn from qualifying purchases.
Rodney Scott's smoked turkey recipe will change your holiday traditions. In fact, it's so good you may find yourself looking for excuses to smoke a turkey during any part of the year.
James Beard Award-winning pitmaster Rodney Scott found fame near the small town of Hemingway, South Carolina. It was here at Brunson Crossroads that Scott first began a journey that would lead him to culinary stardom, a burgeoning chain of restaurants, and a new cookbook.
(Check out our Q&A with Rodney Scott about his cookbook and more.)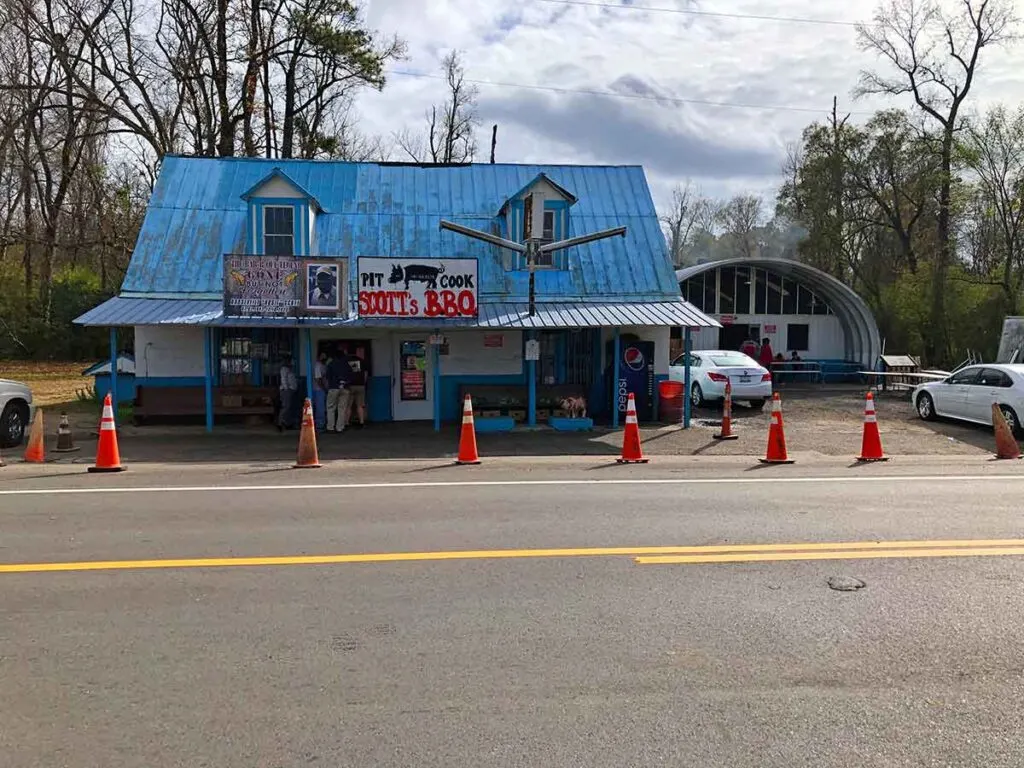 From these humble beginnings, Scott learned the craft of whole hog barbecue at the knee of his father, Roosevelt "Rosie" Scott. Using wood they cut down themselves, split into logs, and burned to make embers, the Scotts mastered the art of cooking entire pigs over nothing but those hard-wrought coals.
Couple that with his unparalleled vinegar-pepper-based barbecue sauce, and you enjoy what most Sandlappers believe is the best BBQ in South Carolina.
I know we'll never forget it. Scott's BBQ in Hemingway was the very first place we visited when we started this blog back in the Summer of 2012.
As a result, it was the very first review we published.
Rodney Scott's Smoked Turkey Recipe Built on Whole Hog Tradition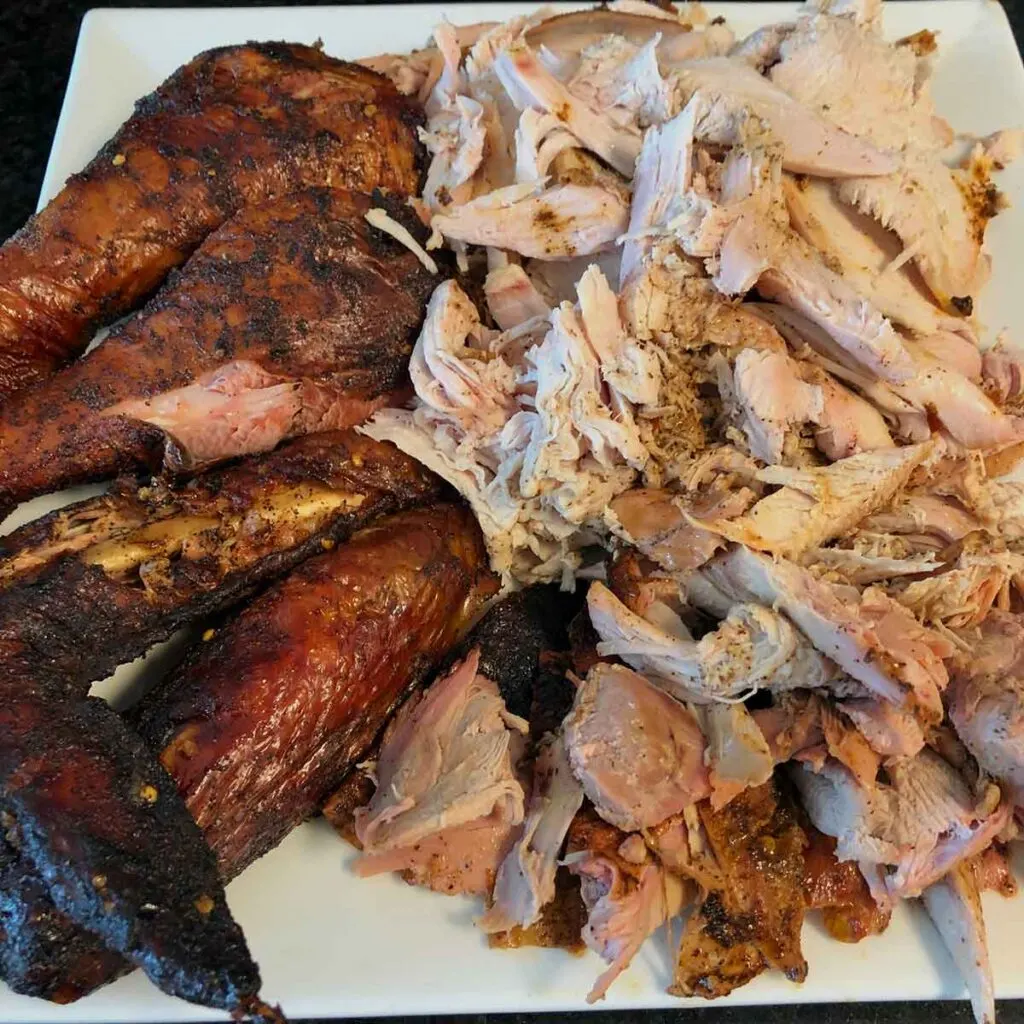 Rodney Scott's smoked turkey recipe builds upon the foundation established in his whole hog heritage. More importantly, Scott's recipe is presented in such a way that it is accessible to the home cook.
You will savor that legacy in the smoke from your own fire and in the tang of that sauce. And from the depth of flavor added by sprinkling on his dry rub.
Scott's restaurants in Charleston, Birmingham, and beyond smoke hundreds of turkeys for folks each holiday season. And if you're in the area, you can try it on his menu any day of the week. Scott's food has always been amazing. It's the reason why Rodney Scott's BBQ earned a spot on our feature entitled "BBQ in Charleston, SC: The Definitive Guide."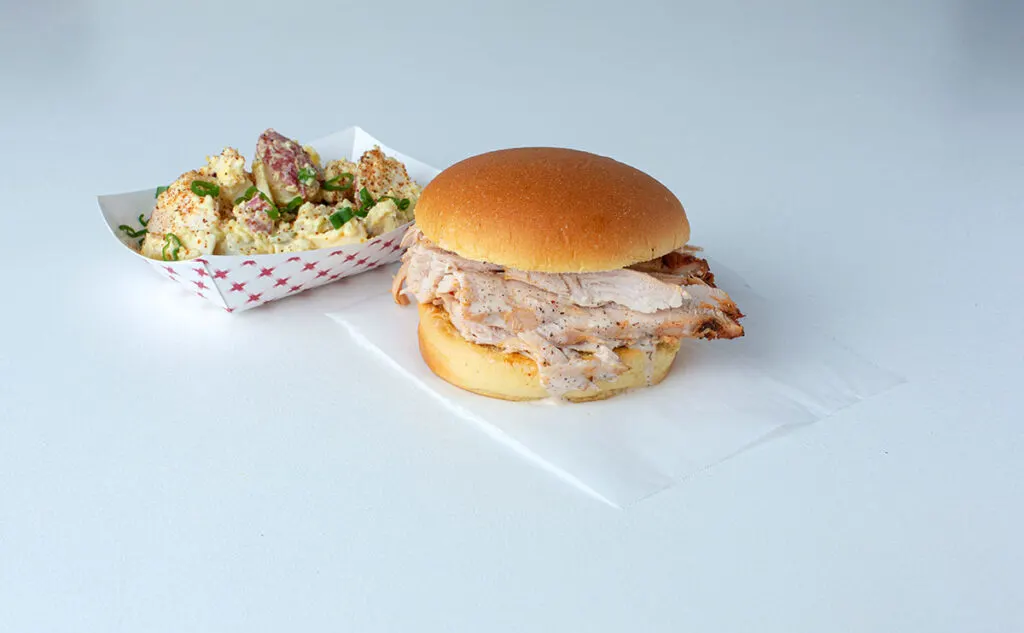 Fortunately, you don't have to live nearby to enjoy such succulence. You can achieve the same experience in your own backyard. (See our Google web story)
Here's how to do it:
Process
You'll start with a Butterball turkey, picking a size that will fit appropriately on your grill.
"At home, I always use a Big Green Egg, which holds temperature really well and infuses amazing smoke flavor," Rodney said in this article with Food and Wine, where his recipe first appeared.
However, you don't need a Big Green Egg to make this recipe. Whatever grill you have will do, as long as the Butterball fits. However
"I really like Butterball turkeys because they cook consistently no matter where we are in the country," Scott said.
Of course, any turkey will work. To illustrate that point, I used this turkey from Whole Foods.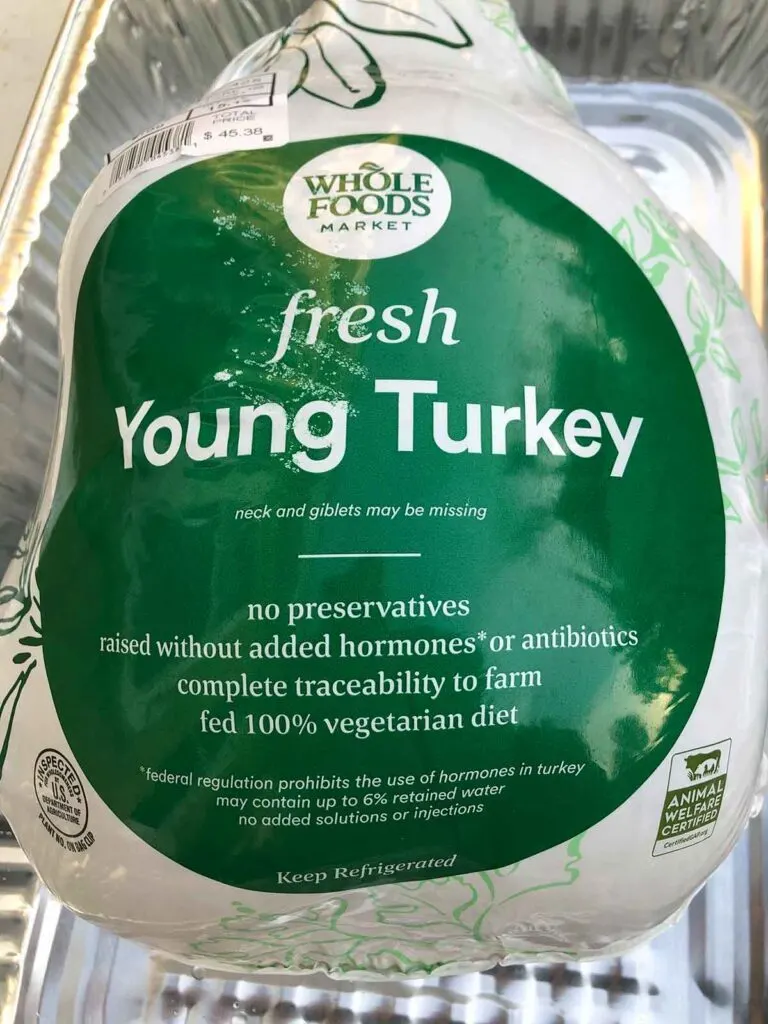 Spatchcocking
In the recipe as written in Food and Wine, Rodney specifies a "reverse spatchcock" when preparing the bird. In a reverse spatchcock, you will cut the turkey through the breastbone in order to open it up for flattening.
What Scott doesn't specify is why. The article implies it is for added flavor gained by leaving the backbone in.
However, in the video that accompanies the article, Rodney uses a traditional spatchcock technique. In this case, he also leaves the backbone in by simply cutting along one side and opening the bird that way.
So that's the way I did it: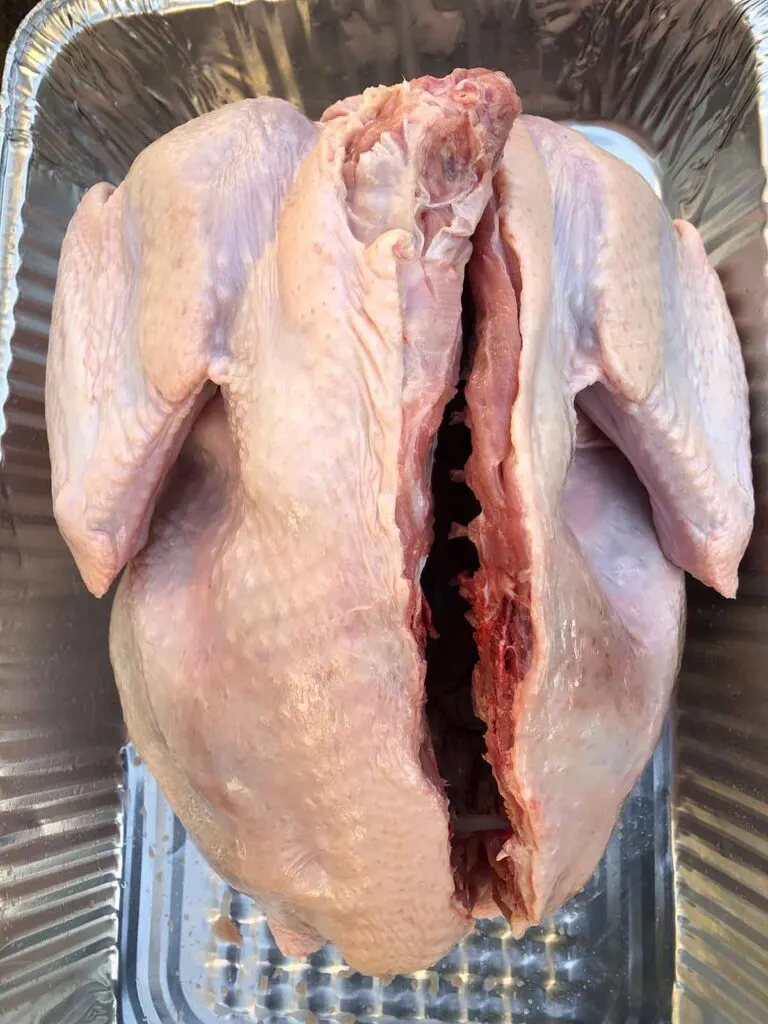 Like Scott, we believe you'll be equally successful with either approach, though our personal preference is to cut along the backbone.
A heavy-duty set of kitchen shears is ideal for this task. I didn't have a pair at the time and honestly struggled with a boning knife to make the cut you see above. I'd recommend a good pair of shears.
Seasoning
Next, he seasons the turkey on all sides. The dry rub ingredients listed are simply a half batch of Rodney Scott's Rib Rub Recipe.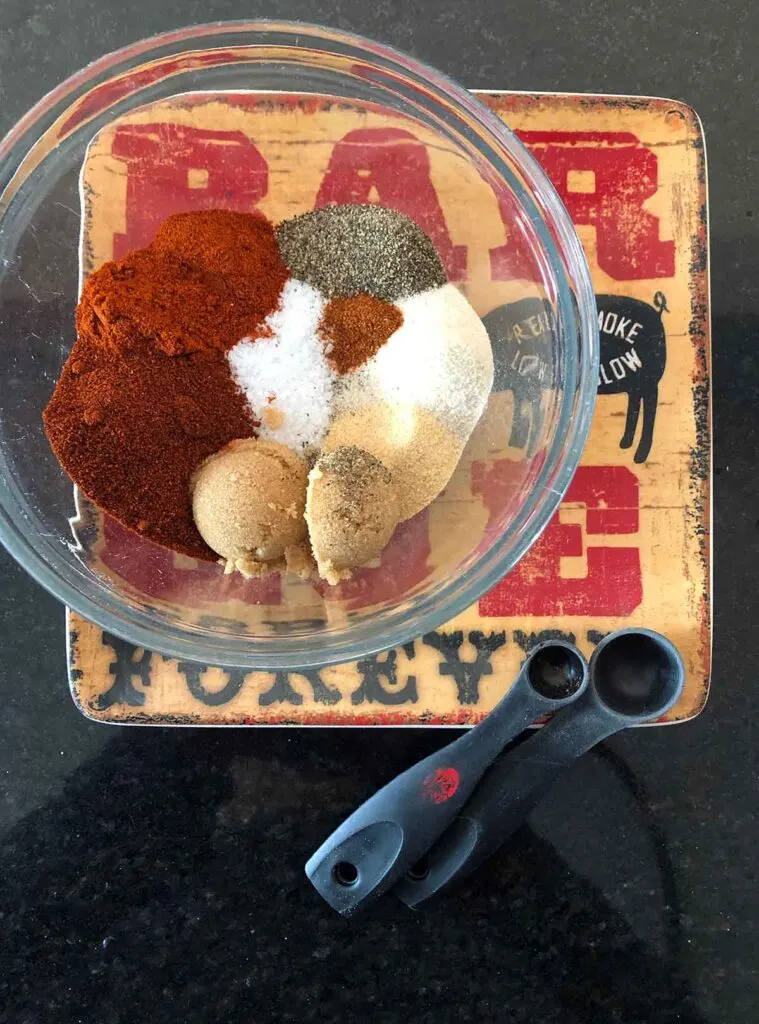 To begin, you'll pat the turkey dry with paper towels, removing the excess moisture from the skin and cavity. Then, you'll sprinkle on the dry rub.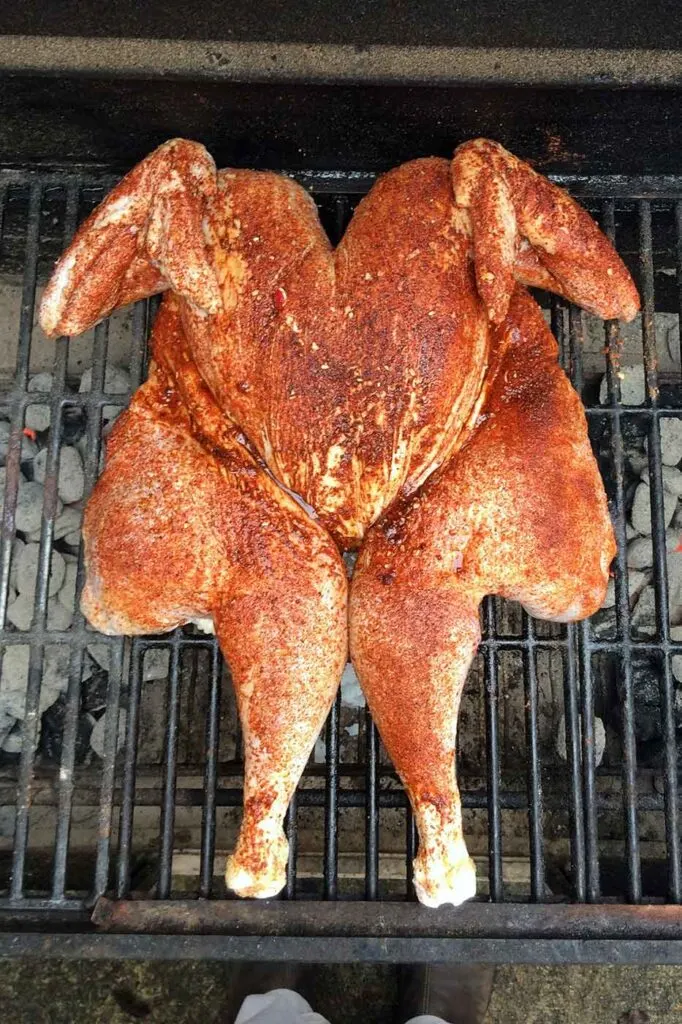 Sprinkle from about a foot above the bird for even distribution. But just because it is a dry "rub" doesn't mean you need to rub it in.
In Rodney Scott's Ribs Recipe, he makes a point of saying not to rub the seasoning onto the ribs because it actually makes the ribs too salty.
As for the bird, Scott uses the same practice:
"We don't rub it in. We just sprinkle it on," Rodney said. He added that "we like to do both sides of the bird. Make sure you get under that wing."
Once the turkey is seasoned, let it remain at room temperature while you prepare your grill.
Smokin'
For us, this is where the instructions as given to Food and Wine become a bit daunting for the home cook.
First, here's what you need to understand: don't sweat the details.
Yes, he suggests using a Big Green Egg. Yes, he suggests using a convEGGtor. And yes, he suggests getting the Egg up to 225° and maintaining that temp for about 20 minutes.
What if you don't have a Big Green Egg? No big green deal.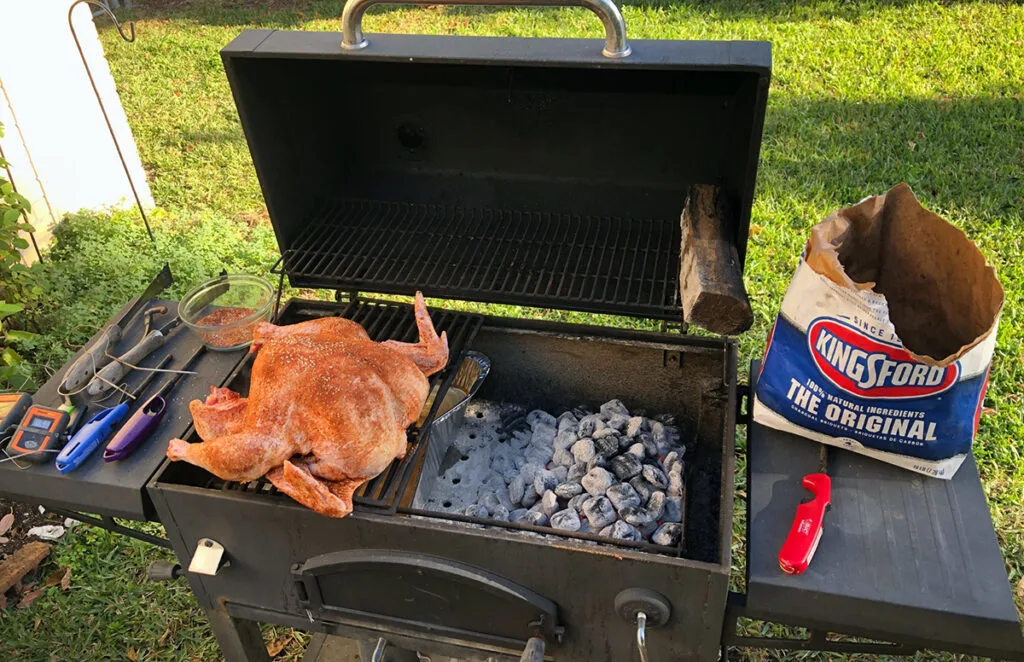 In fact, I don't own one myself. I cooked this bird on a grill like this one from Amazon.
Just understand that cooking a turkey requires indirect heat. That's why he's suggesting a diffuser of some sort, to keep that direct heat away from the bird.
If you have an offset smoker, great. If you have a large grill where you can bank the coals to one or both sides, great.
Whatever you have, you'll have to find a way to use indirect heat. 2-zone grilling is the key here. That may mean you need a heat diffuser of some sort. Whatever will work with your grill.
In the photo above, you'll see I banked the Kingsford briquettes to the far right side. I added a disposable aluminum drip pan below where the bird would be placed to keep the grill cleaner.
Get one that fits the width/depth of your grill. The one I used was a touch too wide and I had to bend it into place.
I filled that drip pan a couple of inches deep in boiling water. Don't use cold or lukewarm water as then your coals will struggle to bring the water up to temperature as well and your cook will take longer.
Before sliding all the grates into place and settling the turkey into position with the breast side toward the fire, I added the oak log between the briquettes and the drip pan for additional smoke flavor.
If you do this, just be aware you want embers, not flames, so use your dampers to hold down any fire from your wood.
Finally, I inserted the thermometer probe.
I use a simple ThermoPro Wireless Thermometer with two probes for internal and grill-level temperature monitoring. See it on the left edge of the grill. It has worked well for me for years.
Mop, Flip, Mop
Once you done have that, you'll simply cook the turkey until a thermometer stuck into the deepest part of the breast reads about 145, and the turkey starts to show his "socks."
You know your grill. Do that part the way you think is best for your setup. If you have the coals banked on one side, maybe you'll need to rotate the turkey halfway through. Again, whatever works best with your setup.
At that point, you'll mop the bird with your sauce, flip it over, and mop again.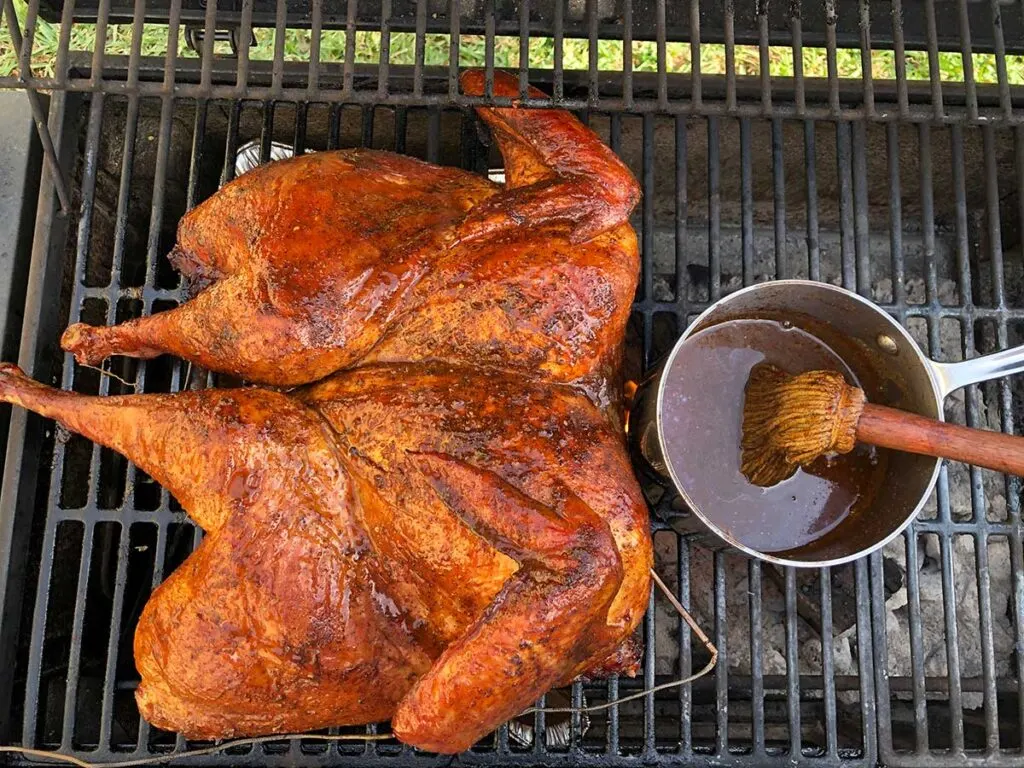 Take care when mopping not to rub off the dry rub by dragging the mop across the skin. At most, you'll want to dab a heavy-laden mop/brush/spoonful (again, whatever you have) onto the bird.
"Remember 'mop, flip, mop,'" Rodney says.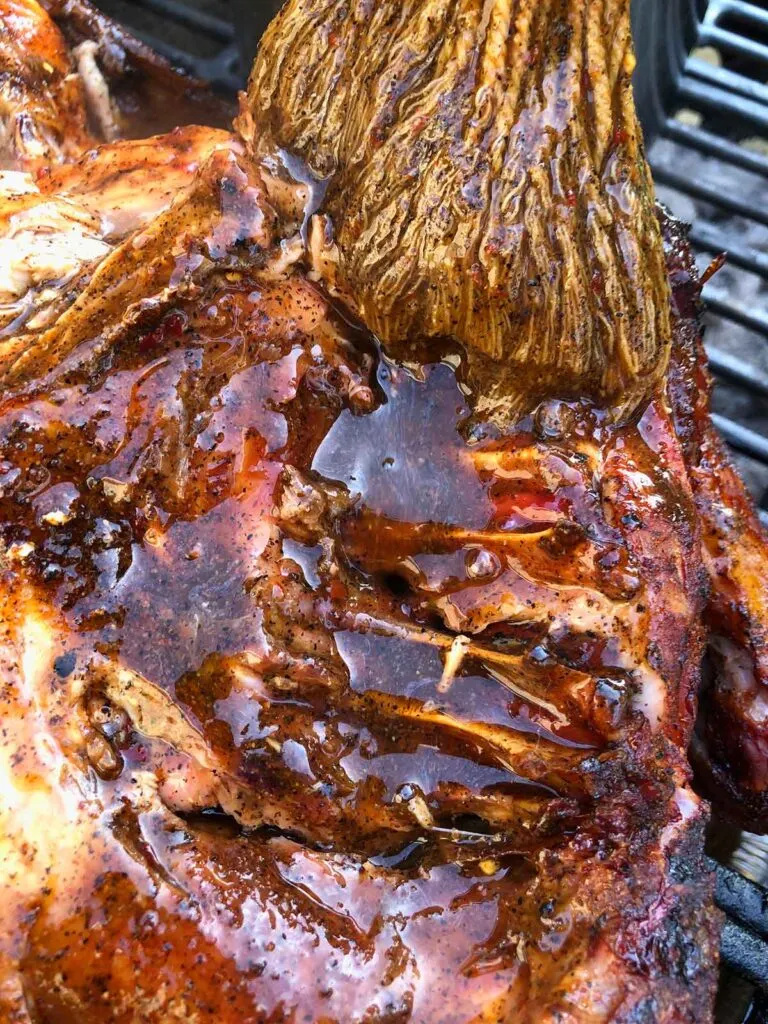 While a good long-handled grill basting mop is ideal, you can use anything.
Like he does with the whole hogs, now that the cavity side of the bird is facing up, you can break through into the bird with your tongs, mopping the sauce and soaking it heavily into the meat.
Once the sauce is absorbed, you'll close the grill and cook for another half hour or so until the thermometer reads around 155°.
At that point, you can pull the turkey from your grill and serve or allow it to rest for up to two hours.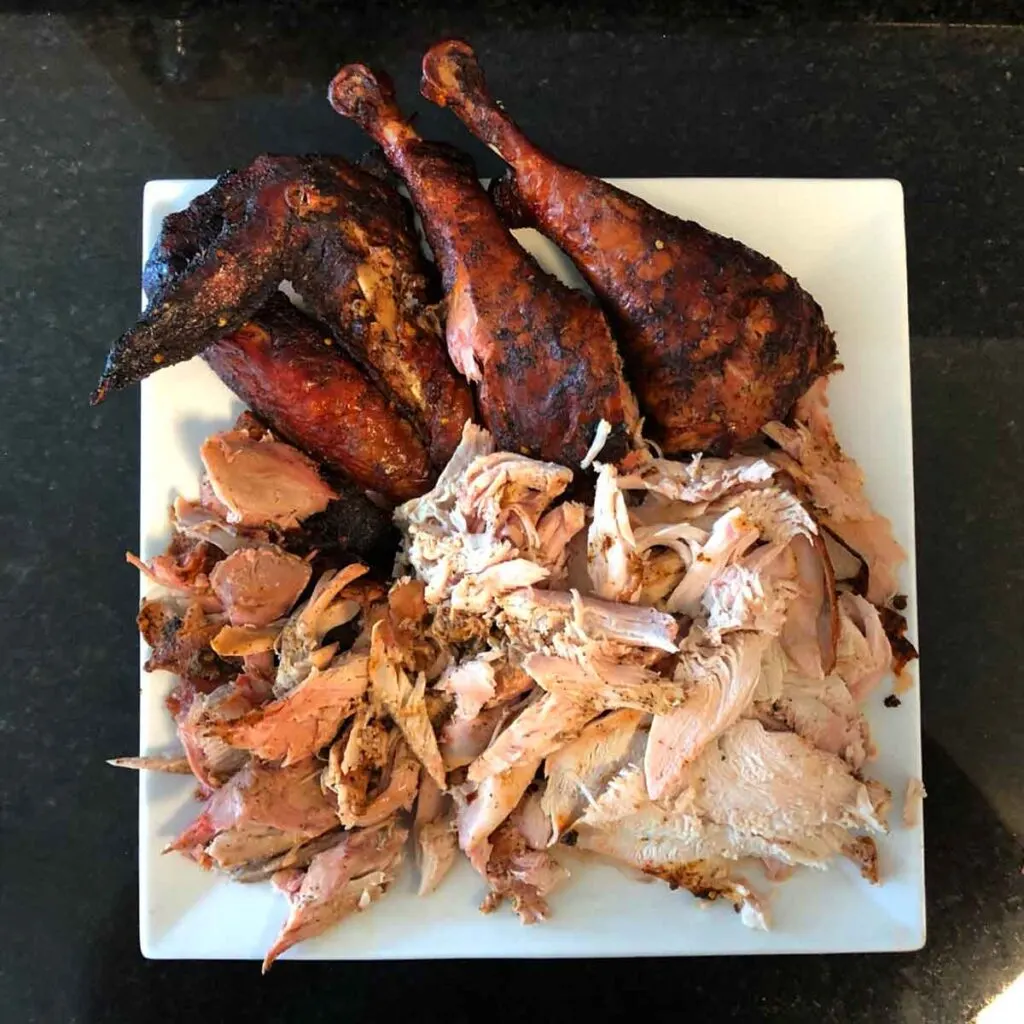 What you'll end up with is a turkey like no other you've tried before. And after you try it, you're likely to never cook your turkey the old-fashioned way again.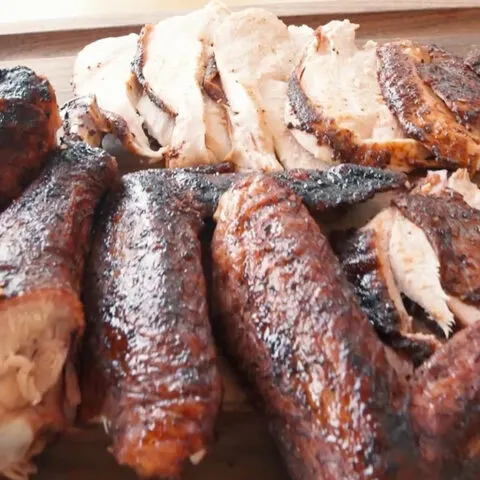 Rodney Scott's Smoked Turkey
Total Time:
4 hours
30 minutes
A smoked holiday turkey that's just as delicious no matter what the season.
Ingredients
Dry Rub
1/4 cup kosher salt
2 tablespoons black pepper
2 tablespoons paprika
2 tablespoons chili powder
2 tablespoons light brown sugar
1 teaspoon garlic powder
1 teaspoon onion powder
1/4 teaspoon cayenne pepper
VINEGAR-PEPPER MOPPING SAUCE
3 3/4 cups white vinegar
1/2 cup packed light brown sugar
1/4 cup cayenne pepper
2 tablespoons black pepper
1 tablespoon fresh lemon juice
2 teaspoons crushed red pepper
FLAVORFUL FOWL
1 (12- to 14-pound) whole Butterball turkey, thawed if frozen, giblets removed
Instructions
Stir together all dry rub ingredients in a bowl; set aside.
Whisk together all vinegar-cayenne mopping sauce ingredients in a large bowl; set aside.
Pat turkey dry with paper towels, and place turkey, breast side up, on a large cutting board. Using a chef's knife, carefully cut turkey breast in half lengthwise, cutting straight through breastbone.
Open up turkey, and press to flatten; pat inside dry with paper towels.
Sprinkling from about 12 inches above worksurface, coat turkey on all sides with dry rub; do not rub in seasoning.
Place turkey, skin side up, on a rimmed baking sheet. Let stand at room temperature while grill preheats, up to 2 hours.
Prepare a charcoal fire in a grill or smoker according to manufacturer's instructions. Place oak wood chunks on coals, and fit grill with an aluminum foil–lined diffuser, such as convEGGtor. Maintain internal temperature in your smoker/grill at 225°F for 15 to 20 minutes.
Smoke turkey, skin side up, covered with the lid, until meat around ends of drumsticks pulls back and reveals the turkey's "socks" and a thermometer inserted in the thickest part of breast registers 145°F, about 2 hours.
Generously mop 1 1/2 cups mopping sauce on skin side of turkey.
Using long tongs and reaching as far under the bird as possible, carefully flip the turkey skin side down. (Underside of turkey should be dark mahogany brown and evenly speckled with charred bits.)
Generously mop with remaining 2 1/2 cups sauce. When sauce begins to pool in the cavity, insert the tip of the tongs into exposed breast meat and gently twist to allow the sauce to soak into the meat.
Continue to mop until all of the sauce is absorbed. Close grill and smoke until skin side is lightly charred and a thermometer inserted in the thickest part of breast registers 155°F, 30 to 45 minutes.
Transfer turkey to a large cutting board; carve immediately, or let rest up to 2 hours.
Notes
In the original recipe as published by Food and Wine, Scott uses a reverse spatchcock, cutting the breast in half as described above. However, in the accompanying video, he spatchcocks the turkey in the traditional way. He cuts along one side of the backbone, leaving the backbone attached for the flavor it adds, but allowing the bird to be flattened.
Recommended Products
As an Amazon Associate and member of other affiliate programs, I earn from qualifying purchases.
Nutrition Information:
Yield:

10
Serving Size:

1
Amount Per Serving:
Calories:

122
Total Fat:

2g
Saturated Fat:

1g
Trans Fat:

0g
Unsaturated Fat:

1g
Cholesterol:

62mg
Sodium:

2906mg
Carbohydrates:

16g
Fiber:

2g
Sugar:

12g
Protein:

7g
Like to Volunteer as One of our Recipe Testers?
We have a bookful of recipes to test and publish. Join the team and choose from our collection of unpublished recipes.
All we ask is that you photograph the process and share your thoughts on each recipe and the finished product. And we'll feature you when we publish that recipe.
Interested? Just send me an email.
(See our Google web story about this recipe.)