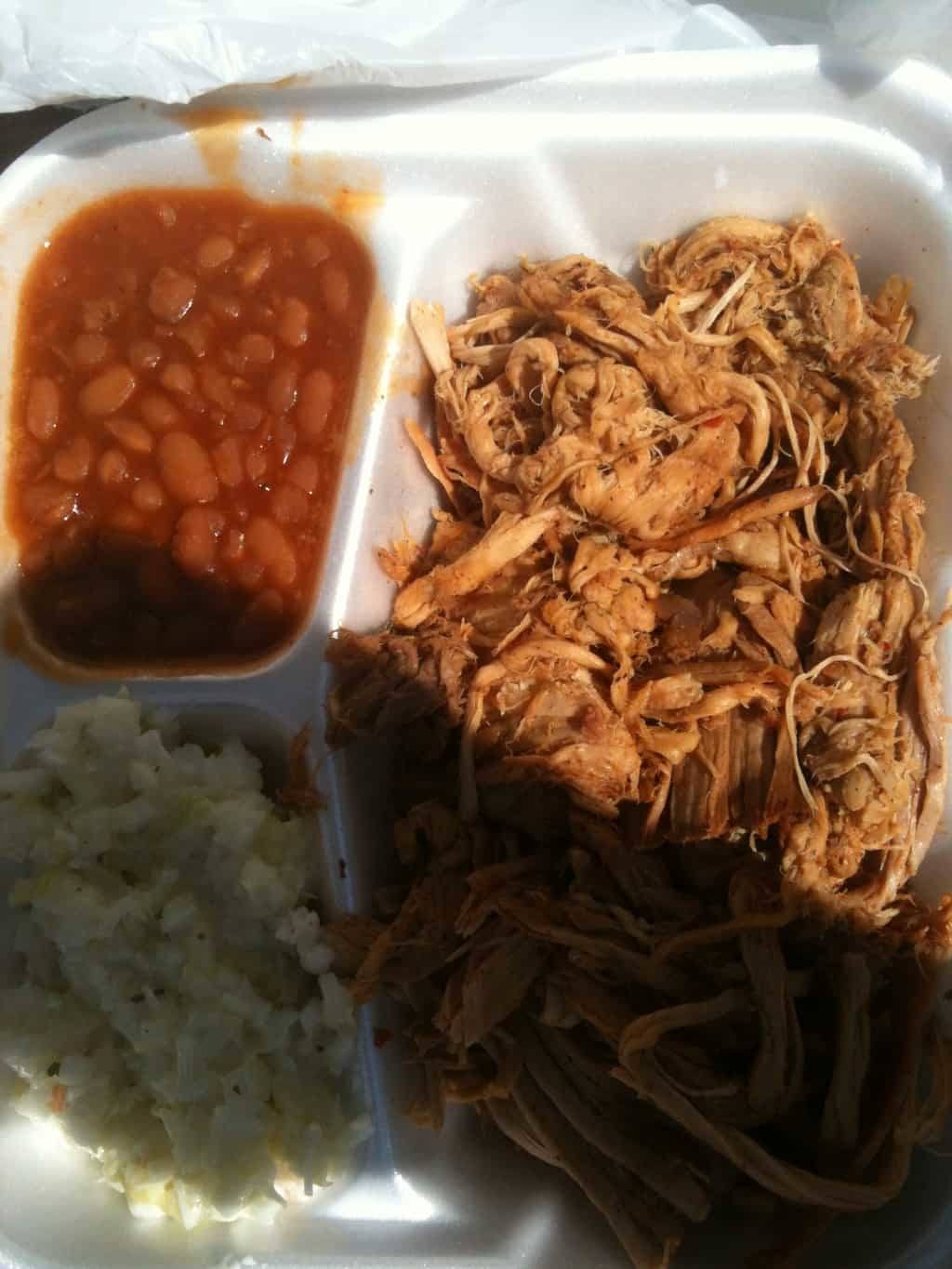 Listen to this Destination: BBQ article.
June 8, 2012
There is something simply sublime about perfectly cooked barbecue. Today, Heather, Camden, and I enjoyed just that at Scott's BBQ in Hemingway, SC.
The three of us, with Dixie, the family mutt, in tow, headed up to Hemingway, SC. As I mentioned in a previous post, this would be the first stop in our BBQ tour, an idea Heather came up with after reading an article about Scott's in a recent Southern Living article.
Arriving at Scott's BBQ, we found a humble, old country store. (Scott's is not a restaurant, which we already knew from our research.) It is a somewhat downtrodden, white, wood-siding building with blue trim and a silver "tin" roof.
Opening the screen door, we stepped from the summer's brightness into a dim room. To the left is a checkout counter for the store. To the right, shines the bright lights of heaven: an attached kitchen where you step up to the counter to place your order, likely after waiting in line squeezed between an old coke cooler and a shelf of white bread.
Around you are displayed many of the articles, awards, plaques, and trophies Scott's BBQ has earned over the years. Over the counter where you place your order, the prices are written in marker by hand: Large Hog $425, 1/2 Large Hog $212.50, etc. Around those are signs suggesting that if you want service you better pull up your pants and get off your cell phone.
Looking at the large price list, we decided to pick up two pounds of BBQ ($10/lb) and 1/2 chicken ($4.50). Heather then spotted a small, faded piece of paper hanging over the opening to the kitchen and said, "Oh, that's what I'll have": a BBQ plate with baked beans, coleslaw, and white bread. We added three BBQ plates to the order ($6.25 each) and also some sweet tea (.75 each). We couldn't leave without a bag of Pork Skins (off the grill, not deep-fried, though they have those, too) and some boiled peanuts. Total: $54
We took our order, packed in styrofoam containers, to go, as did everyone else we saw. The Scotts do have a couple of small tables in the store where you could sit, but we saw no one at the tables. Once outside, we spotted an empty picnic table to the left side of the store and decided to eat there before heading back to Charleston.
Popping open the styrofoam plates, we are greeted with our first real look at the world-famous Scott's BBQ. It is a three-compartment tray: one filled with KFC-styled coleslaw, another with baked beans, and the width of the tray filled amply with beautiful pulled pork BBQ.
The true test of any BBQ is the taste of the meat itself without adding any extra sauce. Scott's BBQ was all mouth-watering flavor. The meat was moist, tender, and tongue-tingling. The smokey flavor was evident, but not overpowering. In short, we all agreed this is exceptional BBQ. It sets a standard which other places will have a hard time equalling.
The coleslaw we agreed is a KFC-style slaw with a sweet, tangy, mayonnaise base. We generally don't like mayo-based slaws, but we found this one good. The baked beans were also quite tasty. The sweet tea was, indeed, sweet. Camden and I enjoyed ours (and the rest of Heather's).
Now, for the sauce. The sauce, as is common in this area, is a vinegar-based sauce seasoned with unknown ingredients. It has a certain sweetness to it, but that sweetness is followed by ample, but not overpowering heat. Heather, who doesn't care for spicy foods, could tolerate the heat, but enjoyed the meat so much by itself, she didn't use the sauce often. They gave us four containers of sauce for our order, some thinner and some heavier with seasoning sediment. All of them good.
The Scott's BBQ experience will be tough to beat. We all enjoyed our meal, finishing all the BBQ on our plates before leaving. The chicken, I enjoyed the next day was equally good, and Christian and Chelsea helped us finish off the remaining two pounds of BBQ long before it had a chance to go bad.
On the way back, the obvious question had to be asked: Was it worth the trip?
Everyone agreed that it was.
Here is a map of Scott's location:
Hours of Operation:
Wed: 9:30 am – 6:00 pm
Thu – Sat: 9:30 am – 8:30 pm
Phone:
(843) 558-0134
Payment:
Cash Only