This post may contain links from which I earn a commission. Please read my disclosure policy. As an Amazon affiliate, I earn from qualifying purchases.
If there were a Mt. Rushmore for SCBBQ, Rodney Scott's ever-smiling visage would be permanently etched into the mountainside.
Having gotten his start at the age of 11 cooking his first pig for his father Rosie at Scott's BBQ in Hemingway, their converted gas station/convenience store, Rodney is now among SCBBQ royalty.
In fact, Scott's BBQ in Hemingway was the very first SCBBQ restaurant we visited and reviewed way back in the summer of 2012. For us, it set the standard that few ever matched.
Find it and Rodney's Charleston location on the SCBBQ Trail.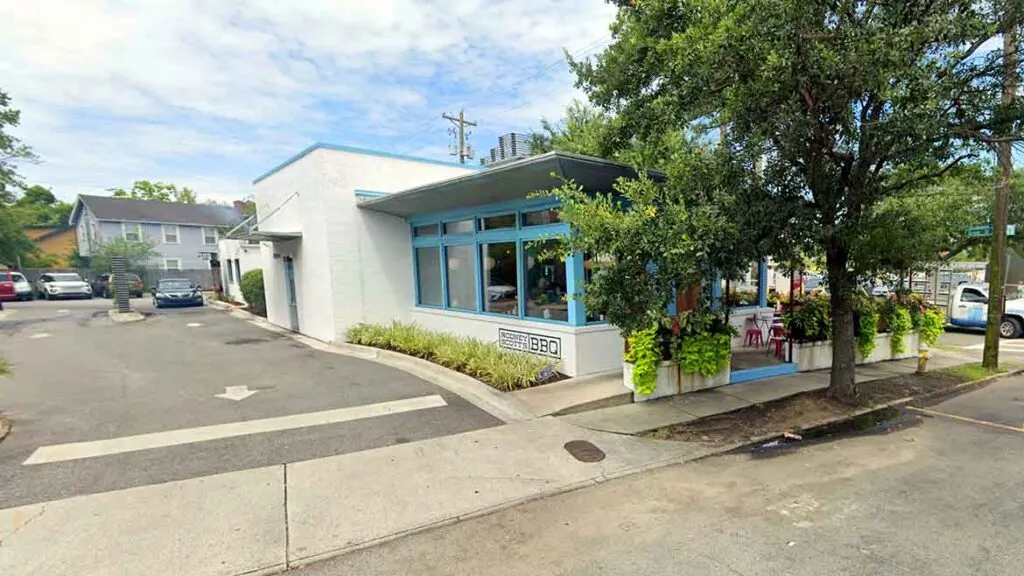 Scott opened his first restaurant, Rodney Scott's BBQ, in downtown Charleston. While the Hemingway location continues to be exceptional, it has never been what one might consider a complete restaurant.
While you can eat at Scott's, most folks don't. There are a few picnic tables outside and one kitchen table inside.
As limited as the table options is the menu. On our visit, we had a BBQ plate with slaw and beans. Not sure if things have changed, but if I remember correctly, those were the only side options at the time.
In fact, these limitations and more made us question whether Rodney Scott's new venture would be successful. History has, of course, proven Scott has quite a success on his hands.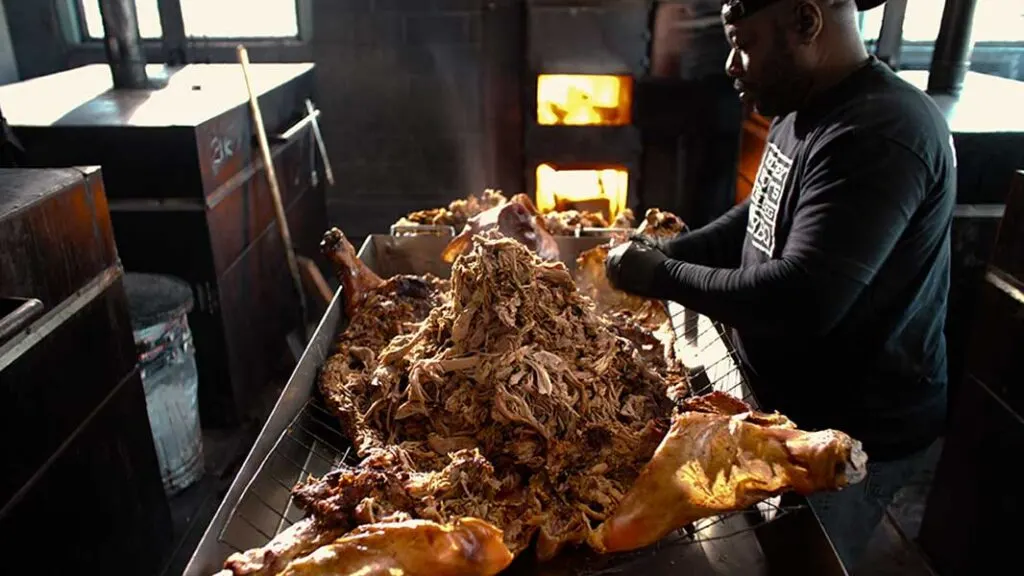 One of the reasons, beyond fantastic whole hog, pulled pork BBQ, is the fact that his expanded menu equals his signature menu item. Rodney Scott's baked beans may well be the best I have tried anywhere. (I have asked, and no, they won't share the recipe!)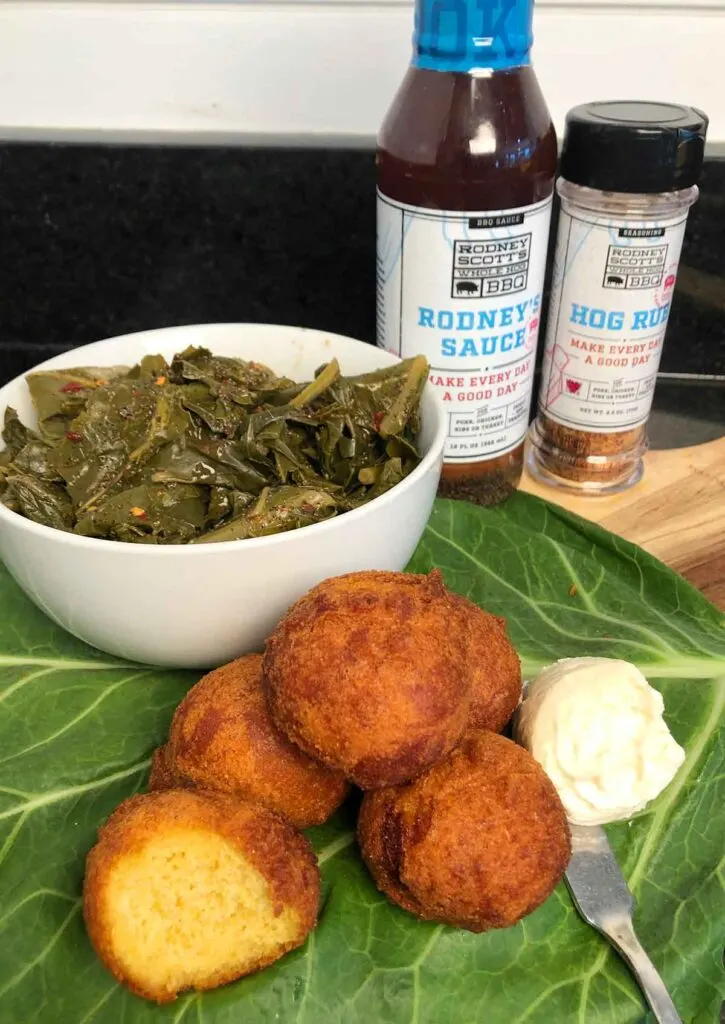 The collards are Rodney Scott's are delicious as well. They have hints of smoke and strings of meat and a hint of that sauce that makes Scott's BBQ even more special.
In the "Old School, New School" episode of Man, Food, Fire, Rodney shares his recipe for those collard greens with host Roger Mooking.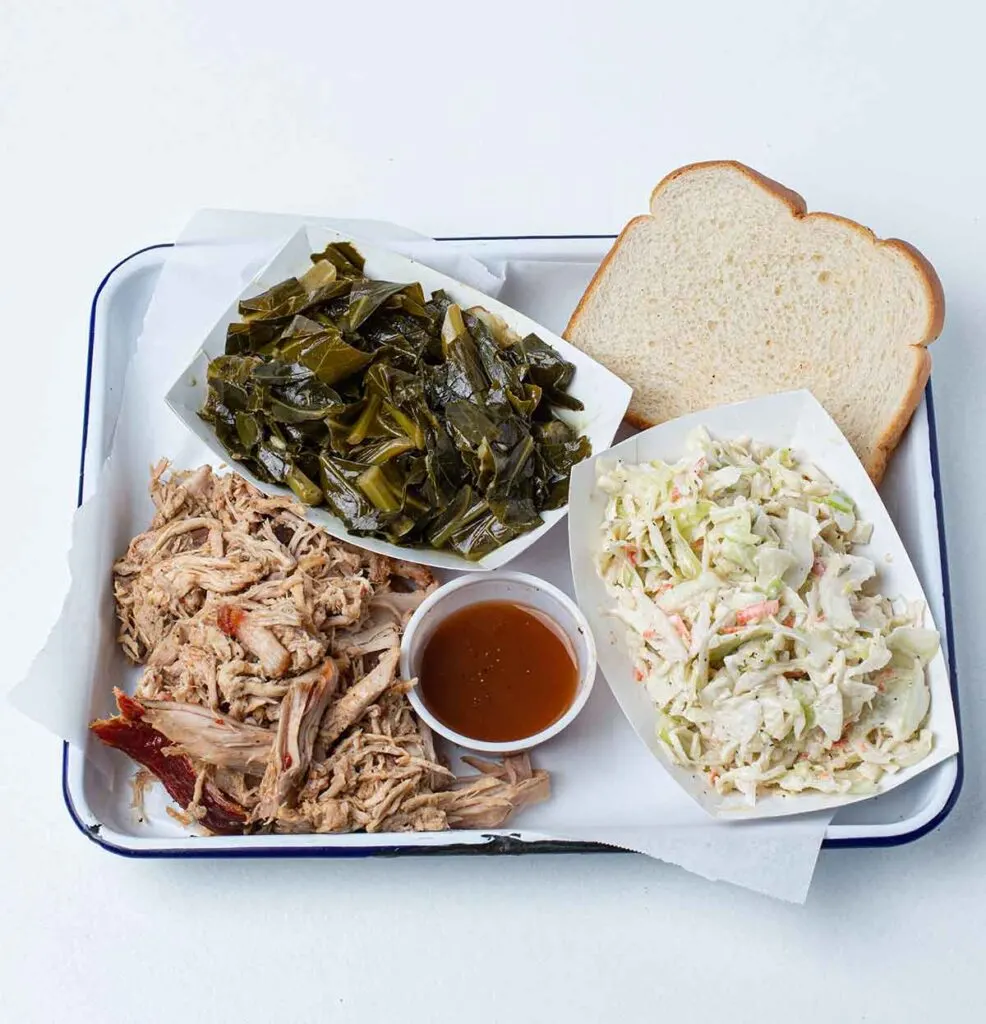 We have republished it here for you. And if you're making these collards, you'll need to make Rodney Scott's BBQ sauce recipe.
As long as you're mixing together some sauce, you might as well make some of Rodney Scott's BBQ Rib Rub to go with that sauce. At that point, you will have all the ingredients ready to make Rodney Scott's BBQ Ribs Recipe and Rodney Scott's Smoked Turkey recipe.
In the meantime, be sure to remember to cook a batch of Rodney Scott's BBQ Collard Greens Recipe.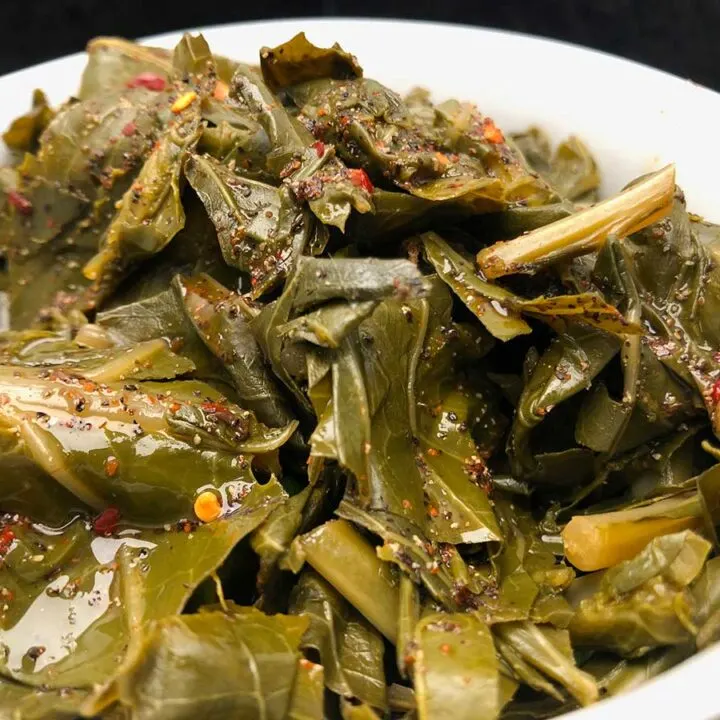 Rodney Scott's BBQ Collard Greens Recipe
Total Time:
1 hour
10 minutes
Collard greens are a common side in South Carolina barbecue joints. Rodney Scott's BBQ serves among the best I've tried. Enjoy.
Ingredients
1/2 cup lard
8 ounces yellow onion, diced
2 teaspoons garlic, minced
2 pounds collard greens, washed well and stemmed, leaves cut into 1- to 2-inch squares
10 ounces smoked pulled pork, or cooked ham cut into 1/2-inch pieces
4 teaspoons kosher salt
2 tablespoons apple cider vinegar
1 tablespoon Rodney's BBQ sauce, or your favorite vinegar-based barbecue sauce
Instructions
Heat the lard in a large, heavy-bottomed pot over medium heat.
Add the onions and garlic; saute until translucent, 5 to 7 minutes.
Add the collard greens, pulled pork, and 4 cups water.
Cover and simmer until the greens are completely tender, about 45 minutes.
Stir in the salt, cider vinegar, and BBQ sauce.
Notes
Recommended Products
As an Amazon Associate and member of other affiliate programs, I earn from qualifying purchases.
Nutrition Information:
Yield:

15
Serving Size:

1 cup
Amount Per Serving:
Calories:

139
Total Fat:

9g
Saturated Fat:

3g
Trans Fat:

0g
Unsaturated Fat:

5g
Cholesterol:

19mg
Sodium:

822mg
Carbohydrates:

10g
Fiber:

3g
Sugar:

5g
Protein:

6g
If you're interested in a different and still delicious style, check out Melvin's Legendary collard greens recipe.
---
Like to Volunteer as One of our Recipe Testers?
We have a bookful of recipes to test and publish. Join the team and choose from our collection of unpublished recipes.
All we ask is that you photograph the process and share your thoughts on each recipe and the finished product. And we'll feature you when we publish that recipe.
Interested? Just send me an email.
---
Rodney Scott's Cookbook, World of BBQ: Every Day Is a Good Day
Rodney Scott's World of BBQ: Every Day Is a Good Day will be published in hardcover and digital format and will be released on March 16, 2021. You can pre-order this right now.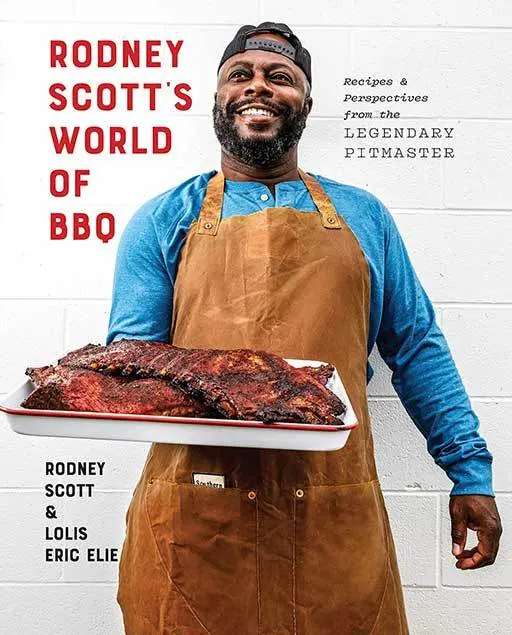 In Rodney Scott's cookbook, he shares what makes his award-winning whole hog so special. In addition, he shares insights about his pit-smoked turkey, barbecued spare ribs, smoked chicken wings, hush puppies, and Ella's Banana Puddin'.
More importantly, whether you're a barbecue pro or a novice, Scott's recipes will enable you to create these special flavors yourself.
In addition, details about building your own pit coupled with deeply felt essays on South Carolina's culinary traditions make this more than a simple collection of recipes.
"It is also a powerful work of storytelling. In this modern American success story, Rodney details how he made his way from the small town where he worked for his father in the tobacco fields and in the smokehouse, to the sacrifices he made to grow his family's business and the tough decisions he made to venture out on his own in Charleston."
Rodney Scott's cookbook is an inspirational story that reveals how "hope, hard work, and a whole lot of optimism" enabled Scott to become one of SC's most beloved pitmasters.
Check out our Q&A with Rodney Scott published in early March 2021, just prior to the release of Rodney Scott's World of BBQ Every Day is a Good Day.
---
Check out these other authentic SCBBQ sides recipes we've published on destination-bbq:
Melvin's Legendary Collard Greens Recipe
Swig & Swine's Pork Rinds with Tabasco Honey and Blue Cheese recipe
Lone Star BBQ's Tomato Pie Recipe
And we've published the following sides recipes in the SCBBQ Recipes: Going Whole Hog cookbook (read more about that here):
Sides
Rodney Scott's Banana Puddin' Family Recipe
Melvin's Legendary Collard Greens Recipe
Fried Corn, Shuler's BBQ-Style
Swig & Swine's Pimento Cheese Recipe
Swig & Swine's Quick And Easy Creamy Coleslaw Recipe
Swig and Swine's Beans with

Brisket

Recipe
Home Team BBQ's Mac and Cheese Recipe
Home Team BBQ's Collards Recipe
Jimmy Hagood's Cast-Iron Skillet Corn Bread With Cane Syrup Recipe
Jimmy Hagood's Lowcountry Brunswick Stew Recipe
John Lewis's Hatch Green Chile Corn Pudding Recipe
Lewis Barbecue-Style Cole Slaw Recipe
John Lewis's Buttermilk Potato Salad Recipe
John Lewis's Hatch Chile-Cheese Biscuits Recipe
Price's Bar-B-Que's Macaroni and Cheese Recipe
Price's Bar-B-Que's Broccoli Cornbread Muffins Recipe
Joe Dabney's Palmetto-Style Hush Puppies
Bessinger's Copycat Onion Ring Recipe