This post may contain affiliate links to Amazon or other vendors I trust. Please read my disclosure policy. As an Amazon affiliate, I earn from qualifying purchases.
There is nowhere in South Carolina that serves a better or more authentic BBQ than you will find at Rodney Scott's BBQ in Charleston. Simply put, if you have a chance to go, GO.
Rodney Scott began cooking whole hogs over wood coals he burned down in a burn barrel at the ripe old age of 11. Today, he is the James Beard Award-winning Best Chef in the Southeast.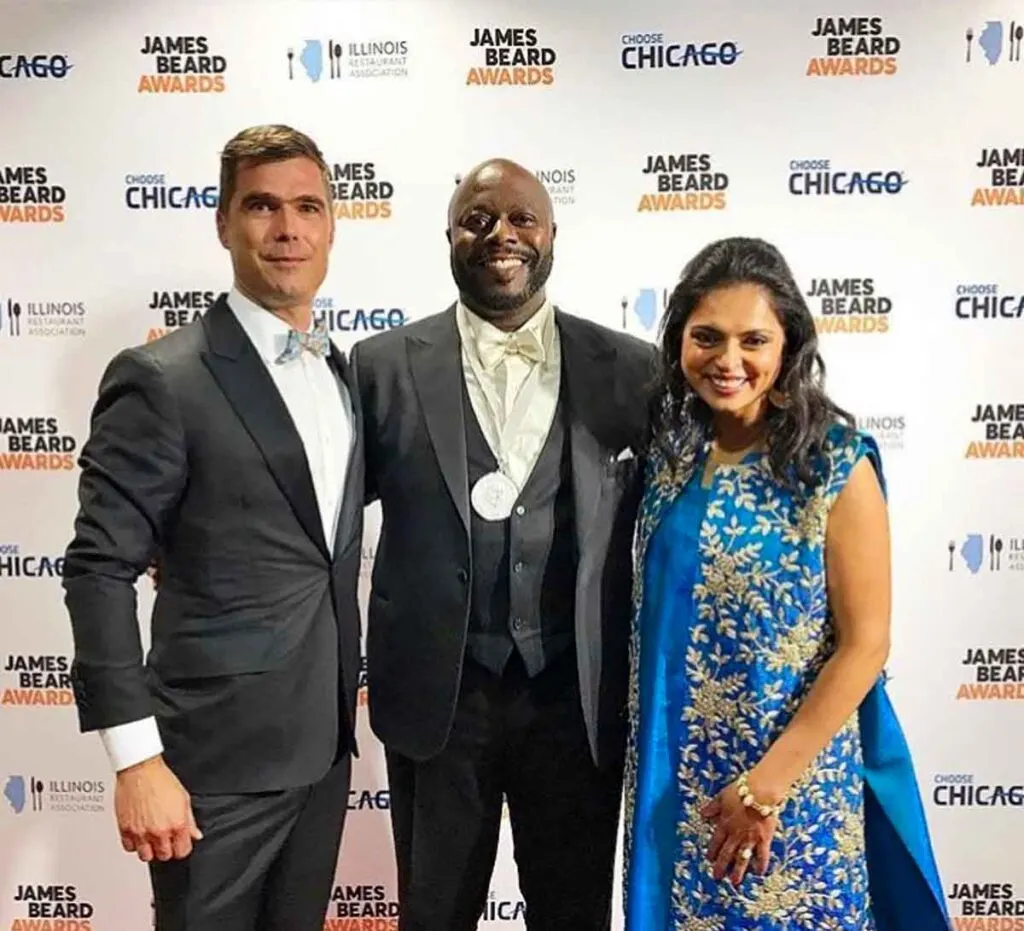 He has come a long way from the old converted gas station learning at his father Rosie's knee in Hemingway, SC. Scott's Bar-B-Que in Hemingway still stands, but Rodney is no longer there. It is being run once again by Rosie and now Rodney's son, Dominic, mans the pits.
Rodney Scott's BBQ was legendary in Charleston even before it opened. As of this writing, Rodney has already opened a second location in Birmingham, AL, and a third in Atlanta, with rumors of more to come.
My whole life has been barbecue. I grew up doing it, hanging around it, and hanging around other people who do it. And there's just, to me, no other way to bring people in quicker. It's like a beacon sign; it just draws them right in there.
— Rodney Scott
While Scott's journey has been amazing, his food has always been so. It's the reason why Rodney Scott's BBQ earned a spot on our feature entitled "BBQ in Charleston, SC: The Definitive Guide."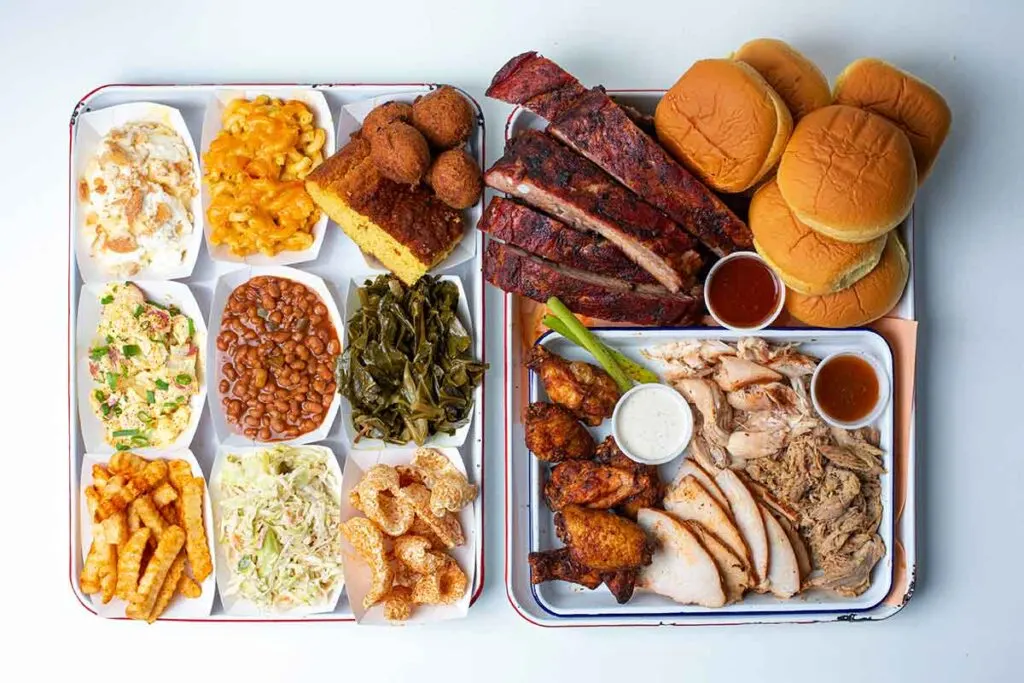 The Food at Rodney Scott's BBQ is Special
Whole hog barbecue cooked over wood embers is special and just not something you will find at most BBQ restaurants. It takes hours and hours and the pits must be manned vigilantly to keep the temperature steady.
There is no way to "set it and forget it."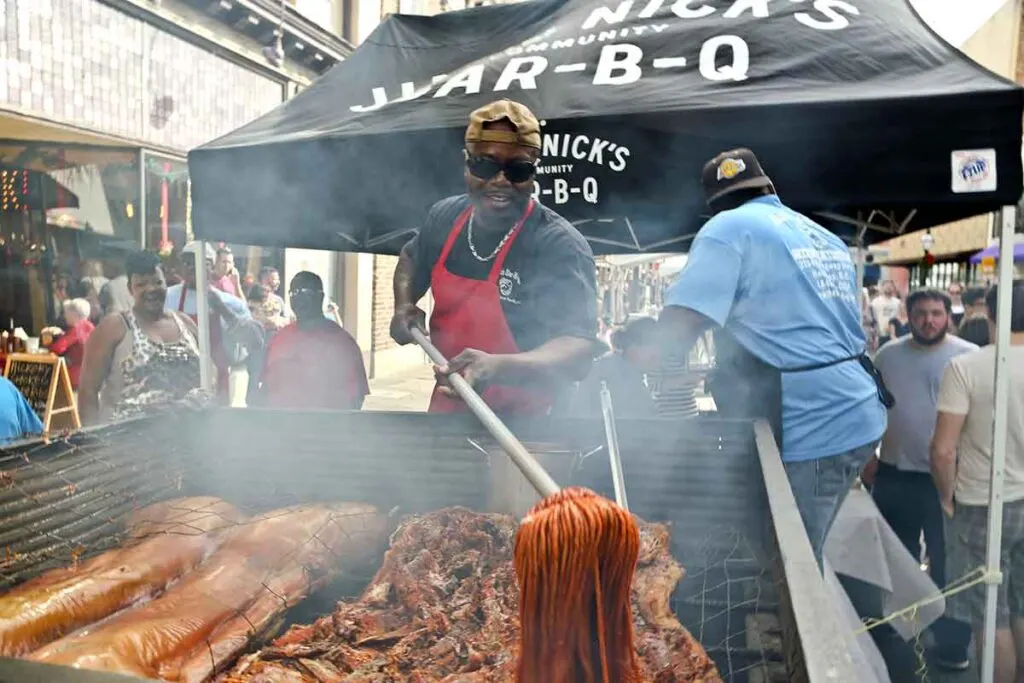 In addition, Scott literally mops his hogs with the world's first BBQ sauce, a vinegar sauce. His vinegar-based sauce is authentic to the Pee Dee region in which he grew up, but there is something extra special about it.
"Love," Scott says. "Love makes the difference."
There is a difference in the menus between the original Scott's in Hemingway and at Rodney Scott's BBQ in Charleston.
The menu in Hemingway is very basic and limited, albeit as delicious as ever. In fact, it was ranked atop Southern Living's Top 50 BBQ joints in the South in 2018, a few notches ahead of Rodney's new place.
However, Rodney Scott's BBQ boasts a much more extensive menu, including ribeye, ribs, and turkey in addition to the staple pulled pork Scott is known for. Heck, you can even get a pit-cooked fried catfish sandwich!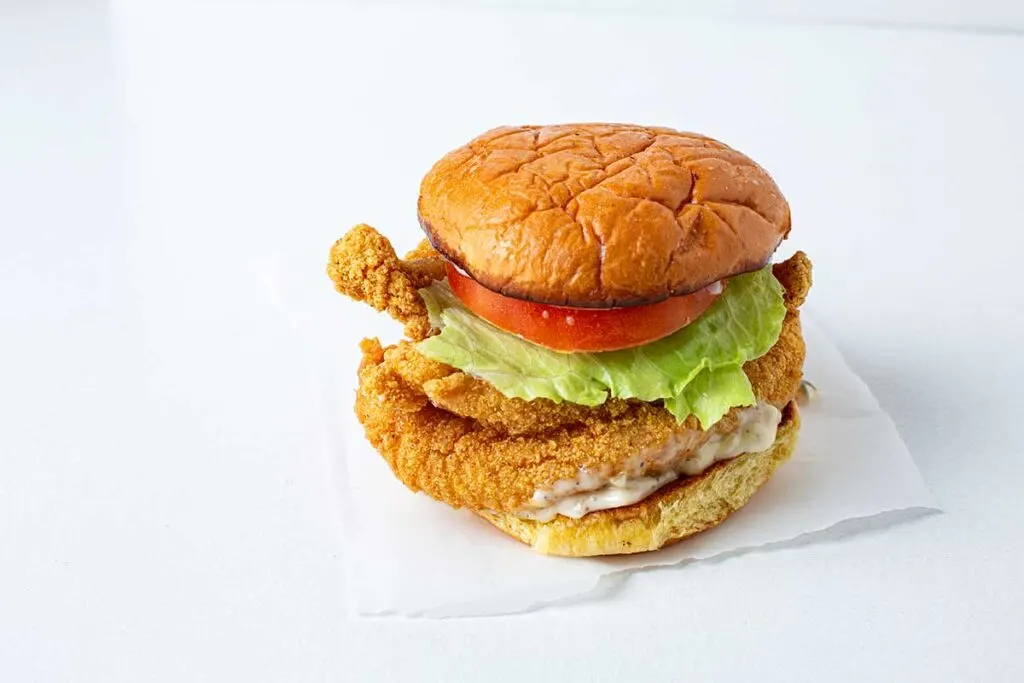 Watch Rodney Scott Make Whole Hog BBQ with Bon Appétit's Brad Leone
In this video, Rodney Scott shows us his process for cooking whole hogs. He walks us through each step: cutting the wood, prepping the pig, making his sauce, and finishing the hog with the flip and final mopping and seasoning.
This is a step-by-step education in whole hog cooking by the James Beard award-winning master.
What Folks are Saying
There is certainly no shortage of commentary about Rodney Scott's BBQ. Critics have written about Scott ad nauseam.
From The Washington Post to Zagat to Bon Appetit to many more, Scott's whole hog BBQ is the stuff of legend. While it is one thing for the critics all to roundly proclaim Scott's BBQ to be fantastic, what do real people have to say?
Google Review
With just shy of 2,000 reviews on Google, the message is clear. Rodney Scott's BBQ is great, earning 4.6 out of 5 stars.
Local Guide Johnny Chandler is clearly a fan, having visited multiple times. Here is what he said about Scott's:
"I always thoroughly enjoy my experience at Rodney Scott's. Each time I try something different, whether it be a side or the type of meat. The pork is flavorful and moist on its own.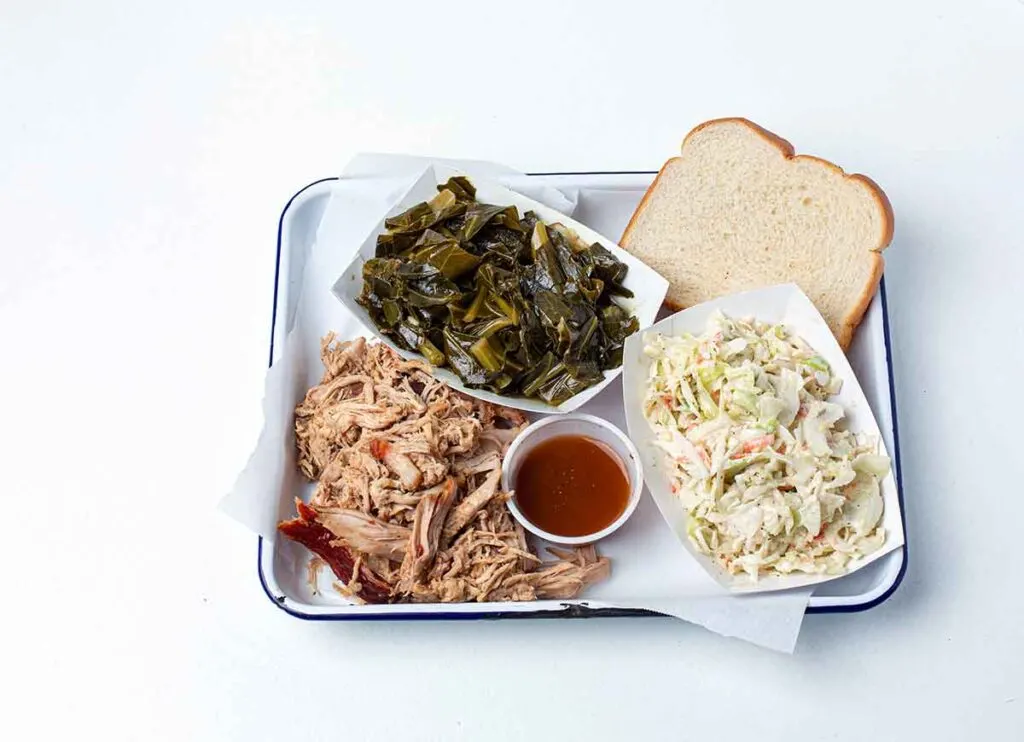 "The sauces complement the flavor without ruining the hard work put in by the pitmaster. The beans are smokey without being full of molasses or brown sugar.
The hush puppies are on point, the cornbread just the right amount of crispy/done, and the green's just the way your grandmother made them.
"To round it out, the banana pudding is a must. Either take some of your entree home or order less and save room.
"Don't let the crowds or lack of parking scare you away. They're incredibly gracious and efficient even with a full dining room and a long line to order."
Yelp Review
Ann Marie S, a veteran of Texas BBQ, wrote the following on Yelp about her first taste of SC BBQ:
"As a native Texas and foodie, I was ready to try Carolina barbecue with an open mind. Would their BBQ compare well to the Lone Star's version? What's this about vinegar-based sauce?
"It was recommended during the city tour that we try some from an establishment named Rodney Scott. Well, I'm pleased to report that Mr. Scott's pork ribs were quintessentially southeastern BBQ!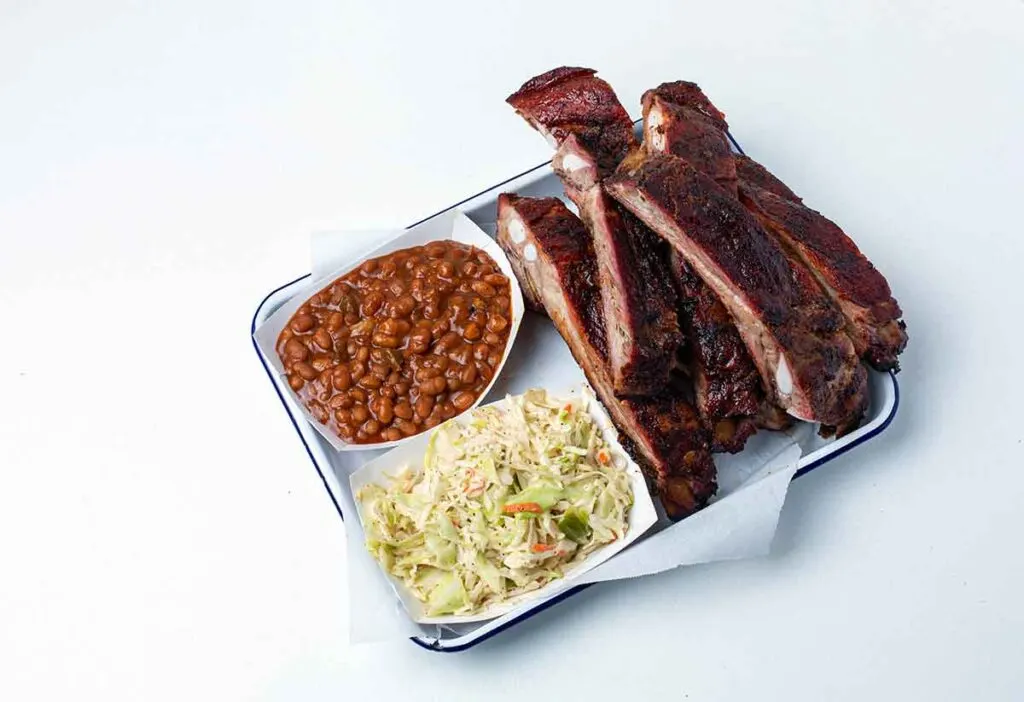 The fall-off-the-bone meat was tender and immersed with flavor from inside out. I only sampled the sauce because it really wasn't needed.
Yup, them ribs were that finger-lickin' good!
"No comfort style dinner is complete without a heaping of mac-n-cheese and perfectly cooked collard greens. These sides paired perfectly with the entree.
We enjoyed the experience under the outside patio lights. That and the cool evening air made for a delightful ambiance.
Overall, it was a delectable & delicious dining experience that I'd love to repeat."
---
Menu for Rodney Scott's BBQ in Charleston
Note: Menu prices and options are subject to change over time. Contact the restaurant for the most up-to-date information.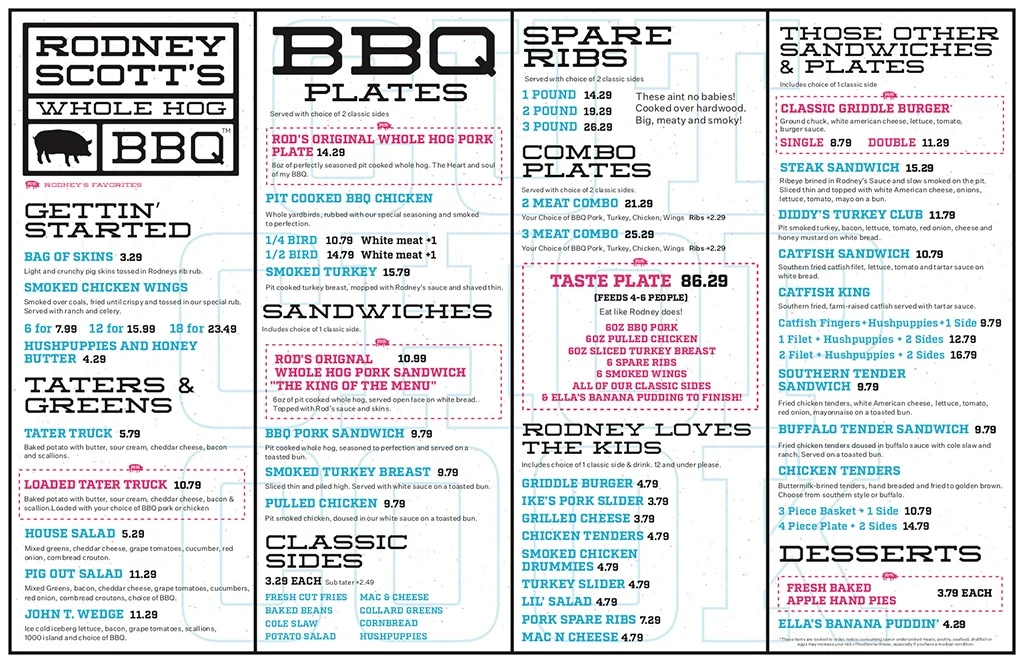 Rodney Scott's BBQ FAQ
Does Rodney Scott's BBQ ship food to other parts of the country?
Rodney Scott's BBQ does not ship fresh food items like BBQ and ribs at this time; however, they do ship the following items which you can purchase in their store: rib rub, hog rub, Rodney's Sauce, Rodney's Other Sauce, gift cards, hats, and t-shirts.
Does Rodney Scott's BBQ offer local delivery? How about a buffet?
Yes, at this time, they utilize Doordash and Uber Eats for local delivery, so you can order through their apps. However, there is no buffet at Rodney Scott's BBQ.
Is there parking or a drive up window at Rodney Scott's BBQ?
Rodney Scott's BBQ offers both parking and a drive-up window at this location. There is limited parking on-site, but you'll find plenty of parking at the grocery store directly beside the restaurant. And yes, the grocery store is okay with you parking there. In addition, there is on-street parking.
What's on the menu at Rodney Scott's BBQ?
You can see the full menu for Rodney Scott's BBQ above, but in brief, you'll find all wood-cooked whole hog barbecue, ribs, chicken, turkey, and steak. There is also fried catfish, wings, sandwiches, salads, sides, desserts, and even a kid's menu. Something for everyone.
Location, Hours, Contact Info, and More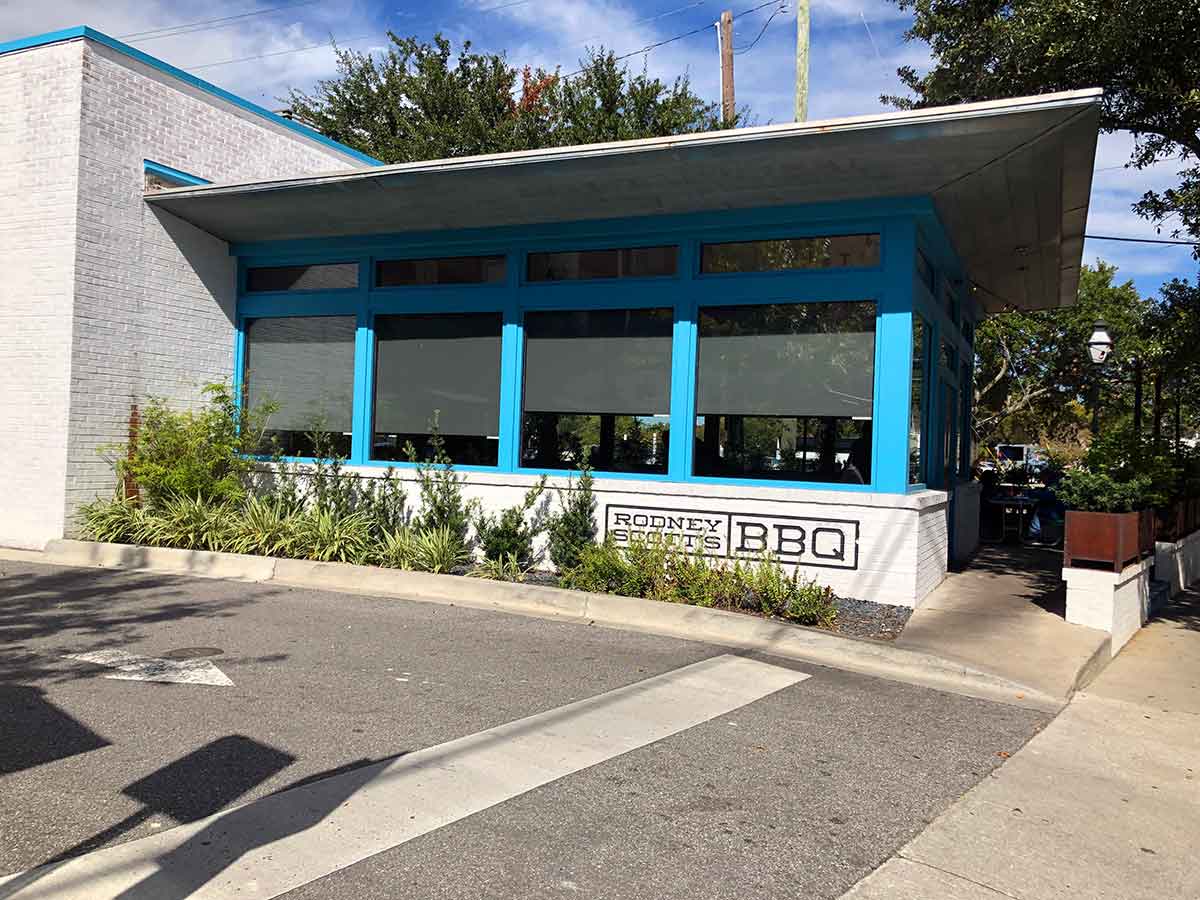 Map
Directions
Contact Rodney Scott's BBQ
1011 King St.
Charleston,
SC
29403
Hours of Operation
| | |
| --- | --- |
| Monday | |
| Tuesday | |
| Wednesday | |
| Thursday | |
| Friday | |
| Saturday | |
| Sunday | |
Review Sites
Features
100 Mile BBQ, Cards and Cash, Light Tomato Sauce, True 'Cue Certified, Vinegar Pepper Sauce, Whole Hog