This post may contain affiliate links to Amazon or other vendors I trust. Please read my disclosure policy. As an Amazon affiliate, I earn from qualifying purchases.
Scott's Bar-B-Que: South Carolina's Best
Scott's Bar-B-Que in Hemingway stands alone. "Scott's Pit Cook BBQ," as their sign reads, is widely considered the best barbecue in South Carolina. We can't (and won't) argue the fact.
World-famous Scott's Bar-B-Que sits just a stone's throw from Myrtle Beach. They have been serving down-home pit-cooked bar-b-que since the 1970s.
While Rodney Scott helped Scott's BBQ gain national notoriety, his parents, Rosie and Ella taught him everything he knows about authentic whole hog, wood-cooked SC BBQ. In fact, those very techniques and flavors echo the history of barbecue itself.
And let's not forget about their amazing vinegar-pepper-based barbecue sauce.
"At Scott's Bar-B-Que, we built our own wood-burning pits to slow cook the whole hog overnight," they write on their Facebook page.
"Come morning, we're ready to sell our mouth-watering bar-b-que with a side of skins and our secret family sauce.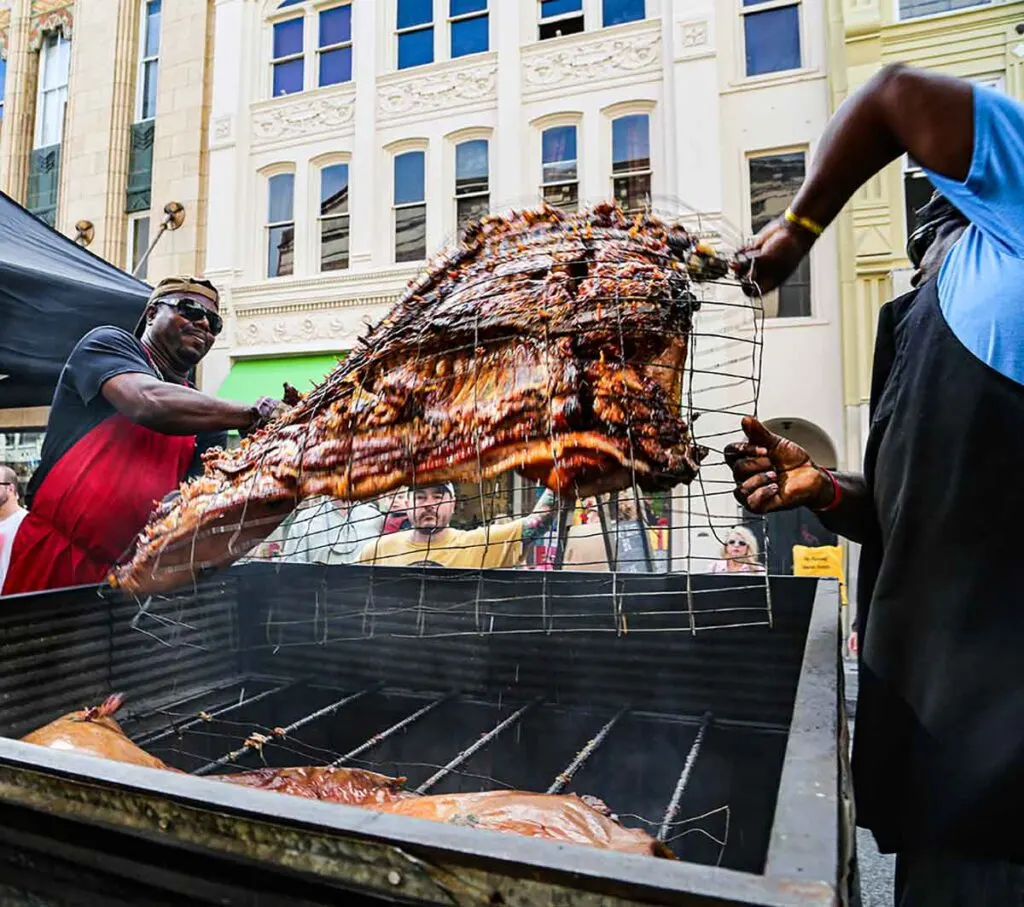 It doesn't get any better than Scott's Bar-B-Que. Stop by Wednesday through Saturday and taste the love!"
A Little History
Famed pitmaster Rodney Scott, now a James Beard award-winner, was born in Philadelphia in 1971.
Just a year later, Roosevelt and Ella Scott moved with their only child to a very different environment in rural South Carolina.
It was near Nesmith, where Ella's father owned land, that the Scotts became farmers, growing tobacco and other crops while also raising some hogs.
On special occasions throughout the year, the family would smoke a hog. It's what folks did in the area.
"It's almost like how barbecue is now, how you see people with grills," Sheldon Riley, a native of Manning, S.C., less than 50 miles west of Nesmith.
"Everybody had a pit, homemade and makeshift, a hole in the ground."
Such in-ground pits were common in by-gone years, but some still use this technique today.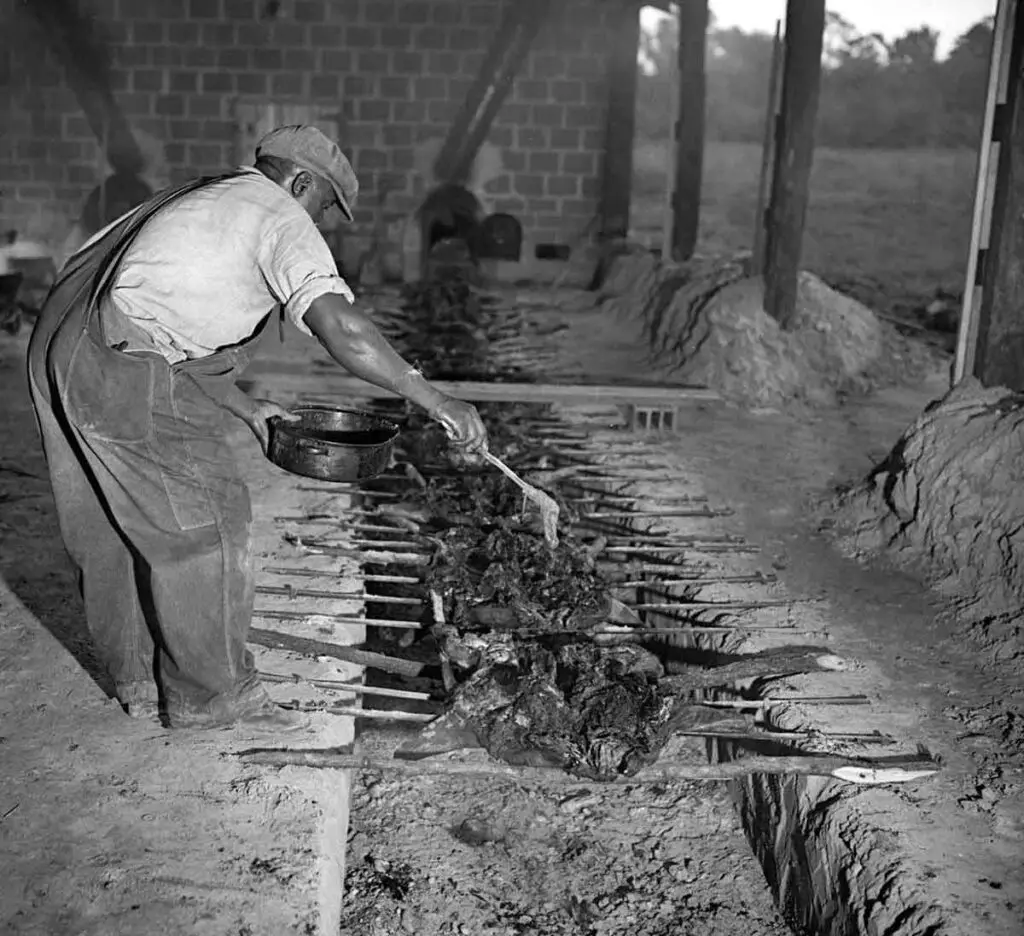 As for the Scotts, much of their diet was comprised of what they grew or raised themselves: cucumbers, butter beans, okra, sweet corn, and more. The meat that they enjoyed, they slaughtered and cleaned for themselves.
But one other thing sustained the Scott family.
It was Scott's Variety Store, an early convenience store, of sorts, where they sold gas and other goods. It included a pool hall as well.
The Scotts opened the store in Hemingway shortly after arriving in South Carolina in 1972.
The Main Attraction
But soon, a side-hustle would become the main attraction.
"Rosie" Scott would cook a hog once a week at their country store. It wasn't long before Rosie's sandwiches and platters became what really drew in the customers.
Soon, they expanded their offering to two hogs a week, then three, and then four.
Cooking whole hogs over wood embers is not easy work. Even today, the wood used at Scott's Bar-B-Que comes from freshly cut trees.
Virtually any time you visit you can spot a huge pile of logs awaiting a wood splitter behind the smokehouse. The truth of this can be seen scattered around the place.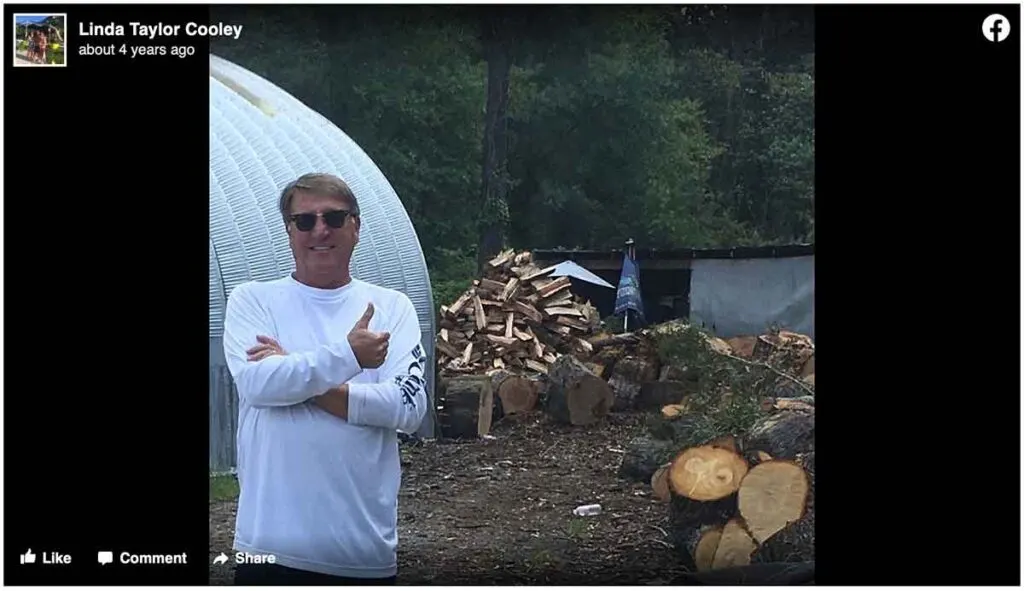 Once cut, the wood is tossed in a burn barrel, constructed from sheets of metal pierced with old truck axles.
The axles keep the wood above the base as the wood is burned down into embers and scooped out of the bottom of the barrel.
Scott's Bar-B-Que: Authentic SC BBQ
This is the way real, old-school SC barbecue is made.
Rain or shine, crews will haul those hot coals into the pit house and place them under the cinder-block-and-brick pits to maintain a constant temperature for 12 or more hours.
The end result is magnificent. Long strands of pulled pork laced with an amazing vinegar-pepper sauce that is the essence of SC BBQ.
It's the type of food people rave about on social media and on review sites: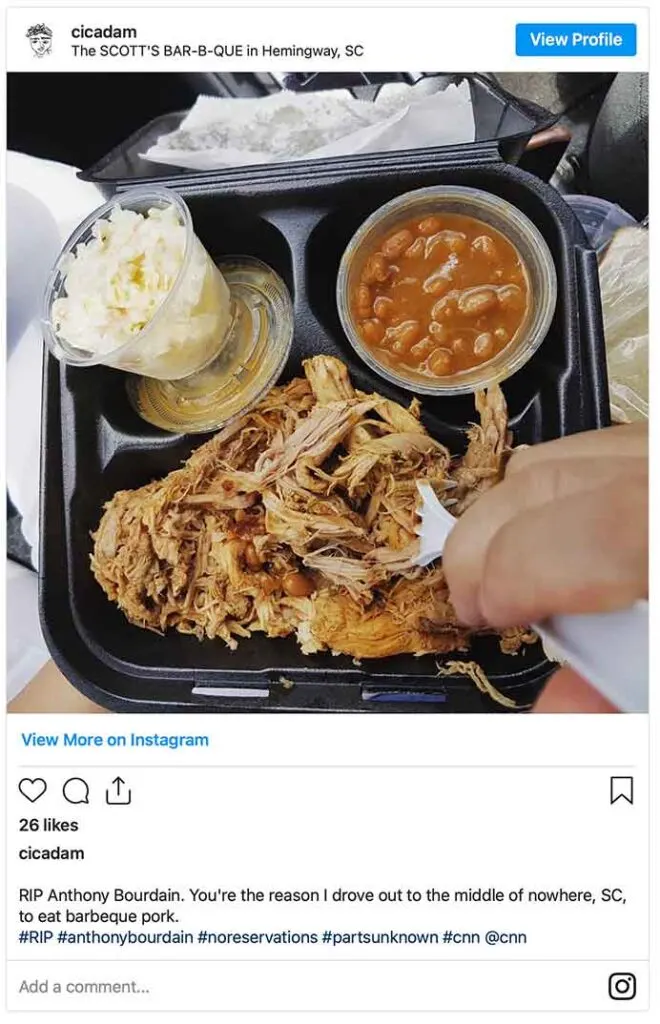 Enjoy this interview with former Pitmaster Rodney Scott (now at Rodney Scott's BBQ in Charleston and beyond):
Like What We're Doing?
Want to see more coverage and features? Just want to show your support?
What Folks are Saying about Scott's Bar-B-Que
Google Review
Google's Local Guide Jon Day finally got to try the place he'd heard so much about. Like so many other Google Reviews for Scott's Bar-B-Que, five stars:
So after seeing this place on many famous Barbecue lists, I finally got to try it about a month ago and wanted to wait and think about my review.
This place is truly in the middle of nowhere and please don't drive a newer vehicle to find it, the roads are awful.
Once you get there it appears to be a house at least 100 years old, and all you can smell are smokers.
You walk in and get a warm greeting, and notice you can buy loaves of bread to go with your barbecue by the pound.
Scott's Bar-B-Que also sells beverages and candy, other odds and ends. You have to pay cash which is my only complaint.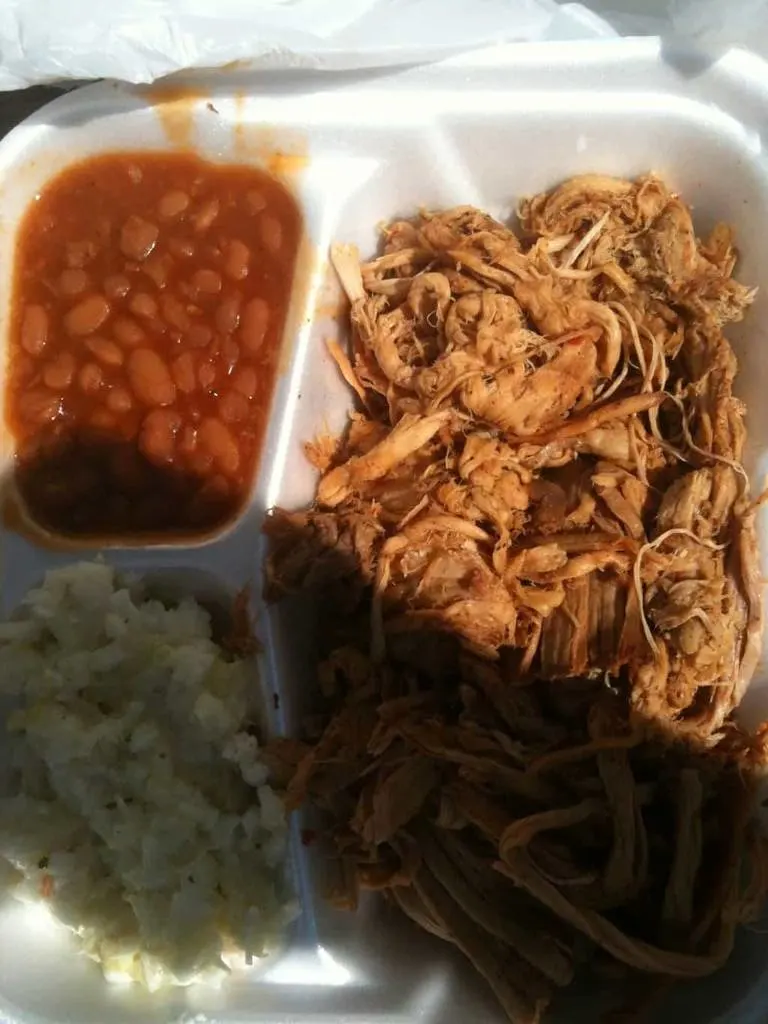 The whole hog barbecue plate is only $8.50 and comes with bread, baked beans, and slaw.
It's more barbecue than a single person should eat in a sitting and it's got a little kick unless you add extra sauce then it has a lot of kick!
Easily with the drive alone just to see the place, but even more so because this is some mouth-watering grub, to say the least. It's pulled not chopped, and has heat, twang, and bite.
Just enough smoke shop you don't taste like a chimney.
I'll leave it at this: I'll be back soon.
Yelp Review
Over on Yelp, Alanna B traveled hours off the beaten path to have a taste of Scott's Bar-B-Que:
Featured on Andrew Zimmern and Anthony Bourdain's respective Food shows, I knew I needed to venture to Scott's BBQ on my travels through South Carolina.
Scott's Bar-B-Que is about 1.5 hrs from the South of the Border Amusement Park and 1 hr from Charleston.
A local joint with customers who return more than a few times per week coming back for more because they know it's that good.
The employees and owners are very pleasant and it's a family-run/owned business.
Traditional BBQ with no frills. This is legit Carolina BBQ (vinegar-based BBQ Sauce). Scott's BBQ is proud of the quality products that they serve to their customers and it shows.
I had the pleasure of watching the cooking process out back and what is conducted to provide excellent BBQ. They "mop" the sauce onto the pig – literally.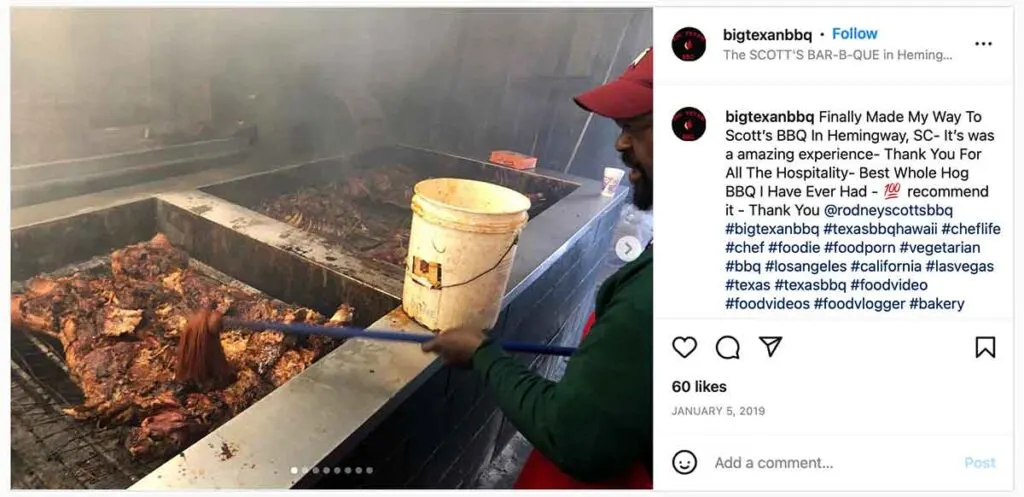 It is a bucket of sauce that is spread on the entire hog to cover as it rotates on the spit for a minimum of 24 hours. The wood they use is pecan, hickory, and oak for the smoking process.
I, unfortunately, did not have the option to try their BBQ Chicken, which I hear is awesome, as it was sold out before we arrived.
The pork was extremely tender, juicy, and flavorful.
No sauce is needed as the flavor of the smoke is addicting on its own.
Cash Only. Cold Drinks (Bottled) are available to purchase in coolers inside the restaurant. Tables inside and picnic benches outside to enjoy your food.
Find a spot anywhere along the roadside or in the dirt parking lot.
Scott's Bar-B-Que, definitely worth the detour off the major highways for good South Carolina BBQ.
Enjoy!
Other Reviews
But, sure, you can cherry-pick reviews from those review sites. What about the folks who train the judges for SC BBQ competitions?
The SC BBQ Association awarded Scott's Bar-B-Que its highest distinction. The SCBA proclaimed it 100-Mile BBQ, barbecue worth driving 100 miles for.
Here's some of what they had to say:
There are those among us who think Scott's B.B.Q., just outside of Hemingway, SC, is as good as it gets. And it's hard to argue with them…
This is 100-mile barbeque at its old-timey best. This is real low country vinegar and pepper barbeque with the emphasis on the pepper.
And while it's not too hot for the average bear, it somehow really makes a cold beer taste wonderful.
See this feature in the New York Times.
Read this article in the Washington Post
Read our Review of Scott's Bar-B-Que
---
Menu for Scott's Bar-B-Que in Hemingway
Note: Prices and options are subject to change over time.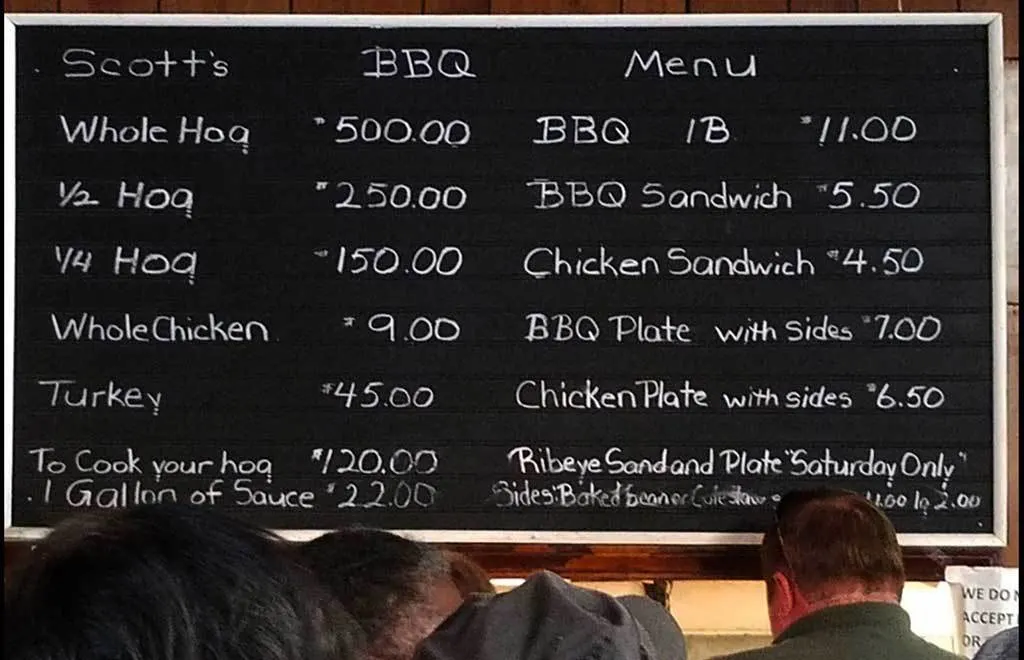 What's on the menu at Scott's Bar-B-Que in Hemingway?
The menu is relatively simple at Scott's. It features whole-hog, wood-cooked barbecue by the pound, plate, or sandwich. There is also a chicken plate and a ribeye sandwich or plate. Sides include baked beans and coleslaw. You can also buy their BBQ sauce, or have Scott's cook a whole, half, or quarter hog, or whole chicken or turkey for you. See the full menu above.
What are the hours at Scott's Bar-B-Que in Hemingway?
Scott's Bar-B-Que is open on Wednesday (9:30 am – 6 pm), Thursday, Friday, and Saturday (9:30 am – 7 pm).
What's in Rodney Scott's Cookbook: Rodney Scott's World of BBQ?
Rodney Scott's World of BBQ: Every Day Is a Good Day is the first cookbook published by a Black pitmaster. It can be ordered here. In it, he shares what makes his award-winning whole hog so special and shares insights about his pit-smoked turkey, barbecued spare ribs, smoked chicken wings, hush puppies, and Ella's Banana Puddin'. Whether you're a barbecue pro or a novice, Scott's recipes will enable you to create these special flavors yourself.
Does Scott's BBQ ship their BBQ, skins, rub, or sauce?
While you can purchase each of these things at the Hemingway location, they do not ship any of these products. If you want the real thing, you'll have to visit.
Best Lodging Near Scott's BBQ
---
Location, Hours, Contact Info, and More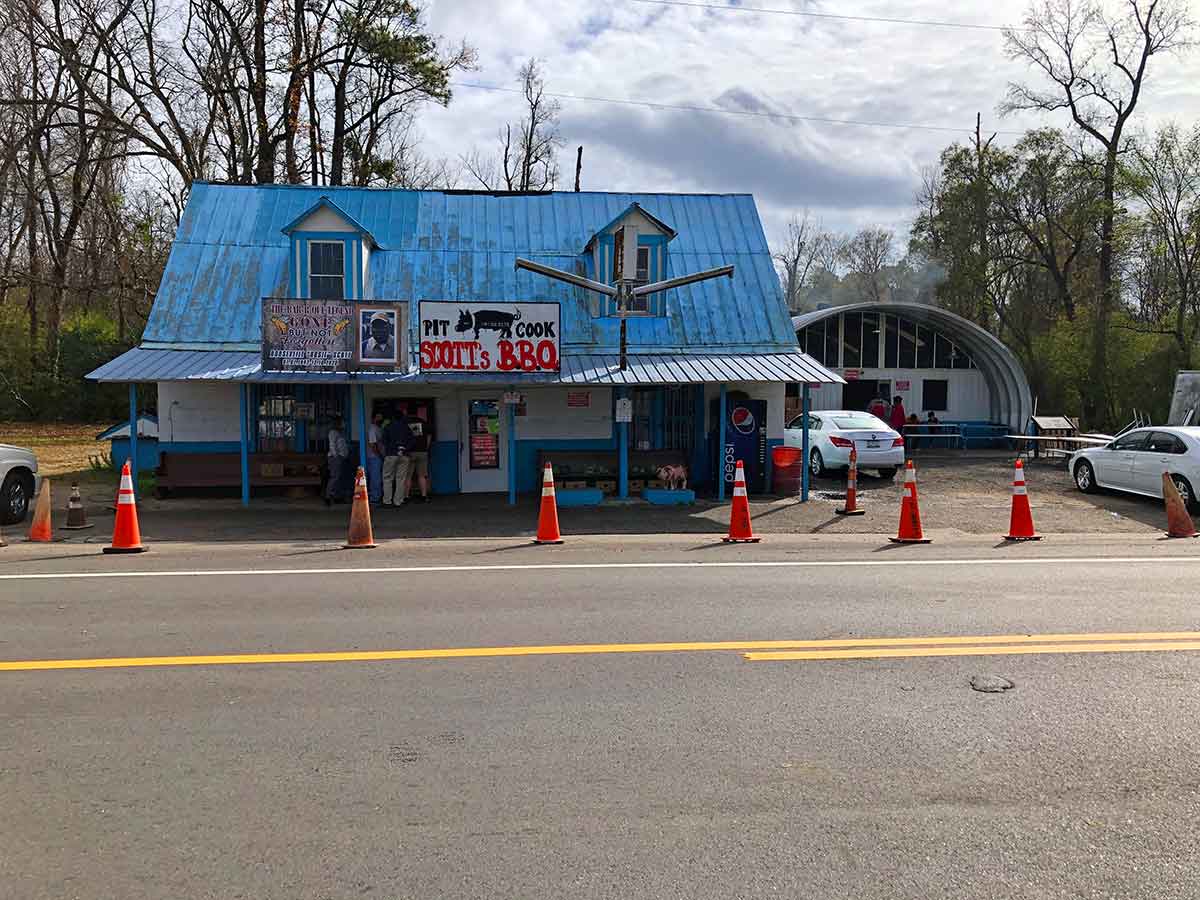 Map
Directions
Contact Scott's Bar-B-Que
2734 Hemingway Hwy.
Hemingway,
SC
29554
Hours of Operation
| | |
| --- | --- |
| Monday | Closed |
| Tuesday | Closed |
| Wednesday | |
| Thursday | |
| Friday | |
| Saturday | |
| Sunday | Closed |
Review Sites
Features
100 Mile BBQ, Cash Only, True 'Cue Certified, Vinegar Pepper Sauce, Whole Hog