Listen to this Destination: BBQ article.
This post may contain affiliate links to Amazon or other vendors I trust. Please read my disclosure policy. As an Amazon affiliate, I earn from qualifying purchases.
The long-kept secret is out! Here is Rodney Scott's BBQ sauce recipe direct from famed SC BBQ pitmaster Rodney Scott himself.
This is the mop sauce that he seasons the hog with on the turn and puts in bottles on the table.
Rodney Scott's BBQ sauce recipe has long been a secret, but in a recent appearance on the Today Show, Scott shared the recipe for "Rodney's Sauce," the magic elixir that helped make him a James Beard award winner.
Scott's sauce is born of tradition and echoes the history of barbecue itself.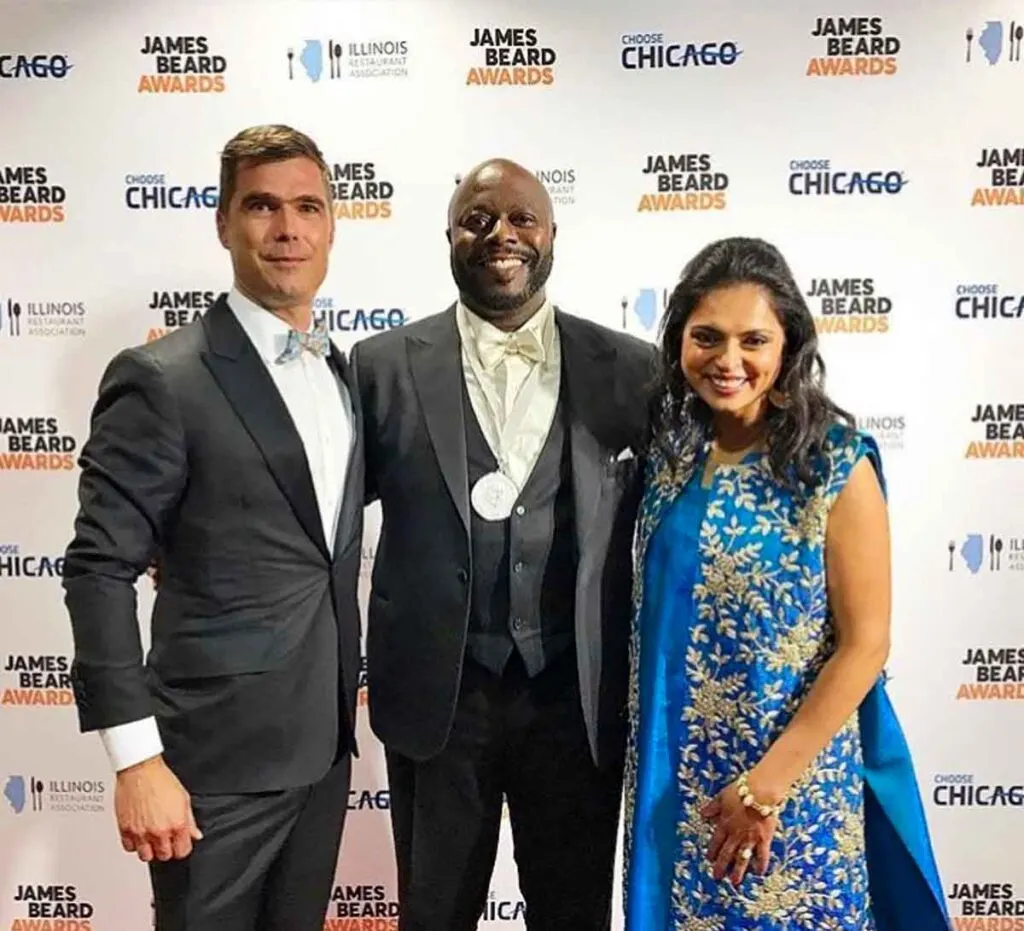 A Little History
Rodney Scott was born in Philadelphia in 1971. Just a year later, his parents, Rosie and Ella Scott, moved with their only child to rural South Carolina.
They settled near Nesmith, where Ella's father owned land, and the Scott family became farmers. They grew tobacco and other crops while also raising some hogs.
Beyond that, much of their diet depended on what they grew or raised themselves: sweet corn, cucumbers, butter beans, okra, and more. The meat that graced their table they slaughtered and cleaned for themselves.
On special occasions throughout the year, the family would cook a whole hog which they seasoned with their special homemade mop sauce recipe.
Scott's Variety Store
In addition to what they raised, there was one other thing that helped sustain the Scott family.
Scott's Variety Store was a simple, old country store where they sold gas and other goods. Eventually, they started cooking hogs on the side to make a little extra money.
They opened the store in Hemingway in 1972 having no idea it would be the fertile ground they built an empire upon once Scott's Bar-B-Que took off.
Young Rodney grew up around those pits and cooked his first hog at the tender age of 11, all by himself. He learned from watching his father and uncle over the years.
These were the formative years that were the foundation for Rodney Scott's World of BBQ.
Within the next 30 years, Scott would become an icon, being written about in the New York Times in 2009, Time Magazine in 2011, and the Washington Post the following year.
There's a reason the national media took notice: whole hog barbecue and Rodney Scott's BBQ sauce recipe helped propel him to stardom. In fact, in 2018 Scott was named Best Chef Southeast by the James Beard Foundation, arguably one of the highest awards in culinary circles.
Scott's food has always been amazing. It's the reason why Rodney Scott's BBQ earned a spot on our feature entitled "BBQ in Charleston, SC: The Definitive Guide."
Rodney Scott's BBQ: New Ventures
Prior to winning the award, Scott left Hemingway to start his own venture in a new place, Rodney Scott's BBQ in Charleston. In part, it was because of the influence of good friend Nick Pihakis, founder of the Alabama BBQ chain Jim and Nick's.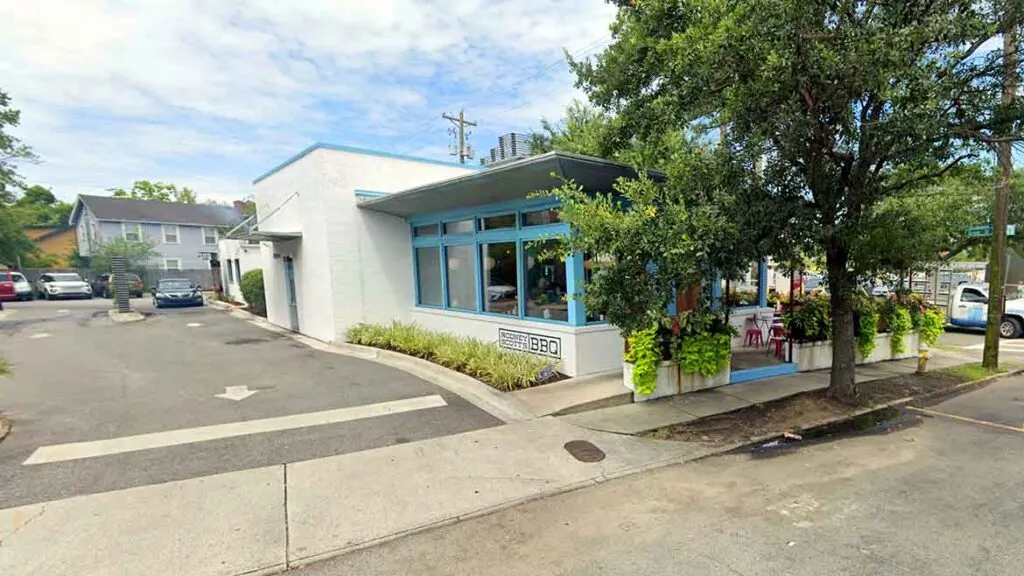 Rodney and Nick are kindred spirits. Like Rodney, Nick was born in Pennsylvania, moved south, and ended up working in a father-and-son restaurant that they built into a regional brand. But Nick had a bit of a lead. Jim and Nick's had grown to more than 40 locations in seven states.
It wasn't long before Scott would leave Hemingway, partnering with Pihakis to start Rodney Scott's BBQ. That was July 2016. Today, they have locations in Charleston and Birmingham, AL, with an Atlanta restaurant in the works. Despite the success, leaving must have been difficult.
Leaving Home
"Oh, it wasn't as hard as you think," Rodney said in this story when asked about leaving his hometown and the family business where he had worked fulltime for nearly 30 years. "It was a pretty easy decision after a few situations, circumstances."
In a Washington Post story, Tim Carman told the story of Rodney's decision:
"Those close to Scott, who spoke on the condition of anonymity because of their friendship with the pitmaster, say that father and son no longer talk. It's a classic case of son transcending father, one person says, and the jealousies that come with it."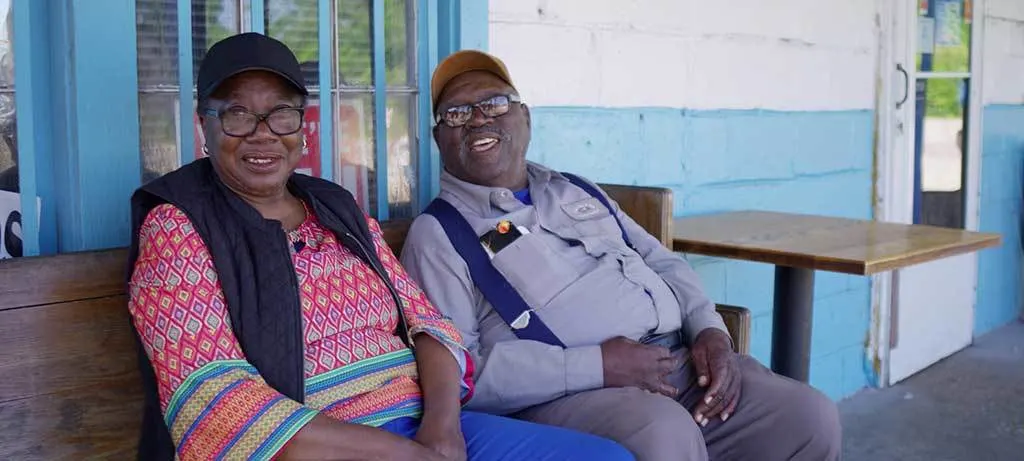 "Roosevelt Scott could not be reached for comment and wasn't at Scott's in Hemingway on the day I visited. (Ella Scott, incidentally, says her husband is supportive of their son.)"
"'T.D. Jakes told a story that not everybody you encounter on your journey is meant to be with you when you get to your destination,' Rodney said. 'Sometimes your journey is to go past that person. That person may be your brother, sister, mother, father, uncle, whomever. . . . My life is just like that.'"
Like What We're Doing?
Want to see more coverage and features? Just want to show your support?
Rodney's Sauce
Rodney Scott's BBQ sauce recipe is one of the pillars upon which Scott built his legacy. Rodney's mop sauce is a vinegar and pepper sauce.
This type of sauce dominates the Pee Dee region of South Carolina, even extending into North Carolina, where some form of vinegar-based barbecue sauce drenches the entire state.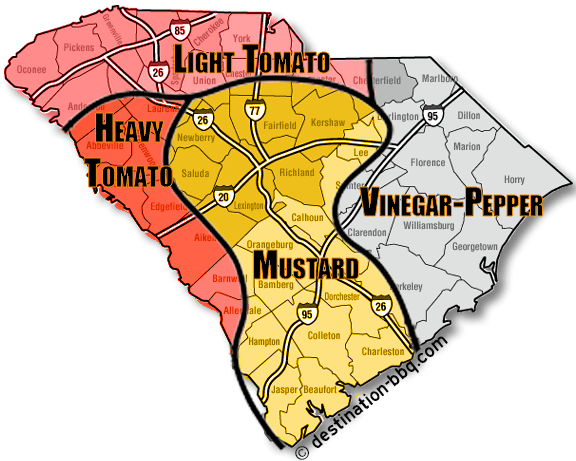 In a video worth watching, Rodney and SC native Dr. Howard Conyers, NASA rocket scientist, SCBBQ advocate, and host of the PBS series Nourish, discuss SC BBQ sauces. They focus on both mustard-based sauces and vinegar-pepper sauces.
Rodney mentions that he uses all the ingredients listed in the Rodney Scott's BBQ sauce recipe below. But, if you're paying attention, you'll note he adds a disclaimer onto the end. "…some sugar, and some other stuff," he says. "Couple little secrets in between there…."
Check out this episode:
When it comes down to it, a vinegar-based mop sauce is comprised primarily of vinegar, salt, and various peppers including black, cayenne, crushed red.
From there it can diverge, but the purists stop right there. Others add sweeteners like sugar or molasses.
Ketchup is a controversial addition to the mix. And then there are some outliers.
Rodney's Sauce Ingredients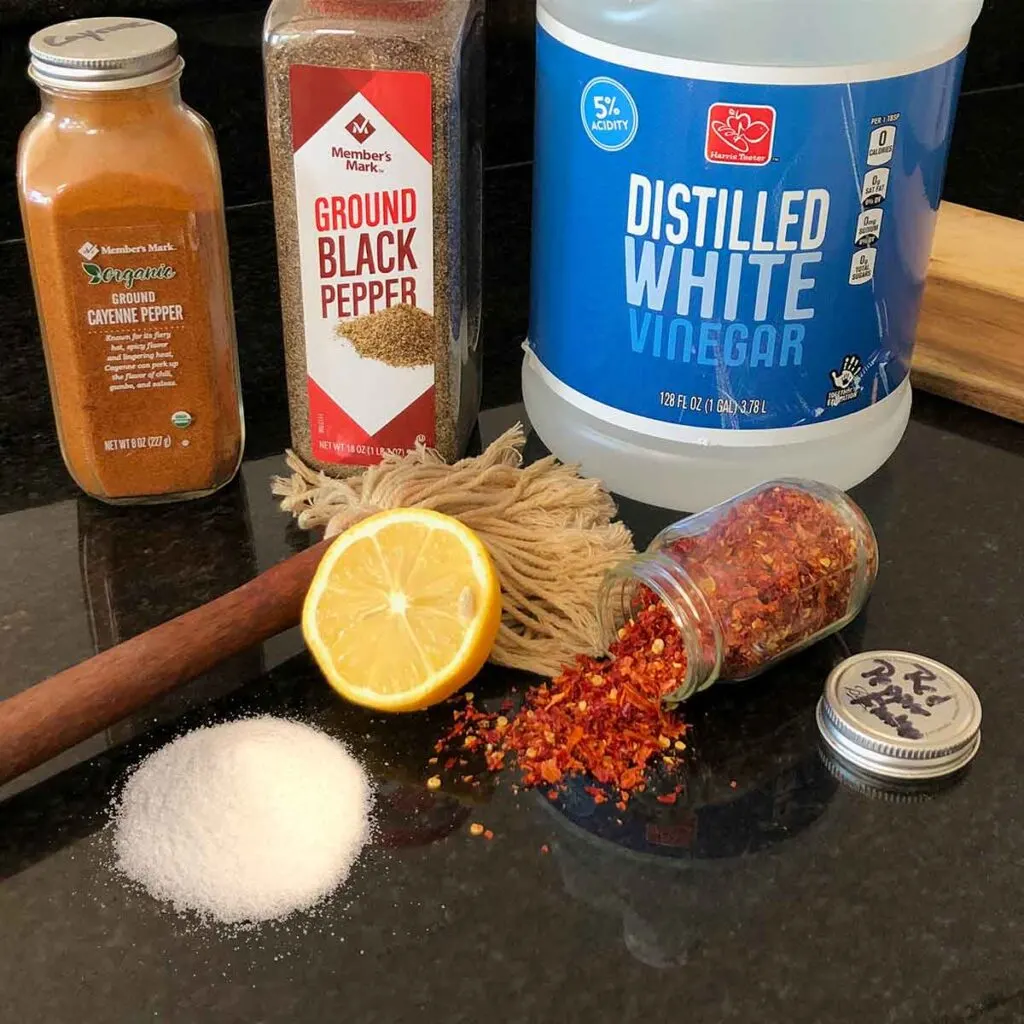 However, according to the label of his bottled sauce, the ingredients are in order water, distilled vinegar, sugar, black pepper, spice, and lemon juice concentrate. The bottled sauce also includes xanthan gum, a thickening agent.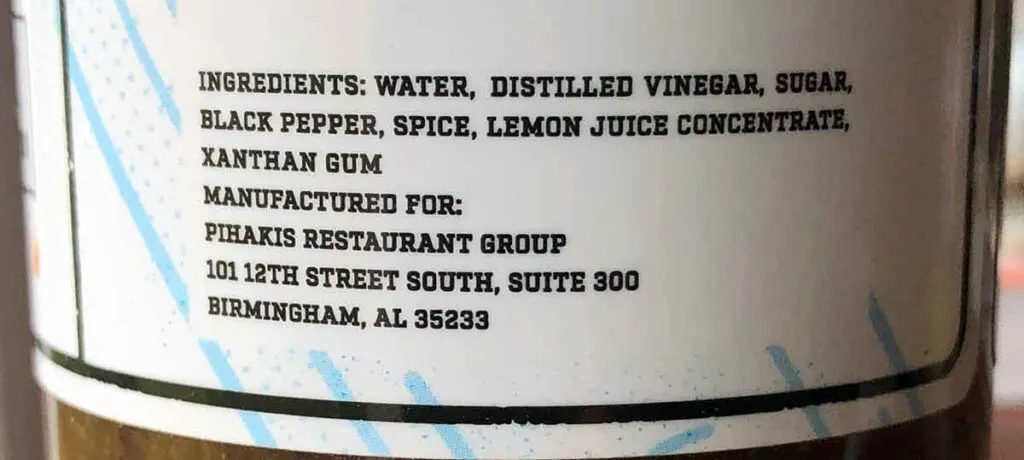 So there is a bit of a discrepancy between the two, but that's not uncommon as you often have to make compromises when you bottle a product.
Fortunately, bottled or homemade vinegar-based sauces are good for months, if not years, either refrigerated or on the shelf. In a sauce like Rodney's, which is mostly vinegar, shelf stability is not a concern.
Rodney Scott's BBQ Sauce Recipe Secrets
"'Don't be afraid to go a little citrusy in your mop sauce,' Scott said in a Garden & Gun interview. 'Lemons help break down any toughness in the meat,' he says. Just strain the lemons out before you bottle the sauce or use it."
Scott warns, however, to stick with white vinegar instead of apple cider vinegar when using citrus, noting that the combination "gets a little too funky with apple cider vinegar."
You'll note that Rodney Scott's BBQ sauce recipe as written below sticks to the baseline of the basic vinegar sauce recipe. However, looking at the photo above, we can all agree that the restaurant recipe might contain a little more.
Scott even alludes to that fact in the Garden & Gun article, entitled "Rodney Scott's Barbecue Sauce Secrets."
"The three must-grab spices that you should have in your cabinet are cayenne, paprika, and dark chile powder," Scott says. "Those add head and nuance. Additionally, black pepper gives bite, and pepper flakes build both heat and flavor."
You'll note that paprika and dark chili powder are absent from the recipe he provided to the Today Show, but he's pretty clear those should be some of the first ingredients you grab from your spice rack when making a mop sauce.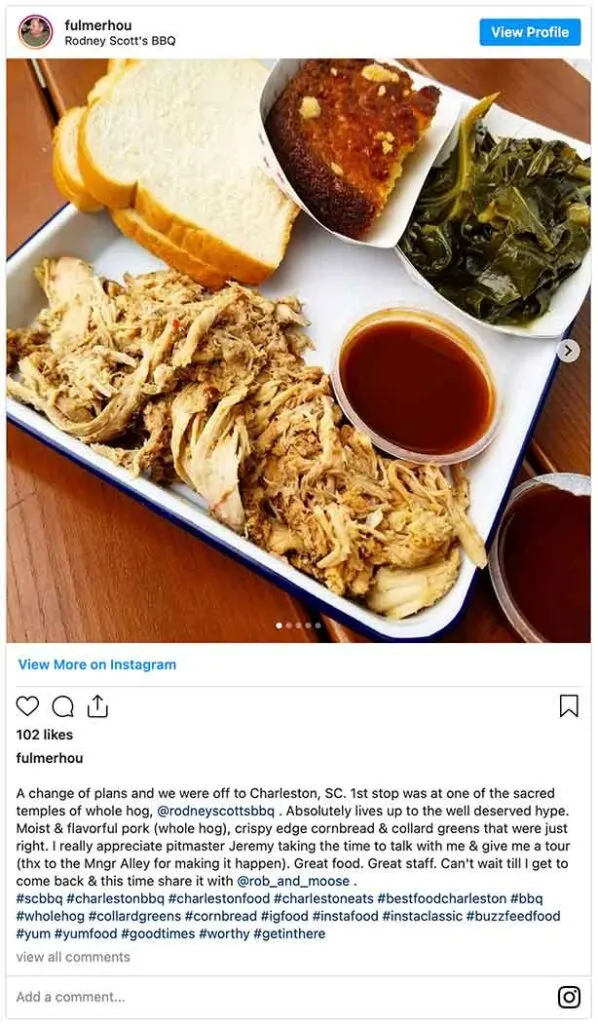 Is That the Whole Story?
It is also obvious in photos that his original sauce is rich and deeply red. That is not going to be what you get using the Today Show recipe. So we have added a few notes to the recipe.
Just take a look at his mop as he mops some ribs with his sauce: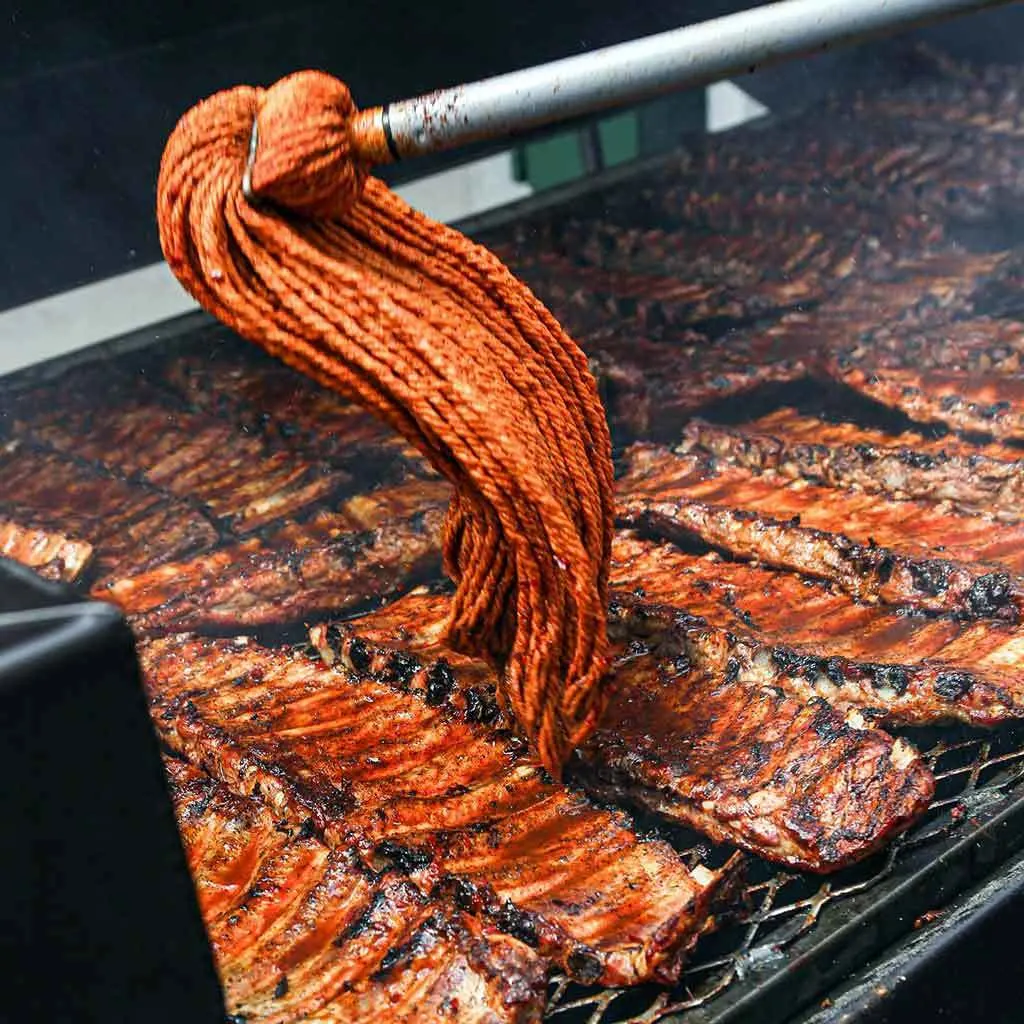 In his defense, Rodney Scott's BBQ sauce recipe as provided to the Today Show is intended for use on ribs, so maybe, just maybe, that is his actual rib sauce recipe, but we have our doubts given the depth of color in the photo above.
(By the way, check out Rodney Scott's BBQ ribs recipe and his Smoked Spatchcocked Turkey recipe, both of which use this sauce.)
In fact, we have long been confident Scott also uses Accent (MSG) as one of the ingredients in his mop sauce recipe, but there has never been any official confirmation.
That said, he did note on the Today Show that MSG is a product he uses. "It may be a controversial ingredient," Scott wrote, "but I unapologetically use MSG in my seasoning rub. It is a flavor maker!"
(Note: We ask about his use of MSG in this Q&A with Rodney Scott we published in March 2021.)
In fact, given what he says in the Garden & Gun article, we're pretty sure the Today Show recipe is not the whole story.
"One last tip for a backyard barbecue," Scott said. "Make sure you've got lots of alcohol and great music—and tell plenty of lies."
Whatever the case, Rodney Scott's BBQ sauce recipe is one we're sure you're going to enjoy.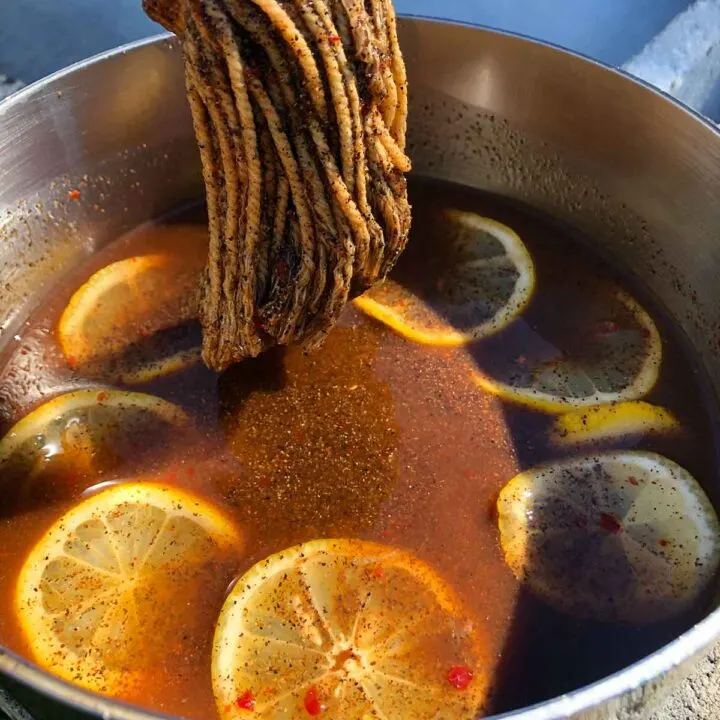 Rodney Scott's BBQ Sauce
Recipe for the famous "Rodney's Sauce."
Ingredients
2 Cups Distilled White Vinegar
1/2 Lemon, thinly sliced
1 1/2 Teaspoons Black Pepper, freshly ground
1 Teaspoon Cayenne Pepper
1/2 Teaspoon Crushed Red Pepper Flakes
1/4 Cup Sugar
Instructions
Pour the vinegar into a small saucepan and warm it over medium-high heat.
When the vinegar reaches 150° on an instant-read thermometer (about 5 minutes), add the lemon slices, and continue to cook until the lemons are slightly translucent, about 10 minutes more.
Whisk in the black pepper, cayenne, red pepper, and sugar.
Continue to cook over medium-high heat until the sugar is completely dissolved and the sauce reaches 190°, about 10 minutes.
Remove from the heat and allow it to completely cool before using. The sauce keeps in the refrigerator for one month.
Notes
This is the recipe as provided to the Today Show by Rodney Scott; however, based on comments he's made in other interviews, we've found that adding the following ingredients will get you a bit closer to the original. Our suggestions are estimates:
1 Tablespoon Paprika
1 Teaspoon Dark Chili Powder
2 Teaspoons Accent Seasoning
Recommended Products
As an Amazon Associate and member of other affiliate programs, I earn from qualifying purchases.
Nutrition Information:
Yield:

16
Serving Size:

2 Tablespoons
Amount Per Serving:
Calories:

19
Total Fat:

0g
Saturated Fat:

0g
Trans Fat:

0g
Unsaturated Fat:

0g
Cholesterol:

0mg
Sodium:

1mg
Carbohydrates:

4g
Fiber:

0g
Sugar:

3g
Protein:

0g
---
Like to Volunteer as One of our Recipe Testers?
We have a bookful of recipes to test and publish. Join the team and choose from our collection of unpublished recipes.
All we ask is that you photograph the process and share your thoughts on each recipe and the finished product. And we'll feature you when we publish that recipe.
Interested? Just send me an email.