Listen to this Destination: BBQ article.
This post may contain links from which I earn a commission. Please read my disclosure policy. As an Amazon affiliate, I earn from qualifying purchases.
Rodney Scott's cookbook, Rodney Scott's World of BBQ: Every Day Is a Good Day has recently hit the shelves.
The James Beard Award-winning pitmaster has lived BBQ from a young age. Scott turned that life-long experience making what many considered SC's best barbecue at Scott's Bar-B-Que in Hemingway into an empire when he left to start Rodney Scott's BBQ.
His restaurant currently boasts three locations with more likely on the way.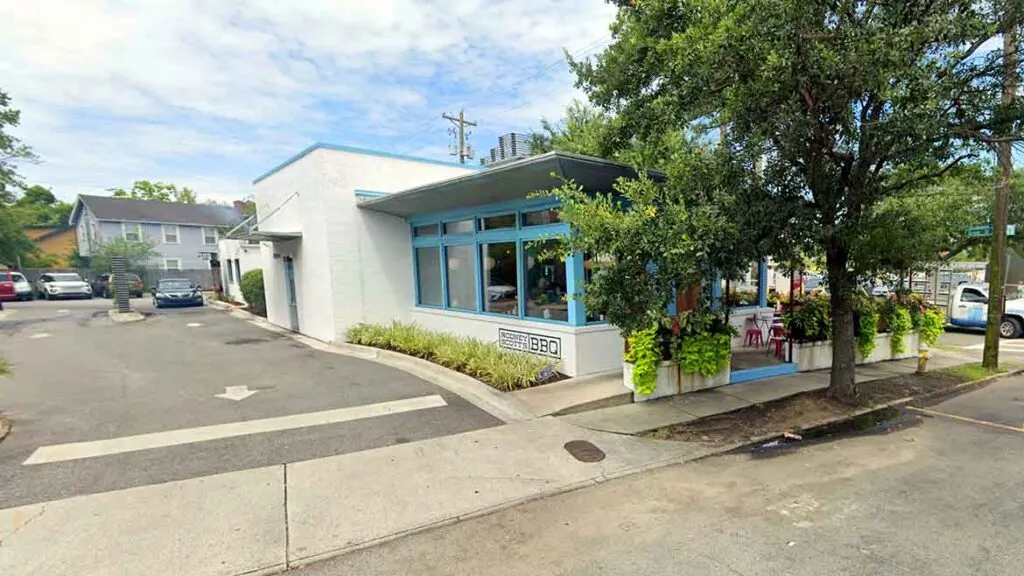 Rodney Scott's cookbook, co-written by award-winning writer Lolis Eric Elie, is the next logical step in his ascendency, and it is one that fans everywhere are eager to read.
(Check out our Q&A with Rodney Scott about his new cookbook.)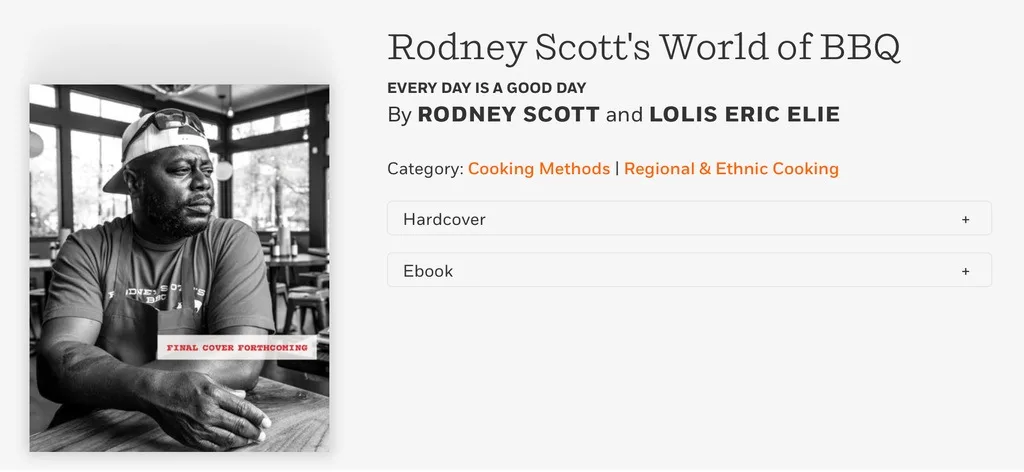 A Little History
In lots of ways, Rodney's history echoes the larger history of barbecue itself.
Famed pitmaster Rodney Scott was born in Philadelphia in 1971. Just a year later, his parents, Rosie and Ella Scott, moved with their only child to rural South Carolina.
They settled near Nesmith, where Ella's father owned land, and the Scott family became farmers. They grew tobacco and other crops while also raising some hogs.
Beyond that, much of their diet depended on what they grew or raised themselves: cucumbers, butter beans, okra, sweet corn, and more. The meat they enjoyed, they slaughtered and cleaned for themselves.
On special occasions throughout the year, the family would cook a hog.
There was one other thing that sustained the Scott family. Scott's Variety Store was a simple, old country store where they originally sold gas and other goods.
They opened the store in Hemingway in 1972.
Eventually, they started cooking hogs on the side to make a little extra money. Soon they found they had a hit on their hands and, to keep up with demand, they had to increase the number of hogs they cooked each week.
Young Rodney grew up around those pits and cooked his first hog, by himself, at the ripe old age of 11. He learned from watching his father and uncle over the years.
Before reaching 40, Scott would become an icon of SC BBQ, being written about in the New York Times in 2009, Time Magazine in 2011, and the Washington Post the following year.
There's a reason the national media took notice: whole hog barbecue and Rodney Scott's BBQ sauce recipe helped propel him to stardom. Rodney Scott's cookbook will only further expand his reach.
(Our visit to Scott's in Hemingway was the very first review we wrote on this site back in the Summer of 2012.)
Rodney Scott's BBQ: New Ventures
Scott left the only home he ever really knew to start his own venture in a new place, Rodney Scott's BBQ in Charleston. In part, it was because of the influence of good friend Nick Pihakis, founder of the Alabama BBQ chain Jim and Nick's.
Rodney and Nick are kindred spirits. Like Rodney, Nick was born in Pennsylvania, moved south, and ended up working in a father-and-son restaurant that they built into a regional brand.
But Nick had a bit of a lead. Jim and Nick's had grown to more than 40 locations in seven states.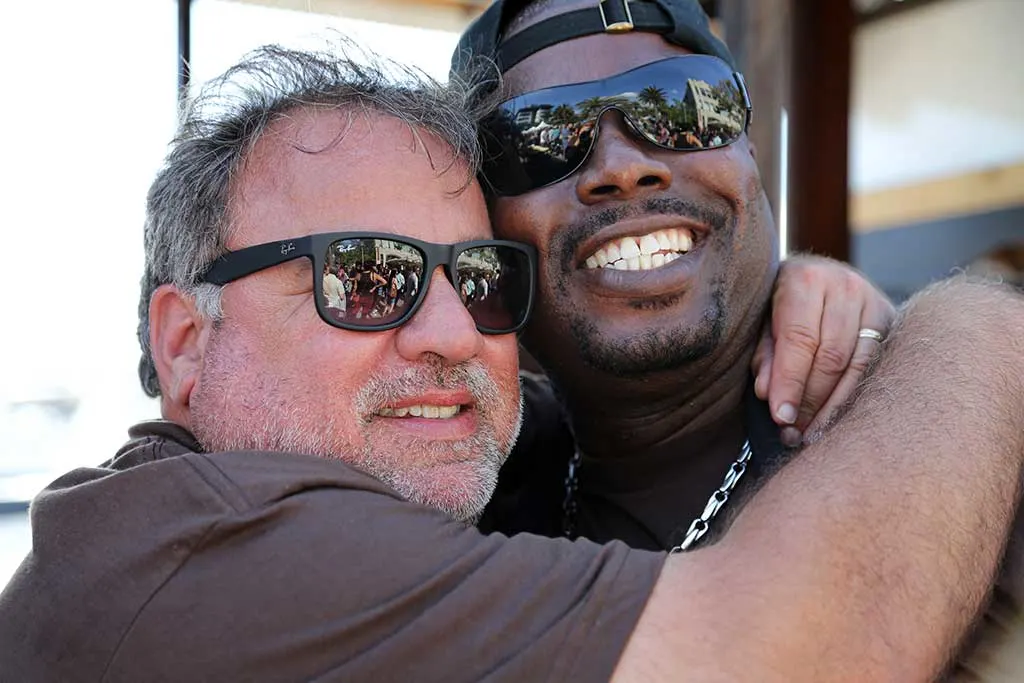 Pihakis, who had at this point had known Rodney for over a decade, decided to visit his friend at his parents' Hemingway restaurant. He knew how hard Rodney worked cooking whole hogs over wood embers from hardwood he had split himself.
Bob Carlton tells the story at Al.com.
"I walked in, and I was like, 'Rodney, as hard as you work, that's all you're charging for your food?'" Nick recalls.
"And he was like, 'Well, what do you think I should charge for it?' And I said, '$8 for this and $10 for that.'
"The menu was up on the wall, and the customers are lined up out the door, and he went and got a ladder and changed the prices in front of these people who were standing in line," Nick goes on.
"He just marked out the price and wrote the new price.
"And this lady that had already paid, she just looked up and said, 'Sure am glad that I've already paid.' Everybody else was just looking at it, going, 'Well, I guess that's the new price.'"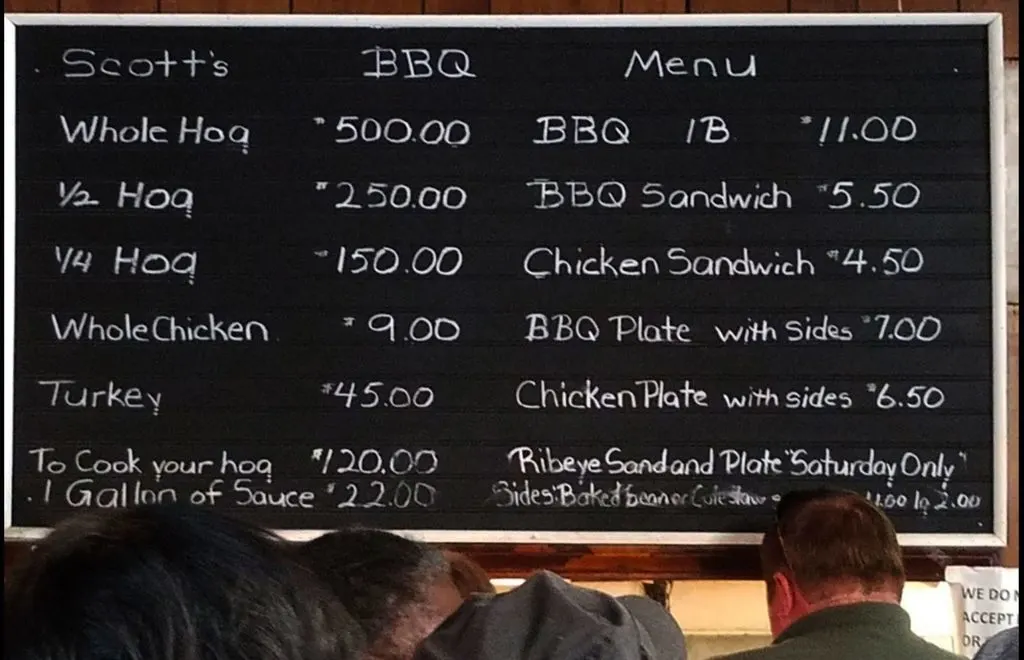 But it wasn't long before Scott would leave Hemingway, partnering with Pahikas to start Rodney Scott's BBQ. That was July 2016.
"Oh, it wasn't as hard as you think," Rodney said, when asked about leaving his hometown and the family business where he had worked fulltime for nearly 30 years. "It was a pretty easy decision after a few situations, circumstances.
In another Washington Post story, Tim Carman writes about that decision:
"Those close to Scott, who spoke on the condition of anonymity because of their friendship with the pitmaster, say that father and son no longer talk. It's a classic case of son transcending father, one person says, and the jealousies that come with it."
"Roosevelt Scott could not be reached for comment and wasn't at Scott's in Hemingway on the day I visited. (Ella Scott, incidentally, says her husband is supportive of their son.)"
"'T.D. Jakes told a story that not everybody you encounter on your journey is meant to be with you when you get to your destination,' Scott says.
"'Sometimes your journey is to go past that person. That person may be your brother, sister, mother, father, uncle, whomever. . . . My life is just like that.'"
While Scott's journey has been amazing, his food has always been so. It's the reason why Rodney Scott's BBQ earned a spot on our feature entitled "BBQ in Charleston, SC: The Definitive Guide."
Rodney Scott's Cookbook: World of BBQ
Rodney Scott's World of BBQ: Every Day Is a Good Day has been published in hardcover and digital format. It was officially released on March 16, 2021.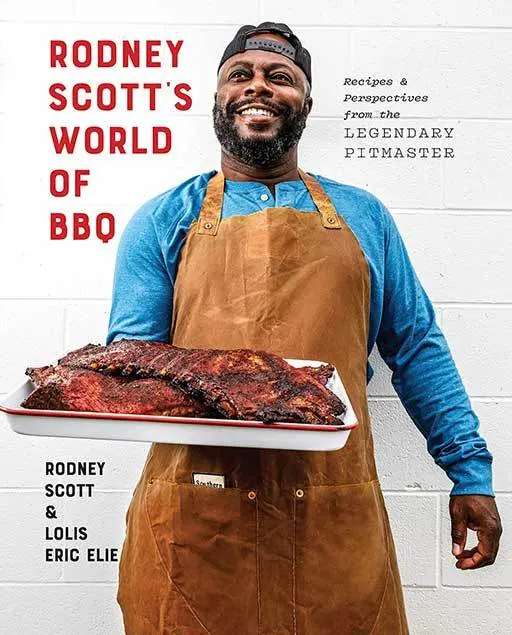 In Rodney Scott's cookbook, he shares what makes his award-winning whole hog so special. In addition, he shares insights about his pit-smoked turkey, barbecued spare ribs, smoked chicken wings, hush puppies, and Ella's Banana Puddin'.
More importantly, whether you're a barbecue pro or a novice, Scott's recipes will enable you to create these special flavors yourself.
In addition, details about building your own pit coupled with deeply felt essays on South Carolina's culinary traditions make this more than a simple collection of recipes.
"It is also a powerful work of storytelling. In this modern American success story, Rodney details how he made his way from the small town where he worked for his father in the tobacco fields and in the smokehouse, to the sacrifices he made to grow his family's business and the tough decisions he made to venture out on his own in Charleston."
Rodney Scott's cookbook is an inspirational story that reveals how "hope, hard work, and a whole lot of optimism" enabled Scott to become one of SC's most beloved pitmasters.
Rodney Scott's Recipes
You don't have to wait for the Rodney Scott's cookbook to make some of his recipes today.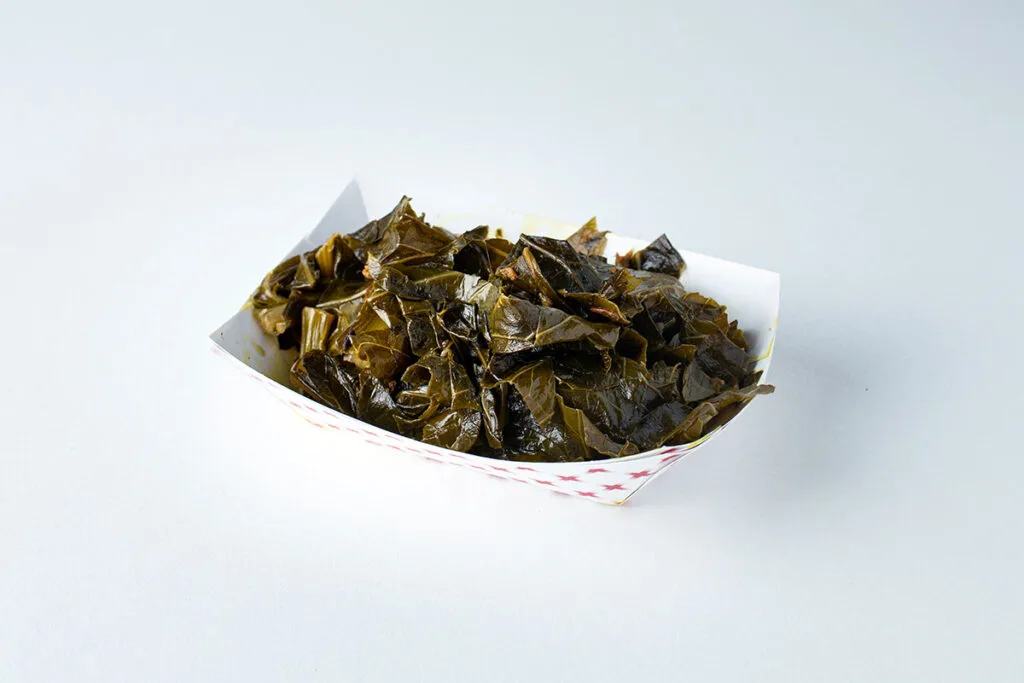 Here is a tasty side you might enjoy making in the meantime. Rodney shared this recipe for the collard greens from Rodney Scott's BBQ.
And if you're making your own BBQ, we recommend trying Rodney Scott's BBQ sauce recipe (which you can also use on his Smoked Spatchcocked Turkey recipe).
In addition, if you make some of Rodney Scott's Rib Rub to go with that sauce, you have all the ingredients ready to make Rodney Scott's BBQ Ribs Recipe.
And if you're a fan of SCBBQ, check out our SCBBQ cookbook which includes this and other recipes from Rodney Scott.
When does Rodney Scott's cookbook come out?
Rodney Scott's World of BBQ will be published on March 16, 2021, but you can order now. It was published by Penguin Random House and is available at all major bookstores.
What recipes are in Rodney Scott's World of BBQ?
In his cookbook, Rodney finally lets us all in on what makes his award-winning whole hog BBQ so special. Among other things, he reveals how to make his barbecued spare ribs, turkey, smoked chicken wings, hush puppies, his mom's Banana Puddin'. His recipes make it easy to achieve these special flavors at home. Rodney even shows us how to build a pit.
Is Rodney Scott's World of BBQ just a cookbook?
No, in his book, Rodney shares poignant thoughts on South Carolina's foodways and traditions. A beautifully photographed cookbook, this is also a powerful work in which Rodney details his journey from small-town life, working for his father in the smokehouse, to the sacrifices he made to grow his family's business. He finally reveals the difficult decision he made to venture out on his own in Charleston.